Staying hydrated is important no matter where you are, however when travelling outdoors with limited access to water in remote areas, having a water bottle is key. Stainless steel bottles are a favorite of many thanks to their insulating properties, but the problem is there are so many on the market, making it difficult to know where to start when choosing the right one for you. To help tackle this, our guide will look at Hydro Flask vs Klean Kanteen to see which one comes out on top.
Both are well-known, popular water bottle brands, and if you've already been searching for the right water bottle then you might have already heard of them. Have no fear – we're about to review them in-depth to give you an unbiased view of each one. 
By reading this guide, you will learn the following: 
What to think about before you invest in your favorite water bottle. 
The pros and cons of both Hydro Flask and Klean Kanteen.
Answers to some FAQs on each brand. The verdict: which water bottle we have found to be the best. 
Things to think about when choosing a water bottle
Hydration is key, so when it comes to choosing the right water bottle, there are a few things to consider. 
How will you use your water bottle?
It's a great idea to envision exactly how you plan to use your water bottle. There's a massive difference between using a bottle on a rugged camping trip or a slower-paced exercise class, like yoga. Whether you're looking for something that looks clean and sleek, or is totally durable so you can throw it about, your decision is going to be swayed by what you need it for. 
Do you need a narrow or a wide mouthpiece?
Once you've decided on what you need your water bottle for, it's a good idea to think about what kind of mouthpiece you'll need. Bottles with a narrow mouthpiece are generally easier to drink from and don't tend to splash quite as much as a wider mouthpiece. If you're constantly on the move, you'll find a narrower mouthpiece a much better option.
On the other hand, a wider mouthpiece makes filling and cleaning a bottle much easier. You can also use them with a water filter, with most of them water filter compatible. 
Hot or cold drinks?
Are you looking for a bottle that keeps drinks hot or cold? Believe it or not, this will make a massive difference to your chosen bottle. In our review, you will see that each bottle keeps drinks hot or cold for a different amount of time, so have a think about how long you need your drink kept regulated for. 
Insulated bottles are generally your best bet, as they keep your drinks hot or cold for a longer period of time. They won't sweat (or condensate) either, so while they're a bit heavier and more expensive, they're a better investment. 
The main differences between Hydro Flask vs Klean Kanteen
The main differences between Hydro Flask and Klean Kanteen are as follows: 

Hydro Flask keeps drinks cold for up to 24 hours, whereas Klean Kanteen keeps drinks cold up to 50 hours. 
Klean Kanteen keeps drinks hot for up to 5 hours, whereas Hydro Flask keeps drinks hot for 6 hours
Hydro Flask bottles must be hand washed, whereas Klean Kanteen bottles are dishwasher safe. 
Klean Kanteen comes with other classic caps that don't feature a straw, whereas Hydro Flask comes with an optional straw lid.
Hydro Flask vs Klean Kanteen – Which is better?
If you're looking for some more information on the differences between Hydro Flask and Klean Kanteen, we'll be going into this in more detail, as well as offering a highly in-depth review of both brands. Hopefully reading this guide will help you make a suitable choice. 
Hydro Flask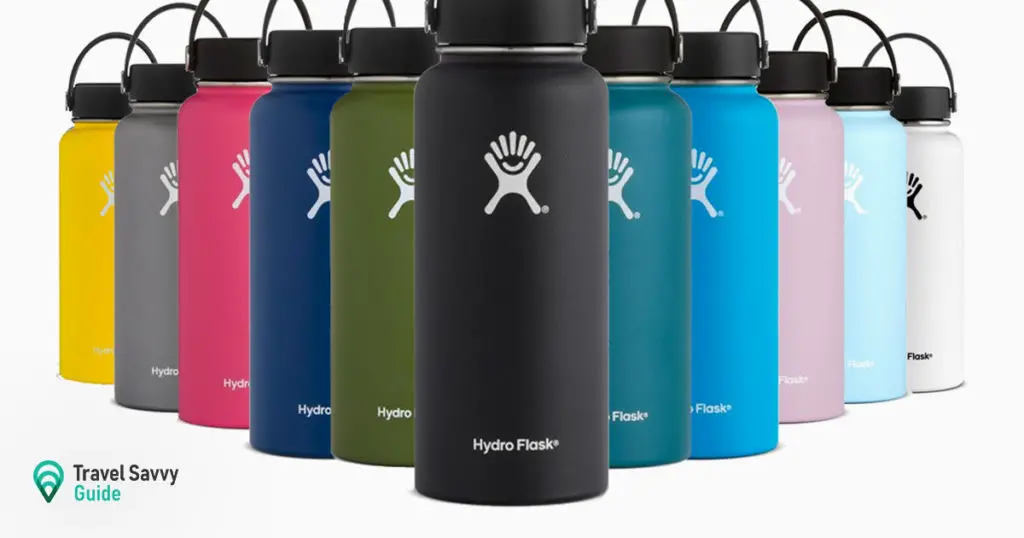 Made from 18/8 pro-grade stainless steel, the Hydro Flask means business when it comes to hydrating. It's tough, and ready to go anywhere. Stainless steel is a preferred choice of many water bottle brands – including Hydro Flask – because it gives a pure taste with no flavor transfer. If you're filling it with something other than water then you won't be able to taste any unwanted residues.
Hydro Flask works off TempShield technology, which essentially means the bottle stays either hot or cold for longer. It's also BPA and phthalate-free, which is reassuring to those who prefer to avoid these chemicals. 
You can either choose from the wide or standard mouthpiece option. The wide mouthpiece flask is a great option for those who are on the go – for example if you're traveling on a bike or snowboard and need quick hydration. And while not leak-proof, the straw lid is super handy and is environmentally-friendly too, as you're not putting single-use plastic straws into the environment.
One strange downside that some users notice is that these bottles are loud. If you drop one onto the floor, everyone in your vicinity will hear it thanks to its stainless steel construction. This shouldn't be enough to put you off though – the Hydro Flask is a solid bottle that looks good and performs, too.
Features:
TempShield technology – stays hot for up to 6 hours or cool for up to 24 hours.
Made with 18/8 pro-grade stainless steel to ensure pure taste and no flavor transfer.
Hard-wearing construction. 
BPA-free and phthalate-free.
Proprietary powder coating for easy-grip.
Wide mouthpiece flexible cap. 
Wide mouthpiece straw lid included
Sweat-free.
Comes with a lifetime guarantee.
Comes in a range of colors to choose from. 
Pros:
Made from hard-wearing stainless steel.
Holds plenty of liquid – up to 30 ounces (850 mls).
BPA-free.
Leak-proof – great when traveling. 
Well insulated with a double-vacuum internal.
Bottle caps can be customized.
Wide mouthpiece – easy to use.
Powder coated for extra grip.
An affordable option.
Cons:
Needs to be cleaned regularly.
Can't be used in the dishwasher or freezer.
Some users have experienced issues with the lid alignment.
Klean Kanteen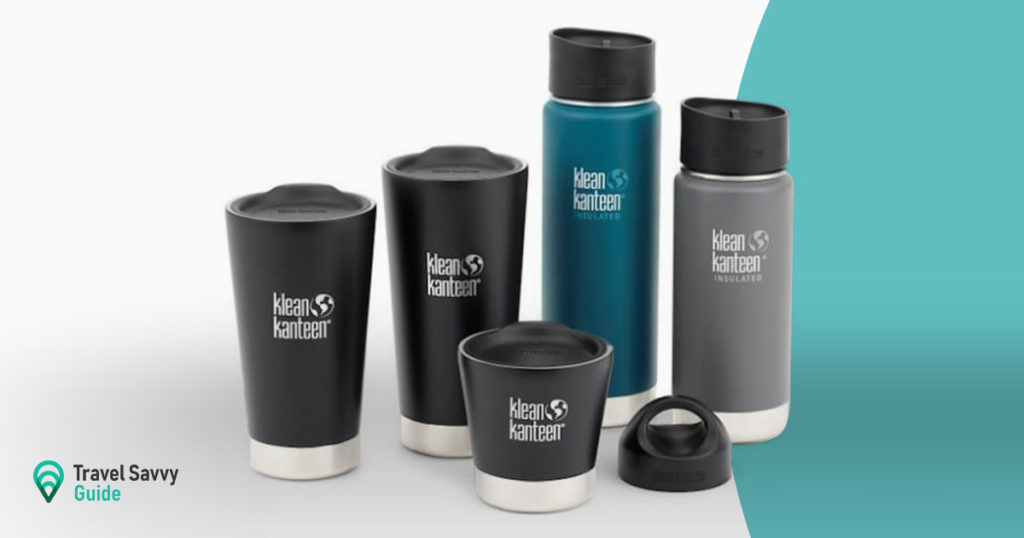 Klean Kanteen is on the up. It's becoming a go-to product on the hydration market, popular with travelers who need something sturdy to handle all their adventures. Like most other brands on the market, it's made from stainless steel. This makes it super tough and ready to be thrown in a backpack without receiving any dents or scratches. 
One of the great things about Klean Kanteen is that they undertake extensive quality control to ensure the highest quality with every product. It's rare you'll receive one sub par. It will also mean that all the seams, threads and stainless steel finishes are smooth and easy to clean. 
Inside, the flask is double wall climate lock insulated. What this means is that your drinks will be kept ice cold for up to 50 hours, while warm drinks will stay hot for up to 20 hours. While a few people have expressed doubt over these timeframes, there are loads of good reviews online that support this so you can feel reassured that the product really does deliver. 
The cap is a great feature too. It's leak-proof and there's even a plastic-free bamboo cap available which is far better for the environment and won't perish, so it will last longer.
Features:
18/8 stainless steel. 
Double wall climate lock insulated. Keeps drinks cold for 50 hours and hot for 20 hours.
Large 1.75 inch (44mm) opening. Fits ice and easy to fill and pour.
Leak-proof loop cap. Compatible with all Klean Kanteen classic caps.
Plastic-free bamboo cap available. 
Seams, threads and stainless steel finishes are smooth and easy to clean. 
All Klean Kanteens go through extensive quality control to ensure the highest quality.
Sizes range from 5oz (150mls) to 64oz (1.8litres).
Lifetime warranty. 
Pros:
Lightweight; makes it easy for one-handed drinking.
16 color options. 
Sleek, attractive design.
Updated sport cap – easier to use and more effective. 
Cons:
The Sports cap is not as secure as a screw cap.
Hydro Flask vs Klean Kanteen: The verdict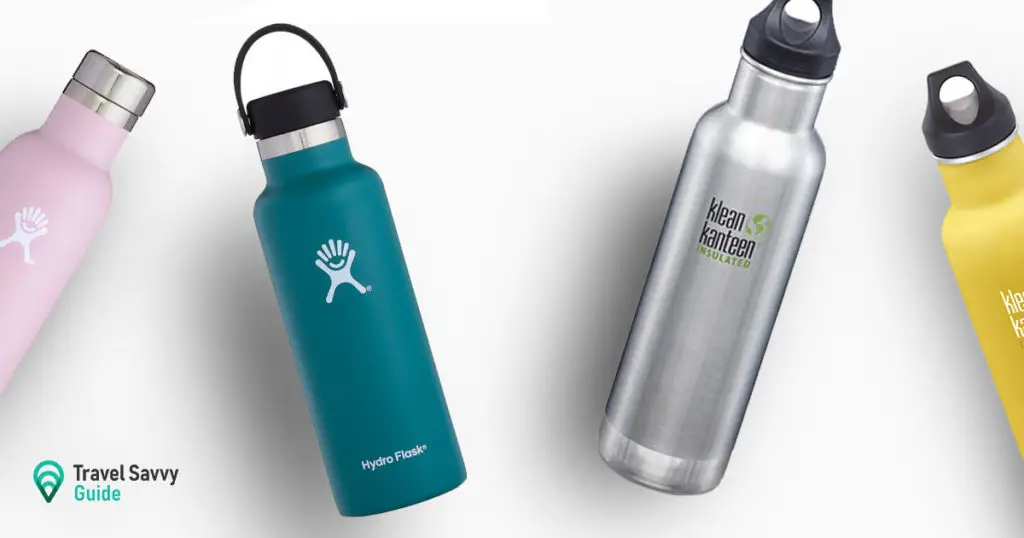 Both Hydro Flask and Klean Kanteen are top-quality travel bottles and both quite similar. The biggest benefit they both have is that they're made from 18/8 stainless steel. This gives each bottle amazing durability properties, so whether you're carrying it around in a bag or using it for sports, it's unlikely to scratch or dent. That's a massive plus if you're always on the go.
Both have great insulation properties too, keeping drinks cold or hot for longer. Klean Kanteen has a clear proposition on this and their claims seem to be backed up by people who have already used the bottle, so if you're looking for a flask that actually keeps ice solid for longer, it's one of the best flasks on the market right now to try.
Another pro point for both bottles is that they're BPA-free. They also come with interchangeable lids to allow you to use the bottles in the way you need to, so both bottles tie on those points. However, our overall winner has to be Klean Kanteen. While it's incredibly close between them, we prefer the overall look of the Klean Kanteen range, and love that their recently-updated designs seems to have tackled some of the previous issues they had. Plus, they're able to keep drinks cold for up to 50 hours, which is ultimately what you'll be looking for with a water bottle when travelling in remote areas without refrigeration. 
Overall, we'd be happy to recommend both brands though, so give your favorite a try to see whether it's right for you.
Frequently asked questions about Hydro Flask vs Klean Kanteen
Is Hydro Flask eco-friendly?
Hydro Flask is BPA-free, made from 18/8 stainless steel, 100% recyclable, and, thus, considered eco-friendly. 
Are Hydro Flask bottles made in the USA?
While the stainless steel for the vacuum insulated bottles is sourced from China, the caps, fitments and CarryLoops™ are made in the United States. The bottles are assembled and shipped from their warehouse in Boulder, Colorado.
How many 32 oz (950 mls) Hydro Flasks should I drink a day?
It's recommended that people should drink around half their body weight in ounces of water each day. For someone who weighs 128 pounds (58 kgs), this would be 64 oz (1.9 litres) of water per day. Based on this calculation, you would need to drink around 2 full Hydro Flask bottles a day, however best to work out your weight to see how much you'd need for sure. 
Can you boil water in a Klean Kanteen?
Because of its stainless steel construction and the fact there's no powder coating on a Klean Kanteen, it can be used to boil water when required for sterilization. All bottles are also compatible with most backcountry water filters to keep you safe and fully hydrated, wherever you are in the world. 
How do you get the smell out of a Klean Kanteen?
If you need to give your Klean Kanteen a thorough clean, use warm, soapy water and a bottle brush. You can also try an old-fashioned cleaning mix, which comprises water and baking soda mixed into a thick paste. If you've tried this and your bottle still smells, use diluted vinegar and soak them in it overnight. 
Is my Klean Kanteen likely to rust? 
All Klean Kanteen products are made from 18/8 food-grade stainless steel. This means the bottles are highly rust resistant, so you shouldn't experience any issues with it. If your bottle does look like it's rusted, the official advice from Klean Kanteen is that "it's probably just a mark left behind from the electropolishing process, which smooths the surface of the metal and makes it shiny. Sometimes electrolytes left on the surface turn a rust color, but it's harmless".
Final thoughts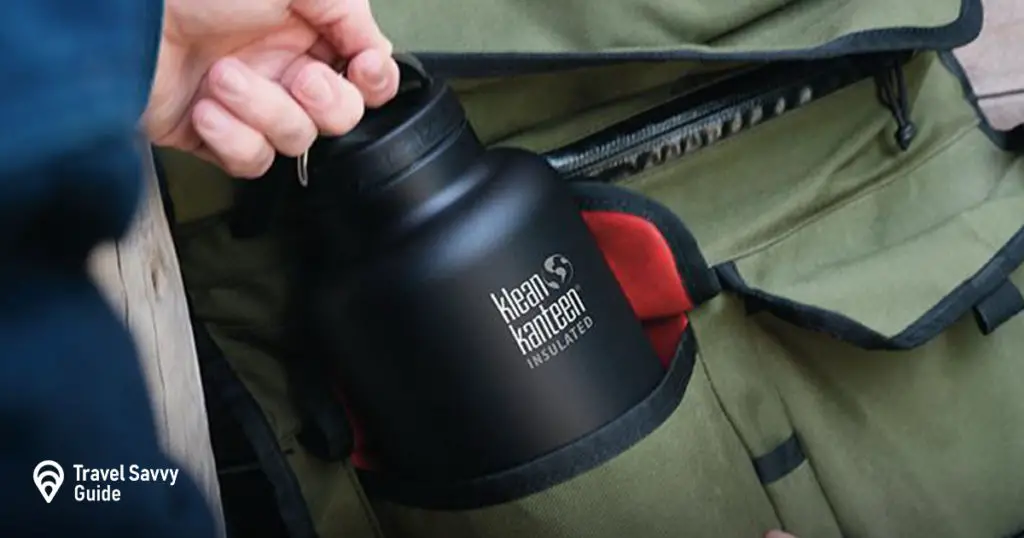 Now that you've come to the end of our guide, we hope we've given you plenty of information about both Hydro Flask and Klean Kanteen. They both have their pros and cons, and we're sure that one water bottle will fit into your lifestyle more than the other. 
We really hope this article helped you make a decision on which water bottle you prefer and we would love to know where you're taking yours on your travels; please get in touch to share your stories with us! If you're thinking of taking a trip somewhere, why not check out our guide on the 7 best travel jackets with hidden pockets. And if you're looking for somewhere to hike to next, then perhaps reading up on the Wind River High Route could be a great hiking option for you.