When you're traveling and you're looking to keep your drinks either hot or cold, investing in a tumbler is a great way to ensure you're getting the right hydration. In cold conditions it's likely you'll want a hot beverage to warm you up, whereas when you're in a hotter climate you'll need a cold drink to cool you down. To help you understand more about some of the different tumblers on offer, this guide is about pitching YETI vs RTIC Tumbler to see which cup is best.
While there's not an exact science for the right shape and size, traditional tumblers tend to come with a flat circular base and a conical wall that rises towards the rim. They're also typically made from stainless steel to ensure the best insulation and temperature control.
By reading this guide, you will learn the following:
The key features and the pros and cons of both YETI and RTIC tumblers.
What to think about before you invest in your favorite tumbler. 
What real-life users of both tumbler brands think of them.
The verdict: which tumbler we have found to be the best. 
The main differences between the YETI and RTIC Tumbler
The main differences between YETI and the RTIC Tumbler are as follows: 
YETI Tumblers are dishwasher safe, whereas RTIC Tumblers must be hand-washed. 
YETI Tumblers are powder coated, whereas RTIC Tumblers are not. 
The lid of the YETI Tumbler uses magnets to stay closed, whereas the RTIC Tumbler uses a classic flip top closure. 
Things to think about when buying a tumbler
Believe it or not, buying a tumbler can be a tricky task. However, it doesn't have to be. Before investing in yours, read our top tips below on what to think about when buying a tumbler to ensure you choose one that suits you.
The insulation mechanism
The whole purpose of a stainless steel tumbler is to keep drinks hot or cold, depending on what you're planning to use yours for. For this reason, you'll need to make sure that your chosen one has an efficient insulation mechanism to successfully do the job. As a general rule of thumb, the best flasks on the market can retain heat for around 24 hours. Standard everyday flasks can retain heat for around 12 hours, while cheaper models keep drinks hot for around 6-8 hours.
When it comes to keeping drinks cold, you should be looking for a tumbler that keeps liquids chilled for 24 hours, as this seems to be the industry standard. Anything less and you've got yourself a less-reliable model. Check out how long your chosen tumbler can keep your beverages hot or cold for, and make sure you do comparisons with competitor brands in order to pick the best one.
The overall durability
Wherever you're headed in the world, you'll need your tumbler to last as long as you do. You don't want a tumbler that will break or dent after a few knocks, especially if you're traveling far and wide. Stainless steel is a great material for a travel tumbler and is preferred by many brands. This is because not only is it reusable (and better for the environment than single use plastic), but it's insulating, spill-proof and easy to keep clean. This is good news if you're going off grid.
When looking for your travel cup, the overall construction will need to be considered – from the leak-proof lid to the shape and size – in order to ensure your chosen tumbler won't let you down.
The shape and size
Think about how big you want your tumbler to be. You might want one that holds plenty of liquid, or you might just want something small to suit your needs. Finding one with a wider base (the classic tumbler shape) is also important, as this means it's less likely to tip over. When you're traveling and only have uneven surfaces to place your cup onto, this is something that could be important. 
Tumblers generally come in a range of sizes. For example, the RTIC Tumbler's range includes 18 oz, 26 oz, 36 oz, 64 oz cups. Knowing how much liquid you might need at one time is the key in knowing which size to pick. YETI tumblers come in 20 or 30 oz sizes, so whilst not quite as much choice, you still have more than one option.
The lid
One thing you absolutely don't want is a leaking lid. Choosing a well-constructed tumbler will generally include a decent lid, but read up on reviews first to make sure your chosen tumbler is fully leak-proof. A top-quality flask won't leak if placed upside down or chucked in a rucksack, and flasks made using a vacuum seal ensures you'll suffer no unwanted spillages, as the seal does a good job of keeping the liquid inside your flask. 
Look out for autoseal, lockable lids that you can close when you want to pack your flask away, too. Even if there's liquid in there, it won't spill. Searching for a transparent lid might also be a good way to tell if your travel cup is the right one for you or not.
YETI vs RTIC Tumbler – Which is better?
This next section of our guide is designed to give you more information about both YETI and RTIC Tumbler to help you make a decision about which one might suit you and your travel plans.  
YETI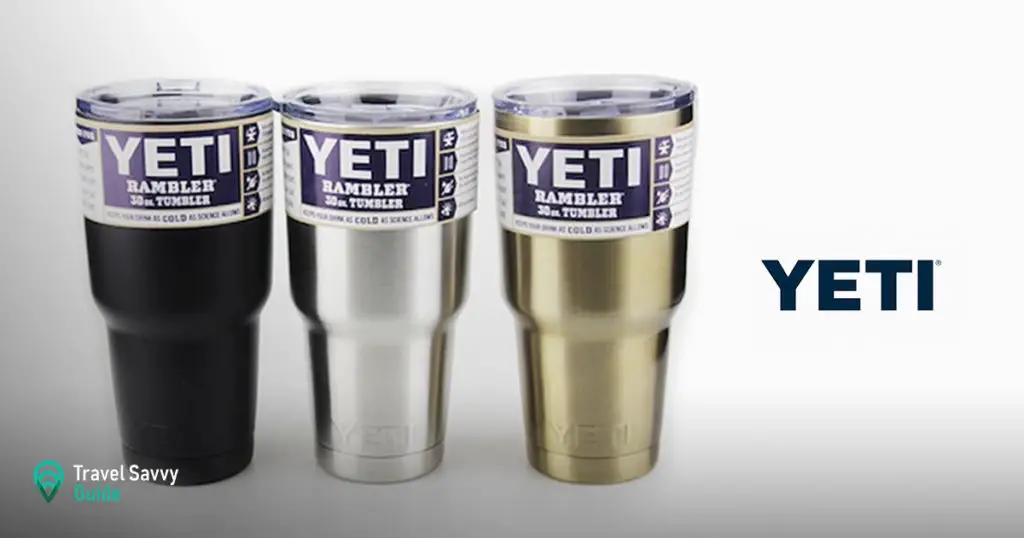 Making products since 2006, YETI is an innovator in tumbler design, having cemented themselves as one of the most popular and well-known brands for travelers looking to keep their hot drinks hot and cold drinks cold. Every tumbler in their range is made from 18/8 stainless steel, making the cups tough, durable and ready for adventure. They have also perfected the no-sweat design, which essentially means you'll experience no condensation on the outside of the cup, making it much easier to carry without the risk of it slipping through your hands. 
Another great feature is the Duracoat powder coating. This helps each tumbler keep its color and ensures the outer doesn't fade, crack or peel. This is especially handy for travelers going on long-distance adventures, when the likelihood of dropping a tumbler or needing to pack it in amongst other items is high.
There's also the MagSlider lid, which is unique in that it uses the power of magnets to keep beverages locked down when the tumbler's not in use. A few people have noted that the lid isn't completely spill-free though, so this is something to bear in mind if you use one yourself.
If you care about the design, then you're in luck, as there are a whole range of YETI tumblers to choose from – all available in loads of bright and vibrant colors too to suit your personality. They're some of the best looking cups on the market, which is why they're so popular. However, one of the downsides is that they're quite expensive when compared to competitor brands – including RTIC Tumblers, but general consensus is that they are worth the investment. 
Features:
Made with 18/8 kitchen-grade stainless steel; puncture and rust resistant.
Double-wall vacuum insulation to keep cold drinks cold and hot drinks hot.
Comes standard with the YETI MagSlider lid, the only drink lid that uses the power of magnets to keep your water, beer, or favorite drink on lock.
Covered with Duracoat; a durable coat of color that won't fade, peel, or crack through extended field use and also provide additional grip to the Rambler's exterior.
Safe to be used in the dishwasher.
Loads of colors and designs available. 
BPA-fee, no-sweat design.
All YETI Tumblers are sized to fit in standard sized cup holders.
Comes with 5-years limited warranty.
Pros:
Works really well at keeping drinks hot or cold. 
Cup-holder friendly. 
Extremely durable exterior; perfect for traveling when you're likely to knock or drop the tumbler. 
Dishwasher-friendly to make life easier. 
Cons:
The tumblers are generally quite expensive. 
Some users have complained that the lids aren't leak-free. 
Popular opinion on the YETI
The best gauge of customer satisfaction is to read real-life reviews from genuine users. Here are some of the comments we found online:
One customer loves that "even with scalding hot coffee inside, you cannot feel the heat while holding the outside of the container". 
Others love that the tumblers are easy to open for drinking and even easier to dismantle for cleaning.
In general, the choice of colors has been really well received. 
Other customers mentioned that it's not completely spill-proof. They also warn others to use with minor caution, as the content can be unexpectedly hot due to the fact you can't feel the heat from the outside.
RTIC Tumbler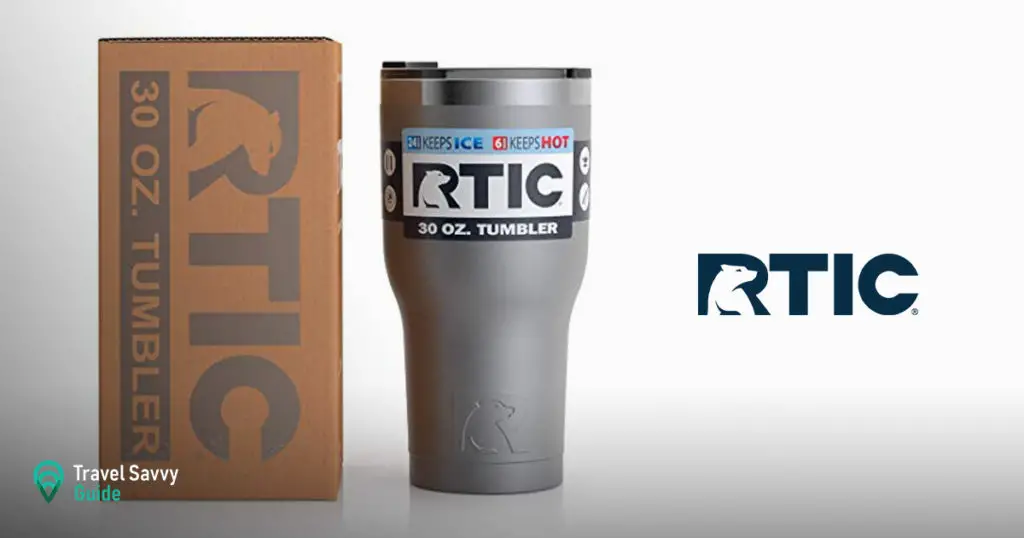 RTIC is another leading travel tumbler brand and is great for those on a budget – their range is generally more affordable and is cheaper than YETI. Again, their RTIC Tumblers are constructed from 18/8 strong stainless steel, so you know they won't let you down wherever you are in the world. 
RTIC also uses a double wall vacuum for the insulation. This is to ensure maximum temperature retention and keeps hands safe from either hot or cold drinks – you won't feel a thing. Just like the YETI, these tumblers features a no-sweat exterior to prevent slippage. 
Another great feature is that RTIC claims to be able to keep ice solid for up to 24 hours – a testament to just how insulating the tumbler is. In hotter climates this might not be quite so accurate, but you should have a few hours of ice should you want or need it. 
When it comes to the look of the tumbler, it's pretty sleek and attractive, with a narrow, tall design and easy grip base. It also comes in a range of colors for you to choose from, so you really are able to take your pick depending on your style and personality. 
One of the downsides to RTIC Tumblers is that you can't wash them in the dishwasher. This might be fine if you're traveling and don't have access to one anyway, but if you're using one every day at home then this could be annoying. The flip top lid has also drawn complaints as some users have experienced issues with leaks. It has also reportedly knocked a few people on the nose as they've used it, so watch out!
Features:
Double wall vacuum insulation – maximum temperature retention & insulates hands from the cold.
Keeps ice longer – holds ice for up to 24 hours.
Keeps drinks hot – works great for hot beverages.
18/8 strong stainless steel construction.
Narrow and tall design. 
Easy grip base. 
No-sweat exterior
Shaded splash-proof lid lets you know exactly how much drink you have. The flip-top closure resists spills and is straw-friendly.
Easy to clean.
Comes in a range of colors and designs. 
Pros:
A cheaper alternative to the YETI.
Holds ice for a long time – much longer than competitor brands. 
Sweat-proof. 
Cons:
Not safe to use in the dishwasher – must be hand-washed. 
The design isn't quite as attractive as the YETI.
Popular opinion on the RTIC Tumbler
Here are some of the reviews we found online from genuine users: 
One customer said the color is excellent and has suffered no dings, scratches or dents at all. 
Another person said that with their old mug, the last few sips of coffee were tepid when they hit the parking lot. With the RTIC cup, it was still hot when they pulled up for work.
The lack of condensation on the outside of the cup is greatly liked by many customers. 
Others complained about the durability of the lid and had problems with it leaking. 
The verdict
Both YETI and RTIC Tumbler offer a great range of products that are perfect for travelers looking for a long-term hydration solution. The insulating properties of both brands is what makes them both unique. Wherever you are in the world, you're guaranteed either a really hot or really cold beverage. And the best bit is that you won't feel it on the outside of the tumbler when you're holding it. You won't suffer any condensation either. This makes both brands winners from that point of view.
Another point which ties them is the range of colors on offer. Both YETI and RTIC Tumbler have plenty of colors and styles to choose from in their collections, leaving you with the option to pick a style that suits you best. Sometimes black or grey isn't quite exciting enough, so it's a great added touch that you can pick and choose from the many colors on offer.
Finally, both are constructed from 18/8 stainless steel, making any tumbler you choose from the range extremely tough. This is really handy when you're traveling and you need the added durability. Stainless steel looks good for longer too, so your tumbler will be a worthy investment. 
Ultimately our winner is YETI, and what gives the brand the edge is that their tumblers can be placed in the dishwasher. It's not exactly an essential but it is a bonus to make your life easier. YETI does have an addition powder coating too, which just gives it that premium touch and keeps the tumbler looking better for longer. Both tiny things, but they're enough for us to award the win this time to YETI.
Frequently asked questions about YETI and RTIC Tumbler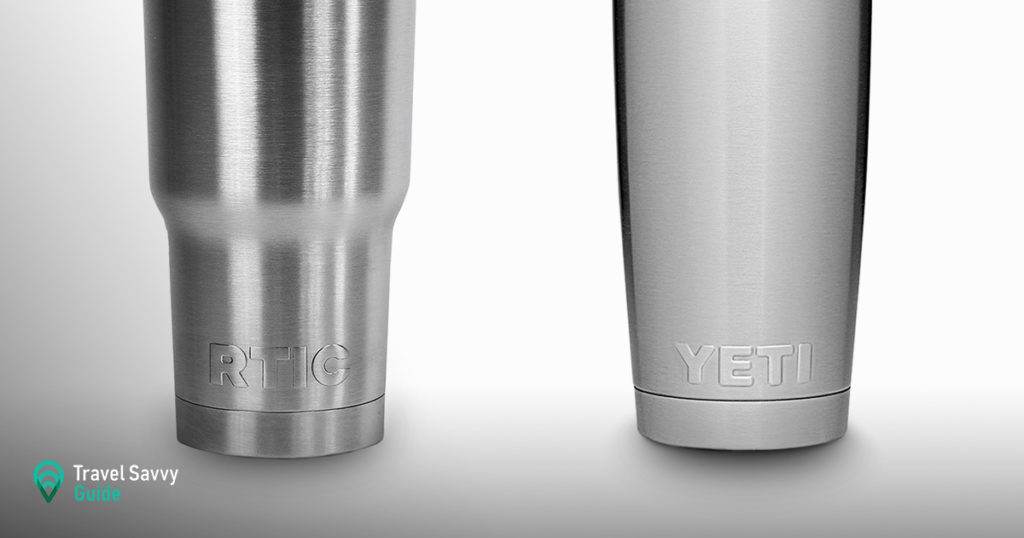 "Do YETI Tumbler cups sweat?"
No, YETI's unique design means that their tumblers don't sweat (or condensate) when filled with either hot or cold beverages. This is because they have a vacuum sealed gap, meaning that the cup doesn't get cold but instead stays at room temperature. Therefore condensation doesn't form. 
"How are YETI Tumblers insulated?"
YETI uses 2 inches of insulation in the walls and base, and up to 3 inches in the lid. And instead of the top simply resting on the body of the body, it interlocks for added security. Finally, to retain coldness, the inside contains pressure-injected polyurethane foam.
"Can you put soda in a YETI?"
Yes, you can put whatever you like inside, including cocktails and coffee. 
"Can RTIC coolers go in the dishwasher?"
Unfortunately not. They're not suitable for dishwasher use and can only be hand washed. Also, remember that you should wash your tumbler thoroughly before first use. For stubborn stains and problem odors, use a solution of warm water and bleach. 
"Are RTIC Tumblers good quality?"
RTIC Tumblers are manufactured utilizing one-piece seamless rotational molded construction and ultra-tick construction. This makes it pretty indestructible, with all the ice retention customers need. 
Final thoughts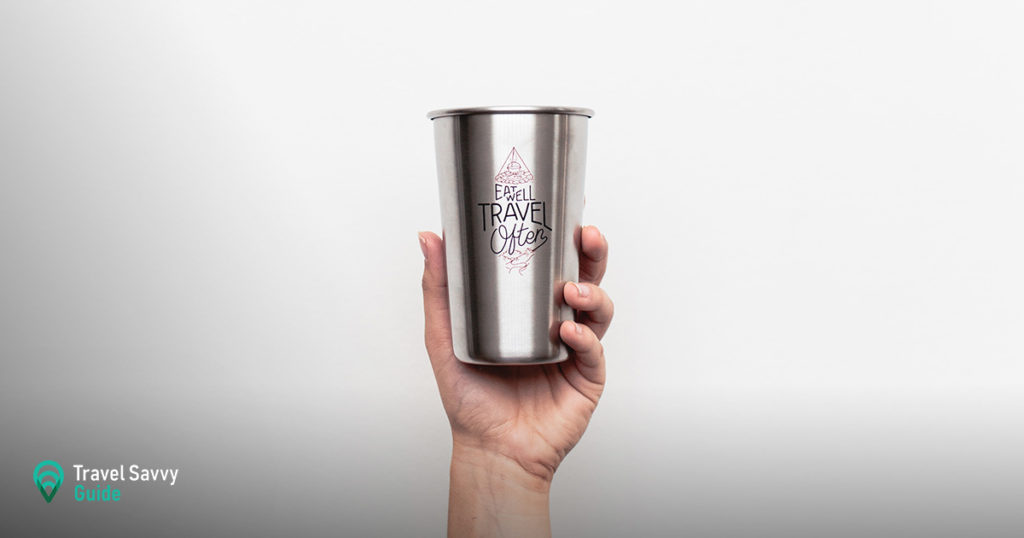 Now that you've come to the end of our guide, we hope you've learned a lot more about both tumblers and what each one can offer. While it may not be the first thing on your must-have list, a tumbler is a great tool for traveling and is a key item you should definitely have in your kit. 
We really hope this article helped you make a decision on which tumbler you prefer and we would love to know where you're taking yours on your travels; please get in touch to share your stories with us! Got the travel bug? Then make sure you're prepared with our top walking sandals for women. If you're looking for new hikes to try, discover our guide on the Fitz Roy hike.