A tent is a big investment, and a good one can last you for many camping adventures. Our tent buying guide may be able to help you find the best tent for you.
It can be hard to know where to start if you've never bought a tent before. How can you tell if a tent will suit you? What type of tent should you choose? Is waterproofing important? What is a tent season? What layout should you go for? We'll give you in-depth information about all of these things, so you can make an informed decision.
If you're ready to find out more, keep reading. First up, let's look at the basic types of tent you can buy.
Type of Tent
There are different types of tent, so which one you choose will depend on your needs. Here is an overview of the main types of tents:
Camping Tents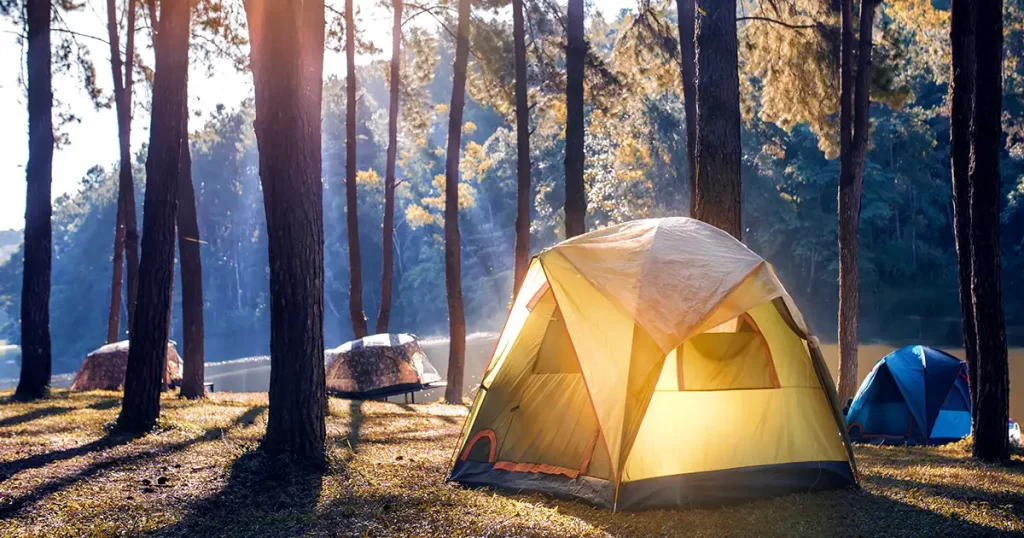 The most common type of tent is the regular camping tent. Designed for overnight stays, these are usually weatherproof enough to keep you dry and well ventilated for hot days.
Camping tents come in two basic structures:
Dome Tent – these are dome-shaped tents with less headroom than cabin-style tents. However, they are portable and pretty easy to install, and they tend to be more wind-resistant as they're closer to the ground.
Cabin Tent – these are tents with straight walls. They offer more headspace, allowing you to walk around inside them, and are ideal for taller campers. They have the advantage of feeling like a home-away-from-home, but they do have a disadvantage as they tend to 'catch' the wind, and they can be noisy on windy days. Plus, they have more material, so it may be more challenging to put together.
Fast Assembly Tents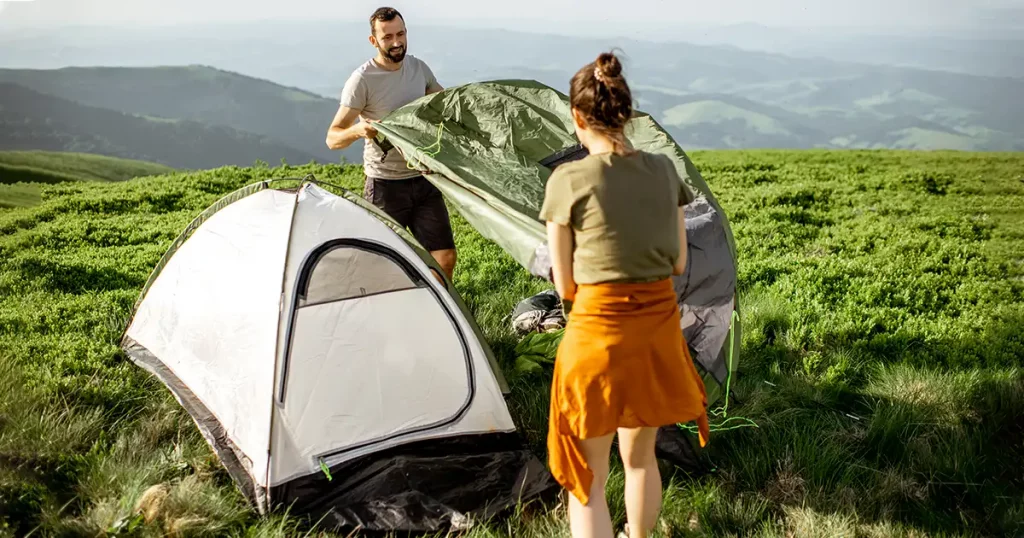 Fast-assembly tents are designed to be fast and easy to put together. Ideal if you're camping solo or you just don't want the hassle of putting a complicated tent together, they're a popular choice for short trips, backpacking, and festivals.
There are two main types of fast-assembly tents:
Instant Tents – these are designed to be put together in around 5 minutes or less.
Pop-Up Tents – these are excellent if you really don't like putting tents together. Just take it out of the bag, throw it into the air, and it will assemble itself. Pop-up tents don't tend to be as durable as regular frame tents, but they make a good solution for kids' backyard camping or short trips to festivals.
Privacy Tents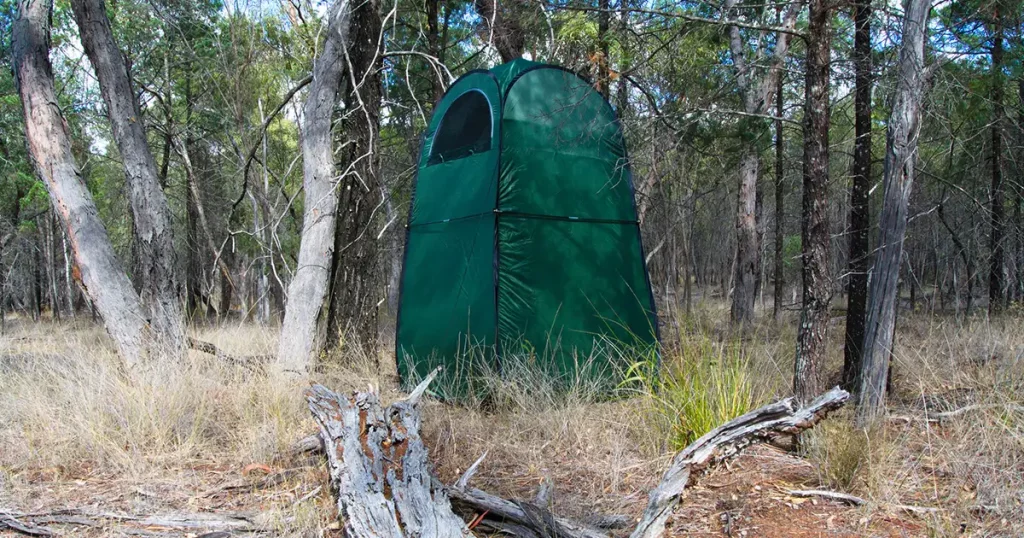 Privacy tents are designed to give you a little extra space to get changed or showered. If you're camping in your truck or your tent is small, these small tents can be a lifesaver. They're usually just about big enough for 1 person to stand in and have pockets on the sides to keep your clothes as you change.
Some privacy tents have a hole in the top to thread a portable shower through. This allows you to take a shower if you're not camping near shower facilities.
Canopy/Tailgate Tent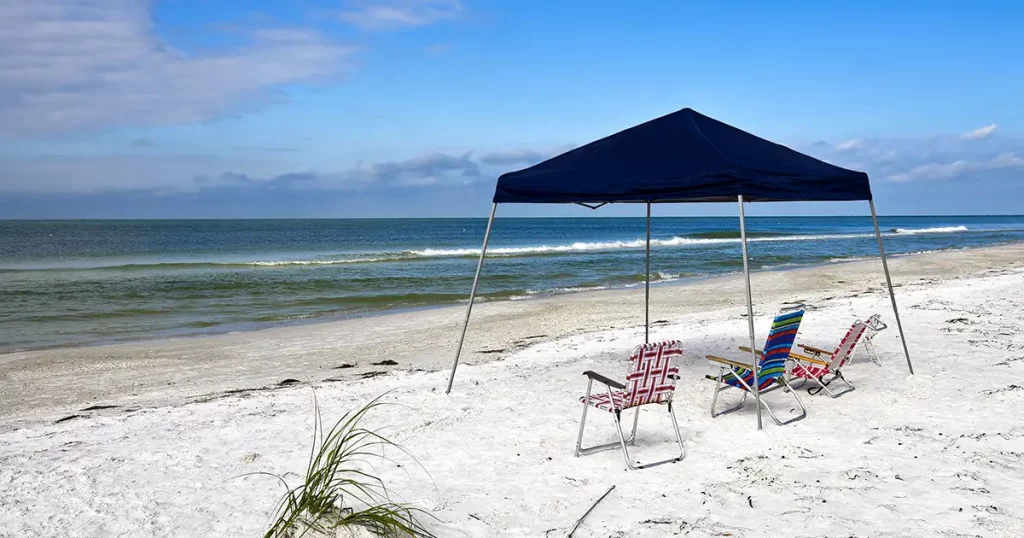 Canopy tents have multiple purposes. Essentially, they provide cover and shade, typically without walls. Many people use them on the beach, as they create shade on hot days, which is perfect for the beach.
Vendors use canopy tents, too. These can be bought or rented, and they allow you to create your own space for customers to browse.
Canopy tents usually come with weights on the legs, which you can fill with sand to add extra stability. Canopy tents can take a fair amount of wind, but you'll need those weights to keep them on the ground.
Truck Bed Tent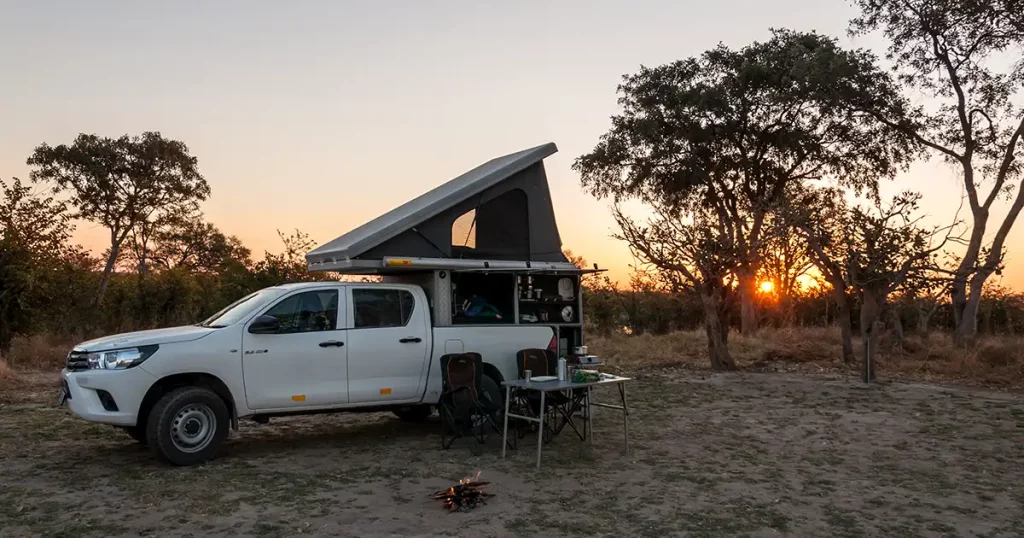 If you want to camp in your truck, a truck bed tent is an ideal solution. They provide room and a safe space to sleep in without needing any extra ground space. This means you can camp wherever you go, ideal if you're on a road trip.
Rooftop Tent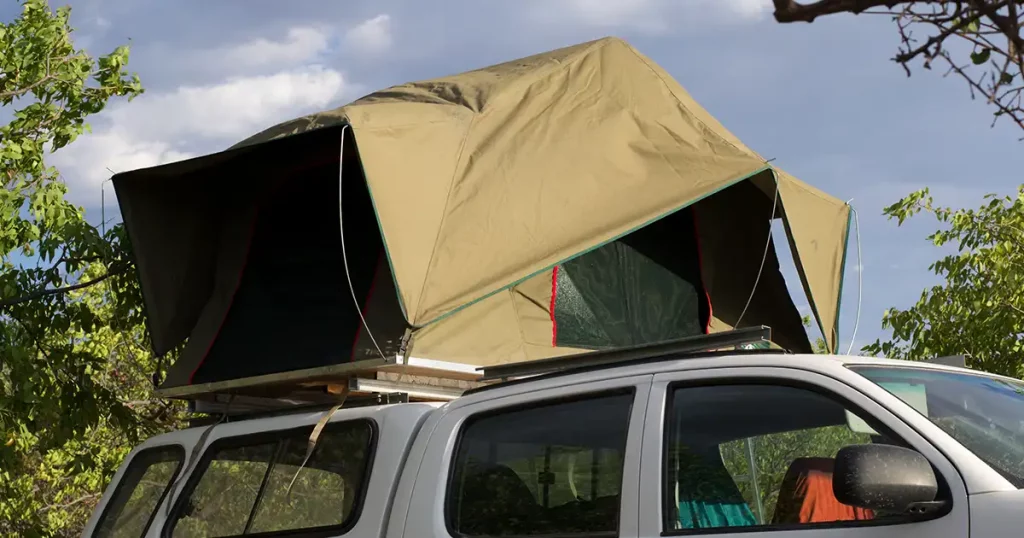 Similar to a truck bed tent, a rooftop tent will allow you to camp on top of your vehicle. They're convenient and pretty easy to use.
They come in two main types:
Hard Shell – these have a hard outer layer and tend to be quicker to set up. They're also less noisy in windy weather.
Soft Shell – these are lighter and maybe a little roomier. The downside is that they are noisier in the wind, and they take a little longer to set up.
Hammock Tent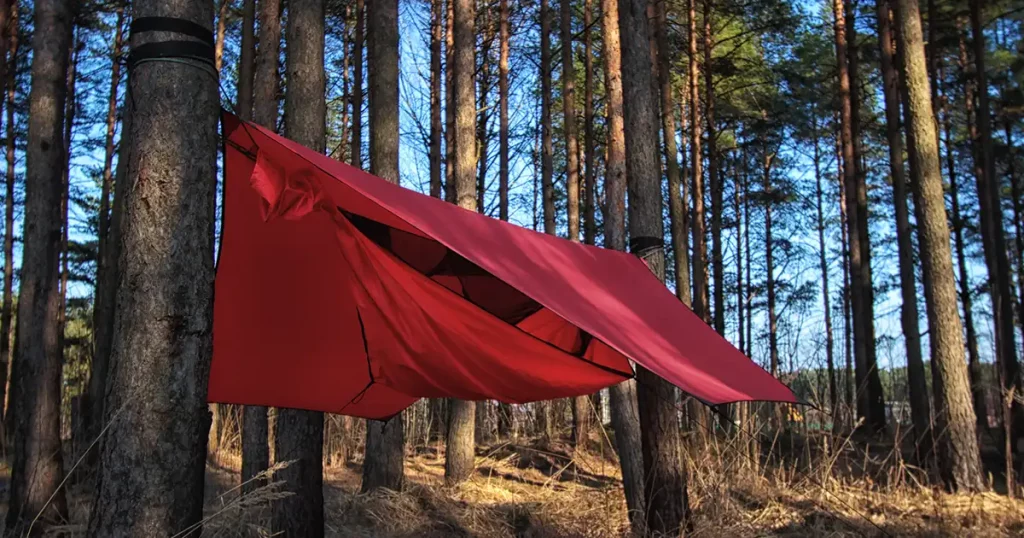 These look a lot like regular hammocks but have a covering around them. They're perfect for single people or couples wanting a super lightweight tent, as long as you have some sturdy trees around!
Weatherproofing
There are a few things to consider when it comes to weatherproofing. Let's take a look in more detail.
Hydrostatic Head Measurement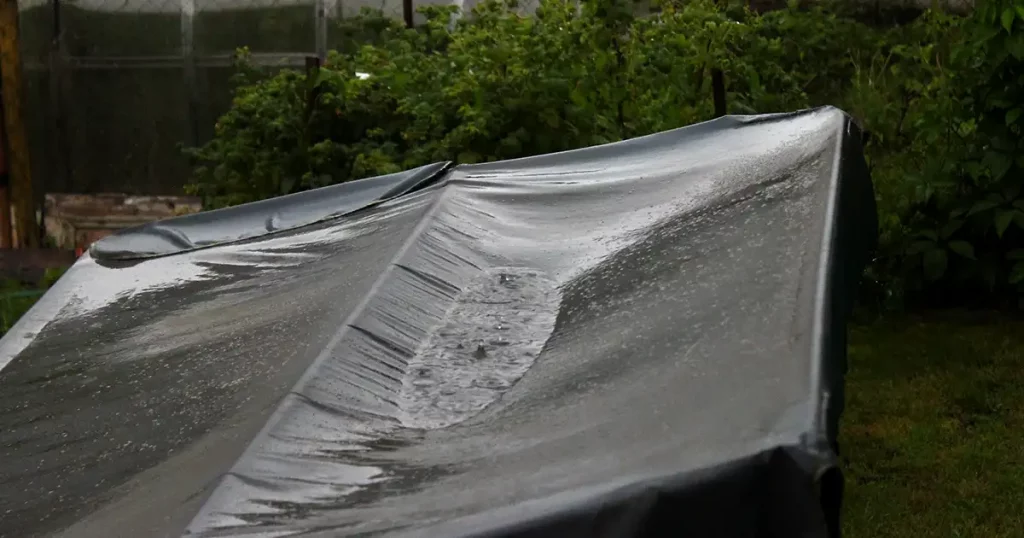 Not all tents make this measurement available, but it can give you a good idea of how waterproof your tent will be.
It measures the depth of the puddle that pools up on the top of your tent in the rain. The deeper the puddle can get before it leaks through, the more waterproof it is. This is usually measured in millimeters. A good minimum to go for is 2,000mm. However, the hydrostatic head measurement is not the full story, and there are other factors to consider when it comes to tent waterproofing.
Rain Protection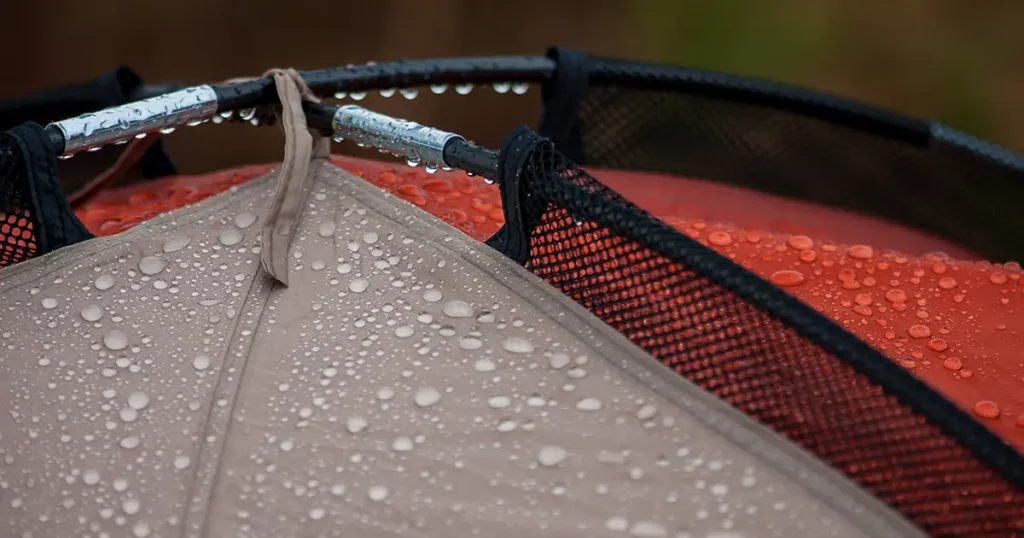 Your tent may come with a rainfly. This provides an extra layer of protection to keep the rain out. Sometimes this can be rolled back, allowing you to stargaze at night while keeping insects out.
Your tent may or may not come with a footprint included. This provides some protection from dampness coming up from the ground and is essential if you want a more comfortable camping experience.
Keep an eye out for other rainproofing features, too. For example, Heat-sealed seams are great because these stop moisture from being able to get into your tent through small holes in the seams. Covered zippers are also suitable for this reason.
Plus, you can look for a curved, bathtub-style floor, which can help to keep the floor of your tent dry.
Ventilation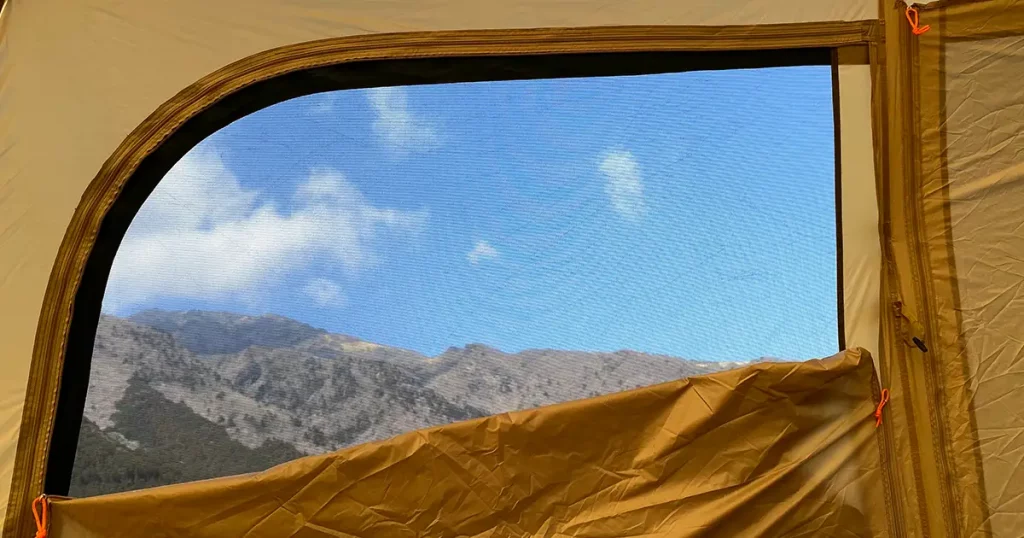 Ventilation is key when it comes to tents. Firstly, camping in hot weather can be unbearable if you don't have enough ventilation, so it's really important for this reason. Secondly, a lack of ventilation can create the perfect environment for mold to form.
Look for a removable rainfly with a mesh roof for excellent ventilation. You can also look out for doors that can be rolled all the way up, large mesh windows, and vents built into the tent to improve airflow.
Materials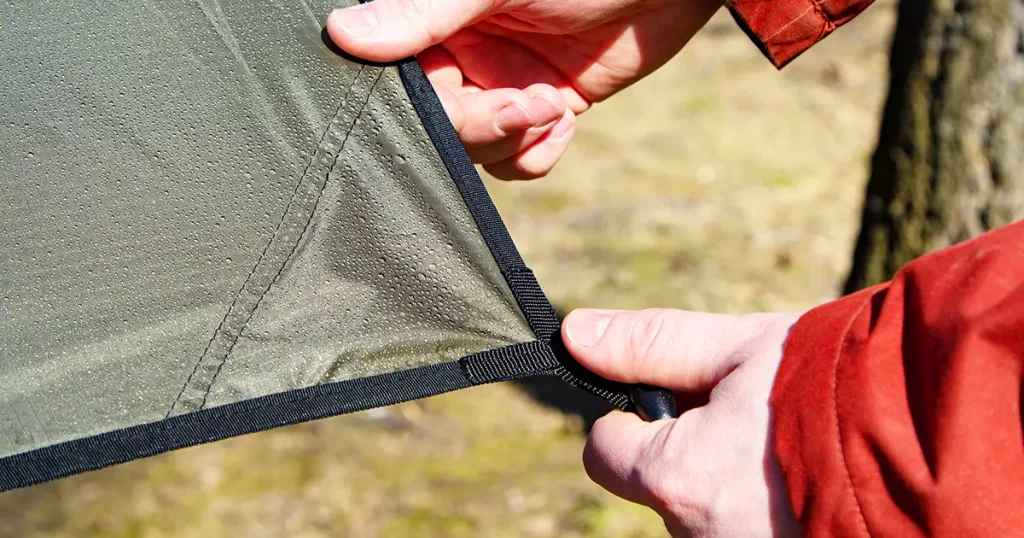 You can also look at the materials used to figure out how waterproof your tent will be. Tents are usually made from the following materials:
Polyester – a common material for tents, this is popular for good reason. Polyester is lightweight and durable and offers some weather protection.
PVC – made from cotton, this has the benefit of being a cheap material. However, it's not particularly breathable, so it's not the best choice for hot weather.
Nylon – this is similar to polyester. However, it's not as durable. In addition, it's prone to UV damage, so if you're using it in the sun, it may start to show signs of wear and tear quickly and may not last as long as a tent made from other materials.
Polycotton Canvas – this is a mixture of both cotton and polyester. It's waterproof and durable.
Cotton – cotton tents are rarer to find. They're not waterproof upon purchase. You have to 'weather' them before use, which involves soaking them a couple of times. This will cause the fibers to swell and draw close together, and then they will be able to resist the rain.
Many tents come with an extra layer of waterproof coating. Usually made from a material like polyurethane, this coating will give you more protection against rain.
You might see a UV rating on your tent. This shows the level of protection your tent will have from the sun. Camping on long, sunny days can cause wear and tear, so the higher the UV rating, the more resistant to sun damage your tent will be.
Windproofing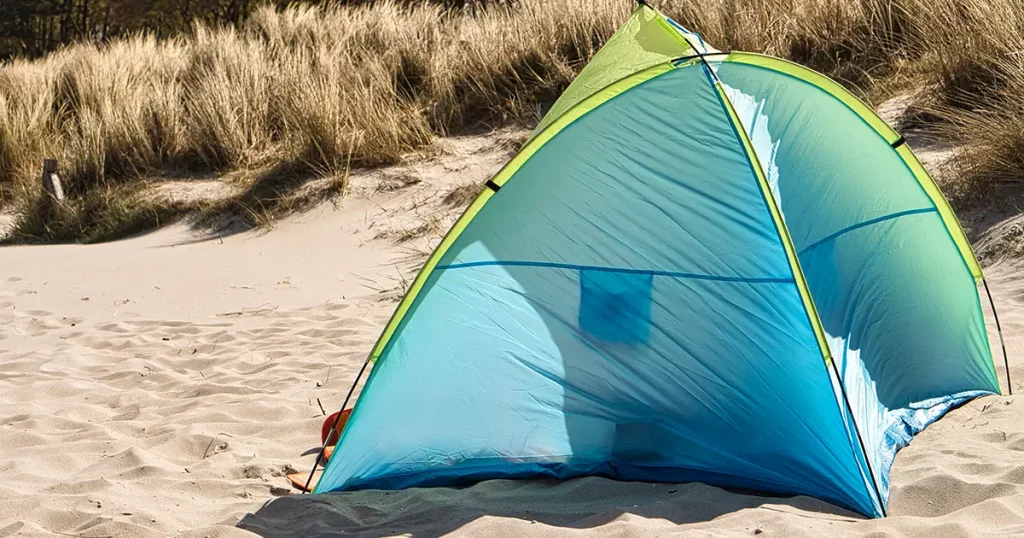 You should also consider how windproof your tent will be. The structure plays a big part in this. Cabin-style tents tend to catch the wind thanks to the straight walls. This isn't necessarily a problem but can be noisier on windy days. Dome-style tents are closer to the ground, so they're less prone to flapping in the wind.
You can also look at what the poles are made from. The poles connect together to make the structure of the tent. They tend to be made from either aluminum or fiberglass. Aluminum is lightweight and fairly strong and has the advantage of being a little cheaper to buy. Fiberglass poles are very strong and durable, but they tend to be heavier and more expensive.
Seasons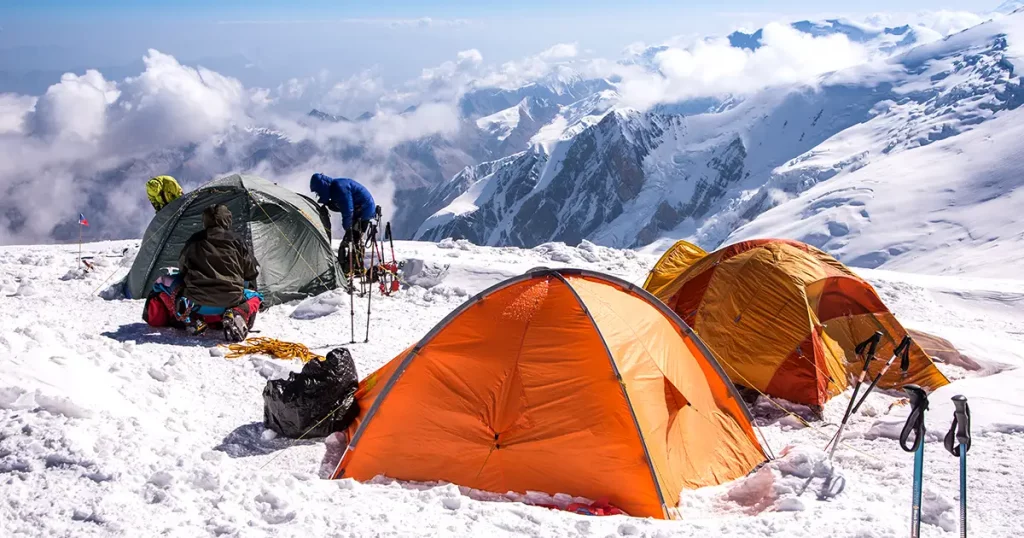 Tents have a 'season' rating. This will also give you a vague idea of the type of weather conditions they are designed for.
1-Season Tents tend to be cheap and lightweight. They're made for hot weather and don't tend to provide much in the way of waterproofing. However, they're a great option for festivals or overnight stays in dry areas.
2-Season Tents are pretty similar to 1-Season tents, but they have a little more waterproofing.
3-Season Tents are popular, as they offer a ton of protection against different weather conditions. They can also provide good ventilation, so you can use them in both warm and cold weather.
4-Season Tents are designed for camping in the winter. Made from thick, durable material, they will keep you warm and dry even in the snow.
You can sometimes find 5-Season tents. These are designed for super cold weather and are harder to find.
Capacity/Size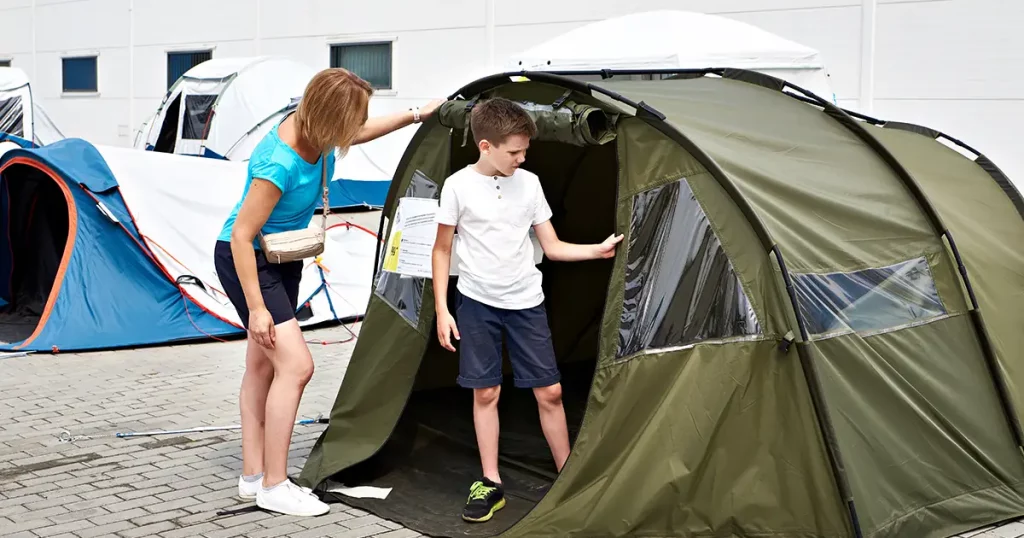 A quick way of figuring out the size of your tent is to see how many people it sleeps. This refers to the number of people that can fit in a tent, although it's not always the most accurate measurement. For example, a 4-person tent may only really fit 3 people comfortably, and 4 adults would be a tight squeeze.
We'd recommend a 4-person tent for a small family, perhaps 2 adults and 1 or 2 children. If you're camping in a bigger group, you'll want to look for 5 or 6-person tents (or beyond).
If you're camping solo and you want extra room, go for a 2-person tent. This will give you a bit of extra room for your gear. If you're a couple and you like to spread out, you may want to go for a 3-person or 4-person tent.
Dimensions
If you want a more accurate picture of the size of your tent, it's best to look at the dimensions. This will enable you to see how many air beds or sleeping pads you can fit in there, for example. Make sure to look at the layout to ensure there is no wasted space. A tent with a large floor dimension may not provide the most room once you've taken the room dividers into account, for example.
Plus, it's a good idea to look at the height. If you're camping in a dome tent, you'll have to be prepared to crouch down while you're in there. If you've chosen a cabin-style tent, this will give you enough space to walk around in, but it's worth checking the height if you're a taller camper to make sure it's tall enough for you.
Layout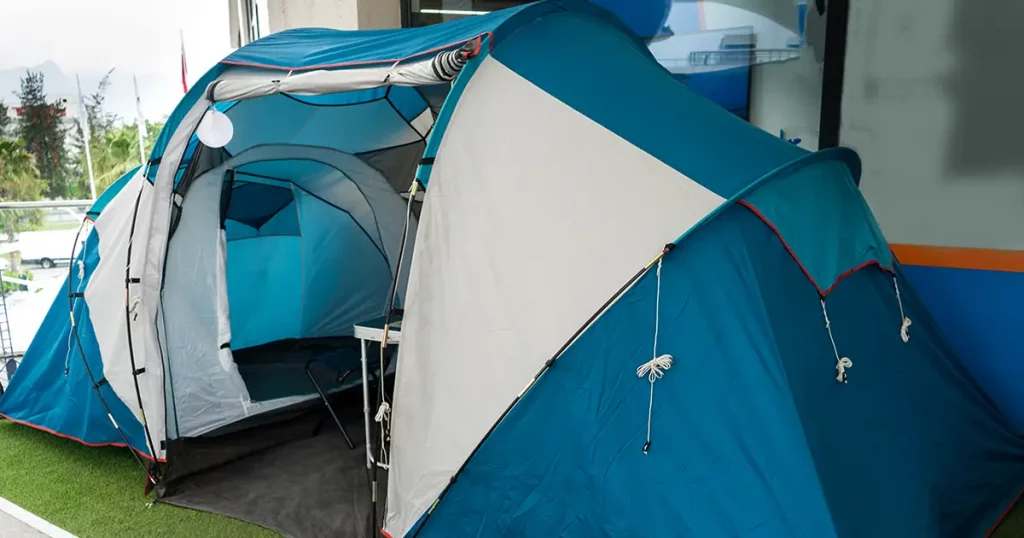 Lastly, there's the layout to consider. Some tents have 1 large room, and other tents have 2 or 3 rooms, separated by dividers (which are sometimes removable, giving you more flexibility). This is perfect if you're camping as a family, as you can give the kids a separate sleeping area. It also works well if you're camping with friends.
You can also find tents with a separate vestibule or porch area, which is perfect for storing gear.
Portability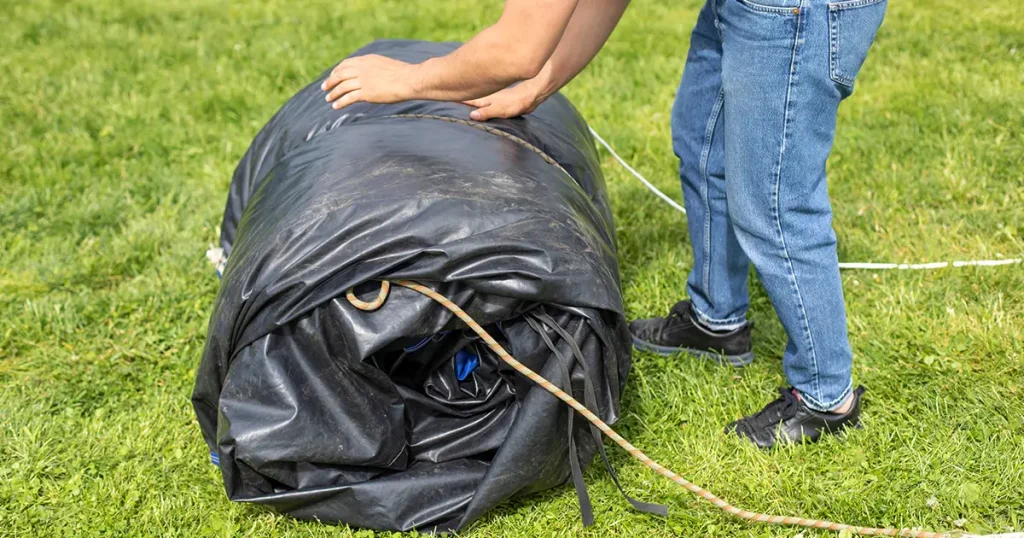 Portability is another key factor. The bigger the tent, the heavier and bulkier it will be when packed down. A large family tent is going to be difficult to carry without a vehicle because there will be a lot of material (and a lot of poles) to work with.
Backpackers should look for the smallest, lightest tent they can get (without compromising on quality or weatherproofing, of course). Looking at the size packed will help you to plan how you will carry it along with your sleeping bags, camping stove, etc.
Extra Features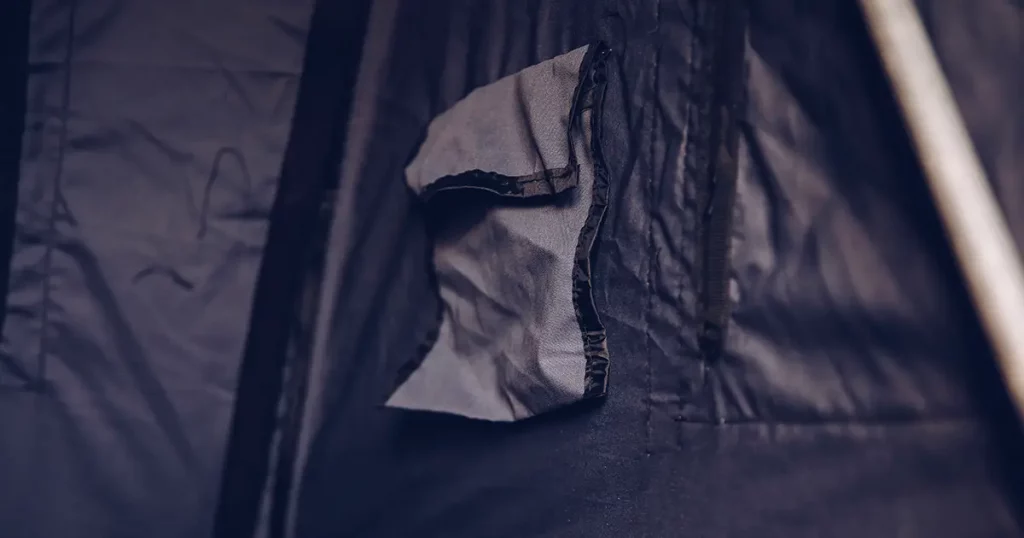 Some tents come with extra features built-in.
The first thing to look for is storage. If you want to create a relaxing, comfortable camping experience, you need decent storage within your tent for your gear. Overhead lofts are great. They attach to the ceiling of the tent, allowing you to stash your backpacks and other bulky gear out of the way.
You may also find tents with smaller storage pockets. These are perfect for items you want to keep close at hand, like your keys, wallet, or water bottle.
Some tents come with more features. For example, they may have built-in strip lighting, helping you to see at night without having to bring separate lighting. You may also find hooks to hang lanterns and covered ports, which allow you to thread an electricity cable into your tent without letting rain in.
Tent Maintenance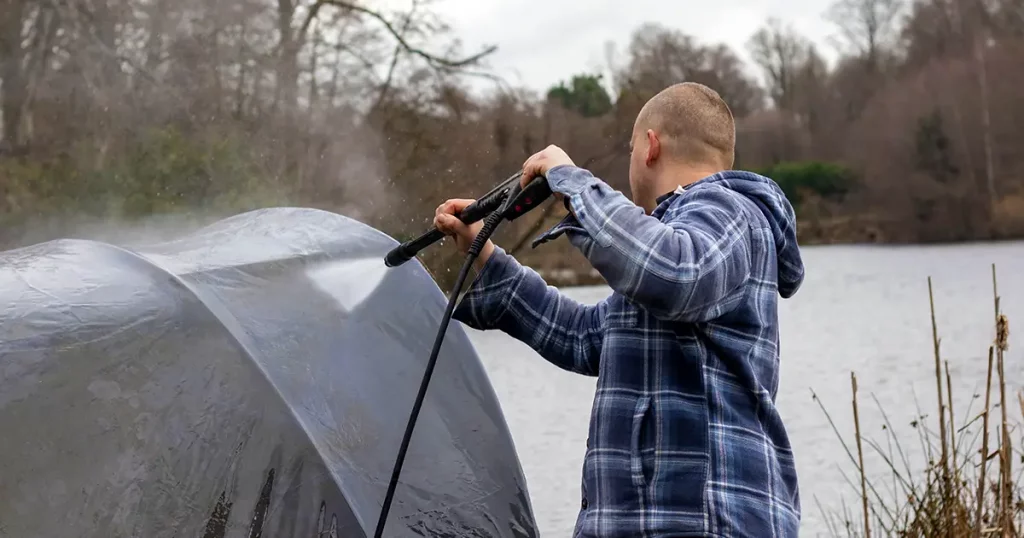 While some tents manufacturers offer a warranty, this is usually just a warranty against factory defects.
This means you will need to follow a few steps to keep your tent in good condition, to make it last for as long as possible.
When you return from your camping trip, make sure you wash your tent thoroughly. This involves:
Shaking off any loose dirt
Thoroughly wiping your tent with warm soapy water, concentrating on any areas with built-up dirt.
Allowing your tent to dry properly to stop mold from forming
Storage is also key. Store your tent in a dry, well-ventilated place, away from dampness or direct sunlight.
You can also re-waterproof your tent from time to time by using a waterproofing spray.
Frequently Asked Questions
Here are some frequently asked questions about camping:
Is there anything I need to know about camping in bad weather?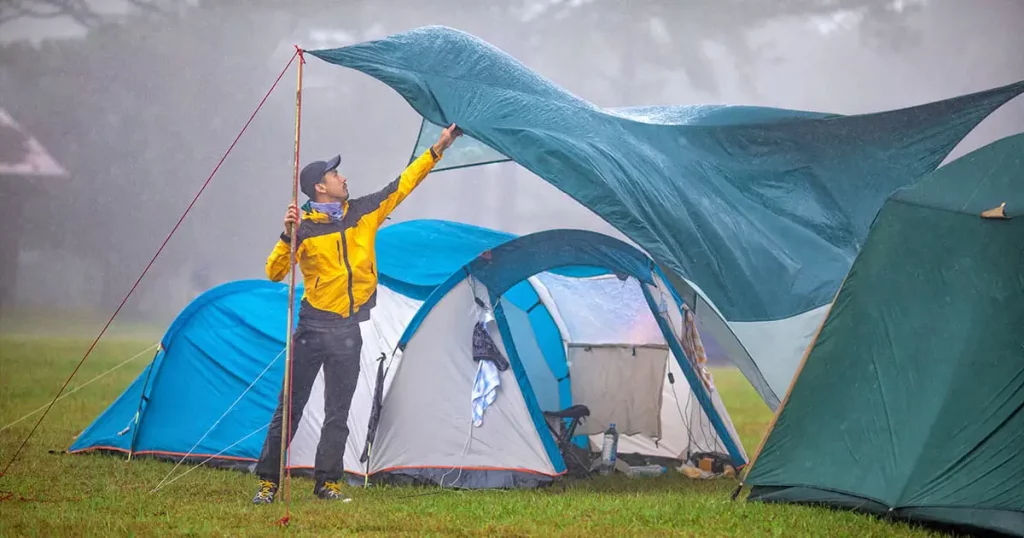 Camping in the rain or other bad weather is definitely doable. You just need to be prepared.
An obvious first step is to ensure you have a good-quality, waterproof tent. Once this is taken care of, there are a few other things you can do:
Be prepared. Look up the weather before you go, so you can bring the right gear with you.
Bring the right clothing. Waterproof coats are always a good idea if you think there might be rain.
Have an area in your tent to store muddy shoes. You can use a trash bag to step onto, then put your shoes in a large bucket or similar. This will stop you from tracking mud and dirt into the tent.
Choose your pitch wisely. If the weather is windy, try to camp somewhere near a shelter rather than being exposed to the elements with nothing around to protect you. This will help to shelter your whole tent from the wind.
Check your tent before you go to sleep. Sometimes the pegs (or stakes, which attach your tent to the ground) can lift out of the ground slightly on windy days, so spend some time hammering them back in before you go to sleep on a stormy night.
Have an exit plan. If the weather turns really bad, you'll need to know what to do. How can you quickly pack up your tent in an emergency? Where will you stay if you need to leave? You probably won't need the exit plan, but it's good to have it just in case.
Try to have fun. Having the right mindset is key to a successful camping trip in bad weather. It can be frustrating and stressful to camp in a storm, but hopefully, you'll look back on the bad parts and laugh about it (eventually).
What is the bare minimum I need for a camping trip?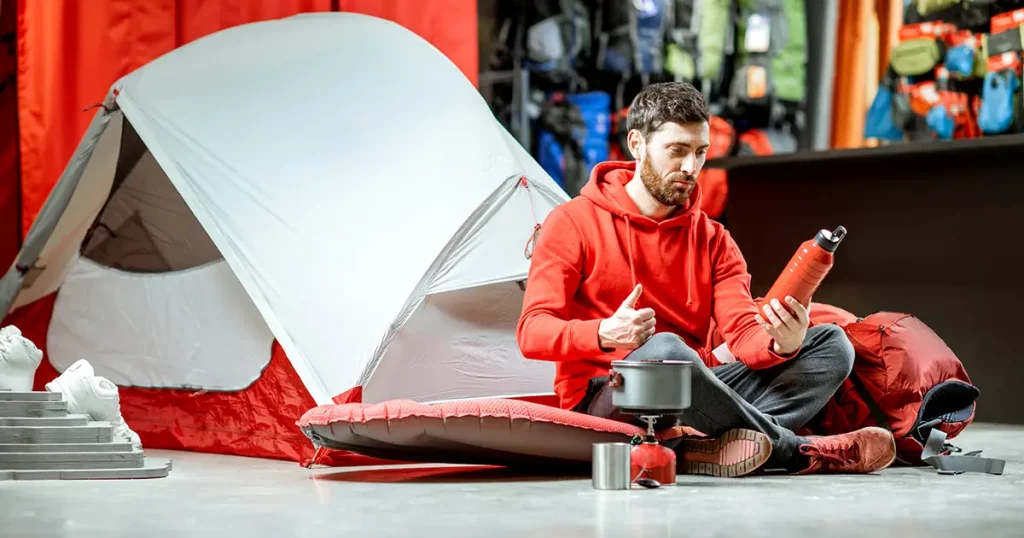 You can find out more about this in our guide to camping essentials, but here's the basic equipment you'll need:
A tent
Somewhere to sleep (either a sleeping pad or an air mattress)
A sleeping bag
A torch and spare batteries
A multitool with a knife, bottle opener, etc. (this is ideal for tons of little jobs that may crop up on your camping trip)
Clothing (look for light layers, rather than big bulky items. This way, you can add layers if you get hot or take them away if you get cold)
A water bottle
A small first aid kit
A backpack to store everything in
If you're going to a dedicated campsite or an area within walking distance of restaurants, you may not want to cook yourself. If you do want to cook, you'll need to bring a camping stove, a small set of cooking pans, and utensils. You'll also need a decent cooler to store your food.
Are there any luxury items I can bring on my camping trip?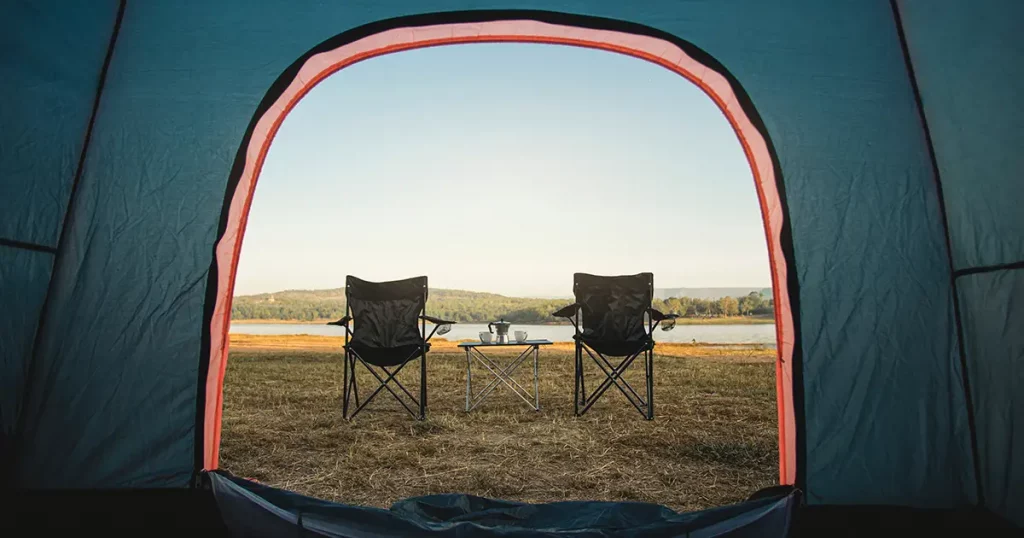 If you want to add a cozy, home-away-from-home sort of vibe to your trip, you can bring a few extra items.
Camping chairs – this will give you somewhere to sit. You can go for a heated camping chair if you want something to keep you warm.
Your own pillows – bringing pillows from home can add comfort and familiarity.
Solar-powered fairy lights – this adds coziness without taking up too much space.
Storage bins – you can bring plastic or collapsible storage bins, which will keep your stuff organized, making for a calmer, tidier space.
Nice snacks – bring some special snacks, including marshmallows for toasting.
Beach wagon – if you're camping near the beach, a beach wagon is a real bonus. You can use it to transport all your beach gear, and even your kids, onto the beach from your car, making it much easier.
What do I need to know about camping with kids?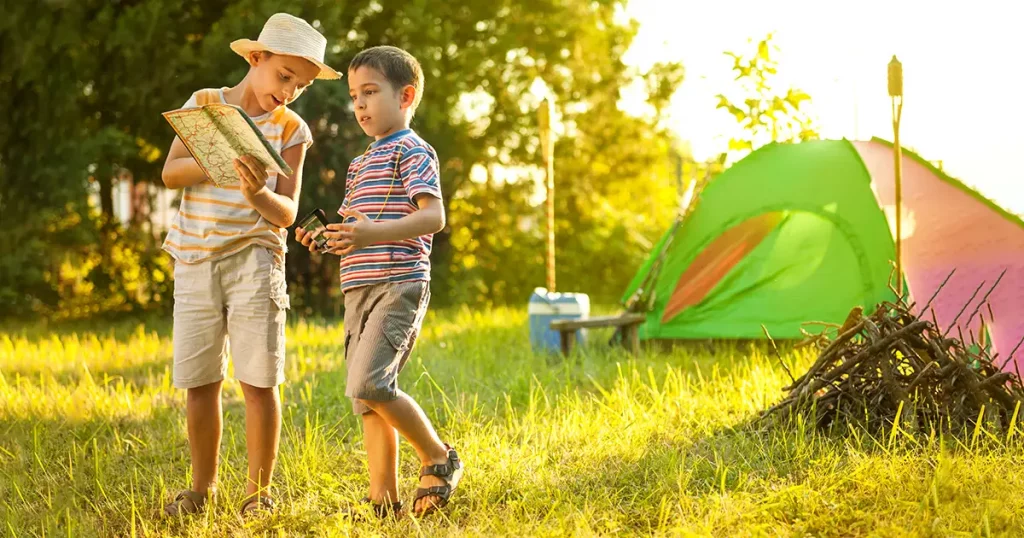 Many kids love camping, and you can make happy memories as a family on camping trips. Here are a few things to consider:
Relax the bedtime rules – chances are your kids won't be able to settle down to sleep at their usual time. Now is the time to be a little more flexible with bedtime.
Have a plan for bad weather – what will you do with your kids if the weather is bad? Is there a movie theater or an indoor pool nearby you can take them to? Make sure to bring plenty of activities as a backup plan, like small camping games, toys, and drawing supplies.
Bring the safety essentials – think of a first-aid kit, your kids' medicine, insect repellent spray, and sunscreen. It's easy to forget these small items!
Bring plenty of snacks – always an essential! Kids tend to get really hungry when they're out in the fresh air all day, so healthy snacks are key. Also, be sure to plan kid-friendly camping meals before you go.
Think about personal space for older kids – preteens or teenagers may struggle with having to spend time with their family in an enclosed space. You can look for a tent with separate bedrooms, or consider a small pop-up tent for them if they need some time to relax on their own.
To Sum Up …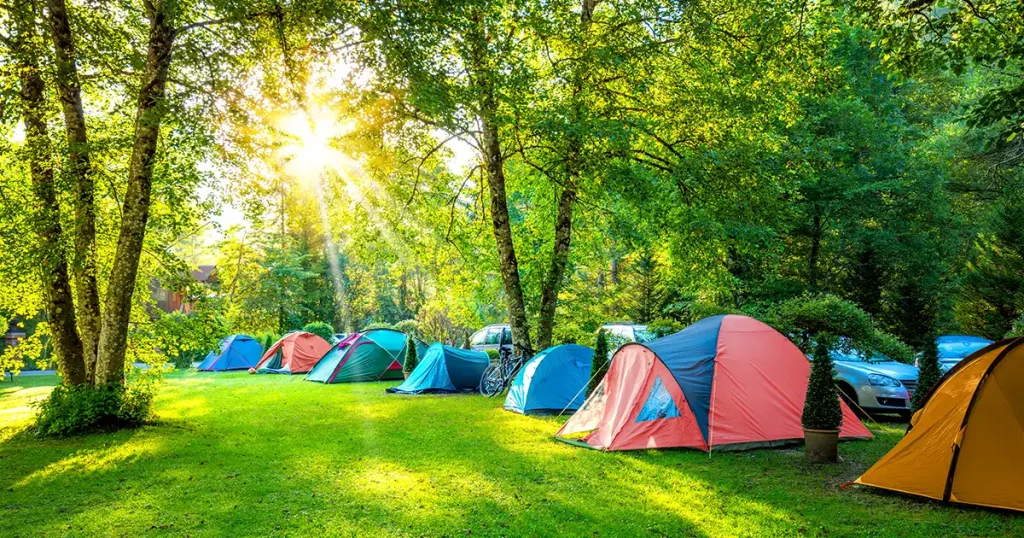 We hope this has helped you to find the best tent for your needs. Whether you're a solo backpacker about to embark on an adventure around the world, a couple doing a cross-country road trip in your truck, or a family wanting a large tent for outdoor adventures, there's a tent out there that will be perfect for you.