Are you looking for the best travel jacket with hidden pockets? If so, hopefully this article will help you in your quest for finding the right travel jacket for you.
If you're traveling or heading somewhere where the elements might be unpredictable, having a decent travel jacket is a must. When it's really cold or wet, or when the sun goes down, a reliable jacket is the best way to ensure your body temperature is regulated and you remain dry. Without one, you could encounter some serious problems that might put a stop to your adventure plans.
This guide is dedicated to sharing with you the 7 best travel jackets with hidden pockets. Each one has been hand-picked by us and has made our list due to their technical features, overall look and feel and, most importantly, how many pockets it has.
When you're traveling it's unlikely you'll want to take a large or bulky backpack with you, and when moving over long distances you'll want to travel light, too. This is where a jacket with a multitude of pockets might come in handy.
While pockets are important, there are plenty of other things to think about when choosing your perfect jacket. Generally speaking, weight and packability will both be a big feature; you'll probably want something lightweight and easy to pack down into a suitcase or smaller bag.
You'll want to feel good in your chosen jacket too, so look for a color and style that suits you and your personality. And if you're looking for additional technical features too, read up on what each jacket can offer. 
By reading this guide, you will learn the following:
What we think are the 7 best technical jackets with pockets on the market right now.
Which brands have made them and what makes each one so great.
The key features, pros and cons of each jacket.
The verdict: which jacket we think is best and why it's a good investment for your travel plans.
Things to think about when choosing a travel jacket 
As well as thinking about the pockets, there is so much more that a travel jacket can offer. From the overall look right down to the cost, bear some of these factors in mind so you can tick the ones that mean the most to you off your list. 
Plenty of pockets!
As you're reading this guide, you probably have a need for a jacket with pockets. But the question is, how many? This is going to depend on where you're going and what you're planning to use your jacket for. For example, if you're going skiing then having small zippable pockets for your lift pass and ID is a great idea.
You might also want larger pockets for high-energy snacks to keep you performing on the slopes. Taking a bag while you're skiing can definitely hampers performance and may run the risk of getting caught on chairlifts if you're not careful.
On the other hand, if you're going somewhere where there'll be lots of tourists then taking a bag might actually be unsafe. Pockets offer you a safe place to keep all your valuables close to you, meaning you don't have to worry about pickpockets. 400,000 pickpocketing incidents happen every day worldwide – a jacket with hidden pockets can stop you from being part of this scary statistic. 
Your travel plans
This will definitely have an impact on the type of jacket you go for. Whether you're hiking, mountain climbing or traveling from country to country, no two jackets are the same and each one will have been designed with performance in mind. Take this into account because a bulky down-filled jacket isn't going to be the right garment if you need a lightweight jacket that packs down into a bag. 
Your budget
Buying a technical jacket doesn't generally come cheap, especially when you're paying for premium quality fabrics, plenty of handy pockets and additional features that all serve to keep you warm, dry and comfortable. Finding a realistic budget might be tricky, but our top tip would be to stretch it as much as you possibly can to give yourself the best chance of buying yourself the best one. A technical jacket is an investment and should last you years and years, so it's well worth saving up.
Our pick for the 7 best travel jacket with hidden pockets 
At this point of our guide, we're about to share with you our top 7 jackets with pockets while offering you plenty of detail about each one. Each review is completely unbiased in order to offer you a well-rounded view of every jacket on our list, in the hopes that you'll be able to choose the garment that's best for you.
SCOTTeVEST Pack Windbreaker Jacket – 19 pockets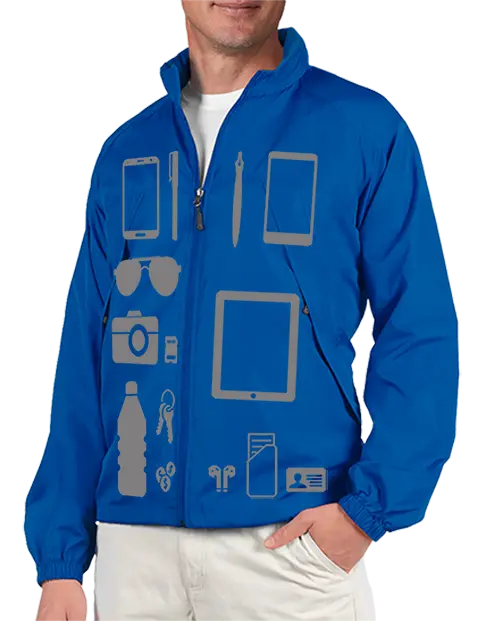 Key features
A utility-style jacket with 19 pockets; perfect for carrying devices such as passports, cameras, phones and tablets. 
Teflon-coated for water resistance and protection against water spills and dirt.
Lightweight windbreaker fabric; quick-drying and perfect for cool to warm weather. 
Patented Weight Management System designed to balance weight and load across the garment for greater comfort. 
Prevents neck and upper back from getting tired or sore.
The jacket packs into its own pocket. 
Comes with an eyeglass-cleaning chamois, detachable keychain and water bottle holder.
Hidden conduits to connect wires to devices while they are in your pockets.
Stowable hood.
Machine washable.
With 19 individual pockets, storing your valuables is serious stuff with the SCOTTeVEST Pack Windbreaker Jacket. In total, there are 14 pockets on the inside of the jacket and 5 on the outside. Each one gives you easy access to all your belongings, including important travel documents, ID, a tablet and pens, amongst many other items you might need.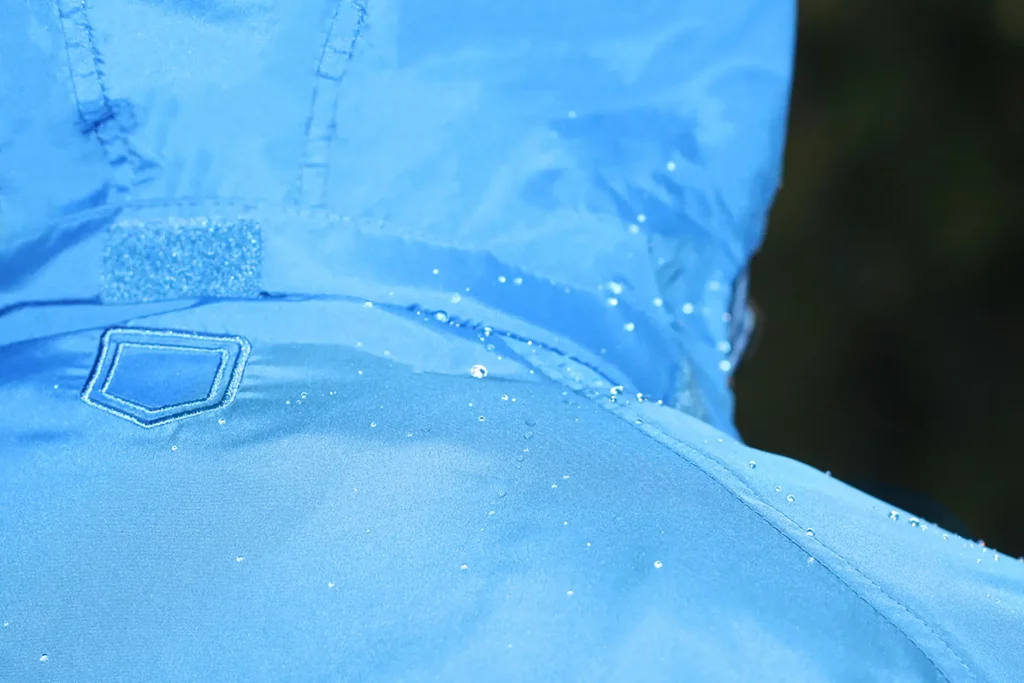 The jacket itself is made from 100% polyester and is Teflon-coated, giving it protection from water spills, light rain and dirt. It's also lightweight and quick-drying, keeping you warm and dry. SCOTTeVEST has created a patented Weight Management System, which spreads the load and balances the weight when you're using the pockets for greater comfort. Don't worry about overloading – this jacket can take it.
Pockets include:
Interior:
BudBucket™ x 2.
Glasses pocket.
Camera Pocket-in-Pocket™.
MyMemory™ pocket.
Tablet pocket.
Pen pocket x 2.
Phone pocket x 2.
Travel document pocket.
ID pocket.
Hidden pocket.
Exterior:
Handwarmer pocket x 2.
Back pocket.
Change pocket.
Pocket-in-Pocket™.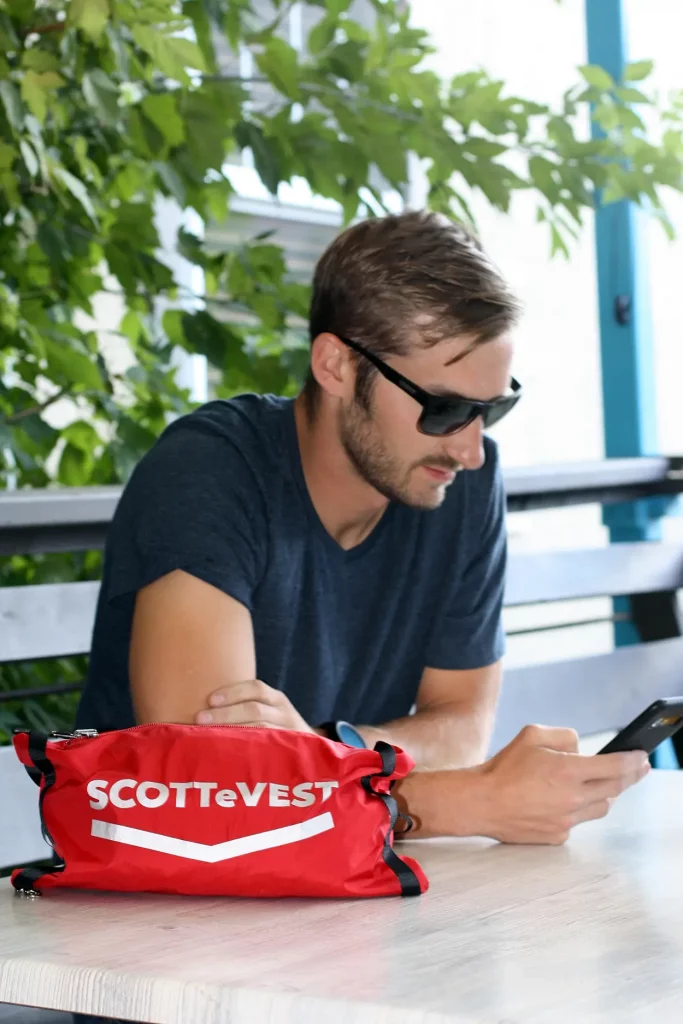 Pros 
Manages weight perfectly.
Carries plenty of items effortlessly. 
Lightweight and packs down so it's easy to carry.
Wrinkle-free design.
Cons 
There's no lining inside the sleeves.
SCOTTeVEST Hoodie Microfleece – 21 Pockets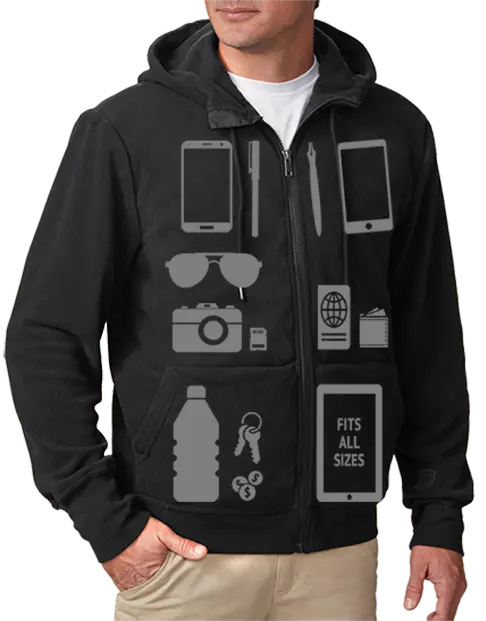 Key features
A microfleece with 21 pockets; perfect for carrying devices such as passports, cameras, phones and tablets. 
Patented Weight Management System designed to balance weight and load across the garment for greater comfort. 
Easy to remove – perfect for airports. 
Comes with an eyeglass-cleaning chamois, detachable keychain and water bottle holder.
Hidden conduits to connect wires to devices while they are in your pockets.
If you're looking for comfort and warmth, the SCOTTeVEST Hoodie Microfleece is designed to deliver. It's supersoft and really easy to wear and remove, so if you're traveling from destination to destination, it's the perfect addition to your travel kit. The hoodie features 21 pockets in total, with 14 on the inside and 7 on the exterior. These cover a multitude of things, including your passport and glasses – which are otherwise easy to lose. If you're looking to stay organized on your trip, this microfleece could seriously help.
As well as a multitude of pockets, there are hidden conduits which connect wires to your devices (like your phone or tablet) without your headphones getting tangled. It also comes with handy little extras, including an eyeglass-cleaning chamois, detachable keychain and water bottle holder. It's a relaxed fit, so choose your normal size for maximum comfort and style.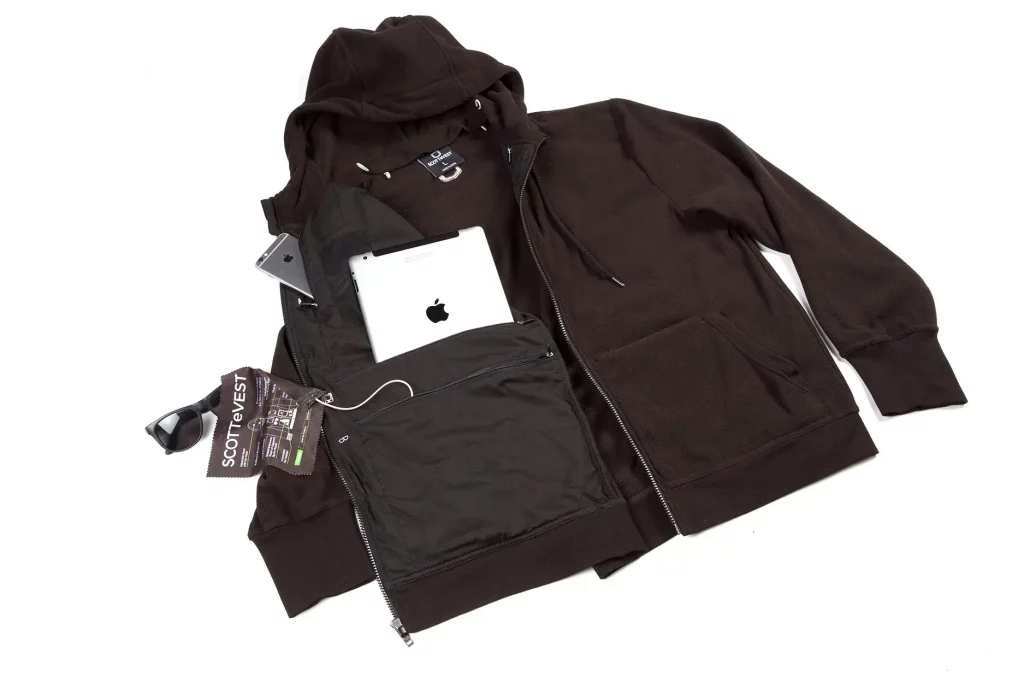 Pockets include:
Interior:
BudBucket™ x 2.
Glasses pocket.
Tablet pocket x 2.
Pen pocket x 2.
Phone pocket x 2.
Travel document pocket.
ID pocket.
Hidden pocket.
MyMemory™ pocket x 2.
Exterior:
Handwarmer pocket x 2.
TopDrop™ pocket x 2.
Change pocket x 2.
Pros 
It's really easy to take on and off. 
It makes a great layering piece.
It never looks bulky.
It's a stylish addition to any wardrobe. 
Cons 
It's not a jacket to wear outside; it will easily get wet.
BOMBAX Bomber Jacket – 10 pockets
Key features
Bomber jacket with 10 pockets.
Detachable & inflatable neck pillow. Takes 2 seconds to inflate and 1 press to deflate.
Earphone holders: hold the cord tightly and avoid the cable getting tangled together.
Built-in gloves: warm your hands in an air-conditioned room in summer and outside in colder weathers.
Zipper = stylus + pen: a zipper which is one 2 in 1 pen and stylus pen. You can sign a signature on paper with the normal pen and touch your screen with the other side (stylus pen).
Machine washable.
Looking for the do-it-all travel jacket? Add the BOMBAX Bomber Jacket to your list. It features 10 pockets in total and each one has a specific role to play. One of the novelty features is the stand-up drink pocket. It's large enough to hold a bottle so your hands are kept free for other things. There's also plenty of space for your devices, pens, sunglasses and earphones.
With the BOMBAX Bomber Jacket, you don't have to worry about taking a travel pillow anywhere again. This is thanks to its built-in inflatable neck pillow. You can detach it whenever it becomes inconvenient, but when you're traveling it only takes 2 seconds to inflate for comfort wherever you are in the world. The jacket also features built-in gloves, which is perfect for cold temperatures or air conditioned rooms.
Pockets include:
10-inch tablet pocket.
Sunglasses pocket.
Water-resistant phone pocket. 
Stand-up drink pocket: fix your drink or beer bottle to free your hands. Keeps your drinks hot or cold without splashing. 
Blanket pocket.
Portable charger pocket for your device's power bank.
Coin/notebook pocket for coins, a small travel book or post-it notes into this pocket to carry your unimportant stuff.
Hand warming pockets: two hand pockets keep your hand warm.
Pros
Reasonably priced
10 hidden pockets 
Lightweight 
Innovative features like hidden fingerless gloves
Can machine or hand wash
Cons
Issues with the sizes being too small
Not waterproof 
The neck pillow is bulky 
Only 2 colors available
VERSATYL Travel Jacket – 18 pockets
Key features
Travel jacket with 18 pockets.
Made with 100% polyester.
Lightweight, water resistant fabric. Wrinkle-free.
Features the world's best zipper – YKK.
Designed and tested garment for the highest quality. 
Unisex design – suitable for all genders.
Comes with an in-built satchel which folds into itself and can be carried around like a sling bag.
The VERSATYL Travel Jacket is the world's first multi-utility travel jacket, crowd funded in India to try and revolutionize travel. There are so many pockets it's almost impossible to find use for a bag when you wear it. Whatever you need to take with you when you're traveling, you're guaranteed to find space for it, making your valuables incredibly easy to carry around and access when you need them.
It's a unisex jacket, so the design works for both men and women. Whilst this is a great feature – especially if you're a couple and want to swap jackets seamlessly, it does mean the sizes are a bit off. VERSATYL recommends that customers size up for a better fit, but you might find this doesn't quite work for your body type. One huge positive is the brand has tried and tested each garment, offering only the highest quality design and manufacturing methods.
Pockets include:
Napoleon chest pocket for IDs, cards money or passport x 2.
Upper arm pocket for keys, change or essentials
Forearm pocket for keys, change or essentials x 2.
Handwarming pockets x 2.
Earphone loops.
Pen holder pocket.
Mini torch or bottle holder.
Phone pocket. 
Portable charger pouch. 
Compact camera pouch.
Tablet or document slider.
Wallet pocket.
Headphone or USB pocket.
Sunglass loop + pouch.
Carry pocket at the back.
Pros
18 pockets 
Water-resistant 
Stylish design 
Lightweight
Cons 
Jacket runs small
Only suitable for mild and warm weather
AyeGear J25 Jacket – 25 pockets
Key features
Jacket with 25 pockets!
Waterproof, windproof and breathable – rating: 800/8000mm.
Shell: 67% cotton, 33% nylon (wrinkle-free fabric).
Suitable for all weather and purposes. 
Tough 3-layer construction with premium grade zippers.
Lightweight fabric, perfect for carrying on a plane.
Comes with detachable sleeves to turn it into a vest.
Underarm Ventilation Zips
Concealed hood – stores into a discreet zipped pocket on the back of the collar for added rain protection.
Dual access for left or right handed users.  
Retractable reel for securing keys. 
Internal earphone routing system.  
Elasticated strap for drinks bottle.
Designed for minimum bulge and maximum discretion.
Machine washable.
Trust us when we say the AyeGear J25 Jacket oozes quality and style. It's a classic shape, made from a windproof, waterproof and breathable fabric with a rating of 800/8000mm. Rainy days? Don't worry when you've got this jacket to hand! It's also made from a tough 3-layer construction, giving you the perfect blend of performance and comfort.  
There are 25 pockets in total with plenty of zips to keep all your important things safe. The phone pocket is compatible with all brands and sizes of smartphone. It also comes with a clear film so you can clearly see your screen. And if you work on the go, there's plenty of space for all the tools (including a tablet) to help you get the job done. The AyeGear J25 is machine washable too, making it really easy to care for.
Pockets include:
Touch-sensitive pockets for smartphones x 2. 
Large internal zipped pockets for an iPad, tablet or Macbook 12″ x 2.
Credit cards x4.
Memory stick x2.
SD cards x2.
Coins x2.
Pens x2.
Passport.
Personal ID.
General x6.
Pros 
It can be turned into a vest for cooler weather. 
Holds a MacBook; perfect for workers on the go. 
It's waterproof, so perfect for rainy climates. 
Cons 
Fairly expensive.
It's also quite heavy.
Rothco Undercover Travel Vest – 12 pockets
Key features
Features 12 individual functional pockets.
Wire ports for headphones to pass through. 
Poly/cotton material for long-lasting comfort.
If you're looking for something cooler and lighter-weight than a full sleeve jacket, the Rothco Undercover Travel Vest could be just the thing you need. Designed for the tactical traveler, it features 12 pockets – most of which are concealed – to help make traveling a lot easier, especially if you're packing valuable items that you need to keep close by. It's made from a mix of cotton and polyester for long-lasting comfort. This makes it not only warm and breathable, but soft too. 
One of the best things about this vest is that it's the ideal weight and shape for layering, so if you're looking for more warmth then wear it under long-sleeve jacket. On its own, it's not the best for extremely cold temperatures. All the pockets are closed by zippers too, meaning your things are less likely to fall out. It just could be a little tricky to get in and out of the ones on the inside though, which is something to bear in mind if you're stuffing it to capacity.
Pockets include:
Tablet-sized pocket for electrical devices.
Phone pocket.
Hidden passport pocket on the inside. 
Pen pockets x 2.
Breast pocket.
Hand pockets x 2.
Concealed internal pockets x 2.
Hidden headphone outlet. 
Pros 
It's great for layering.
All pockets are closed by zippers. 
Most of the pockets are hidden inside, so your valuables will be kept safe.
Cons 
It might not provide all the warmth you're looking for. 
Only the outside zippers have pull extensions, so the others might be tricky to open.
AyeGear H13 Hoodie – 13 pockets
Key features
13 pockets
Technical fleece-lined hoodie made with premium cotton.
Fitted hood.
Fingertip access to all pockets.
Elasticated band for securing liquids or fragile gear.
Available in black, grey, blue, red and maroon.
Machine washable.
Relaxed fit.
Unisex design – sizes available for both men and women. 
Connectivity, accessibility, mobility and security (CAMS) – activated. Theft and pickpocket-proof.
Can be used for sports, casual wear, leisure clothing, camping, hiking, travel, outdoor pool, gym, festivals, concerts, etc.
Zero bulge.
Worn on the set of x-men days of future past
One of the more colorful jackets on our list, the AyeGear H13 Hoodie is supersoft and fleece-lined for comfort and warmth; perfect if you're traveling to cold destinations. It features 13 pockets, including a hidden phone pocket that comes with a clear screen. This allows you to use it without taking the phone out of its pocket. There are also two button-fastening pockets on the sleeves, allowing you to stash cash or cards when you need to get to them quickly.
If you're looking to put your own stamp on the jacket, it comes in 5 commercial colors to suit your personality. The jacket is also machine washable, so it's super easy to care for. And if you're headed to busy tourist hot spots there's no need to panic: the AyeGear 13 is pickpocket proof so thieves can't get to your belongings, giving you peace of mind that you can travel anywhere safely.
Pockets include:
Interior:
Touch sensitive pocket for smartphones. Compatible with most makes and models.
Large Velcro-fastening pocket for an iPad, tablet or Macbook 12″.
Secure zipped pocket for passports, cash or a camera.
Credit card compartment x 3.
Slot for pen.
Exterior:
Hand pockets (2x inner smaller pockets, ideal for USB and SD cards).
Zipped chest pockets.
Sleeves:
Buttoned pockets x 2 – 1 on each sleeve.
Pros
It's just as warm as a standard jacket.
The phone pocket comes with a clear screen, allowing you to use your phone without removing it from your pockets. 
It offers zero bulge, even when your pockets are full. 
Cons 
It's quite heavy even before you fill your pockets. 
The size can be a bit small.
The verdict: which travel jacket is best?
Sometimes pockets are a must, but which travel jacket does the job the best? Our number one has to be the BOMBAX Bomber Jacket. While 10 pockets isn't the highest amount on our list, the additional features are so smart that they just can't be overlooked. Seriously, where else can you find a built-in travel pillow? It's also got the important things covered, from your phone to cash and cards, meaning you can keep your valuables close by without having to worry about them.
These jackets are also worth another mention: 
Best for traveling: SCOTTeVEST Hoodie Microfleece. If you're regularly hopping on a plane, train or other mode of transport, this hoodie is soft, comfortable and seriously handy. With 21 pockets, you'll have a hard time even filling this hoodie up, so you definitely won't be short on space. It prevents the need for a bag, so you won't need to pay for that expensive hand luggage allowance each time you fly.
Best value: Rothco Undercover Travel Vest. If you're not in the market for an expensive technical jacket, this vest is a great alternative. You can find one for around $50 and it definitely doesn't skimp on pockets. Layering is sometimes best if you're looking for warmth – you can organize your travel stash while packing in the heat with this vest, offering the best of both worlds. 
The bottom line
Now that you've come to the end of our guide, you've hopefully got a much better idea of which jacket that features a multitude of pockets might be your favorite. Each one has plenty to offer – it's just a case of how many pockets you need and which jacket has the best additional features overall. A travel jacket is a great investment, and could be make or break the comfort and enjoyment of your trip. Find one that looks good, feels good, and does the job you need it to. 
We really hope this article helped you make a decision and we would love to know where you're headed on your travels; please get in touch to share your travel stories with us!
Got the travel bug? Then don't forget to stay hydrated with our guide on the best filtered water bottle to see if it could help you with your luggage? We've also a detailed guide on the Iceberg Lake Trail for you to discover.