This guide is dedicated to helping you understand more about Fifty Fifty vs Hydro Flask (we've also compared Hydro Flask vs Yeti Rambler) so you can see which one is best for you.
When you're traveling to remote parts of the world, hydration is incredibly important when you don't always have easy access to water stations. That's where a top quality water bottle should come into your travel plans (see our other guide on the best filtered water bottle). Insulating, hard-wearing and durable, they're designed to withstand the toughest of adventures, leaving you with one less thing to worry about when you're on the road.
Whether you're heading on a hiking trip, are going camping, or simply want a decent water bottle to use when traveling to and from work, by the end of our guide you're going to be armed with all the information you need to make an educated choice regarding whether either Fifty Fifty or Hydro Flask water bottle is the right option for you. 
By reading this guide, you will learn the following: 
The main differences between Fifty Fifty and Hydro Flask
Why a stainless steel water bottles is the best
The pros and cons of both Fifty Fifty and Hydro Flask.
The verdict: which water bottle we have found to be the best.
Some of the top FAQs that other customers search for.
The main differences between Fifty Fifty vs Hydro Flask
The main differences between Fifty Fifty vs Hydro Flask are as follows: 
The Fifty Fifty range includes narrow bottles, whereas Hydro Flask features standard sizes. 
Hydro Flask offers slightly more color customization options with 19 choices, whereas Fifty Fifty has 16.
Hydro Flask comes with a straw lid, whereas Fifty Fifty sells their straw lids separately. 
Reasons why a stainless steel water bottle is best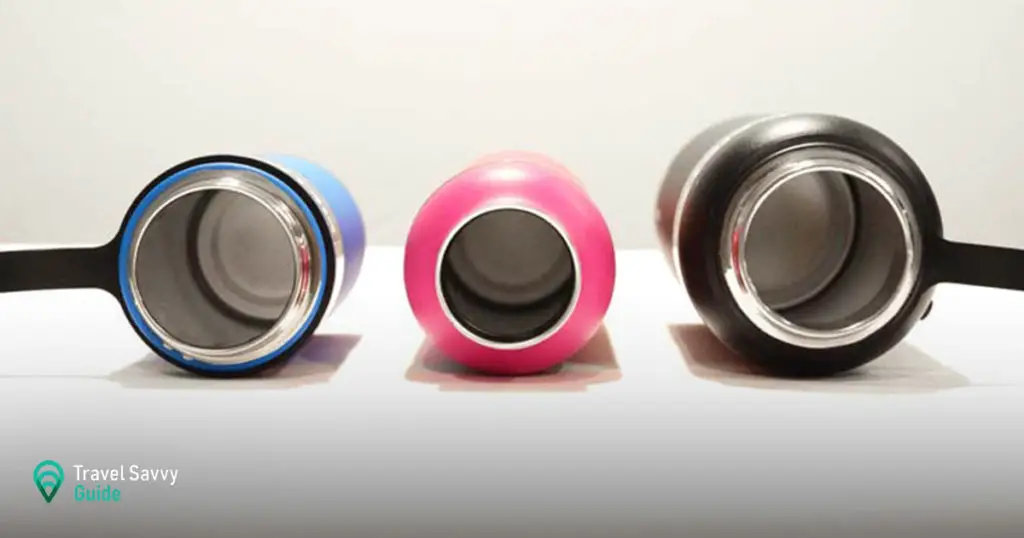 When it comes to a stainless steel water bottle, we expect them to keep hot drinks hot and cold drinks cold for longer. However, you might be surprised to know that they have a range of other benefits, too. If you're in the market for something new, check out why a Fifty Fifty or Hydro Flask stainless steel water bottle is a great choice. 
They're better for the environment
Environmental pollution is a big deal, especially with the amount of single use plastic being thrown into landfill every day. According to research, 30 billion plastic water bottles are thrown away each year, and it takes around 1,000 years for those bottles to decompose. Decomposing plastics contain harmful chemicals that have been linked to cancers, diabetes, reproductive issues, and neurological damage.
Stainless steel water bottles are also made with natural materials that are often easily recycled. They can also be reused over and over again, so by using one you're not adding to the sea of waste that is already becoming unmanageable. On the other hand, glass bottles can shatter too easily, and can be dangerous if stepped on by humans or animals. 
They're sustainable
Because stainless steel is non-toxic and non-absorbent, water bottles made from this material can be sterilized often and without any degradation. They're also resistant to corrosion and are easy to clean, so they're a sustainable option when it comes to carrying water frequently and for long periods of time.  
You'll be drinking cleaner water
When it comes to stainless steel bottles, you're actually getting access to safer drinking water. This is because bottled water isn't required to meet the same standards as municipal water, so you can't be sure what might be in it. 
They're less likely to crack
Plastic bottles can easily crack or shatter with a simple drop to the ground – even if they're branded as 'shatter-proof'. Stainless steel is a tougher material, and is unlikely to dent or crack even when dropped.
Fifty Fifty vs Hydro Flask – Which is better?
In this section of our guide, we'll be covering the features, pros and cons of both Fifty Fifty and Hydro Flask to help you make an informed choice. 
Fifty Fifty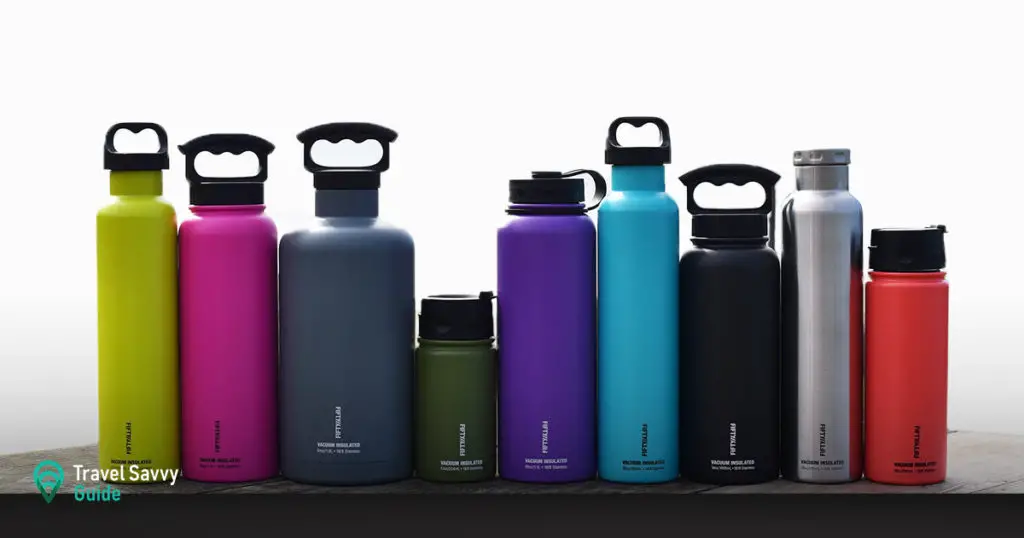 Fifty Fifty water bottles are designed to be carried around easily wherever you go. They come in 6 different sizes, which are 12oz, 18oz, 25oz, 34oz, 40oz, and 64oz. All offer something unique depending on your water bottle needs, but the great thing is that many are equipped with lids that either allow you to carry them, or tie them to a backpack. 
Fifty Fifty water bottles are vacuum-insulated which keeps hot drinks hot and cold drinks cold – your drinks are guaranteed to stay hot for 6 hours and cold for 24 hours. The stainless steel is recyclable too, so if there is a defect with your bottle and you need to dispose of it, you won't be adding to the plastic pollution problem. However, the bottles come with a lifetime guarantee should anything go wrong with it, meaning you'll be covered. 
In general, the wide mouth opening is really handy, as it's easier to clean and you can take advantage of the insulation by placing ice cubes, soups and other hot lunches inside. The outside of the bottle won't condensate either, and you won't feel the heat coming through (so you can hold it for longer). 
If you'd prefer to express your creativity or personality, there is a range of colors to choose from to suit you and your favorite shade.
Features:
Comes in 12oz (355 mls), 16oz (473 mls), 20oz (591 mls), 25oz (147 mls), 34oz (1,005 mls), 40oz (1,182 mls), 64oz (1,892 mls) sizes. 
No odor or taste retained. 
Double-wall vacuum-insulated – keeps liquids hot for 6 hours and cold for 24 hours. 
Double-wall technology prevents condensation and keeps outside of the bottle at a comfortable temperature.
The lid's silicone ring ensures a snug fit and no leaks. 
Narrow bottle design – fits easily into a backpack.
Smoke pressure fit slide lid included. This allows you to release the pressure of the steam out without having to remove the whole lid.
Assorted colors available.
Hand wash only.
Each bottle comes with a lifetime guarantee.
Pros:
It's an affordable option. 
Lots of other accessories are sold separately, meaning you can customize your bottle. 
It's got great insulation properties. 
Perfect for day to day activities and adventures. 
Cons:
There's nothing particularly fancy about the bottle – it's very standard in its design. 
The lid can sometimes be difficult to remove. 
Hydro Flask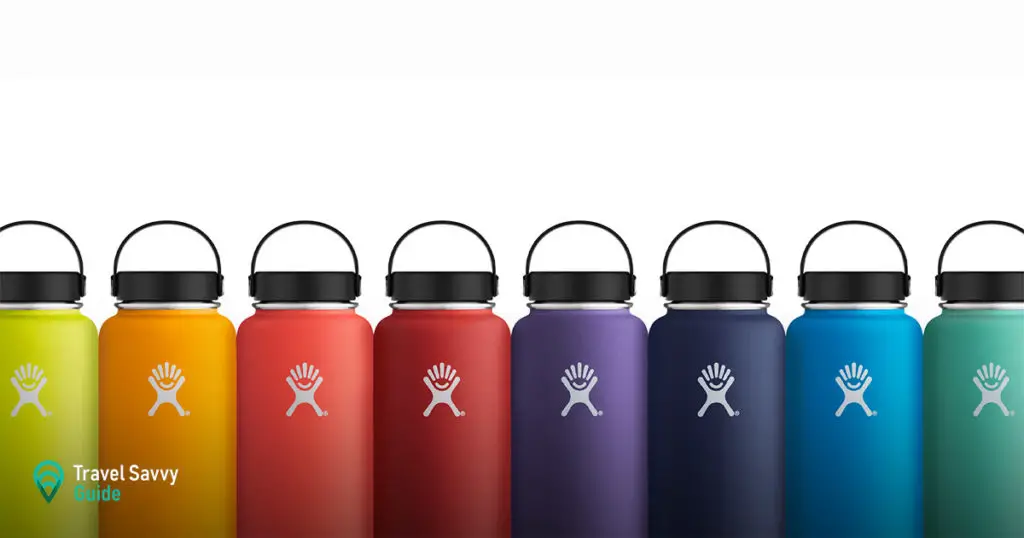 Hydro Flask is one of the big players when it comes to stainless steel water bottles, with their range constructed from 18/8 pro-grade steel. Not only does this make the bottles tough and incredibly durable, but it gives the best taste as there is virtually no flavor transfer. Even if you're filling it with something other than H2O, you won't taste what else has been in there.
Hydro Flask promises to keep drinks hot for 12 hours and icy cold for 24 hours. This is thanks to TempShield technology – the double wall, vacuum insulated technology that guards the temperature of your drink. The brand also guarantees no condensation or heat transfer to the outside of the bottle, ever. This makes it easier to carry and prevents slippages while you're carrying it.
Hydro Flask's range (much like Fifty Fifty) is BPA and phthalate-free, which means no nasty chemicals can seep through into your beverage. Moving on to the lid, you can either choose from the wide or standard mouthpiece option. The wider one is ideal for those doing fast sports, like cycling or skiing. The straw lid is also a handy option if that's what you prefer, but it's not leak-proof – which is something to bear in mind when you use it. 
One of the biggest downsides is that it's not dishwasher friendly. Putting it in the dishwasher could tarnish the bottle too, so it's best not to risk it. It's perfectly fine to hand wash with non-abrasive soap, so do that to preserve the quality. 
Features:
Comes in 12 oz. 18 oz. 20 oz. 21 oz. 24 oz. 32 oz. 40 oz. 64 oz
Made using TempShield technology, patented by Hydro Flask, it's designed to keep drinks hotter (12 hours) or colder (24 hours) for longer periods of time.
18/8 pro-grade stainless steel construction. Tough, hard-wearing and guarantees pure taste. 
No flavor transfer.
Free from BPA and phthalate.
Easy grip outer, thanks to the proprietary powder coating.
Flexible cap with wide mouth.
Includes a wide mouthpiece straw lid (note: this isn't a leak-proof lid).
Sweat-free outer: no condensation for better grip.
Comes with a lifetime guarantee.
Choose from a great range of stylish colors. 
Pros:
Super hard-wearing stainless steel construction. 
Well insulated thanks to the double-vacuum internal. This keeps drinks hot for 12 hours and cold for 24 hours.
Free from BPA.
The non-straw lid is leak-proof. Great for carrying in your backpack.
Customizable bottle caps.
Sweat-free and easy grip.
It's not as expensive as other brands – good if you're on a budget.
Cons:
It isn't safe to use in the dishwasher or freezer. 
It needs regular cleaning to stop smells building up (not so easy in remote areas) 
There have been some reported issues with lid alignment.
The verdict: Fifty Fifty vs Hydro Flask – Which is better?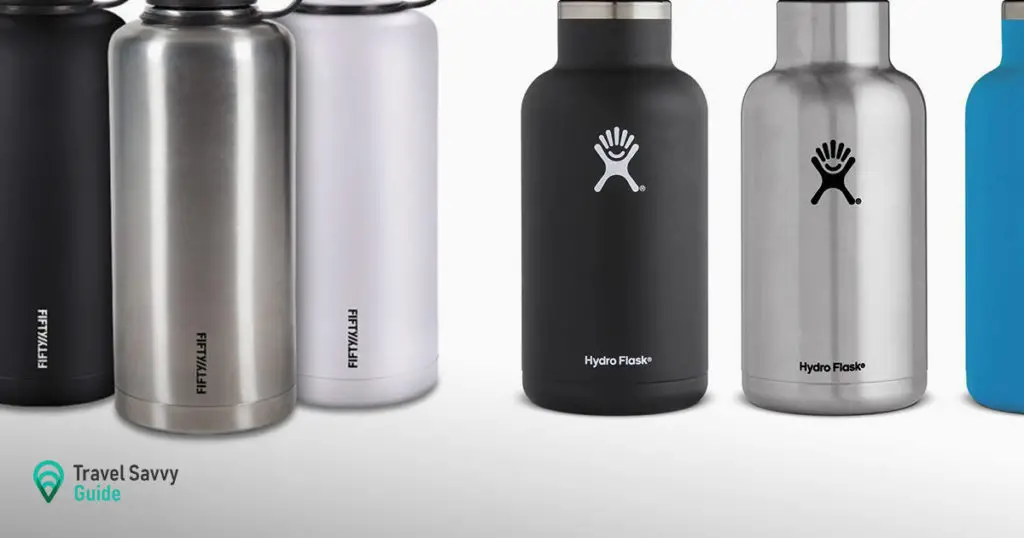 There aren't actually very many differences when it comes to Fifty Fifty and Hydro Flask. The main differences come from the sizing options, available colors and the lid design. Fifty Fifty offers a few more sizes in the range, which is great for travelers needing a wider choice, but it's not a deal-breaker, as Hydro Flask offers just the right amount of size options you'll need.
Fifty Fifty generally offers a more affordable range of bottles, even though larger sizes are available. This might be to help the brand cement itself within a crowded market, but this is good news for people who don't want to pay out too much for a stainless steel bottle. The design of the Fifty Fifty range is quite understated, but it delivers on the hydration front, and ultimately it keeps drinks hot and cold for a long time – which is undoubtedly what you're after. 
However, Hydro Flask has the benefit of TempShield technology, which is an innovative insulation that keeps drinks cold for 24 hours and hot for 12 hours. That's impressive, and while Fifty Fifty promises the same, there are some complaints from users that this isn't quite accurate. There are some comments that the lids can be easily breakable too. The good thing is the brand will replace them, but it's a bit of a hassle to get this done. 
Hydro Flask looks good too – the colors on offer are stylish and can be matched to suit your individual personality. Overall, because of its reputation and amazing online reviews, Hydro Flask is our winner this time, but it's a really close call.
Ultimately we'll be happy to recommend either brand, so pick the one that works for you and give it a try when you're on your travels. This is the best way to test them out. 
Frequently asked questions about Fifty Fifty vs Hydro Flask 
Is there a lining inside a Fifty Fifty bottle?
No. Their bottles are made from food-grade stainless steel which does not fall apart, meaning their bottles do not require a lining.
What is the difference between a stainless steel and aluminium bottle?
Aluminium bottles require a plastic or epoxy lining, and this is because aluminium can leach into water. Fifty Fifty bottles are made from food-grade stainless steel which doesn't leach, so don't require a lining. 
Can you put a Fifty Fifty bottle in a dishwasher?
It's not recommended. While putting a stainless steel bottle in the dishwasher won't actually damage the bottle or machine, doing so could cause wear or discoloration of the paint on the colored bottles. Fifty Fifty recommends hand washing your bottle with a non-abrasive soap. 
Or for a more thorough clean, try adding 1 teaspoon of white vinegar or baking soda into the bottle, fill it 3/4s of the way with warm water, close and then gently shake. Rinse it thoroughly and then let it air dry, keeping the cap off. 
I think my Hydro Flask has lost its insulation properties. How can I check?
You can actually test it yourself using boiling water. Pour the water directly from a kettle into your Hydro Flask, filling it all the way to the neck. After about 5 minutes, feel the outside of the flask below the neck. If there are any hot spots when you touch it, the insulation has been compromised. In this instance, contact Hydro Flask for a replacement bottle. 
Don't hold the flask while filling with boiling water, and don't place the cap over the flask either. 
Why do people like to avoid BPA?
BPA (bisphenol A) is a chemical that makes certain plastics and resins, and can be found in polycarbonate plastics – typically used in food containers or plastic water bottles (the single use kind). Research has shown that the epoxy resins can coat the inside of metal bottles, seeping into the beverages they hold. BPA can have a negative effect on brain health and behavior, as well as increasing blood pressure. 
Can you customize a Hydro Flask bottle by applying stickers to it?
Yes, you can! And the best thing is any kind of sticker will stick to the outer. Because Hydro Flasks don't sweat or condensate, they shouldn't slip off either. 
Final thoughts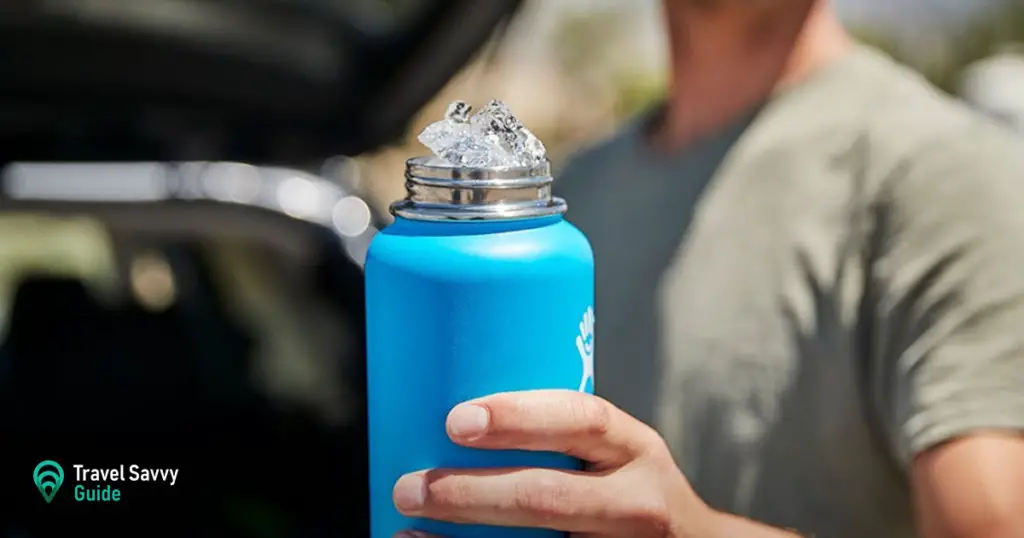 By now, you've hopefully got plenty of information about the pros, cons and benefits of both the Fifty Fifty and Hydro Flask range. Each one is unique, but one will ultimately fit into your travel plans (even if you're hiking in rugged places such as Guatemala) places more than the other. Hydration is incredibly important, especially in hot regions, so make it a priority. 
We really hope this article helped you make a decision on which water bottle you prefer and we would love to know where you're taking yours on your travels; please get in touch to share your stories with us! Make sure you're prepared for your travel plans with our guide on the 7 best men's travel jackets. Or if you're looking for your next hiking location, why not read up on the Humphreys Peak Hike?