Whether you're heading to the Philippines or the French Alps, a good set of luggage is one of those things you can't live without. Recently, Mia Toro seems to be a name on a lot of travelers' lips, which is why we thought we'd review it here to see if it's as good as people say it is.
Before we delve into the nitty gritty details of this Mia Toro Luggage review, we'll look at who Mia Toro is and the different luggage options they offer.
Who is Mia Toro?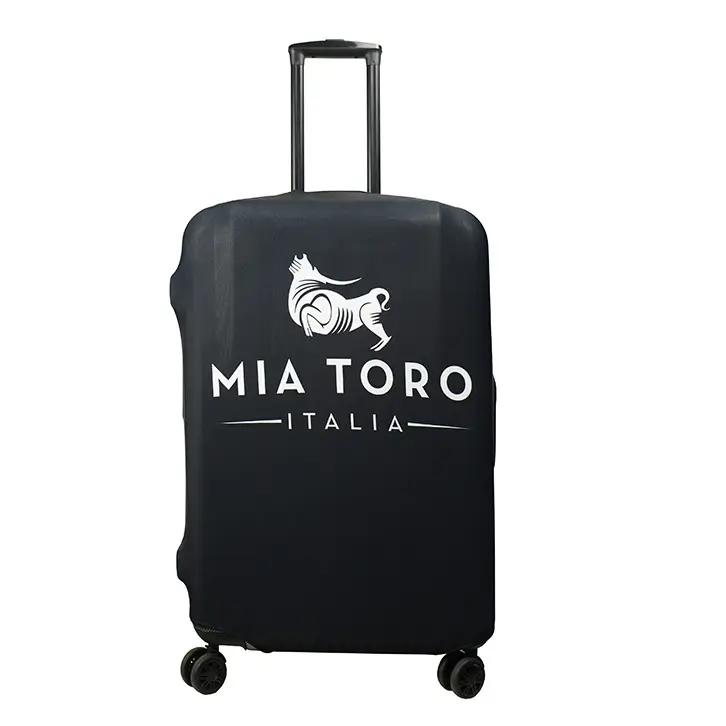 Mia Toro is an Italian Brand that has taken scientific principles to create beautiful looking luggage designed to stand the test of time. Founded just a few years ago (though part of the larger HONTUS Milano Group) their name means 'My Bull' in English, words representing the beauty and strength of their products.
Different Mia Toro Luggage Options
Mia Toro offers luggage options to suit every travelers' needs.
Their Carry-On Luggage is Ideal for short trips. They come in a range of colorful designs, meaning you won't easily lose sight of your luggage, and with 360o wheels, making it easy to make your way around even the busiest airport.
Their checked Luggage is ideal for those looking at longer trips where checking your luggage in is a must. Mira Toro has hard and soft side luggage, both of which are strong enough to keep your belongings safe and secure.
Like their carry-on luggage, there are plenty of designs with their checked luggage that catches the eye and will make you stand out from the airport crowds.Of the two, hard side luggage is probably better for keeping your belongings protected.
However, if you are the type of person who wants to squeeze every last item in their suitcase, then the soft side option will be a better choice as the fabric has more give. You also need to remember that soft side suitcases are also more likely to show signs of wear and tear then hard side cases, which tend to bear up better to knocks, bumps, and scrapes.
The soft side suitcases come in a range of colors but nothing else. If you want a suitcase with a more stand out design, you'll need to go for a hard side suitcase.
Mia Toro Luggage Review – In Detail
Whether you go for Mia Toro's carry-on or checked in luggage, both offer a range of great features that can make your journey much easier. Some of these, however, aren't available on the soft side versions. First, we thought we'd look at the features all the luggage shares, then focus on where there are differences.
The first thing to note is that all their suitcases come with TSA friendly dura-locks, which means you can lock your suitcase, but TSA agents can still gain access if they need to without damaging your luggage. They all also come with 360o rotating wheels and ergonomic gel grip handle.
There are four wheels, which move in every direction, meaning the suitcase is easy to maneuver through even the busiest airport while the ergonomic handle ensures you will be able to hold onto it if you do need to pick it up.
If you do pick your suitcase up, you'll likely be pleasantly surprised by how light it is, especially the hard side versions, which weight much less than their appearance would have you believe.
inside the suitcase there are zippered dividers. This allows you to create two separate compartments to better organize your belongings. To stop them moving too much in transit, you also get compressions straps and clasps, which are really easy to use.
The Differences
The main difference comes down to whether you choose a hard or soft sided suitcase. The hard side suitcases are made from a flexible composite material that makes them lightweight but incredibly durable. This means finishes in a whole range of colors and designs, something you don't get with the soft sided luggage.
These designs are the other main difference. Mia Toro offers a vast range of different looks, ones that will make you stand out from all the other travelers – but only if you choose a hard-sided suitcase. If you go for the soft side option, you'll need to settle for choosing from a range of different colors.
Warranty
One final thing all the luggage shares is the warranty, which covers all Mira Toro luggage, bar regular wear and tear, for ten years, which is more than many of their competitors offer and should give you peace of mind while you travel.
Features:
10-year warranty
Wide range of color options and designs (on hard sided luggage)
Lightweight and yet incredibly strong
Highly durable
360o rotating wheels (x4)
An ergonomic gel grip handle, making it easy to carry
Flex pack that offers 25% more packing space
Zipper dividers, clasps, and compression straps
TSA compatible dura-lock
Can be bought as a three-piece matching set (different sizes, including carry-on)
Pros:
Bright and bold designs that will make you stand out from the crowd
Range of sizes, including carry-on
Look worth the money
Strong and sturdy
10-year warranty, meaning you can get a replacement if something goes wrong
Easy to maneuver
Lightweight, making them easy to carry
Cons:
Soft side versions don't come with as many design options
Received mixed reviews, which some buyers suggesting the luggage isn't worth the money
Poor customer service if something does go wrong.
How other luggage compares
If Mia Toro luggage doesn't sound quite right for you, there are other options out there. We've looked at some of these to help you make a decision on which to buy.   
Samsonite Freeform Expandable Hard Side Luggage with Double Spinner Wheels
Samsonite is probably one of the best known and most loved luggage brands on the market. They have a reputation for being hard wearing and long-lasting, able to stand everything a baggage handler can throw at them.
Their Freeform Expandable Hard Side Luggage comes in three sizes, including carry-on, meaning there is an option whatever your travel needs. It offers four, 360o, rotating wheels and a push-button handle, making it easy to make your way around the airport and store your suitcase away once you're on the plane. Plus, it's TSA compatible, so your luggage can be security-checked without being damaged.
Inside, there are cross-ribbon straps to hold your belongings in place, multiple pockets, letting you store smaller items and a divider to help you stay organized. An expansion pack means you can fit more in than you might initially think, something that not all hard side suitcases offer.
Like Mia Toro, Samsonite offers a 10-year warranty on their suitcases, though this is limited and only covers defects in materials and workmanship. What they don't offer is as many color choices; the Freeform suitcase only comes in black, white, sage green, navy, and tangerine.
Features:
Made of scratch-resistant polypropylene
Comes in three sizes, including carry-on
Four, 360o, rotating wheels
10-year warranty
TSA compatible (with a combination lock)
Lightweight and highly durable
Easy to store thanks to a push-button handle
Pros:
Lightweight and easy to carry/maneuver
Highly durable
Built by a company with a reputation for producing high-quality luggage
Dividers, cross ribbon straps and storage pockets, helping keep you organized
Cons:
Comes in a limited range of colors
At the higher end of the market (price wise) so isn't for everyone's pockets.
Delsey Paris Helium Aero Hard Side Luggage with Spinner Wheels
The Delsey Paris Helium Aero Hard Side suitcase is another option by a well-known brand that offers travelers a range of sizes to meet their needs. It comes in a larger number of colors than the Samsonite we've just looked at but still less than Mia Toro luggage, and there are no art-based options.
What is nice about the Helium Aero is that there are different sizes for domestic and international travel (both carry-on and checked luggage). It also has some great features that make traveling easier, such as an integrated padded sleeve for a laptop and zippered pockets for smaller items including laptop accessories (in addition to two internal compartments).
Externally, the luggage is made with durable material that is designed to be scratch resistant. It has an expanding compartment, letting you increase the size of your suitcase by 2 inches, and double spinner wheels. The handle has two locking positions, making it comfortable regardless of your height, and is easy to maneuver.
If hard side suitcases aren't for you, you can choose a soft side model with all the same features, which we like. However, it's worth pointing out that you only get a lock on the hard case luggage.
Features:
Hard Side is made from durable polycarbonate, making it lightweight but highly durable
Double spinner wheels for easy maneuvering
The main compartment expands by 2 inches
Two packing compartments
Padded laptop pocket
Multi-position handles
Zippered front compartment (soft side)
Lock (hard side)
Pros:
Lightweight and durable
Rotating wheel for maneuverability
Dual position handle so works for passengers regardless of height
Range of sizes for domestic and international travel (carry-on and checked luggage)
Offers travelers plenty of room for their belongings
Cons:
Not covered by a warranty
Doesn't have a side handle, which can make it difficult to get on scales at the airport
Which is the better option?
Getting the right suitcase is so essential when you're traveling for making sure your belongings make the journey safely and securely. To make sure this happens, you need to find one built to last, something we can say about all of the luggage we've looked at here.
Being able to maneuver your luggage easily in even the busiest airport is also important. All the suitcases we've looked off fully rotating wheels, which is good. However, reviews of the Delsey Paris Helium Aero suggest that their wheels might not be as good as the other luggage we've looked at.
Another downside with the Delsey Paris luggage is the lack of warranty, which means if something goes wrong, you could end up having to buy a new suitcase in the middle of your holiday. The Mia Toro and Samsonite offer ten-year warranties. However the warranty for Samsonite's is limited while the warranty for Mia Toro warranty covers everything.
Another difference between the Samsonite and the Mia Toro is the range of exterior designs and colors available. Samsonite offers a small range of colors, none of which are necessarily going to stand out on the baggage carousel. It's unlikely you won't spot your Mia Toro luggage straight away, or that you won't turn heads as you walk through the airport.
So, while looks aren't everything, they do give the Mia Toro the edge in our eyes. They make a really good suitcase a great one, which is why it would be our first choice.
Frequently Asked Questions
What type of handle does Mia Toro luggage have?
Mia Toro luggage has a telescopic handle, making it easy to store, as well as a hidden pull if you would rather use this.
What are the sizes of Mia Toro's luggage?
There are three standard sizes of Mia Toro luggage:
1) H: 20″ x L: 14″ x W: 9″
2) H: 24″ x L: 17.75″ x W: 11.75″
3) H: 28″ x 21.25″ x W: 12.5″
Does Mia Toro luggage have a laptop pocket?
Some suitcases do but not all. You will need to check the specification before buying.
Is there different Mia Toro luggage for domestic and international travel?
No, there aren't different options for domestic and international flights.  However, your carry-on luggage should be fine regardless of where you are traveling to.
The bottom-line
There are lots of things that matter when it comes to buying luggage. You want something that is made with durable materials that are unlikely to get scuffed or scraped in transit.
You also want something lightweight and easy to maneuver around a busy airport. Again, all the luggage we looked at today can lay a claim to these features., though the Delsey Paris model is probably the one we would have most concerns over based on reviews (which seem to suggest the wheels don't work as well).
Moreover, you want luggage that can hold your belongings safely and securely, no matter how long your journey. Again, all the options we looked at today offered this. What they didn't all offer was a 10-year warranty or exciting designs that made them stand out.
You could get a warranty with the Samsonite luggage and the Mia Toro. The Samsonite luggage, however, is limited; Mia Toro's wasn't. Samsonite's color options are also limited. In fact, nothing we looked at could compare to Mia Toro luggage for the range of color options and design choices.
Here, they really do have something for everyone, no matter what your taste. And, while looks aren't everything when all else is (relatively) equal, it does make a difference, which is why we would choose to buy Mia Toro Luggage above any other brand right now.
We hope that you enjoyed reading our Mia Toro Luggage review, and if you are still unsure or have further questions to ask, please don't hesitate to get in contact with us.