If you're looking for a new YETI cooler, you've come to the right place – our complete guide to YETI cooler sizes can help you figure out which one you need!
YETI's products – from their coolers to their tumblers are known for being durable and high quality. However, it can be tricky to figure out which size you need.
We'll give you as much information as we can about YETI's cooler capacities, and we'll give you a rundown of our favorite YETI coolers, too.
Table of Contents
Why Are There No Quart Sizes for YETI Coolers?
YETI doesn't measure their coolers in quart sizes, which can make it difficult to compare it to other cooler brands.
They haven't stated why they don't have quart sizes, but you can figure it out via the ice/can capacity for each product.
What Size YETI Cooler Should I Go For?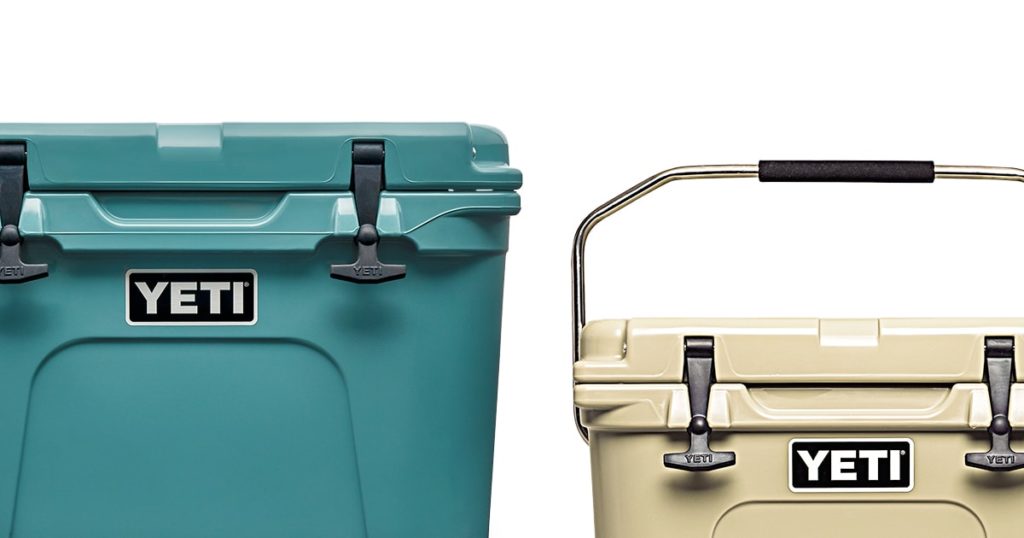 You can see a complete guide to YETI's cooler sizes here.
There are two things to really consider: capacity, and size. If you just want to head out for the day on your own, you're going to need a much smaller capacity than, say, a family of 5 going on a camping trip (check out our guide to the best family tents for bad weather if you haven't got one yet!).
As a general rule, the larger the number on the model, the bigger the capacity (in the Tundra series, for example, the Tundra 35 is the smallest, and the Tundra 350 is the largest). If you're hosting a large picnic, a big cooler is going to help out. (You can check out the Delish guide to cooler hacks if you want some inspiration.)
The measurements of the exterior are important because this will help you to figure out whether it will fit in the space you need it to – if you need your cooler to fit in the trunk of your car, you'll need to check the size first.
Do I Need a Soft Cooler or a Hard Cooler?
Soft coolers are ideal for storing your lunch. If you're going for a day out or a fishing trip, they work well. They could also work if you're traveling because you can easily sling them in your backpack.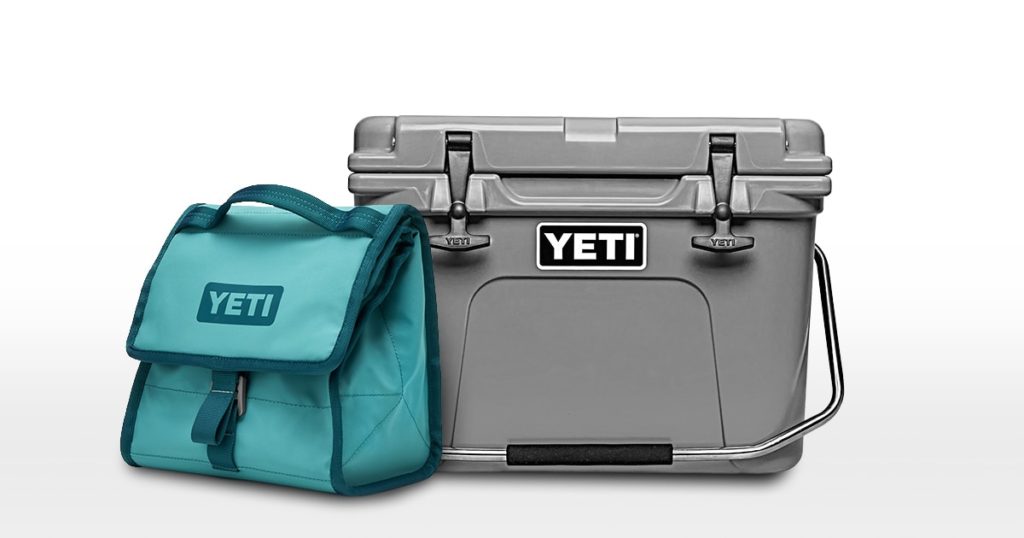 Harder coolers tend to have a larger capacity, which makes them better for longer trips or larger groups of people. They're good for outdoor use, as they can withstand some scrapes without damaging the contents inside.
Hard coolers are great for keeping drinks cool – which makes them useful for a beach trip (you can see our guide to the best canopy tents for the beach if you're planning on a day in the sun).
Are YETI coolers heavy?
They can be, yes. They're very robust and have great insulation, but that does mean they're on the heavier side to carry (especially the very large models). The Tundra 105 weighs 36 pounds (16.32 kg) and can carry 67 cans of beer. 
It's also worth remembering that you have to consider the contents too. (Good Housekeeping has a useful guide on safely packing a cooler, if you need some ideas. YETI themselves have a great video about this too.)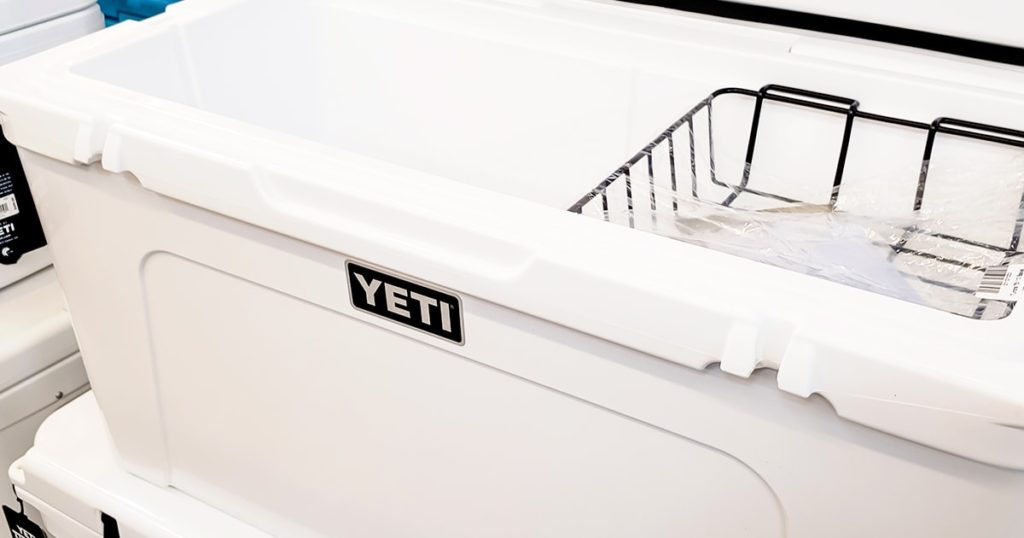 YETI coolers are heavy for good reason – they're thickly insulated, with rotomolded construction (this means they're made with one thick layer of robust material). This means you can expect them to keep your food very cool, but it does increase the weight.
YETI Coolers – Our Recommendations
We'll show you our favorites in each size category, so you can see what to expect in terms of size and capacity.
Best Small YETI Cooler – YETI Roadie 24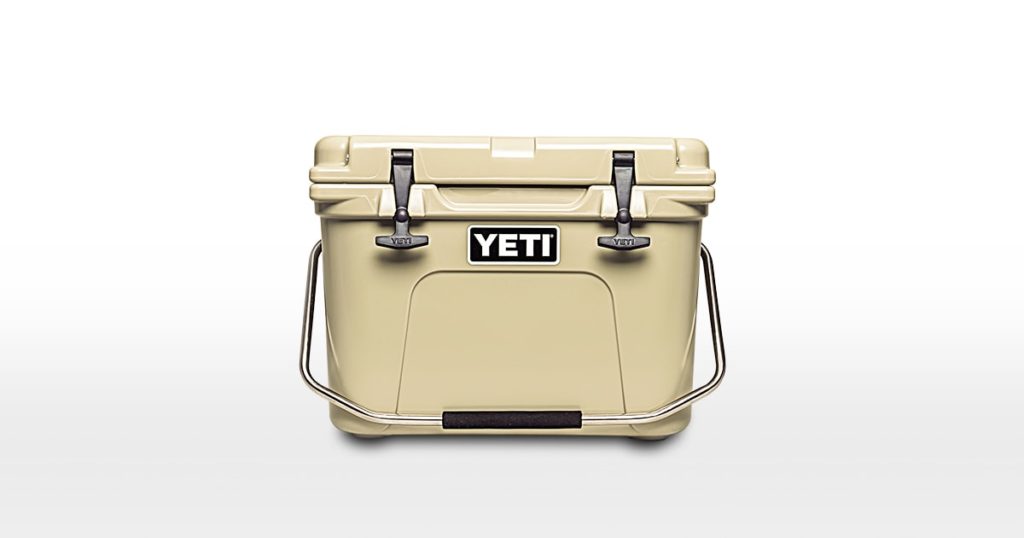 The YETI Roadie 24 is the smallest of the hard coolers that YETI has to offer. We think it's a great choice if you don't have much to carry, but want something robust that can withstand the elements. It's tall enough to carry a bottle of wine upright and can fit nicely behind your driver or passenger seat. It's great for picnics or days out. You can see the YETI Roadie 24 in action in this video.
Outer dimensions: 16.5 x 14.5 x 17.5in / 42 x 37 x 44cm
Weight: 12.8lbs / 5.8kg
Can Capacity: 18 cans
Ice Capacity: 24lbs / 10.82kg
Best Medium YETI Cooler – YETI Tundra 45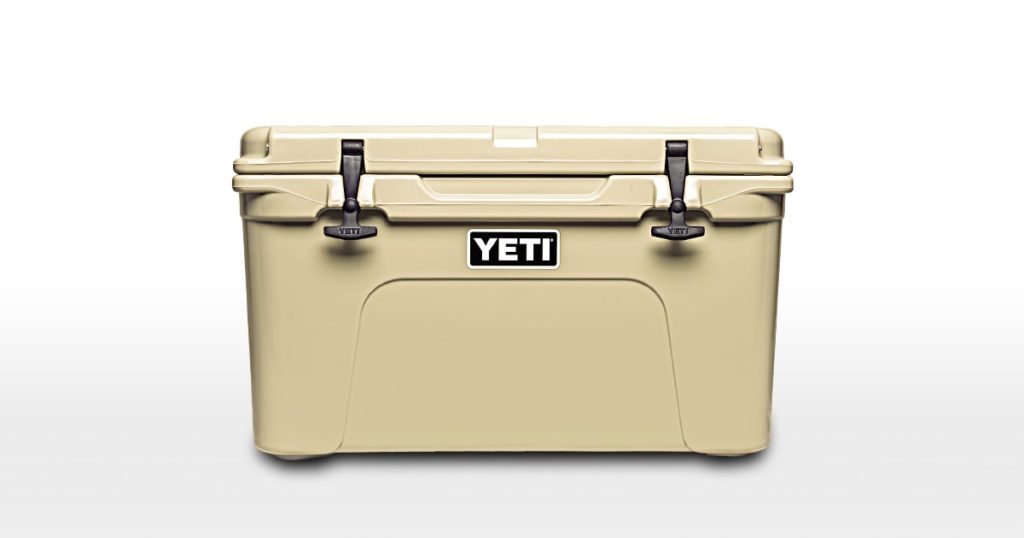 The YETI Tundra 45 is a robust cooler with a good amount of space. It can hold 28 cans of beer, so it's a little larger than the Roadie 24. It's ideal for families to go on a picnic, as you can hold a good amount of food in there. The aspect to consider is that it's on the heavy side, but that is the case for hard coolers in general, especially YETI coolers.
Outer dimensions: 16.5 x 14.5 x 17.5in / 42 x 37 x 44cm
Weight: 12.8lbs / 5.8kg
Can Capacity: 28 cans
Ice Capacity: 34lbs / 15.4kg
Best Large YETI Cooler – YETI Tundra 110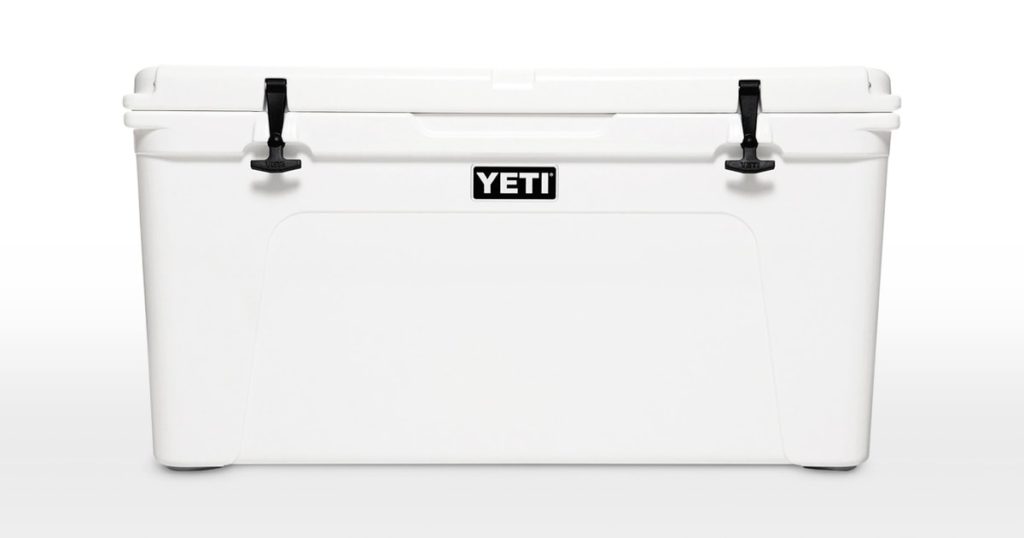 The YETI Tundra 110 is a great, large cooler. It was designed to be used by the rafting community (it was made to fit snugly in a raft, so it won't go overboard). It's a tough, robust cooler with a great capacity. Of course, it's heavy – it's much easier to lift with two people.
Outer dimensions: 37 x 18 x 20in / 94 x 46 x 51cm
Weight: 37lbs / 16.78kg
Can Capacity: 74 cans
Ice Capacity: 90lbs / 40.8kg
Best Wheeled YETI Cooler – YETI Tundra Haul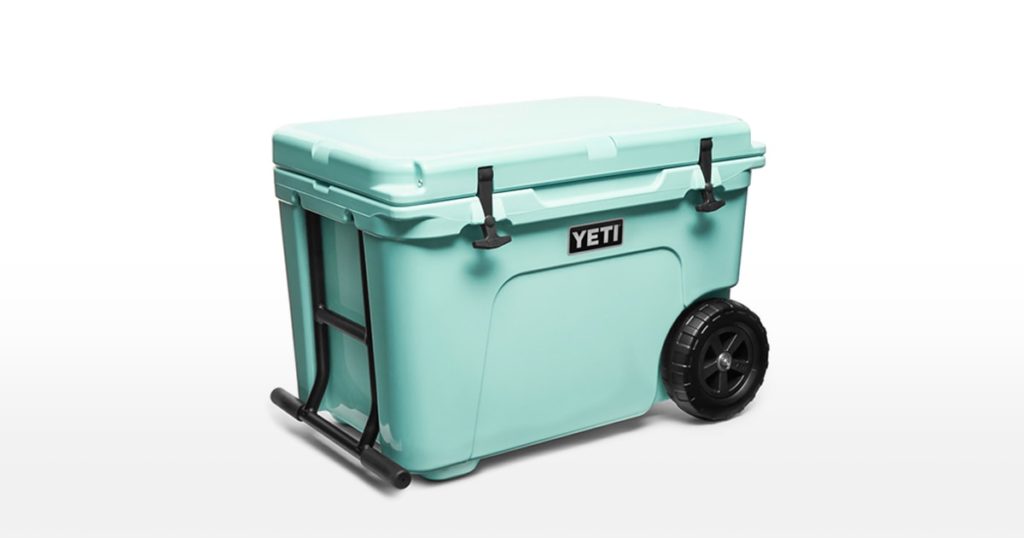 The YETI Tundra Haul is a good choice for a wheeled cooler. If you find it difficult to lift a hard cooler, it's worth checking out. It has a good capacity and it's nice and durable, with robust wheels – but it's heavy, so may require two people to lift it in and out of your vehicle.
Outer dimensions: 28.5 x 19.5 x 19in / 72 x 50 x 48cm
Weight: 37lbs / 16.78kg
Can Capacity: 45 cans
Ice Capacity: 55lbs / 25kg
To Sum Up …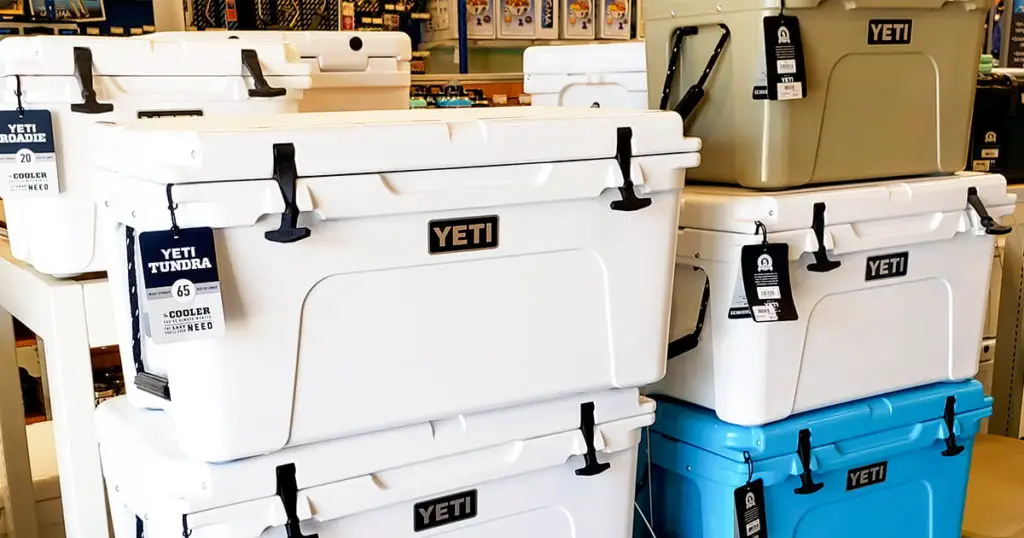 Hopefully, this has helped you to find the right YETI cooler for you. They're a great brand, especially for campers looking to invest in a long-lasting cooler!
You can read more about YETI's products in our Hydro Flask vs YETI Rambler comparison.
If you've tried any of these coolers, we'd love to hear your thoughts in the comments.