If you love family camping holidays no matter how wet or windy it is, our guide to the best family tents for bad weather may be able to help you out. Camping is great for families – it provides a brilliant opportunity for technology-free bonding time. However, nothing ruins a camping trip quicker than a rain-soaked tent and a damp bedding.
At A Glance: Our Top 3 Picks for Best Best Family Tents for Bad Weather
If you want to enjoy camping all year round, it's important to find decent equipment that will keep you dry, from jackets all the way through to tents. That way, you can go on camping trips with the reassurance that your family will be safe and cosy, even in the stormiest conditions. The good thing about all-weather tents is that they tend to be pretty robust, too, so even if it's a bit of an investment to start with, they should last for years to come.
In this article, we will look at:
Things to look out for when choosing a family tent for bad weather
5 great models, including their key features, pros, and cons
Our conclusion – which tent we think is the best
First, here's a quick look at the key features of the models we're looking at today.
Best Family Tents for Bad Weather – an Overview
Preview
Size
427 x 275 x 198 (cm) / 14 x 9 x 6.5 (ft)
10 x 10 x 6.6 (ft) / 305 x 305 x 202 (cm)
305 x 457 x 221 (cm) / 10 x 15 x 7.25 (ft)
519 x 275 x 207 (cm) / 17 x 9 x 6.8 (ft)
Materials
Polyester-enhanced vinyl, hydra-shield canvas
Name
Core Equipment Core 4 Person Instant Dome Tent - 9' x 7', Green
Kodiak Basic Flex-Bow Quick Set Up Canvas Tent 6051
Browning Camping Big Horn Two-Room Tent
Coleman WeatherMaster 10-Person Outdoor Tent , Brown
Preview
Size
427 x 275 x 198 (cm) / 14 x 9 x 6.5 (ft)
Name
Core Equipment Core 4 Person Instant Dome Tent - 9' x 7', Green
Preview
Size
10 x 10 x 6.6 (ft) / 305 x 305 x 202 (cm)
Materials
Polyester-enhanced vinyl, hydra-shield canvas
Name
Kodiak Basic Flex-Bow Quick Set Up Canvas Tent 6051
Preview
Size
305 x 457 x 221 (cm) / 10 x 15 x 7.25 (ft)
Name
Browning Camping Big Horn Two-Room Tent
What to Look for When Choosing a Tent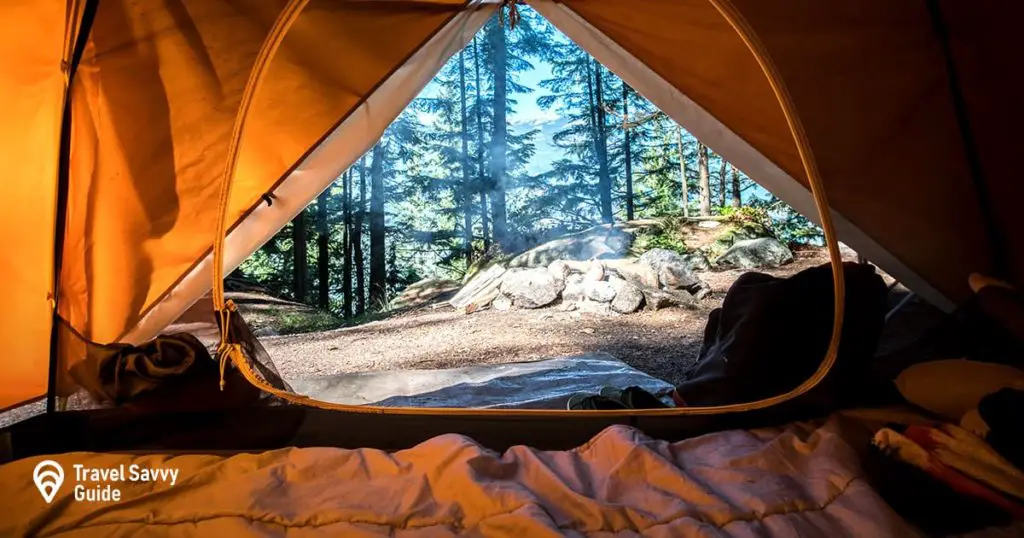 Size
Size is obviously a big consideration. When you're looking for a tent, it's important to think about how much space you need. Although it may be tempting to go for a smaller tent that is easier to put up and pack down again, a bigger tent may work out better, especially if you're stuck inside on a rainy day. The last thing you want, especially if you've got a lot of kids or family members camping with you, is to be tripping over each other all the time. Make sure you consider storage space for equipment (but more on that in a moment). Think about how many air beds or sleeping pads you'll need to fit in inside.
Also, make sure to check the size of the tent once packed away. Obviously, it needs to fit in your vehicle to be able to take it with you!
Weight
Most people won't be carrying a large family tent on a hiking vacation, which means you shouldn't have to worry about carrying your tent for too long. However, if that is the case, you may want to go for a lighter model. Tents that use free standing poles are heavier in weight than those without.
Layout
Layout is a big consideration. Do you want more than one sleeping area? Do you want a living area that is separate from the bedroom area? It's also important to consider where you will store your 'stuff', like cooking equipment, luggage, that sort of thing. You may have room in your car, but you could prefer to have the option of storing luggage inside your tent.
Hydrostatic Head Measurement and Waterproofing
This measures how water resistant your tent is. When it rains, water will pool onto the top of the tent up to a certain amount before it begins to seep through the material. This is measured in millimetres, so a tent with a hydrostatic head measurement of 4000mm /157.4 (in) can 'hold' a pool of water up to 4000mm/ 157.4 (in) deep until it begins to leak through. Obviously this is hugely important for bad weather. If you can, find a tent with at least 2000-3000mm /78.4 – 118.11 (in).
Not all manufacturers will advertise the hydrostatic head measurement. This isn't the only way to tell how waterproof a tent is, however. There are other things to look for too, including heat-sealed seams (stitching), wick-resistant thread, and strong, wind-proof frames.
Seasons
A true bad weather tent will last all 4 seasons, but it's more common to find 3-season tents (spring-fall).
Ease of Setup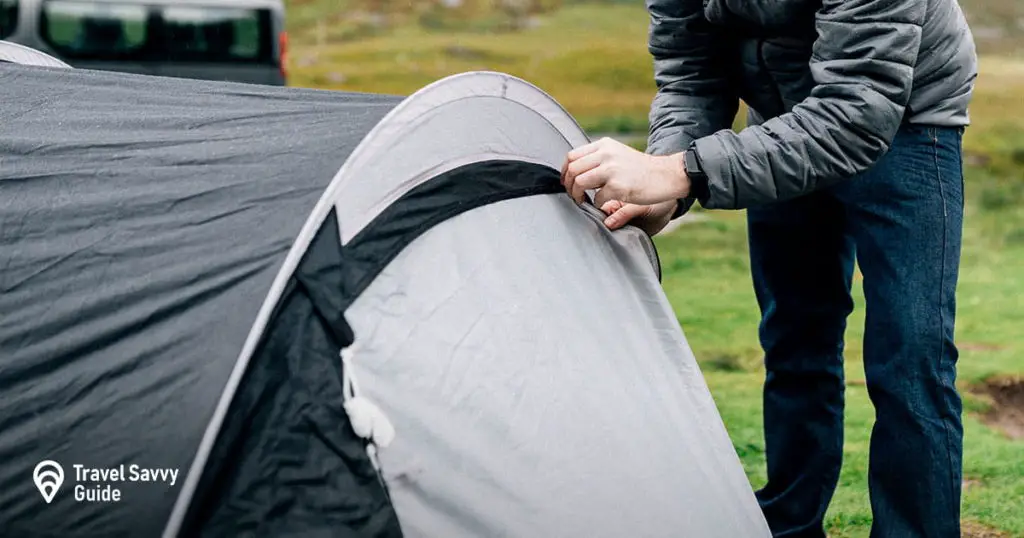 How easy your tent is to set up will depend upon the structure. A pole tent is designed to be used on grassy areas, as they use a combination of poles for the frame, and stakes that are driven into the ground with ties attached to them. These don't tend to be too tricky to put together (although of course, any tent is easier to assemble with practice).
A frame tent is freestanding, and can therefore be used on any surface, but because the frames can be quite complex, they can take longer to put together.
You can also get pop-up tents. These are more commonly found in smaller sizes, and are the ultimate in easy set-up: just unzip the bag, shake it out, and you're done.
Sturdiness
The more poles (for the frame) and stakes (to go into the ground) a tent has, the sturdier it tends to be. The more poles (sometimes described as 'rods') a tent has, the sturdier the structure will be, and the more stakes you have, the more likely it is to stay attached to the ground even in windy conditions.
Poles are usually made from two materials – fiberglass or aluminum. Aluminum poles are stronger, but light. They're pretty tough, and able to withstand quite a lot of stress and impact. Fiberglass poles are cheaper, and they are resistant to rusting.
Fabric
Tents are made from polyester or nylon. Polyester is better for bad weather conditions, as they are coated in waterproofing material, and the seams of polyester tents are heat-treated to avoid leaks.
Ventilation
Ventilation is hugely important. If there are a lot of people crammed into one tent, it can get hot very quickly. Look for meshed windows and large doors that can be opened wide in warm weather.
Flooring
You will also need to think about flooring. Most modern tents come with strong, polyester-coated flooring, which is great for damp resistance. However, if you're buying a cheaper or second-hand tent, you might find it doesn't come with flooring. In that case, you'll need to get a tarp or a footprint (protective fabric which provides a moisture barrier).
Tent Care – Before You Go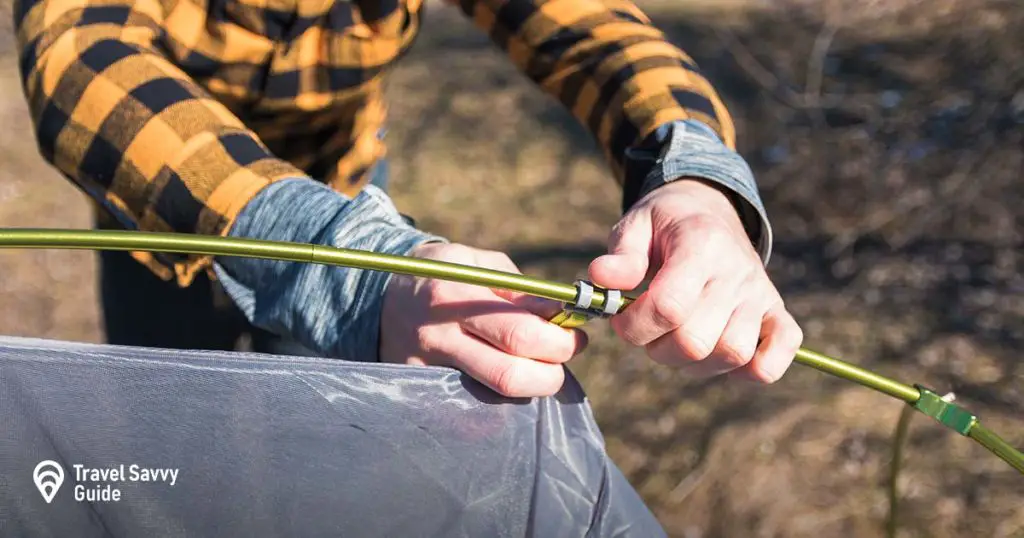 Firstly, it's important to practice setting up your tent before you leave on a trip. This will allow you to check if all the required pieces are there, and it also gives you a practice run. This may save you some headaches later!
It's also a good idea to take some extra stakes, in case one snaps, breaks, or goes missing. Make sure you choose aluminum stakes. In fact, we'd recommend swapping out any plastic stakes with aluminum ones. They're much less likely to break, especially in bad weather.
Finally, you can add a layer of waterproofing to a regular tent if you like. You can do it with Scotchguard or similar products. However, we'd recommend buying a tent with waterproof coating already applied.
3M Scotchgard Clear Paint Protection Vinyl Film (6 Inch x 60 Inch)
3M Scotchgard paint protection film is virtually invisible once installed.
Clear polyurethane film is 8mil thick with adhesive backing.
Product applied to reduce paint chips and road damage.
Keeps your car's paint looking newer, longer!
Step-by-step installation instructions available online.
Tent Care – When You Get Back
Make sure your tent is thoroughly dry when you return home. This can take a little while if you're been camping in a storm, but it will stop the tent from going mouldy or rusty.
Make sure you store your tent in a cool, dry place, with all the associated pieces together in one place.
Kodiak Canvas Flex-Bow Tent – Best Heavy-Duty Tent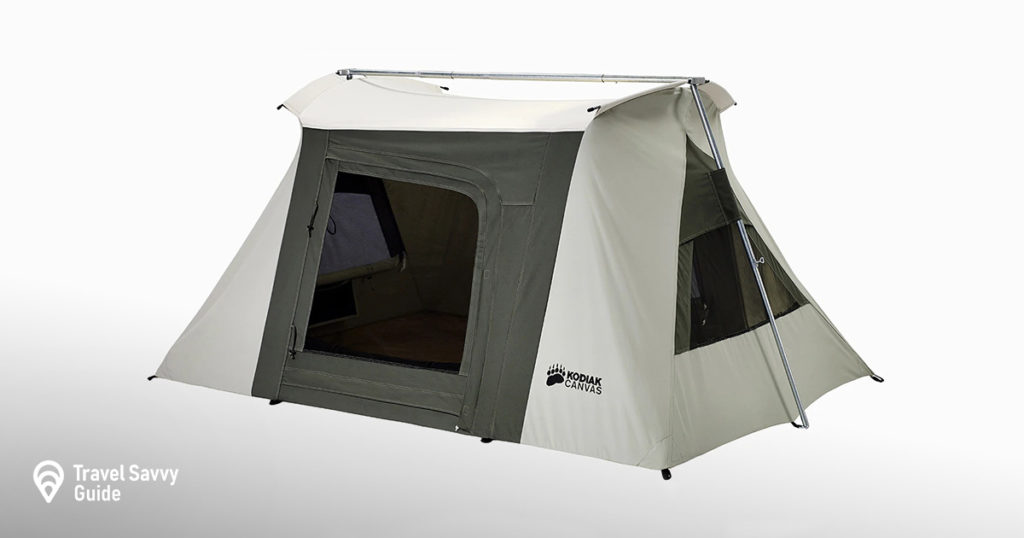 Key Features
Sleeps: 6
Size: 10 x 10 x 6.6 (ft) / 305 x 305 x 202 (cm)
Size packed: 30 x 16 x 5.5 (in) / 76 x 40.5 x 13.97 (cm)
Weight: 30.84kg / 68lbs
Materials:

Walls and Ceiling: Hydra-shield duck-cotton canvas
Floor: Polyester-enhanced vinyl

Seasons: 4
The Kodiak Canvas Flex-Bow Tent is known for its durability, so if you've got a bigger budget, it's a great choice. The dry-finish hydra-shield cotton canvas walls and ceiling are perfect for resisting even the harshest downpour. The poles are strong and designed to withstand stormy conditions. The downside to this is that it's heavy to carry, meaning it's not ideal for backpackers. However, it's a sturdy, heavy-duty tent, so you know for sure it's not going to move.
It doesn't have separate bedrooms, but it does have a storage loft for equipment, and the 6-man tent is roomy for a small family. There are doors at the front and back of the tent, to allow for easy access on both sides.
It's also breathable, with mesh panels for temperature control and two large windows. It has a built-in 72 x 78in (182 x 198cm) awning, too.
It's easy to assemble, with very simple and straightforward instructions. You can see the latest price for it here.
Pros
Very sturdy
Waterproof
Easy to set up
Roomy for a smaller family
Storage loft for equipment
Breathable fabric with mesh-panelled windows
Cons
Heavy and bulky
No separate bedrooms
NKT Super Arizona GT – Best for Large Families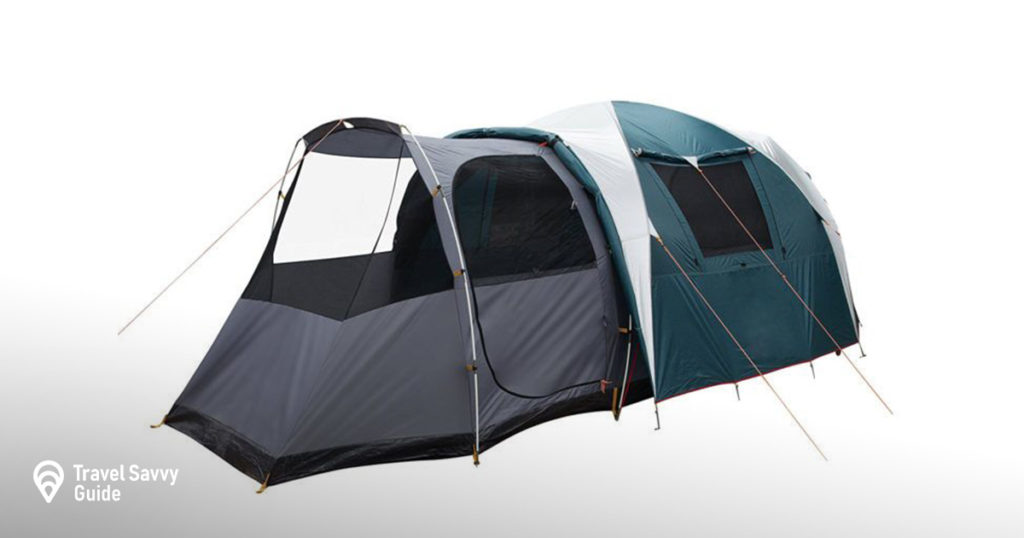 Key Features
Sleeps: 11-12
Size: 6.9 x 10.2 x 20.6 (ft) / 210 x 311 x 627 (cm)
Size packed: 24 x 18 (in) / 60.96 x 45.72 (cm)
Weight: 6.5kg/18.74lb
Materials: Heavy-duty anti-fungal polyethylene
Seasons: 3
The is another heavy-duty tent that will keep your family safe even in the harshest weather conditions. It has heat-welded polyurethane-coated seams (to prevent leaks), UV protection, and nano-flex shock-corded fiber-glass poles. These are great for protecting against rust and can withstand windy conditions. It also has anti-fungus seamless flooring.
It has a huge amount of space, with a detachable room divider. The inner tent has large D-style doors with mosquito mesh, and it has large pockets for essentials (like water flasks and torches) and a gear loft for storage.
It comes with extra poles for an extended canopy, if you want even more room outside.
It's simple to put together, although it can be time-consuming given the size. You can see the latest price for it .
Pros
Very roomy
Detachable inner wall
Fiber-glass poles to protect against corrosion
Large pockets and gear loft
Extended canopy included
Cons
Fairly heavy to carry
Time-consuming to put together
Core 4 Person Instant Dome Tent – Best for Easy Assembly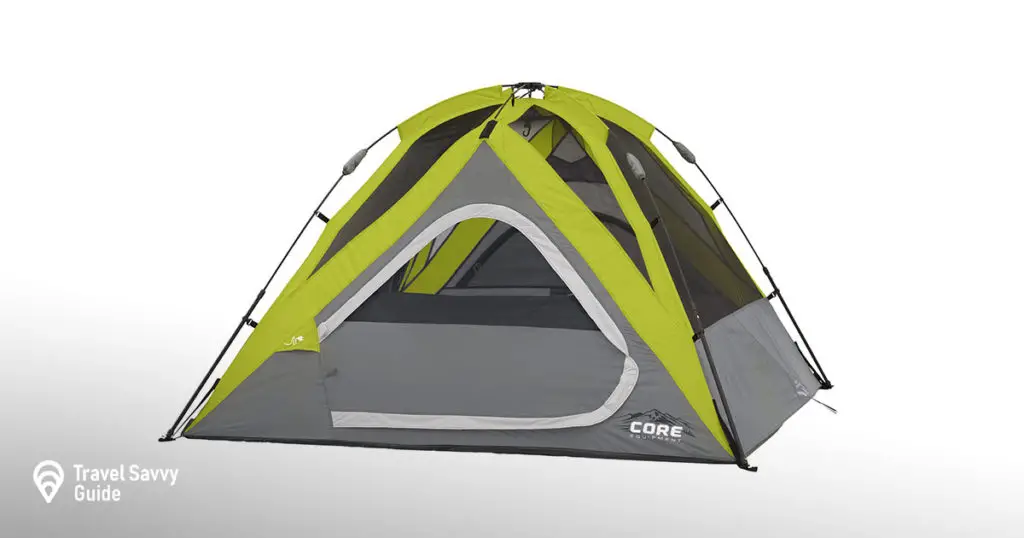 Key Features
Sleeps: 4
Size: 14 x 9 x 6.5 (ft) / 427 x 275 x 198 (cm)
Size packed: 7.5 x 7.5 x 37.8 (in) / 19 x 19 x 96 (cm)
Weight: 14.85lbs / 6.73kgs
Materials: Polyester
Seasons: 4
Core Equipment Core 4 Person Instant Dome Tent - 9' x 7', Green
Instant 30 second setup; sleeps 4 people; fits one queen air mattress; center height: 54
Core H20 block technology and adjustable ground vent
Features gear loft with lantern hook and pockets to keep items organized and off the tent floor
Electrical cord access port (port is fully closable when not in use)
Includes rain fly, tent stakes, and carry bag
The Core 4 Person Instant Dome Tent is made from water-repellent fabrics, with sealed seams for waterproofing and a fully-taped rainfly. It has rain-resistant door and window seals and will protect your family from both rain and wind.
It's not the roomiest tent, so it's best for small families. It has a simple layout, and both doors open wide for easy entry and exit. It fits one queen-sized mattress comfortably, and it has storage pockets, a gear loft, and gear hooks.
Where this model comes into its own is the assembly. All you have to do is unpack the tent, unfold the legs, and extend the poles until they click into the right position and then you're done. It takes 30 seconds so it's really convenient. You can find the latest price for it here.
Pros
Rain and wind repellent
Fairly roomy for a 4-person tent
Really simple assembly – takes 30 seconds
Cons
Not good for bigger families
No extra features like a canopy or bedrooms
Coleman WeatherMaster 10-Person Tent – Good All-Rounder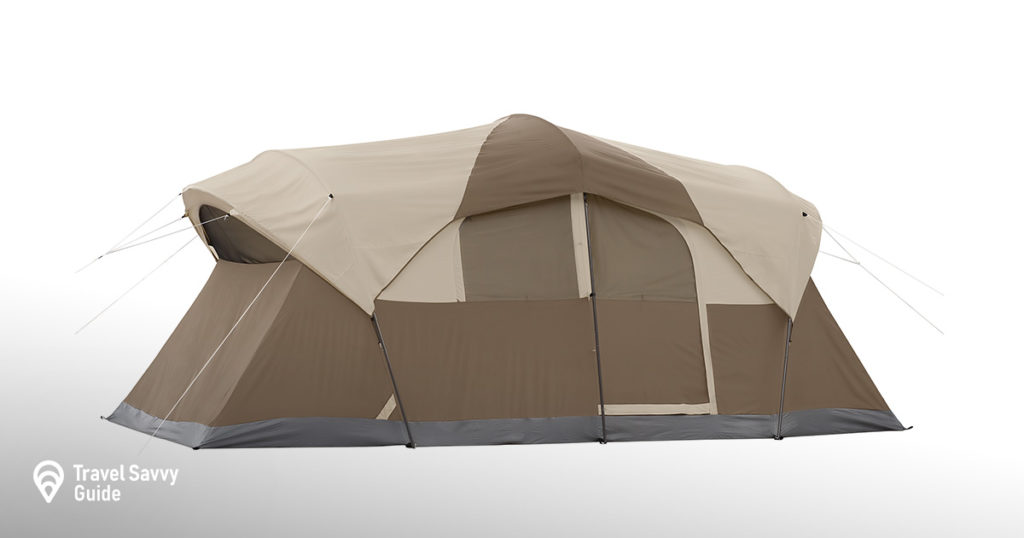 Key Features
Sleeps: 10
Size: 519 x 275 x 207 (cm) / 17 x 9 x 6.8 (ft)
Size packed: 30 x 10 x 10 (in) / 76 x 25 x 25 (cm)
Weight: 31lbs / 14kgs
Materials: PU-coated polyester
Seasons: 3
Sale
Coleman WeatherMaster 10-Person Outdoor Tent , Brown
Cabin-like 10-person tent has enough room for 3 queen size air beds
WeatherTec system with patented welded floors and inverted seams to keep you dry
Hinged front door for easy entry and room divider for extra privacy
Sets up easily in 20 minutes
Measures 17 x 9 feet with 6-foot 8-inch center height
Coleman packs a lot of weather protection technology into their tents, and the WeatherMaster 10-Person Tent is no exception. This model has fully-taped seams, coated polyester fabric with anti-wicking thread, waterproof floors, zipper cuffs, and a wind-responsive frame using strong poles to improve performance in stormy conditions. It isn't designed to be a winter tent, however, so many do not withstand snowy conditions.
It's a spacious two-room tent, with enough floor space to fit three queen-sized air beds. It's tall, so you can stand inside it comfortably, and it has handy storage pockets.
When it comes to assembly, it is made simply by two color-coded poles and a continuous pole sleeve, and a pin-and-ring design with clip attachments. The instructions are sewn into the carry bag, which is helpful, and it comes with separate stake and pole bags to keep things organised.
You can see the latest price for it here.
Pros
Lots of weatherproofing features including anti-wicking thread, taped seams, and wind-responsive frame
Spacious two-room tent
Easy to assemble
Cons
Not designed for winter camping
Browning Big Horn – Best Home Away from Home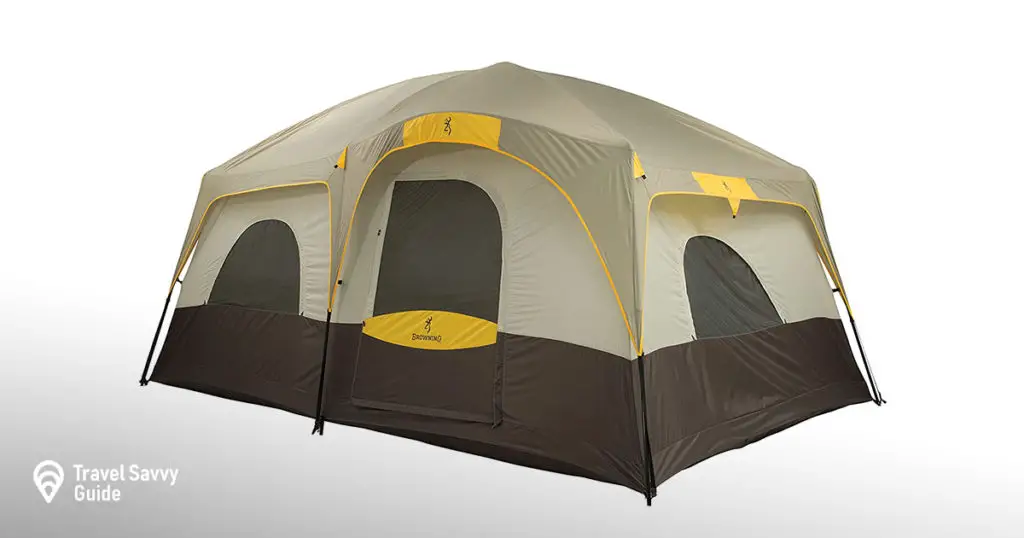 Key Features
Sleeps: 8
Size: 305 x 457 x 221 (cm) / 10 x 15 x 7.25 (ft)
Size packed: 12 x 30 (in) / 30.5 x 76 (cm)
Weight: 35lbs / 16kgs
Materials: Polyester
Seasons: 3
Browning Camping Big Horn Two-Room Tent
Our Browning Big Horn Series is a free-standing tent with fiberglass poles and steel uprights, giving ultimate extra strength and stability
Two-room wall divider, extra tall center and straight side walls gives more room for cots, sleeping bags and extra gear
Six large windows, two doorways and mesh roof offer easy entry and ultimate ventilation
Fully equipped with mesh storage pockets, polyester fly, guy ropes and steel stakes
Base Size: 10' x 15', Packed Size: 12" x 30", Center Height: 87", Total Weight: 34 lbs. 11 oz.
The Browning Camping Big Horn has a lot of weatherproofing measures built in, including strong fiberglass poles and steel uprights (for windy days), plus factory sealed seams, polyester walls, and polyester floors.
However, the big draw of this tent is the comfort. It has tons of space, and a detachable room divider. It's tall, with straight walls, so it feels roomy and comfortable. It allows for two queen-sized air beds with room to spare. Also having four windows and two doors, allows for plenty of ventilation. It has plenty of storage pockets but no overhead storage, which is a shame.
Finally,tt has a freestanding design which makes it incredibly easy to set up. You can see the latest price for it here.
Pros
Weatherproofing measures including fiberglass poles and polyester walls and floor
Tons of space including straight walls
Four windows and two doors for ventilation
Cons
No overhead storage for equipment
On the pricier side
Frequently Asked Questions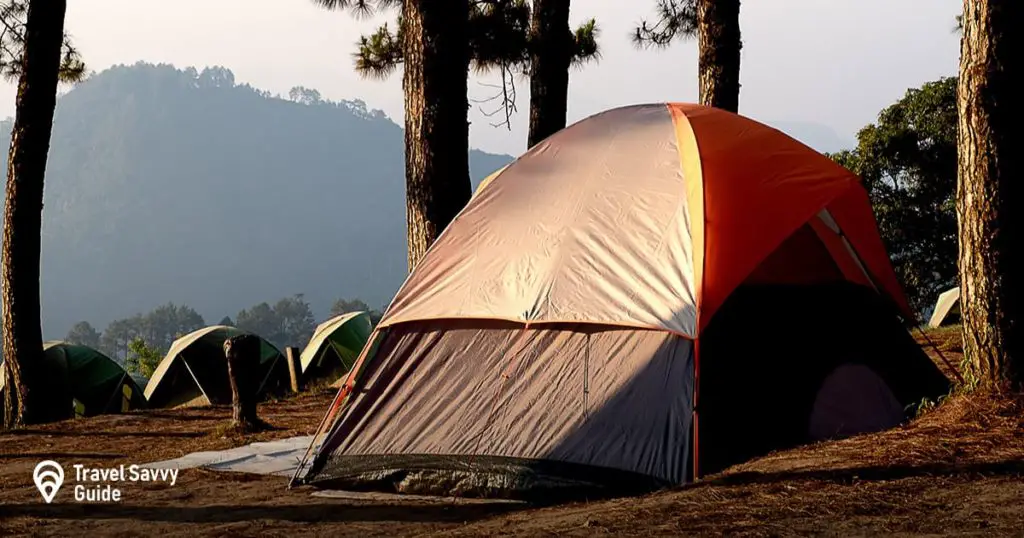 If you have questions about tents for bad weather, we may be able to answer them here.
What wind speeds can a tent withstand?
Tents can usually absorb 15-30mph (or 25-50km/h) winds.
Is it safe to stay in a tent in a thunderstorm?
There are risks involved when it comes to camping in a thunderstorm. However, the risk of your tent being hit by lightning or blown away are very small. Don't expect to get a lot of sleep though!
How much do family tents cost?
You can expect to pay between USD $100-$500 for a good-sized family tent – the larger and more technologically advanced the tent, the more you'll pay.
Should I buy a second-hand tent?
If you're on a tight budget, you may be able to pick up a bargain by shopping second-hand. It's important to check the tent thoroughly before you buy – look for signs of wear and tear including holes and broken poles. Make sure all the pieces are included.
How can I avoid condensation in my tent?
High-quality materials can help here, and it's a good idea to look for a tent that has plenty of windows. Keep the windows and doors open when you can.
How long do tents last?
A decently built tent can last ten years or more if you take care of it properly.
Can I repair a tear in my tent?
You can buy self-adhesive patches to repair tents. As an emergency measure, you can use duct tape to cover small holes until you get home.
What's the difference between cabin-style or dome-style tents?
Cabin-style tents are tall enough to stand up in and tend to have living areas that are separate from bedroom areas. Dome-style tents are strong and good for windy conditions, but slope downwards, meaning you have less living space to enjoy.
Conclusion – Which Tent is the Best?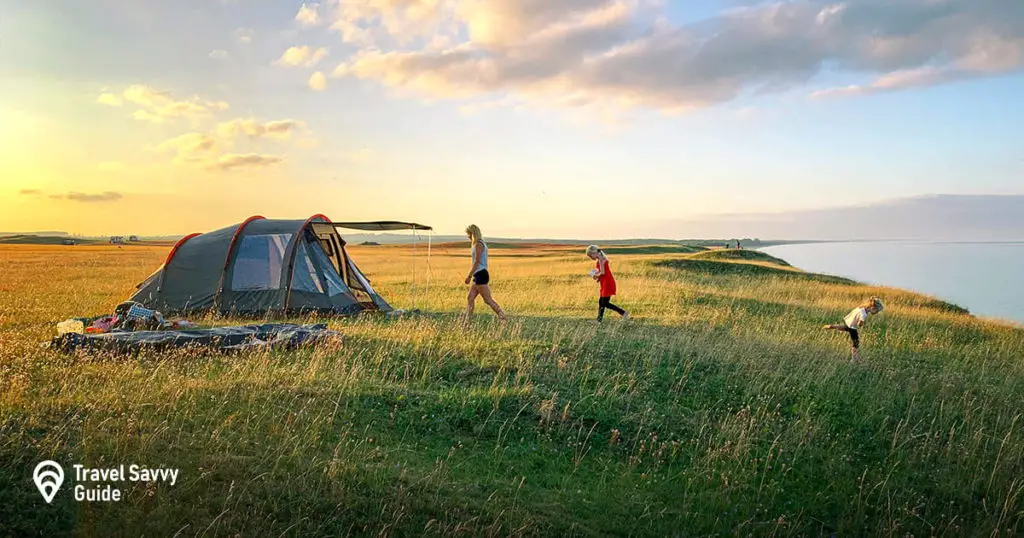 All the models on this list have great features, so it's difficult to choose a winner. If you want an instant tent, the Core 4-Person Instant Dome Tent is great. It's wind-proof and it takes 30 seconds to assemble – so if you really hate putting tents together, it's going to be the obvious choice.
If we had to pick one winner from this list, we'd pick the Coleman WeatherMaster 10-person tent. For larger families, it has tons of space. The separate living and bedroom areas mean you'll have a comfortable stay, and it comes with lots of weatherproofing features, so no matter what the weather, you'll be safe and dry. Yes, it doesn't suit winter camping, but it still provides plenty of comfort for spring, summer, and fall. Plus, it's simple to put together which is a great bonus. It's a great all-rounder and should provide you with many happy family memories for years to come.
We hope this has helped you to find the best tent for you and your family, to keep you warm and dry, no matter what the weather. You may also want to check out our guide to Best Travel Jackets with Hidden Pockets for Women, or our guide to the Best Travel Coats.