L.L. Bean Boots are popular for a reason. They're tough, they have a distinctive look, and they feel good to wear. The question is, are Bean Boots good for hiking? Can they deal with tougher trails, and are they safe enough to get you across difficult terrain?
We'll answer all those questions, and give you some general tips on finding the best footwear for hiking.
The basic answer is no, L.L. Bean Boots are not good for hiking, there are better boots out there.
Are Bean Boots Good for Hiking?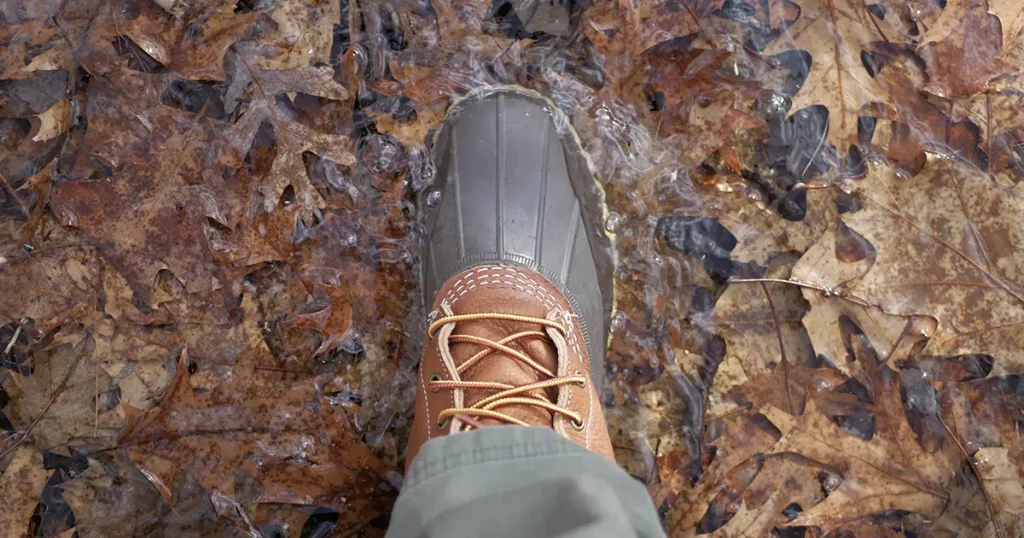 While they do have the advantage of being waterproof, comfortable, and supportive, they do lack one key feature, and that's good traction. While Bean Boots provide great traction for gentle hikes or flat walks, they don't have enough grip to deal with more challenging terrain. This means that they just won't be safe enough.
On top of this, Bean Boots may not be breathable enough for some. If your feet get hot, and they start to sweat, this may cause them to slip around, which can be dangerous (and uncomfortable).
While Bean Boots are great for walks, especially on rainy days, they're just not the best out there when it comes to hiking.
What Are Bean Boots?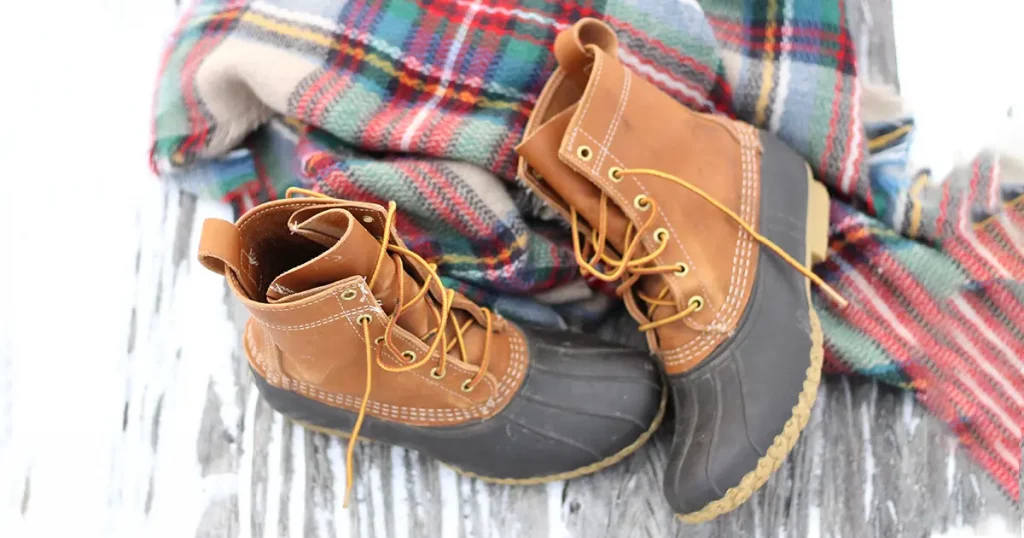 Now that we've given you the bottom line up front, let's get into what Bean Boots are.
Bean Boots (otherwise known as Duck Boots) are boots made by L.L Bean. They were created in 1911, and are very popular, mostly because they are highly waterproof. They're some of the best boots out there in terms of waterproofing, so if you hate the feeling of wet feet, like most of us, you'll probably be tempted to pick up a pair.
Bean Boots are comfortable, and they have a steel shank for extra support, which makes them good to wear for hours at a time. They also have a distinctive style, but they come in a range of styles and sizes, with boots for men, women, and children.
What Should I Look for in Hiking Boots?
There are a few key things to look for in hiking boots:
Stability/Traction
This is important. Hiking boots tend to have a very strong tread, which basically means they will help to prevent you from slipping over, even if the conditions are difficult. If you're hiking up particularly steep hills, or you're out in rain, ice, or snow, this is vital to stop you from slipping or stumbling.
Durability and Weatherproofing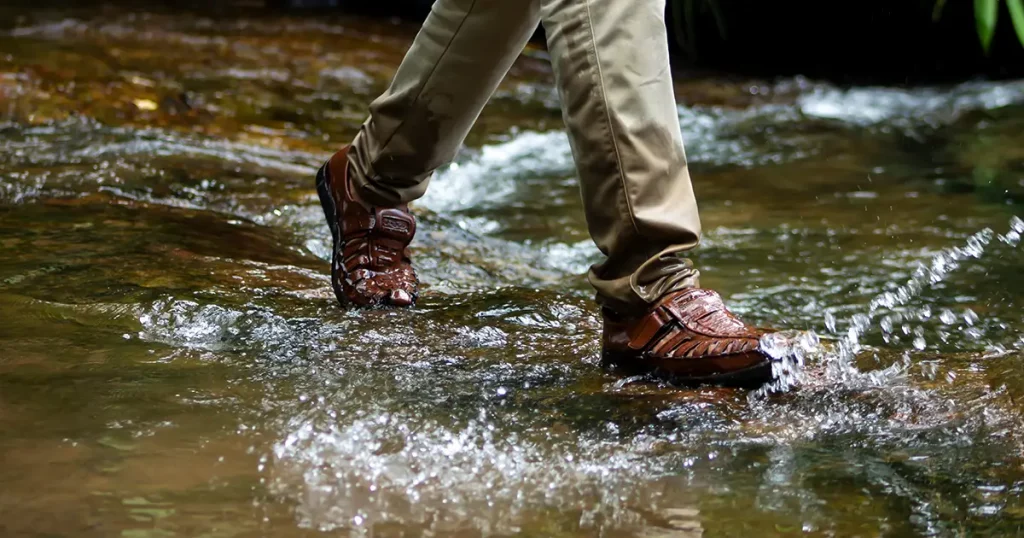 Hiking boots can take a beating, but they should last a long time even if you're testing them on the most difficult trails. Look for good-quality uppers (like leather uppers, which are great for withstanding a lot of use), and thick soles that can withstand a bit of wearing down before you need to replace them.
Some boots are advertised as 'waterproof'. This means they can keep water out completely. Others are labeled 'water-resistant', which is slightly different. This means they can keep water out for a little while, but if you soak them in water, it will start to leak through.
Comfort and Sizing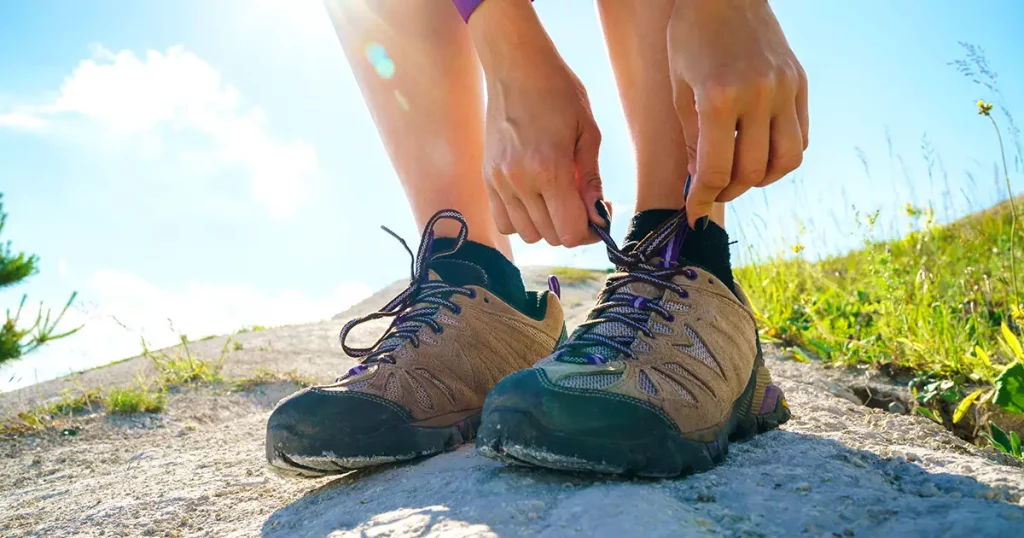 Properly-fitting footwear is important for all occasions but especially hiking. Loose-fitting shoes can cause you to stumble, while shoes that are too tight can cause blisters on a longer trail. You can sometimes get hiking shoes for wide feet, which makes it a bit easier if you need a bit more room in the toe area.
Some hiking boots have extra arch support. If you have flat feet, this will help you to feel more comfortable, and give you the extra support your feet will need to withstand longer hikes. 
Style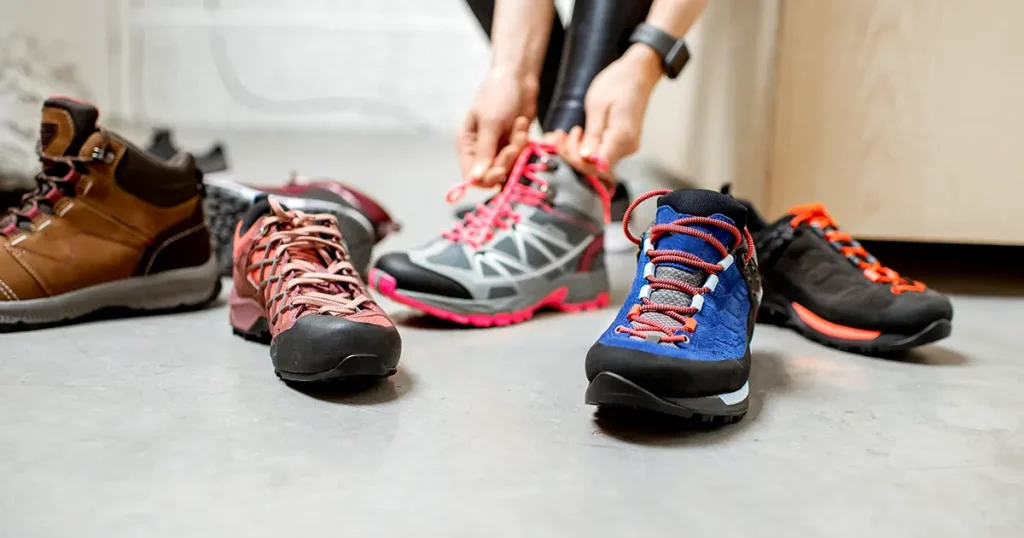 There are different types of hiking shoes.
Hiking boots are great for all sorts of situations. They keep your feet dry and warm, they're protective, and they're usually pretty hard-wearing. We'd recommend the Timberland Men's White Ledge Mid Wateprroof Hiking Boot as they're warm and protective, ideal for hiking in colder weather.
Hiking shoes are kind of like sneakers, but way more protective. They're comfortable and supportive without the extra weight around your ankles, and they're pretty good for challenging hikes as well as light walks. Check out Blowind Hiking Shoes for a good example of this.
Hiking sandals are great for hiking near water or in warmer weather. They're supportive with good traction, but they dry quickly, so if you have to cross over a stream, they won't feel uncomfortable for the rest of the hike. We like the Chaco Men's ZVolv 2. They're comfortable with excellent grip.
Frequently Asked Questions
Before you go, here are some frequently asked questions:
FAQ #1 – Are Bean Boots good for lighter trails?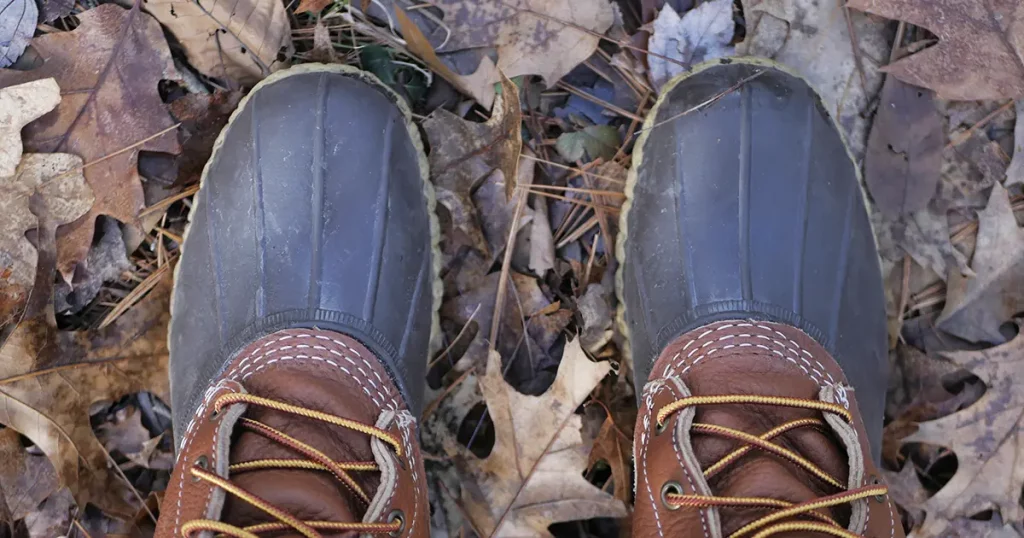 Potentially, yes, they would work for lighter, flatter trails. As long as there's a fairly steady, flat path, you shouldn't have to worry so much about traction. Just be aware that they're not very breathable if your feet tend to get hot.
FAQ #2 – Are hiking boots necessary?
No, they're not necessary for hiking, but we'd recommend a good pair of hiking shoes at the very least. Hiking shoes are an important step in terms of staying safe on the trail, as they can prevent injuries.
FAQ #3 – How can I care for my feet post-hike?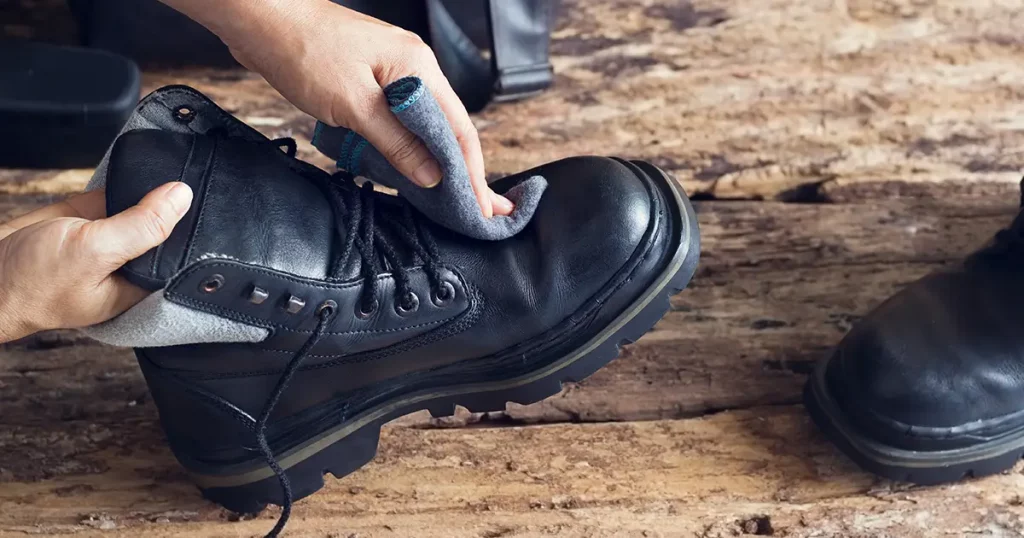 There are a few things you can do:
Remove your shoes or boots right away after the hike, allowing your feet to rest
Soak your feet in warm water if they feel particularly achy, as this can help to relieve the pain
Treat any blisters, and make sure you cover those blisters with if you plan to hike again before they are healed
You should also make sure to break in new hiking boots before you take them out for the first time. Wear them in short bursts around the house or running errands, and gradually build up the amount of time you wear them for.
FAQ #4 – Are Blundstone Boots good for hiking?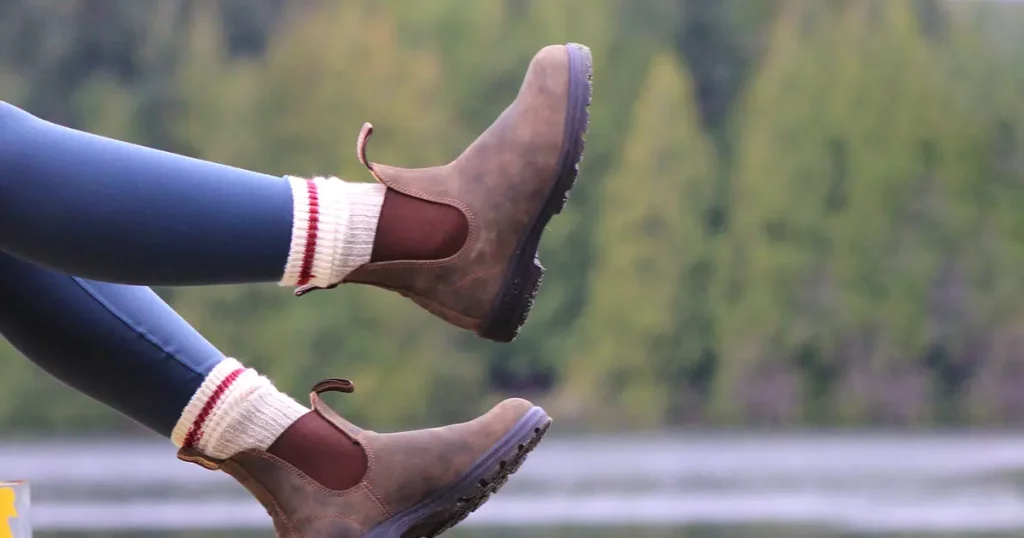 Another popular brand of boots is Blundstones, so you might be wondering if they're okay for hiking. Like Bean Boots, they might be okay for lighter trails, but they don't have enough ankle support compared to other hiking boots. You can find out more in our guide: Are Blundstones Good for Hiking?
Our Final Thoughts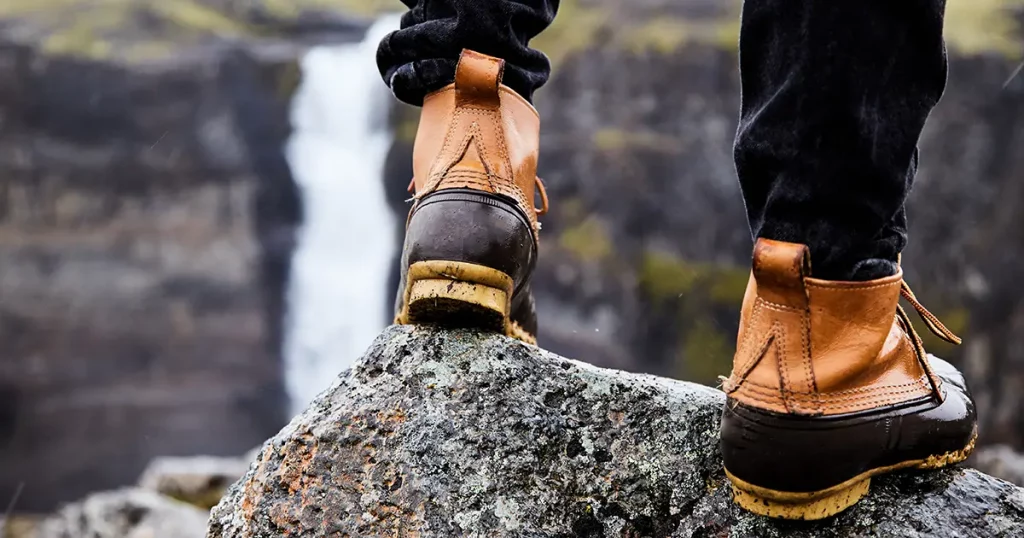 We hope this has helped you to decide whether or not to go for a pair of Bean Boots! If it has, please feel free to share it online with other hiking enthusiasts.
Have you worn Bean Boots for hiking? Do you have any other recommendations? We'd love to hear them!