Dogs can make the best hiking companions that you can have. And, as you are excited to welcome, or have already welcomed, your furry friend, choosing a name can be challenging, let alone choosing a hiking-related name. To make this experience slightly easier for you, we have gathered a list of 20 hiking dog names that will hopefully provide some inspiration.
Most of the names on the list are suitable for both female and male dogs and are an inspiration, in some way, to hiking and the outdoors.
20 Best Hiking Dog Names
Without further ado, here's the list of hiking dog names.
20. Winter
Winter is a perfect name for a dog with thick, fluffy fur. it is ideal if you hike in colder climates, or simply like the season!.
19. Willow
Based on the tree, Willow is elegant, graceful, and also means 'freedom'.
18. Summit
Summit is a great name for a hardy, adventurous, outdoorsy dog. It references what is arguably the most rewarding part of a hike: the moment you reach the summit and can take some time to gaze out at the view.
17. Summer
Summer is a beautiful name (for humans and pets!), bringing to mind a warm, breezy day with blue skies. It's the perfect choice for a female dog.
16. Shadow
Staying on this theme for a moment, Shadow is an excellent name for a dog. The loyal, patient older dog in Homeward Bound, Shadow is a calming presence and an excellent companion.
15. Rocky
Going back to the Paw Patrol theme, Rocky is a great dog name for multiple reasons. It's a nice name without being too 'cute', perfect for a scrappy, fun-loving dog.
14. River
We love the name River, for both female and male dogs. The perfect choice for outdoorsy, spirited, adventurous dogs you can bring with you on all your hiking endeavors.
13. Rain
We love the name Rain! It has a little bit of 'grit', but it's still pretty. If you're a 'hiking-in-all-weathers' sort of person, Rain is an excellent dog name.
12. Pack
This one has a double meaning. Firstly, you might think 'pack of wolves', or something similar. If you're hiking as a family and you want to add one more member to your own pack, this is a cute name to go for. Plus, it's a nice nod to your trusty backpack.
11. Moss
Moss is an unusual name for a dog. Ideal if you love hiking through forests, Moss brings to mind a sweet, loyal dog with a calm personality.
10. Luna
Luna is a good name for Harry Potter fans, and it's a popular name for both animals and humans. If you love the night sky, Luna is a pretty name for your new canine companion.
9. Geo
A little less 'cutesy' than some of the others on this list, it's the perfect choice for a handsome, adventurous, energetic breed. Plus, it's a nice choice if you love hiking over rocky terrain.
8. Everest
Staying on the mountain theme, we'd recommend Everest as a name for your new dog. It's a classic name, and it's perfect if you have little kids who are super into Paw Patrol.
7. Ember
The name Ember brings to mind feelings of warm, cozy nights around a wood-burning stove on a cold night, and it's a nice nod to the outdoors without being too obvious.
6. Echo
Echo is a little more unusual than some of the others on this list, and we love it for that reason. It's a great name for a dog and brings to mind the excellent Echo Mountain hike, which is a location well worth a visit.
5. Chance
If you're a Disney fan, more specifically, a Millennial Disney fan!, you'll probably have a specific dog in mind here. Chance is the plucky, funny, adventurous younger dog in the '90s classic Homeward Bound. It's the perfect choice for spirited dogs you can take with you on all your adventures.
4. Canyon
Canyon is a strong name. It's a classic: it's outdoorsy, it's perfect for hiking enthusiasts, and it's perfect for a tough and strong dog.
3. Boots
If you're getting a dog with 'socks' on its fur, this is the best name. It's a super cute name for all types and sizes, and it's great for hiking enthusiasts. After all, you wouldn't go on a hike without your boots.
2. Acorn
If you love to hike through forests, Acorn is a cute dog name. Perfect for smaller dogs, Acorn brings to mind something small containing a lot of power and potential. 
1. Ash
We love trees for dogs, and Ash is no exception. A sweet name for a loyal dog.
Frequently Asked Questions
Gearing up to bring your new dog home? Here are a few questions you might want the answer to:
When can I take my dog hiking?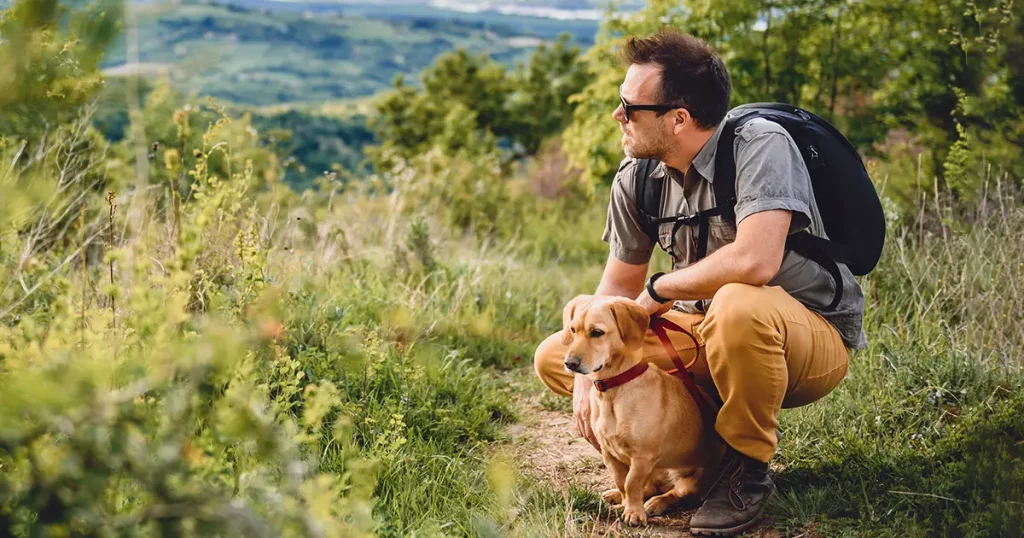 You should avoid hiking with your dog until their bodies have matured. Steep hikes aren't the best for small puppies, as you want to avoid injuries as they grow. They should be ready at around 1 year for small dogs, 18 months for bigger dogs, according to the American Kennel Club.
How can I keep my dog safe on a hike?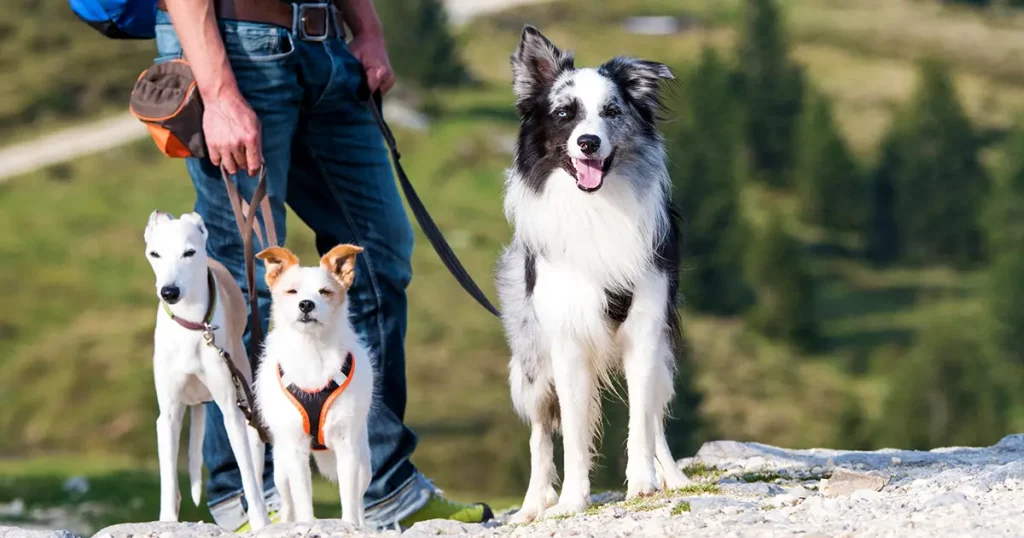 There are a few things you should do when your dog is ready to go on a hike with you:
Research your trail beforehand – check that the trail is suitable for your dog. How far can they walk before they get tired? Are there any plants that could be harmful to them?
Don't use a retractable leash – these don't offer as much control and could get tangled on the trail
Make sure to bring plenty of food and water – to keep their energy levels up
Mountain Warehouse has more top tips for hiking with your dog.
What should I take with me on a hike with my dog?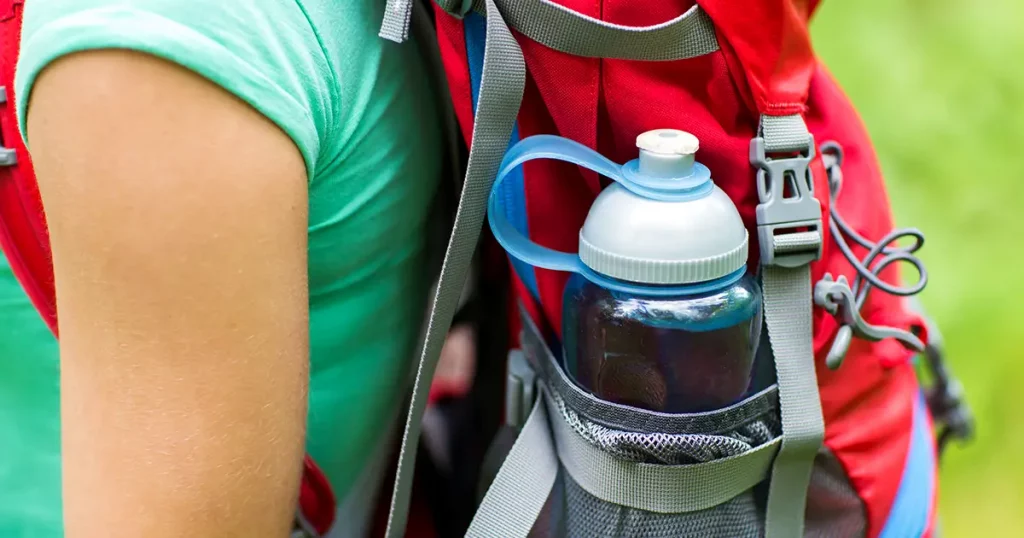 There are a few things to bring with you:
What is the trail etiquette for dog owners?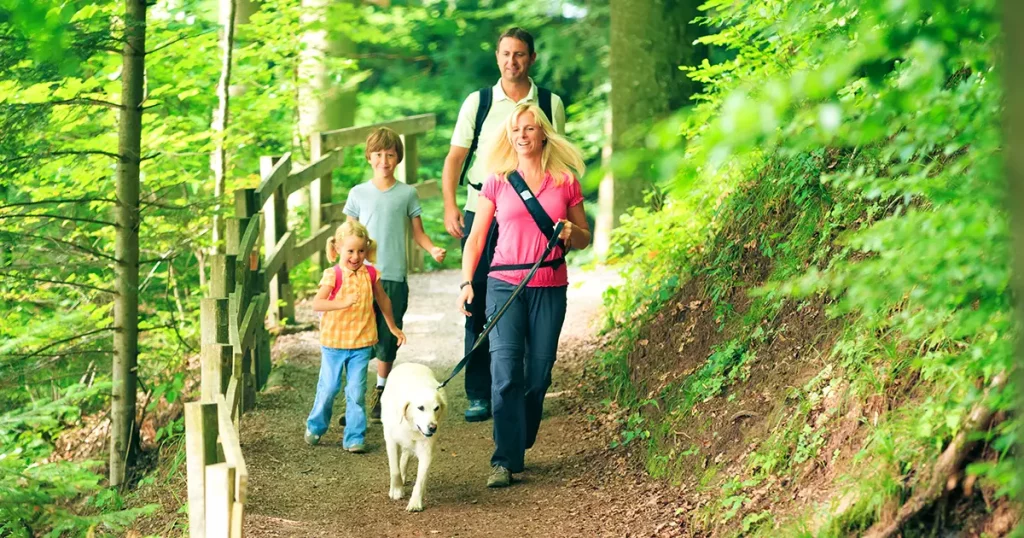 The main thing you should think about is following dog leash rules. Some areas allow your dog to run off the leash, but others don't so make sure you check this beforehand.
Other than that, the main thing to consider is to clean up after yourself and your dog. Pick up any poop and make sure to put them in the nearest dog waste bin, or take them with you if you can't find one.
You can find more ideas for trail etiquette from Pet MD.
Our Final Thoughts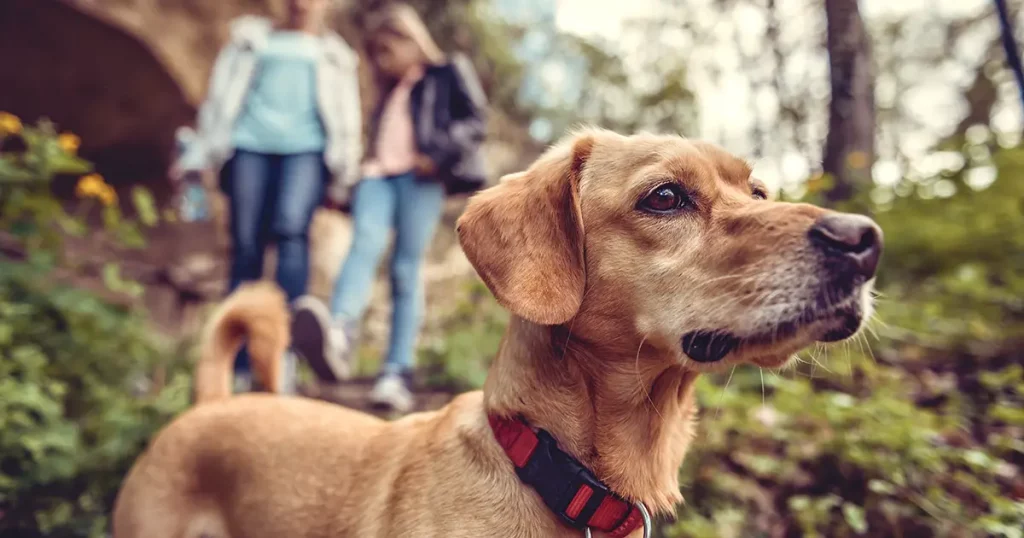 We hope this has helped you to find the perfect name for your new hiking companion.
Please let us know, what ideas do you have for a hiking name for a dog?