If you're semi new to using a tent, you may be wondering why waterproofing is necessary; also, how to waterproof it, and more importantly, how long does tent waterproofing last? 
When camping and dealing with unpredictable weather, you always want to make sure you have the right equipment to keep you safe and dry. The last thing you want is to get caught in a leaky tent. Fortunately, there is a way to tell whether the waterproofing on your tent will be sufficient. If your tent does need re-waterproofing, we'll outline a few simple steps to ensure that the process is quick and easy.
In this guide you will learn more about what tent waterproofing is, how long it lasts, and whether you need to make your tent waterproof again.
How Long Will Your Tent Stay Waterproof?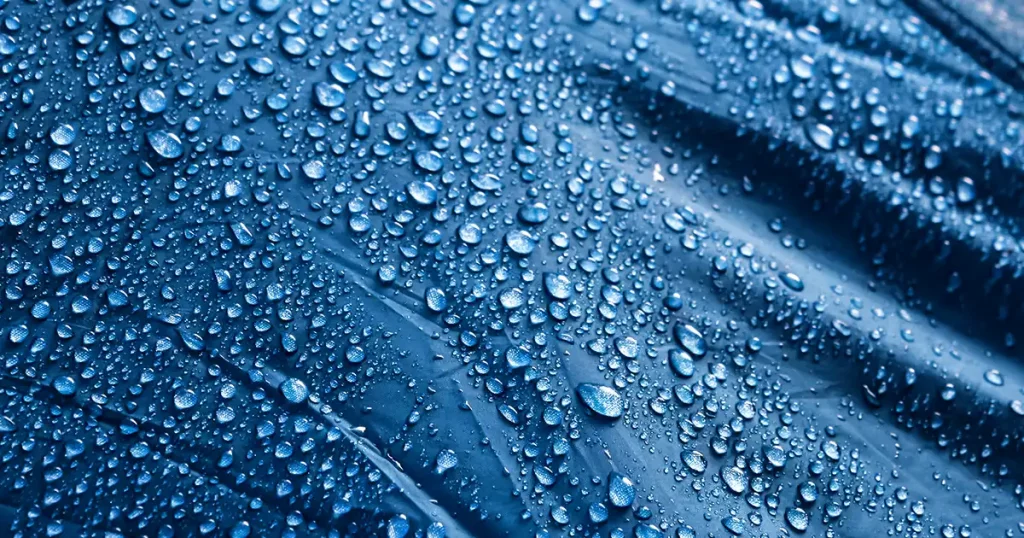 The longevity of the waterproofing on a tent is generally dependent on the type of material that is used and the rate with which it deteriorates; however, on average, it can last up to 2 years. This, of course, depends on a variety of factors.
For example, if you go camping once or twice per year (for a couple of weeks at a time), you can expect your waterproofing to last longer than someone who uses their tent multiple times a year in difficult weather conditions.
Conditions that can cause deterioration to your tent's waterproofing include:
Camping by the sea – the salty air, combined with sand, can wear away at the coating
Prolonged exposure to rain – if you use your tent often and you find yourself camping in heavy rain, this can cause the waterproofing to wear away over time. The same goes if you happen to be camping in hail or snow
UV exposure – being out in the sun for hours at a time can cause UV damage to any material, including the waterproof coating on your tent
While there's no exact measurement on how these factors can wear away at the waterproof coating on a tent, if you do find yourself in these conditions, you might find that the waterproofing won't last as long as if you were camping in shady, rain-free conditions.
How Does Tent Waterproofing Work?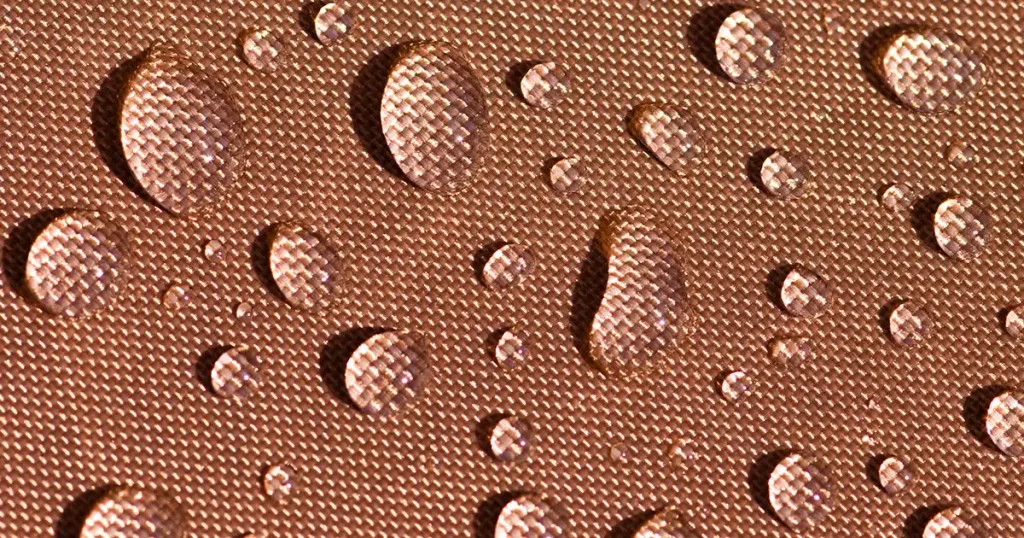 Tents tend to be made from robust materials, such as polyester or nylon. These materials are hard-wearing and can resist a certain amount of rain; however, they won't prevent heavy rain from leaking through. 
That's why tents are often treated with a thin layer of silicone, or similar materials, to repel rain. It is this layer that can wear off eventually, which is when you might start to see rain leaking in.
Tent manufacturers have other concerns in terms of waterproofing. Rain can seep through small gaps in the seams, which is why manufacturers use heat sealing to close up those small gaps.
What's a Hydrostatic Head Measurement?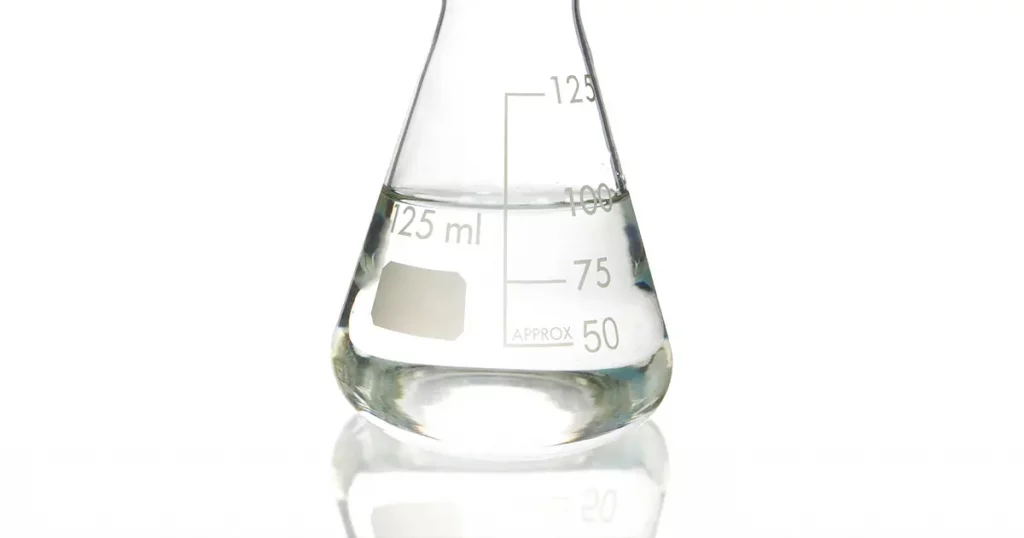 When looking at tent waterproofing, you may see the term 'hydrostatic head measurement'. This measures the pool of water that collects on top of your tent when it rains before it starts to leak through. The higher the measurement, the more waterproof it is. 2,000mm is a great minimum to go for.
How Can I Tell If My Waterproofing Has Worn Off?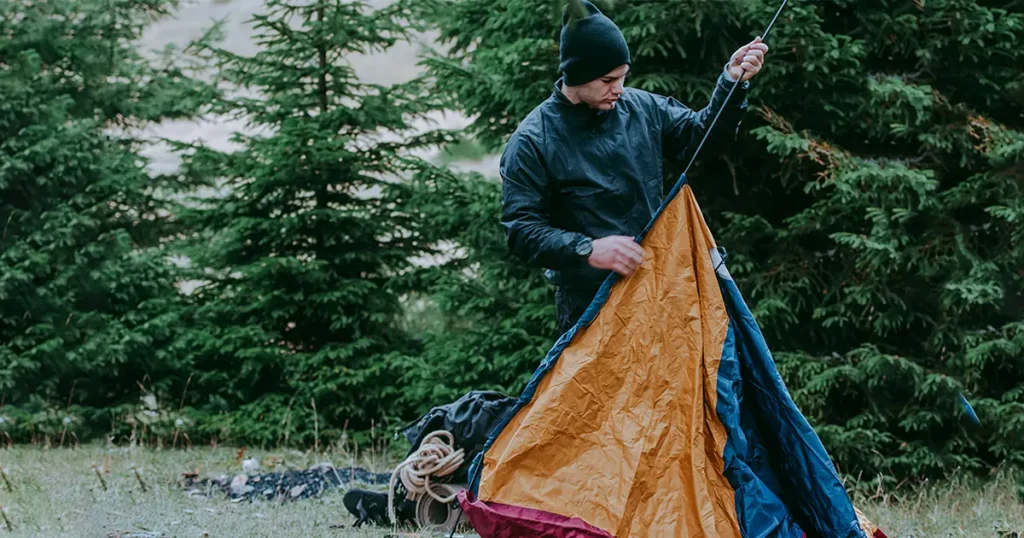 If you're wondering how you can tell if the waterproofing on your tent has worn off, there are a few things you can do. 
Firstly, consider how long you've had the tent and how often you take it out. Have you been camping frequently this year? The more rain (and sun!) your tent is exposed to, the more likely it is that the waterproofing will start to wear off.
Secondly, the easiest way to check is to assemble your tent outdoors. This way, you can inspect every part of your tent easily. You may notice that some parts of the coating are wearing thin or even visibly flaking. Grab a spray bottle filled with water and give it a spritz in those areas. If the water goes through the tent, you'll know it's time to re-waterproof it.
Finally, you can also check the seams for any wear and tear, it's also important to check for any rips or holes.
How Can I Re-Waterproof My Tent?
Luckily, it's possible to re-waterproof your tent without too much hassle. We generally recommend doing this on a warm day to allow your tent to dry quickly.
Step 1 – Clean Your Tent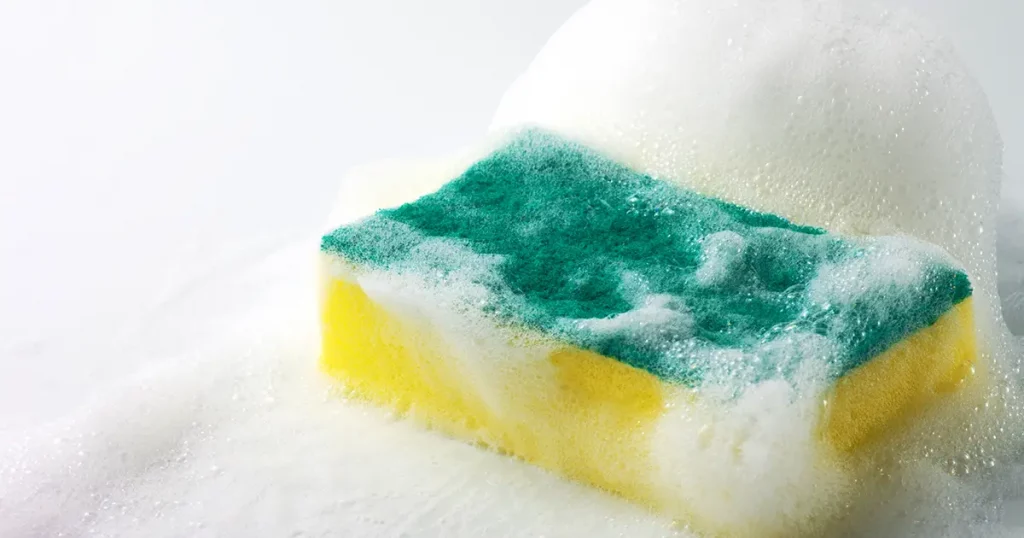 Now is a really good time to do a deep clean! Remove any visible dirt or mud from your tent using warm soapy water, and allow it to dry completely.
Step 2 – Fix Rips or Tears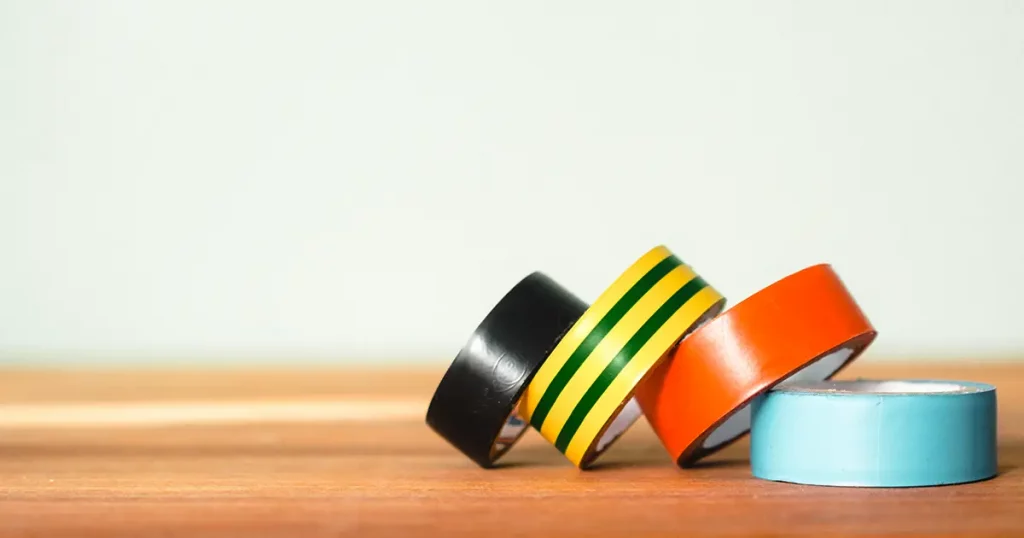 You can use a product like GEAR AID Tenacious Tape Fabric and Vinyl Repair Tape to fix any rips or tears. In fact, we'd recommend taking a roll of this when you're camping, just in case you need to make any emergency repairs.
Step 3 – Fix The Seams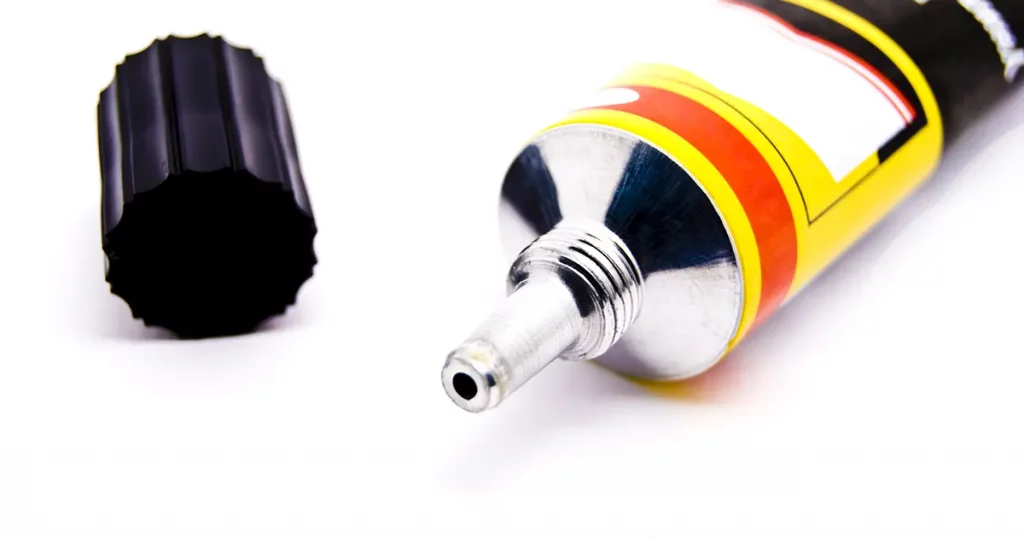 Your seams may need resealing from time to time. Using a seam sealant can help to cover any obvious wear and tear. We'd recommend using GEAR AID Seam Sealant Adhesive as it comes with a brush applicator for convenience.
Step 4 – Apply Waterproofing Spray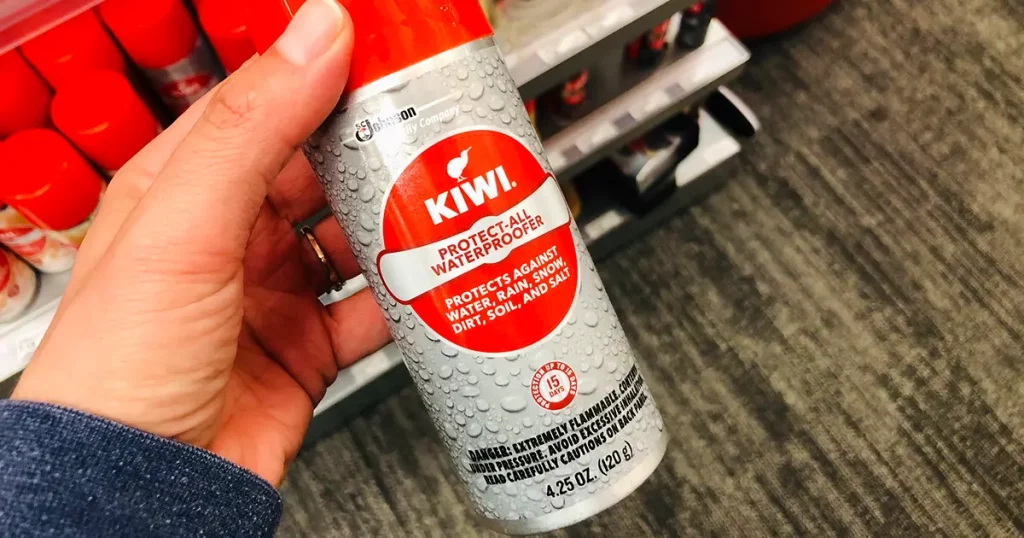 At this stage, you can apply waterproofing spray. The exact process depends on the type of waterproofing spray you choose, but it essentially involves spraying an even coating of waterproofing material, then leaving it to dry. You can use something like the KIWI Camp Dry Heavy Duty Water Repellant Spray.
If you want more details, you can check out the REI Co-Op's Guide on How to Waterproof a Tent.
Can You Recommend Some Waterproof Tents?
Yes, we can recommend some excellent waterproof tents! Here are a few of our favorites:
Coleman WeatherMaster
The Coleman WeatherMaster 10-Person Tent is treated with Coleman's WeatherTec system. It has a hydrostatic head measurement of 2,000mm, and it has covered zippers and taped seams.
Generally, it's a great tent for waterproofing. It's a large 2-room tent that can sleep up to 10 people, and is a great option for a family.
MoonLence Instant Pop-Up Tent
The MOON LENCE Instant Pop-Up Tent is an excellent choice if you're traveling. It folds up easily and is quite compact, which means you can pack it into your backpack without worrying about it taking up space. It's also impressively easy to put together.
It has a hydrostatic head measurement of 2,000mm, with covered zippers.
NKT Laredo
The NKT Laredo is super durable. It has a 2,000mm hydrostatic head measurement, with a bathtub-style shaped flooring. This means the flooring curves upwards, which helps to keep the bottom of your tent dry.
It's a fairly large tent, as it sleeps up to 9 people.
MSR Hubba Hubba NX 2-Person Lightweight Backpacking Tent
The MSR Hubba Hubba NX 2-Person Backpacking Tent is treated with MSR's Xtreme Shield Waterproof Coating. It gives a hydrostatic head measurement of 1,500mm.
It's ideally suited to a couple, especially if you are traveling, as it can be put into a backpack easily.
You can also check out our guide on Best Tents for High Winds if you're looking for tents that can withstand the elements, as well as the best waterproof jackets for those rainy days.
To Sum Up …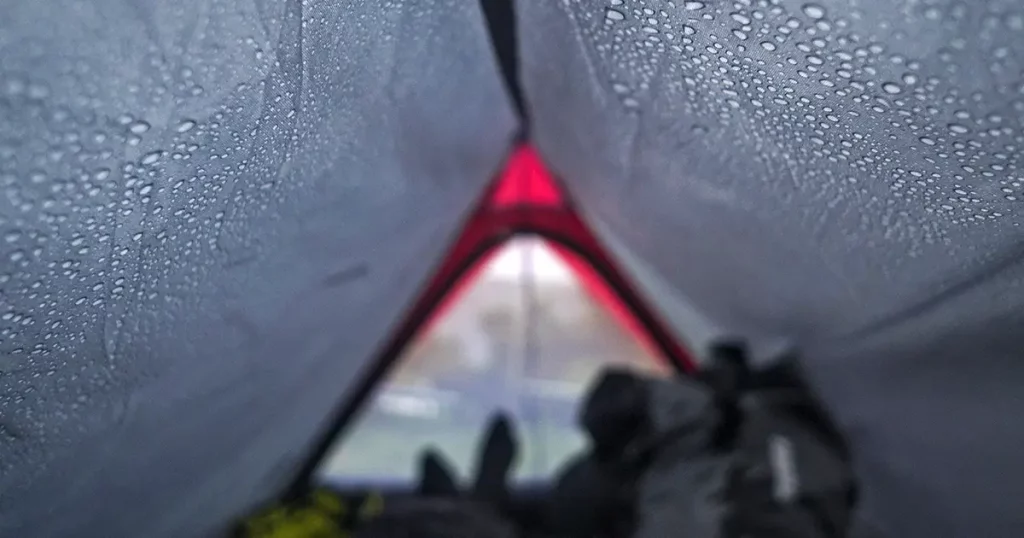 We hope this has helped provide you with an answer to the question of how long tent waterproofing lasts. While we can't give a definitive answer, we would say the average tent use has approximately 2 years of use. Again, this will depend on the weather conditions you've been camping in.
If you want more tips on camping in less-than-ideal conditions, you can check out the Trespass guide on Camping in the Rain.
If this has helped you, please feel free to share it online. Also, let us know any tips you have for staying dry while camping in the comments below!