Traveling to new areas, taking in breathtaking views and learning about new cultures is amazing — until you get caught short in a sudden rain shower without any kind of protection. Sometimes the weather can be unpredictable, and sometimes you can simply be unprepared. Whatever the reason, investing in a protective outer layer is a great idea. To help you out, this guide on the 7 best lightweight rain jackets for travel in 2020 will leave you feeling super prepared. 
And the best thing about a lightweight rain jacket is that they're so easy to just place into a backpack or stuff into a sling bag — especially if you're traveling light or already have a lot of stuff with you. Travel Coats are often left behind because of the bulk, but choosing something easy to carry will mean you no longer have to compromise on comfort.
By reading this guide, you will learn the following:
Some key things to think about before you invest in your favorite garment. 
What we think are 7 of the best lightweight travel rain jackets on the market right now.
An unbiased review of each one, including key features, pros and cons.
The verdict: which rain jacket comes out on top. 
Things to think about when choosing a rain jacket
A rain jacket is such an important choice, so it's worth spending some time looking for the right one. To help you find the best garment, there are a few things you should consider. Style is one thing, but performance is far more significant. 
The construction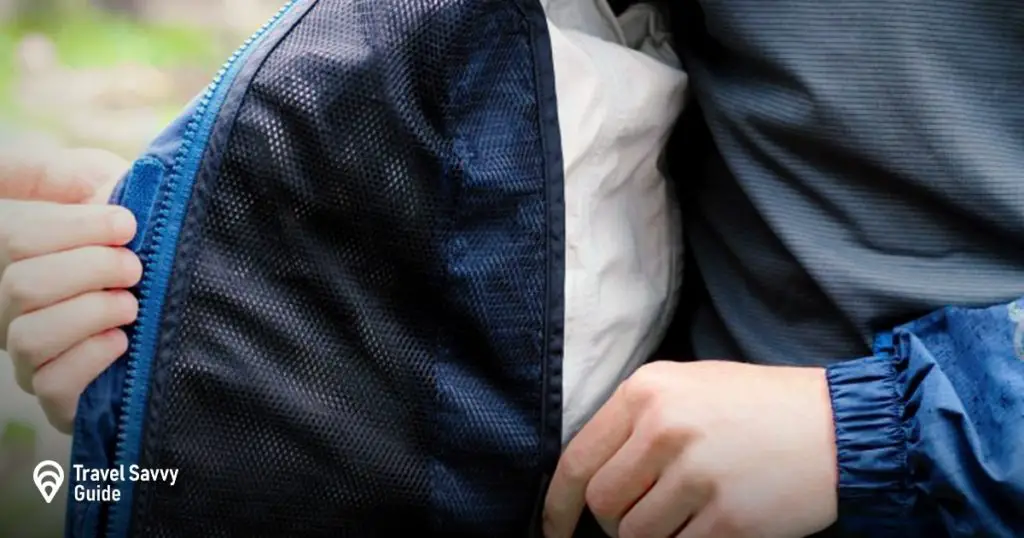 Most rain shell fabrics use a 2, 2.5, or 3-layer construction. But what does this mean? It's basically what makes a jacket waterproof and breathable. Generally, all rain jackets come with an outer shell fabric, which is coated with a Durable Water Repellent (DWR) to stop the outer layer from absorbing water. But whether you choose a 2, 2.5 or 3-layer jacket is completely up to you. Here's a bit more information. 
2-layer jackets 
A 2-layer jacket features a protective inner coating that's bonded to nylon or polyester. They're often treated with a DWR coating, which causes water to simply roll off the jacket. There's also an inner layer, which usually consists of a sewn-in mesh or nylon lining. These types of jackets are normally flexible, affordable and comfortable, but they're not quite as breathable or protective as a 3-layer jacket. 
2.5-layer jackets 
A 2.5-layer jacket is very similar in construction to a 2-layer, but they feature a protective half layer that is printed or sprayed on to the second layer, which provides the DWR and stops water from seeping through. They're generally flexible, comfortable and the most standard type of rain jacket on the market. 
3-layer jackets 
The 3 layers in this type of jacket consists of the outer fabric, the protective coating in the middle and the inner layer, which is a sewn-in lining (often mesh or nylon). Unlike a 2-layer jacket, the membrane is laminated between the face fabric and a protective knit backing.
Just how lightweight do you want your jacket to be?
While the amount of layers (described above) you choose will ultimately affect the weight, there are also ultralight models for maximum comfort. These are bare-bone jackets that don't contain all the heavy, bulky features, like pockets and hood adjustments. They're really easy to pack down and are best suited to shorter drizzle showers. 
Are you looking for additional features?
You might want to look for a hood to protect your head and ears from cold, biting winds. Pockets are also really handy to stash essentials and keep valuables close by. Drawcords are also handy features, as they allow you to adjust the jacket to suit you. Adjustable cuffs can prevent rain from seeping in, and a chin guard will stop your chin or mouth from catching on the zip. Other features include ventilated pits and hidden zippers to stop them from catching onto other things.
Best lightweight rain jackets for travel- our top 7 picks
We've reviewed 7 of the best lightweight rain jackets for travel that you can compare. Take a close look at the key features as well as the pros and cons, as each review is completely unbiased for a true, well-rounded look. 
Arc'teryx Norvan SL Hoody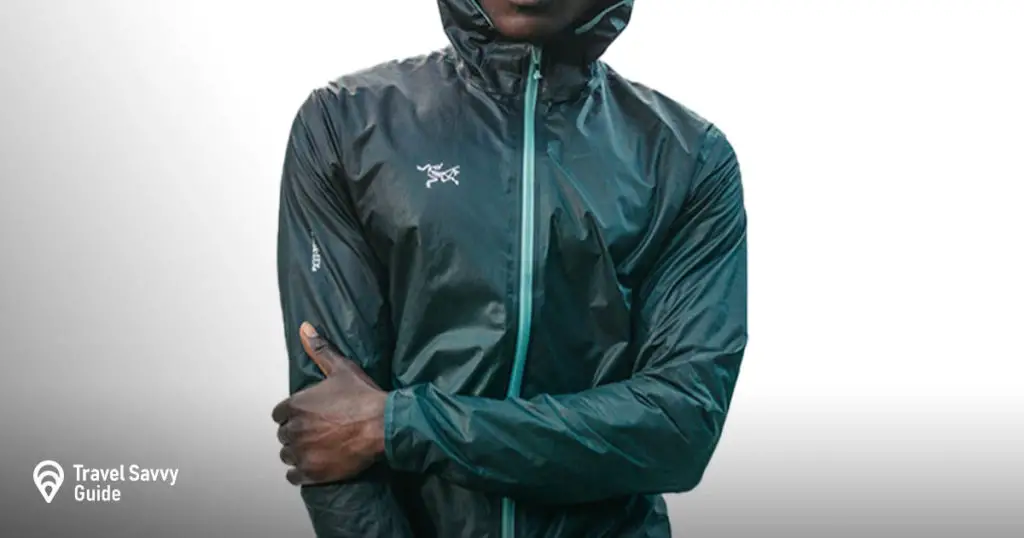 Key features
1 layer jacket
Weight: 4.02 oz (113g) .
Norvan — designed for high performance trail running for extended challenging terrain.
Made with Gore-Tex; a waterproof, windproof and breathable fabric.
Superlight materials and design, emphasizing lightweight and packability over durability.
Technical trail running systems with a focus on freedom of movement and moisture management.
Waterproof, windproof and breathable textiles that offer fully protective environmental shelter.
Laminated high-strength hanger loop.
Trim, slim fit, optimizes exceptional breathability during high output.
Hood can be rolled and secured with snap when not in use.
Fitted hood with elasticized brim ensures visibility when in use.
Zippers & fly configuration.
Water tight front zip with chin guard.
Shaped cuffs with low profile elasticated cuff at wrist.
Reflective elements on cuffs for enhanced visibility in low light.
Elasticized bottom hem for secure fit.
When it comes to rain jackets, the Arc'teryx Norvan SL Hoody is one of the lightest around, weighing in at a mere 4.02 oz (113g). This means it's super easy to pack down and doesn't take up much space at all when you're traveling from place to place. But that doesn't take away from the performance properties, as it's made from high-tech Gore-Tex, which is incredibly waterproof and perfect for keeping you warm and dry. 
The jacket is also designed for high performance trail running in challenging terrain. This doesn't mean it's simply for running — it means it will handle the trickiest conditions, whatever the sport. And if you're heading to warmer weather you're in luck, as there's plenty of ventilation to keep you feeling cool and sweat-free. However, one of the only downsides is that it might be a bit too lightweight; you'll need to layer up to stay warm in super cold conditions. 
Pros 
Ultra lightweight; perfect for packing light. 
Highly breathable with high performing waterproofing properties. 
Great ventilation features for cooling you down in warm weather.
Sleek and stylish design. 
Cons 
In colder conditions, you might need extra layers to keep you warm.  
The zipper can sometimes get stuck. 
Columbia Watertight™ II Jacket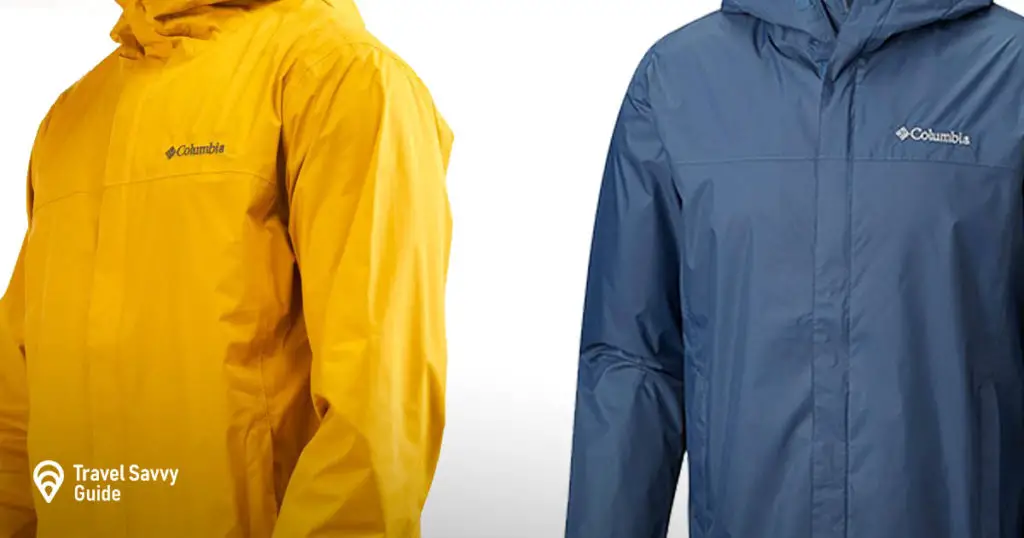 Key features
2 layer jacket. 
Weight: 13oz (368g).
Omni-Tech™ waterproof/breathable fully seam sealed.
100% nylon Full Dull plain weave
Attached, adjustable storm hood.
Drawcord adjustable hem.
Zippered hand pockets.
Abrasion resistant chin guard.
Packs away into its own pocket.
Drop tail (when the back of the jacket is longer than the front)
Center back length: 29 inches (73 cm).
Uses: trail, travel.
One of the more affordable rain jackets on the market, the Columbia Watertight™II Jacket is  expertly crafted by a brand that consistently delivers. It's a great choice if you're on a budget and need a pocket-friendly option. With many colors to choose from, this rain jacket looks smart and gives the higher-end models a good run for their money.
In terms of the performance properties; the jacket is made from microporous Omni-Tech® fabrication, which will keep you dry in wet weather while allowing heat and sweat to escape. The waterproof nylon shell is also durable and can withstand anything from drizzle to downpours. It's fully seam sealed too, which means no water is getting in through any gaps; and that's exactly what you want from a waterproof jacket!
And if you're looking to pack light, the Columbia Watertight™II Jacket is super lightweight and stuffs down into its own pocket, making it easy to throw into a travel bag, suitcase or backpack. It doesn't have the best ventilation out of all our reviewed jackets so it can get a little hot. It can also feel a little bulky, so it's probably best suited to colder climates. 
Pros 
Easily packs down and easy to carry around.
Stylish design — available in loads of colors. 
An affordable, good value option. 
Good wrist cuffs.
Great for keeping you super dry.
Cons 
Can feel a little bit bulky when worn. 
Limited hood adjustment.
Can get a little warm, so not as ideal for warmer countries.
Outdoor Research Helium II Jacket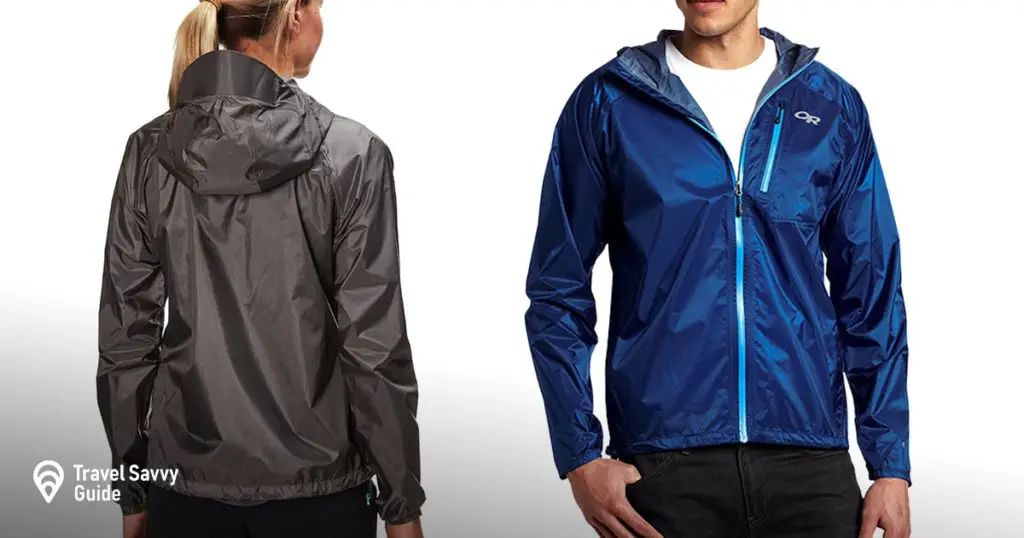 Key features
2.5 layer jacket
Weight: 6.4oz (181g).
Made with 100% nylon.
Fabric performance: waterproof, breathable, fully seam-taped, laminated construction, windproof.
Ultra lightweight.
Standard fit.
Design features: adjustable hood, YKK AquaGuard zippers, zip chest pocket, internal pocket doubles as stuff sack, reflective logos, carabiner loop.
Functional details: single-separating front zipper, elastic cuffs, elastic drawcord hem.
100% waterproof, breathable and weighing only 6.4 ounces (181 grams), the Outdoor Research Helium II Jacket is built for flash-storm protection, thanks to the 2.5-layer Pertex® Shield+ shell. This offers incredible waterproofing properties, preventing any water from seeping through — even in sudden downpours.
Like many other jackets on our list, this jacket packs down small and into its own pocket. But when we say small, we mean down to the size of a sandwich — even fitting into your pants front pocket. This means if you get caught short because of the weather, you can simply whack out the jacket for instant protection from the rain. 
However, to keep the jacket as lightweight as possible, you'll find that there aren't a whole lot of pit zips to offer full ventilation, so it can get a little warm inside the jacket. Some wearers have noticed that the jacket can come up a little short too, so you might need to try one on for size first. 
Pros 
Packs down small and into its own pocket. 
Excellent waterproofing properties. 
Loads of pockets for all the important things. 
A standard fit; great for both men and women to wear. 
Cons 
Lack of pit-zips for manual ventilation. 
Can come up a bit short. 
Fairly expensive.
Black Diamond StormLine Stretch Rain Shell Jacket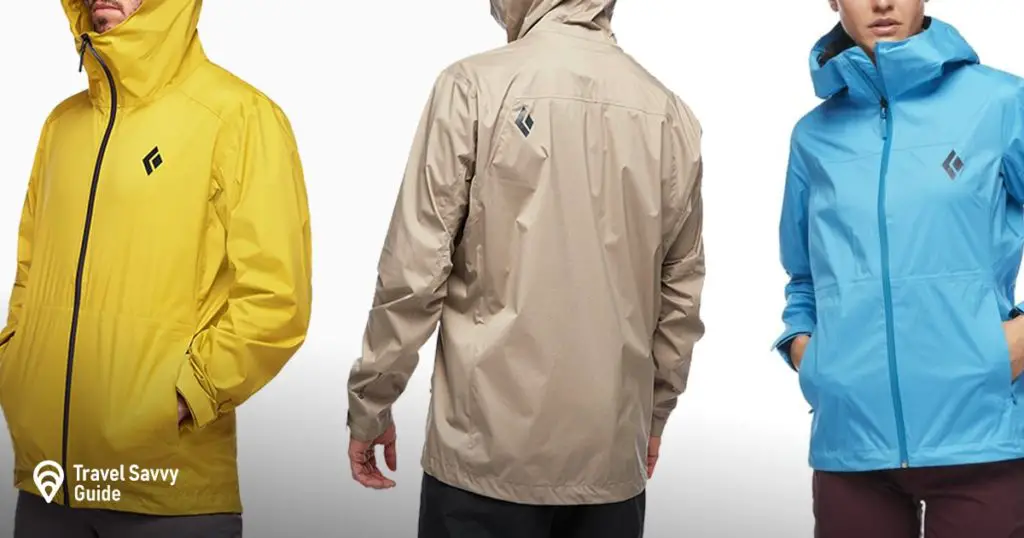 Key features
2.5 layer jacket.
Weight: 9.9oz (280g).
Made with 100% nylon.
Waterproof Rating: 10,000mm.
Breathability Rating: 10,000g/m2.
Built with BD.dry™ — their engineered waterproof/breathable/windproof solution.
Stretch shell fabric for increased durability and comfort. 
DWR pit zips for ventilation.
Underarm gussets for added mobility.
Adjustable, climbing helmet-compatible hood.
YKK reverse coil PU coated centre front zipper.
Packs into its own pocket with a carabiner clip loop. Adjustable cuffs and hem.
Regular fit.
Best for hiking and daily use. 
Designed to handle downpours, the StormLine Stretch Rain Shell is a fully featured rain jacket. It's built with BD.dry™; a waterproof, breathable and windproof solution that's effective at keeping you warm, dry and comfortable. The outer shell is also made from 100% nylon — one of the most popular rain jacket fabrics thanks to its durability and warmth.
In terms of added features, there are DWR sealed pit zip vents for breathability, two zippered hand pockets and a waterproof zip closure for a secure fit. There are also underarm gussets and a climbing helmet-compatible hood, perfect for when you're scaling new heights. It's also mobile, versatile and durable thanks to the ultra stretchy fabric that moves with you.
One of the downsides is that the size does come up large, so if you're looking for a jacket that performs when it comes to sports, it may not be the best choice. However, with adjustable cuffs, you can make it work for you. 
Pros 
It's stretchy for a comfortable fit.
There are loads of features to shout about. 
It's an affordable option. 
The jacket features DWR pit zips, offering better ventilation. 
Adjustable cuffs for a bespoke fit.
Cons 
It comes up large, so it may not be great for wearing when it comes to sports.
Marmot Magus Lightweight Waterproof Rain Jacket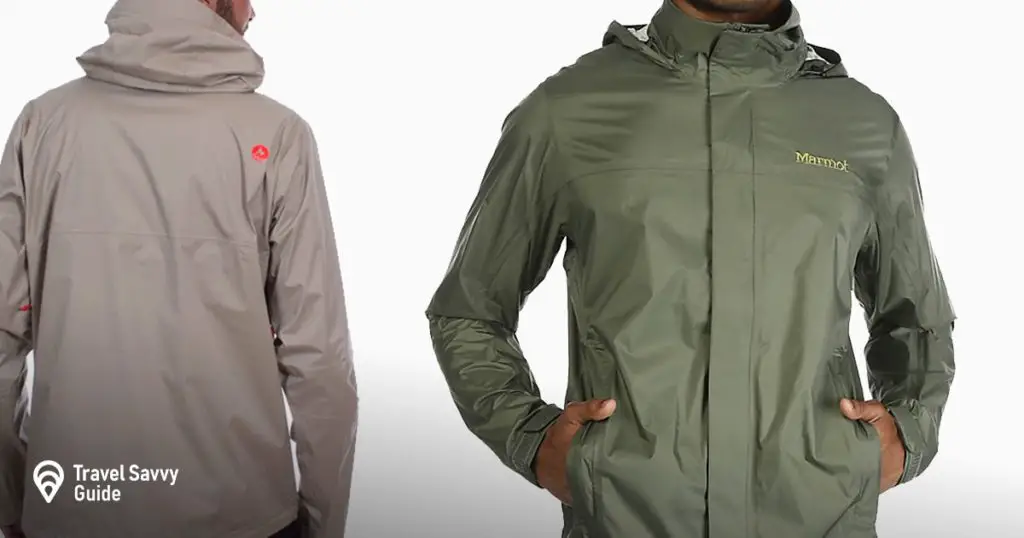 Key features
2.5 layer jacket
Weight: 10.06oz (285g).
Machine Washable.
Perfect for activities like backpacking and hiking where rain protection and a full range of motion are your top concerns.
Attached hood can be adjusted for better facial coverage; fabric stretches for better range of motion.
PitZips let you regulate the garment's internal temperature by increasing airflow, improving comfort.
Drawstring hem for a secure fit.
Chest pocket with water-resistant zipper.
Zippered hand pockets.
Marmot® Stretch NanoPro™: waterproof/breathable fabric.
100% seam taped.
Regular fit. 
Asymmetric cuffs with VELCRO® adjustment.
Elastic drawcord hem.
Angel-Wing Movement™.
Made from a durable, stretchy fabric, the Marmot Magnus Rain Jacket is ideal if you're backpacking or hiking in areas where you need your jacket to deliver on the rain protection. Despite being fully waterproof, you'll still have full control as it's versatile, super lightweight and offers a full range of motion. It's completely breathable too — a huge plus as many jackets on our list are a little warm — with PitZips expertly placed to help your body regulate its temperature by increasing airflow. 
It's ever-so slightly heavier, weighing at 10.06 ounces, but the waterproof Marmot® Stretch NanoPro™ fabric is 2.5 layers thick and allows for easy layering. The Angel-Wing design also offers plenty of room around the arms and through the body, offering unrestricted movement and loads of space for you to layer up when it's cold.
Of course, there are always downsides. While there aren't many, there are no internal pockets or inner lining. You might prefer this from your rain jacket if you're going really light and cool, but if you're looking for those added extras then you might want to take a look at some other jackets on our list.  
Pros 
It offers plenty of ventilation.
Lightweight and versatile: incredibly easy to wear.
Good choice of colors.
Super comfortable.
Cons 
No internal pockets.
No lining. 
The front zippers don't come with any kind of storm flaps. 
There's no elastic on the cuffs.
Mammut Masao Light Hooded Jacket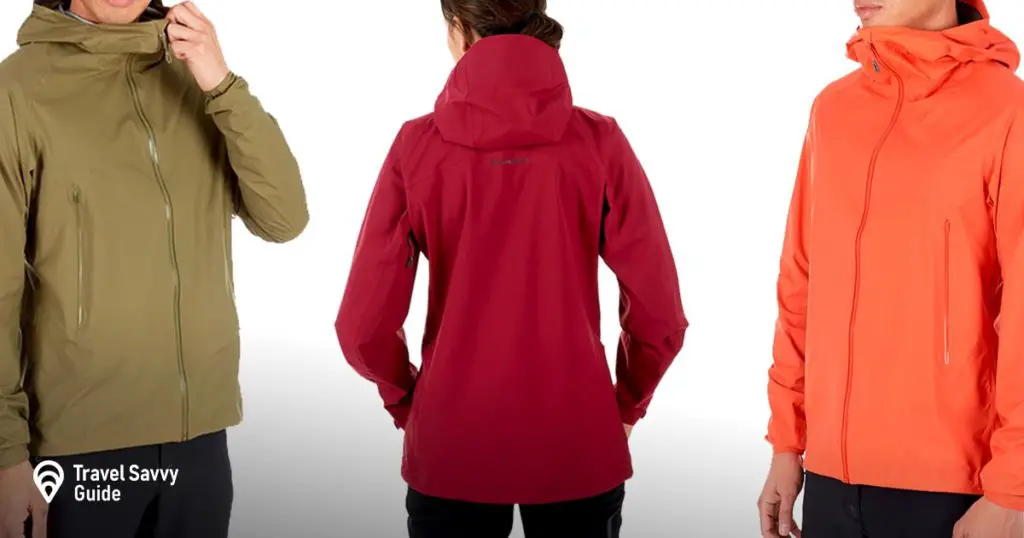 Key features
3 layer jacket.
Weight: 8.04oz (227g).
Windproof and waterproof 3-layer Mammut DRY technology performance material with a 20,000 mm water column.
Mammut single pull hood storm-proof and helmet-compatible hood with reinforced visor that can be adjusted both vertically and horizontally with a single pull.
YKK vislon front zipper for smooth operation.
2 climbing harness-compatible front pockets with waterproof zipper.
1 inside pocket with zip.
Underarm ventilation with waterproof 2-way zipper.
Preformed sleeves.
Minimalist adjustable cuffs with hook and loop fasteners
Athletic fit.
DryTechnology Performance
Made with 100% polyamide.
Perfect for mountain-based adventures, the Mammut Masao Light Hooded Jacket is one of the lightest rain jackets around. When it's on you'll barely notice you're wearing it, but the fabric is super tough, offering amazing waterproof and windproofing properties. 
It comes with a whole host of features too, including a helmet-compatible hood with a reinforced visor. This can be adjusted both vertically and horizontally with a single pull. There are also two further climbing harness-compatible pockets, allowing you to be active with minimum effort — reducing the need for a bulky backpack. There's an underarm ventilation too, keeping you cool whatever the adventure. 
While the athletic fit is comfortable and easy to wear, the neckline can sit a bit high. This all depends on your body shape though, so give it a try first. 
Pros 
It's one of the lightest models around.
It's incredibly ventilating. 
Packs down incredibly small. 
It's a smart looking jacket.
Sits comfortably under backpacks. 
Cons 
The fabric doesn't feel particularly soft to touch.
The neckline can sit a bit high. 
Arcteryx Beta AR Jacket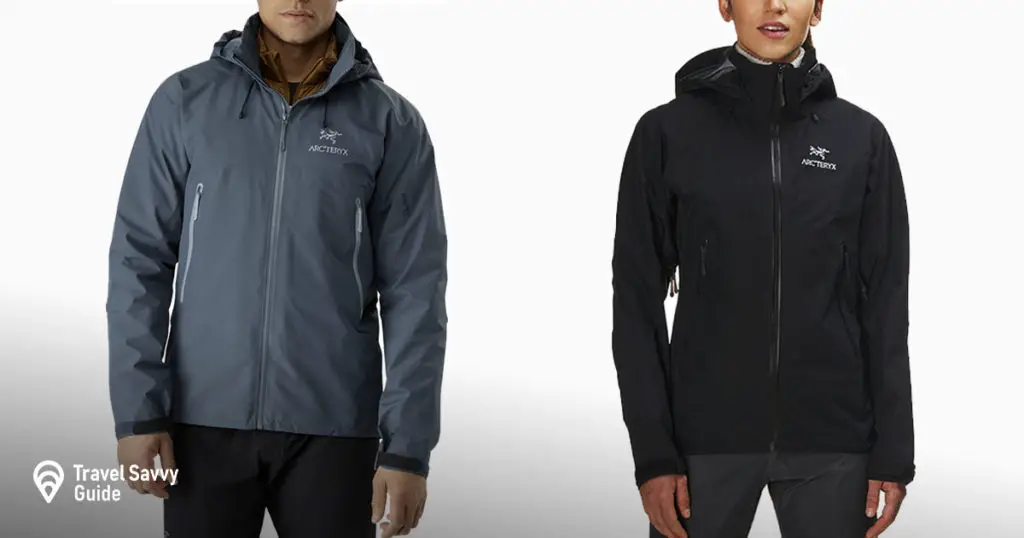 Key features
3 layer jacket.
Weight: 16oz (453 g).
Made with 100% nylon.
Gore-Tex construction; a waterproof, windproof and breathable fabric.
Helmet-compatible DropHood™.
Cohaesive® cord lock adjusters.
Two hand pockets, internal laminated pocket with zipper.
WaterTight pit zippers for ventilation.
Internal collar. 
Regular fit. 
A good length to accommodate layers. 
Pit zippers for breathability. 
A sturdy and reliable 3-layer jacket, the Arcteryx Beta AR Jacket is designed for comfort and breathability. It features premium Gore-Tex construction which is a waterproof, windproof and breathable fabric, with a special lining membrane. This is bonded to both the face fabric and lining to stop any water from getting in. It is also DWR (durable water repellent)  treated to repel water and made with an internal lining that's super lightweight, meaning you don't have to worry about the jacket weighing you down. 
On top of this, the hood is helmet compatible, there are two hand pockets and WaterTight pit zippers for optimum ventilation. There's also an internal collar. And when it comes to the shape, expect a regular fit. This is to accommodate layers underneath, so if you're traveling to colder countries it's worth layering up. While it is slightly heavier than most jackets on this list at 16oz, it looks good, feels great and is guaranteed to deliver.
Pros 
It's a completely durable material.
There are plenty of vents for greater airflow. 
Made with Gore-Tex Pro; a premium quality fabric. 
A great looking design and fit. 
Cons 
Slightly heavier than other jackets on the list. 
The verdict: which is the best lightweight rain jacket for travel?
There are a lot of features and benefits to take in on our list, but with the 7 best lightweight rain jackets for travel to choose from, we hope that there are one or two that might work for you. While you may not have heard of some of the brand names on this list, don't overlook them. Each one offers premium quality garments that are well worth a closer look — regardless of whether they're a top name brand or not.
Overall, our winner has to be Outdoor Research Helium II Jacket. While it's a close choice, the incredible weight (a mere 6.4oz) just tips the edge in its favor. It's well known on the market for being a great rain jacket, and we couldn't agree more. It's so easy to pack down — perfect for unpredictable weather.
A close second place is the Arc'teryx Beta AR Jacket. While it's not quite the lightest on our list, this is made up for by its clever Gore-Tex technology; offering the highest levels of waterproofing (perfect for sudden downpours). Also, if you're looking for something more breathable than the Outdoor Research jacket, this one is a great alternative. 
Now you have all the information you need, pick your favorites and do some extra research to help cement your decision. 
The bottom line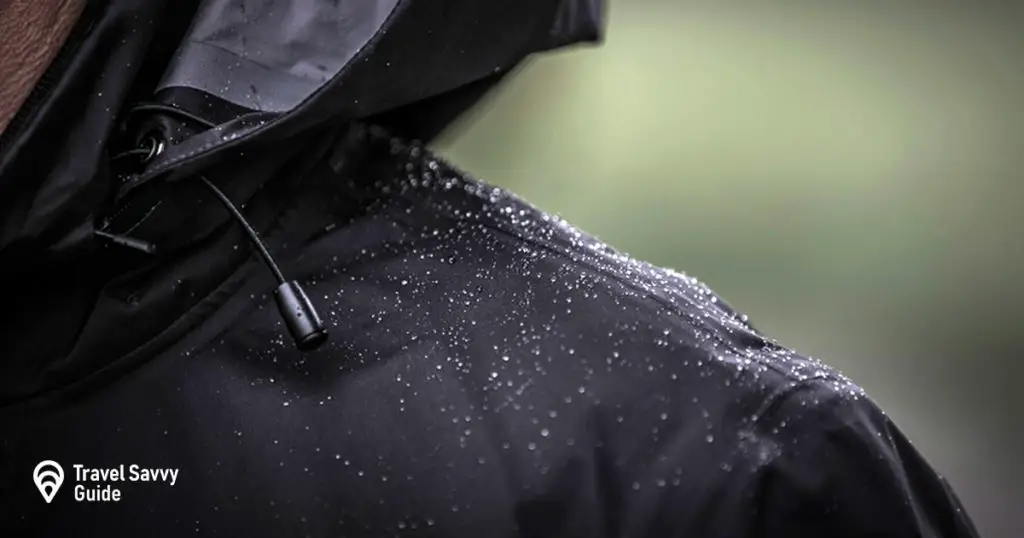 By now, we hope that we've offered plenty of information for you to be able to make the right choice. A lightweight rain jacket is such a handy investment, especially in areas where the weather is unpredictable, so being able to simply throw a jacket in a bag or travel case will ensure you stay protected, whatever the elements decide to do. Try a few on before you commit to make sure your favorite feels comfortable, looks good and does the job. 
We really hope this article helped you make a decision and we would love to know where you're headed on your travels; please get in touch to share your travel stories with us! Got the travel bug? Then why not find out more about the Wind River High Route in the North American Alps? And remember to stay hydrated with our detailed guide on the best filtered water bottle.