Rain on your wedding day may symbolize good luck, but it requires a little more planning and thought. You may be wondering how many umbrellas to buy for a wedding and what type of umbrella you should choose. We'll give you our ideas on this, as well as some great umbrella recommendations and some practical tips for rainy wedding days too.
How Many Umbrellas Do You Need for a Wedding?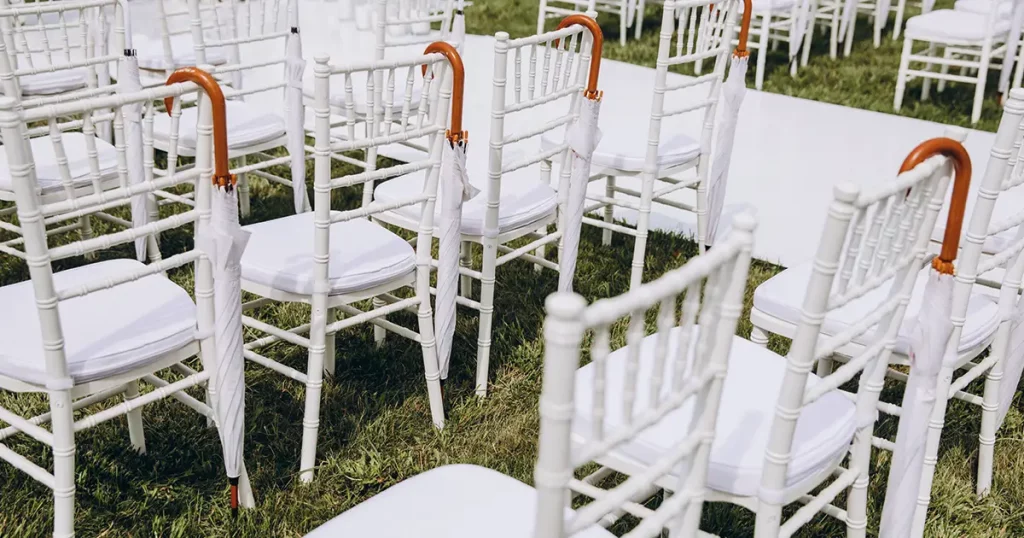 The answer will partly depend on how big your umbrellas are. Larger umbrellas can fit 2 or even 3 people (in a tight squeeze), so although they cost more, at least you won't have to buy 1 for each guest. They should be large enough to keep your guests dry, so they don't have to worry about wearing a waterproof rain jacket or rain poncho.
We'd recommend buying 1 umbrella for every 2 guests. This should be enough for everyone. Just make sure to buy one for yourselves too! If you're on a tighter budget, try picking 1 for every 3 guests, but make sure you go for a larger size to make sure everyone can stay dry, or consider asking guests to bring an umbrella.
What Kind of Umbrella to Get for a Wedding
There are a few different types of umbrellas you can buy for wedding guests:
Clear Umbrellas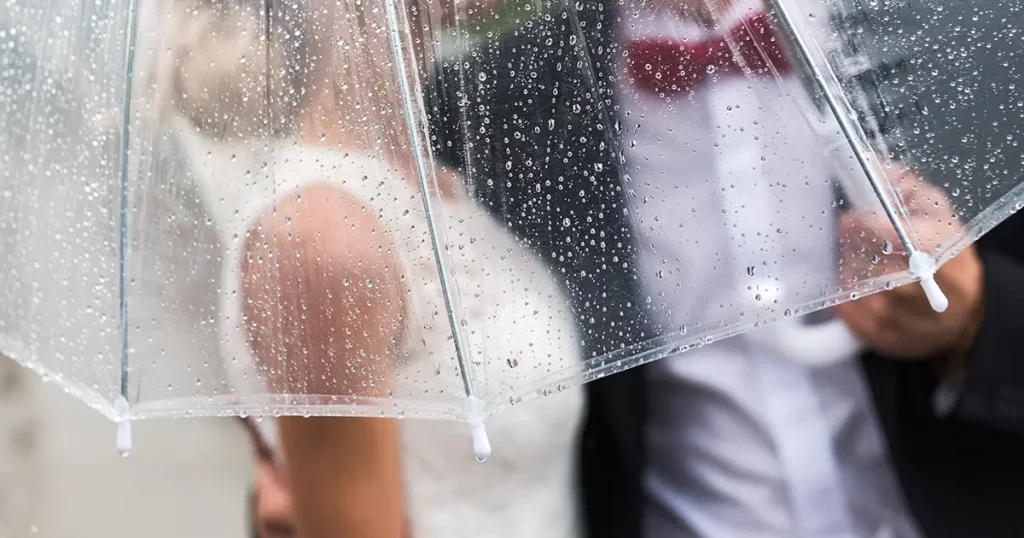 Clear bubble umbrellas are great, as they will allow you to see while still keeping you dry. They're also neutral, meaning you won't have to worry about clashing with anyone's outfits, and because they're see-through, they work well for photographs.
Check out this pack of 12 wedding umbrellas. They're pretty, without being too distracting, and they're wide enough for 2 people to fit underneath them.
White Umbrellas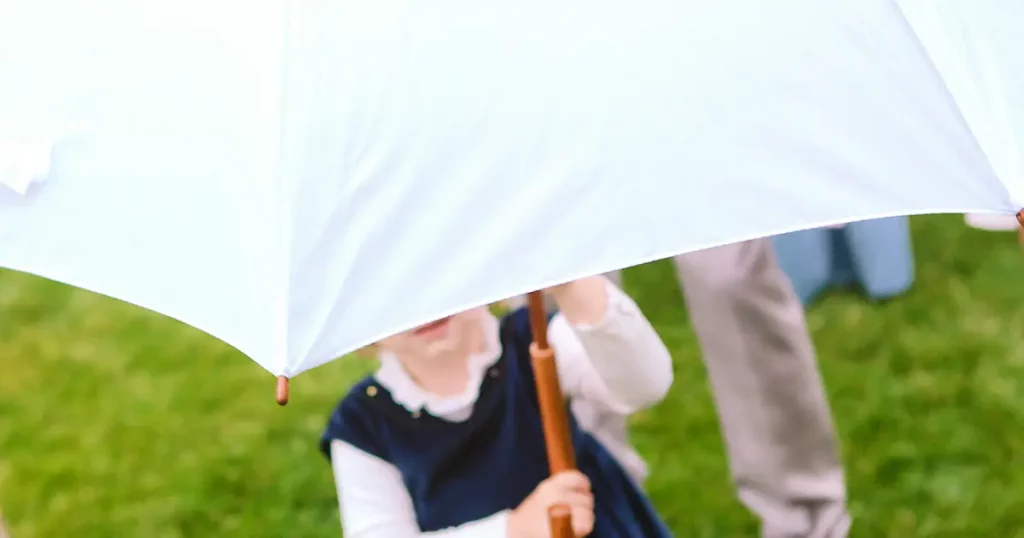 Another classic choice, white umbrellas match a more traditional theme. They look stylish and classy, and they'll match a white wedding dress. We like this pack of 10 Anderson wedding umbrellas, as they're strong, sturdy, and wide enough to fit 2 people.
Colorful Umbrellas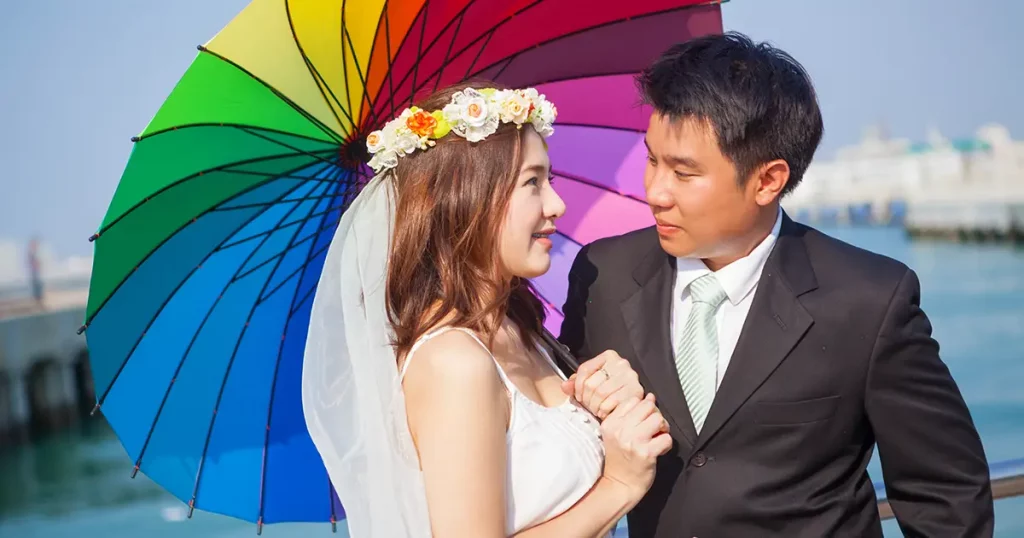 Want something a little more quirky? Bring some color into a rainy day with bright or patterned umbrellas. You can find umbrellas to match any theme, from rainbow umbrellas to sunshine yellow umbrellas to polka dot umbrellas. You can go for a mix-and-match selection to create striking and colorful photographs to treasure forever.
Parasols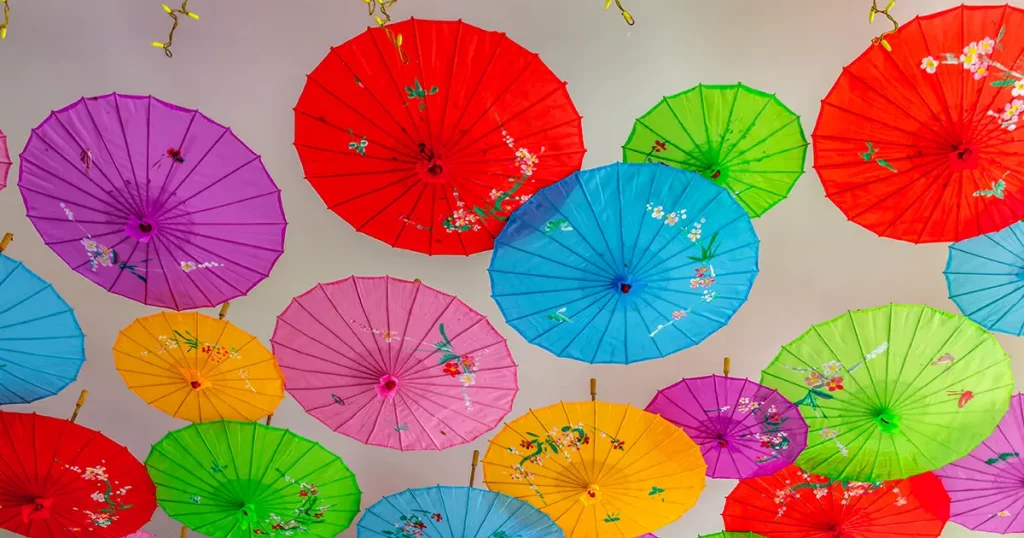 Parasol-style umbrellas are beautiful and also look amazing in photographs. With slightly different shapes, they're unusual and make an interesting focal point. We like these dramatic black-and-white VIVI Sky parasols, and they're great for a more traditional wedding. We also like these bamboo parasols, which are perfect for spring weddings.
Lace Umbrellas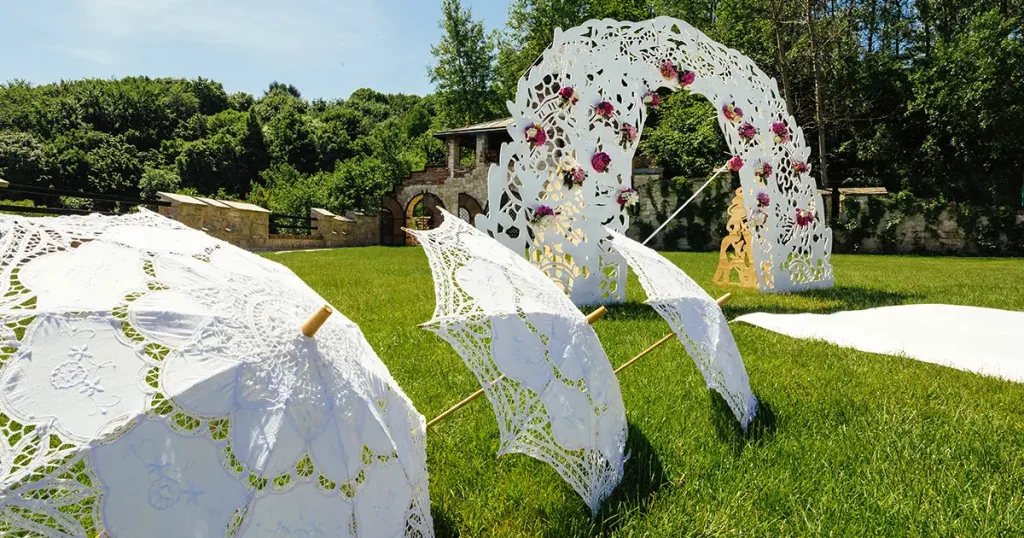 While these may not be suitable for a downpour, they're ideal for the occasional shower on a spring wedding day, and they look wonderful. We like these rose-endorsed flower lace parasols, which make an excellent accessory. We also like these white lace umbrellas, which are perfect for more traditional weddings.
Wedding Umbrella Sizing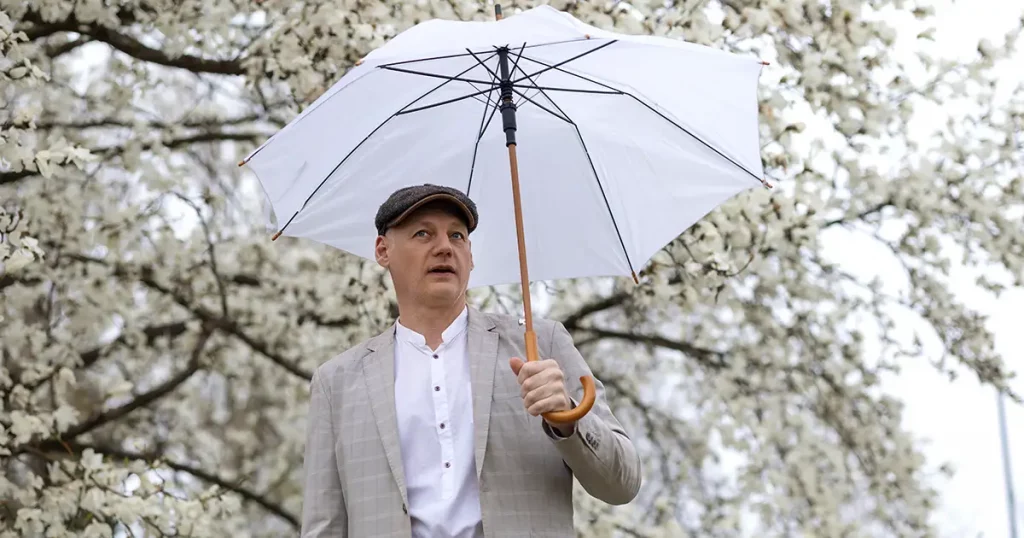 Umbrellas for weddings should be larger than average umbrellas. This is because you will want to fit more than 1 guest underneath them. You will also want to keep your wedding dress dry, too!
For the bride and groom, we'd recommend a golf-sized umbrella. These are large enough to keep 3 people dry, at around a 50-inch (127 centimeters) diameter. In the case of heavy rain, have a plan in place to keep the bride dry. Consider having 1 or 2 people walking behind the bride to help keep the train dry (and you'll need a bridesmaid or guest to lift the train off the ground, too!).
How to Store Wedding Umbrellas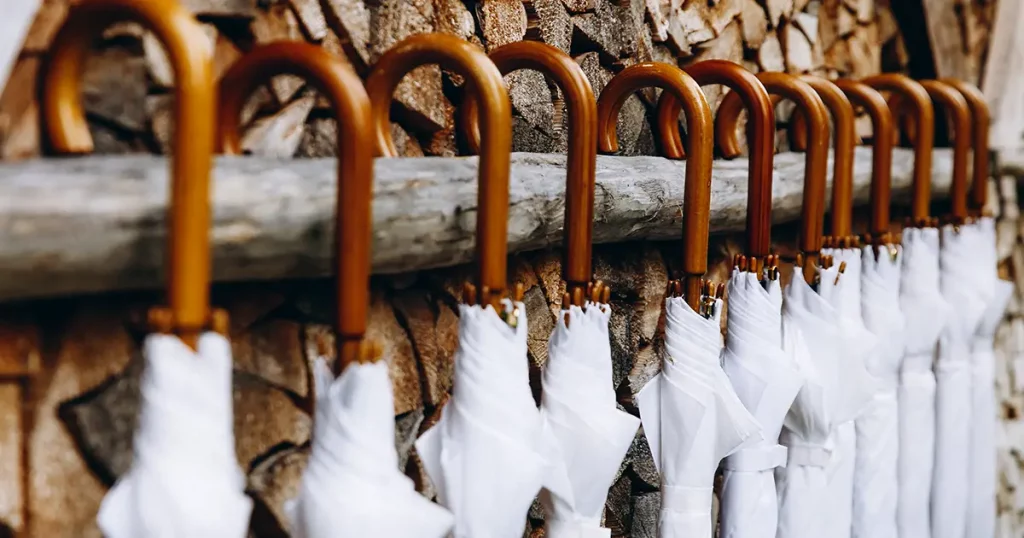 What do you do with dozens of wet umbrellas? This is something that you'll have to arrange with the venue itself. If rain looks likely, call the venue in advance and ask them to set up an area for umbrellas to be stored. If you're setting up the venue yourself, you'll need some umbrella storage bins or umbrella storage stands (not the same as umbrella stands for wind!) to keep them neatly out of the way.
You can also use these umbrella stands/bins to store dry umbrellas before use, leaving them in a prominent place for guests to help themselves.
Frequently Asked Questions
Before you go, here are some frequently asked questions about wedding umbrellas:
How can I dry out our wedding umbrellas?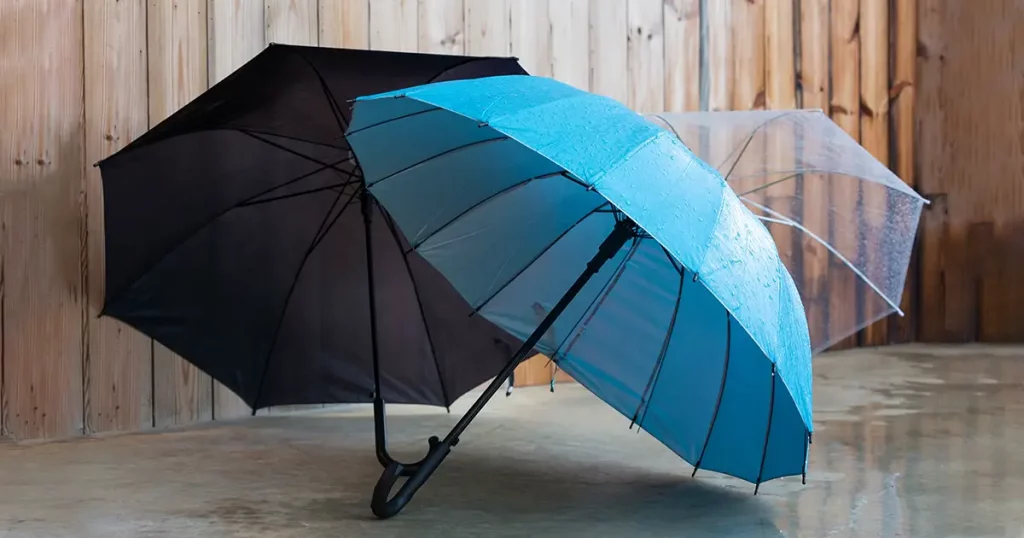 The best thing to do post-wedding is to open all the umbrellas and leave them outdoors to dry. You may need to rotate them now and then to make sure they're completely dry before closing them again. Just like drying out a tent, making sure they are 100% dry will stop mold from forming.
What does rain at a wedding symbolize?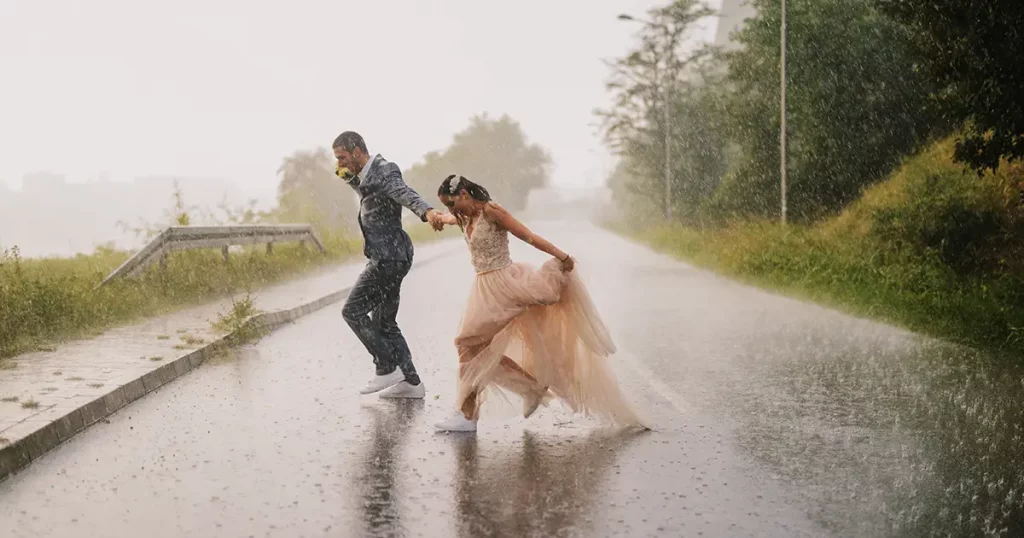 Rain on a wedding day means good luck, even if it doesn't feel like it on the day! Supposedly, according to Hindu beliefs, rain on a wedding day means a long marriage ahead. This is because a wet knot is much harder to untie than a dry one.
What else do I need to know about getting married on a rainy day?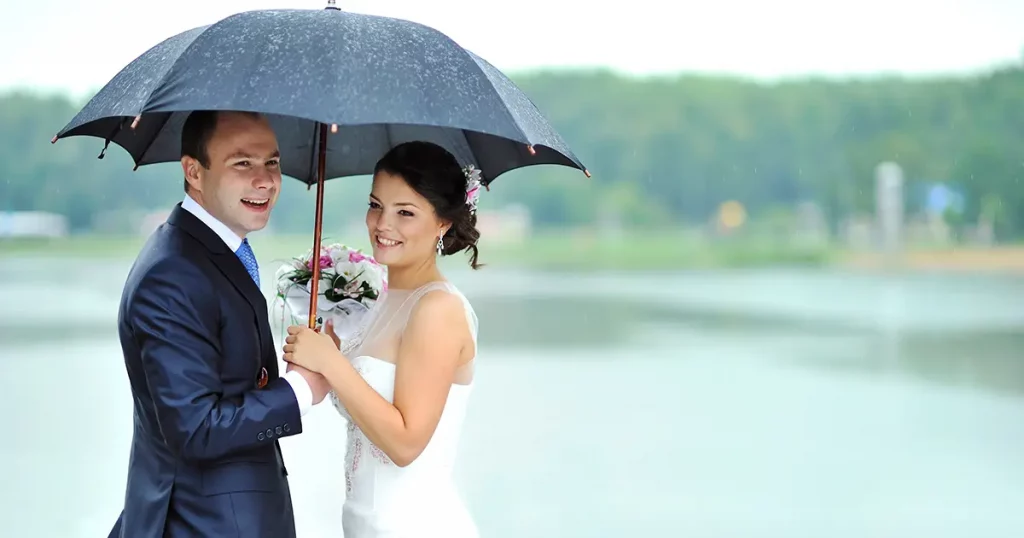 There are a few things you'll need to do:
Have a 'Plan B' in place
Does your venue have enough covered seating, for example, under canopy tents or inside areas to escape to in the case of bad weather? What will the key members of the wedding party need to do if it starts to rain? It's a good idea to plan this with your venue beforehand if rain is possible.
Think about photo opportunities
Plan this with your photographer. Where will you go for photographs in the event of bad weather? Can you use the weather to your advantage to create some fun and memorable pictures to treasure? Check out some examples of rainy-day wedding photos for inspiration.
Be prepared
Think about buying baskets full of large towels and even pashminas to help your guests to feel dry and warm.
Try to see the bright side
While rain may not be what you wanted, you can't control it, so just try to go with the flow. You may end up with some funny stories to tell afterward!
You can read more tips on The Knot's guide on How to Prepare for Rain On Your Wedding Day.
Our Final Thoughts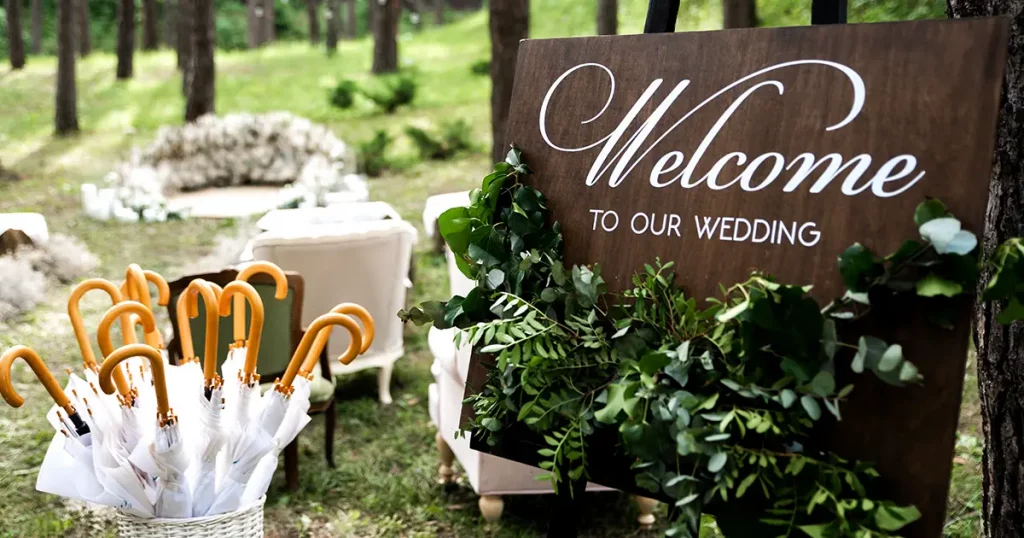 We hope this has helped you to figure out how many umbrellas you'll need for your wedding day. If you stick to 1 umbrella for every 2 guests, that should be enough if it does rain on your big day.