Hydration is very important, especially when travelling in remote areas without easy access to clean running water. So having a good quality water bottle is really important. That's why this guide is designed to help you learn more about Hydro Flask vs S'well so you can see if one of them fits into your travel plans.
When looking for a water bottle, make sure you find one that's first and foremost insulating, but also hard-wearing and tough. You will want one that won't dent when you place it into a backpack. At the same time you'll want to keep your drinks hot or cold for the maximum amount of time possible. 
So, whether you're camping, hiking or taking a day trip somewhere remote, have a good read of our detailed guide because by the end, we hope you'll have all the information you'll need when it comes to choosing a stainless steel water bottle that will suit you. 
By reading this guide, you will learn the following: 
The main differences between Hydro Flask and S'well.
Reasons why you should choose a stainless steel water
The key features, pros and cons of each water bottle.
Answers to some frequently asked questions.
Our conclusion on which one we think is best overall. 
The main differences between Hydro Flask and S'well
The main differences between Hydro Flask and S'well are as follows: 
Hydro Flask comes with a wide mouthpiece, whereas S'well comes with a standard lid.
S'well offers a slimmer bottle, whereas Hydro Flask is slightly thicker. 
Hydro Flask comes with a straw lid, whereas S'well doesn't. 
Hydro Flask keeps drinks hot for up to 6 hours and cold for up to 24 hours, whereas S'Well can keep drinks hot for up to 12 hours and cold for up to 24 hours.
Reasons why a stainless steel water bottle is the best choice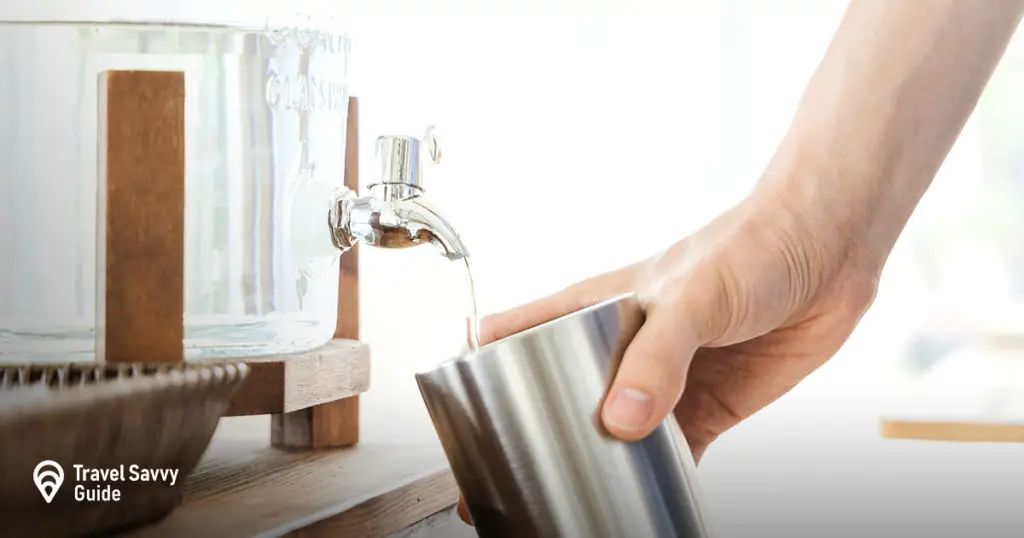 Not only is a stainless steel water bottle environmentally friendly and sustainable, but they're incredibly effective at keeping drinks both hot and cold. Regardless of whether Hydro Flask or S'well is your eventual preferred choice, these are just some of the reasons why a steel bottle is best. 
They require less energy than water bottles
The average American consumes on average 167 bottles of water each year, adding to the plastic pollution problem that is already affecting the world and its wildlife. Plastic takes over 1,000 years to decompose — in fact, every single piece of plastic that has ever been made still exists today. That's a terrifying fact. 
Stainless steel water bottles are a great way to ensure you're not adding any more plastic to the environment. While energy is used to create these bottles, over time it's far reduced than the amount used to manufacture the amount of bottles you would use over a longer period in your lifetime.  
Stainless steel bottles can heal themselves
Stainless steel contains chromium, which has the ability to heal itself (as long as oxygen isn't present) if it happens to get a few minor scratches or scrapes. Don't throw your bottle away if you do find a few scratches. Not only is this part of the life cycle when you're traveling, but your bottle may repair itself over time to the point where you can't see the damage. 
It's free from toxins
Stainless steel is naturally BPA and plathate-free. Many BPA-free bottles contain toxins that leak into the water you're drinking — especially when in hotter climates. Plastics can be harmful, so investing in a stainless steel water bottle can prevent you from consuming these toxins. Stainless steel is also a sterile material, making these bottles more resistant to mold and bacteria.
They're better at saving you money
Single use water bottles can get expensive over time as you purchase them on a regular basis. Research even suggests that bottled water costs 2,000 times more than tap water, which is a lot. Making an investment in a stainless steel water bottle will save you money in the long run, especially as you're likely to be using tap water to fill it.
Hydro Flask vs S'well – Which is better?
During this part of our guide, we're about to share with you the key features and the pros and cons of both the Hydro Flask and the S'well water bottles. All our reviews are completely unbiased to give you a comprehensive look at both, leaving you with all the information you need to decide which one might be best for you. 
Hydro Flask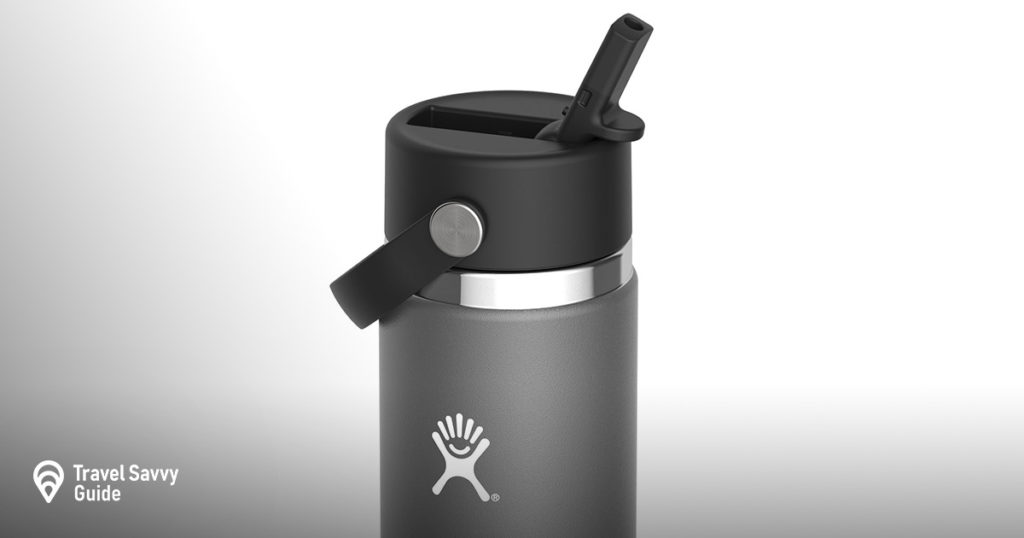 When it comes to a stainless steel water bottle, Hydro Flask is one of the leading names. Each bottle is made from 18/8 stainless steel, so each one is incredibly tough and durable — perfect if you're throwing your bottle in a backpack or heading on multiple adventures. The steel construction also ensures no flavor transfer, so whatever you're putting into your water (like a lemon or cucumber), you won't taste it the second time round. 
Hydro Flask uses TempShield technology. This is a double wall, vacuum-insulated technology that regulates the temperature of your drink. It keeps drinks hot for 6 hours and cold for 24 hours. It even keeps ice solid. Despite this, no condensation will hit the outside of the bottle, so you don't need to worry about it slipping through your hands or your belongings getting wet if it's in your bag. You won't experience any heat transfer either, so your bottle will never be too hot to carry. 
If you're worried about BPA and phthalate then a Hydro Flask bottle should keep your mind at ease; the range is completely free from nasty toxins or chemicals that could be harmful for your health. The lid is really handy too, as you can choose from the standard mouth or wide mouth option. Each one has their benefits, but the wider mouthpiece is great if you prefer being active or enjoy playing sports. 
A Hydro Flask bottle also comes with a straw lid — which is super handy, but it isn't leak-proof. This could be a problem when you're out and about or being active, so be sure to bear this in mind. While a great bottle, it isn't dishwasher friendly. Doing so could tarnish the bottle, so it's not recommended you risk putting it in your machine. Instead, use warm, soapy water and wash by hand to keep your Hydro Flask as its best. 
Features:
TempShield technology – stays hot for up to 6 hours or cool for up to 24 hours.
Made with 18/8 pro-grade stainless steel to ensure pure taste and no flavor transfer.
Hard-wearing construction. 
Proprietary powder coating for easy-grip.
Wide mouthpiece flexible cap.
BPA and phthalate-free.
Includes a wide mouthpiece straw lid.
There's no condensation for better grip. 
Sweat-free
Comes with a lifetime guarantee.
Available in a great range of different colors to choose from. 
Pros:
Incredibly tough and hard-wearing thanks to the stainless steel construction.
The double-vacuum inner keeps drinks well insulated. 
Holds up to 30 oz (887 mls) of liquid.
BPA and phthalate-free.
Leak-proof lid; great for traveling.
The bottle caps are customizable, making them unique.
Easy to grip with no condensation on the outer. 
An affordable option if you're on a budget, as it's not as expensive as other brands. 
Cons:
You can't put it in the freezer or dishwasher.
It will need to be cleaned regularly to prevent build up. 
The lid doesn't always align properly — keep an eye on this. 
S'well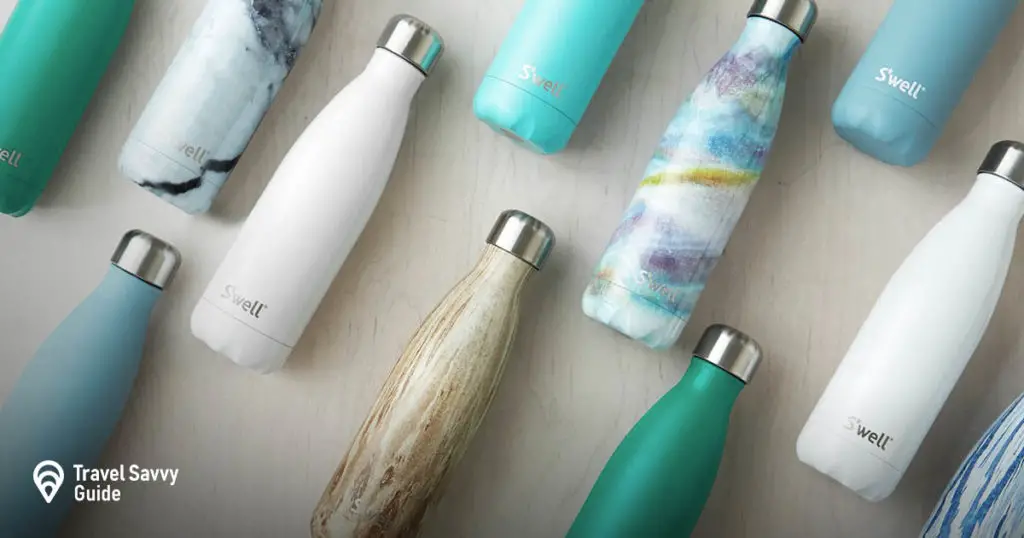 Easy to clean, easy to carry and in a range of beautiful colors and patterns, S'well offers some of the most unique water bottles on the market. Made from super tough 18/8, food-grade stainless steel, no harmful chemicals will be released into the water you're drinking. You won't get any flavor transfer either. Stainless steel is a great material because it won't dent, scratch or knock easily, so if you're placing it into a backpack you don't need to worry about it getting damaged.
Each bottle is made with triple-layered, vacuum insulation, which is designed to keep drinks cold for up to 24 hours and hot for up to 12 hours. They're also shaped like a traditional bottle, which not only makes it easy to drink from but easy to clean, too. Using clean, soapy water, you can keep your bottle like-new with a simple scrubbing brush. This is important as S'well bottles aren't safe to be used in a dishwasher. 
When it comes to the overall look of the bottle, The Elements Collection has been inspired by nature and features a shiny, high-gloss finish that mimics the luster and sheen of organic materials culled from ancient quarries. This makes each bottle one-of-a-kind. And here's a fun fact for you: the 25oz (740 mls) sized bottle holds an entire bottle of wine — perfect for al fresco lunches.
There aren't many downsides with a S'well water bottle, but it's not recommended to be placed in a refrigerator or freezer. This is because the liquids won't freeze inside — the insulation will do the job in keeping drinks cold. 
Features:
S'well bottles feature triple-layered, vacuum-insulated construction, designed to keep beverages cold for up to 24 hours or hot for up to 12.
Made from 18/8, food-grade stainless steel with superior construction that allows for refilling and reusing easily to reduce the need for single-use plastic water bottles.
Copper wall layer creates a condensation-free exterior that won't sweat on your hands or in your bag.
Comes in 3 sizes — 9oz (266 mls), 17oz (502 mls) and 25oz (739 mls). 
9oz (266 mls) are perfect for on-the-go and fit snugly inside hand-bags and lunch-bags.
17oz (502 mls) emulates a standard size water bottle, and is perfect for staying hydrated at the gym or on-the-go.
25oz (739 mls) is perfect for staying hydrated on-the-go. 
Bottle mouths fit most ice cubes, while the body fits in standard-size cup holders.
Free from BPA and reusable. 
Hand-wash only.
17oz (502 mls) emulates a standard size water bottle, and is perfect for staying hydrated at the gym or on-the-go.
Accessories sold separately.
9oz. (266 mls) = approx. 7.89″H (20 cm) x 2.64″W (6.7 cm), 0.5 lbs (226g).
17oz. (502 mls) = approx. 10.39″H (26.4 cm) x 2.80″W (7.1 cm), 0.69 lbs (312g).
25oz. (739 mls) = approx. 11.81″H (30 cm) x 3.15″W (8 cm), 1.0 lbs (453g).
Pros:
S'well water bottles double as thermoses; keeping drinks hotter for longer.
No harmful chemicals are released into your water when placed inside a S'well bottle. 
It's shaped like a plastic bottle, making it easy to clean with warm, soapy water. 
S'well water bottles don't sweat.
There are lots of beautiful patterns and colors to choose from.
Cons:
You can't put the bottle in a fridge or freezer. 
They're not dishwasher friendly — you must wash them by hand. 
The verdict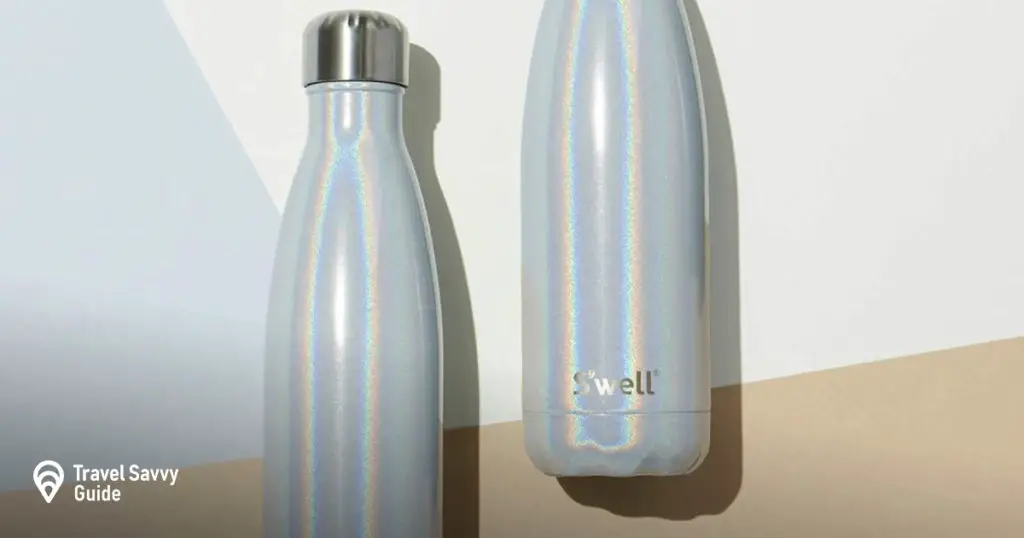 S'well is a brilliantly designed water bottle. Not only is it tough and hard-wearing, but it comes in a range of colors and designs that make it an attractive choice for many. The look and feel of the water bottle stands out, which is what makes it so popular with people looking for a bottle that matches their personality. 
A S'well bottle is also great if you need a very slim bottle, especially if you're lacking space. The fact it's very easy to clean is a plus too, seeing as the range isn't dishwasher friendly. It's up there with its competitors when it comes to its insulation properties too, overall making it a great up-and-coming water bottle. 
However, the Hydro Flask is a better travel bottle and can handle whatever life throws at it, whether that's being placed in a backpack or used on a hike. They have a wider mouth than the S'well bottle, meaning you can put ice cubes inside to keep cold drinks cooler for longer. Like S'well, their bottles are easy to clean too. 
The verdict: Hydro Flask is our overall winner, especially for use when you're out on travel adventures. S'well is a better at-home bottle. 
Frequently asked questions about Hydro Flask and S'well
"Can you take S'well water bottles on a plane?"
Yes, they're perfectly safe to travel with, even on a plane. You just need to remember to remove any liquids beforehand — you can fill it back in using a water station once you're through security.
"How does S'well work"?
S'well uses a triple-layered ThermaS'well™ insulation technology, which includes a copper layer. This means S'well bottles are able to keep any liquid hot or cold for long stretches while maintaining a condensation-free exterior.
"Can I put S'well products in the refrigerator, freezer or microwave?"
S'well doesn't recommend putting your water bottle in a fridge, freezer or microwave, as you can damage it along with the vacuum seal. However, because of the triple-layer technology, your drinks will stay cold for up to 24 hours and hot for up to 12, meaning you won't have to warm or cool your beverage. 
'Will Hydro Flask replace a dented bottle?"
Hydro Flask's lifetime warranty doesn't cover regular wear and tear, such as dents, scratches or powder coat chips. However, it will cover manufacturing defects, like a broken or leaking cap. Get in touch with them if you're suffering from anything like this. 
"What happens if you put a Hydro Flask in the freezer?"
Freezing the bottle won't get liquids cold — the double wall vacuum insulation will protect the water inside the bottle from the temperature of your freezer and as a result, the liquids won't actually freeze. 
"Is it okay to put a lemon in a Hydro Flask?"
Yes, it's perfectly safe to pop a lemon (or something similar, like a cucumber) inside the Hydro Flask without you doing any damage. Just give it a rinse afterwards and the flavor won't transfer. 
Final thoughts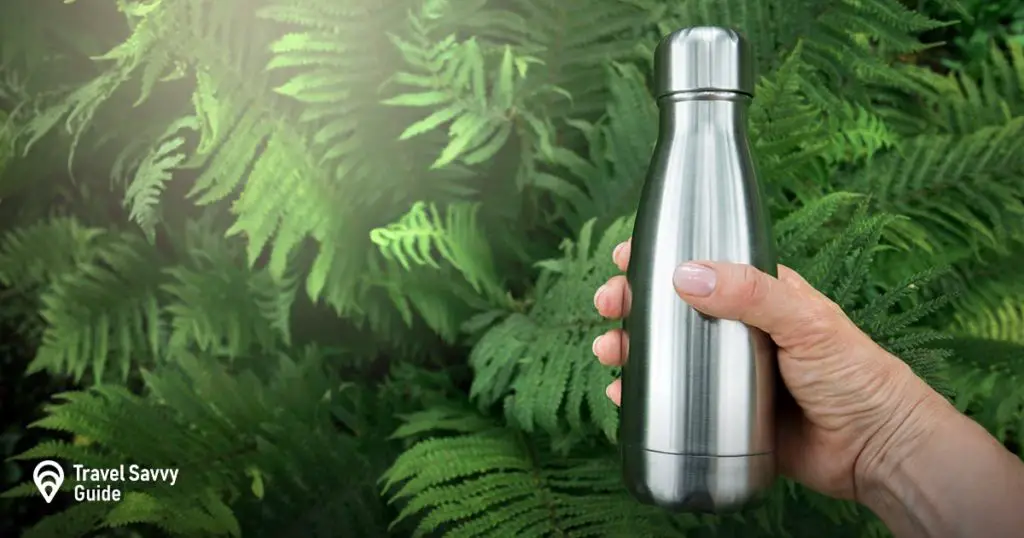 Now that you're armed with plenty of information of both Hydro Flask and S'well, you've hopefully got a better idea of which water bottle will work for you on your travels. Both have a range of high-spec features as well as their pros and cons, so give one of them a try to see if it suits you. 
We really hope this article helped you make a decision on which water bottle you prefer and we would love to know where you're taking yours on your travels; please get in touch to share your stories with us! Make sure you're prepared for your travel plans with our guide on the Iceberg Lake Trail. Or if you're looking for your next hiking location, why not read up on the Humphreys Peak Hike?