Humphreys Peak hike is located in Kachina Peaks Wilderness, in the state of Arizona. It is the tallest natural peak in that state, and upon reaching the summit, a 360-degree view of North Arizona is waiting to take your breath away.
Table of Contents
The San Francisco Peaks, which Humphreys Peak is part of, was once a volcano. Over the course of a million years, eruptions have shaped the landscape and formed a number of peaks and they have been built up. The interesting geology of the scenery adds to the uniqueness of the trail. 
The trail to Humphreys Peak covers a section of Kachina Peaks Wilderness. During fall (September and October) the green turns to gold and the muddy path is covered up with autumn colors. This makes it a very attractive time of year for hikers to pour in and take on the challenge.
The vibrant atmosphere of Humphreys Peak is enough to draw in hikers from all the different states, with views to capture to ensure perfect social media posts. 
In our travel guide of Humphreys Peak Hike, we will be discussing the trail itself, top tips and tricks to tackling the challenge, and much more. Keep reading below, and you will be an expert by the time you have finished it!
Quick Facts
Distance: Almost 10 miles there and back
Elevation: 12,633 feet
Elevation Gain: 3,366 feet
Location: Kachina Peaks Wilderness (Arizona)
Difficulty: Moderate
Crowds: Busy during summer months
Time: 5-10 hours
Season: Summer to Fall
Humphreys Peak Hike: An Overview
Humphreys Peak Hike is a prominent and popular trail to hike in the state of Arizona, due to its massive elevation and picturesque scenery along the hike. Whilst visitors to Arizona may be preoccupied with the likes of the Grand Canyon, Humphreys Peak is not something to overlook during a trip. 
Humphreys Peak is named after a U.S. officer called General A. A. Humphreys who was head of engineering from 1870. Also, it is considered sacred to Native Americans, as they view the San Francisco Peaks as holy mountains. Therefore, ensure you remain respectful during your hike and take any trash away with you. 
Why hike up Humphreys Peak?
Humphreys Peak is the tallest natural peak in Arizona, the challenge of this draws in hikers from all over the USA and the world. With the prize of completing the challenge, showing off to friends and family, and taking in the wonderful landscape. 
During the trial, you will pass through a forest, valley and hike up the peak itself to reach the summit. It incorporates natural scenery and will allow you to find peace whilst enjoying the beauty around you.
From the summit, there is a stunning view and even snow during the summer months. From the summit you can see North Arizona, the Grand Canyon and the other peaks which make up the San Francisco Peaks they are called:
Agassiz Peak
Fremont Peak
Aubineau Peak
Rees Peak
Doyle Peak
All in all, Humphreys peak is a unique experience, which will make you want to visit time after time to absorb the scenery and complete the challenge again.
Best Time to Visit
The Humphrey Peak trail is accessible all year, and hikers constantly stream through during the year. If you want to make the most of your experience, we advise you to go between June and October, as it will be warm and should remain dry. 
If you plan to go during winter months, when rain is expected, you might want to check out our guide to the best travel coats, to keep you dry and warm. 
Due to the huge elevation, you will need to bring extra layers during every month. The wind can get intense the higher up you get, so you must bring a jacket or coat to ensure you do not suffer from windburn. Furthermore, it can get rather cold, with snow remaining on the summit all year long.
During the fall, the forest you must get through to reach the peak is exceptionally beautiful. Therefore, this is usually the most popular time to visit.
It is also worth keeping in mind that during winter months, you must have a permit to complete the trail. There are more details about obtaining a permit further down this guide. 
The Trail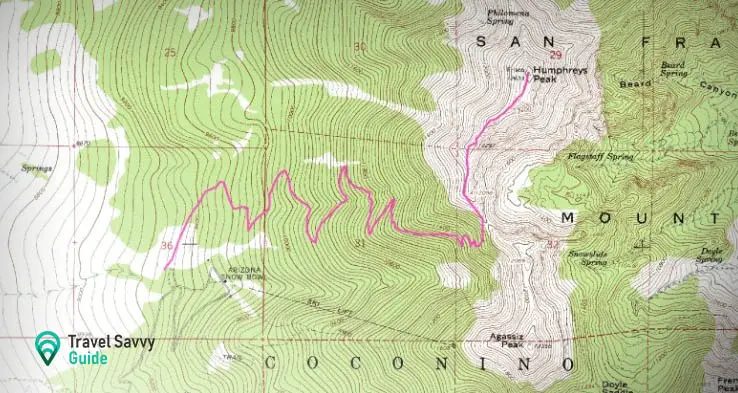 In order to begin The Humphreys Peak trail, you must reach Arizona Snowbowl, which is accessible via Highway 180. From Highway 180 you must follow Snowbowl Road for a few miles until you get to Arizona Snowbowl Ski Resort.
There are parking spaces for your vehicle, in the  'Hart Prairie Lot', which is near to the start of the trail. From here, you will be able to see a signpost that acknowledges a short path, and you will go through flowery filled meadows upon completion of this you will enter a forest, most famously known as 'Kachina Peaks Wilderness'.
The towering trees and golden leaves define Kachina Peaks Wilderness, the forest part of this trail will lead you down zig-zag tracks and to a valley. At this point, you would have completed the thick, towering forest section, and you must prepare for the task in front of you.
From the valley, you will be able to witness amazing surroundings with different peaks available for you to see. As you further into the valley and get to the saddles between Agassiz Peak and Humphreys Peak the track will become less obvious and steeper. However, this marks the last mile of the hike!
Hiking up Agassiz Peak and Humphreys Peak you will notice a drop in oxygen levels, although the air is very breathable, it is on the safe side to be aware of this. You must be in good shape to complete this part of the hike, and if you suffer from any breathing-related problems, you should contact a health specialist to see if this hike is suitable for you. 
Reaching the summit
Once you get to Humphreys Peak's summit, you will see a sign which signals this. From the summit, you will be able to see far into the distance and a marvelous 360-degree view of northern Arizona, including the Grand Canyon! 
Hiking up Humphreys Peak is a challenge and the view will be rewarding. Casual hikers will be capable of taking on this hike as the elevation is gradual and the distance is not too excessive. But, we advise beginners against taking on the challenge or those who suffer from height-phobias or heights make you experience nausea. 
What to bring with you
To ensure you have a safe hike, you must prepare in advance. Here are a few things we suggest you bring with you:
Hiking Shoes or boots
Hiking pole
Protein filled snacks
Map
Layers – coat or jacket
First Aid kit
Camping
Whilst this hike could be completed in one day, you might want to stay the night before so you can set off early. There are no camping options along the trail.
There is camping space at Hart's Prairie, which is the start of the trail. With views of towering trees and distant peaks, this is an aesthetically pleasing and travel efficient option. However, this is not an established campground and there are no facilities or water options, so this is something to keep in mind. Nonetheless, it is a free option, but without reservations for space. 
Top Tips and Tricks
We have put together some tips and tricks to help you complete the challenge of hiking up Humphreys Peak, we have based the tips on experience and research. Let's take a look at them…
Sunrise or Sunset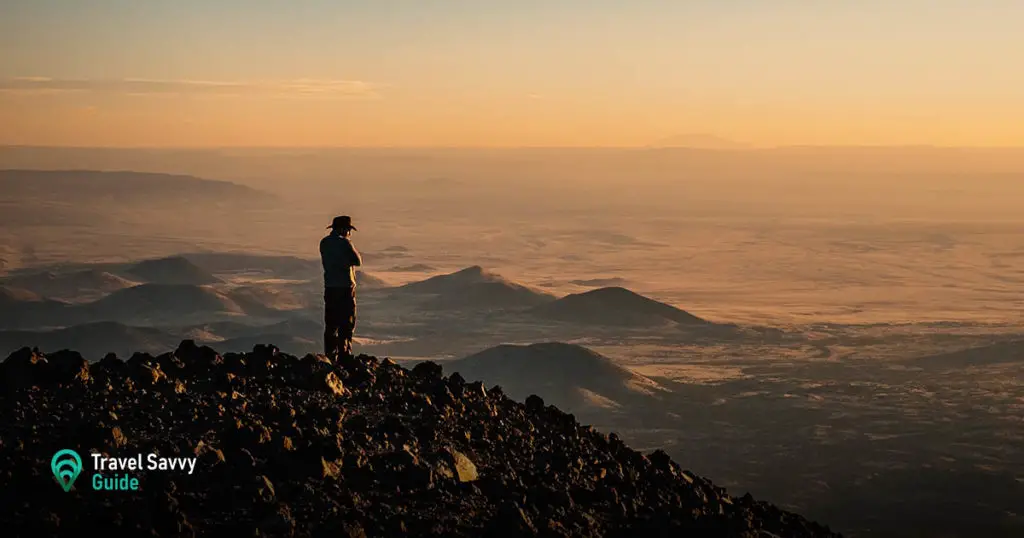 If the hike is primarily about photo opportunities and aesthetic scenery, the sights you will witness at sunrise or sunset will be breathtaking. 
During the months of September and early October, the sunset will look as though the sky has been injected with various shades of orange, pink, and purple – and compare to nothing you have seen before. Additionally, the crisp mornings of September will treat you to a sunrise worth getting up early for!
Water
There are no natural water sources during this hike for you to fill up your water bottle with, so ensure you bring a large water bottle and extra too. Staying hydrated during hikes is vital to keep you energized and to prevent feelings of nausea and faintness. 
Breaks
Ensure that you take breaks while you are hiking, either to hydrate or have a snack. Stopping off for 10-30 minutes at a time can leave you to feel refreshed and motivated to carry on hiking. Whilst you are taking a short break, you can indulge in your surroundings and take a few pictures. 
Bring a Buddy
We advise you to bring a buddy with you. It will give you some bonding time and make it overall more enjoyable. Yet, safety reasons are a factor in this tip. If you have a fall or injure yourself, and there aren't any hikers about, you could be left stranded for hours. With the lack of signal, you will not be able to call for help with ease. 
If you want to take further precautions, you and your hiking buddy(s) should tell a friend or family member where you are going, if the worst-case scenario unfolds. 
Camera
The scenery you can witness form Humphreys Peak is incomparable, with stunning 360-degree views of North Arizona, you will want to capture them and store them in your memory forever. So we advise you to bring a camera, so you can bring the views and memories home with you. Additionally, you will have social media content for a couple of weeks. 
Snacks
Whilst it might be tempting to bring sugar-filled treats with you to bring you instant energy, this might not be a good idea. Nutrition is important when taking on a challenge like Humphreys Peak, so protein-filled snacks are great for keeping you energized. For example:
The Grand Canyon
With only 1.5 hours between Humphreys Peak and the Grand Canyon, you could combine a trip to both to complete the ultimate North Arizona experience, because of the ease of access. 
Frequently Asked Questions
Is Humphreys Peak Trail dog friendly?
Yes! You are welcome to bring your dog on the hike however, they must be kept on a leash or lead all the way through. However, the hike is 10 miles, so you must make the decision if you believe your dog is capable of completing the hike. 
How long does the trail take to complete?
This depends on a number of factors: speed, number of rest stops, and your experience. It could take anything from 5-7 hours for the more experienced or 8-10 for casual hikers. 
Is there water sources on the trail? 
No there are no water sources along the way to top your water bottle up with. We advise you to bring a large water bottle and a smaller bottle for backup, especially for the summer months.
Do you need a permit?
You do not need a permit during summer months, you are free to go whenever you want to. However, during the winter months you must apply for a permit (otherwise known as a back country permit). You can obtain a permit from the Peaks Ranger District and the Supervisor's Office from 8:00 to 16:00 on Monday to Friday. Once you have gained a permit, you can use it as many times as you want during winter months. 
Is there a phone signal during the hike? 
There is little access to reception during the hike, you will be lucky to get 1 bar or 2. 
What wildlife can you spot? 
If you decide to hike Humphreys Peak, you should keep your eyes out for mountain lions, black bears, Bluebirds, and bobcats (just to name a few). The wildlife you can find is plentiful. 
What is the weather usually like? How should I prepare for it? 
During summer months it is rather warm and average for the state of Arizona, however as you hike further up the peak, the wind picks up and even on the hottest day, you will be cold. 
During winter months, you should expect thunder and lightning as well as snow. So you must take precautions if you plan to hike from November to February. Like investing in a durable pair of hiking boots, and bringing multiple layers with you. 
In Summary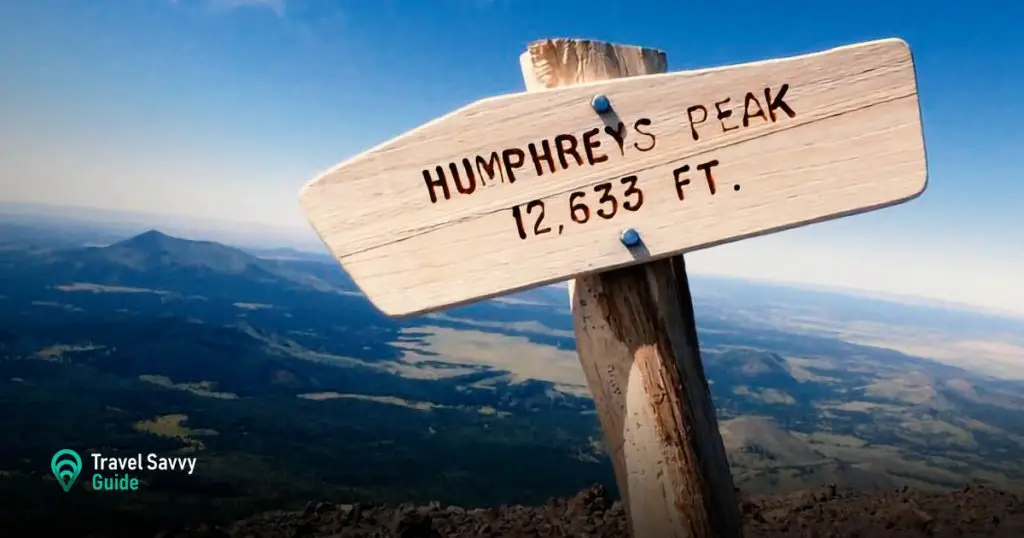 Within this guide, we have discussed all of the prominent elements of Humphreys Peak in order to make your life easier. This hike might be a challenge, yet it is doable for casual to experienced hikers with preparation and the right gear. 
Completing this hike will be very rewarding, with breathtaking scenery and a sense of accomplishment for hiking up the tallest natural peak in Arizona. 
During the hike, you will pass through different types of natural scenery – forest, valley and a rocky peak. This will allow you to have moments of mindfulness, and escape from the internet and modernity for a few hours, leaving you feeling refreshed and in touch with nature. 
All in all, remember to keep safe during this hike and stick to the path to ensure this. Also, enjoy some of the finest scenes in America in the state of Arizona. 
We hope this guide has furthered your knowledge on Humphreys Peak, and if you have any further queries about this trail, then please write to us and we will try our best to answer it. Or, if you have anything you want to add to this guide, then comment below so fellow travelers can see!