If you want a cooler, and you can't decide between ORCA vs YETI, look no further!
If you're off on a family camping trip and you've already got your tent sorted (you can check our guide to the best tents family tents for bad weather if you haven't), you'll want to get the rest of your gear in check. rms. 
Getting a good cooler is important, but which brand makes the best ones?
The bottom line up front: we like YETI slightly more than ORCA thanks to the durability and quality of their coolers. But we go into that in more detail, so keep reading if you want to find out more.
We'll be looking at:
The main differences and similarities between YETI and ORCA
Their products in more detail, including their insulation properties, durability, colors and designs, and pros and cons
Alternatives to try
Some frequently asked questions
Which brand we like the best and why
Let's start by looking at how these two brands differ from each other.
Table of Contents
The Main Differences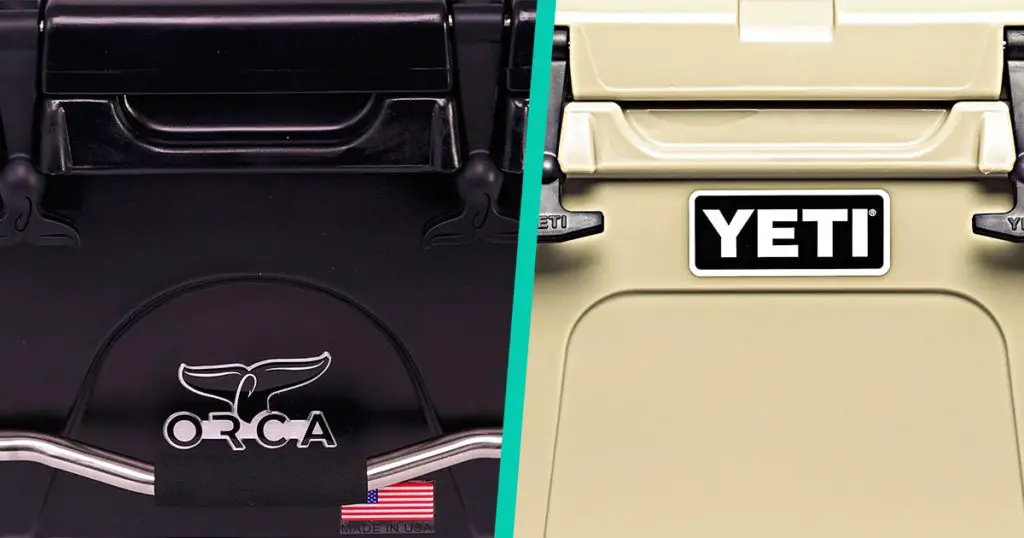 Here are the main differences between YETI and ORCA:
With YETI's coolers, they are considered very robust, whereas ORCA's coolers start to have issues with the drainage plugs after a bit of use
YETI's coolers are mostly IGBC Certified Bear-Resistant, whereas ORCA has less coolers with that certification.
YETI's coolers have a muted color palette, whereas ORCA's coolers are available in brighter colors
YETI have a higher price point, whereas ORCA has lower-priced coolers available
YETI's coolers are manufactured overseas, whereas ORCA's coolers are made in the USA
The main things to note here really are the pricing and durability. You can expect to pay more for a YETI cooler, but they are pretty robust and durable (and bear-proof!).
The Similarities
There are a lot of similarities too:
They both offer coolers in different sizes
Both brands offer collegiate and sports-team themed coolers
They both offer drinkware 
Both brands have high-quality materials
They both have good insulation
Now we'll take a look at both of them in more detail.
What is YETI?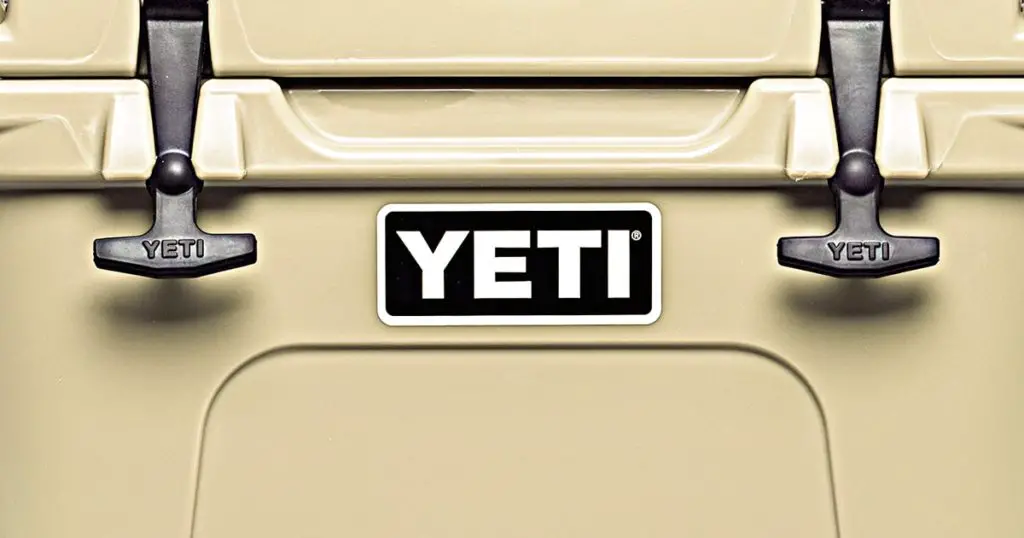 YETI was founded in Austin, Texas. They make coolers, bags, and drinkware. Their products are designed and engineered in the US and manufactured in China and the Philippines. They make sturdy, robust gear, and many of their products can be personalized.
YETI are known for creating the first roto-molded cooler in 2006 (basically, this means every part of the cooler is made from a thick wall, helping to keep the contents cooler for longer).
What is ORCA?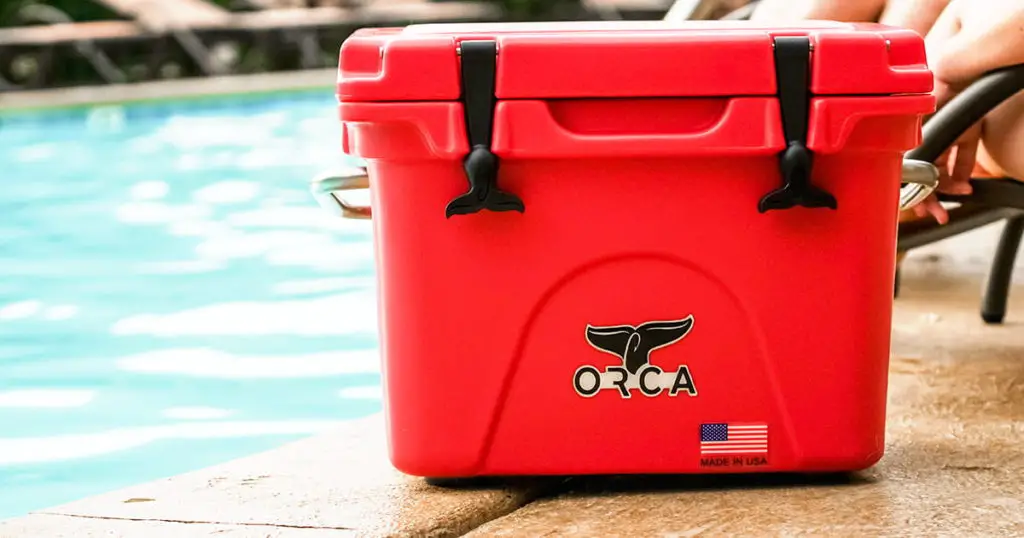 ORCA (which stands for Outdoor Recreation Company of America) makes coolers, drinkware, apparel, and accessories. Their products are designed and manufactured completely in the US.
ORCA have a good reputation for making high-quality, robust outdoor gear.
Products
How do their coolers differ in design?
The main thing to note is that YETI has a bit more choice in terms of cooler styles and shapes, with coolers for different occasions. ORCA has more variety in terms of sizes, but their coolers all have a very similar 'look'.
Let's take a closer look at both:
YETI
YETI has a few types of products to choose from.
Hard Coolers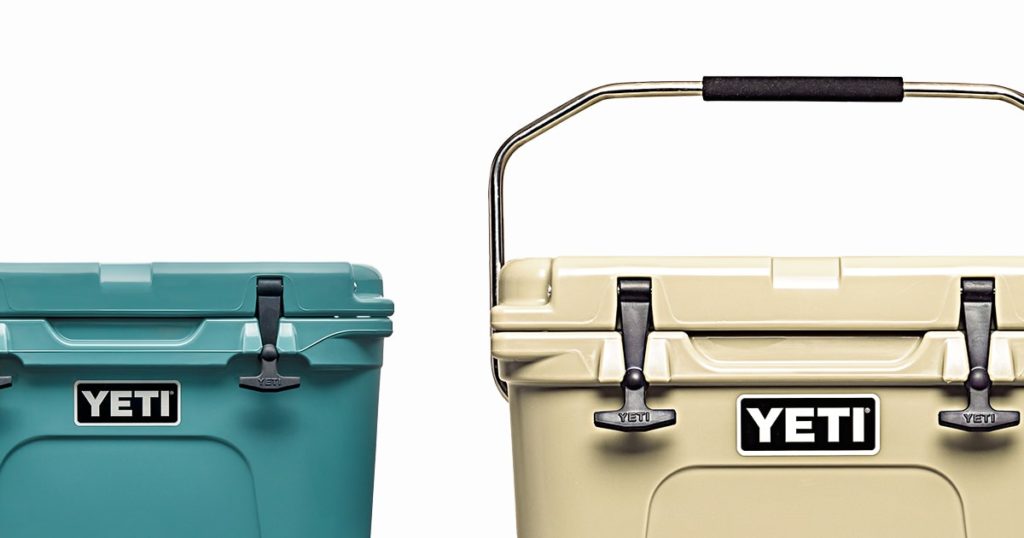 Roadie 24 Hard Cooler – a compact cooler just the right size for storing a few bottles of wine
Tundra Hard Cooler – in varying sizes, these coolers are super heavy-duty and robust, with extended ice retention and weather resistance
V Series Hard Cooler – a compact stainless-steel cooler
Tank Ice Buckets – these can keep up to 100 beers cold at once
Silo Water Cooler – an insulated water cooler with integrated tap
Soft Coolers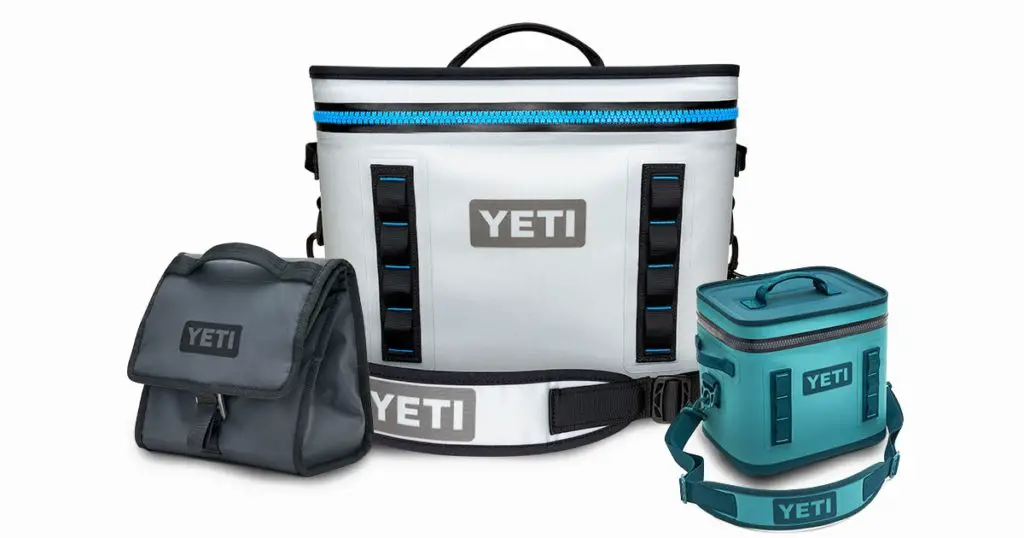 Hopper Soft Coolers – these come with heavy-duty straps and carrying handles, in 5 different shapes and sizes
Daytrip Lunch Box and Bag – available in 2 sizes, these are designed to keep your lunch cooler for longer
Drinkware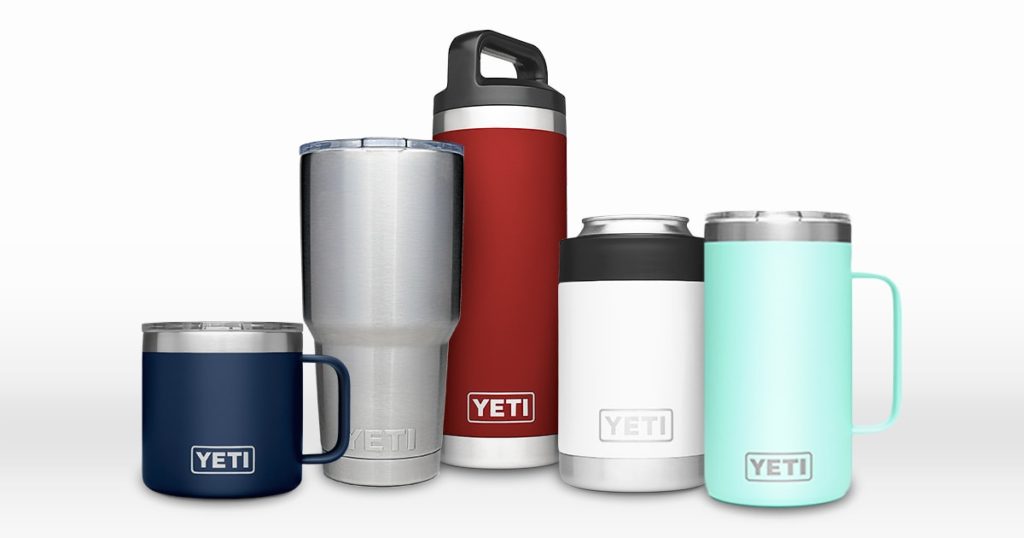 There are a few options here, including:
Tumblers
Bottles
Mugs
Jugs
Barware
Can Insulators
Their designs are very functional, with the hard coolers in particular looking a little like toolboxes. They're engineered to be robust, with reinforced clips and straps.
Product Highlights
Some of our favorite products are:
ORCA
ORCA also offer a few different types of products:
Hard Coolers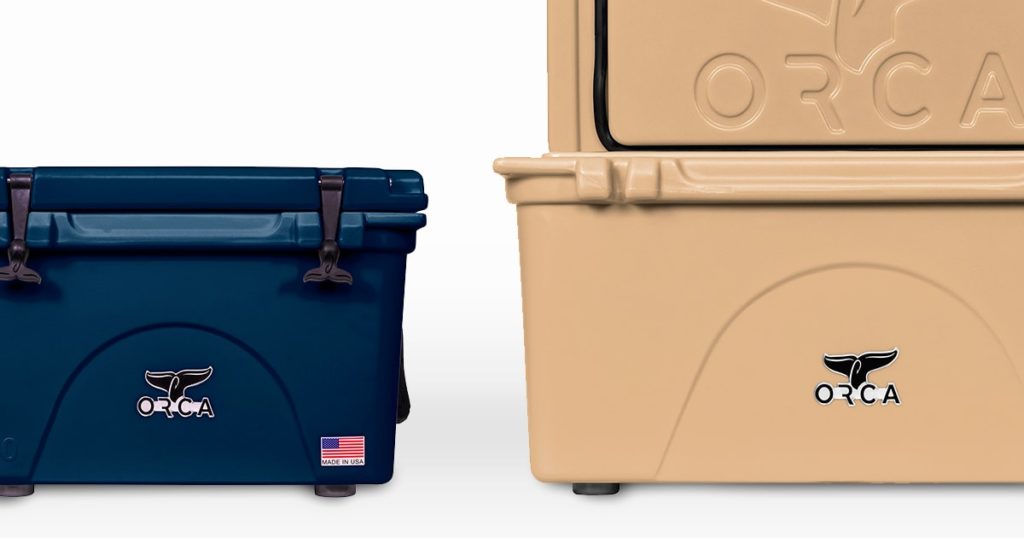 Orca has coolers in a variety of sizes, measured in quarts:
20 QT (5 gallons / 18.93 liters)
26 QT (6.5 gallons / 24.60 liters)
40 QT (10 gallons / 37.85 liters)
58 QT (14.5 gallons / 54.88 liters)
75 QT (18.75 gallons / 70.97 liters)
140 QT (35 gallons / 132 liters)
They also have a 'Liddup' cooler, which automatically lights up when you open the lid. This is in the 35QT size (8.75 gallons / 33.1 liters).
Soft-Side Coolers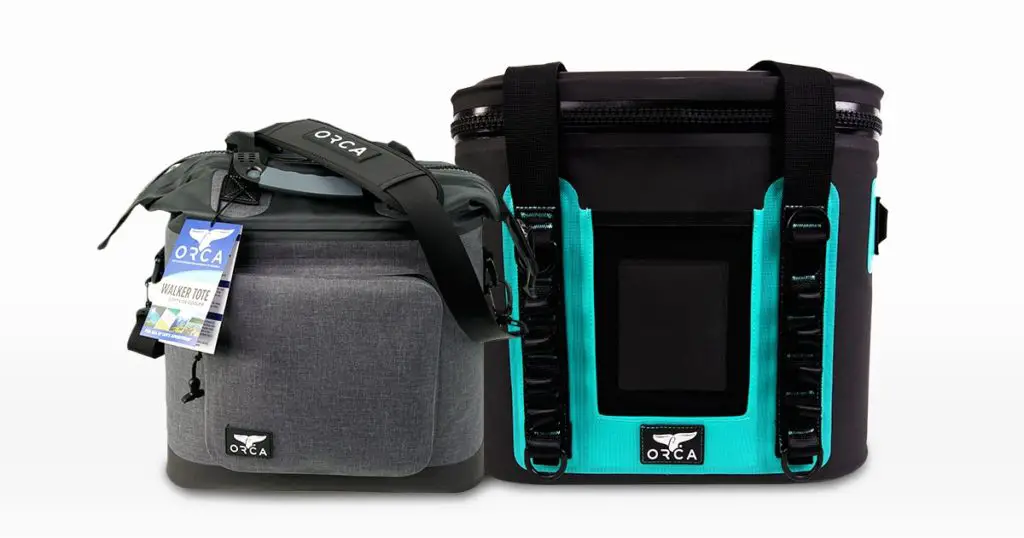 Walker 20 Cooler
Walker Tote
Drinkware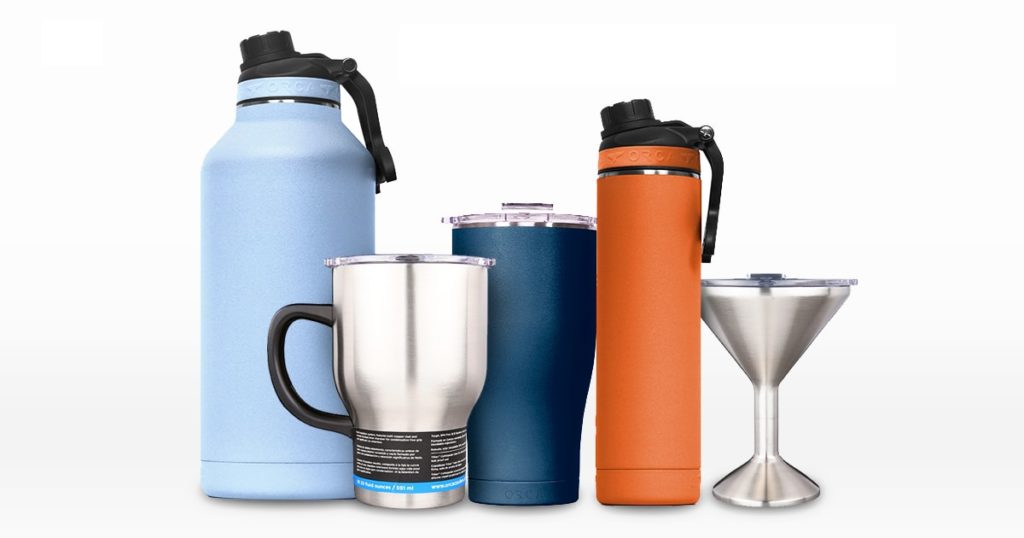 They offer a lot of different choices for drinkware.
Stainless steel chaser
Chasertini (an insulated Martini-style glass)
Insulated stainless steel coffee mug
Whiskey barrels
Wine tumblers
Stainless steel straws and lids
Like YETI, ORCA's designs look robust, with reinforced clips and straps.
Product Highlights
Here are a few products from ORCA that we really like:
ORCA 45 QT – a classic hard cooler with a cargo net for added storage space
ORCA 40 QT – similar to the above, but with extendable flex-grip handles for comfortable carrying
ORCA Cooler – a smaller model that is ideal for keeping drinks cool or for keeping your shopping frozen until you get home
Insulation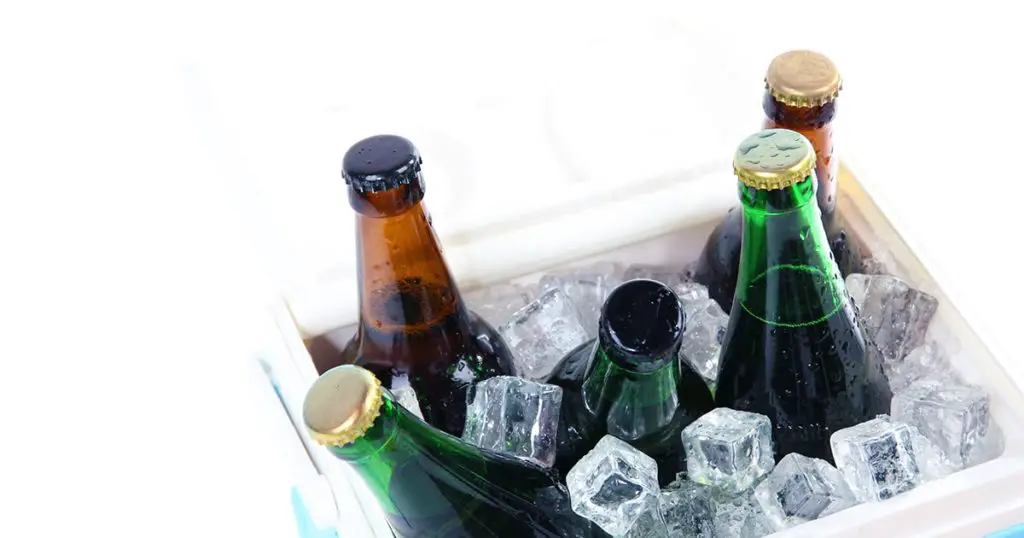 How well insulated are YETI and ORCA products?
Really, you can expect both of them to keep your contents (or food and beverages) cool. They've got great features that ensure that cold air stays trapped inside.
YETI
The YETI V Series cooler has vacuum-insulated panels and their patented PermaFrost insulation (this is made from pressure-injected polyurethane foam). Both of these methods ensure that your food will stay cold for a long time.
They also use ColdLock Gasket technology. These gaskets run along the length of the lids, keeping the lid tightly sealed so the cold air stays locked inside.
YETI doesn't offer a set amount of time for how long their products can keep ice frozen. They do have a list of tips and tricks which they have compiled to help your ice to stay frozen longer.
ORCA
ORCA uses Integrated Insulation technology to keep their coolers cold for longer. They also use roto-molded polyethylene, meaning their products are made from one thick layer of continuous, tough plastic. This is good as it means there are less opportunities for cold air to escape through cracks or joins. 
They also have a heavy-duty lid gasket on all their coolers. This means you can expect the cold air to stay sealed inside.
ORCA says in their product descriptions that ice can last up to 10 days in their coolers.
Durability
How do YETI and ORCA coolers stand up to real life use? They're both designed to be durable, but we think that YETI just about beats ORCA in this regard.
Let's take a closer look.
YETI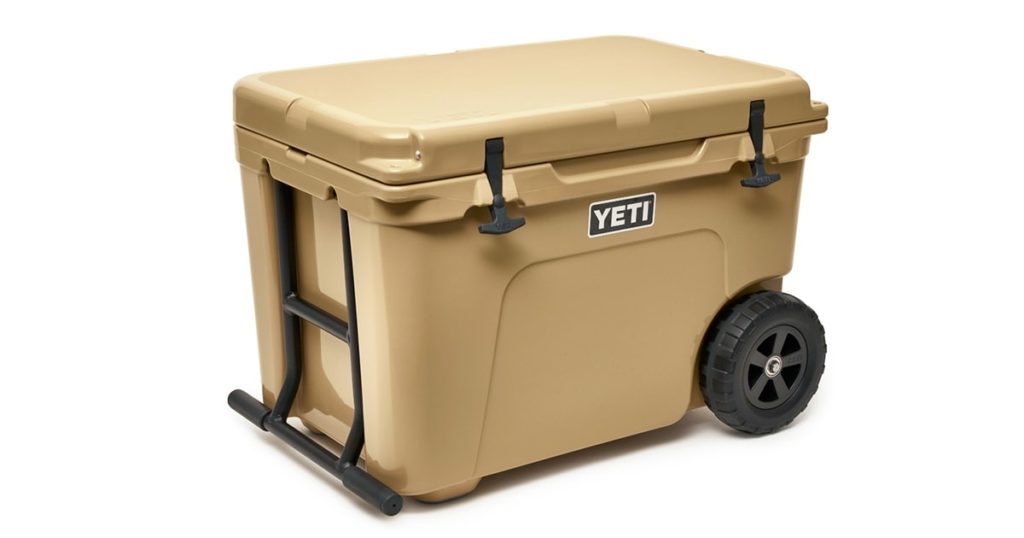 YETI's products (like the ice bucket and the hard coolers) are rotomolded, meaning they're made from a continuous, thick layer of polyethylene. This makes them extra tough, so they can definitely withstand some hard knocks while keeping the contents safe inside.
They also have extra touches, including military-grade polyester rope and non-slip feet (in their ice buckets), and their patented Neverfail hinge system, which prevents their hinges from snapping or breaking even after a lot of use.
YETI's coolers have an ICGC certificate – this means it passed the Interagency Grizzly Bear Committee's test for withstanding a bear attack for 1 hour or more, without the bear being able to get into the cooler. They come with a small hole between the lid and the tub, which you can slide a padlock through for extra security.
(For more information about storing food safely around bears, the USDA has a list of guidelines to follow).
ORCA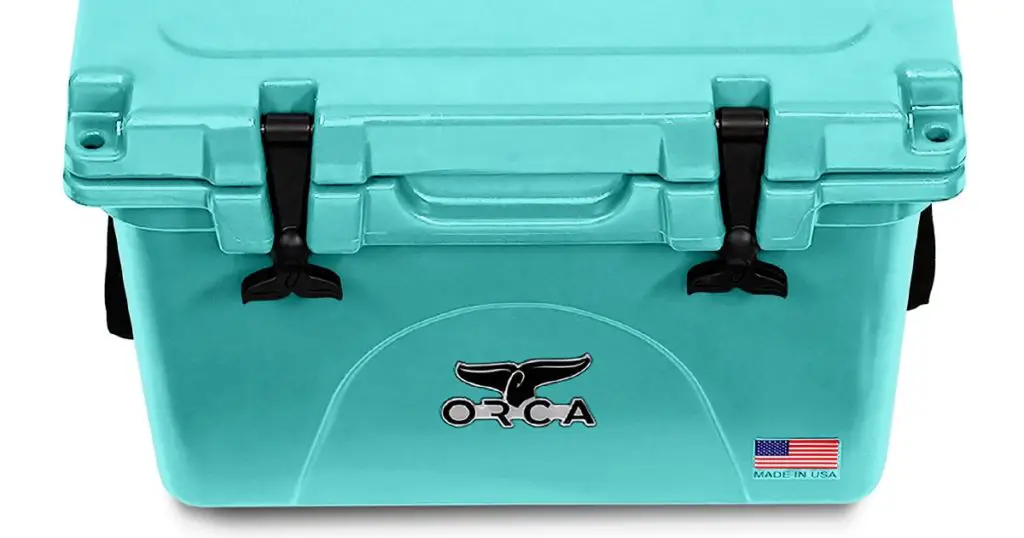 ORCA has the same rotomolded technology, meaning their coolers can withstand a few knocks and scrapes. 
They use reinforced latches (which are designed to look like a whale's tail, a nice little design feature). All the components are designed to be hard-wearing, including their hinges and bolts. One problem is that their drainage plugs can start to leak slightly after a lot of use, which makes them a bit less durable in the long run than YETI (as their drain plugs don't suffer from the same issues).
You can also use a padlock with ORCA coolers, but they don't have the same bear-safe certification that YETI has.
Colors and Designs
How do they stack up in terms of looks?
YETI and ORCA coolers have a similar 'look' in terms of shape and size, but they differ quite a lot in color – YETI's colors are more muted, whereas ORCA offer coolers in a variety of bright colors. ORCA coolers have a distinctive look with their 'whale tail' latches. Here's a bit more info about both:
YETI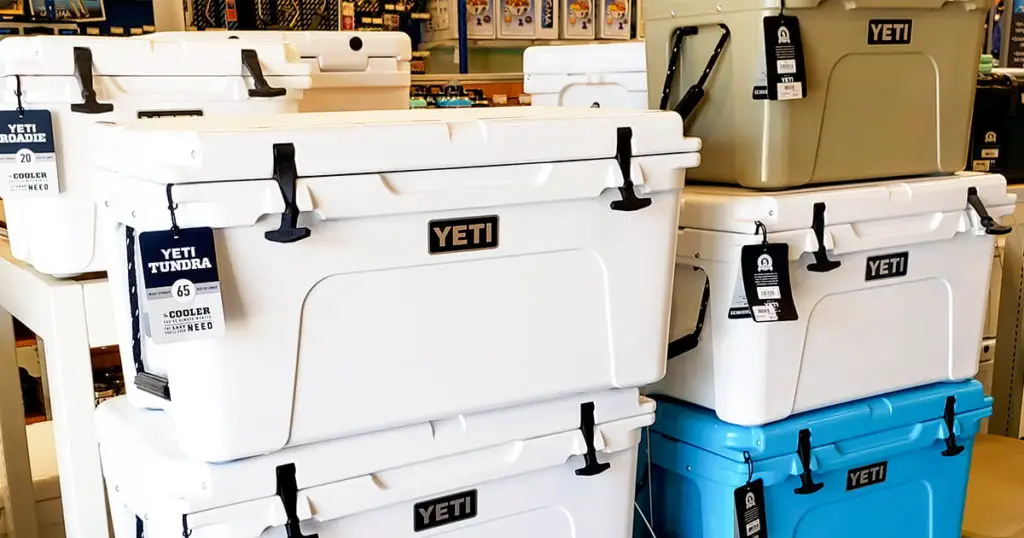 As we mentioned earlier, YETI's designs are pretty utilitarian. YETI has a few different color choices for their products, within a similar color palette – think grey, khaki, black, and tan (although a few of their products do offer some brighter choices).
They do offer the option of adding logos to their coolers. So, if you want to add a corporate or sports team logo to your coolers, this is simple to do. They offer collegiate logos on their products too.
ORCA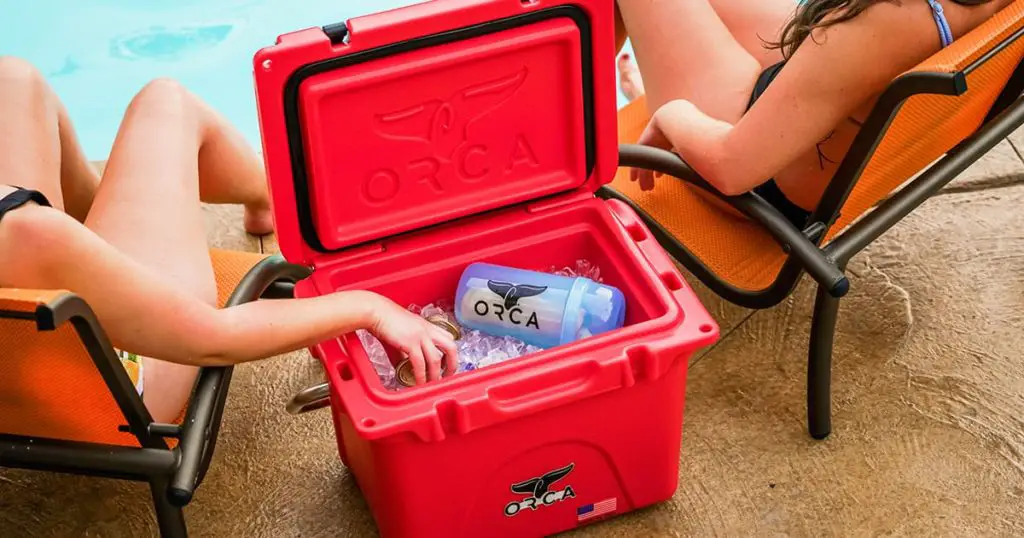 ORCA has quite a different approach in terms of colors – you can expect to see brighter colors like teal, seafoam blue, red, pink, and orange, as well as more muted colors like tan, khaki, navy, and black.
They also offer the option of adding logos to their coolers, and they sell collegiate-logo products too. They also sell mascot logo coolers, and NFL, MLB, NHL, and First Responder logo coolers.
Accessories
Both brands offer accessories to go with their products. YETI's accessories are focused on keeping your cooler safe and secure, whereas ORCA has less of these types of accessories.
Here's what you can find:
YETI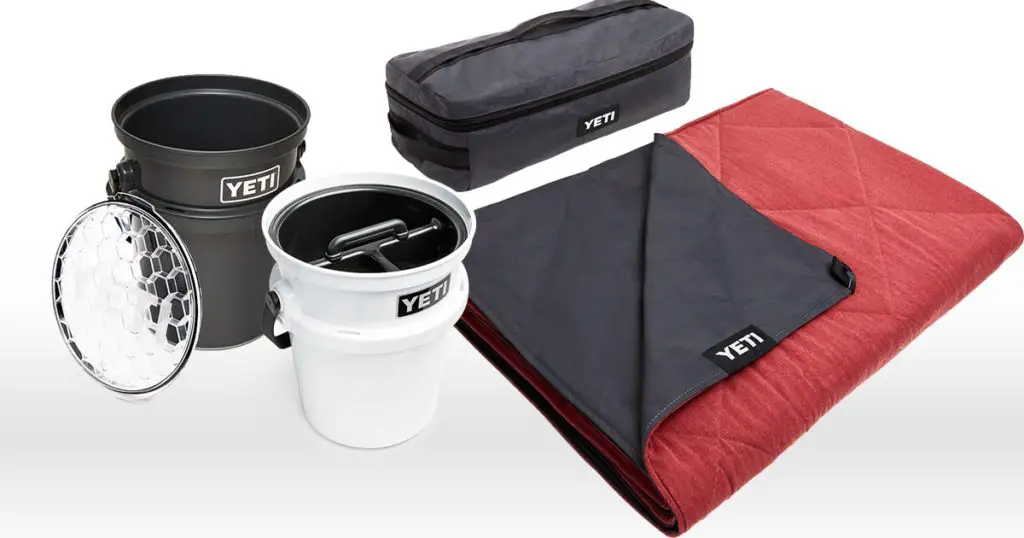 YETI have a few different accessories:
Ice packs
Cushions for their hard coolers
Bear-proof locks
Tiedown kits
Cable locks and brackets
Beverage holders
Non-slip mats
Decals and stickers
ORCA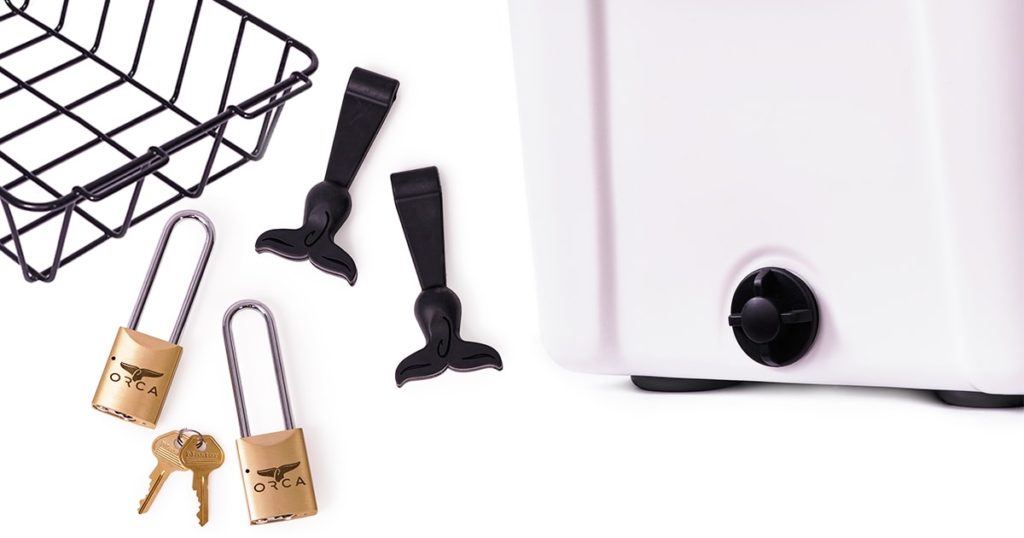 ORCA offers apparel, including t-shirts and hoodies.
They also have:
Cooler baskets
Cleaning supplies
Cooler holders
Cooler locks
Non-slip pads
Stickers and decals
Pricing
Now let's check out how they compare in terms of pricing.
YETI and ORCA are very different when it comes to the cost. YETI's coolers can be very pricey, especially for the larger models! ORCA's coolers are a little cheaper;
YETI
YETI's hard coolers start from $200 and can go all the way up to $1,300 for their largest model. Their soft coolers are a little cheaper, starting at $79.99 for their lunch bag. That's pretty pricey for something to keep your sandwiches cool, although you're obviously paying for something that is going to last a long time.
ORCA
ORCA's coolers are undeniably cheaper – their largest cooler comes in at around $500. If you're looking to spend less, it's definitely worth looking at ORCA.
Pros and Cons
Let's take a look at their pros and cons.
YETI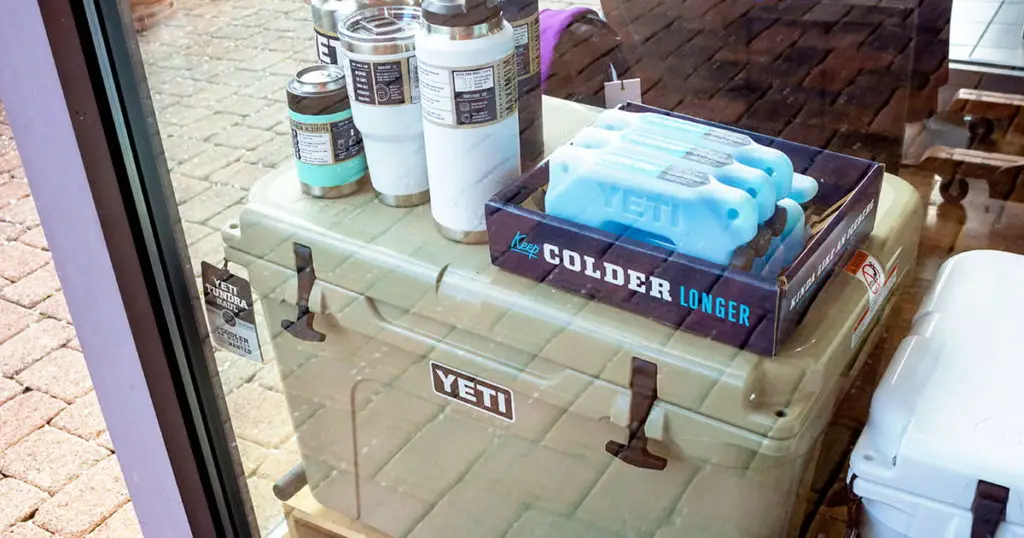 Pros
Super robust and durable products
Bear-proof hard coolers
Double insulation methods keep food cool for a long time
Products can be personalized with logos
Cons
Some of their products are very pricey
The products are not made in the US – that may not bother you, but it's something to keep in mind if you prefer to buy US-based products
ORCA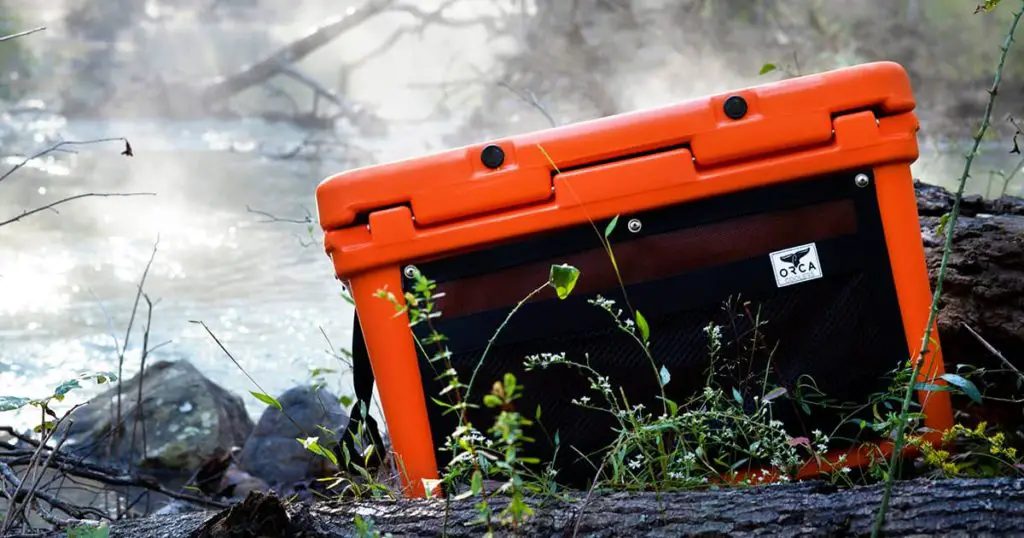 Pros
Decent price point 
Robust outer casing on hard coolers
Good insulation
Products can be personalized
Products are made in the US
Cons
Not as durable – drainage plugs start to leak after a while
The largest cooler doesn't have wheels
Alternatives to Try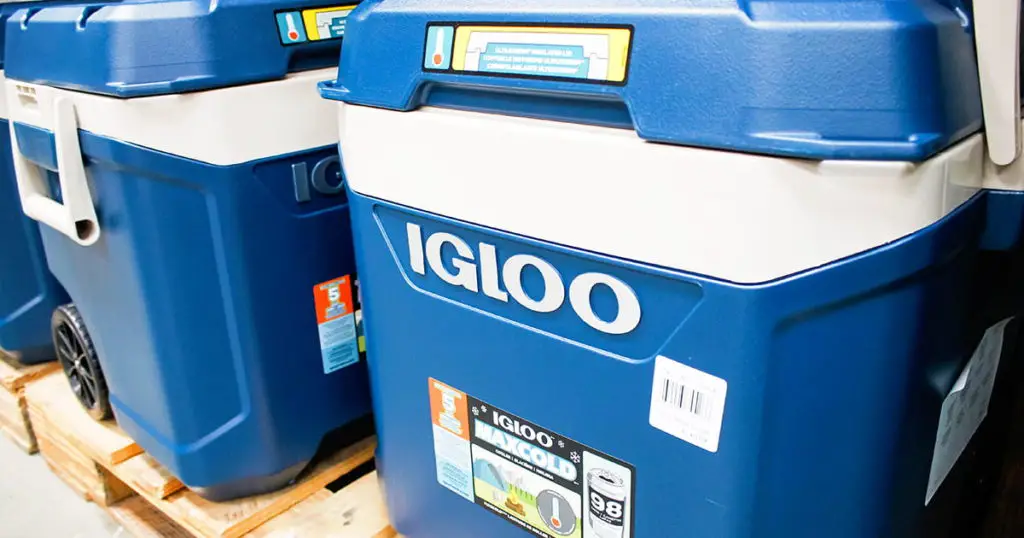 There are some other companies you can check out:
Engel is a good brand if you want something hard-wearing. They look similar in appearance to YETI coolers, but at a slightly lower price point
Igloo have great coolers with bright, colorful designs and patterns
Canyon offers a simple range of high-quality coolers with a distinctive style
Frequently Asked Questions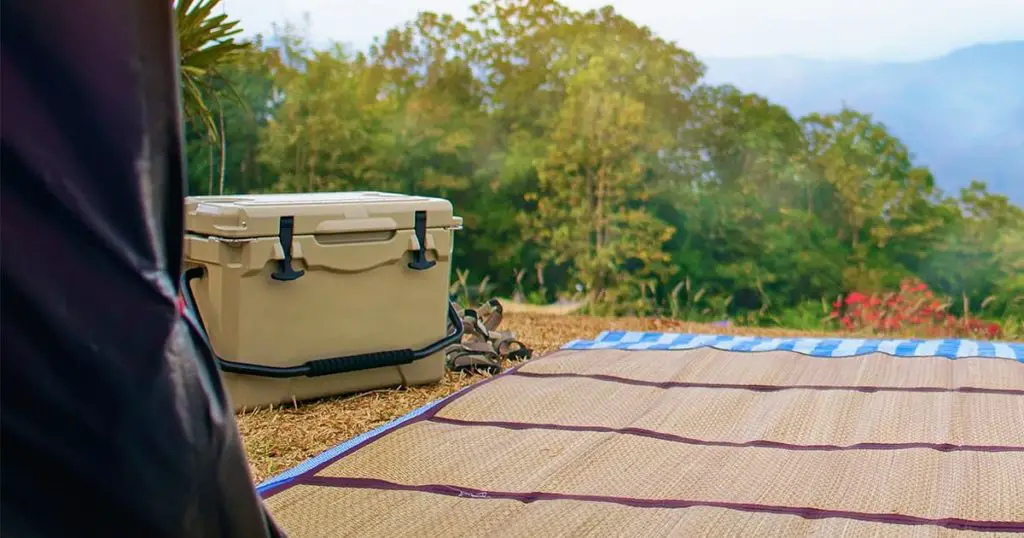 Here are some of the most commonly asked questions:
Are coolers heavy to carry?
Yes, they can be heavy, especially once you've packed them with food. Some coolers (like the larger YETI coolers) have wheels for easier transportation.
Can I take a cooler on a plane?
Yes, you can take an (empty) cooler on a plane according to the TSA.
Will food be safe to eat after being stored in a cooler?
There are a lot of variables here, including how long the food has been kept in the cooler, how many ice packs you have used, and the reliability of the cooler itself. The USDA has a guide to packing a cooler safely which will give you more information about this.
I've chosen a cooler – what other equipment do I need for cooking while camping?
If you want to prepare your own meals while camping, you'll need:
A stove – we have guides on the best wood-burning stoves and the best portable electric stoves if you want more recommendations
Cookware – ideally a saucepan and a frying pan, a chopping board, a decent knife, some spoons for mixing and serving up food, and a couple of small bowls to keep prepared ingredients. You will also need bowls, plates, and cutlery
A couple of flasks or water bottles
The Final Verdict – Which One is the Winner?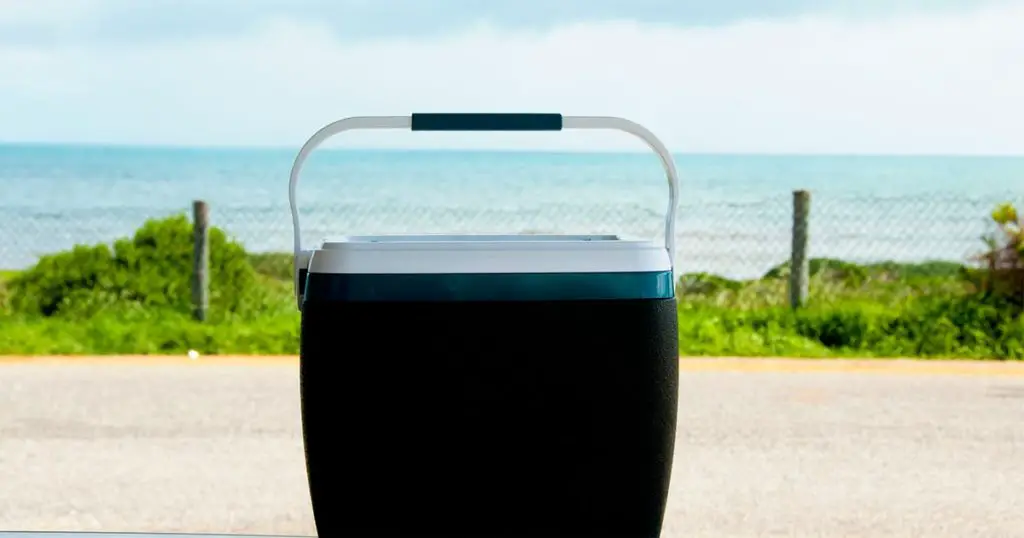 It's a close call here. Both companies are excellent, and no matter which one you choose, you'll still have a great, hard-wearing cooler to use for years to come.
If you find it reasonable to invest the extra money, it may be worth splashing out on YETI coolers. Their coolers have excellent insulation, and they're that little bit more durable than ORCA when you consider the drainage plug problem that some ORCA products have.
Having said that, ORCA is also great. Their coolers will keep your food cool for a long time, and the lower price makes them a good choice too.
Have you used either ORCA or YETI coolers? Leave us a comment with your thoughts!