When it comes to traveling, we bet you'll have a long list of stuff you'll need to pack. But a stainless steel water bottle is often easy to overlook — and forget. We don't need to tell you that staying hydrated is so important, but what you might not know is that in remote areas, you may find it hard to find a clean water source, leaving you without that all-important H20. 
To try and help you combat this, we're comparing Takeya vs Hydro Flask  — two stainless steel water bottle companies that are pretty well-known and loved on the market. They both offer a solid solution to help you stay hydrated when you're out on the road. 
By reading this guide, you will learn the following: 
The main differences between Takeya and Hydro Flask.
Why a stainless steel water bottle is a great option.
The pros and cons of each water bottle.
Answers to some of the most commonly asked questions.
Which water bottle comes out on top. 
The main differences between Takeya vs Hydro Flask 
The main differences between Takeya vs Hydro Flask are as follows: 
Hydro Flask's straw lid isn't leak-proof, whereas Takeya comes with a leak-proof straw lid.
Takeya keeps drinks hot for 12 hours, whereas Hydro Flask keeps drinks hot for 6 hours. 
Hydro Flask features only a unique wide mouth lid for easy drinking, wheras Takeya features an innovative hinge lock that keeps the cap out of the way while you're drinking. 
Takeya features a removable, protective bumper for added durability, whereas the Hydro Flask doesn't.
Reasons why you should consider a stainless steel water bottle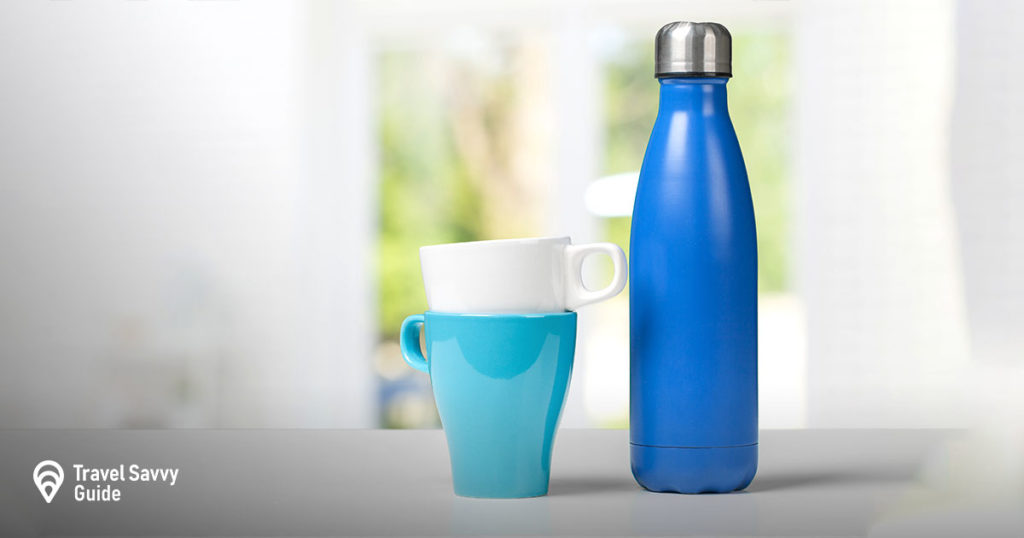 Not only does a stainless steel water bottle provide hydration when you need it, but there are a whole range of other benefits too. These are just some of the reasons why a stainless steel water should be on your radar if it isn't already. 
They're pretty strong and durable
Made with 18/8 pro-grade stainless steel, water bottles of this construction are scratch and dent-proof; perfect if you're planning to keep your bottle in a backpack with other essentials. Stainless steel can also heal itself, so if it does suffer from a few minor scrapes during your travel, passivation (which is the process of healing) occurs over time to help solve the problem.
They don't need to be thrown away
According to research, only 20% of plastic bottles are recycled in the US. The 2 million tons of plastic that aren't recycled end up in landfills — only to make their way into oceans and rivers, harming the world's wildlife. Stainless steel is the sustainable option. They last for a really long time, and at the end of their life they can be recycled into something useful.
They're better for your health
Plastic water bottles contain BPA — a chemical compound that can be dangerous to people and animals. Because plastic is a porous material, which means that they will retain flavours from previous drinks — even if you rinse them out thoroughly, BPA can seep into the water inside, which you are then likely to go on to drink. Most people prefer to avoid consuming this and by using a stainless steel water bottle, you won't have to either. 
Your water will taste better
Plastic water bottles are porous, whereas stainless steel water bottles are not. So even if you add a slice of lemon, cucumber or juice to your bottle, your water will taste perfectly fresh.
Takeya vs Hydro Flask – Which is better?
At this point of our guide, we're going to look at both Takeya and Hydro Flask water bottles to see which one comes out on top. Apart from the key features, we'll be looking at the pros and cons to show you an unbiased look at each one, in the hopes that it will give you enough information to be able to go away and make your choice. One might be right for you, neither might be suitable, or you might want to try both!
Takeya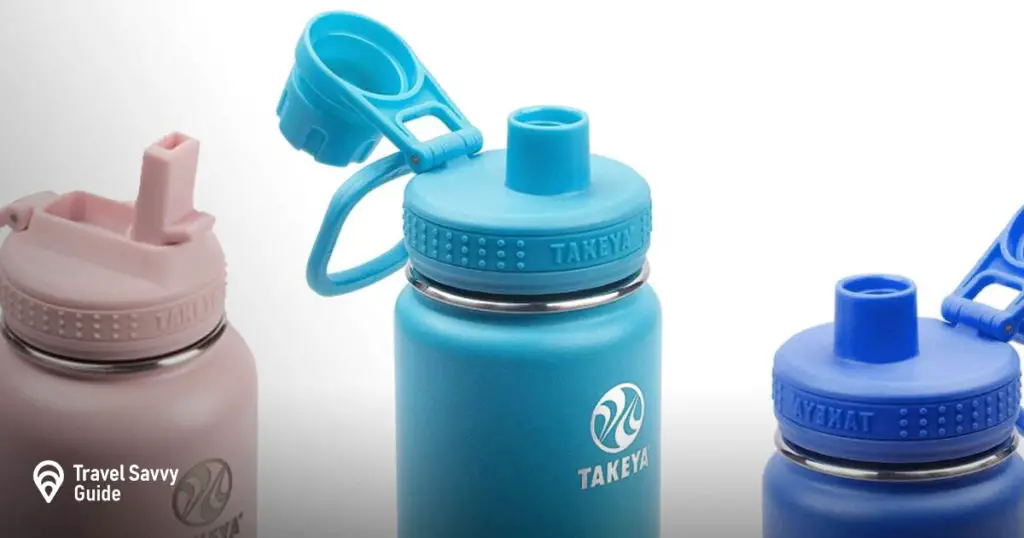 Claiming to keep drinks ice cold for up to 24 hours and steaming hot for up to 12, Takeya means business when it comes to hydration. They offer a range of attractive, neatly designed water bottles in many different colors to choose from. 
To ensure bottles are kept sweat-free, each bottle features a double-wall design — meaning no condensation occurs on the outside. And to keep your grip secure, Takeya uses a powder coating. This is unique in that even with hot water inside, you won't risk dropping your bottle. This is a great touch if you're traveling to a hot area. 
Like its competitors, Takeya bottles are crafted from food grade 18/8 stainless; an extremely durable and hard-wearing material. Out on the road? This is a great bottle to use, as each bottle comes with a protective, removable silicone bumper that can help minimize dents and scratches.
In terms of the lid, Takeya has a wide mouthpiece to fit ice and allow for easy cleaning. This is important as you can't put a Takeya bottle in the dishwasher to clean it. A simple solution of white vinegar and water should clean any build up that occurs, removing bad smells at the same time. 
They've also designed the lid to feature a hinged lock that keeps the cap out of your way while drinking, which can otherwise be annoying. There's also a leak-proof straw lid which is great for active users. Hydro Flask doesn't offer a leak-proof straw lid, so this is a definite plus for this brand.
Features:
Food-grade 18/8 stainless steel.
12 hours hot — holds coffee and tea.
24 hours cold.
BPA and phthalate free.
Completely leak-proof design.
Leak-proof patented Straw Lid™.
Double-wall design — keeps bottles sweat-free.
Innovative hinge lock that keeps the cap out of your way while drinking.
Powder coated for sure grip – even when hands are sweaty.
Vacuum insulation keeps drinks ice cold to help you recover quickly.
No flavor transfer – switch from pre-workout, to water, to protein shake with no lingering tastes.
Removable, protective bumper for added durability.
Water bottles come in 18oz (532 mls), 24oz (709 mls), 32oz (946mls), 40oz (1,182mls), and 64oz (1,892 mls) sizes.
Lifetime Warranty.
Pros:
The straw lid is leak-proof. 
Great insulation properties. 
Affordable option. 
Comfortable to hold. 
Comes with a latching spout for easy access when you need a drink.
Cons:
The bottles and caps are not dishwasher or freezer compliant.
It's not the easiest bottle to clean. 
Hydro Flask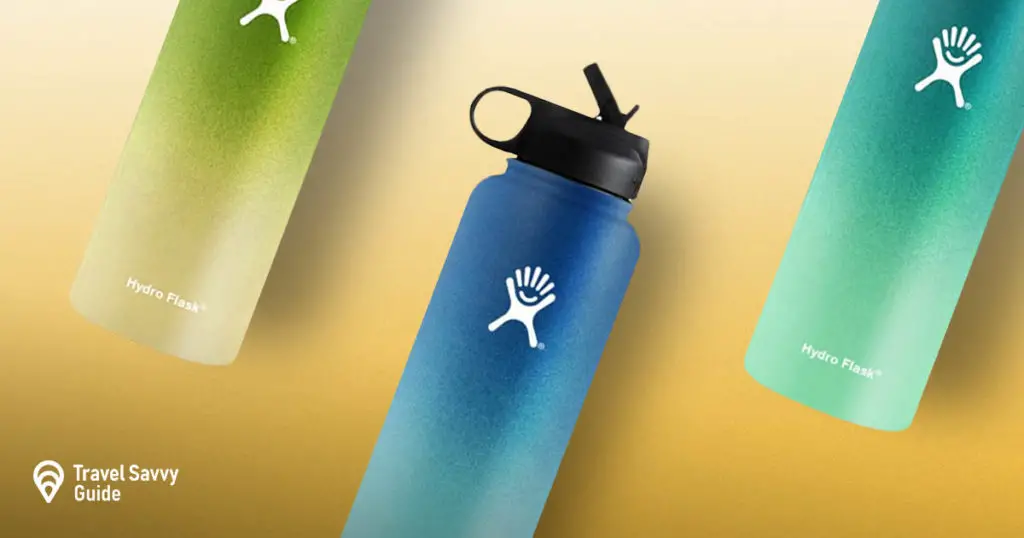 Hydro Flask is probably one of the most popular and well known water bottles on the market. Made with 18/8 stainless steel, each one is incredibly tough and durable. This means if you're throwing your bottle into a backpack or tent, you're unlikely to suffer from any dents or scrapes. 
When it comes to the available lids, Hydro Flask features a straw option — great for active people on the go. However, it isn't leak-proof, which is a big downside. Other options feature a standard or wide mouth design, depending on what you need the bottle for. As a rule of thumb, the wider mouthpiece is better for sports, while the standard lid is better for everyday use. 
To keep drinks hot for 6 hours and cold for 24, Hydro Flasks constructs each bottle using TempShield technology. This double wall, vacuum-insulated technology keeps the temperature of your beverage regulated, even keeping ice solid. Despite its impressive insulation properties, the range boasts a condensation-free product offering with pro-grip properties thanks to the powder coating. 
Another great thing about Hydro Flask is that unlike a plastic bottle, you won't be consuming any BPA or phthalates as the range contains no harmful toxins that could damage your health; perfect if this is something that's important to you.
Like most stainless steel water bottles, you can't put a Hydro Flask in the dishwasher as it could get tarnished while inside. Instead, you can use warm, soapy water and wash by hand to remove nasty smells and prevent product build up. This is quite standard though, so it's not a downside to hold against the brand. 
Features:
Made using 18/8 pro-grade stainless steel.
Tough, durable and completely solid.
Pure taste guaranteed with no flavor transfer.
Keeps drinks hot for 6 hours and cold for 24 hours.
TempShield technology keeps beverages insulated for longer.
Free from BPA and phthalates.
Powder coating — non slip. 
Flexible cap with wide mouth.
Comes with a wide mouth lid with straw.
Lifetime guarantee.
Available in a great range of different colors to choose from. 
Pros:
Great insulation properties thanks to the double-vacuum lining. 
BPA free.
Phthalate free. 
Tough and durable stainless steel.
The bottle comes in various number of sizes including 18oz (532 mls), 20oz (591 mls),  32oz (946 mls), 40oz (1,180 mls), 64oz (1,892 mls) 
Leak-proof lid.
Customizable bottle caps.
Affordable for those budget-conscious. 
No condensation on the outer because of the powder coating. 
Cons:
The straw lid isn't leak-proof: not always great for traveling.
The bottle is not dishwasher or freezer compliant. 
Needs regular cleaning to prevent build up.
Some customers mention problems with the lid — it doesn't always align properly.
The verdict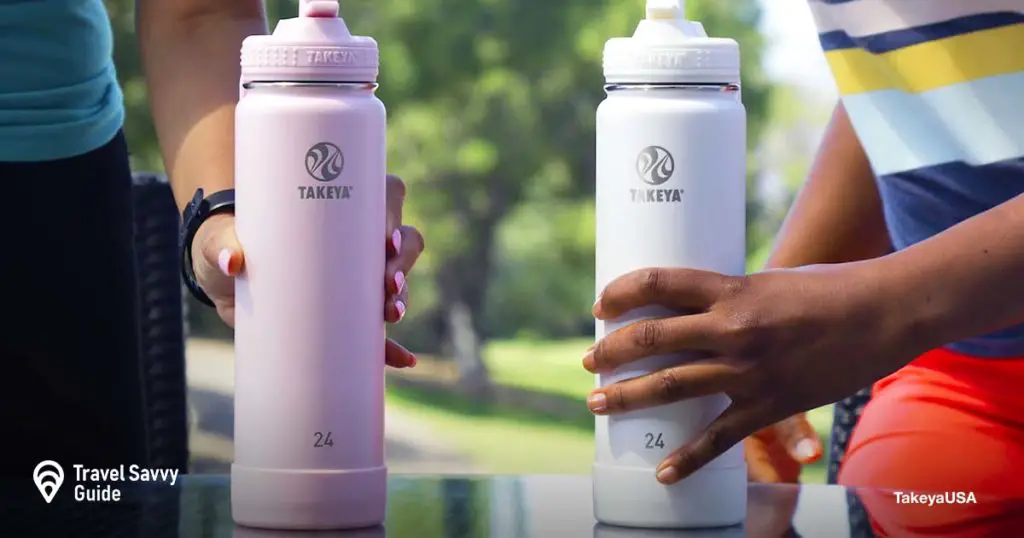 It's not always an easy choice when it comes to deciding between two great brands. Takeya vs Hydro Flask is no exception. Not only are they fairly similar, but they both have a wealth of brilliant features for busy people to enjoy while on the go. 
Having cemented itself on the water bottle market, Hydro Flask is a reliable option. With so many positive reviews from customers all over the world, it's clear that it's a solid, well loved design that works. But while this might be the case, the fact that the straw lid isn't leak-proof is a little bit disappointing. However it wins additional points on the powder coating and optimum cold insulation properties — its ability to keep ice frozen is impressive.
Overall, our winner is Takeya. It's an incredibly close call, but there are two things that give them the edge. Firstly, their straw lid is leak-proof. This is incredibly handy, and means that sporty people can benefit from enjoying instant hydration without their bottle leaking into a bag or jacket. 
The second best feature is the removable silicone bumper. It's super effective at preventing nicks and dinks, keeping your bottle looking and performing its best for longer. This isn't to say Hydro Flask isn't a great bottle, it's just for a well known brand we were almost expecting a little more. Takeya is a great surprise and a really decent water bottle. It's affordable too, so you really can't go wrong. 
Frequently asked questions about Takeya vs Hydro Flask 
"What are some things you shouldn't do with a Takeya bottle?"
Do not use it in the microwave or freezer.
Do not use it on the stove for cooking.
Keep out of reach of children when filled with hot liquids.
Do not overfill the bottle.
"Can I put carbonated drinks in my bottle?"
It's perfectly safe to put fizzy drinks in a double-wall stainless steel Takeya bottle. Use with caution though — when used in an airtight container, pressure can build-up, causing your bottle to leak or liquid to splash out unexpectedly when opened. 
"How often should I clean my Takeya bottle?"
Takeya recommends cleaning your bottle once a day to ensure it stays germ and mold-free. To clean, use a non-abrasive dish soap and hot water. For a deep clean, use a solution of 50/50 water and vinegar. Don't use bleach, chlorine or other harsh chemicals. Once in a while, remove the silicone o-rings in the bottle cap and clean. All of the lids are dishwasher safe.
'What happens if I put my Hydro Flask in the freezer?"
Basically, don't do this! Freezing the bottle won't get the liquids inside cooler as the insulation will protect it from freezing. 
"Can you put stickers on a Hydro Flask?"
Yes, they will definitely stick because of the coating, and are a great (and fun) way to customize your bottle to make it unique to you.
"How do you get the smell out of a Hydro Flask?"
You could try pouring ½ cup (118 ml) of distilled white vinegar into your bottle. Or you could fill your Hydro Flask about ⅕ of the way with vinegar and the rest with water. Allow the solution to sit overnight. 
Final thoughts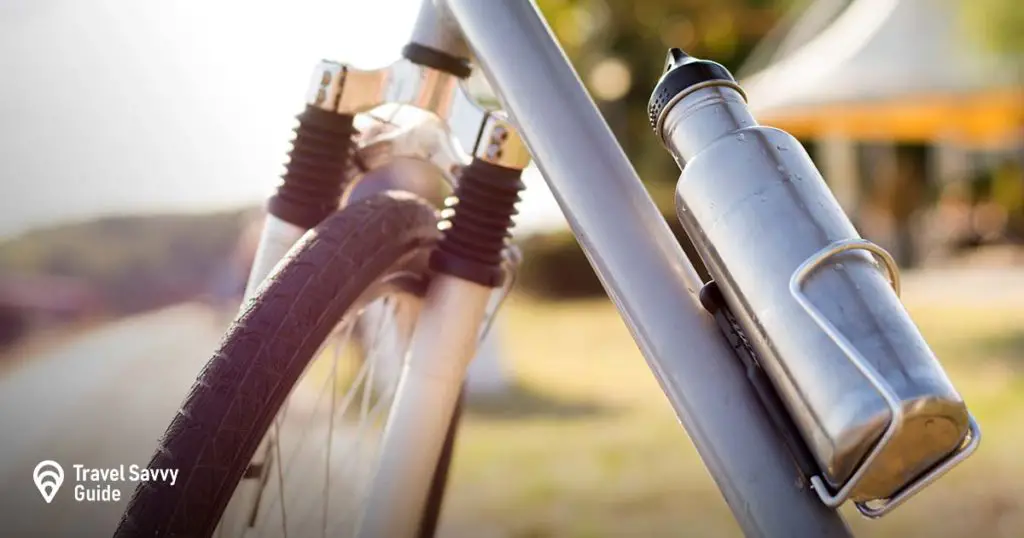 Now that you're at the end of our guide, we hope you have all the information you need to make an informed choice about whether either Takeya and Hydro Flask could be right for you. There are so many features to shout about with each one — as well as a couple of cons, but either way, both make a great choice. 
If you're off to explore somewhere new and exciting, we want to know! Get in touch to tell us where you're headed and share your travel stories with us. Make sure you're prepared with the best USB charging backpack. Or if you're looking for somewhere else to go, have you considered Palaui Island — the elusive paradise?