Affectionately known as "Sweet river", Rio Dulce is one of the most famous rivers in Guatemala (a country in Central America just south of Mexico, bordering Belize, Honduras and El Salvador). It's roughly 27 miles (43 km) long. It begins at the point where it flows out of Lake Izabel (on the eastern side of Guatemala) and connects the Lake Isabel river with Livingston in the Caribbean (also in the east).
This beautiful town is often overlooked but it makes a wonderful travel destination for holidaymakers seeking natural beauty, rich culture and interesting history. Rio Dulce is also the ideal location for budget-conscious backpackers as the cost of living is so cheap.
Table of Contents
If you're looking to learn more about this wonderful part of the world then stick with this guide as we're about to give you a detailed overview of what you should expect. 
By reading this guide, you will learn the following:
Some important travel tips to think about before you go.
The great things to see and do in Rio Dulce Guatemala.
How much you should expect to pay when you're there. 
Rio Dulce Guatemala: An Overview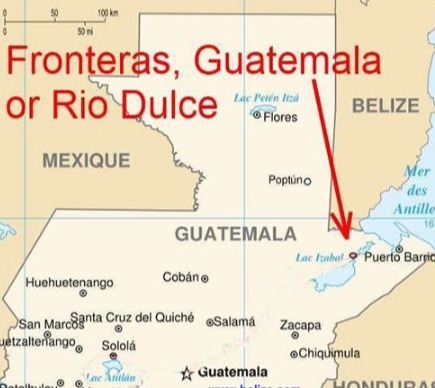 Population: 7,200
Language: Spanish
Currency: Guatemalan Quetzal (GTQ). 1 GTQ is equal to approximately $0.13 USD
Location: The town sits in between Lake Izabal and the Caribbean Livingston
Surrounded by dense jungle – some of which is protected by the Rio Dulce National Park – the route by boat from Livingston (eastern Guatemala) to the town of Rio Dulce is around 18 miles (30km), in which time you'll discover attractive river-front hotels, warm waters to enjoy a dip in, and manatees (aquatic marine mammals) that call the river their home.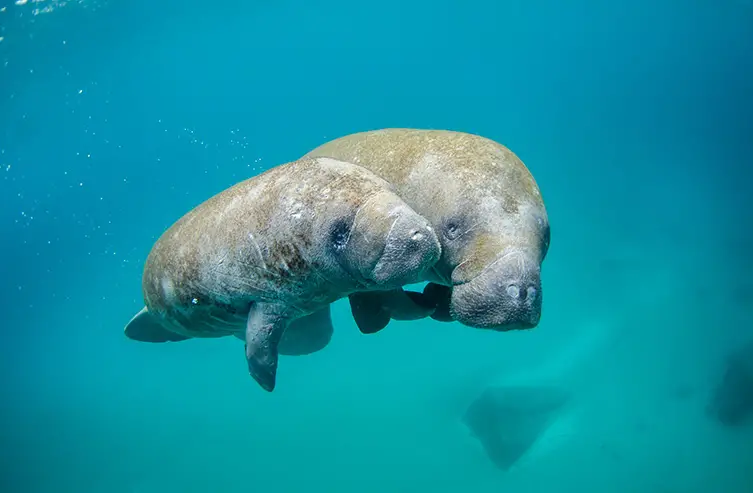 At the entrance to Rio Dulce, you'll find a small Spanish colonial fort called the Castillo de San Felipe de Lara. This magnificent structure was built in the mid 16th century to stop pirates from entering the lake. Today, it's on the UNESCO World Heritage Tentative List.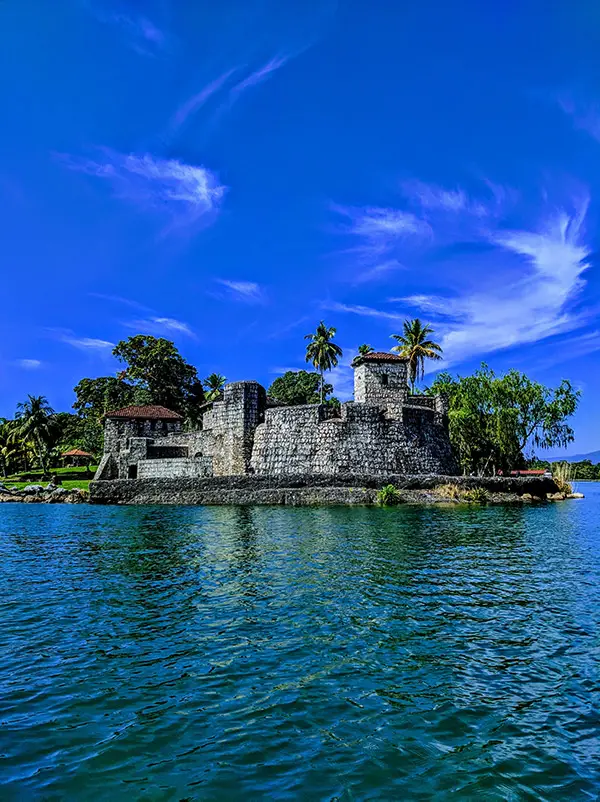 The river is also home to one of the biggest bridges in Central America (Puente de Rio Dulce) and this is where you'll find the town commonly referred to as Rio Dulce. It's the place where locals go to buy fresh produce and the beauty about this is that you'll often see them arrive in dugout canoes (boats made from hollowed tree trunks), offering an authentic view of Guatemalan life. The pace of life is wonderfully relaxed and is the perfect place to get away from it all and explore all that the area has to offer.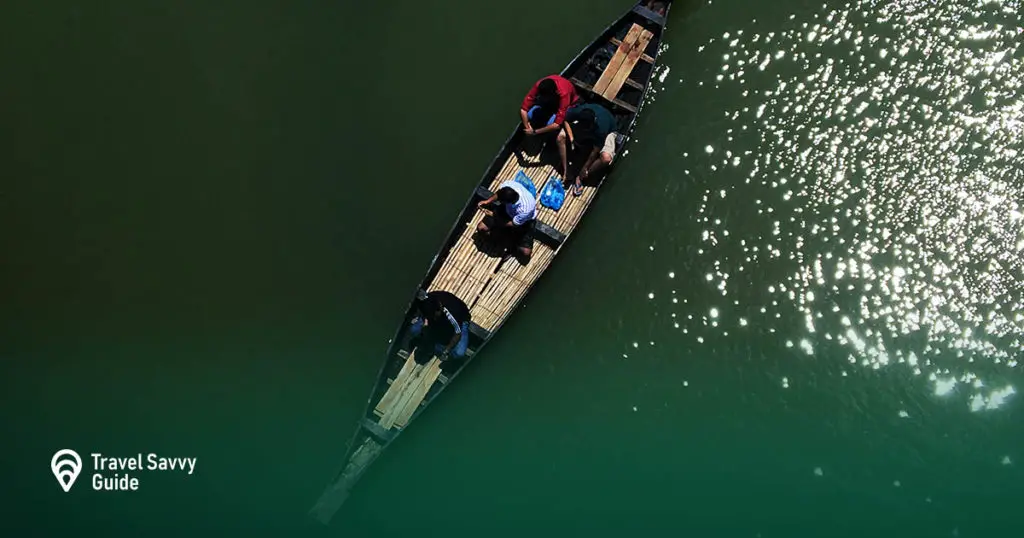 How to get to Rio Dulce Guatemala
There are a couple of ways to get to Rio Dulce but most of them involve taking a bus. The easiest way to travel is to fly into Guatemala City (most major airlines will offer a flight here) and then hop on the bus to the town of Rio Dulce, which takes around 4 hours. You can purchase a bus ticket for around $15-$28.
Alternatively, you could always drive yourself from the airport (Aeropuerto Internacional La Aurora) to the town of Rio Dulce, which is around 182 miles (294 km) and takes roughly the same amount of time as the bus. However, once you reach Rio Dulce it's unlikely you'll have need for a car, so a bus is our recommended option. 
If you're coming from Livingston then you'll only be able to access Rio Dule via a boat, which is a slow but fantastic way to see more of the area in action.
The best places to stay
Here are some of the best rated hotels in the area, giving you the perfect base to explore this beautiful spot from.
Hotel Kangaroo y Las Mexicanas
Located on the river just 3 miles south from the town of Rio Dulce, this hotel is rated 8.6 overall, and is perfect for couples looking for a place to stay. It's got a restaurant, bar, shared lounge and free WiFi throughout. There's also a hot tub to chill out in after a long day exploring. All the rooms have a patio overlooking the river view too, giving you the best view of the Rio Dulce. And if you're looking for activities to try, you can book onto Hotel Kangaroo y Las Mexicanas' diving trip to learn something new. 
Round House Hostel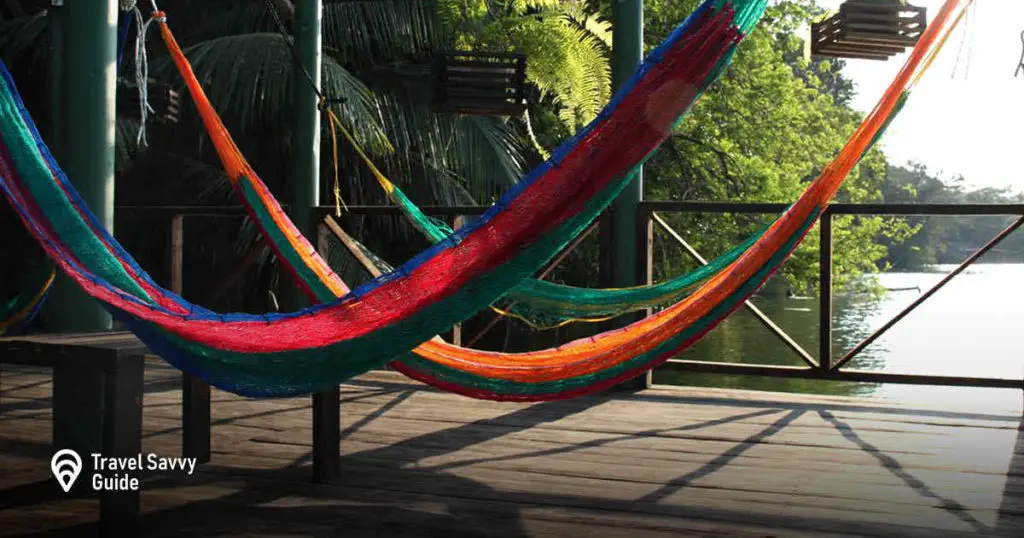 If you're on a budget then Round House Hostel (located on the Rio Dulce river, 5 miles west from Livingston) is a purse-friendly choice. It only costs around $5 a night, and you get a very comfortable room, restaurant, bar and private beach area. There's a hammock platform for relaxing in (which feels like a surprising luxury touch) and a stay comes with a delicious breakfast each morning. It's currently rated 9.5 and is particularly popular with solo travelers. 
Banana Palms Hotel
With an outdoor swimming pool, bar and fitness centre, Banana Palms Hotel (located on the Rio Dulce River in San Felipe de Lara which is 3 miles south of the town of Rio Dulce) offers a luxurious place to stay. Guests love the lake view and all rooms are fitted with a flat-screen TV, offering you plenty to do in the evening. If you're traveling with the kids, there's a children's playground for them to run around in and enjoy. The hotel organizes regular tours for their guests too, taking the hard work out of finding ways to explore the local area. 
Hotel Hacienda Tijax Jungle Lodge
The Hotel Hacienda Tijax Jungle Lodge (located on the Rio Dulce river, 3 miles north of the town of Rio Dulce) is comprised of lovely wooden lodges that sit at the lakefront in the forest, offering plenty of privacy for travelers looking to retire from the day's activities. From the lodge, there's the opportunity to spot turtles, iguanas and crocodiles in the river, and there's a jungle walk nearby that takes you on a whistle-stop tour. 
If you'd like to head out to the village, you can be taken by boat for a fee of $2.60 (20 quetzales). Don't be put off by the swamp location – this hidden gem is the perfect place to be enchanted by Rio Dulce and its extra special location. 
The best time to visit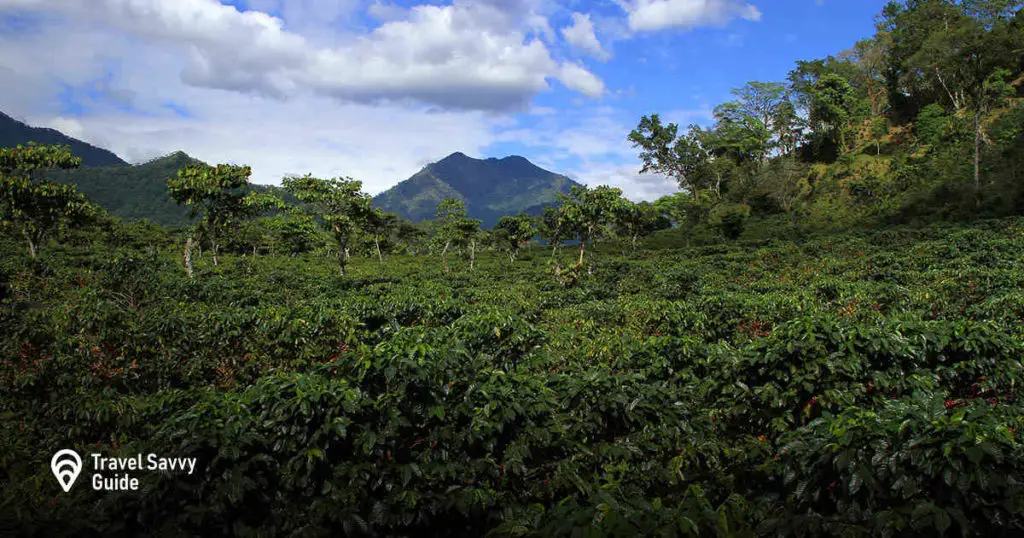 Guatemala has a gentle climate all year round, meaning that you could visit pretty much any time of the year without the weather ruining your trip. The dry season runs from November to April, with the wet season most disruptive in September and October. You may want to avoid these months if you're looking for a river-side trip as you may find yourself looking for places to avoid the rain. That being said, if you have a poncho to wear, then even the wet season shouldn't dissuade you from visiting.
February is one of the best times to visit, where the days are warm and sunny (just be sure to pack your sunnies) and less busy with tourists, allowing you more time to explore. While the temperature doesn't really vary by much from month to month, the warmest time of the year in Guatemala is June. Temperatures reach around 90.5°F (32.5°C) during the day and drop to around 75.6°F (24.2°C) at night, remaining warm at all times. 
Things to do in Rio Dulce Guatemala
There really is so much to do in the area, so we've rounded up some of the best activities that you need to put on your to-do list while you visit. 
Visit Castillo De San Felipe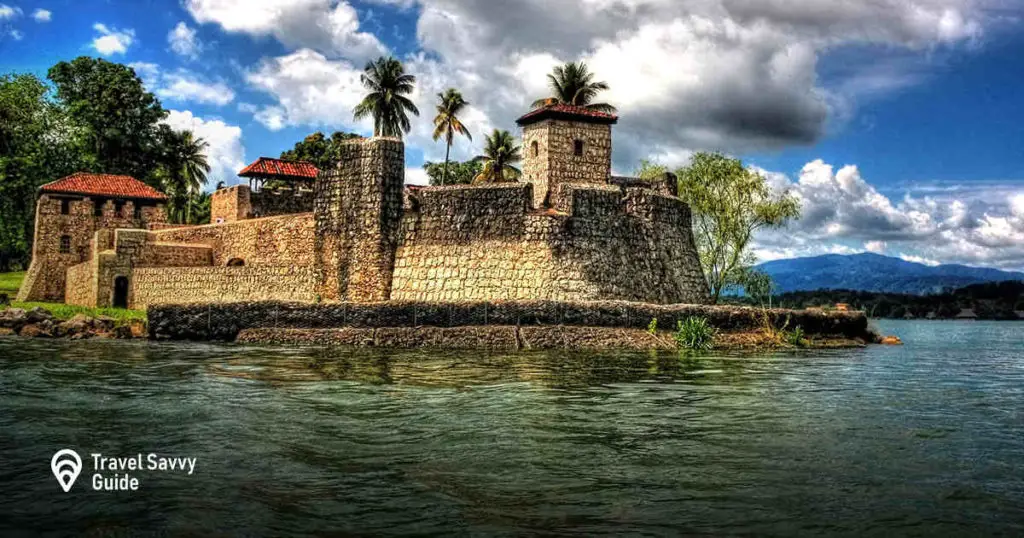 Formerly a strategic spot for trade and an easy target for pirates to loot, take a trip to visit the remains of this Spanish fort. It was originally built to stop pirates from accessing the area in the mid 16th century. By the end of the 17th century, the fort was unfortunately destroyed by a fire and what now exists today are the ruins, which were restored in 1956 to become a much-loved tourist attraction. 
It's really easy to get to. Simply hop on a bus from Fronteras (one arrives every 30 minutes) or hike the easy 3km distance. It costs around 20Q (about $2.60) to enter and is open daily from 9am – 5pm. Just something to note – the water around the fort contains a high level of bacteria so we don't recommend taking a dip in that particular area. 
Hike to Finca el Paraiso
Finca el Paraiso is a beautiful hot spring waterfall and one of Guatemala's hidden gems. You can either bathe in the hot springs at the top of the waterfall or stand underneath as the hot water falls gently down on you. It's beautifully refreshing and afterwards, you can take a dip in the cold waters to cool off on a hot day.
It only costs 10Q ($1.40) to enter and getting there is really easy too. From the town of Rio Dulce just hop on the colectivo – a popular mode of transport in South America – and ask to be dropped at Finca Paraiso. It's a 45-minute ride in total and costs around 15Q to use.
Explore the Rio Dulce National Park by boat
Whether you choose a kayak, sailboat or motor boat, cruising down the Rio Dulce River is one of the best ways to explore all that's on offer in the area. Discover waterfalls, hidden canyons and rock walls covered in lush vegetation. And you can sail all the way to Livingston for a change of scenery and to sample some famous Caribbean hospitality. 
Traveling by waterbus will allow you to stop at many places along the way, and there's plenty of opportunity to dive right into the water to cool off. 
Go and see the Quirigua Ruins
Roughly a one hour bus ride from the town of Rio Dulce, head to Las Ruinas and visit the Quirigua Ruins. The park sits on the west bank of the Motagua River and was once an important route for the Mayas. Today the ruins provide an interesting snapshot of a time that once was, and is perfect for travelers who have a keen interest in archaeology. 
To get there, travel along the CA-9 route by bus until you arrive at Las Ruinas de Quirigua. 
Traveling Tips
Before you holiday to Rio Dulce, bear some of these travel tips in mind. It will make life easier for you. 
Get your currency in order
The currency used in Guatemala is the Guatemalan Quetzal (GTQ), or simply Quetzal (Q) is named after the national bird of Guatemala, the Quetzal. So make sure you go prepared by changing up plenty of cash before you fly. You'll need enough to enable you to do everything on your list. As well as some tucked away in case of emergencies. Most places in Rio Dulce will only take cash. The area doesn't really deal with cards. So make sure you take more than you'll need in case you can't access a cash machine while you're there.
Be careful when traveling with large amounts of cash. Pickpockets will target tourists first so keep your money safe at all times. Also, if you're heading into the water then think about investing in a waterproof bag. This will allow you to keep your money close by. 
Think about which time is best to go
We've already highlighted some of the best times to travel to Rio Dulce, but it is well worth giving those details a closer look as it can really affect your travel plans. If you're thinking about the weather, the best time to go statistically is February. This also seems to be the least busy time with tourists. However as mentioned earlier, if you have a poncho to wear, then this isn't so much of an issue.
The dry season in general extends from November through till April. So when it comes to this river-side destination, any of these months is a safe time to travel. Wet season falls in Guatemala's winter from May to October. So if Rio Dulce is firmly on your agenda then these may not be the best times to visit. 
Get your injections before you go
While Guatemala is steeped in culture and natural beauty, there are a few health risks at present. These can be easily prevented with the right injections. Passport Health recommends the following injections for travelers going to Guatemala:
MMR (measles, mumps, rubella).
TDAP (tetanus, diphtheria, pertussis).
Chickenpox.
Shingles.
Pneumonia.
Influenza.
Meningitis.
Polio.
Take insect repellent with you
Guatemala is an area that's unfortunately prone to mosquitos and other irritating insects. So be sure to pack insect repellent and use it at all times to avoid getting bitten. Also to reduce the chance of contracting malaria.
Pack well
If you're traveling to this extremely warm and humid country then chances are you'll want to pack light. That's fine, but make sure you pack smart, too. Take the things you're going to definitely need so you stay comfortable and protected from the elements. Whatever the weather decides to do (because the only thing that's guaranteed with the weather is that it's unpredictable).
First and foremost, make sure you have a backpack to carry your belongings. A filtered water bottle is also a great investment. This ensures that wherever you are, you'll have access to fresh drinking water. This is incredibly important when you're wandering around in a hot country like Guatemala. We'd recommend not to drink the local water in Rio Dulce. It could be unsafe, so a filtered water bottle should be top of your list. 
Another piece of kit you should think about is a hiking poncho. Lighter weight than a classic raincoat or waterproof jacket, a poncho is easy to pack down. It's also a great layer if the weather suddenly turns. If you're heading to Rio Dulce in wet weather season then you'll find one of these handy to have at hand.
Investing in a decent camera might be important to you, and Rio Dulce offers so much picture-perfect scenery for you to snap. Instead of relying on your smartphone, think about finding a higher-spec camera.
And of course, don't forget to pack a good pair of sunglasses. Light reflects on the water, so when you're traveling along the Rio Dulce river, you could do some serious damage to your eyes without the right protection. Trust us – sunburnt eyeballs hurt. A lot.
Frequently asked questions
"Can you kayak down the Rio Dulce River?"
Yes, absolutely! At Finca Tatin there is the opportunity to rent kayaks out for you to paddle along the river. It eventually leads out to the ocean if you fancy a spot of sea kayaking. You'll also spot many locals in their canoes going about their daily business, so it's a great way to see a glimpse into their way of life. 
"What is the most popular food in Rio Dulce?"
For breakfast, you'll typically be served an array of colorful and delicious fresh fruit. Fried chicken also seems to be on offer at most restaurants and food vendors in the area. And thanks to its river location, there's plenty of fresh fish to sample too, all caught on the same day. You'll also find American-friendly cuisine (like pizza) that caters for tourists – especially those passing through. 
Final thoughts on Rio Dulce Guatemala
Rio Dulce in Guatemala is one of the best kept secrets in South America. It's often overlooked as a holiday destination but if you dig a little deeper, you'll uncover a region steeped in culture, history and amazing hospitality. It truly is a stunning part of the world too, with so many unique creatures that call the river their home to spot, as well as an array of natural beauty to feast your eyes upon. 
Whether you're traveling solo, in a couple or in a group, there's so much for everyone to enjoy, and Rio Dulce is a wonderful gateway to nearby towns, cities and countries, too.
We really hope this article has helped you learn more about the area and we would love to know if you're planning to attempt the Fitz Roy hike; please get in touch to share your travel stories with us!
Are you looking for other holiday destinations to try next? Then why not read our ultimate guide on the Kawasan Falls and Palaui Island?