If you love being out in the great outdoors, a hammock is a great way to relax and take some time out from it all. If you've been thinking about investing in one, we've rounded up 7 of the best 2 person hammocks, so you can make the right choice to suit your lifestyle.
Hammocks are desirable because they're soft, comfortable, lightweight and perfect for sleeping in. And you might be surprised to know that you can take a hammock traveling too, with so many options available that pack down to make your chosen piece of kit easy to carry. 
By reading this guide, you will learn the following: 
Some key things to think about before buying your 2 person hammock. 
7 of the best 2 person hammocks available
The verdict: which hammock we think is best right now and why.
Table of Contents
Things to think about before choosing a 2 person hammock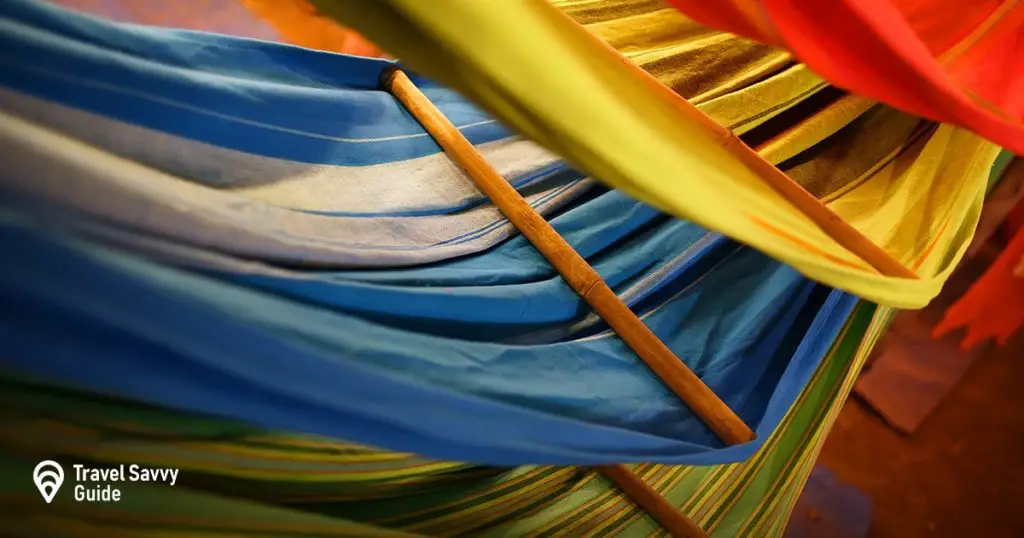 Choosing a hammock might be harder than you think. There are so many shapes, sizes and styles available — and the fabric composition that each one is made with, will have a huge impact on what you go for. To help get you started, here are 5 things to think about before you choose your hammock. 
The size
Hammocks tend to come in 2 key sizes: a single and a double. As you're looking for a 2 person hammock, you'll obviously want to go for the double. They are typically wider than a single at 5 to 6 foot (152.4 – 182.88cm) in width. They also have a weight limit of 400 – 500 pounds (181.44 – 226.08kg), but can easily fit 2 people in. 
However for your reference, a single hammock tends to range from 4 to 5 feet (121.92 – 152.4cm) in width. The weight limit is around 300 – 400 pounds (136 – 181.44kg), which isn't quite as strong as a double but might be a better option if you're traveling alone or don't wish to share your hammock. 
The length
Luckily, this doesn't require too much thinking as hammocks don't tend to differ much in length — it's the width you need to look out for. When it comes to finding a hammock to fit your height, you have plenty of choice. The key is to look for a hammock at least 2 feet (60cm) longer than your actual height, as this should be the most comfortable length for your body. You also need to allow for a little 'sag', as your hammock won't be perfectly taut (tight) when secured to a pair of trees. 
The fabric
Now this is an important factor. When it comes to the durability of your hammock, look for one that has a higher denier. This is the size of threads woven into the fabric. A higher denier does make the fabric heavier though — which is definitely something to bear in mind. As a rule of thumb, stronger models have 70 deniers while lightweight hammocks have 30. 
What you'll be using the hammock for
You don't just have to keep your hammock in the garden. You can take one both camping or backpacking. If camping is your main purpose, choose a heavy-duty, durable model. 
For traveling, a lightweight hammock is probably more suitable so it's easier to carry around. Find one that packs down into a sack or a bag, as this will make packing up so much easier when you have other things to think about. 
Are you looking for accessories?
You might just want a hammock, or you might want all the accessories that go with it, such as sunglasses. Your hammock should come with a carabiner (a specialized type of shackle, used to quickly and reversibly connect components) as standard, so that you can set it up between 2 sturdy trees. But you can also purchase a whole host of add-on items, including an underquilt for comfort, rain tarp to keep you dry, a bug net to stop the mosquitos, or a hammock tent for overnight sleeping. 
Best 2 person hammock – our top 7 picks
We've reviewed 7 of the best 2 person hammocks below. Take a close look at the key features as well as the pros and cons. This is so you can see exactly what you're getting for your money, whether you go for the more budget conscious option or premium option.
MalloMe Double Camping Hammock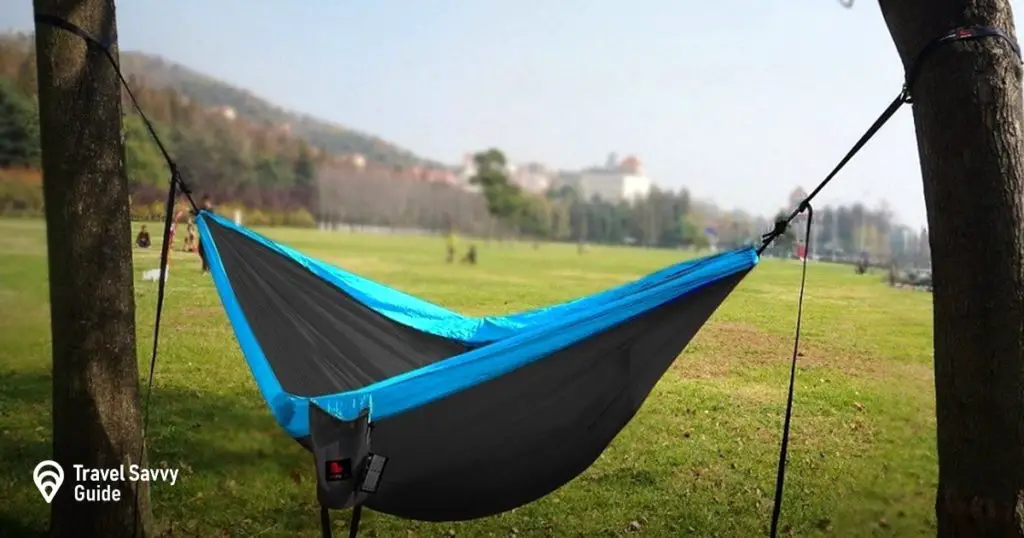 Key features
Made from 30 deniers.
Dimensions: 125 inches x 79 inches (320 x 200cm)
Weight capacity: 1,000 lbs (453.59kg)
Hanging distance: 10+ feet (304cm)
Weighs about 2 lbs (0.9kg) including hammock straps.
Tear-resistant nylon.
Available in 20 colors. 
Comes with MalloMe hammock straps and snag free carabiners.
Fits 2 large adults comfortably.
The MallowMe Camping Hammock is one of the most highly rated on the market. With a maximum breaking weight of 1,000 lbs (453.59kg), it's designed to hold 2 adults more than comfortably — and with room to spare. The set comes with hammock straps and snag free carabiners which makes assembly easy, even for beginners. 
The hammock is made from triple-stitched, ripstop nylon. This makes it incredibly tough and hard-wearing, yet still lightweight so you can easily carry it. There's also no risk of it ripping or breaking while in use, thanks to the unique ripstop properties.
One of the things we like the most about this hammock is that it packs down into a tiny sack, so when you're on the road you can just stuff it down and pop it somewhere out of the way. In fact, when in the sack, it only weighs around 2 lbs (0.9kg), meaning you'll barely notice it.
Pros:
More than 10 feet (304.8cm) long for comfort.
Convenient pocket on the side for valuables. 
Stuff sack is conveniently sewn right into the hammock so you never lose it.
Easy for beginners to assemble.
Cons: 
The colors in the images aren't a true representation of the real thing. 
Can be difficult to get in and out of. 
ENO DoubleNest Hammock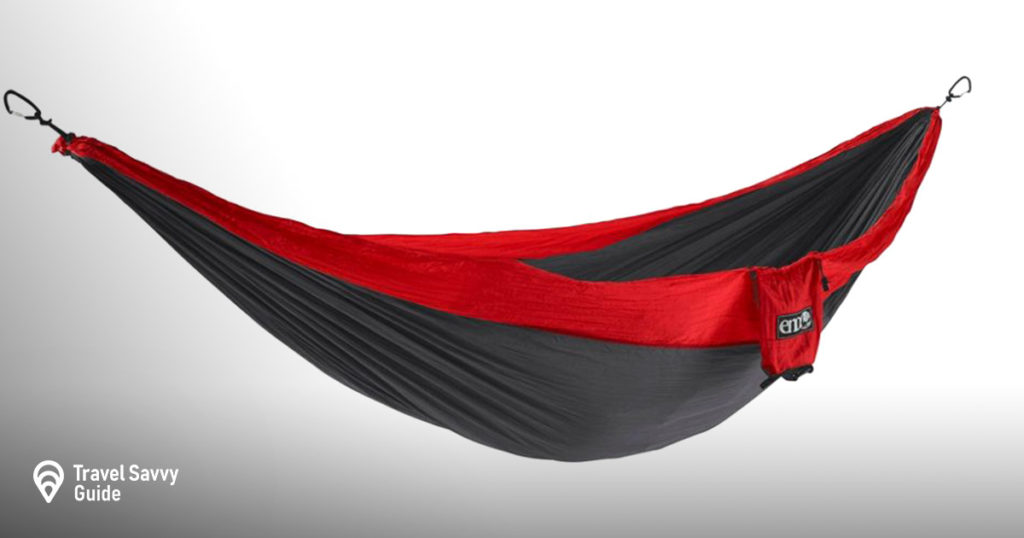 Key features
Dimensions: 112 inches (L) x 74 inches (W) (284cm x 187cm)
Weight capacity: 400 lbs (181.4 kg).
Hanging distance: 9+ feet (284cm)
Weighs only 1.12 lbs (0.54kg). 
Made from 70 deniers 
Versatile and compact design.
The DoubleNest stuffs easily into the attached storage bag.
Quick-drying fabric.
Weighing in at only 1.12 lbs (0.54kg), the ENO DoubleNeck Hammock is lightweight, durable and incredibly hard-wearing. But it can support up to 400 lbs (181.4 kg) — which easily amounts to 2 grown adults. It's made from 70 deniers nylon taffeta; a quick-drying fabric that's also super breathable. This makes it perfect for any weather — rain or shine.
One of the great things about the ENO brand is that it attempts to reduce potential waste by using every bit of fabric available in production. While this does mean that the color and stitching of each hammock may vary from the images shown, you can't knock ENO for trying to use more sustainable methods in their production process — which is such an important topic in the fabric world right now.
Another thing you can do with the hammock is lay it on the ground and use it as a picnic blanket. However, the biggest downside is that the hammock straps aren't included. As it's already a fairly pricey model, this only adds to the expense. 
Pros
Allows for upright sitting. 
Dries very quickly, even after downpours. 
Incredibly lightweight at 1.12lbs (0.54kg).
Comes with a 2-year warranty. 
Spacious and comfortable. 
Cons
Hammock straps aren't included. 
Slightly more expensive than other models. 
Lazy Daze 55″ Hammock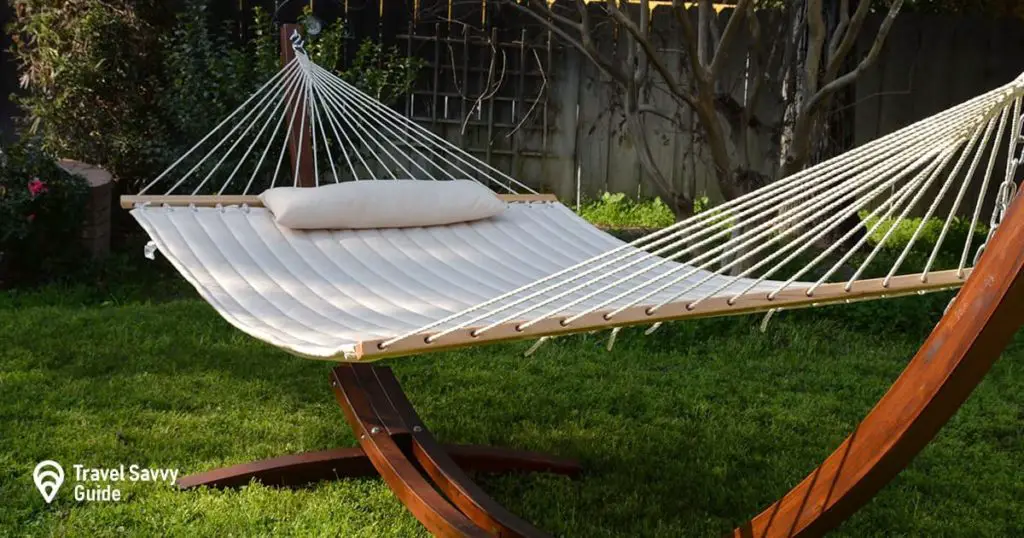 Key features
Dimensions: 165 inches (L) X 55 inches (W) X 50 inches (H) (419.1cm x 139.7cm x 127cm)
Hammock bed dimensions: 78 inches (L) x 55 inches (W) (198.12cm x 139.7cm).
Weight capacity: 450lbs (204.12kg).
Weighs 63.9lbs (28.98kg).
Made from 70 deniers
Stain and fade-resistant Sunbrella fabric
Russian pine coated with varnish wood stand.
Hand-crafted polyester ropes.
Wooden stretcher bars.
Heavy-duty hanging loops for sturdy support.
Easy assembly; all hardware and tools included.
The Lazy Daze Hammock is designed for long life and stability; made from Russian Pine Hardwood and coated with a poly finish to prevent mold. It doesn't need to be attached to a tree either. Instead, it comes on a heavy-duty art stand for added comfort and security. 
The fabric composition is Sunbrella performance fabric. This unique material is colorfast, fade resistant water-repellent and breathable. It's also easy to clean with bleach and comes with 98% UV protection, allowing you to leave it in the sun all-year round. 
Speaking of comfort, the hammock comes with a polyethylene stuffing head pillow for sweet dreams as you swing. The hammock itself is also really easy to care for and can be cleaned with bleach. One of the downsides is that it's quite heavy, so it isn't that easy to travel around with. 
Pros
The wood is treated to resist mold. 
Comes with a pillow for added comfort.
Can be cleaned with bleach. 
Comes with a stand, so it doesn't need to be hung on a tree. 
Cons
Not so easy to travel with.
Winner Outfitters Double Camping Hammock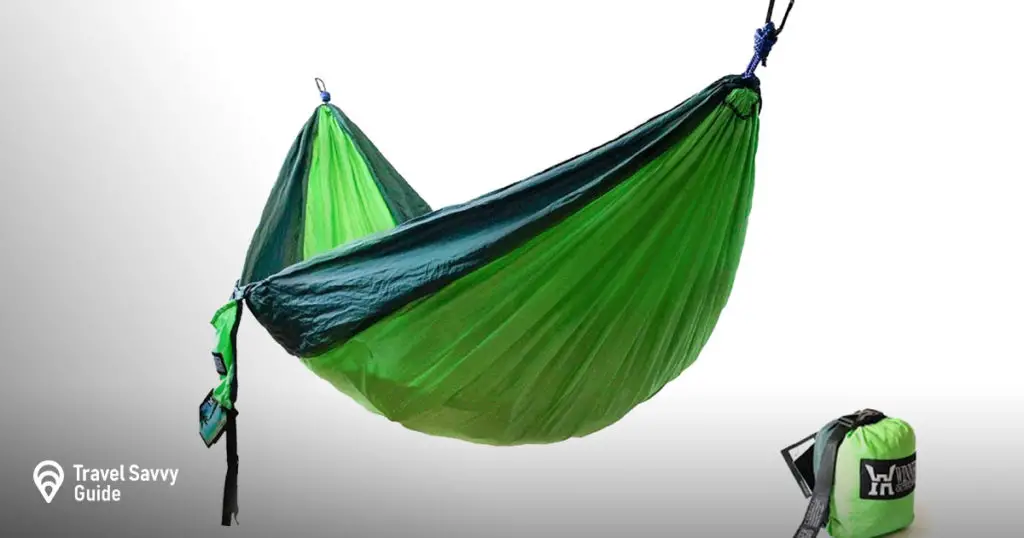 Key features
Hammock dimensions: 118 inches (L) x 78 inches (W) (299.72cm x 198.12cm)
Weight capacity: 500 lbs (226.80kg).
Super lightweight as it weighs 1.5 lbs (0.68kg)
Made from 210 denier thread nylon ripstop parachute fabric.
Triple stitching for stronger support. 
Convenient and portable to carry anywhere.
Quick and easy hanging set up.
Ideal for traveling, camping, backpacking or relaxing.
Only takes 3 minutes to hang from a tree. 
Not only does the Winner Outfitters Double Camping Hammock feature enough room for 2 adults, but it's supersoft and comfortable. It's available in 4 different colors, offering plenty of choice to suit your personality. It's also made from 210 thread nylon parachute fabric. This is a strong, breathable and soft material that won't snag or tear, making it a reliable travel buddy.
It comes with everything you need for easy installation. It only takes around 3 minutes to hang on a tree. And you can use it anywhere, from the beach to the forest, to your back garden. The solid steel carabiners will keep everything in place, holding a max weight of 500 lbs (226.80kg). For a hammock this lightweight at only 1.5 lbs (0.68kg), that's pretty strong. 
Pros
The thick straps are completely tree friendly. 
Good value for the price.
Comes with sturdy carabiners. 
It's super lightweight and easy to carry. 
Completely durable, despite being lightweight. 
Super fast assembly. 
Cons
Doesn't come with an instruction manual so you'll will need to find online instructions. 
The ropes aren't pre-knotted, meaning they can be a bit tricky to use. 
Hammock Sky Braziian Double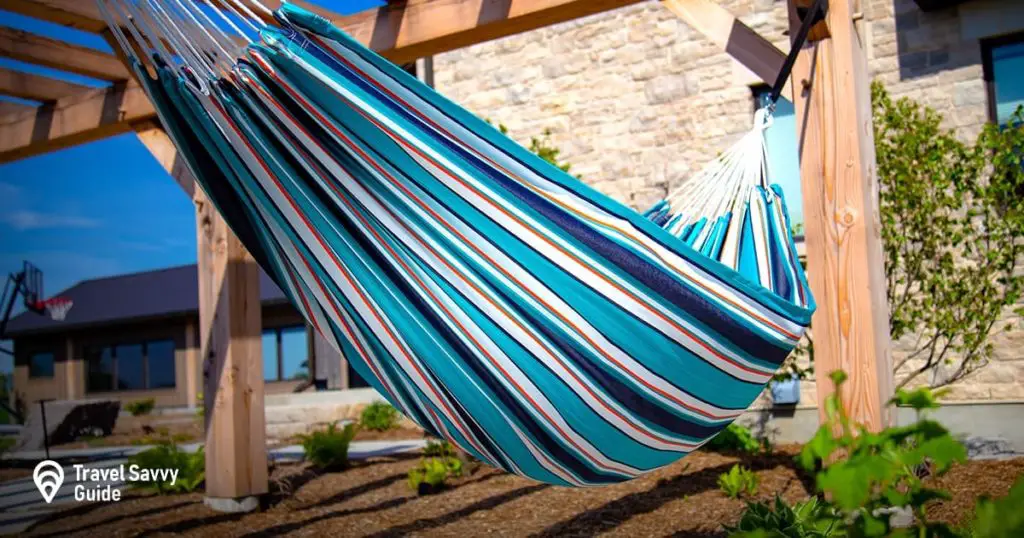 Key features
Hammock dimensions: 98 inches (L) x 59 inches (W) (248.92cm x 149.86cm)
Weight capacity: 475 lbs (215.45kg).
Hanging distance: 12+ feet (701.04cm). 
Weighs 3.3lbs (1.5kg)
Made from 70 deniers.
Total length from loop to loop: 144 inches (365.76cm).
Materials: 65% colorfast cotton / 35% polyester.
Child, family and pet friendly. 
Comes with a free carry bag for easy transportation. 
Comes with a lifetime warranty. 
Available to use indoors or out, the Hammock Sky Brazilian is perfect for relaxing. It measures 5 feet (152.4cm) wide, so there's plenty of space for 2 adults to lay down in comfort.
The fabric is a blend of cotton and polyester. Not only is it colorfast, but it's breathable. And because the material is so easy to clean, it's pet and child friendly too. If you do have any issues with the hammock, it is covered by a lifetime warranty, so you don't need to worry too much.
The hammock comes with a free carry bag, making it easy to pack down. It also comes with detailed instructions, so wherever you are in the world, you'll be able to secure it to a tree with ease. 
Pros
Breathable fabric.
Comes with lifetime warranty. 
Is suitable for pets 
Easy to carry around.
Cons
It doesn't include a stand
Vivere Double Hammock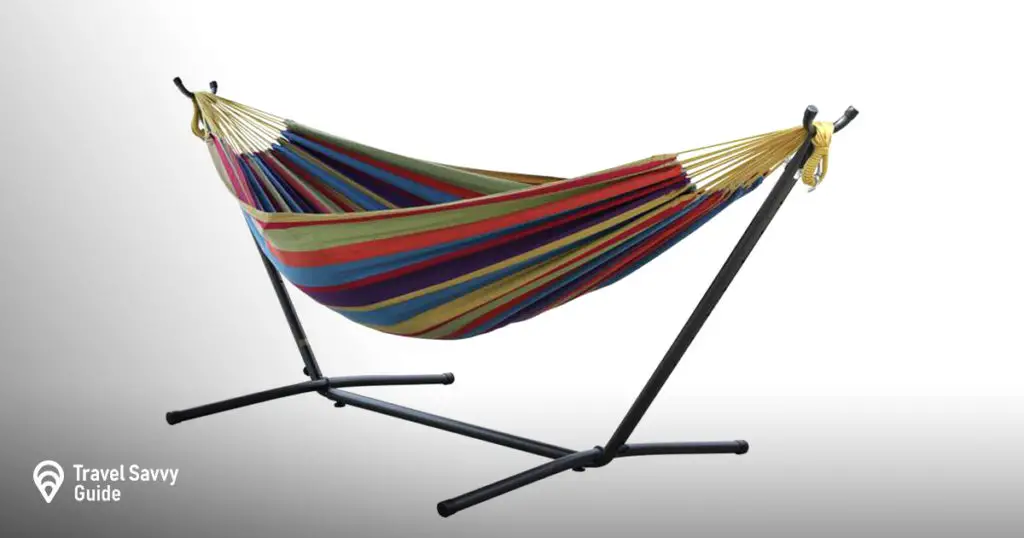 Key features
Dimensions: 110 inches (L) x  47 inches (W) x 43 inches (H) (280cm x 120cm x 110cm)
Weight capacity: 450 pounds (204 kg)
Weighs 35 lbs (15.88kg)
3 fabrics to choose from: 100% breathable cotton, woven fade-resistant polyester, highly weather-resistant Sunbrella. 
Superior polyester end strings for a long lasting hammock. 
Zinc coated legs to prevent rust.
Comes with a premium carry bag.
Assembles in minutes without any tools.
Other accessories available to purchase separately. 
If your yard is lacking in trees, the Vivere Double Hammock is a great option as it stands alone, using a 9 foot (274.32cm) steel stand to remain upright. It only weighs 35 lbs (15.88kg) too, so it's light and easy to manoeuvre. 
When it comes to the fabric, the unique thing about this hammock is that there are 3 options available. The first is 100% breathable cotton, offering superior comfort. The second is woven polyester; fade resistant, soft and durable. The third fabric is Sunbrella. This is a patented, highly weather-resistant fabric, providing vibrant, long lasting color. 
One thing we should mention is that it's a little bit difficult to move by yourself. 
Pros
3 options of fabric available — all high quality materials. 
Comes with a handy carry bag.
A great option if you don't have trees in your yard. 
Quick to set up.
Cons
2 people are needed to move it safely.
Original Pawleys Large Duracord Hammock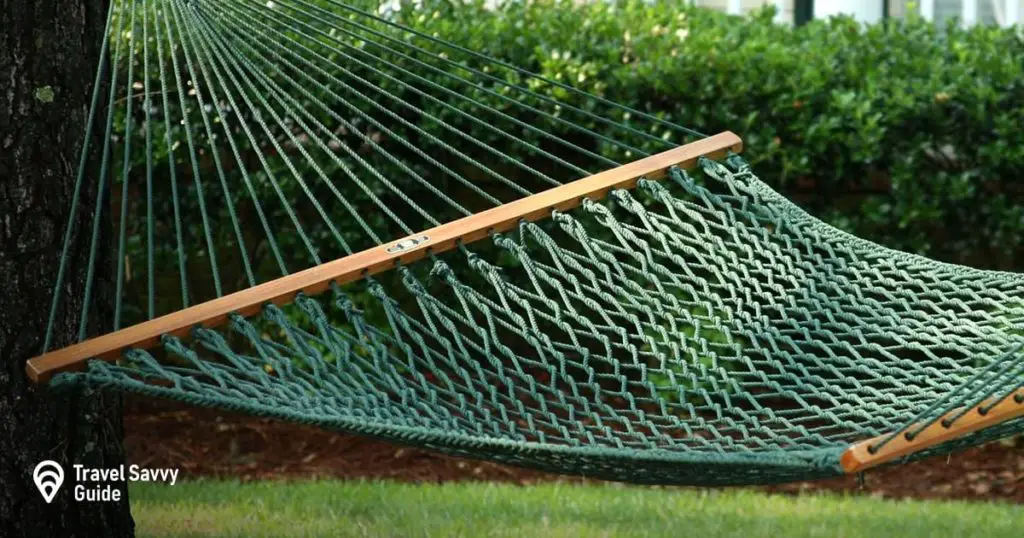 Key features
Hammock dimensions: 156 inches (L) x 55 inches (W) (396cm x 139.7cm)
Weight Capacity: 450 lbs (204.12kg).
Hanging distance: 14ft – 16ft (426.72 – 487.68cm). 
Weighs 14 lbs (6.3kg)
Made with duracord rope; a solution-dyed synthetic blend that has the softness of cotton with the durability of polyester. 
All-weather proof rope — resistant to rot, mold and mildew.
Oak spreader bar. Hand-dipped in marine-grade varnish for exceptional look and longer outdoor life.
Zinc plated hardware for longer outdoor life.
Double-latch weave — eliminating the need for knots within the rope bed.
Available in 6 colors. 
Includes: hammock, 2 zinc-plated chains and 2 tree hooks. 
Hand-crafted, the Original Pawleys Large Duracord Hammock is made with DuraCord rope — the densest rope on the market at 85 ft/lb (16.93m/kg) , resulting in less stretching and increased support. It's also good for all weather; resistant to rot, mold and mildew. As well as this, oak spreader bar is solid oak that's been hand-dipped in marine-grade varnish. This gives it an exceptional look and keeps it looking its best for longer. 
One of the greatest things about this hammock is that it's made by one of the leading brands in the hammock industry — Pawleys Island Hammocks, dating back 130 years. This means it's a company you can trust. There's plenty of choice when it comes to the color too, with 6 options available.
Pros
Plenty of choice when it comes to the colors available. 
Made by a trusted brand with over 130 years in the industry.
Super sturdy and easily holds 2.
The fabric is supersoft — it's not stretchy. 
Cons
Needs regular maintenance. 
The verdict: which is the best 2 person hammock?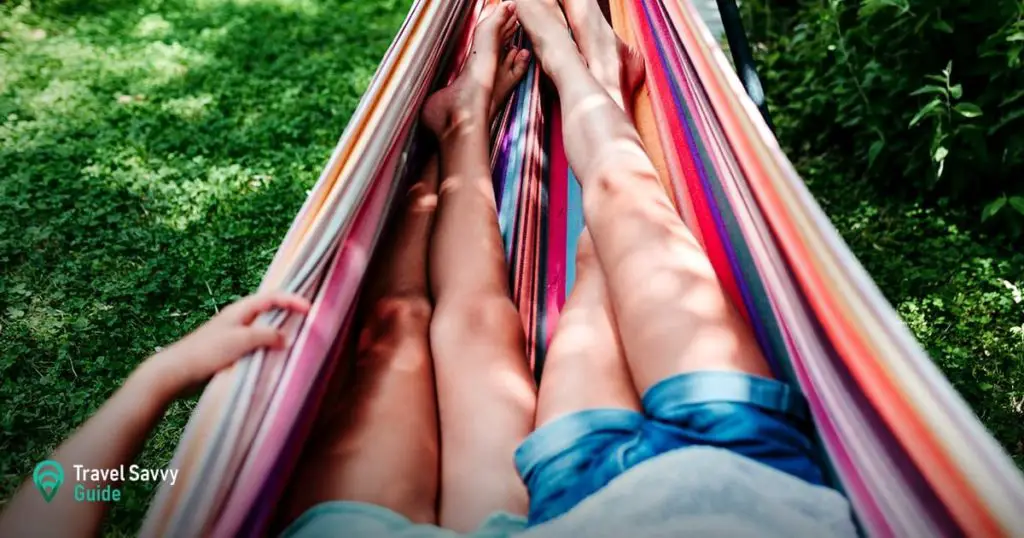 We stand by every single hammock on this list. While some have their cons (and some more than others), each model still offers plenty to shout about; you really can't go wrong with any of them.
When it comes to choosing the best 2 person hammock, our favorite is The Winner Outfitters Double Camping Hammock. The main reason for this is clear; it's incredibly soft, strong, lightweight and comfortable. It also has incredible reviews online from people who have already used it. It's also very affordable, so it should suit most budgets. And one of the best things is that it's easy to move around. Whether you're going backpacking, camping or hiking, you can take it with you.
A close 2nd place is the Original Pawleys Large Duracord Hammock. It arguably doesn't look quite as good as other hammocks on our list and it needs regular maintenance, but with years of manufacture behind the brand, it's one of the best-crafted hammocks around. It's also tough, durable but soft — so it's incredibly relaxing, whenever you use it. 
The bottom line
Now that you've reached the end of this guide, we hope you've received plenty of information to make the right choice. We would love to know which hammock you end up choosing. And if there's anything else you'd like to know more about, please get in touch! 
Got the travel bug? Then be sure to stay hydrated by reading our Yeti vs RTIC Tumbler review. Or discover the 7 best men's travel jackets.