Located in the south of Patagonia, the Argentinian Fitz Roy hike is one of the most beautiful treks in South America. With breathtaking views of the Los Glaciares National Park and its many snow-capped glaciers, you'll be stunned by the natural beauty on offer as you navigate your way around the route.
For those who are unfamiliar with the hike, Fitz Roy is the iconic mountain that sits between Argentina and Chile. It's considered one of the most difficult peaks to scale, so the decision to attempt the hike should not be taken lightly. However, even newbies can give the Fitz Roy hike a go with careful planning and the right gear. If you need some tips, this guide will show you how it can be done. 
By reading this guide, you will learn the following:
What the Fitz Roy hike entails, how difficult it is and whether or not there is a shorter route. 
What to think about before starting the Fitz Roy hike and what equipment to take with you. 
Some of the interesting things you'll see during your hike. 
Things to think about before starting your hike
It's a good idea to get as prepared as you can for your hike. This will not only ensure maximum enjoyment but will maintain your safety, too. To help get you started, we've just got a few top tips on what to think about before you attempt it.
Overall fitness
Before you begin the Fitz Roy hike, you'll need to make sure your fitness is at a good enough level in order to help you complete it. A few months before your hike, try to get some practise in by walking challenging routes in your own area. Find somewhere with a few steep inclines so you can get used to the up-hill motion. And if you can, try to either increase the speed or the length of your hike to get you prepared for the Fitz Roy trail.
Any other forms of exercise will massively help too, whether you prefer to head to a gym or spend time in the outdoors getting fit. You can never be over-prepared but you can be under-prepared, and that could be the make or break when it comes to your hiking adventure.
Do you have the right equipment?
This is so important. Before you attempt the hike, make sure you read up on the weather so you can be prepared for all conditions. If it's meant to rain, invest in a fully waterproof, sealed seam jacket for complete dryness. It might also be cold at the summit if you're hiking Mount Fitz Roy in winter – layers and an insulating outer jacket will keep you safe and comfortable against the conditions.
We have a comprehensive guide further on in our article listing the gear you might need to take with you, but gloves, a hat, sturdy walking boots and trekking poles are all key items to have in your inventory.
How to get to Fitz Roy
The easiest way to get to Fitz Roy is to fly from Buenos Aires to Calafate, a town that sits in southern Patagonia. The home base for Fitz Roy explorers is the town of El Chalten, and from Calafate it's about a three-hour bus journey to reach it. Chaltentravel seems to be the preferred choice with travelers, so check them out to book your bus transfer before you go.
There is also the option to rent a car for greater flexibility. While this is a more expensive way to travel, it does give you the opportunity to stop at the beautiful viewpoints en route, offering spectacular scenery of Mt. Fitz Roy and Cerro Torre for that perfect pre-hike photo. 
And if you're feeling super adventurous (and fit) – you can even get to Fitz Roy by bike by traveling on Ruta 40. It's not for the fainthearted and you'll probably want to rest up before attempting the hike, but it's a great way to extend your trip. 
An overview of the Fitz Roy hike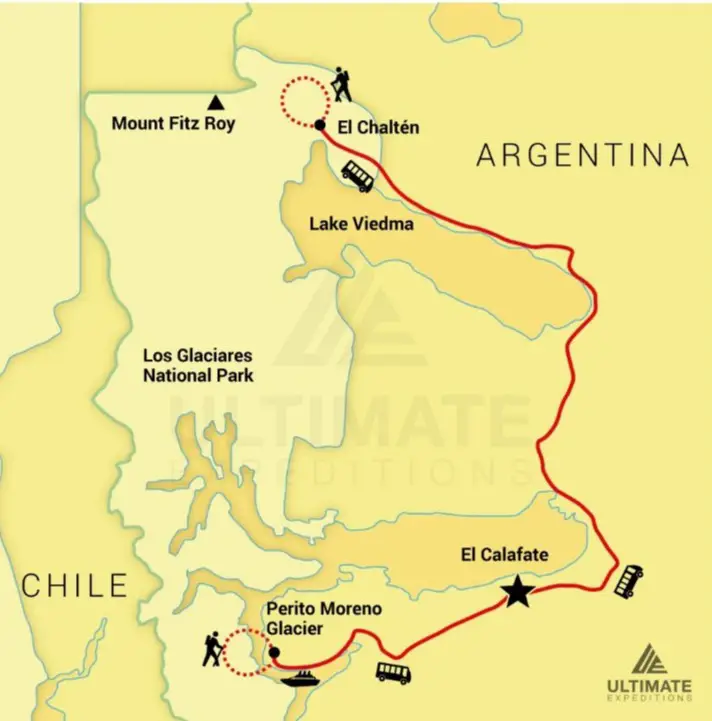 Length: 12.7 miles (20.4 km) round trip, 8-9 hours.
Difficulty level: Difficult.
The Fitz Roy hike is generally considered 'difficult' thanks to its steep hills and rocky outcrops. Once you set off from El Chalten, you'll enjoy an hour's gentle ascent through the region's lush forests and hills, before reaching the Piedras Blancas Glacier viewpoint. While here, spend some time taking in the picture-perfect panoramic view of the entire region. 
After this, the Fitz Roy hike does get trickier as you'll face an hour's hike up the steep mountain incline. What will keep you going is the beautiful views of the snow-capped mountains you pass – all offering a glimpse of just how impressive the sight of Mount Fitz Roy will be at the end. You'll need to motivate yourself on this section as it is really difficult, but just remember that your final destination will be so worth it.
Once you reach the top, there's the opportunity to catch your breath while eating lunch to the panoramic views of Mount Fitzy Roy. The final part of the hike involves crossing the glacial moraine, which will take you into your ascent of Cerro Madsen. There's another short hike across the rockier parts of the route as you head towards the summit, but at this point you're on the home stretch and will start to see Mount Fitz Roy reflected in the clear waters. 
Whatever you do, don't forget to take the time to take it all in. You'll have earnt it. And if you've taken a camera with you, now is the perfect time to take the perfect shots. 
Is the Fitz Roy hike suitable for beginners?
Around half of the Fitz Roy hike is flat and easy to trek. It's the last section that is considered the hard part as it does get incredibly steep, with loose grit on the ground making it difficult to catch your grip. If you have a heart condition then you're advised not to complete the very last section of the hike at all.
Beginners should be able to complete the hike without any problems, but they need to be aware of the trickier sections at the top. They will also need to get their fitness levels up first before they attempt the Fitz Roy, but there is the option to split the hike up over two days if you'd prefer to have more time. Both Poincenot or Río Blanco campsites offer a comfortable place to rest overnight. Plus, imagine having dinner with views of Mount Fitz Roy!
What is the weather like in the region?
Generally, the weather in this region is very unpredictable. Patagonia is prone to very fast winds, especially high up in the mountains, so it's a really good idea to look into this before you begin your hike. The temperature is generally quite mild but can get very hot during the height of summer when there's no wind. Make sure you apply sunscreen and wear a hat whenever the sun is beating down on you, even if it's windy as you will burn very quickly – especially at the summit. 
To find out more about the weather when you're planning to go on your hike, check out mountainforecast.com for a detailed look. 
When is the best time to attempt the Fitz Roy hike?
Because of its Southern Hemisphere location, the best time to go on your Fitz Roy hike is between October – February, in the time that springtime ends and summer begins. This time of the year offers a mild climate with plenty of light – if you're looking for the perfect sunrise and sunset then you'll find it during these months.
The rest of the year can see heavy rains and snowfalls, making your hike a lot harder and more extreme. We would advise that beginners avoid these times of the year as the conditions might be too dangerous for unseasoned hikers.
Where is the best place to stay if you're doing the Fitz Roy hike?
Depending on the time of year you decide to do the Fitz Roy hike, you can either choose to camp or find a hotel or hostel to stay in. If you decide to sleep under the stars, you can find many different campsites in the area, but you're more likely to find somewhere to pitch your tent outside of El Chalten in Patagonia. 
There are two main campsites available; Campamento Poincenot and Campamento Laguna Capri, which is by the lake. A stunning area, you'll need to take your own tent and supplies but the beautiful outdoor setting is well worth the extra effort. 
Alternatively, if you're looking for accommodation with at least four brick walls then there are plenty of hotels, hostels and apartments to discover in the region. El Chalten is the most popular choice for backpackers wanting to be close to the hike, offering a range of places to stay whether you're looking for luxury or a cost-efficient room. El Chalten is only a small area, but it's well equipped with restaurants to re-fuel in before or after the hike. 
Gear to take with you
Generally, when you go on a hike lasting at least half the day, you'll need to take quite a lot of equipment with you to account for the sun's changing position, the temperature dropping and the different elevations you'll encounter as you ascend and descend. The weather is all-too unpredictable and it's easy to get caught short, so make sure you have these key items with you. 
A lightweight rain jacket
If you're heading to Patagonia in the summer months then chances are you won't need a coat for warmth. However, if it's windy then you might need some sort of windbreaker or poncho to stop the wind chill. If so, take a lightweight, wind resistant jacket with you – one that easily packs down into a backpack so you don't have to worry about carrying it around when it's not needed. It might even protect your skin from the sun too, especially if you're starting to feel a little burnt. 
A reliable hat
If it's sunny, the sun will probably hit your head first. Your scalp will burn before you know it, and you might even start to suffer from headaches and dehydration. One way to try and combat this is by wearing a good-sized hat the whole way around. Whether it's a baseball cap or bucket hat you choose, something is better than nothing and will protect sensitive heads from sun damage. Just remember to keep it on throughout the whole trek, unless you find a shady area in the forest. 
Plenty of layers
Layering is key, and will keep you comfortable whatever the weather. Certain parts of the hike will be colder than the rest (particularly the summit), which can be deceptive if it's a sunny day. Having plenty of layers on hand will keep you comfortable and your body temperature regulated, helping you to complete the Fitz Roy hike without any issues.
Hard-wearing hiking boots
This goes without saying. Look for boots with an effective gripped sole. You'll need them for the rocky outposts and uneven surfaces when you get nearer to the top of Fitz Roy. Invest in a pair made with premium quality materials so you won't suffer any holes or tears. Whatever you do – if you've bought a brand new pair specifically for your hike, make sure you wear them in first. You honestly won't be able to complete your hike with the nasty blisters otherwise. 
A large (but not too large) backpack
You'll undoubtedly want to carry additional stuff with you during your hike, including extra bottles of water, but you don't want to overload or you'll tire too quickly. Find a medium-sized backpack that offers enough space but won't encourage you to pack it down. You could invest in a travel jacket with pockets to help spread the load, too. 
Trekking poles
You might already use trekking poles or you might find them a bit of a hindrance. If you're undecided, then consider them for the tougher, more slippery parts of the hike at the top as they could help you keep your balance. 
Can I do a shorter or modified version of Fitz Roy hike?
There are plenty of shorter routes in the area if you don't have as much time to complete the hike. Or if you're a beginner who is not quite ready to tackle it. The most popular alternative route is Laguna Capri. The wonderful thing about this hike is you'll still be able to see Mount Fitz Roy in the background. It takes around 3-4 hours to complete in total and while challenging, offers a great snapshot of this beautiful area.
To find the Laguna Capri hike, follow the signs to Laguna Torre. From there you should find a small path leading to Laguna Capri. Take a right there and head east until the path joins with the Lago de los Tres trail. Instead of heading up the mountain towards Fitz Roy, you'll head down to the beautiful riverbed view. If you're unsure of where to go, head to the national park office for guidance or other shorter routes. 
Another great route to try is the Cerro Torre hike. This one is a good inbetween distance at 6 hours. It offers an amazing view at the end, making your time well worth it. However, if you really are short on time then try Los Condores. It's an easy 2-hour walk from the town and back. Perfect if you're wanting to catch the beautiful Argentinian sunset without worrying about the full journey back in the dark. 
Should I choose a self-guided or guided trek?
Whether you choose to join a guided trek or go it alone is completely up to you. Think about the amount of experience you already have, your confidence levels, and whether you simply want to make new friends. Joining a guided tour is a great way to enjoy the Fitz Roy hike without the pressure of having to go it alone. 
If you're tempted there are plenty to choose from, including Much Better Adventures and Get Your Guide. Do your research before you go to find one that works for you. 
Final thoughts on Fitz Roy hike
Whether you're a seasoned hiker or a relative newbie, the Fitz Roy hike offers something for everyone. It's relatively easy at the start before becoming  a lot more challenging at the top. So as long as you work on your fitness levels and read up on the route beforehand, you should have an amazing time.
The views really are worth the effort – just don't forget to take your camera! It is a fairly long trek, so if you need something shorter then give our other recommended routes a try. 
We really hope this article has helped you learn more about this route. We would love to know if you're planning to attempt the Fitz Roy hike; please get in touch to share your travel stories with us!Are you looking for other hikes you might like? Then why not read our guide on the Walker's Haute Route connecting Chamonix and Zermatt, or the Grayson Highlands Hike?