Winter is fast approaching, but that doesn't mean you have to pack your tent away just yet – our guide to the best camping tent heater can help you stay warm and cozy.
Camping tent heaters are a great way to keep you warm in very cold weather conditions. Combined with a good tent for bad weather, you can stay warm and dry – but which one is the best?
The bottom line up front: We really like the Mr Heater F232000 MH9BX. It's a good all-rounder, it works really well, and it has some great safety features.
We also like:
In this article, we'll be looking at:
What to look for in a camping tent heater
5 of the best, including their key features and what we like and dislike about them
Some commonly asked questions about camping tent heaters
Which one we like the most, and why we consider it the best camping tent heater
If you're interested, keep reading to find out more.
Table of Contents
Best Camping Tent Heaters Compared
Model
Lasko Ceramic Personal Heater
Martin Portable Outdoor Gas Heater
Model
Martin Portable Outdoor Gas Heater
What to Look for in a Camping Tent Heater
Here are a few things to look out for when looking for a new heater for your tent.
Energy Source
There are three main choices in terms of how your heater will be powered:
Electric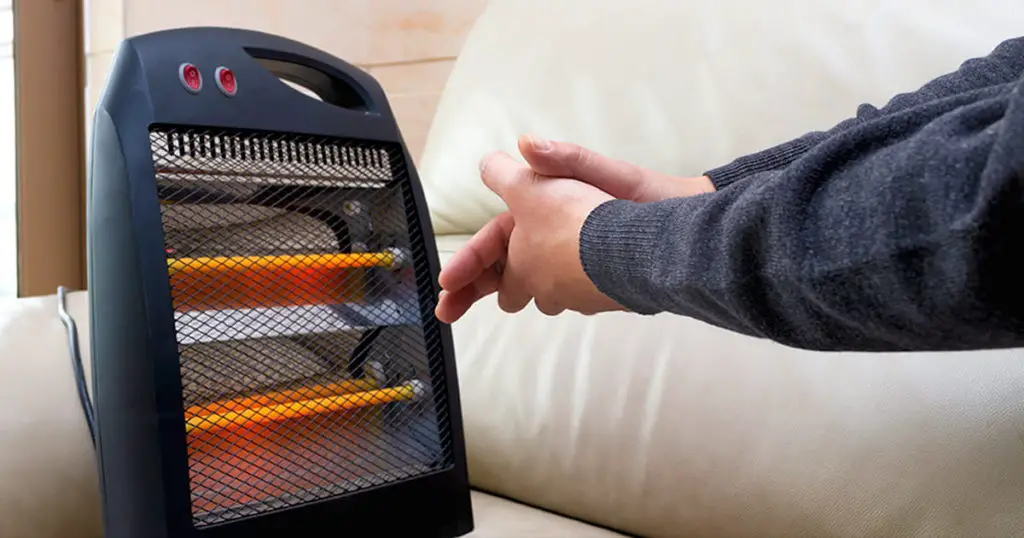 Electric heaters obviously require you to be camping near an electric hookup point. This is a disadvantage, because it can't be used just anywhere, and will require more planning when booking somewhere to stay.
However, there are advantages to electric heaters. You won't have to worry about carrying gas cylinders around with you, and they do tend to be lighter to carry.
If you want to know more about using electricity in a tent, Camping and Caravanning club have a few helpful tips.
Propane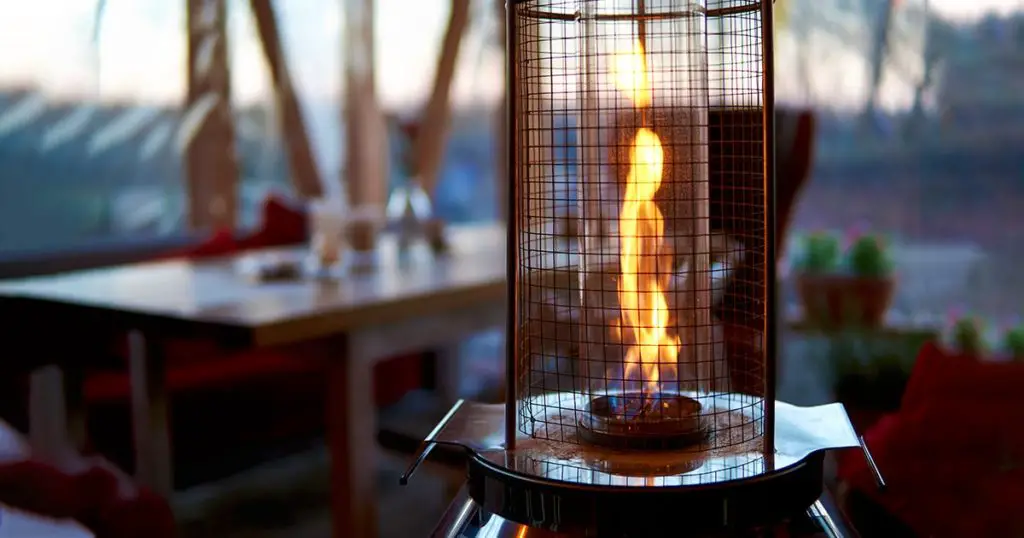 Propane heaters require the use of one (or sometimes two) propane cylinders. The size of the cylinders will vary depending on the requirements of the individual heater, and it is always worth triple-checking to ensure you've bought the right type. Switching them on will release a small amount of gas, and the ignition switch will kick in. The heater should get warm very quickly.
Sometimes, propane heaters can be connected to another gas source. If your campsite has a gas supply, you may be able to connect your heater to it using a hose and filter. Always follow the instructions closely, as setting it up wrong could compromise your safety.
The downside to propane heaters is that you may have to carry heavy cylinders around with you, and you'll have to keep buying new ones as you use them up. The plus side is that you won't have to worry about finding a certain campsite with electric hookups – they can be used anywhere.
Butane
Butane works in a similar way to propane. However, butane has a bit of a disadvantage in that it needs a higher temperature to turn from liquid into gas. This means it will take quite a while to kick in when the weather is colder.
Heating Method
There are three main methods of heating to choose from.
Radiant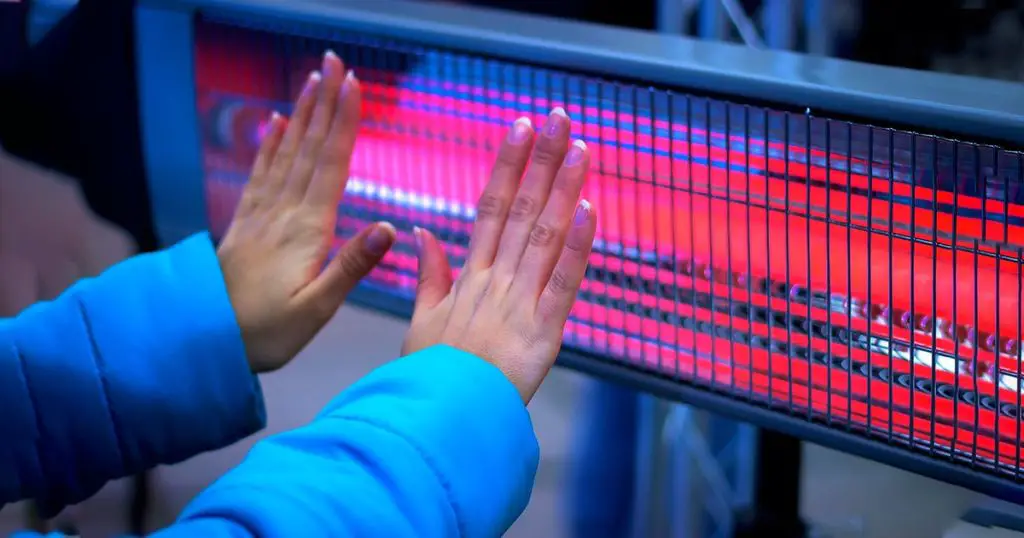 A radiant heater will 'radiate' heat from a central source. This is a less direct method of heating than the others and may take a little longer to heat up your tent. On the plus side, radiant heaters are quiet, which is a big plus if you find the noise of a fan annoying.
Fan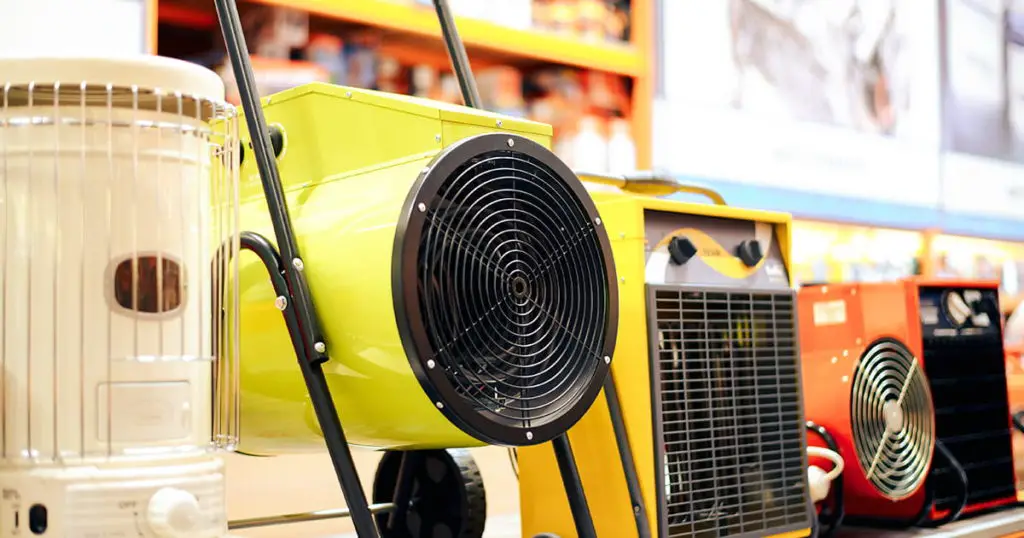 Fan heaters use a fan to blow heat outwards. It will quickly warm up an entire tent, which makes it a tempting option. However, they can be loud, especially on higher settings. If you don't want any background noise, you'd be better off picking a radiant heater instead.
Ceramic
Ceramic heaters work by using electricity to warm a ceramic plate. This then radiates heat into the room.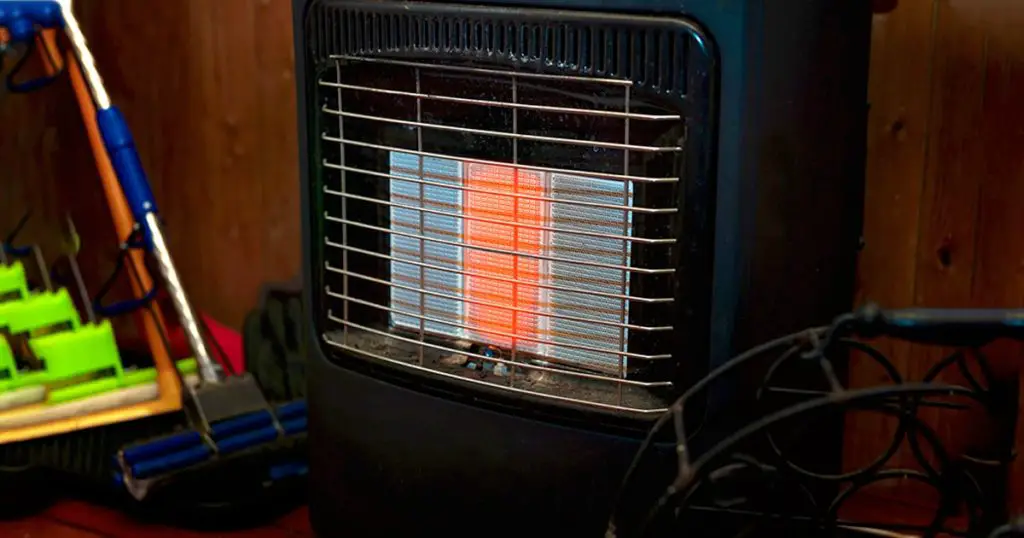 Some ceramic fans have a fan setting, which allows you to blow out heat for a while before switching it back to the radiant setting. This is ideal if you want little bursts of heat to warm up quickly, but you don't want the noise of a fan all the time.
Output
The output will tell you how much heat your heater can produce. For electric heaters, this is measured in watts – 1,500 watts being the minimum you should look for.
For gas heaters, it's measured in BTUs (British Thermal Units). 4,000 BTU is good to look for in terms of minimum output.
Safety Features
This is really important, as using a heater in a small space like a tent can be hazardous if used incorrectly.
There are a few features to look out for here. One of the most important is the tip-over safety switch. This ensures that, if your heater tips over, it will automatically shut off. If your heater doesn't have this, you'll have to keep checking it to ensure that it hasn't fallen over.
Some heaters switch off if the temperature gets too hot. This is ideal as it will prevent your heater from getting dangerously warm.
You can also look for propane or butane heaters with automatic oxygen level detection. If the oxygen levels get too low, it will automatically switch off the heater without you having to do it. This is important because gas heaters can reduce oxygen in the room, and if oxygen levels dip, another gas has to take its place – and that gas could be harmful (Gaslab goes into this in more detail if you want to know why oxygen level detectors are important).
Other safety features include a strong base (to prevent your heater from tipping over), and a cool outer casing or cool-touch handle.
Portability
The last thing to think about is portability.
If you're travelling, you might find it difficult to squeeze a bulky heater with gas canisters into your backpack. In that case, you could consider taking an electric one instead. It's worth checking the dimensions of your heater to see how much space it will take up in your tent, too.
Some heaters are heavier than others. Generally speaking the larger the surface area it will heat up, the bigger and bulkier the heater will have to be.
Top 5 Best Camping Tent Heaters
Now we'll take a look at 5 of the best tent heaters in more detail, including their pros and cons.
Honeywell HHF360V – Most Versatile
Key Features
Voltage: 60V
Output: 1,500 watt
Power Source: Corded electric
Heating method: Fan
Size:
8 x 8 x 11.5 (in)
20 x 20 x 29 (cm)
Weight: 3lbs / 1.36kg
The Honeywell HHF360V is a versatile heater that isn't just designed for tents. It can be used at home, in your office – anywhere that requires a little extra heat. It needs an electric hookup to work, so you won't be able to use it unless you're on a campsite with those facilities available.
The curved design blows out hot air from every angle, making it more efficient at heating up your tent quickly if you place it in the middle. It has an adjustable thermostat and two heat settings, and it works really well if you want to gather around it to get warm. The only problem is that it's a little noisy when on the highest setting.
It has overheating protection (this means if it gets hot it will switch off automatically), and a 360-degree tip-over switch (which means if it falls over, it will get switched off straight away).
It's a portable heater with a cool-touch handle. It's not too heavy either, making it a good choice for camping.
Pros
Versatile – can be used anywhere
360-degree heating means it will heat up your tent quickly and efficiently
Not too heavy
Good safety features 
Cons
Can be noisy
Needs to be plugged in
Check Price
Mr. Heater F232000 MH9BX – Good All-Rounder
Key Features
Output: 4,000 – 9,000 BTU
Power Source: Propane
Heating method: Radiant
Size:
7.7 x 13.4 x 15 (in)
20 x 34 x 38 (cm)
Weight: 9lbs / 4.08kg
The Mr Heater F232000 MH9BX is a propane-based heater, which makes it a little more portable than an electric heater, as you won't have to worry about camping in a location with an electric hookup. You can either use a small propane tank, or you can hook it up to a remote gas supply using a hose and filter. These will need to be bought separately:
It's easy to get going – just rotate and push the knob, and the sparking mechanism will fire it up. It uses radiant heat, which means you don't get the loud noise that you would get from a fan heater. 
It has a couple of safety features, including the accidental tip-over safety shut-off, which will ensure it switches off if the heater falls over, and the Oxygen Depletion Sensor, which will switch off the heater if it detects low oxygen levels.
It's a robust little heater with tough casing, and it has a carry handle for transportation. It's a little heavier than some of the others on this list.
Pros
Can be used with a tank or with a gas source (using the filter and hose, bought separately)
Easy to fire up
Good safety features
Not noisy
Cons
Heavier than some of the others to carry
Check Price
Lasko Ceramic Personal Heater – Good for Small Spaces
Key Features
Output: 1,500 watts
Power Source: Electric
Heating method: Ceramic
Size:
5.7 x 3.7 x 9 (in)
14 x 9 x 23 (cm)
Weight: 3.39lbs / 1.53kg
The Lasko Ceramic Personal Heater will require an electric hookup to work. It works really well as a heater for a tent, as well as an under-desk heater.
It's a ceramic heater with a fan, but it's pretty quiet even when running on the highest setting. It has a whopping 11 settings, meaning you should be able to find a heat level that suits you. It's not designed to heat up large spaces, but as it's so small, it could really well be if you're in a tent for backpackers, for example.
It has overheating protection, which means it will automatically switch off if it reaches the maximum temperature. The heater also has a cool-touch exterior, so you won't have to worry about burning yourself if you do accidentally touch it. The heater doesn't switch off if it gets tipped over though, which is a shame.
It's a very portable heater. At 3.39lbs (1.53kg), it's a lightweight heater, and the compact size means it's ideal for taking with you if you don't have a lot of space. It does lack a carry handle though.
Pros
Very small and lightweight
Runs quietly
Cool-touch exterior means you won't burn yourself
Cons
Doesn't have a carry handle
Doesn't have a tip-over switch
Check Price
Mr. Heater MH18B – Good for Larger Tents
Key Features
Output: 4,000, 9,000 or 18,000 BTU
Power Source: Propane
Heating method: Radiant
Size:
12 x 19 x 17.5 (in)
30 x 48 x 44 (cm)
Weight: 16.4lbs / 7.43kg
The Mr. Heater MH18B is another great choice from Mr. Heater. It can heat up to 450 sq. ft, making it ideal for larger surface areas. If you have a big tent you want to heat up, this one could work really well.
To switch it on, just twist and push the knob and the ignition system will kick in. It has three heat settings, and the heat comes from one side. It uses two 1lb cylinders, or one 20lb cylinder with an optional hose (like the Mr. Heater Big Buddy Hose. The heater runs very quietly, which is great.
The heater has some safety features, including an automatic low-oxygen shut-off system, which will detect low oxygen levels and switch off automatically. It also has a tip-over safety shut-off.
It has robust casing and a carry handle for transportation. As it's designed to be used for larger areas, it's a heavy heater, and it's on the larger side. You'll have to be prepared to carry it around with you, but if you've got plenty of room to spare, it could work well.
Pros
Heats a large surface area
Great built-in safety features
Can connect to a larger tank or two smaller ones
Cons
Check Price
Martin Portable Outdoor Gas Heater – Best for Outdoor Use
Key Features
Output: 3,100 BTU
Power Source: Propane
Heating method: Radiant
Size:
11 x 6 x 6 (in)
28 x 15 (cm)
Weight: 1.85lbs / 0.83kg
The Martin Portable Outdoor Gas Heater is not suitable for use inside a tent. It effectively heats up an outdoor area, making it ideal for those evenings when you want to sit outside and stargaze. You won't be able to use it in the rain, which is a bit of a risk (check out our guide to the best tents for rain if you're expecting to camp in wet weather).
It's easy to use. Just switch it on and the ignition kicks in, and you can set it to low, medium, or high. It has a strong extendable base for good stability, and it warms up pretty quickly. It has a metal dish, which can be directed where you would like the heat to go.
Safety features include an auto shut-off fuel valve if the flame goes out, and a safety grid. It lacks a tip-over switch, so you'll have to be careful to keep an eye on it in case it gets knocked over.
It's very small and light. Although it won't heat up a tent, it's so lightweight that it would make a great addition to a camping setup and could make it more bearable to sit outside on colder evenings. It has a carry handle for transportation.
Pros
Heat can be directed
Heats an outdoor space quickly
Lightweight and easy to carry around
Cons
Doesn't have a tip-over switch
Check Price
Frequently Asked Questions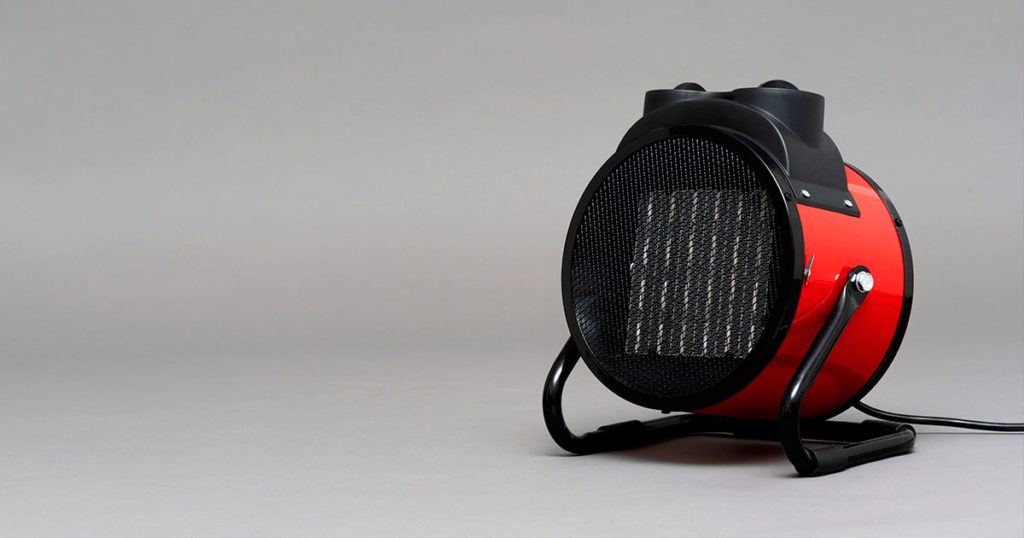 Here are some of the most frequently asked questions about camping tent heaters.
How can I safely transport a propane cylinder?
The main things to worry about are keeping them upright and away from areas that will become too hot. For example, leaving a cylinder in the trunk of your car on a very sunny day, if it is exposed, could be dangerous. You can learn more about using propane cylinders safely in this video.
Advice on how I can use my heater safely?
There are a few things you can do:
Ensure it's placed properly. This means placing it on an even patch of ground, where it won't wobble over, and it also means avoiding placing it too closely to the walls of your tent or other objects in general. 
If using it outside, keep bush scrubs away from your heater. Fires can quickly take off in wooded areas, so it's worth making sure that all stray bush scrubs are moved away from your heater.
Never leave it unattended. It only takes a moment for a fire to spread, or for your heater to tip over. Don't leave it alone, especially if you have kids around.
Don't pick it up straight away. Some heaters have a cool-touch handle. If yours gets hot, remember to switch it off and let it cool before you move it.
How long do small propane cylinders last?
Smaller cylinders (like 1lb cylinders) can last a few hours when used in a heater. This means you'll need to pack a few if you plan to use them for a few nights in a row.
We're going camping in the winter – how can we stay warm?
If you're braving the elements to camp in super cold conditions, there are a few things you can do outside of obviously choosing the best camping tent heater. Keeping lots of clothing layers at hand is helpful, as you can add more layers as the temperature drops. You can also make sure you pack extra-warm sleeping bags, a good travel cup for hot drinks, and hot water bottles to keep you cozy.
It goes without saying that a good jacket can help you here, too. We have a few guides to help, including a guide to the best men's travel jackets, and the best travel jackets with hidden pockets for women.
Mountain Warehouse has a more detailed guide on how to keep warm in a tent. If you're going to be camping in snow, you can also check out the REI's guide to winter camping basics.
Our Final Thoughts – Which Camping Tent Heater is Best?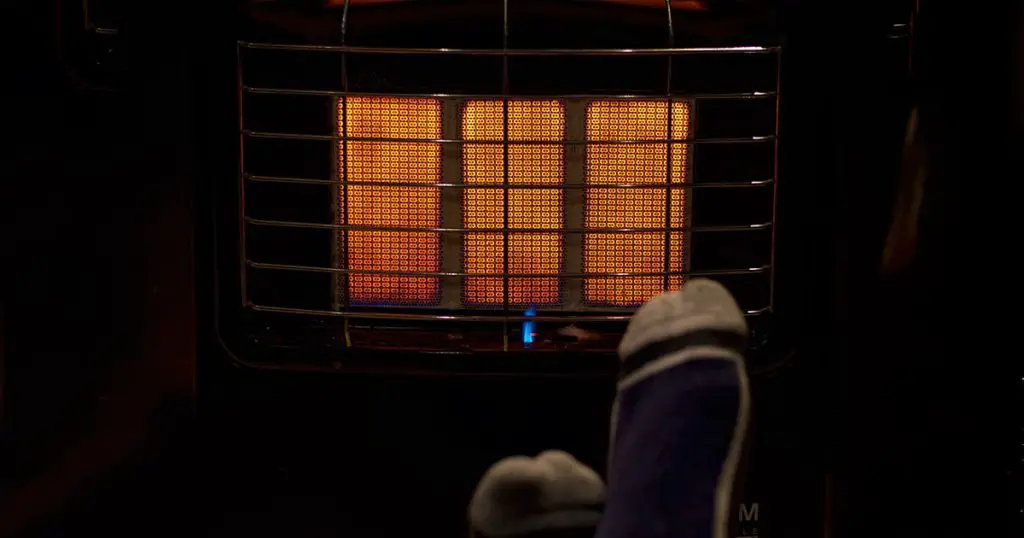 We love the Mr Heater F232000 MH9BX. Mr. Heater has some great built-in safety features, like the tip-over switch, cool carrying handle, and automatic oxygen level sensor. These small features will make using your heater much safer. It's a decent heater which gives off a good amount of heat, and it's robust too.
If you want something lighter that you can use with an electric hook-up point, we'd recommend the Honeywell HHF360V. We like it because it's light and easy to carry, and it can be used in your home too.
Finally, if you want to enjoy the outdoors in cold weather, try the Martin Portable Outdoor Gas Heater. It's light and small enough that it's not too much of a bother to carry around and could make for the perfect addition if you love to sit outside in the evenings.
We hope this has helped you to find the best camping tent heater for you!