Buying a tent can be a big decision, and it can be tough to know which brand to go for. Our guide to the best tent brands can help to point you in the direction of some reliable, trustworthy brands whose products you can count on.
It's hard to know where to start with researching tent brands: what features should you be looking for? How can you tell if their tents are durable? What kind of tent brands are out there, and who are they suited for?
We'll answer all those questions and give you some great recommendations for tents for all kinds of situations.
Without further ado, here are 5 of our favorite tent brands!
The Best Tent Brands – Our Top 5 Picks
Here's a guide to 5 of the best tent brands out there. We'll give you a rundown of the types of products they create, as well as some reasons why we like them so much. We'll also give you some excellent tent recommendations from each brand.
Whether you're after a tent for backpacking or a family tent, there should be something on this list to suit you.
5. Big Agnes – Best for Larger Groups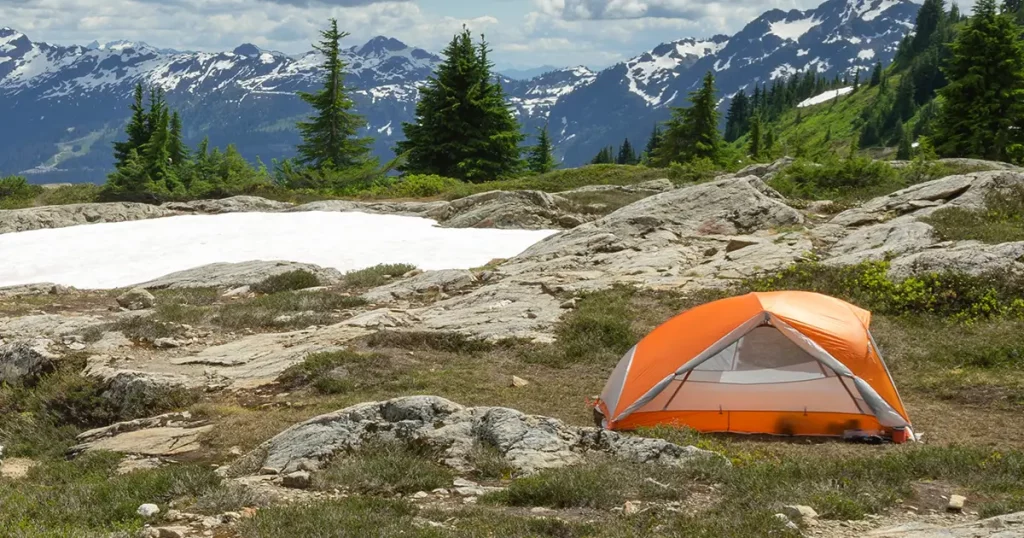 Big Agnes began making tents in 2003. Founded by Bill Gamber, they create a range of products, including sleeping bags, sleeping pads, camping furniture, backpacks, and apparel. They also create a range of tents of different sizes, from backpacking tents to larger family tents.
With the slogan 'Mother of Comfort', tents made by Big Agnes tend to have thoughtful touches to help create a 'home-away-from-home' feeling: think vestibules to hang out in, gear lofts to keep your stuff out of the way, integrated tent lights, and pockets for better organization.
They're also famous for creating their series of 'Ultralight' tents, designed to be as light as possible for backpackers.
The Pros of Big Agnes
Here's what we love about Big Agnes:
They make robust, hardy tents that can handle all kinds of weather conditions
Their range of 'Ultralight' tents is great for backpackers
They include a lot of interesting extra touches, like built-in lights and storage pockets
The Cons of Big Agnes
Even the smaller tents can be on the pricey side
The large tents take a little while to assemble
Big Agnes – Our Recommendations
There are a few tents by Big Agnes we want to recommend.
First, we'd recommend the Big Agnes Big House. As the name suggests, it's a big tent, with some brilliant features. It has great ventilation, tons of storage space including 2 removable corner bin pockets, and enough room for 6 people. Plus, you can use it in 'Shelter Mode' without the sides to provide shade on a hot day.
If you want something smaller, check out the Big Agnes Small Creek SL Backpacking Tent. It's a smaller tent, but still pretty roomy for 2 people. It's lightweight and easy to set up, and it has a 3D bin pocket for increased storage space. It has good ventilation, ideal for camping on hot days.
If you want something for stormy weather, try the Big Agnes Scout UL 2 Tent. It's a robust tent with excellent weather protection, and it has built-in storage bins and air vents to improve circulation even when it's raining.
4. The North Face – Best for Waterproofing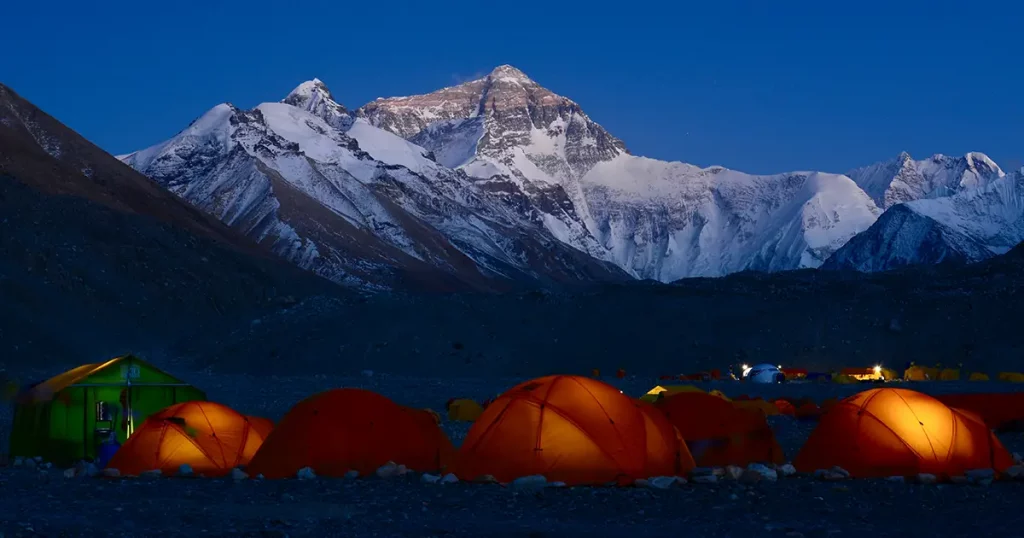 Founded back in 1968 in San Francisco, The North Face is known for creating tough, waterproof gear. They manufacture a huge range of clothing for men, women, and children, as well as footwear, backpacks, and duffel bags. They also have a range of high-quality tents.
Their tents tend to be a good choice from a waterproofing perspective. The 'Stormbreak' range, for example, is both wind and rain-proof, ideal for camping in an unexpected storm.
Their smaller tents are lightweight, making them a good choice for backpackers.
The Pros of The North Face
Here's what we like about The North Face:
Their tents tend to be durable and waterproof
They also offer a range of lightweight tents
Their tents are usually pretty easy to pitch
The Cons of The North Face
And here are the downsides:
They don't have a huge range of products compared to other brands
The North Face – Our Recommendations
Here are some great tents we'd recommend checking out:
Whether you're a solo backpacker or a couple, the The North Face Stormbreaker 2-Person Camping Tent is a good choice. It has large doors, so it's easy to get in and out, and it has great ventilation and a fly seam-taped canopy and floor to keep the rain out.
If you want something bigger, go for the The North Face Homestead Super Dome 4-Person Camping Tent is a roomy tent. It's designed to be easy to pitch, and it has a large mesh ceiling for stargazing and a front vestibule to stash your gear.
We'd also recommend the The North Face Eco Trail 2-Person Camping Tent. It's an eco-conscious tent made from fully recycled materials that are friendly to the planet and weatherproof. It's spacious and would work for a couple or a solo backpacker.
3. Kelty – Best for Easy Setup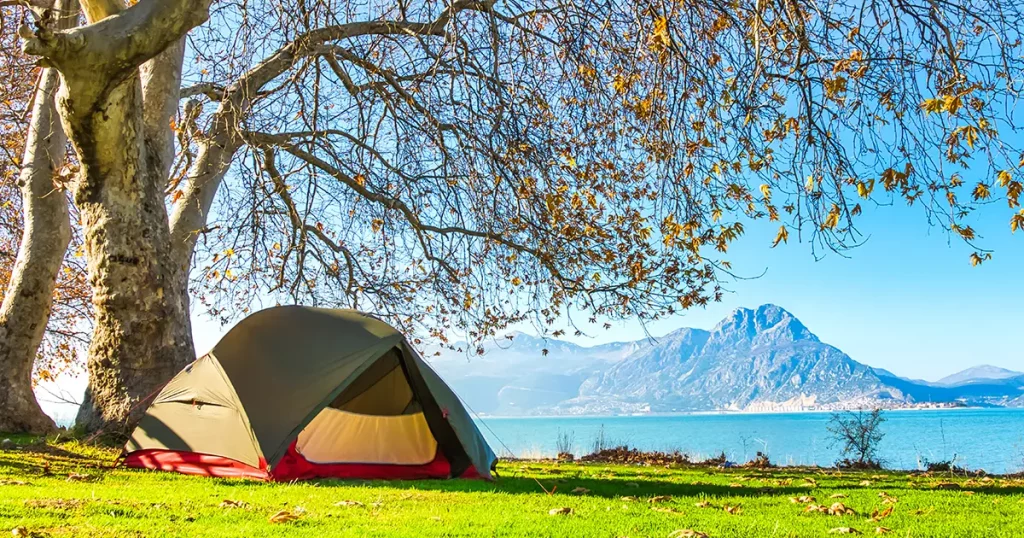 Kelty was founded in 1952, and they're known for designing easy-to-use tents for spontaneous campers. If you suddenly decide you want to take off on a camping trip, Kelty has a tent for you.
Kelty tents tend to be quick to put together, with features like pre-threaded poles, so you don't have to feed the poles through the outer tent material yourself.
As well as tents, they manufacture backpacks, sleeping bags, sleeping pads, blankets, and camp furniture.
The Pros of Kelty
Here's what we like about Kelty:
Very easy to put together
A range of styles and capacities are available.
Tents are good in terms of ventilation and waterproofing
The Cons of Kelty
Some small features (like the zippers) could be more durable in some of their tents.
Kelty – Our Recommendations
Here are a few Kelty tents we'd recommend:
Firstly, there's the classic Kelty Late Start, designed for backpackers wanting the easiest setup possible. It has 'Kelty Quick Corner Technology,' which basically means it's designed to be set up as quickly as possible. If you arrive late at the campsite, you'll be able to get your tent up fast.
If you need something bigger, go for the Kelty Discovery Basecamp, for either 4 or 6 people. It's a larger tent with plenty of room for gear storage and smaller pockets to keep your valuables safe.
You can also check out the Kelty Wireless Freestanding Camping Tent. It has strong fiberglass/hybrid poles for improved frame strength, even in windy conditions, and it's designed to be set up and packed down again as fast as possible.
2. Coleman – Good All-Rounder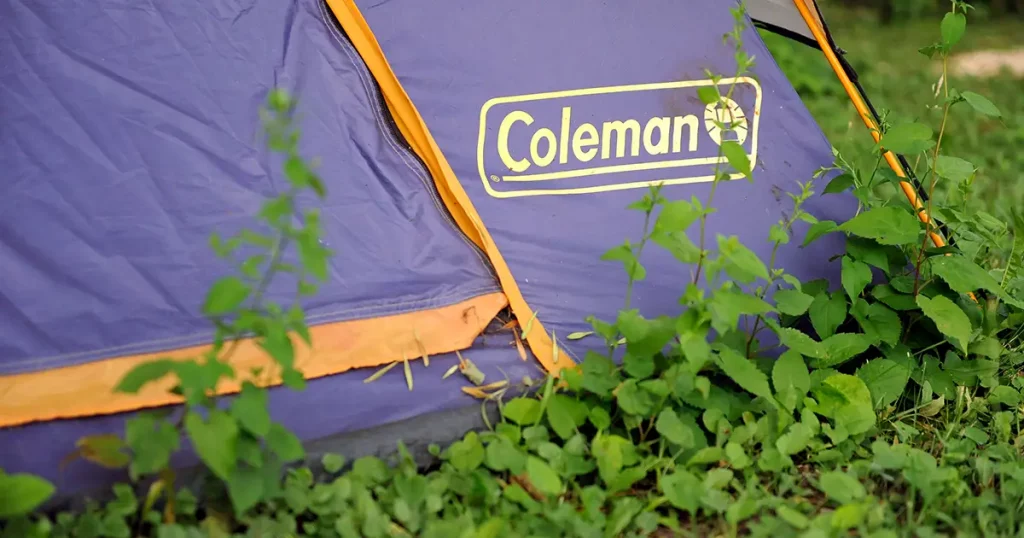 One of the oldest outdoor recreation companies out there, Coleman, was founded in 1900. They create good value, hardy tents, as well as coolers, sleeping bags, airbeds, lighting, grills, stoves, and camping furniture.
Coleman products are usually a solid choice for new campers. Easy to set up and pack down and good value, they may not have the most interesting features, but their tents will have all your basic needs covered, including great weatherproofing.
The Pros of Coleman
Here's what we like about Coleman:
Their tents are usually easy to set up and pack down
The weatherproofing tends to be pretty good
Their tents are good value for beginners
The Cons of Coleman
Here are the cons of Coleman tents:
They don't tend to have a lot in terms of extra features
Products may not be as durable as some other tent manufacturers on this list
Coleman – Our Recommendations
Here are a few tents we'd recommend from Coleman.
Let's start with the best-selling Coleman Sundome. This is popular for good reason. It's a durable little tent, it's pretty easy to set up and pack down, and it has a 'Weathertec' system designed to keep the rain out.
If you want more wriggle room, try the Coleman Elite Montana 8-Person Tent. It has enough room for 3 queen-sized airbeds, with a pretty rapid setup time of 15 minutes.
You can go even bigger with the Coleman 10-Person Dark Room Fast-Pitch Tent. It can sleep up to 10 people, and it is designed to block 90% of sunlight so you can have a lie-in if you want to. It's an instant tent, so it's pretty rapid in terms of setup and pack-down time.
1. Eureka! – Most Durable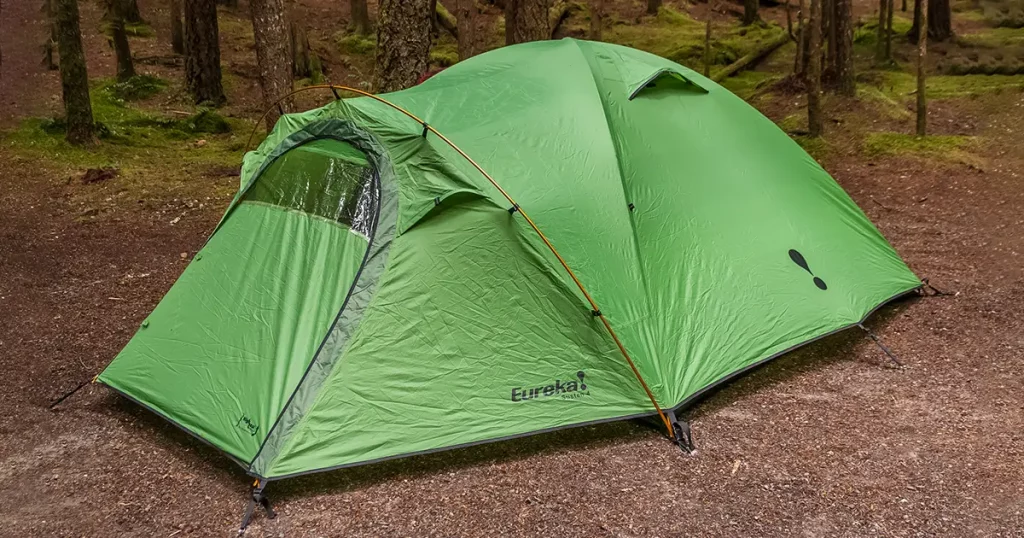 Even older than Coleman, Eureka! Has been going since 1850. They're known for creating durable outdoor gear, including stoves, grills, and camping furniture. They produce a large range of tents of different styles and sizes.
Their tents are known for being durable and weatherproof, so you can take your tent out in all kinds of weather conditions with no problems.
The Pros of Eureka!
Here are the features we like the most about Eureka!:
Their products are durable and should last a long time
Their tents have good weatherproofing
They offer a pretty wide range of sizes and types of tent
The Cons of Eureka!
Here are the downsides:
Sometimes you have to pay extra for the rainfly
Eureka! – Our Recommendations
Here are the tents we'd recommend by Eureka!:
If you want plenty of headroom in your tent, go for the Eureka! Tents Jade Canyon X. It's a roomy tent with near-vertical walls, ideal for tall campers. It has plenty of ventilation, and it's super-durable, so it should last for many camping adventures.
A good option for solo backpackers, the Eureka! Midori 3-Season Backpacking Tent. It's an attractive tent, with a surprising amount of headroom for a backpacking tent. It has a large side-opening door and a vestibule for storing your gear at night.
If you're camping in unpredictable weather, try the Eureka! Mountain Pass 4-Season Tent. It's a hardy tent, with a hardcore waterproof rainfly to keep out even heavy rain but plenty of ventilation to prevent your living space from becoming stuffy. It has tons of storage space too.
What to Look for in a Tent
No matter what brand you decide to go for, there are some key features you should look out for. Here's an overview of what to keep in mind:
Waterproofing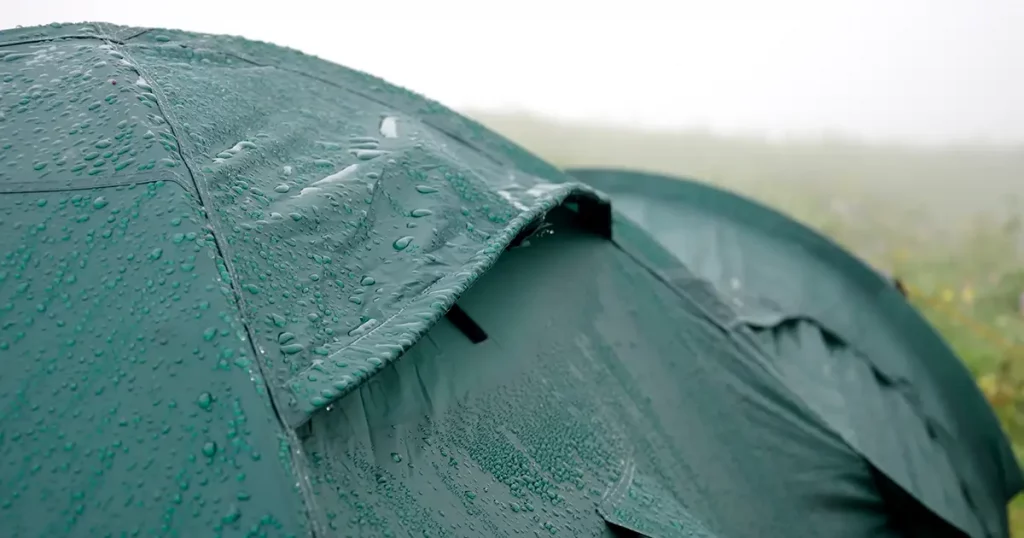 Waterproofing is a big deal when it comes to tents. The last thing you want is to have a sudden storm soak everything (and everyone) inside your tent. Look for outer materials coated in something like polyurethane (PU) which will add an extra layer of waterproofing.
Sometimes, the outer tent will have something called a hydrostatic head measurement. Measured in millimeters, this gives you a good idea of how waterproof your tent should be. It measures the depth of the rain that can gather on top of your tent before it starts to leak through. The higher the number, the better, but a good minimum to go for is 2,000mm.
Your tent may or may not come with a rainfly. This may be removable, allowing you to roll it back to stargaze at night. The rainfly will add an extra layer of protection against bad weather.
Ventilation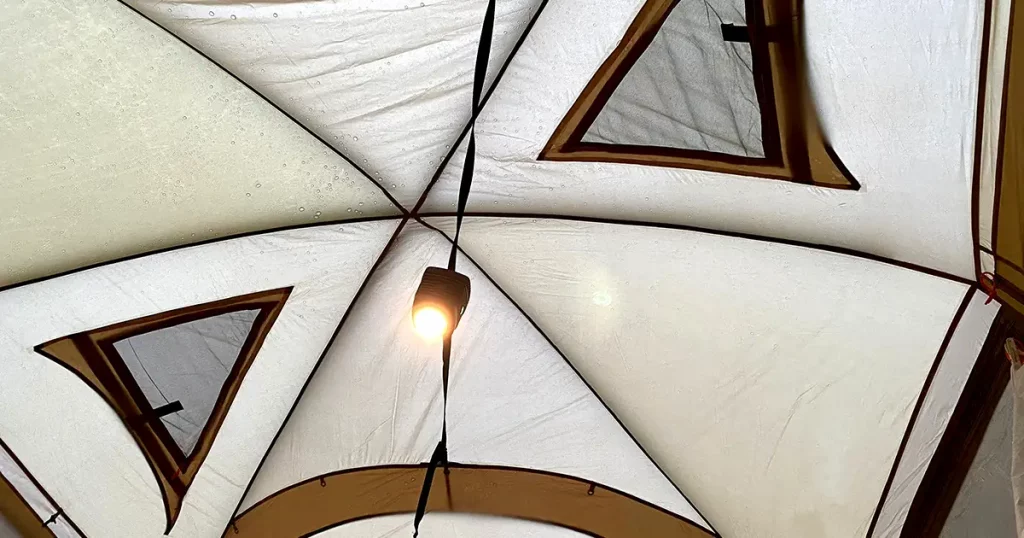 Ventilation is important in all weathers. Even when it's cold, good ventilation will prevent mold from forming in your tent. When it's hot, increased ventilation will help you to feel more comfortable.
Look for plenty of mesh windows. These will keep insects out while allowing air to flow through. You may also find tents with air vents, which improves the ventilation even more.
Windproofing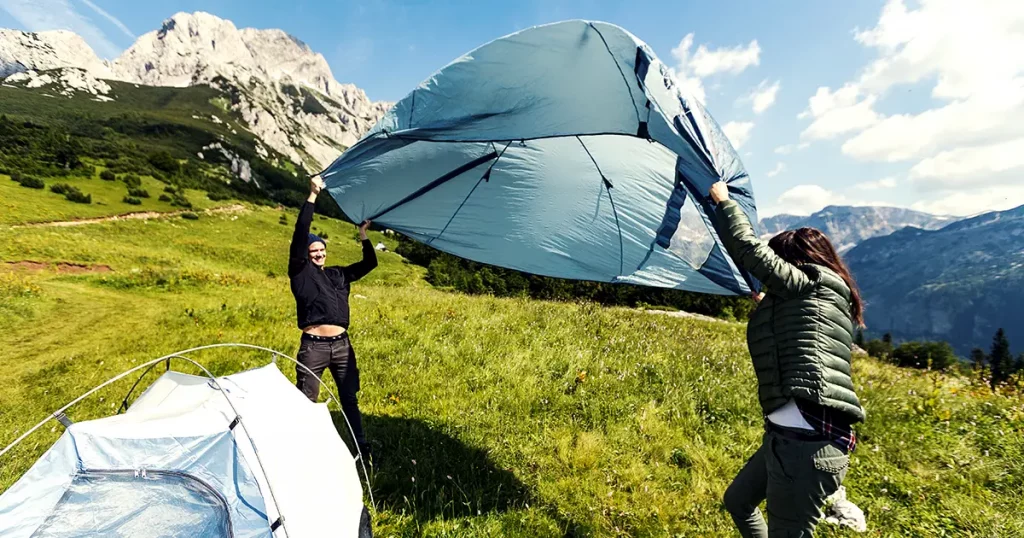 Camping in windy weather can be challenging. Looking at the frame of your tent can help to show how windproof it will be. The tent frame, made from individual poles which snap together, can be made from a few different materials.
The most common materials are aluminum and fiberglass. Aluminum has a few advantages: it tends to be cheaper and more lightweight, making it a popular choice for backpacking tents. Fiberglass is heavier, so more difficult to carry, but is stronger and more durable.
Seasons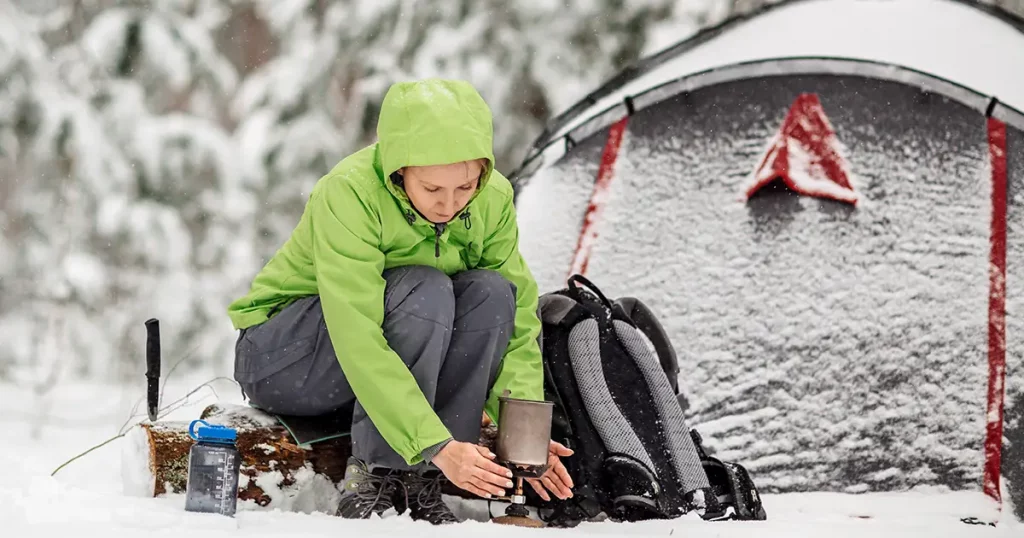 Check out the 'season' rating of your tent to see what weather conditions it is suited for:
1-Season – ideal for festivals or short camping trips, these are super-lightweight tents, only really good for guaranteed warm weather.
2-Seasons – these offer a little more rainproofing than 1-season tents but are still reasonably lightweight to carry
3-Seasons – one of the most popular ratings, 3-season tents are ideal for hot and cold weather and tend to be waterproof with good ventilation
4-seasons – designed for super-cold weather (like camping in snow), these are hardy tents you can take out in more extreme weather conditions
Materials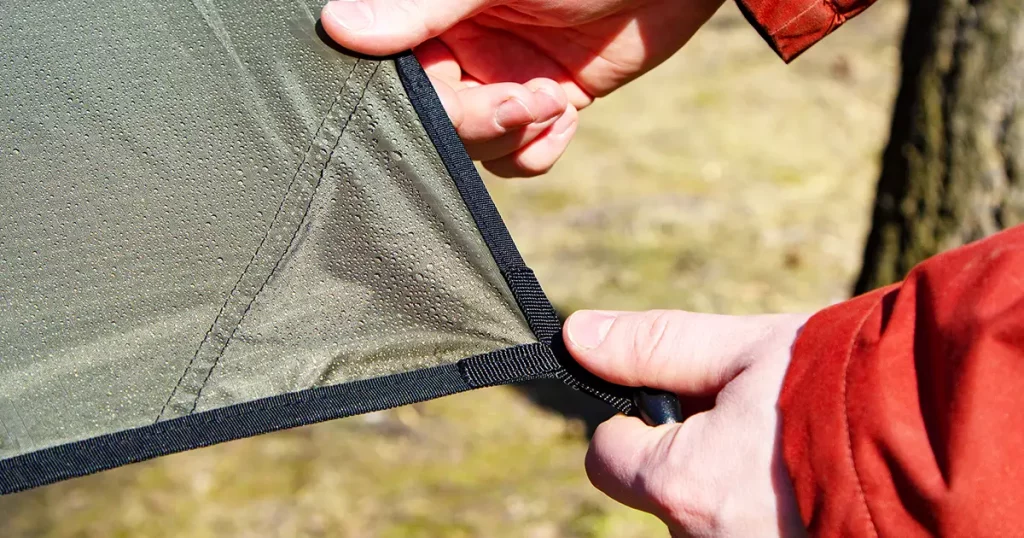 Tends are usually made from the following materials:
Nylon – This is a lightweight fabric, offering some waterproofing. However, it's not as durable as other tent materials and is prone to sun damage
Polyester – A popular tent fabric, polyester is hard-wearing and somewhat waterproof
Cotton – Rarer to find, cotton tents require some 'weathering' before use. You'll have to soak a cotton tent a couple of times (either by leaving it in the rain or soaking it with a hose), allowing the fibers to swell and draw together, making it waterproof for the next use.
Style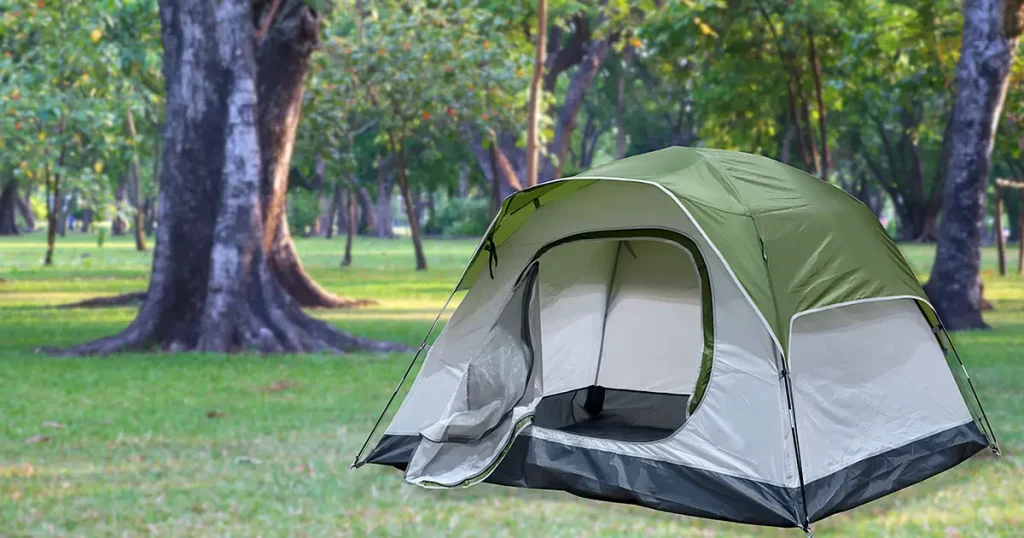 There are 2 main styles of tents, dome and cabin-style.
Dome Tents
Dome tents are closer to the ground. They offer less headroom and are usually popular backpacking tents. They have the advantage of being easy to put together and lightweight. They're also better in windy weather, as there is less tent material to get caught in a breeze.
Cabin-style tents
Cabin-style tents have straight walls. They offer a lot more headroom, making your tent feel more like home. This is ideal for longer trips. However, they tend to be heavier to carry around and less suitable for windy conditions.
Capacity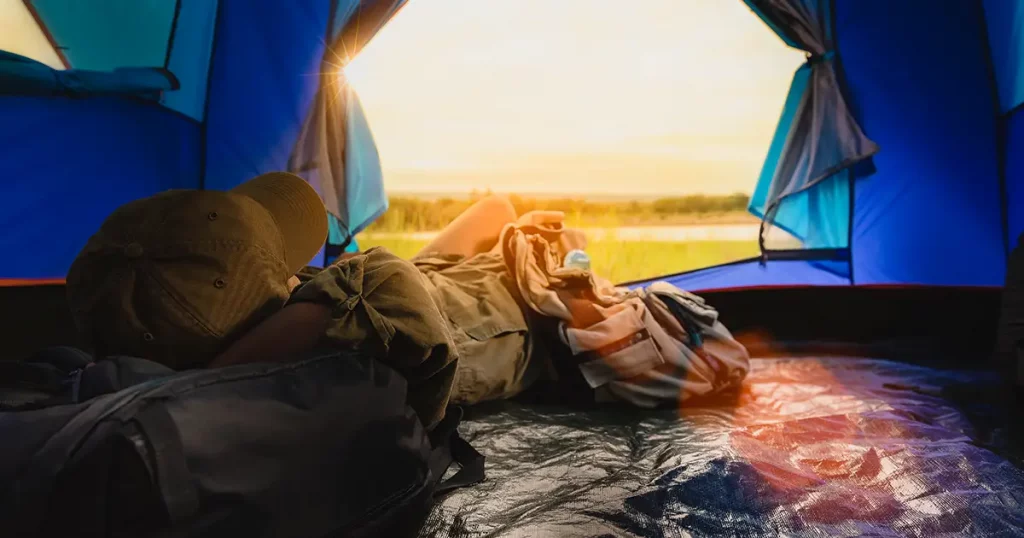 Tent capacity is measured by the number of people who can sleep in it (for example, 4-person tents should be able to sleep 4 people). However, these measurements aren't always the most reliable. For example, a 6-person tent may be able to technically sleep 6 people, but those 6 people would have to be squashed tightly together.
Looking at the floor plan and the measurements can help to give you a better picture of how many people will fit comfortably in your tent.
Ease of Use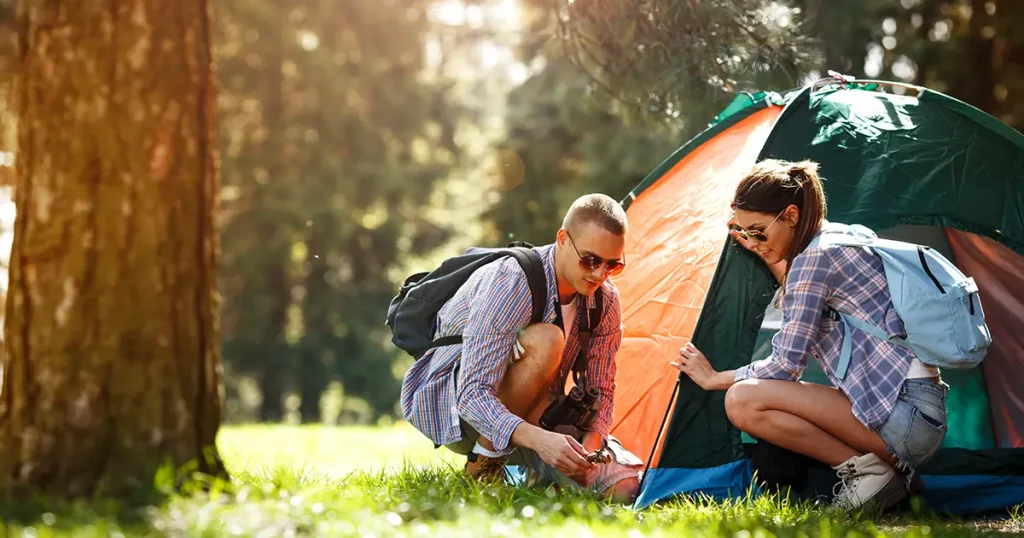 Tents can be tricky to set up, especially larger tents, as there's more material to work with. Instant tents relieve most of the stress, as they are designed to be assembled as quickly and easily as possible. Pop-up tents are another option: you can just throw them into the air, and they unfold by themselves (you can see how to set up a pop-up tent in this video). They aren't typically as durable as traditional tents, however.
Look for features like pre-threaded poles. This means the poles which make up the frame are already threaded through the outer tent material, which can be fiddly and time-consuming. You can also look for color-coded poles and instructions sewn into the tent bag to make the assembly process a little easier.
Storage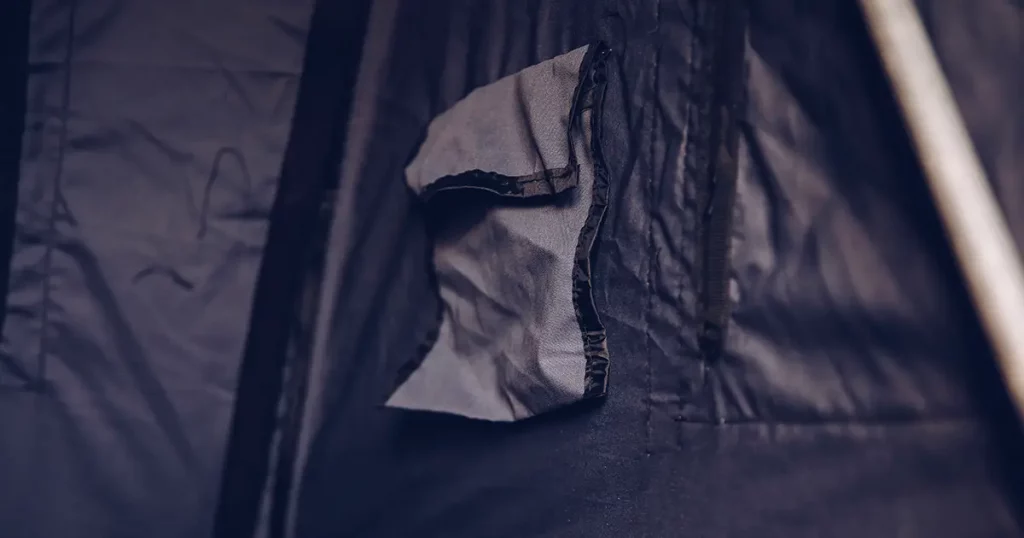 Storage is another key feature to think about. If you have a lot of gear, where will you keep it? Look for a vestibule, or overhead storage lofts, for your bulkier gear.
Your tent may also have smaller pockets. This is good for keeping items like your keys, phone, and water bottle safe and organized.
Extra Features
Some tents have extra features, but you'll typically pay more for them. You can find:
Built-in strip lighting
Blackout material to allow you to have a lie-in in the mornings
Built-in storage bins for organization
Frequently Asked Questions
Before you go, here are some commonly asked questions:
Can I return my tent if something goes wrong?
It depends on the tent manufacturer. They all offer different warranties, but usually only on manufacturing defects. It's always a good idea to check this before purchase and to register your product online straight away if required.
How can I take care of my tent?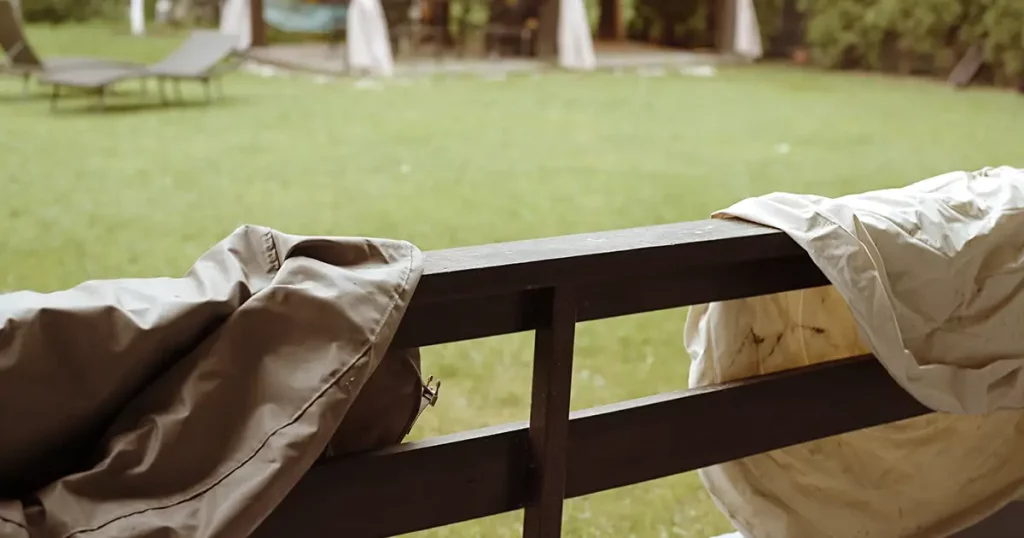 When you get home from a trip, you should check over and clean your tent. This can be as thorough as you need it to be. It may only need a quick clean, or it may require more scrubbing to remove caked-on mud. Check out our in-depth guide on how to wash a tent for tips.
A key thing to do is to make sure your tent is fully dry before packing it away. If you can't do this when you're on a trip, you can open up your tent when you get home and dry it that way. Read our guide on how to dry out a tent for more information on this. It's important to do this because any hidden damp patches may encourage mold to grow.
Can I fix my tent if it gets ripped or torn?
This depends on how badly your tent is ripped! You may be able to patch it up using nylon repair patches or similar products.
Our Final Thoughts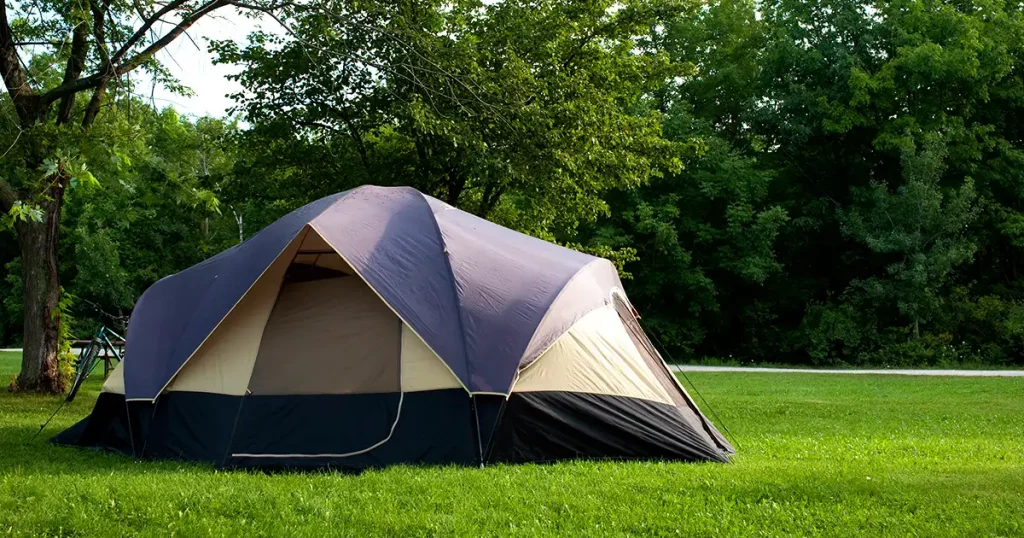 We hope this has helped you to find the best tent brand for you! With so many to choose from, it can be tough to know where to start. In our opinion, you can't really go wrong with one of the 5 brands we've looked at today.