Today, we'll be looking at the best 6-man tents on the market.
Whether you're a full party of 6, or you're a smaller party of 4 but you want some extra space, a 6-man tent is going to be a great option in terms of space to sleep and lounge around.
But with such a huge variety out there to choose from, how can you figure out which one is best for you? How can you tell which features you should prioritize? And how can you tell if it will keep you dry in bad weather?
Don't worry, we'll go through all of those things, so you'll know exactly what to look for.
Straight off the bat, we can tell you which tents we particularly like:
If you want to find out more about why we like them so much, keep reading …
We'll be talking about:
Which features you should look for
5 of the best 6-man tents out there, including their specs, pros and cons
Some frequently asked questions
Our verdict of the best 6-man tent.
First, an overview of all the tents we'll be looking at.
Best 6-Man Tents – an Overview
Model
Coleman Steel Creek Fast Pitch Dome Tent
HIKERGARDEN 6-Person Tent
ALPS Mountaineering Meramac 6-Person Tent
Mobihome 6-Person Pop-Up Tent
Picture
Model
Coleman Steel Creek Fast Pitch Dome Tent
Picture
Model
HIKERGARDEN 6-Person Tent
Picture
Model
ALPS Mountaineering Meramac 6-Person Tent
Picture
Picture
Model
Mobihome 6-Person Pop-Up Tent
Picture
Best 6-Man Tents – What to Look For
Capacity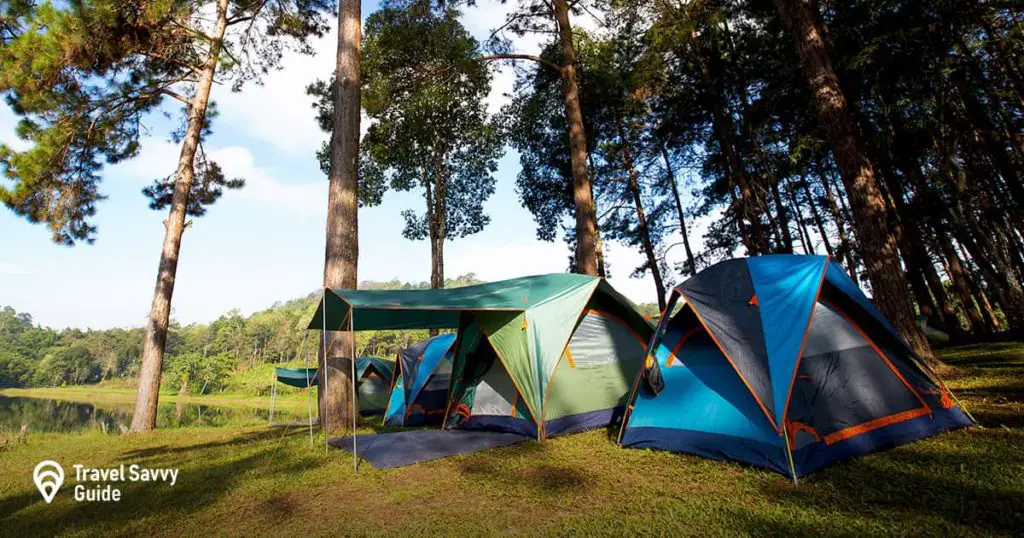 Can a 6-man tent actually fit six people? Technically, yes, if it's advertised as a 6-man tent, you should be able to fit 6 sleeping pads inside. However, depending on the size and shape of the tent, this may be a little snug. It's always best to check the measurements to see if your tent will allow for plenty of room between beds if there are six of you sleeping in there.
A 6-man tent is going to be pretty comfortable for a family of four, with extra room for storage.
Another thing to think about is headroom. Taller campers might find it difficult to find a tent that will allow them to stand up, but there are some out there. If you want maximum headroom, look for a tent with straight walls, as opposed to a dome tent. This will make your tent feel extra spacious and allow you to walk around without having to bend over all the time.
Layout
If there are a lot of you, layout may be another consideration. You can get tents with two or even three separate rooms, this is pretty handy if there's a lot of you and you want some space and privacy or you can go for a tent with one sleeping area, and one 'lounging' area.
You can also get tents that have a covered 'porch' area with mesh walls. This is a great way to enjoy sitting outdoors in the evenings whilst avoiding insect bites.
Seasons
Tents are manufactured to suit different seasons:
1 Season Tents – basic tents, designed for warm weather only – if you experience a downpour in a 1-season tent, you can expect it to soak through pretty fast. They have the bonus of being lightweight, which makes them a good option for festivals (if you can guarantee the weather will hold out).
2 Season Tents – designed for spring and summer, these can cope with a little bit of rain, but you can expect leaks in a storm or a downpour.
3 Season Tents – these versatile tents are designed to withstand a bit of a beating. They usually feature larger mesh windows for ventilation in warm weather, as well as waterproofing for rain. They tend to have stronger frames to withstand a bit of wind, too
4 Season Tents – designed for cold weather, these are heavyweight tents ideal for the more adventurous camper – but they're heavy to carry.
5-Season Tents – these are specialist tents designed for exploration in harsh conditions. They tend to be very expensive and harder to come by.
As a rule of thumb, a 3-season tent is a good way to go. A 3-season tent will cover most, and possibly, all needs and keep you dry, even if you experience a storm while you're camping. You're going to get the most value for money with a 3-season tent, as they're designed to keep you cool in warm weather too.
Weatherproofing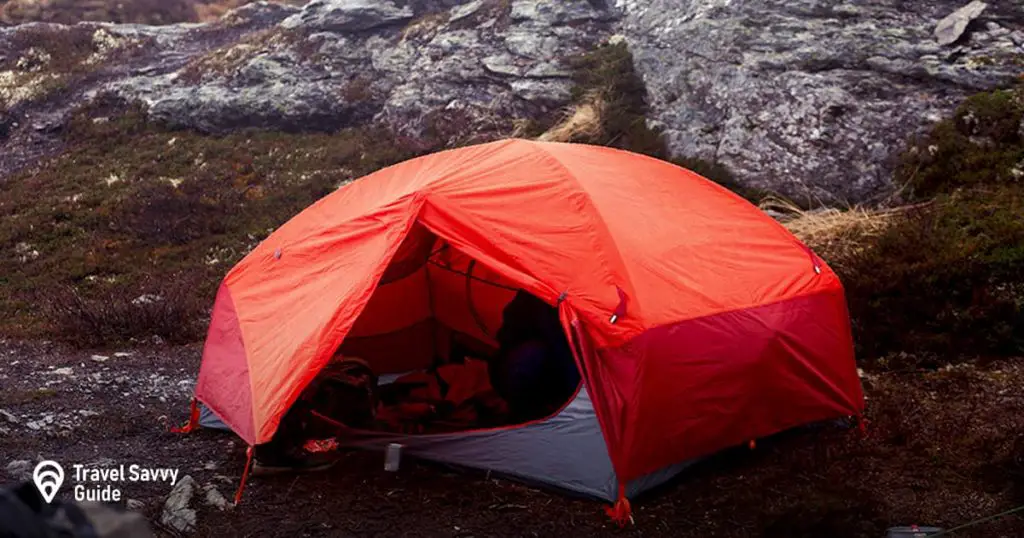 There are several things to look for if you want a tent that is going to keep you dry and warm.
The term 'hydrostatic head measurement' refers to how water resistant your tent is, by measuring the depth of the water that pools on the roof of your tent (in millimetres – so you might see 2,000mm/78.7in as the measurement). This means it can withstand that much water before it starts to seep through the material. 
As a rule of thumb, 1,500mm/59in is pretty good. Not all tent manufacturers use this measurement. However, you can still tell how rain-resistant a tent might be by the materials used (more on that in a moment), as well as extra features like heat-sealed seams (to keep rain from coming in at the edges) and covered zippers (to stop rain from sneaking in via the entryways).
Most tents come with a rain fly included – this is the outer layer that will keep your inner tent from getting wet. Some tents also come with a tent footprint – this is a moisture-proof layer that goes underneath your tent, giving you a bit of extra protection. You can buy these separately if your tent doesn't come with one.
Materials
The materials used can give you a clue about how well it will hold up in different weathers:
Poly Vinyl Chloride (PVC) is a good option for a budget tent. Tents with 'PVC' listed tend to be made from cotton, then coated afterwards. It's a cheaper option but not very breathable, which can cause problems with condensation.
Polyester – this is a durable and lightweight option. They tend to be coated in a solution, normally acrylic or polyurethane. This helps to make it extra waterproof.
Nylon – this is coated in the same way as polyester, but is a bit cheaper, so it's more likely to wear out.
Polycotton Canvas – these are a cotton/polyester mixture and are usually coated for extra weather protection.
Cotton – cotton tents keep rain out by using a process of 'weathering' (which needs to be done before you go). Leaving them out in the rain a few times allows the fibres to swell, drawing them close together and preventing leaks.
The tent poles (or rods) can be made from aluminum or fiberglass. Aluminum is nice and lightweight, so it's good for travellers, but it can be prone to rust. Fiberglass has the benefit of being stronger, and it doesn't conduct electricity (this makes you a tiny bit safer in the event of a thunderstorm – however, the likelihood of your tent getting hit by lightning is extremely low, so you might not be too concerned about picking fiberglass for this reason). However, fiberglass poles are heavier which is a disadvantage.
The last thing to consider is ventilation. Most tents come with large windows with mesh panels, to keep insects out, but at the same time, allow air to flow through.
Ease of Setup
Finally, there's the setup to consider. Some larger tents are, by their nature, a bit more time-consuming to set up. The larger the tent, the more poles it requires. So, if you want to go for a super-large tent, you'll have to live with the longer set up time.
Having said that, there are some 6-person tents out there that can be assembled instantly (we'll look at a model like this a little later). This is a pretty good beginner option, but pop-up tents don't tend to be as durable, as they're made from umbrella-like frames rather than study poles.
Now let's take a look at some of the best 6-person tents out there.
Coleman Steel Creek Fast Pitch Dome Tent – Best for Quick Assembly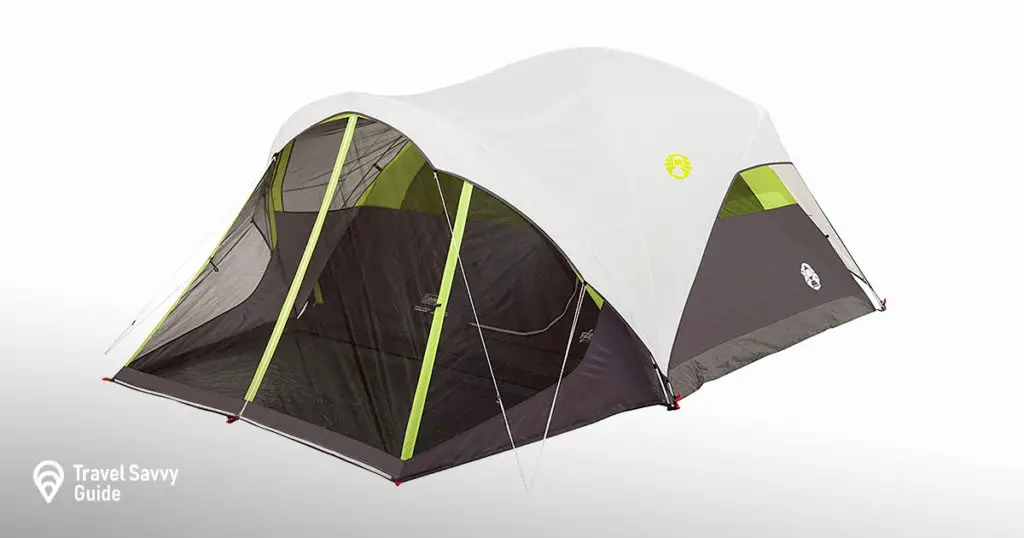 Key Features
Sleeps: 6
Size of Main Tent Area:
10 x 9 x 5ft 8in
120 x 108 x 70in
305 x 274 x 178cm
Size of Screen Room:
10 x 5ft
120 x 60in
305 x 152cm
Size Packed:
24 x 12in
61 x 30cm
Weight: 20.9lbs / 9.48kg
Materials: Coated polyester
Seasons: 3
Coleman Steel Creek Fast Pitch Dome Tent with Screen Room, 6-Person , White, 10' x 9'
6-person dome tent features a separate screen room for insect-less lounging and extra sleeping space
Fast Pitch tent design sets up in about 7 minutes
WeatherTec system and rainfly keep tent interior dry and comfortable
Durable Polyguard fabric and strong frame designed to last season after season
Measures 10 x 9 feet with 10- x 5-foot screen room; accommodates 2 queen-sized airbeds
Coleman Steel Creek Fast Pitch Dome Tent is perfect if you want to get your tent up in a hurry. It's pretty roomy even for the max capacity of 6 people – it can fit two queen-sized airbeds. Plus, it has the added bonus of a separate screen room with mesh walls, so you can still feel the fresh air whilst keeping insects out. It has small storage pockets sewn into the walls and an e-port for an electric connection.
Weather-protection wise, it's pretty good. Without the rainfly, it works beautifully with the mesh walls in the warm weather, allowing plenty of ventilation. With the rainfly (which has been coated with Coleman's WeatherTec coating), it will keep a downpour at bay. It has window awnings which is a nice touch – this allows you to keep the windows open for circulation without the risk of letting the rain in. The downside is that some users experienced issues with the poles bending or even breaking in extremely windy conditions.
The main draw of this tent is the ease of setup. For a super-quick assembly, it has color-coded poles that snap easily into place. It's not the same as an instant tent, but it can be done by one person, with most users getting it assembled in twenty minutes or less. 
Pros
Good for warm weather and rain
Nice and roomy
Screen room is great for avoiding insects in the evenings
Easy to set up
Cons
Poles aren't built to withstand very windy conditions
Check Price
HIKERGARDEN 6-Person Tent – Best All-Rounder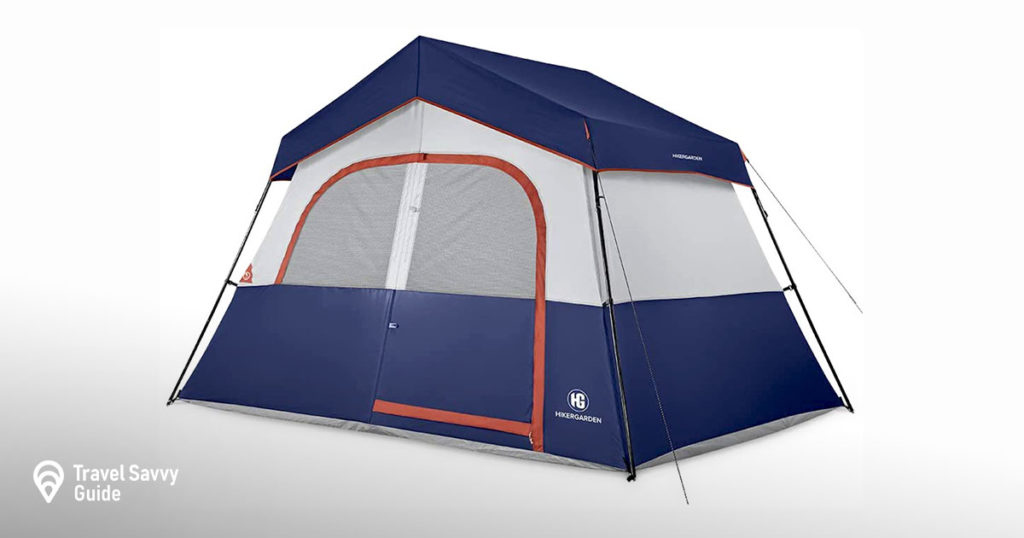 Key Features
Sleeps: 6
Size:
10 x 8 x 6ft 3in
120 x 96 x 76in
305 x 244 x 193cm
Size Packed:
24 x 8.7in
61 x 23cm
Weight: 23lbs / 10.43kg
Materials: Polyester
Seasons: 3
HIKERGARDEN 2021 Upgraded Camping Tent - 6 Person Tent for Camping, Family Tent, Fabric, with Large Mesh for Ventilation, Easy Set Up, Double Layer and Divided Curtain, Blue
【Spacious- 6 Person Tent】- HIKERGARDEN 6 person tent is large enough inside for family outdoor adventure. With the dimension of 120 x 96 x 76 inches, the HIKERGARDEN tent is larger than the normal tent, which you can stroll in the large center section without stopping. 2 queen air mattresses or 6 sleeping bags are well fit inside. Camping tent for 6 person, an ideal family tent for outdoor camping site or car camping in all weather.
【Professional Waterproof & Windproof】- By professional testing, the HIKERGARDEN upgraded camping tent guarantees waterproof. Never makes you feel wet and uncomfortable on a rainy day. Our 6 person camping tent for waterproof, top rainfly is strong fixed with hooks and can never be blown away.
【Durable- Reinforced Steel Poles】- Engineered to be a stronger, more wind-responsive frame, all reinforced steel poles make HIKERGARDEN camping tent more stable on a windy and rainy day. Each camping tent is designed with a double layer. The high quality of the pole set makes sure it is much stronger than pop-up tents.
【Large Room Ventilation & Breathable】-Designed with Upgraded Ventilation System, this 6 person camping tent has 1 large mesh door and 4 mesh windows and it enables fresh air and a warm breeze to come in and out easily. Meanwhile, you could also enjoy movie time at night when projecting with your family members.
【Easy Setup & Portable】- Easy Install in 5mins and no particular skills needed. Thick and durable material and long nails at corners to make it stands well. Each package included a carry bag, making it much more convenient for you, and your camping trip is more delightful and comfortable!
The HIKERGARDEN Camping Tent is big enough to fit two queen-sized air mattresses, and it's on the taller side too – many people will be able to stand comfortably inside it. For such a large tent, it can be folded and stored in a compact carry bag. It has an e-port (this allows you to thread an extension cord through without worrying about leaks or draughts), and small mesh pockets for storage.
It has been professionally water tested against leaks, with 1,000mm/ 39.3in of water resistance. That's enough to keep out most rain showers, although heavy storms and downpours might result in a small amount of leakage. It has a strong frame, which is great for windy weather. It also has four large mesh windows which is great for ventilation. The rainfly can be removed, leaving a large window on the ceiling – great for star gazing whilst keeping insects out.
This tent says it can be set up in five minutes, but most users find it takes a little longer than that. It's a fairly straightforward process though, with clear instructions. 
Pros
Very roomy with plenty of headroom
Decent weather protection and strong poles for windy weather
Good ventilation with large windows
Fairly easy set up
Cons
Not the most rain-proof tent out there, so it may struggle in an intense downpour
Check Price
ALPS Mountaineering Meramac 6-Person Tent – Best for a Tight Budget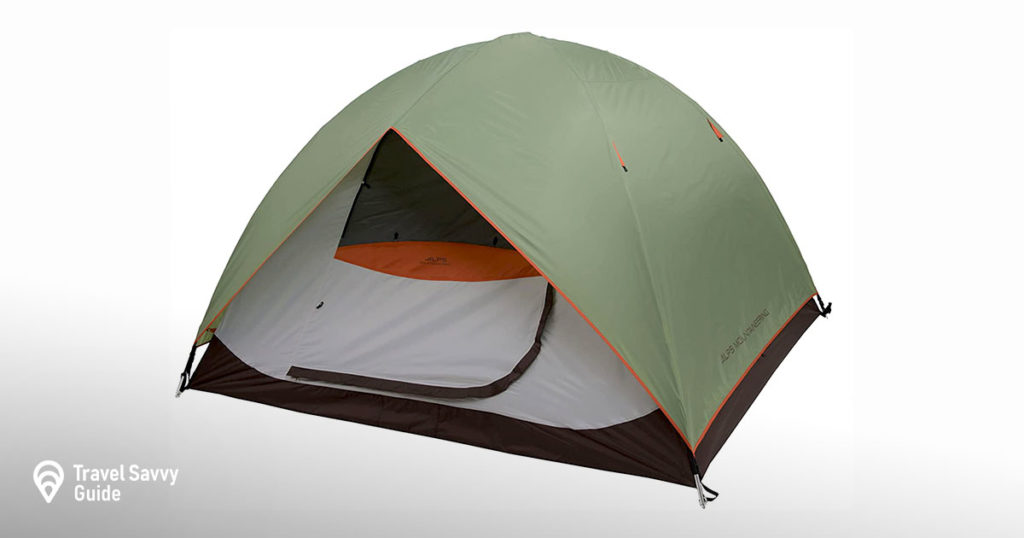 Key Features
Sleeps: 6
Size:
10 x 10 x 6ft
120 x 120 x 72in
304 x 304 x 183cm
Size Packed:
8 x 25in
20 x 64cm
Weight: 16lbs 1oz / 7.30kg
Materials
Fly: Polyester with 1,500mm coating
Floor: Poly-taffeta with 1,500mm coating
Seasons: 3
The ALPS Mountaineering Meramac Tent isn't the largest on this list due to the shape (it's dome-shaped with just the one room). It doesn't have a separate area for lounging, for example, so you'd have to sit outside if you had the max capacity of people. It'd be ideally suited for four people wanting a bit of extra room to sit around or to store their gear. It has a good amount of head room, which is great for taller people.
The main benefit of this tent is the weatherproofing. With a coated polyester rain fly (with 1,500mm/ 59in coating), factory sealed seams, and 1,500mm/59in coated floor, it's good enough to keep the rain out. The rain fly can be rolled back for more ventilation on warm days, and it comes with heavy-duty fiberglass poles – these are superb for windy conditions.
It's straightforward to set up, with most users managing to set it up with two people. It's a good budget option, too. 
Pros
Decent amount of headspace
Very weatherproof – perfect for all conditions
Straightforward to set up
Cons
Doesn't have the most floor space
Check Price
Eureka! Copper Canyon LX – Best for Tall Campers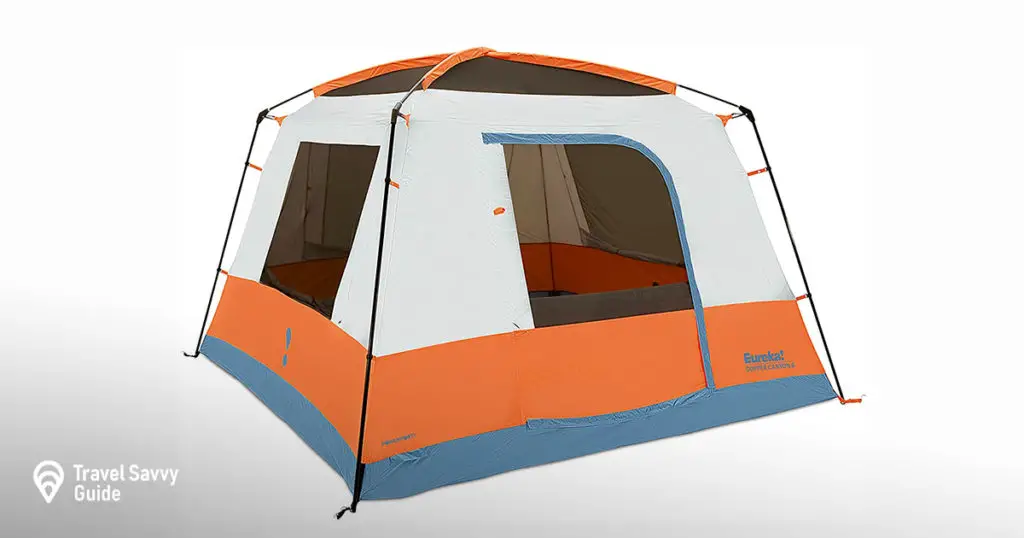 Key Features
Sleeps: 6
Size:
10 x 10 x 7ft
120 x 120 x 84in
304 x 304 x 213cm
Size Packed:
9 x 28in
23 x 71in
Weight: 21lbs 15oz / 9.59kg
Materials
Rain Fly:1500mm coated polyester taffeta
Floor: 1500mm coated polyester taffeta
Seasons: 3
Sale
Eureka! Copper Canyon LX, 3 Season, Family and Car Camping Tent (6 Person)
The Eureka! Copper Canyon LX 6 six-person, three-season camping tent is your home away from home. Easy setup, smart features, and full standing height make it Eureka's most livable family car camping tent.
Durable, steel and fiberglass frame features pole sleeves corner hubs, and quick clips for simple 1 person set up.
Steep walls create lots of standing room and are ideal when camping with air mattress and cots.
Large mesh windows with waterproof curtains offer scenic views and plenty of ventilation.
Extended fly coverage over the door provides extra weather protection and dry entryway.
The Eureka! Copper Canyon is the largest on this list, and it features a massive 7ft/213cm of headroom. That's enough for most people to stand in comfortably. It has straight walls with plenty of floor space, with a dry entryway and a zippered e-port (for an extension cable to go through). Plus, it has an overhead storage compartment, which is a great use of space.
It has decent weatherproofing too. At 1,500mm/59in of coating, the rainfly has enough to keep the rain out, and the very large mesh windows allow for plenty of ventilation on warmer nights. It's a good one if you want to enjoy the views without being devoured by insects in the evenings.
The only downside is that it is one of the more complex tents to assemble – it would be a good idea to practice this one beforehand, and due to the size, it will take more than one of you to put it together. 
Pros
Lots of floorspace
Lots of headroom
Decent storage to keep things out of the way
Good waterproofing and ventilation
Cons
Can be difficult to put together
Check Price
Mobihome 6-Person Pop Up Tent – Best Pop-Up Tent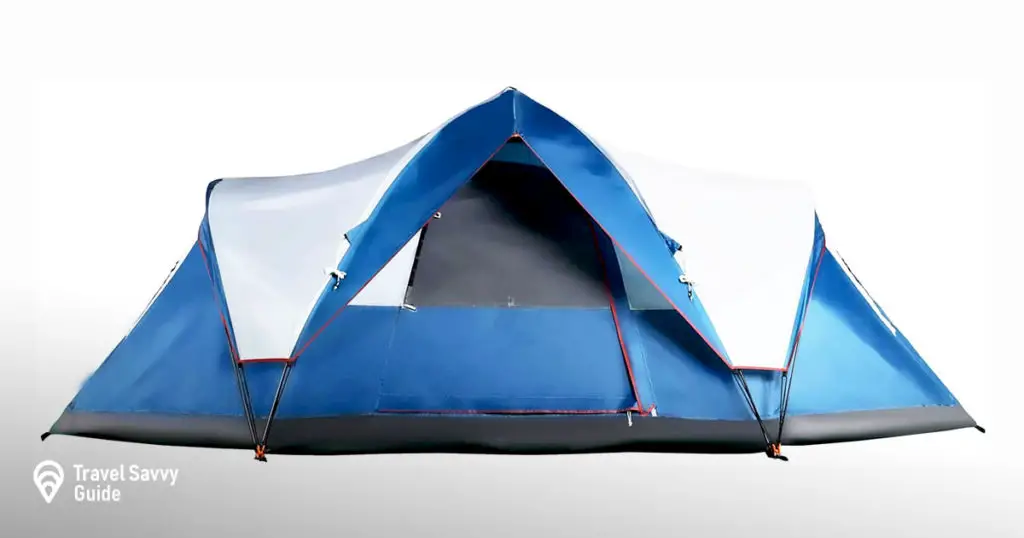 Key Features
Sleeps: 6
Size:
13 x 7 x 4.5ft
161 x 83 x 55in
410 x 210 x 140cm
Size Packed:
35 x 9in
88.9 x 22.8cm
Weight: 14lbs 3oz / 6.48kg
Materials
Rain Fly: 1500mm Coated Polyester
Floor: Polyethelene
Seasons: 3
Mobihome Family Camping Tent with Instant Setup in 60 Seconds, Quick Pop up Tent with Waterproof Rainfly - 13.5' x 7', Blue
INSTANT EASY SETUP TENT - Special hub system design for single operation - Up in seconds, down in a flash; Set up instantly in minutes - Roll it out, lock your poles, pull the drawstring and QUICK UP the tent, so easy!
DURABLE & WATER-RESISTANT - High-class 190T polyester fabrics; Sturdy, watertight PE tent floor; sealed seams; fully taped removable rainfly; 2-ways zippers door/window for maxzing strong water-resistance and long-lasting life time
SPACIOUS & COMFORTABLE - Camping dome tent with spacious design offers enough room for 2 parents with 2-3 children to sleep comfortably. It fits 2 air beds (Size:77''x 53'') and and other camping gears as backpack and so on.
LIGHTWEIGHT & VENTILATIVE - famliy tent with the portable carrying bag; big breathable top mesh roof and windows not only protects against insects/mosquito and enhanced air circulation but also allow you to look at the scenery outdoor conveniently.
MOBIHOME BRAND PROMISE - Welcome to contact our amazing customer service team if you have any questions or concers; We attach great important to every customer and promise to do best to solve your issuses; Customer friendly 1-year warranty;family tent is fully equipped with rainfly X 1, storage pocket X 4, side poles X 2, vestibule pole X 1, steel stakes X 14, guy lines x 6, carrying bag X 1.
The Mobihome 6-Person Pop-Up Tent is very roomy, with enough space for two queen-sized air mattresses. This tent has four storage pockets for stowing away your essentials but doesn't have an overhead storage area or an e-port.
The tent has a 1,500mm/59in rainfly, which suggests that it will be waterproof, but users have found that it's not the best option out there for extreme weathers, with some reporting leaks. It doesn't have a strong, wind-proof frame either. It does have good ventilation, and you can do a bit of stargazing if you roll the rainfly back, which is a nice feature. Overall, it's more suited to warm weather camping.
The main draw, however, has to be the setup. You have to spread the tent flat onto the ground with the poles fully extended, hold the bottom of the hub with one hand, and then pull it upwards with the other hand until it locks into place – and that's it! 
Pros
Quite roomy for six people
Good ventilation
Very easy set-up
Cons
Not great for very windy or rainy conditions
Check Price
Frequently Asked Questions About the Best 6 Man Tent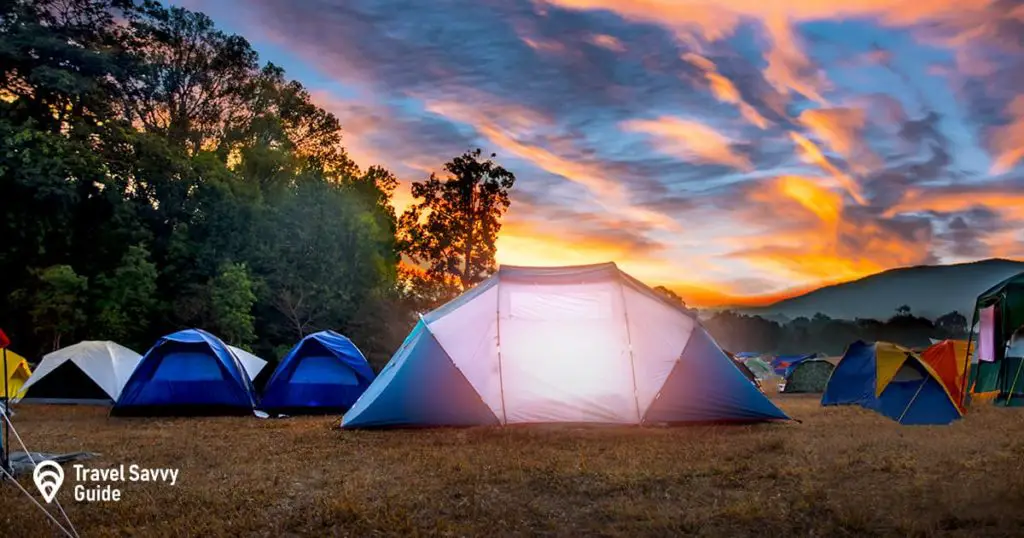 If you still have a few questions, we may have the answer here.
Is it worth spending a lot of money on a tent?
That depends on what you're looking for. As a general rule, better quality materials and more features will usually cost more. However, you do get the odd exception, with some tents being very good despite having a low price point. It's always worth checking reviews to read users' opinions.
What equipment do I need to start camping?
The most important things are: the tent (obviously), air mattresses or sleeping pads, sleeping bags, a camping stove if you want to cook outdoors, and decent water bottles to keep everyone hydrated. You can also look for some good waterproof clothing, too – we have a round-up of the best travel jackets for men and women if you want to take a look.
Should I trust a tent from a lesser brand?
Again, you should always go by reviews. Generally speaking, the big-name brands tend to make reliable tents that you can trust (think Coleman, ALPS Mountaineering, Big Agnes, and The North Face), but that doesn't mean you should disregard tents by smaller brands – you can get some great models out there that have all the same specs and features as the more 'famous' brands have to offer.
Should I go for a tent with a good warranty?
Many tent manufacturers offer a one-year warranty. That's usually enough to test it out a couple of times to notice any faults. It's always a good idea to pick a tent with a warranty if possible.
Conclusion – Which is the Best 6-Man Tent?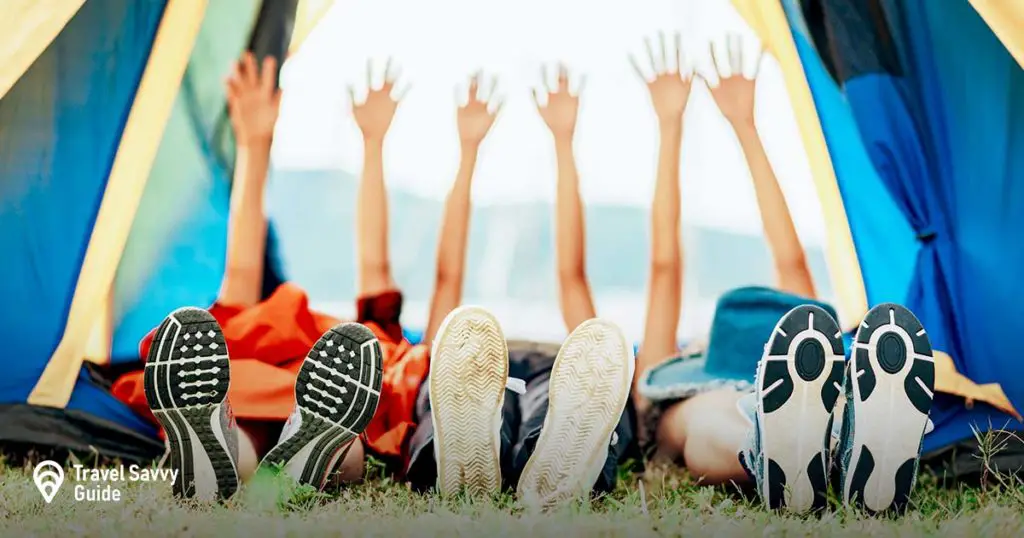 All the tents we've looked at today are good for different reasons. But which are the best 6-man tents?
However, if we had to choose, we'd probably go for the Eureka! Copper Canyon. 
It's going to feel like the most luxurious and comfortable choice, especially if you are camping at max capacity. The huge amount of headroom is perfect for tall campers, and the straight walls with overhead storage will make it feel very spacious. It also has decent weatherproofing and the large windows will allow you to gaze outside in the evenings. 
Despite it being a bit more complicated to assemble, we'd still recommend it if you want a real home away from home.