Camping alone as a woman can be an empowering experience. If you've never done it before, our female camping guide can help you to prepare.
There's nothing quite like the thrill of heading off into the wilderness alone, and these adventures can be life-changing. However, as a woman, there are some things you have to take into consideration, including some pretty vital safety concerns.
We'll talk you through how to stay safe and comfortable on your solo camping trip, and we'll give you some product recommendations, and hints and tips on how to ensure your adventure runs as smoothly as possible.
The Pros and Cons of Camping Alone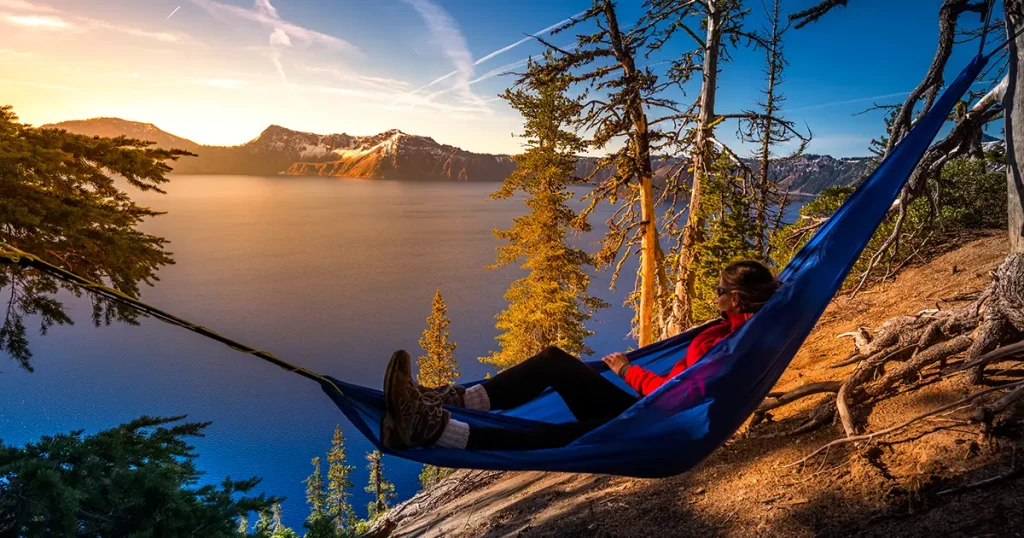 Want to camp alone, but not sure if it's the right choice for you?
Here are the pros and cons:
Pros
Solitude. Sometimes, you just need to take a break for yourself from everyone else. Camping alone can bring you a sense of calm and peace that you may not get from camping with other people.
Control. When you camp alone, you can be a lot more flexible. If you want to suddenly change direction or go home early, you can decide for yourself.
Adventure. Camping alone can be tough, but it's a fun adventure. You can learn a lot about the world (and yourself!) by going out in nature and relying on your instincts.
Cons
Safety. The main drawback, of course, is the safety aspect. Being alone, as a woman, can feel daunting. There are a few things you can do to keep yourself safe, but you may prefer the safety of being around other people.
Effort. You'll have to put all the work in yourself, including planning, pitching a tent, and setting everything up.
Loneliness. While some people crave being alone, others prefer to be around people. Plus, some things are just harder to do alone. Like taking a decent picture of yourself in a beautiful location!
Female Camping – Planning and Preparation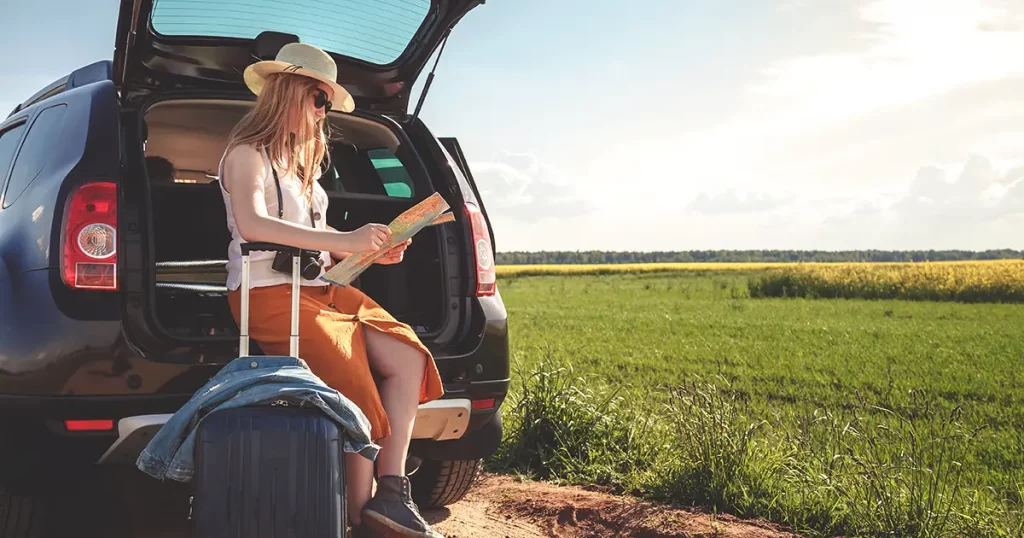 Preparation is the key to a successful camping trip. While you can't plan for every eventuality, there are a few things you can do to make sure you stay safe, happy, and comfortable on your first trip.
Safety
Camping alone as a woman can feel daunting if you've never done it before. There are a few key things to consider in terms of staying safe.
Firstly, it's a good idea to get to know where you're going. Research the area for a safer and more comfortable trip.
Weather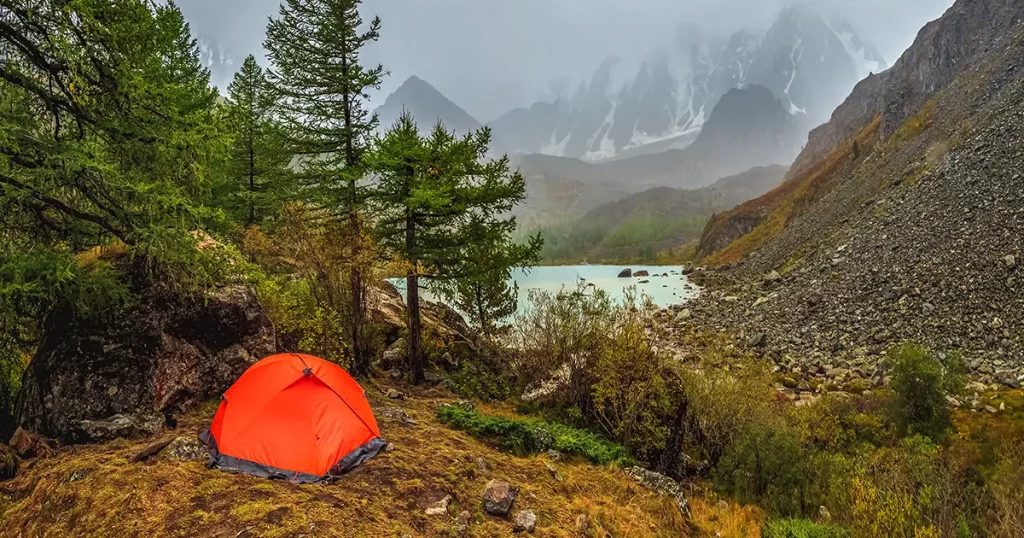 What is the climate like where you're going? Can you expect heavy rain? High winds? Scorching sun? How will you protect yourself from the elements? Having an idea of what the weather is typically like will enable you to bring the right gear.
It's a good idea to have a plan, too. Is there somewhere to go nearby if it rains heavily and you need to shelter? How will you reinforce your tent if the wind picks up? How will you stay cool if the weather is hot? Having an action plan is always a good call.
Finally, while it sounds a little dramatic, have a plan in place in case of wildfires. If you're camping in hot weather in a forest area, wildfires can spread incredibly quickly, and you'll need to know what the protocol is in terms of safely evacuating.
Wildlife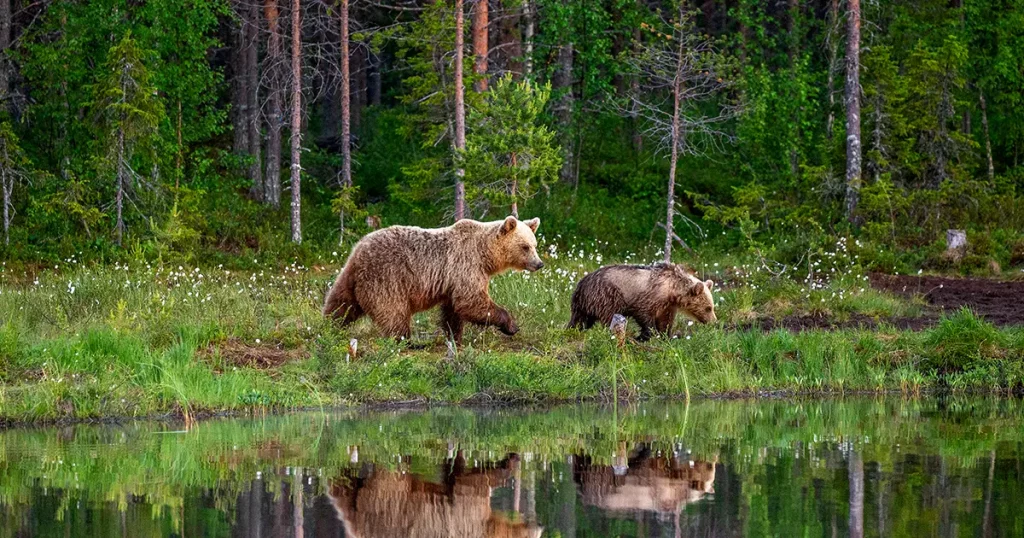 You'll feel much safer if you know in advance what kind of creatures live nearby! For example, you might be camping near bears, which means you'll have to prepare. The US National Parks Service has some great ideas on how to stay safe around bears.
It's also a good idea to be able to identify poisonous plants. Check out this visual guide to poisonous plants by WebMD for a quick overview.
Hiking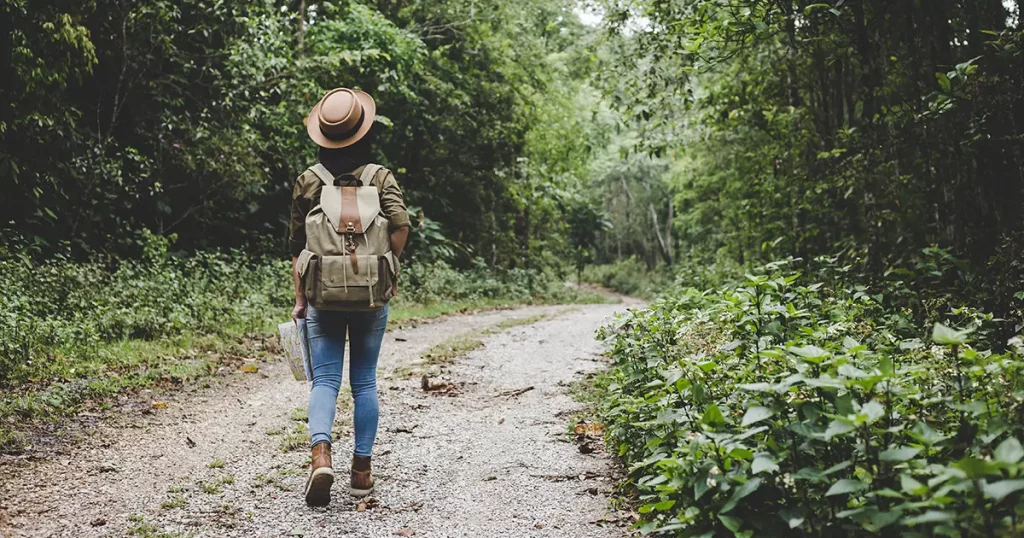 Research any trails you plan to go on before you get there. Alltrails is a good resource, or you may be able to find a paper trail map depending on where you decide to go. It's a good idea to download maps to your phone, or print them out, in case you can't get cellphone service. Make sure to always stick to the trail – wandering away may be dangerous.
General Safety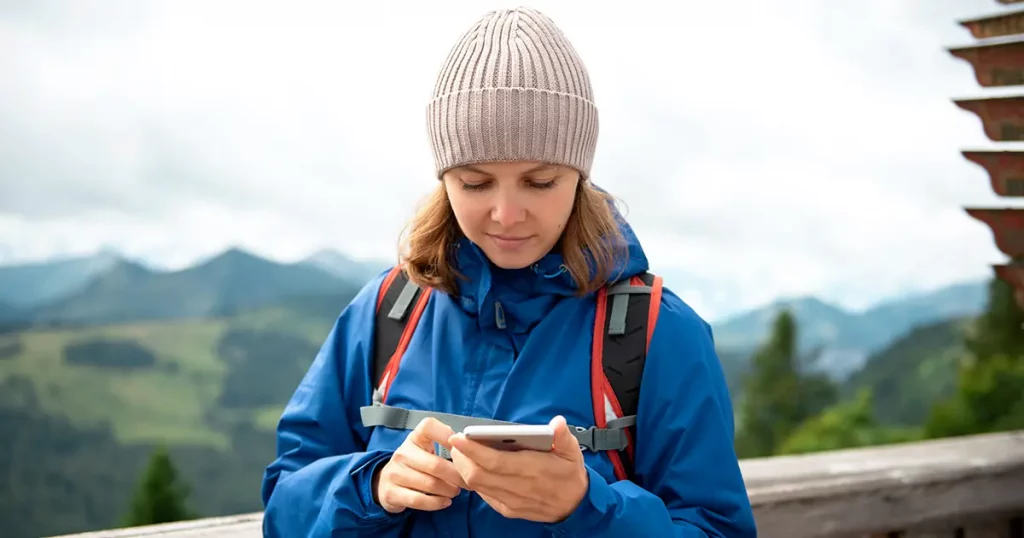 Never advertise your current location on social media. If you're camping alone, this is important, especially if your social media profiles are public. To be on the safe side, post pictures when you get home (or when you've moved to a different place).
Keep your phone fully charged in case of an emergency. You could invest in a portable power bank, which you can charge before you go. If your battery starts to run low and you're away from your campsite, you can charge it up in your hiking backpack.
We'd recommend camping on a campsite to start with and consider camping near other people. While camping all alone sounds exciting, there's comfort in knowing that other people are nearby if something goes wrong.
You can always consider camping with your dog. This will give you some company and comfort along the way!
Emergency Plan
It's a good idea to have an emergency plan if things go wrong. Have a backup person (ideally more than 1 person) who knows where you'll be and how long you plan to be there. Check-in with them at regular intervals, and arrange a plan if something goes wrong and you need help.
You can also use an app like Circle of 6, which will allow you to notify 6 people of your location at any time.
Safety Essentials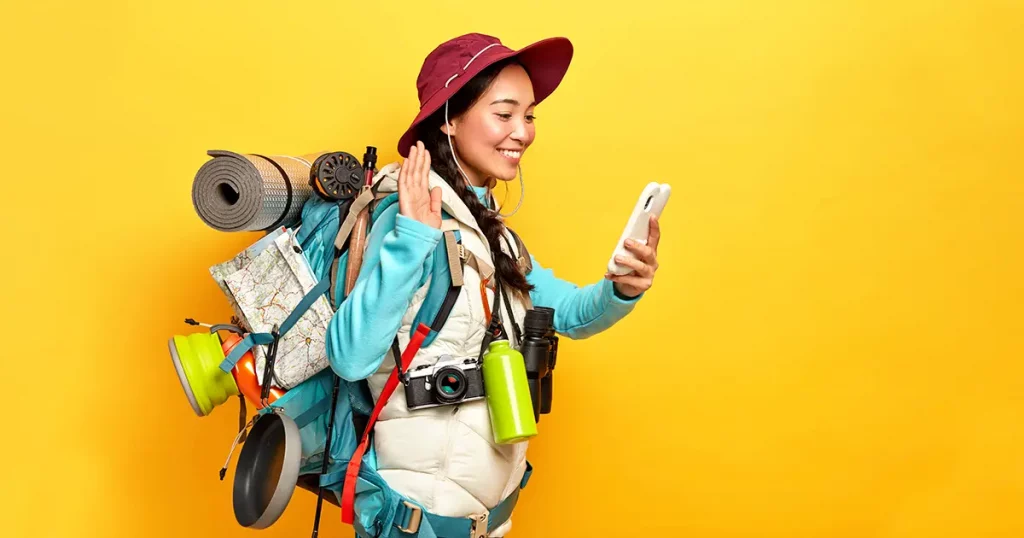 There are some key items we'd recommend bringing with you:
Trust Your Gut
Last but not least – trust your instincts. If you start to feel unsettled for any reason, don't brazen it out. Seek a crowded area, and find other people to help if you need to. 
If you're with someone else and they're making you feel uncomfortable, don't worry about being polite. Shout, run, call for other people – you can't be too cautious if you're traveling alone.
Comfort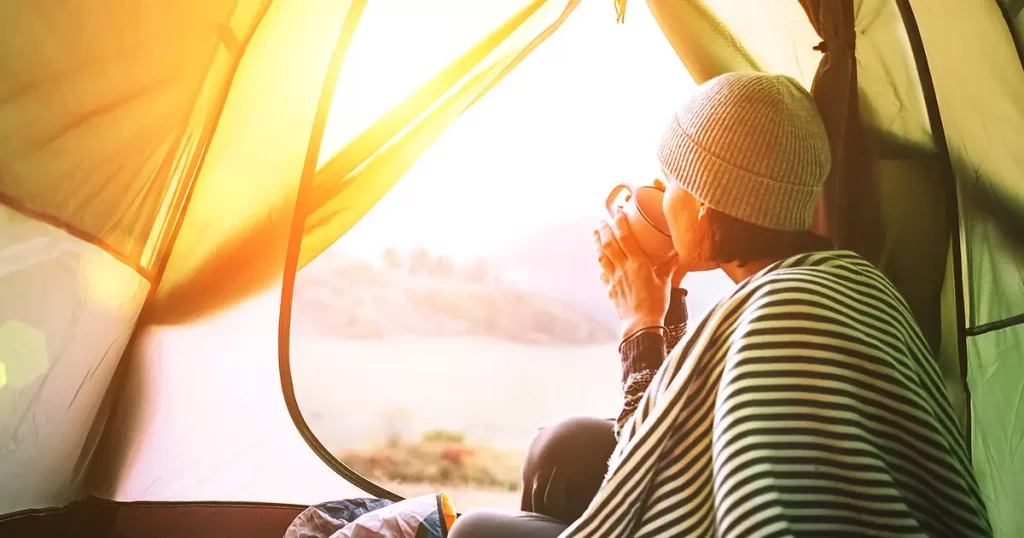 Setting up a comfortable area to rest when you're camping alone can be tricky, as you may be limited in terms of how much you can carry.
Preparation
You should practice pitching your tent before you go. It's also a good idea to do a practice run setting up the equipment you'll need (inflating and deflating your airbed, using your camping stove, setting up a hammock, and so on).
Warmth
A common problem in camping is the cold at night. Make sure you bring plenty of layers, so you can add more or remove them when needed. Bring a pair of warm socks, and a hat, to stop you from losing heat in those key areas.
We'd also recommend bringing a hot water bottle, as it's a quick and easy way to warm up your bed at night.
Make sure you bring a warm sleeping bag, too!
Backpacking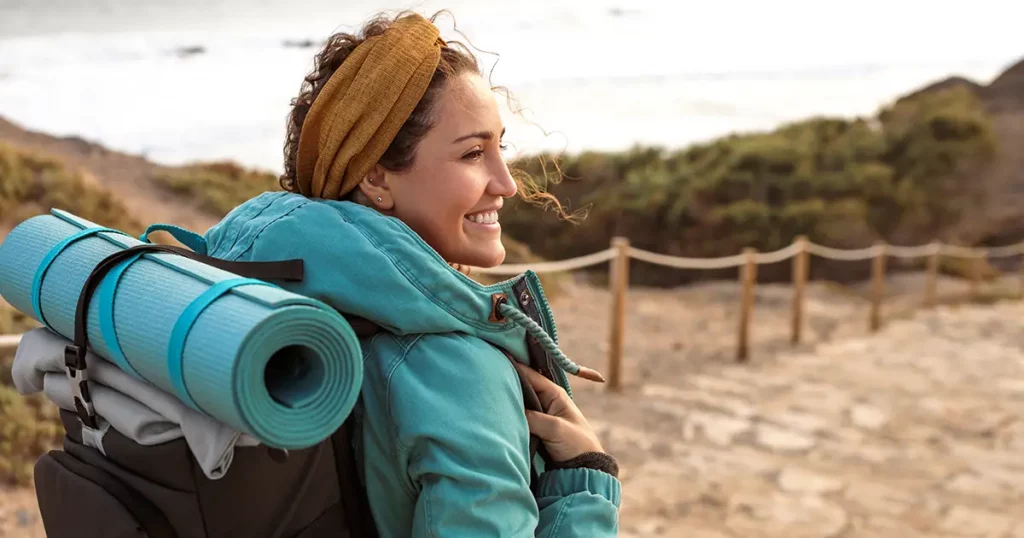 If you're backpacking, make sure you practice how to fit everything in your pack plenty of times before you go. Practice carrying everything – is it too heavy? Will you be able to handle traveling for longer distances while wearing your backpack?
Organization
Staying organized on a camping trip can be a headache, especially if you've got a lot of gear with you. If you're bringing your car, we'd recommend organizing your items into plastic storage bins. These are hard-wearing and can be lifted in and out of your car easily.
You can also bring collapsible storage bins to help organize your items.
Packing cubes are always a good idea. You can organize your clothes by type or outfit, and it'll make it way easier to find what you're looking for (plus, you can fit more clothes in your bag if you roll them into packing cubes first).
Hygiene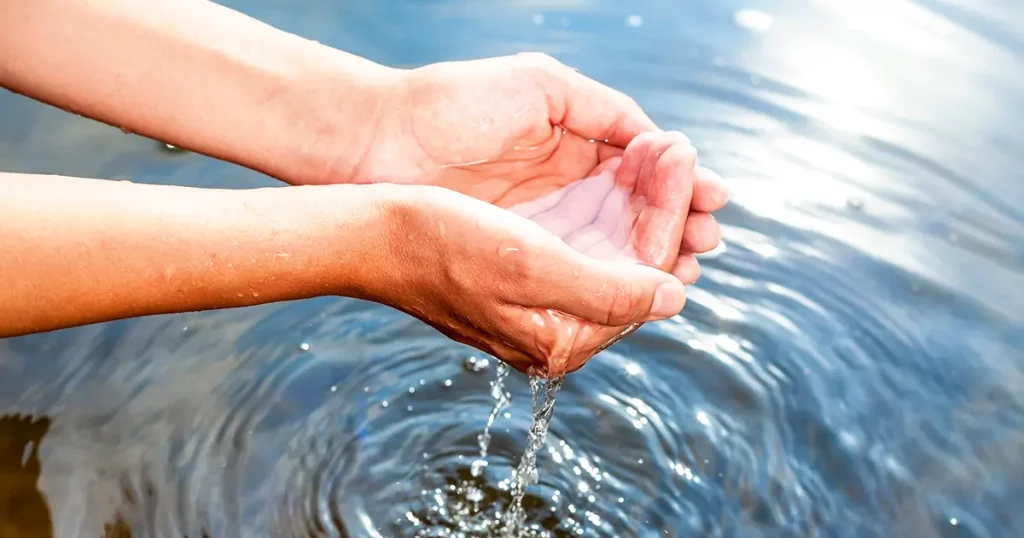 If you're at a campsite, hygiene is easier to take care of. You'll be able to stay clean pretty easily using the on-site bathrooms.
However, you might be camping with limited resources for washing. Here are a few tips for staying clean on the go:
Hair
There are a few things to think about when it comes to hair:
Braid your hair. This is a really easy way to keep your hair out of your face. Keeping your hair loose, or wearing it in a ponytail, can cause it to snag if you're hiking near bushes or trees.
Wash and condition your hair before you go. Using a deep conditioning treatment before and after your trip can help to mitigate some of the damage that comes from being out in the elements.
Embrace the dry shampoo. You won't be able to wash your hair as much as you usually do, so using dry shampoo can help you to feel fresh.
Body
The main thing to think about is this: you won't be able to wash as much as you usually would. Embrace the adventure, and don't worry too much. You can bring a pack of wet wipes to freshen up between showers.
Skin
For the sake of space, you'll probably want to leave your make-up at home. You'll also want to pare down your skincare to the bare minimum. Face wash and moisturizer can keep you going, but you may want to leave your serums and exfoliator behind.
There are a few things you should take to protect your skin. Firstly, make sure you take , as well as sunscreen for your body. You'll want to avoid sun damage as much as possible.
Secondly, you should take insect repellent. There's nothing more annoying than lying awake at night dealing with itchy bug bites!
Third, consider packing some aftersun. It takes up space, but it might be just the thing you need if you miss a spot when you're applying sunscreen.
Period Preparation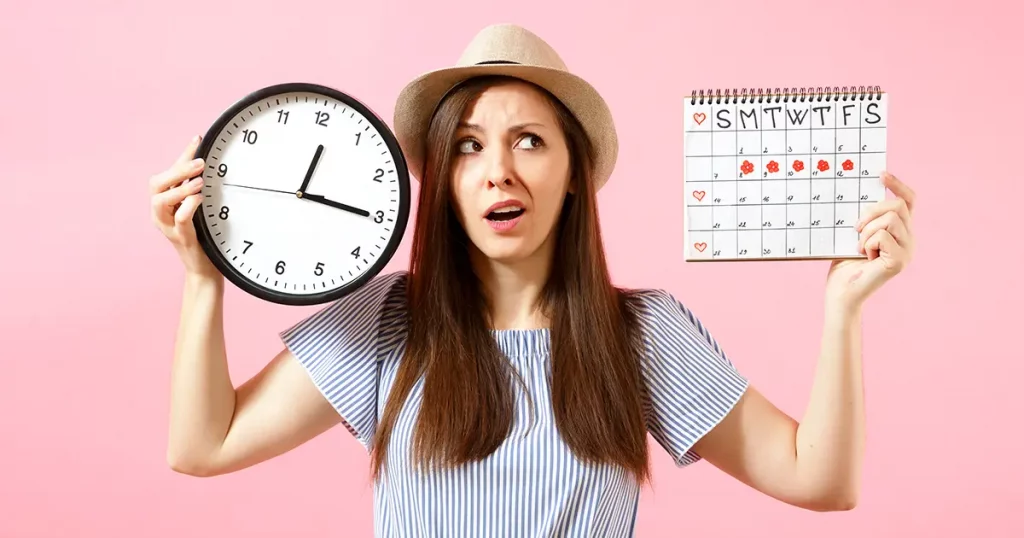 What will you do if you get your period while camping? It's inconvenient, but not impossible, to deal with periods while you're traveling.
If you can use a menstrual cup, this is a good plan. It's lightweight and easy to carry, and you won't have to change it too often. The downside is you'll have to clean it on the go. This may require being near a bathroom, or at least having access to soap and water.
You can go for period panties, too. These are washable, and they can be worn for a long time before they need to be changed. You'll need to have access to cold water to rinse them through, and preferably, you shouldn't leave them too long before washing them properly. These may be more suitable for short trips.
If you prefer to use disposables, the key thing is to dispose of them properly. You can create a special waste bag for used sanitary towels and tampons. Get a large zip-top bag, and line it with foil. This will help to contain odors and keep the contents private, and you can dispose of it when you find a bathroom.
Cooking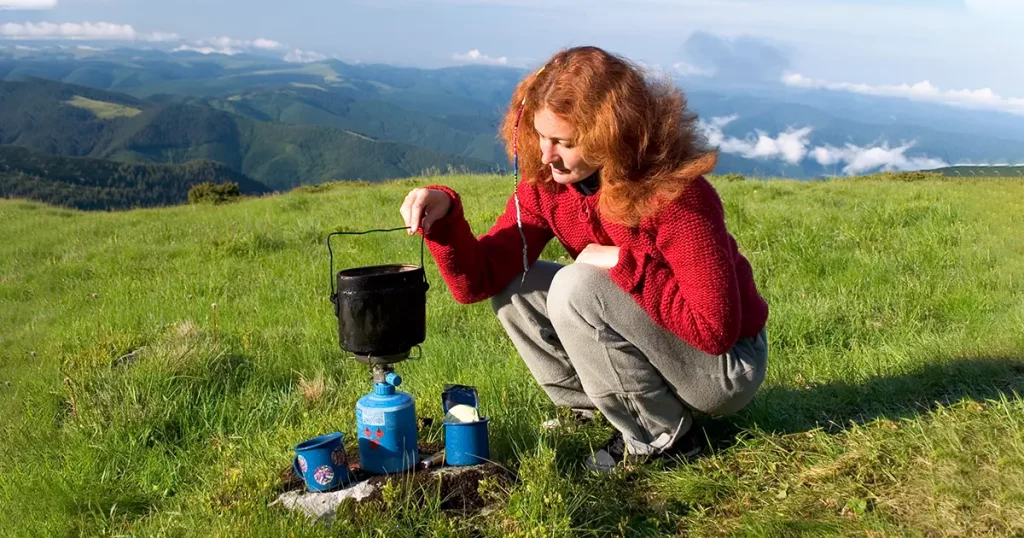 Now, you can think about how you will feed yourself! We'd recommend doing a bit of planning. One-pot meals are perfect, as they will reduce the amount of cooking equipment you'll need to bring with you. Chilis and stews are delicious and comforting, perfect to refuel after a long hike.
You can also try one-pot pasta dishes, which are filling and convenient.
For breakfast, oatmeal is a delicious, warming choice, and it will give you slow-releasing energy to fuel your day.
Bring your favorite instant coffee or tea, too. There's nothing more comforting than a warm cup of coffee, especially if you're drinking it while watching the sunrise. Make sure to bring a decent travel mug with you to keep your drinks warm on a cold morning.
You should bring some small snacks to give you energy. For example, or bananas are a good choice.
Cooking Equipment
Here's what you'll need to keep yourself well-fed:
Frequently Asked Questions about Female Camping
Before you go, here are some frequently asked questions about camping alone as a woman:
How can I prepare my mindset for camping as a woman?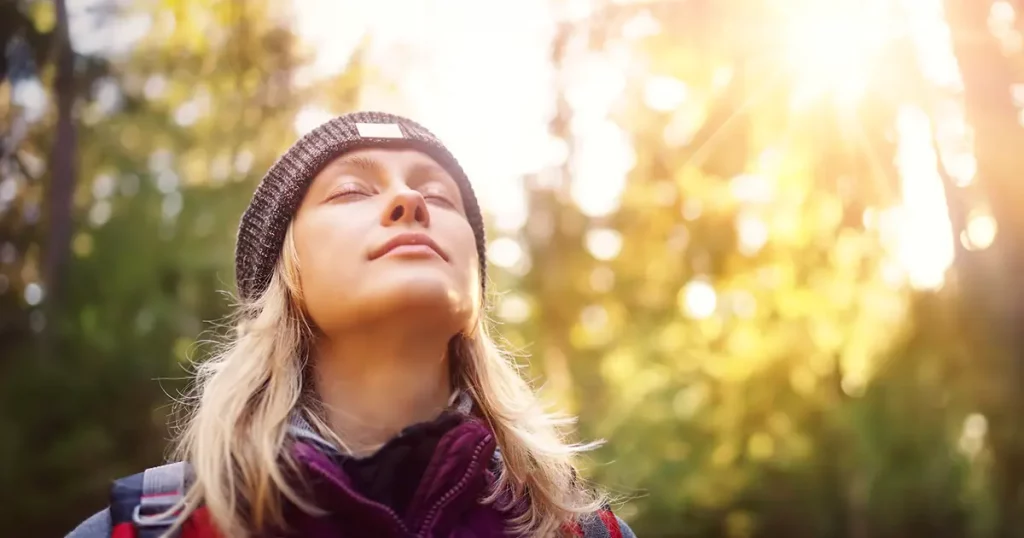 As much as you can, adopt a 'go-with-the-flow' attitude. While we think it's good to be prepared for every eventuality, being flexible enough to change your plans is a great mindset to have. If your plans fall through and you have to change direction, try not to worry. You may have a life-changing adventure ahead of you, so embrace the challenge and go for it!
Should I take a self-defense class?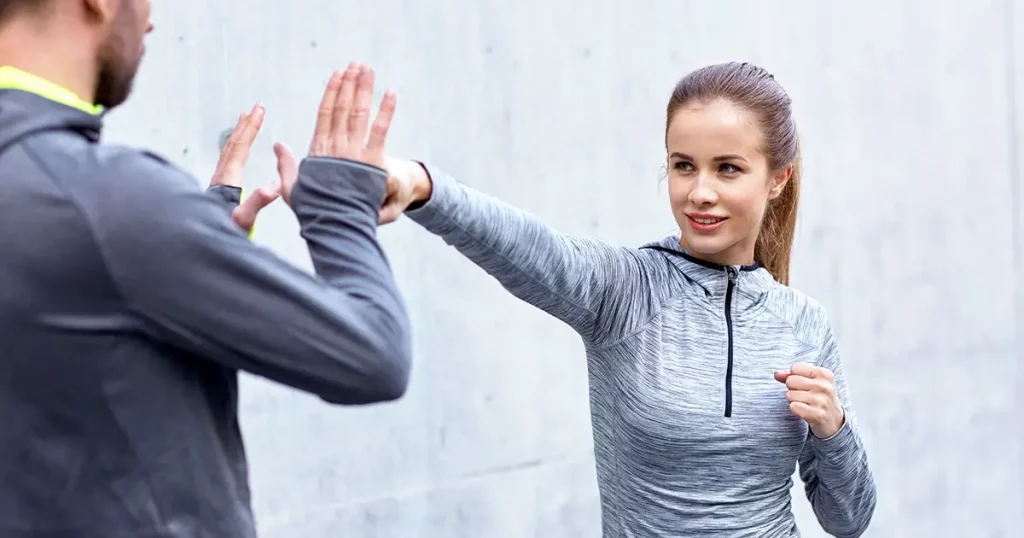 In our opinion, you can't go wrong with a good self-defense class. It will help you to feel more prepared whenever you're alone, not just on a camping trip. Google self-defense classes in your area, and give the instructor a call or an email if you're not sure it will suit your needs.
What are the basic skills I need to know?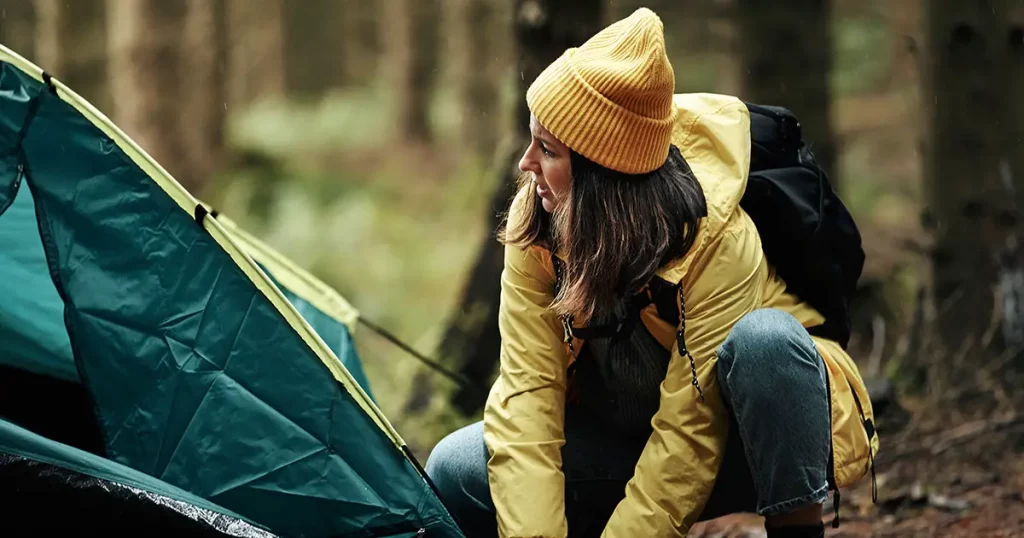 There are some basic skills you need to know before you go:
Pitching a tent
Inflating/setting up any equipment you're using
Using a camping stove
Animal and plant recognition
How to build a campfire if required
Basic geography skills
If you're unsure of any of these, look them up on YouTube – there are tons of free tutorials out there. You can also ask friends or family members who are already camping experts. They may have some tips you may not have thought of, and it's always a good idea to learn from other people's mistakes!
How can I keep my tent safe?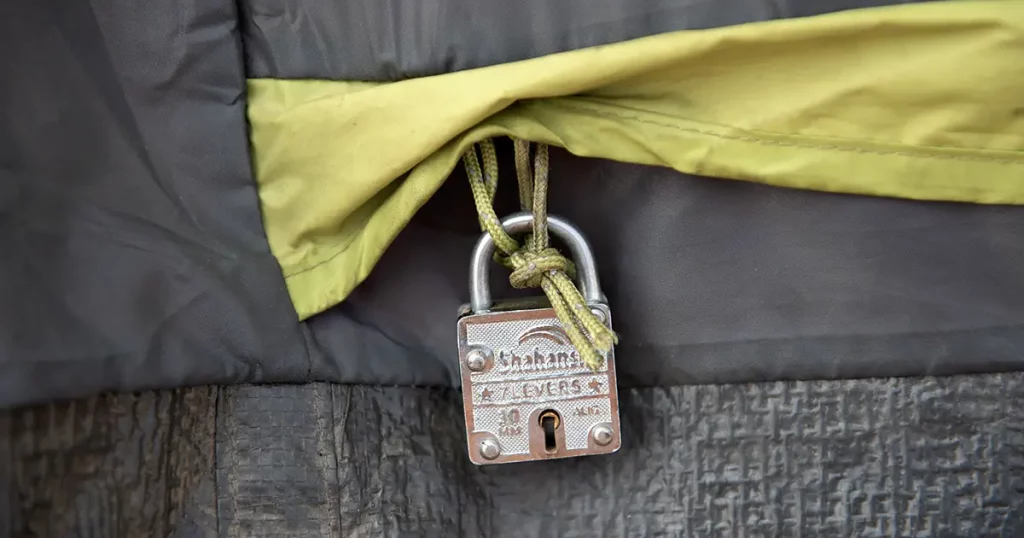 There's always an element of risk when it comes to leaving your tent unattended. We'd recommend buying a decent padlock. It won't prevent someone determined to break into your tent, but it can be a deterrent, and it can help you to feel reassured.
It's a good idea to take any valuables with you, only leaving your equipment and clothing behind.
If you can buddy up with your tent neighbors, it will benefit you. They may be able to keep an eye on your tent while you're out exploring.
What do I need to know if I'm bringing my dog?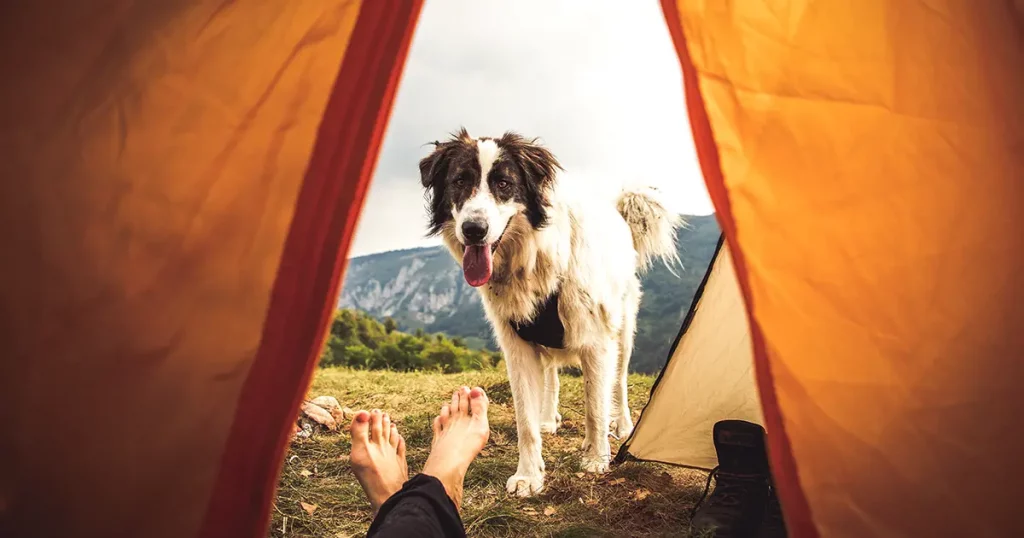 Dogs make excellent camping companions! There are a few things to know about camping with them.
Firstly, check if your campsite is dog-friendly. Most campsites are, but it's always worth double-checking just in case.
Secondly, make sure you know where the nearest vet surgery is. If your dog needs medical attention, you'll want to know this information in advance.
Thirdly, make sure you keep your dog safe. Research the area – are there any plants that are dangerous to dogs? Knowing this information in advance may help you in an emergency.
Finally, take something comforting and familiar from home (for example, a blanket they like to use). This will help them to feel safe.
What should I do when I get back?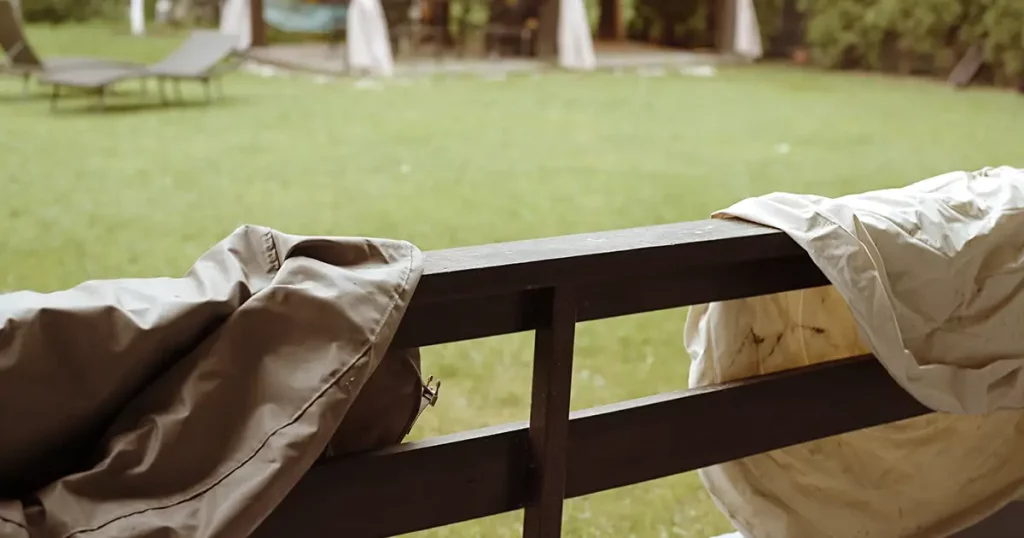 The biggest job will be to take care of your tent! Washing your tent is vital to help it last longer. Make sure it dries fully to prevent mold from forming. You should also pack away any equipment safely, ensuring it is clean and ready to go for your next adventure.
Now is the time to take care of yourself, too. You'll probably want a long hot shower and a long sleep in your bed!
To Sum Up …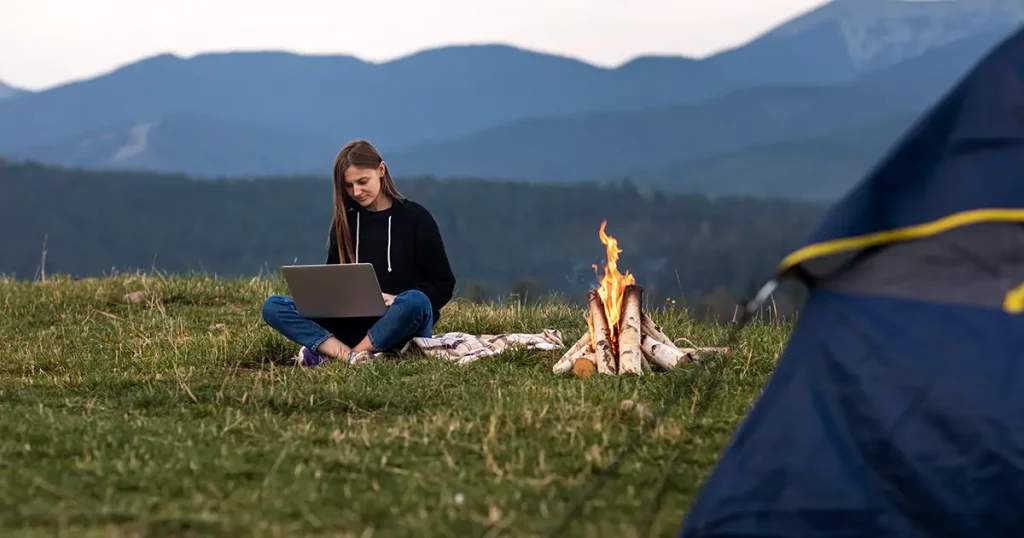 We hope this has helped you to prepare for your next camping trip. Camping alone can be a challenge, but once you've done it a few times, you'll know what to expect. Before you know it, you'll be a seasoned pro!