Looking for a good-quality cooler? It's worth checking out an Ozark Trail cooler with wheels. A cooler with wheels is really useful, especially if you're carrying a lot of food and drinks, and Ozark Trail is known for being a great, budget-friendly brand.
Today we'll be taking a closer look at their features, appearance, how well they can keep your food cool, and their durability. We'll also be looking at their pricing and how that compares to other cooler brands.
Let's start by finding out more about Ozark Trail.
What is Ozark Trail?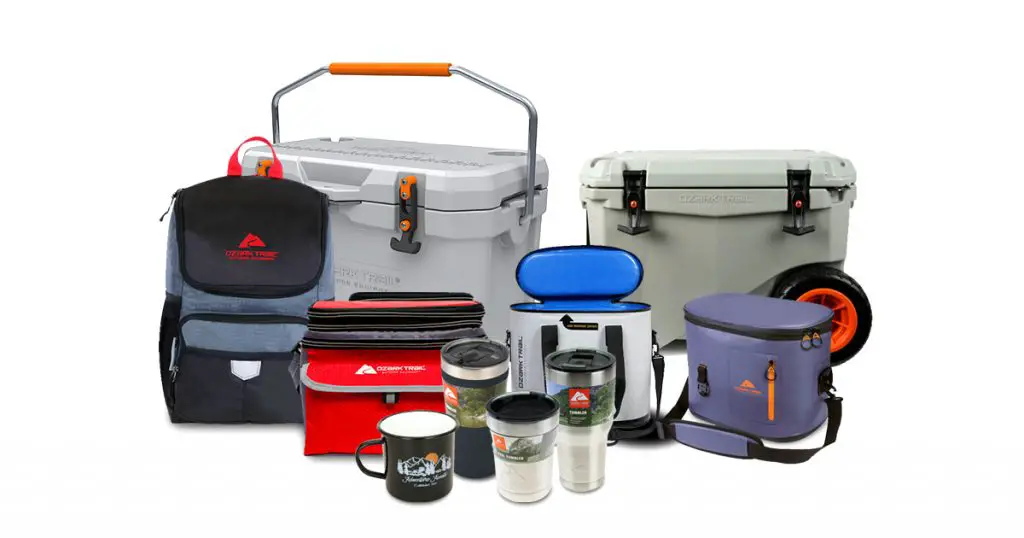 Ozark Trail is a company owned by Walmart. They manufacture everything you need for camping, including tents, flasks, canopies, lanterns, backpacks, coolers, sleeping bags, and lots of camping accessories. 
Ozark Trail is known for being a cost effective alternative to more expensive brands, like ORCA. Their coolers are also known for being durable and tough, which is good considering the price. If you don't have a lot of room in your budget for camping gear, it's a company worth checking out, although some of their products may not be as durable as more expensive brands.
Ozark Trail Wheeled Cooler – the Main Features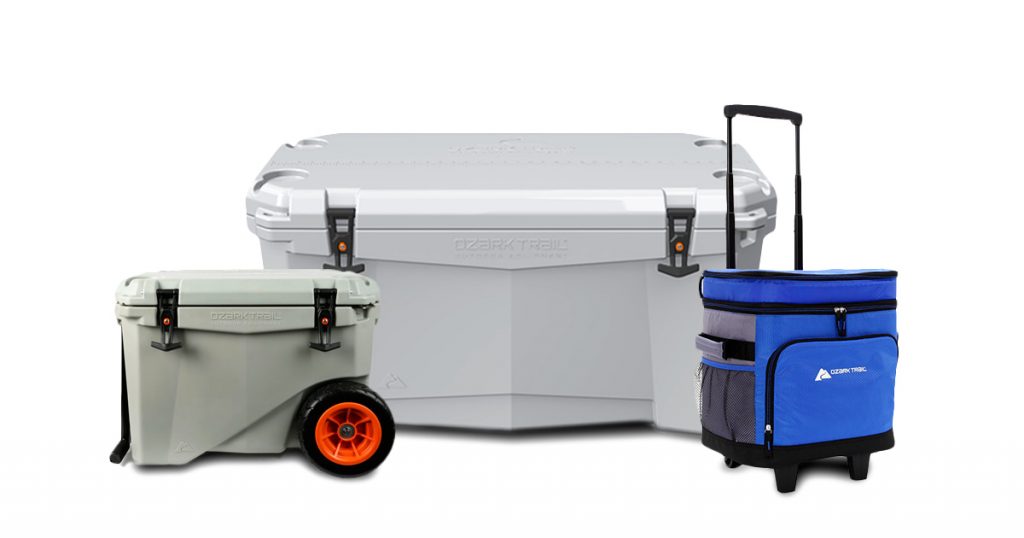 There are three models available for Ozark Trail wheeled coolers:
Those are the options you have for wheeled coolers. The 110-Quart (104 Liter) is very large, ideal if you're traveling in a large group or have a lot of stuff to carry. The 45-Quart (43 Liters) version is a nice medium-sized cooler, and the soft-sided cooler works well for picnics and day trips.
Appearance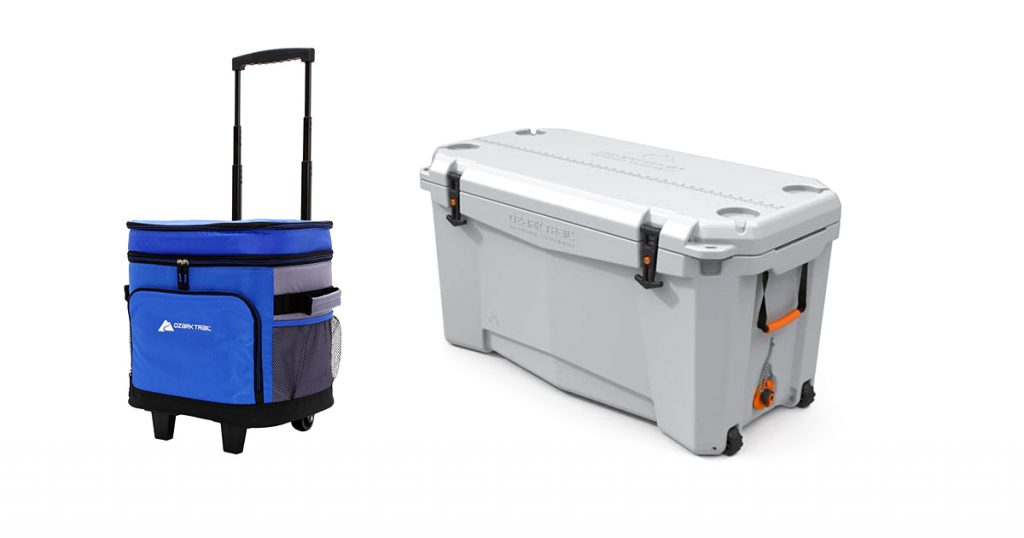 Ozark Trail coolers are similar to other more expensive brands in terms of looks. They have a fairly muted palette of colors (lots of greys, whites, and blues), and their coolers look pretty simple. You can't personalize them or opt for bright colors or patterns. Some cooler companies, like YETI, allow you to customize your cooler with collegiate or sports team logos, but that isn't the case here.
They look solid and well-built, especially considering the price – they don't look cheap or flimsy at all.
Cooling Power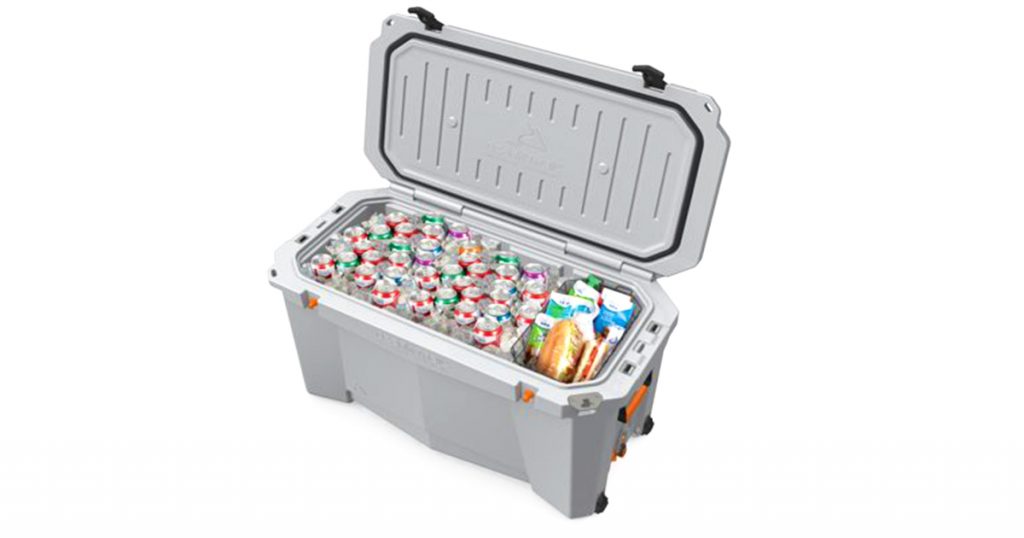 How does Ozark Trail perform in terms of cooling power?
The hard-sided wheeled coolers are rotomolded, which means they're made from one thick continuous piece of plastic. There are no seams or joins, preventing  cold air  from escaping through small cracks. The walls are between 2.5-3″ (6.35 – 7.62cm) in thickness, they're nice and solid. The walls are also coated with UV-resistant material, protecting the cooler from sun damage. If you're taking long trips, this is a really good feature, when you can't always keep your cooler in the shade.
The hard coolers have a thick rubber gasket, which is actually very comparable to more expensive brands. These and the durable latches help to keep your cooler firmly closed, with no gaps for cold air to seep out.
Ice Life
Ice life is a great way to tell whether or not a cooler works efficiently. Different companies test this in different ways, but essentially, it measures how long ice stays solid in your cooler before it melts. Ozark Trail suggests the following:
However, they also state that this is in 'ideal conditions', but don't specify what that means in particular. Most people using a cooler won't be keeping it out of the sun or packing it with a lot of ice if they have tons of food to carry. So, while 7 days sounds good, it's worth bearing in mind that in reality, your food may not stay ice-cold for that long. Realistically, you can bet on up to 2-5 days of life from their hard-sided coolers before you have to pack it with fresh ice.
You can find out more about ice retention tests in this Ozark Trail Ice Life Retention Test video – that will give you an idea of how Ozark Trail coolers work.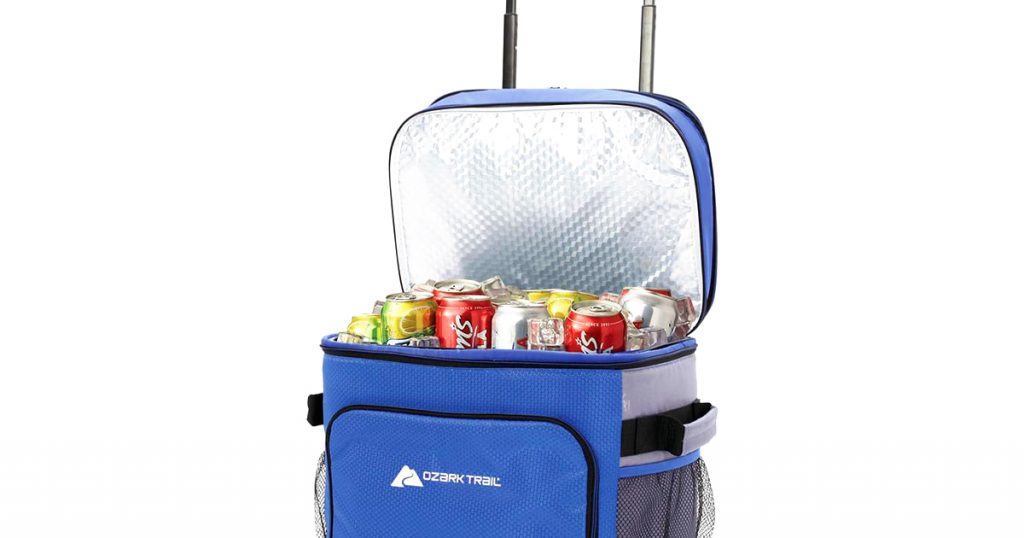 The soft-sided wheeled cooler is a little different. Soft-sided coolers, as a general rule, don't keep food cold for as long as hard-sided coolers, and Ozark Trail doesn't have an official guide for ice retention for their soft-sided coolers. You can probably expect the soft-sided wheeled cooler to keep your food cold for a day out, but it won't perform as well as the hard-sided coolers.
Features
Ozark Trail has packed quite a few handy features into their coolers, which is great considering the price.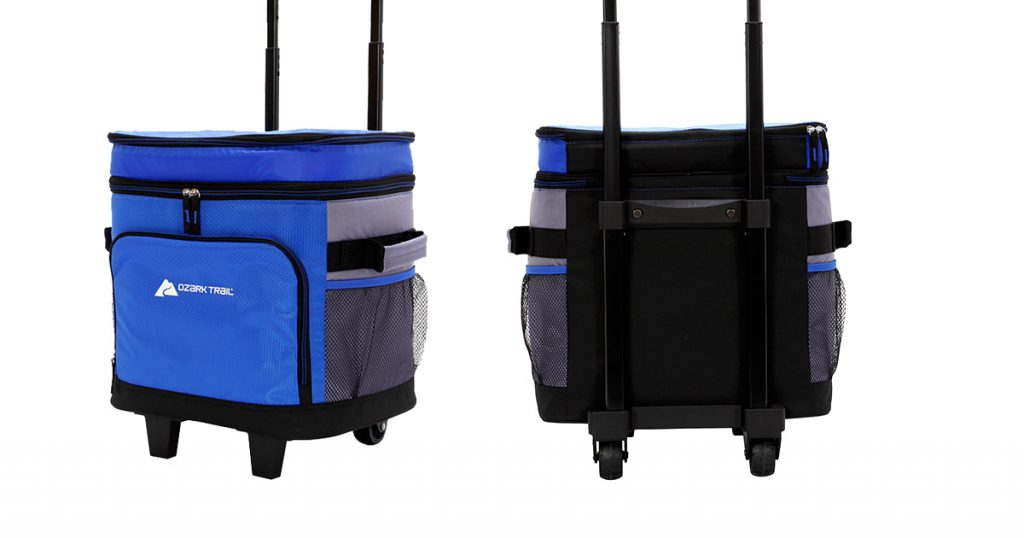 The soft-sided wheeled thermo cooler has a removable plastic hard liner, which can be used to give the cooler some structure and help to stop the contents from getting bashed around too much. It has 3″ (7.62cm) of expandable storage on top, which you can use to store items that you want to keep dry. It also has mesh pockets on the sides, a telescopic handle, and sturdy feet that are designed to keep it upright.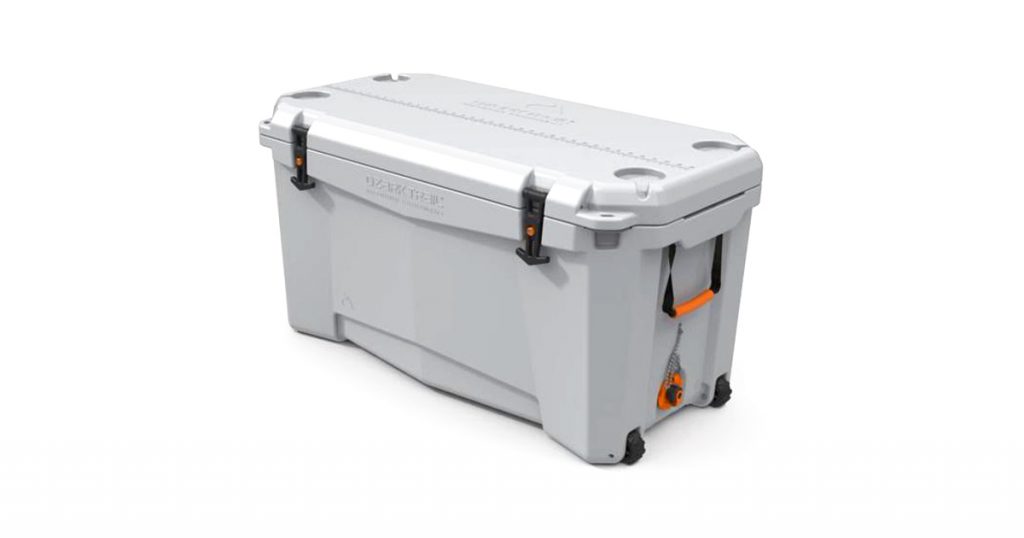 The two hard-sided wheeled coolers have oversized drains, to help remove the melted ice from inside. They have anti-skid feet, to help keep your cooler still, and the stainless-steel locking plate at the base doubles up as a bottle opener, which is a really handy little feature – it saves you having to remember to bring a bottle opener! They also have a fish ruler on the lid, which is great for fishermen.
The 110-Quart (104 Liters) and 45-Quart (43 Liters) models both have 4 drink holders and 2 high-grade rear wheels. You can expect the wheels to last a long time, which is great.
Durability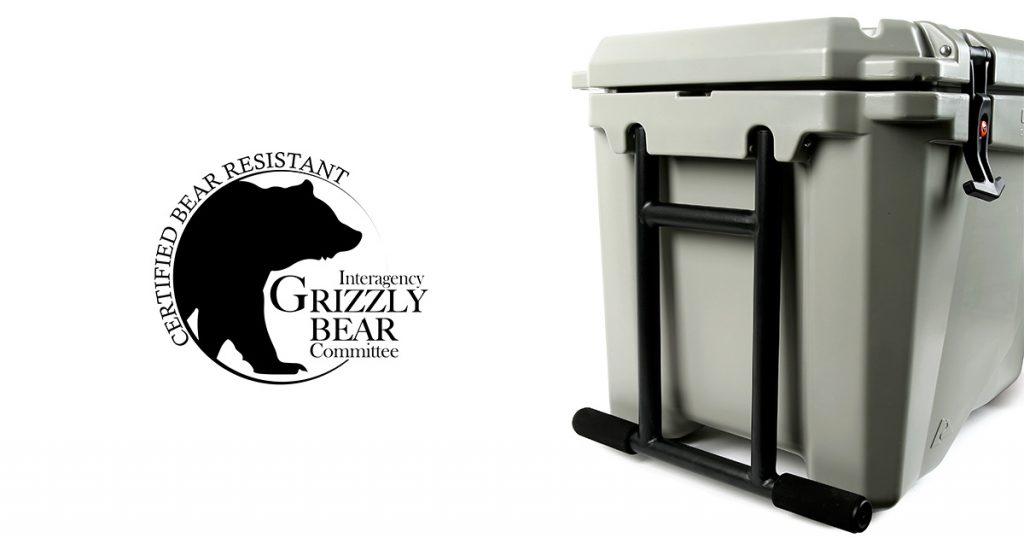 Ozark Trail coolers are very durable. The metal parts are designed to last, as they're made from corrosion-resistant stainless steel. The hard-sided wheeled coolers have the Interagency Grizzly Bear Committee approval, which means that if used properly, even a grizzly bear won't be able to break into your cooler. (You can see which Ozark Trail products have this approval in the IGBC's list of bear-resistant products.)
The soft-sided cooler may not last as long, depending on how you use it, and it doesn't have the IGBC approval. Some of Ozark Trail's soft-sided coolers have suffered from broken zips after six months or so of use, but this isn't always the case. It is priced low, so you might decide it's worth taking the risk.
Pricing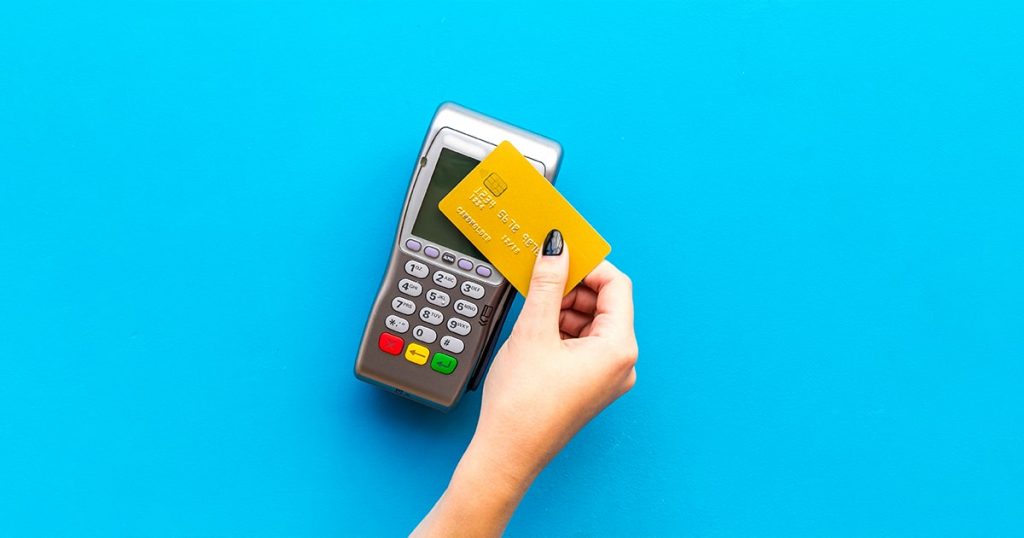 Ozark Trail is known for being a reasonably priced brand. If you compare the 110-Quart (104 Liters) wheeled cooler to YETI's 110-Quart (104 Liters) hard-sided cooler without wheels, the Ozark Trail version comes out at over $500 cheaper. Which is obviously a very large amount of money to save!
Comparing it to a lower-priced brand, ORCA, Ozark Trail still comes out cheaper. Ozark Trail's 45-Quart (43 Liter) model is just over $100 cheaper than ORCA's 40-Quart (38 Liter) model. So, you can still stand to save a bit of money in comparison to ORCA coolers.
If you are camping on a budget, you might find guides to the best tents under $200 or our guide to the best backpacking tents under $100 for some great recommendations.
Frequently Asked Questions
Here are some of the most commonly asked questions about Ozark's coolers:
What other coolers does Ozark Trail offer?
They have a few different types of coolers:
Hard-Sided Coolers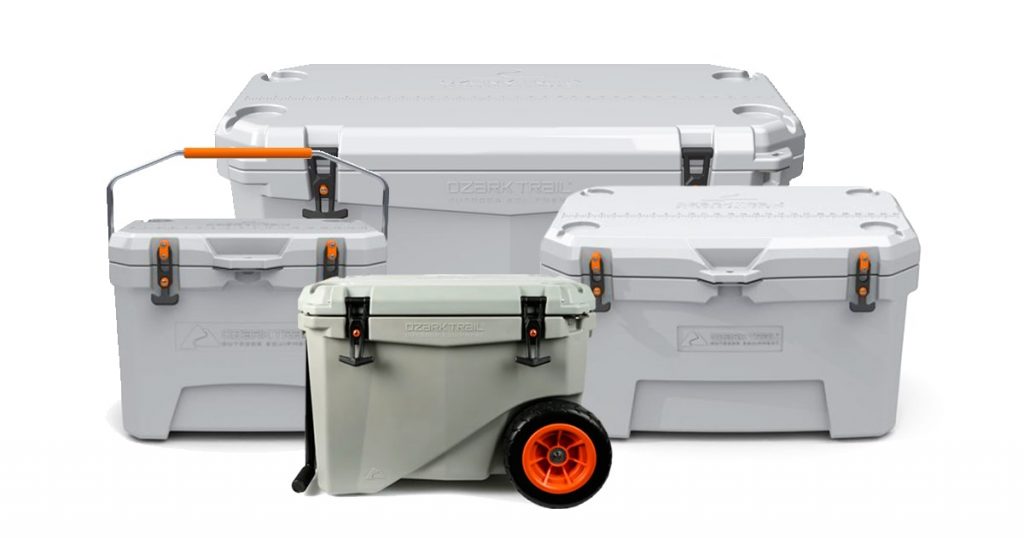 26-Quart (24 Liters)
73-Quart (69 Liters)
26-Quart (25 Liters) Ice Chest
45-Quart (43 Liters) With Wheels
110-Quart (104 Liters) With Wheels
Soft Coolers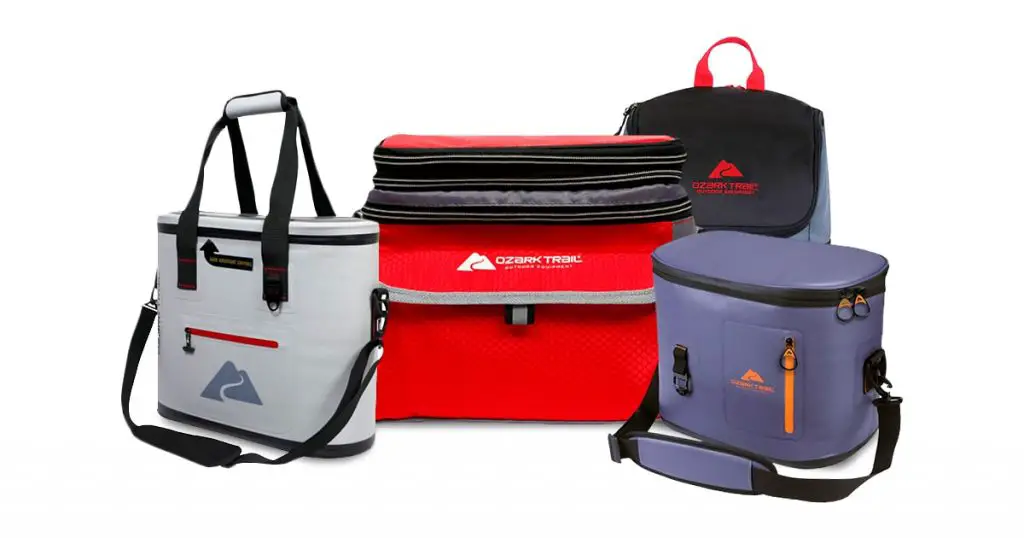 12-Can Cooler
36-Can Cooler
42-Can Cooler
Premium Backpack Cooler
Premium Tote Cooler
Will I get a warranty with my Ozark Trail Wheeled Cooler?
Ozark Trail offers a 5-year warranty for their coolers, which protects you against manufacturing defects. It won't protect you against any damage while you're using it, but the hard-sided coolers, in particular, are pretty tough, so hopefully you won't have to worry about that.
How can I safely store food in my cooler?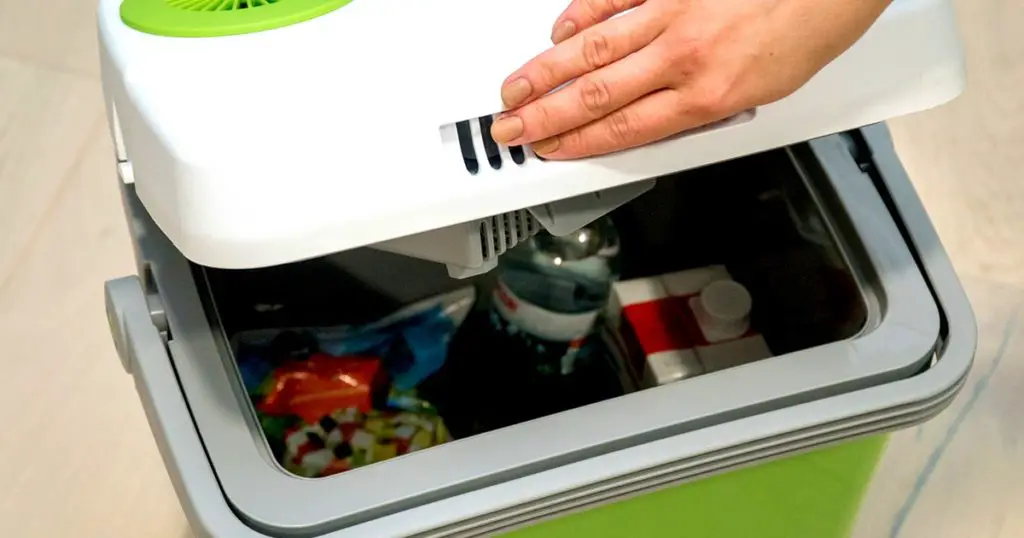 There are a few tips you can follow to prevent food poisoning. Here are a few of the basics:
Pack perishable foods straight from the freezer or refrigerator into the cooler
Make sure the cooler is nice and full – it will stay colder for longer that way
Keep raw meat, poultry, and seafood away from other types of food – preferably in a separate cooler, but if that's not possible, ensure that you wrap the food very tightly to prevent liquid from the raw food from leaking onto the rest of your food
Store your food in watertight containers
You can find out more about keeping food safe in a cooler on the USDA's guide on How to Pack a Cooler to Prevent Food Poisoning – it will tell you everything you need to know.
Is it possible to pre-chill my Ozark Trail cooler?
You can pre-chill your cooler, either by storing it in a deep freezer overnight (this may be difficult for the larger models!), filling it with a bag of ice overnight (which you can discard before packing, replacing it with fresh ice), or filling it with hose water overnight, which will help to make it nice and cool before you pack it. 
You can find out more in the Millennial Man's guide on How to Pack a Freezer and Keep it Cool for Eternity!
Can you recommend any other brands to try?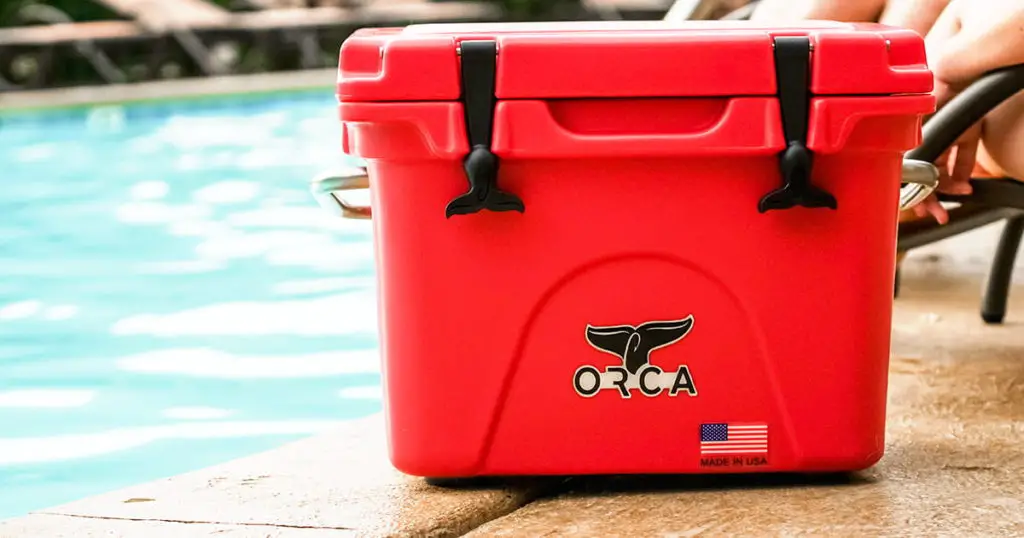 Yes, there are a few other cooler brands you can check out.
ORCA – priced somewhere in the middle of Ozark Trail and YETI, ORCA is a high-quality brand. If you have a decent budget to work with, it's worth checking out their coolers – the hard-sided coolers in particular are durable and tough. You can read more about ORCA in our ORCA vs YETI comparison.
YETI – YETI is a high-end cooler company. They have an excellent reputation for making great-quality coolers that last a long time, but they do have a high price tag. If your budget can stretch a bit further, you may think it's worth investing in a YETI cooler. You can read more about YETI in our Guide to YETI Cooler Sizes, as well as our Hydro Flask vs YETI Rambler comparison.
Pelican – another high-quality brand, Pelican manufactures hard-wearing coolers and gear. You can read more about Pelican in our Pelican vs YETI comparison.
Does the Ozark Trail compete with some of the more expensive brands out there?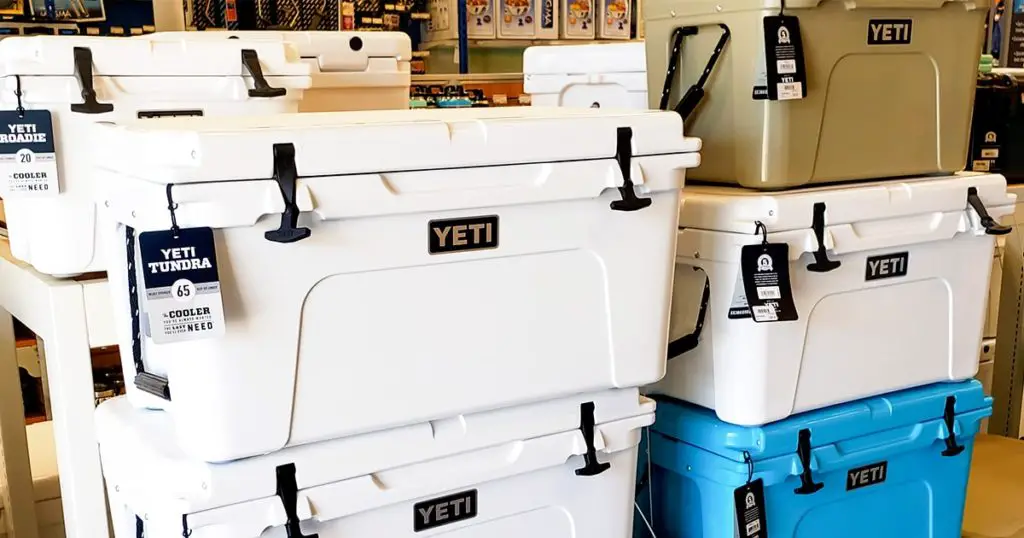 Some features of Ozark Trail's wheeled coolers – like the freezer-grade drains, the hard-wearing components, and the rotomolded walls of the hard-sided coolers – are comparable to some of the higher-end brands. So yes, we think that their wheeled coolers are worth checking out. 
Ozark Trail falls short slightly with the soft-sided coolers, like the soft-sided wheeled cooler we've looked at today. You may find that the zip fails, or that it just doesn't last as long as some of the more expensive brands. That may be a risk you're willing to take for the low price point.
To Sum Up …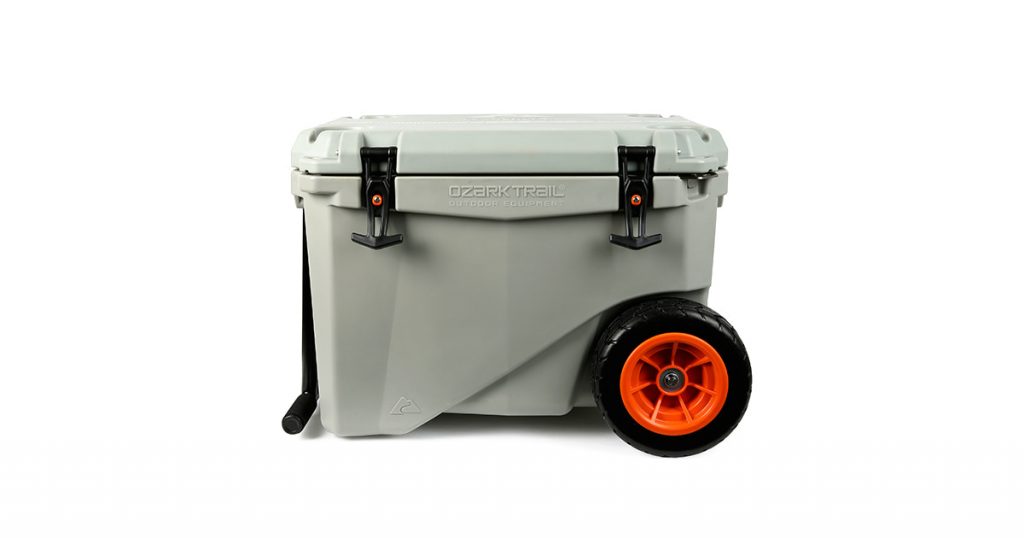 If you're looking for a decent cooler with wheels, we'd highly recommend Ozark Trail. Although the soft-sided cooler may not be as durable as other brands, the hard-sided wheeled coolers are definitely comparable to more expensive options.
The fact that they have IGCB approval shows how durable and tough they are, and the cooling power is very good. They have tough, durable wheels, and they have extra features too, like cup holders and bottle openers. The UV protective coating on the outside and the fish ruler makes them ideal for fishing trips, so if you're looking for a good cooler for that purpose, it's worth checking them out.
Going for an Ozark Trail product could save you a bit of money – we'd recommend checking out their coolers and drinkware in general.
We hope this has helped you to figure out if an Ozark Trail cooler with wheels is right for you!