Known as one of the most challenging (and potentially dangerous) hikes in America, Angels Landing is one for your bucket list if you're an experienced hiker. But how long is the Angels Landing hike? What should you expect from this hike, and what do you need to know before you go?
We'll answer all these questions and let you know what you'll want to take with you on this amazing trail.
What Is Angels Landing Hike?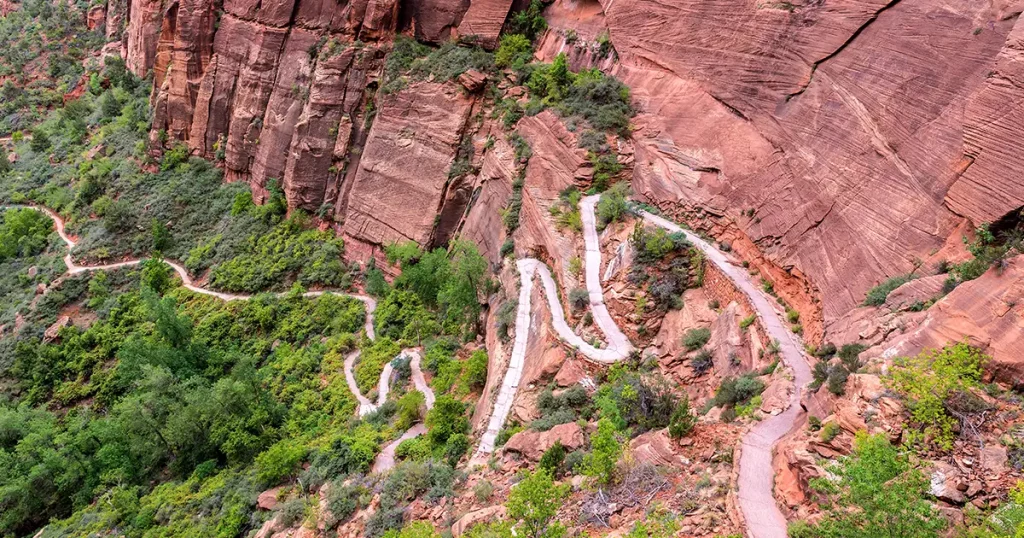 Located in Zion National Park, Utah, Angels Landing is known as one of the most incredibly rewarding hikes in the world. It's a steep, challenging trail, climbing around 1,500 feet (~460 meters) on a narrow path. Reaching an elevation of 5,790 feet (~1.76 kilometers), it's not one to tackle if you're scared of heights!
It will give you an incredible view when you get to the top and is considered a 'must-visit' destination for many serious hikers.
It gets its name from the minister Frederick Vining Fisher. After his visit in 1916, he stated that only an angel could land there, and the name stuck.
How Long is Angels Landing Hike?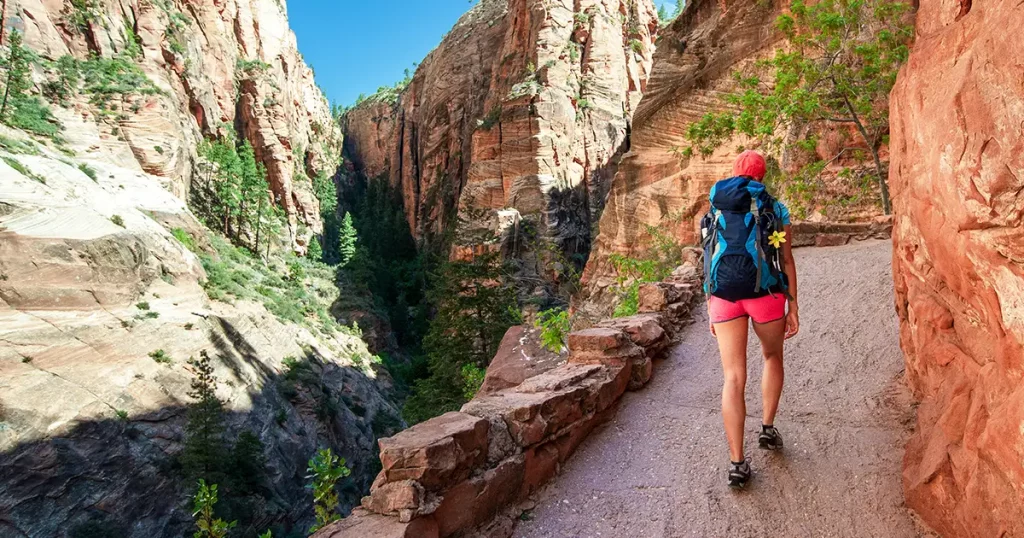 Angels Landing hike has a misleadingly short distance of 5 miles (~8.05 kilometers). However, it takes around 4-5 hours to complete.
The main challenge here is the height. It's a steep, narrow trail. While it has a safety rail, it feels like an adventure only the bravest hikers choose to tackle.
You'll need a lot of leg and core strength to tackle Angels Landing. We wouldn't recommend it for beginners for this reason. 
It's categorized as a Class 3 hike. Not the most difficult, but more strenuous than your average hike. Class 3 usually involves some scrambling/climbing, and the exposure to the steep slope with little protection is a little more technically (and mentally) challenging.
What to Expect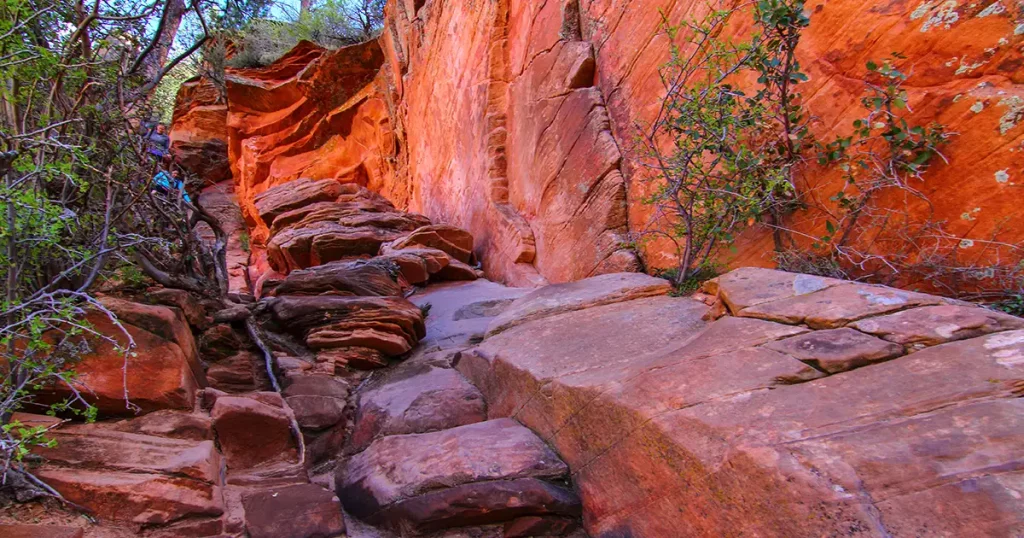 You'll start at the Grotto Trailhead, a nice gentle introduction to the hike. Then, you'll cross the Virgin River on a bridge, which is a nice, relaxing part of the trail. After this, the elevation begins to pick up quickly. You'll reach the mouth of the Refrigerator Canyon (which is, unsurprisingly, cold!). 
Then, you'll begin to ascend the east wall. This has 21 'switchbacks' built into it (essentially a sharp zig-zag), which is when your legs will probably start to feel the effort. Scout Lookout comes next, and with it, incredible views of the Zion Canyon.
The last part requires nerves of steel. A 500-foot (~150 meters) vertical stretch to the top of the trail is not for the faint of heart. Chains are serving as a guardrail, but that's about it. This will require a little scrambling, and you'll have to walk along a narrow section with no handrail. 
If you can manage it, you'll be treated to the most incredible view and the knowledge that you overcame a hair-raising climb to get there. Just be prepared to treat your sore calves afterward!
Planning Your Trip
Like many popular hiking destinations, you can't just rock up here and tackle the trail. You'll have to enter a lottery to attempt the hike, which you can do by visiting the official Angels Landing permit site.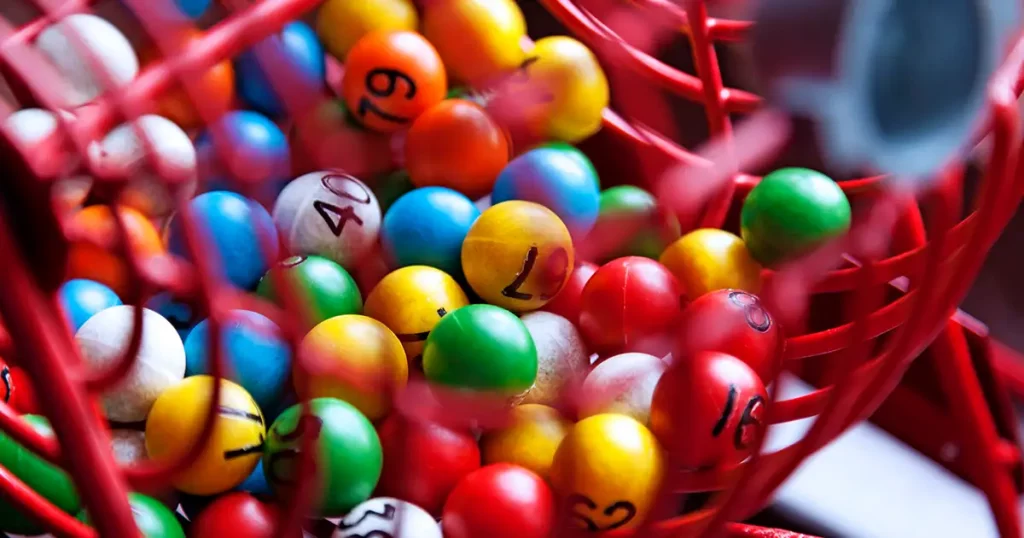 There are 3 options for tickets:
Seasonal Lottery
This option allows you to pick 7 ranked days/times you would like to attempt the hike. This costs $6 for up to 6 people and is non-refundable. If you are successful, you will get an email to confirm this and to say that you have been charged $3 for each person you registered. You'll then have to log into the website to get your permit.
The other option is that you don't get the permit. You will be given the option to try again. You may also adjust your permits before your trip, but you can't transfer your permit to another person, and you can't add more people to your party.
Day-Before Lottery
As the name suggests, the Day-Before Lottery allows you to apply the day before you plan to go. It opens at 12.01 am and closes at 3 pm. This costs $6 for up to 6 people and is non-refundable.
At 4 pm on the day you apply, you'll find out via email if you got the permit. If so, you'll get an email to confirm, and you'll be charged $3 per person you registered. If you did not receive a permit, you'll be given a chance to apply again for another day.
You cannot change or cancel a Day-Before permit.
For both permits, you'll need to either print or download them before you go, as the cellphone service is patchy, and you may not be able to access the internet.
Getting There
We'd recommend taking the shuttle bus. Going from Zion National Park costs $1 to get to the Grotto Trailhead. That way, you can avoid getting stuck in traffic.
When Is the Best Time to Go?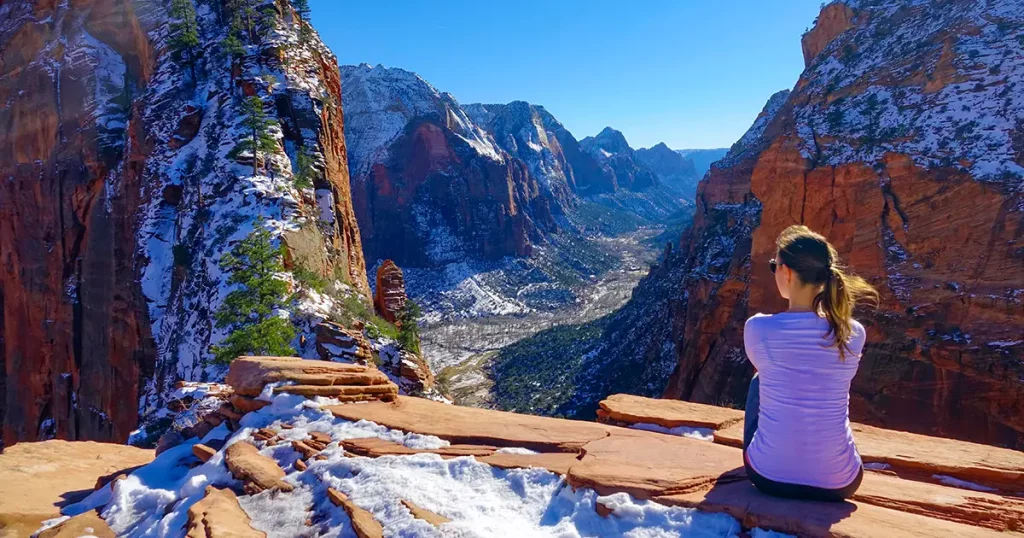 Angels Landing gets crowded (this is why they've introduced permits!). It's busy during spring and summer, so we'd recommend going in March or November to avoid the busiest of the crowds.
Winter hikes can be done here, but if it's icy, it's a no-go, as it's too dangerous to climb the steepest areas.
If you're visiting during the spring or summer, go as early in the day as you can to avoid the busiest of the crowds.
How to Stay Safe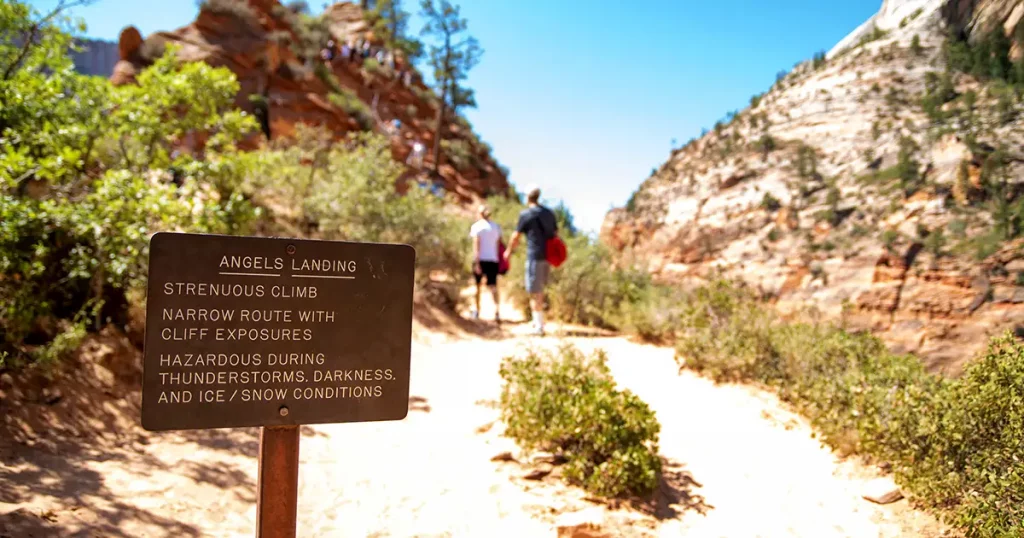 The main safety concern here is the steep drops on either side of the narrow path. This can't be avoided, and we suggest not bringing young children on this hike. Unfortunately, people have died from falling at Angels Landing, so you need to be vigilant, especially when it's crowded.
We'd also recommend staying away from wet or icy weather.
The other thing to consider is the heat. It gets very hot in the spring and summer, so you'll need sunscreen, a sunhat, sunglasses, and a large water bottle to keep you hydrated.
If you start to feel overwhelmed in the heat or your legs are aching, take short rests from time to time to keep your energy levels up.
Is the Angels Landing Hike Free?
No, the Angels Landing hike is not free. You'll have to pay a $6 registration fee for each group and a further $3 for each person attending the hike. You'll also have to pay $1 each for the shuttle bus if you're using it.
What to Bring to the Angels Landing Hike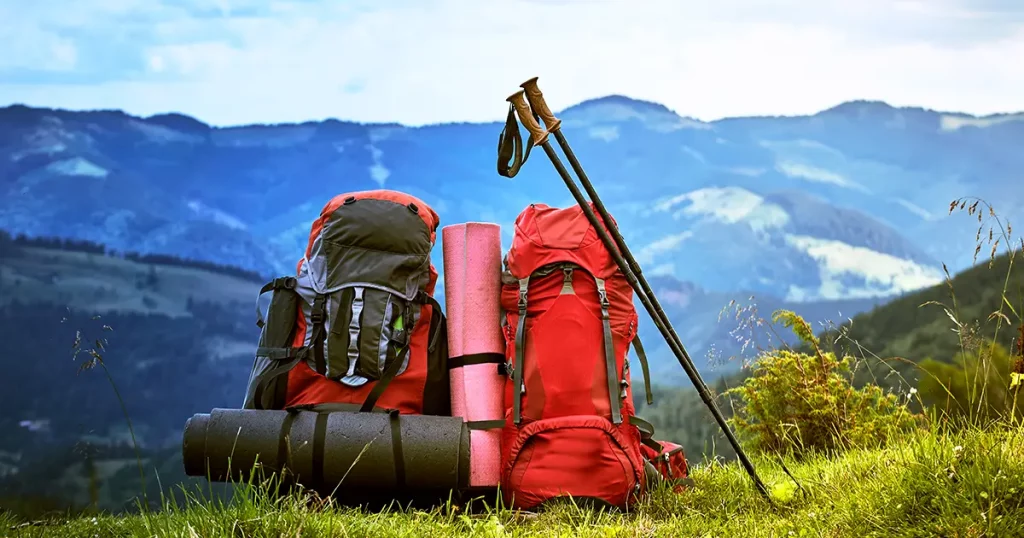 You should bring the following:
Frequently Asked Questions
Before we wrap up, here are some commonly asked questions about the Angels Landing trail:
What else is there to do nearby?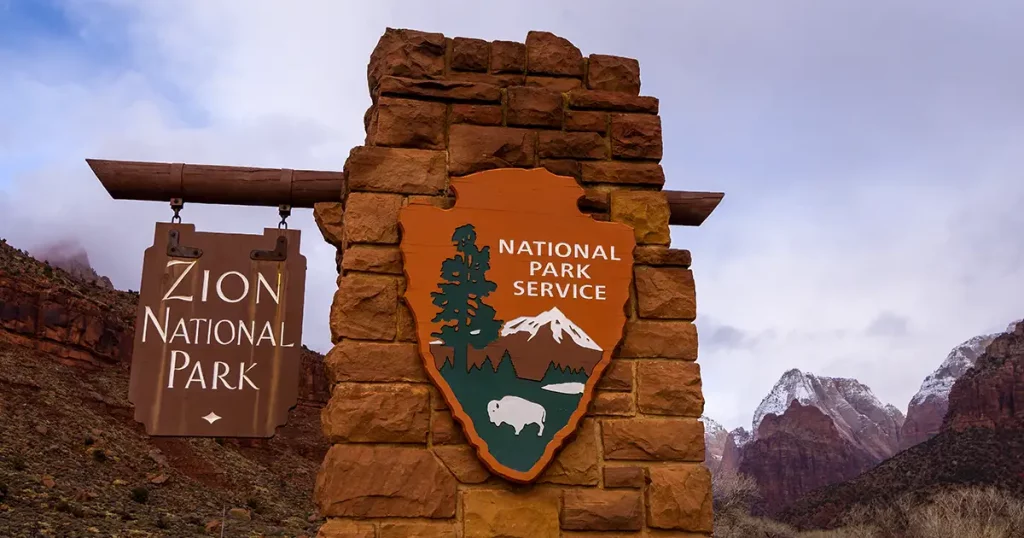 Zion National Park in itself is incredible to visit. You'll also be able to visit other hikes, including the beautiful Emerald Pools. You can also go rock climbing and canyoneering.
You can also pack up your camping tent and go stargazing at night. This is an incredible experience in Zion National Park.
There are campgrounds nearby with facilities, so you can go there to use the bathroom and rest. We'd recommend camping out for at least one night so you can enjoy the wonderful view of the night sky.
Is the Angels Landing hike the scariest hike in America?
It's considered one of the scariest hikes in the US, along with Mount Ranier and the infamous Half Dome hike at Yosemite.
Will I see any wildlife on the Angels Landing hike?
You might do! There's plenty of wildlife in Zion National Park, including bighorn sheep, deer, foxes, and bats.
Our Final Thoughts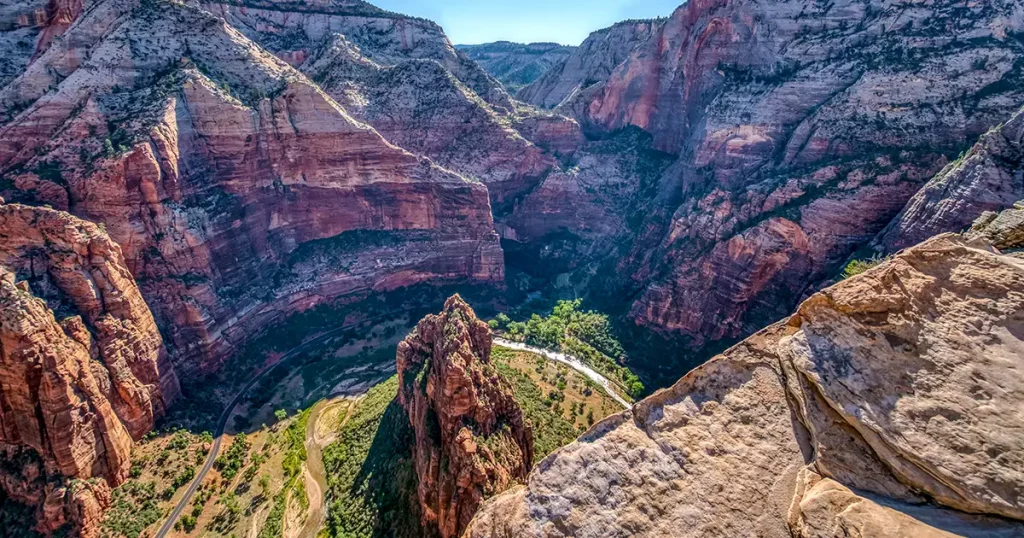 We hope this has helped you to figure out if the Angels Landing hike is for you. While it's relatively short at 5 miles (~8.05 kilometers), it does involve 4-5 hours of steep climbing, so it's not for the faint-hearted!