If you're looking for a cooler to take on your next camping trip, we may be able to point you in the right direction with our Ozark Trail Cooler review.
In our opinion, Ozark Trail produces high-quality hard-sided coolers that are definitely comparable with the more expensive brands.
Keep reading to find out:
The types of coolers Ozark Trail manufacture
An in-depth look at their coolers, including their appearance, cooling power, features, durability, and pricing
Some products we would recommend
Alternative brands to look into
Frequently asked questions
Our final thoughts on Ozark Trail Coolers
Let's start by finding out more about Ozark Trail as a brand.
What is Ozark Trail?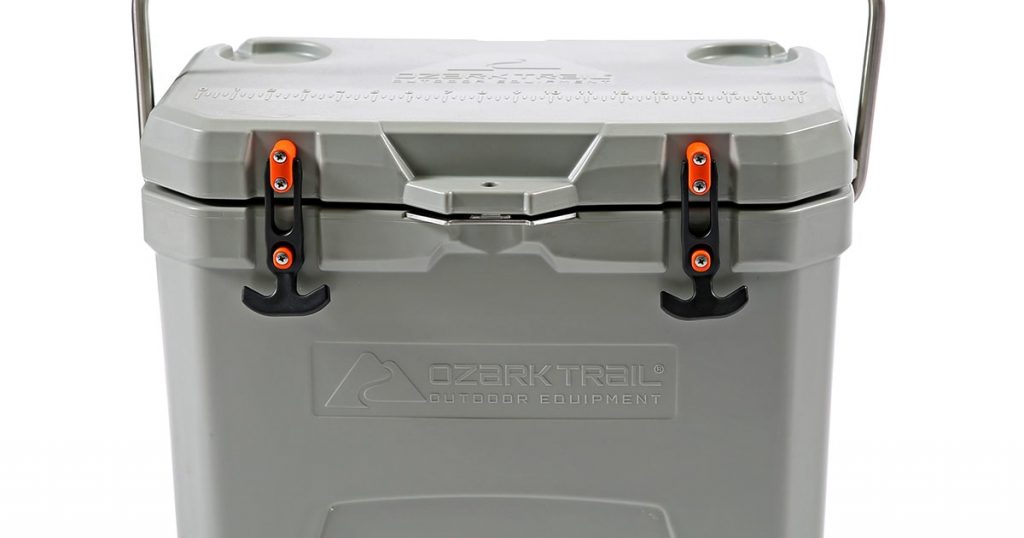 Ozark Trail is a private-label company owned by Walmart. They sell everything to do with camping, including tents, canopies, backpacks, lanterns, and more. They also sell soft-sided and hard-sided coolers, as well as tumblers and cups. Their products are manufactured in China. They're known for being a lower-priced alternative to other brands like YETI or ORCA.
What Products Do They Sell?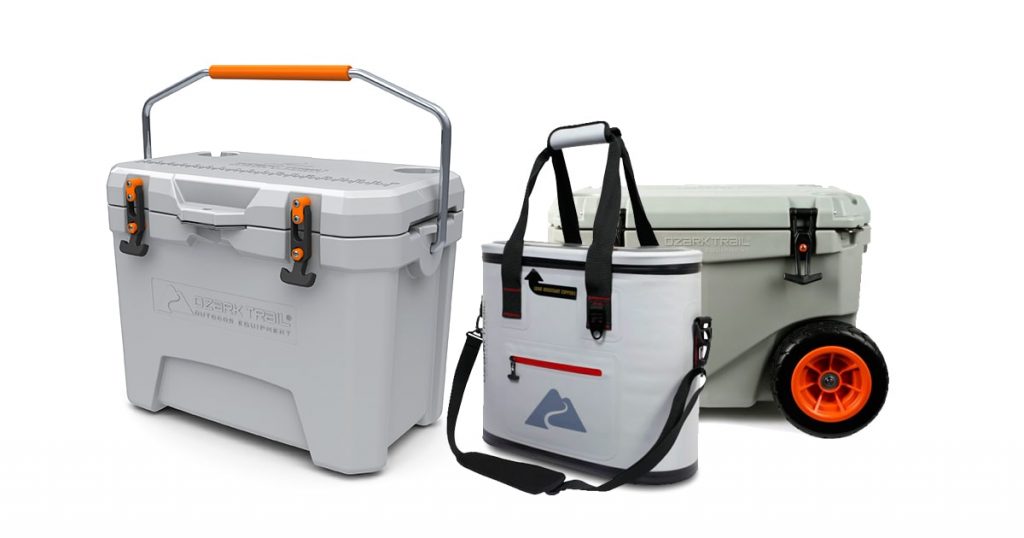 In terms of coolers, there are a few options for both soft and hard-sided coolers. Although their range isn't as extensive as some other brands (like YETI), there is a decent selection of sizes in both categories. You also have the option of hard coolers with wheels, and a soft cooler in backpack form, so you have a couple of different carrying options available.
Here's a rundown of their selection:
Hard-Sided Coolers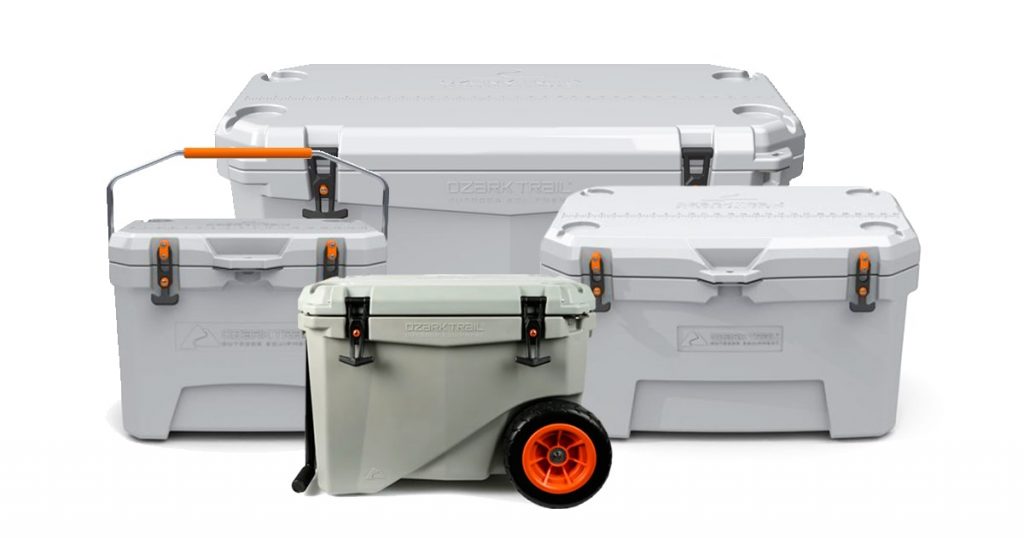 26-Quart (24 Liters)
73-Quart (69 Liters)
26-Quart (25 Liters) Ice Chest
45-Quart (43 Liters) With Wheels
110-Quart (104 Liters) With Wheels
Their basic hard-sided cooler comes in small, medium, and large, or you can go for one of their wheeled options. The ice chest is a great choice if you want to keep drinks cool.
Soft Coolers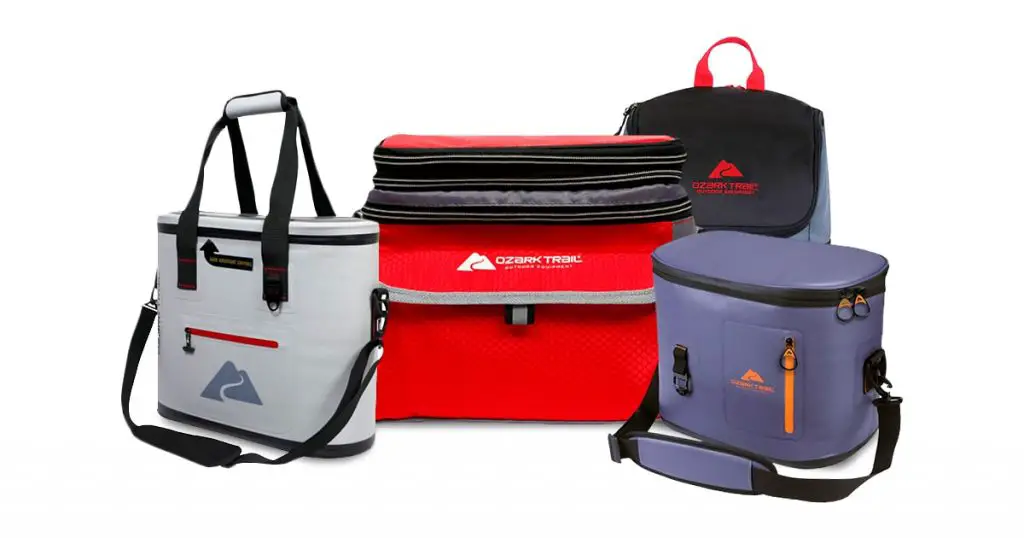 12-Can Cooler
36-Can Cooler
42-Can Cooler
Premium Backpack Cooler
Premium Tote Cooler
There's a little more choice here as you can see. They vary in size, shape, and color.
Cups and Tumblers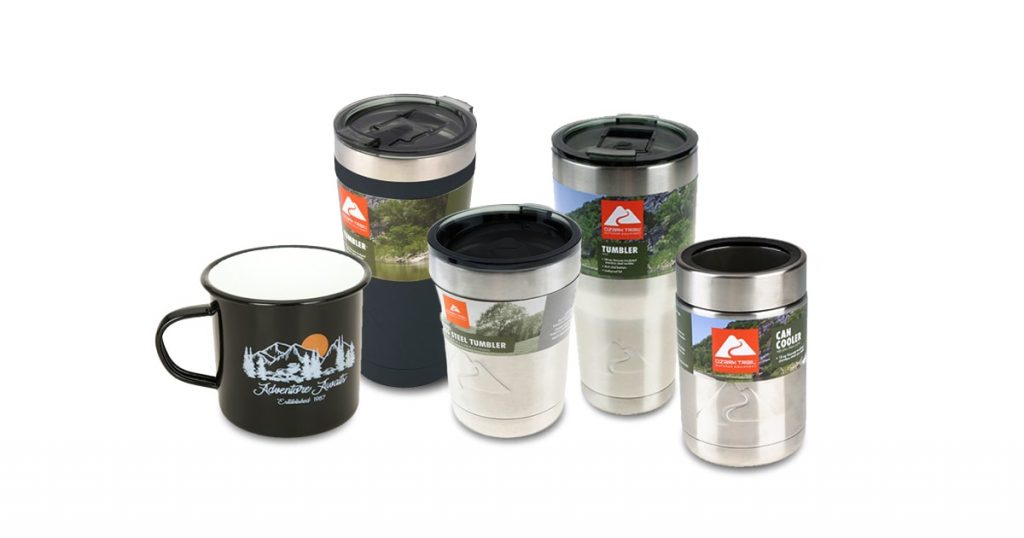 Enamel coffee mug with handle
Stainless steel lowball
Tumbler is made with stainless steel
Coffee mug with handle is made with stainless steel
They also sell accessories for their products, including replacement lids and handles for cups, and replacement drain assemblies for coolers.
Hard-Sided Coolers
Now, we'll take a look at the hard-sided coolers in more detail.
Appearance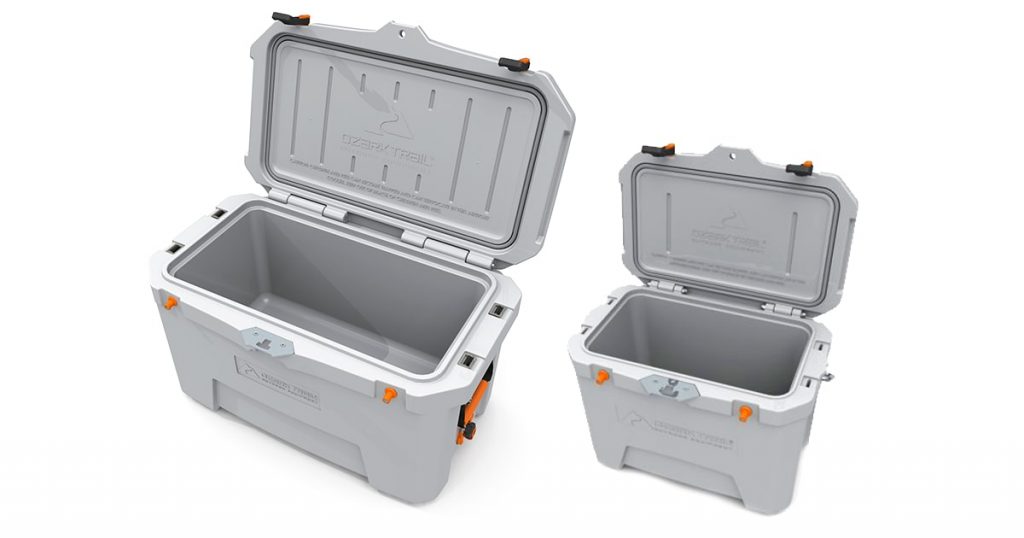 The hard-sided coolers look similar to other brands, like YETI, Pelican, and ORCA. They have a pretty basic design, with large, solid-looking handles. The color range is quite muted, with grey, white, red, and pale blue being the main color options. So, if you're looking for something bright, or something that can be personalized, you won't find it here.
Cooling Power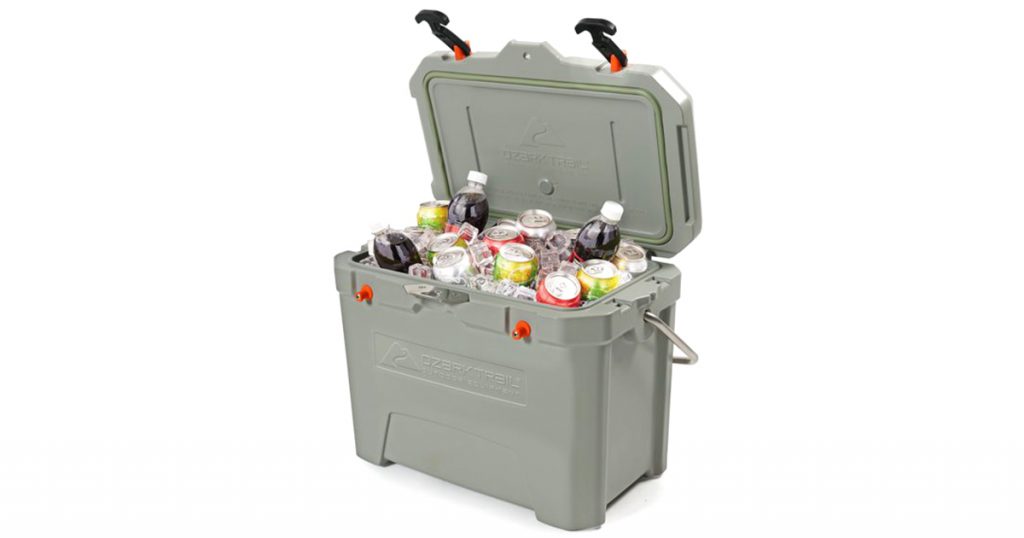 Onto the most important thing: how cool can they keep your food and drinks?
Looking at the construction itself, the hard-sided coolers are rotomolded. This means they're made from one seamless piece of plastic. This ensures you won't have to worry about cool air escaping through minuscule cracks in the seams. 
The walls are fairly thick, between 2.5-3″ (6.35 – 7.62cm). Most hard-sided coolers have walls of this thickness. This helps with ice retention. The walls are coated in UV-resistant material too, which helps protect your cooler from sun damage (perfect if you're out fishing all day).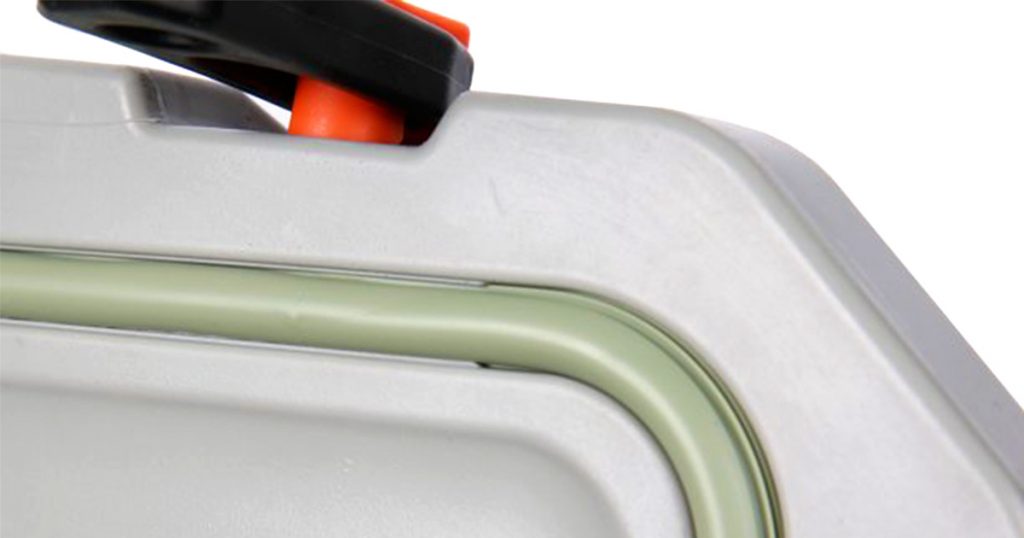 They also have a thick rubber gasket (a freezer-grade mechanical seal to help prevent leakage) which is comparable to expensive cooler brands. Plus, the strong T-latches help to keep their hard-sided coolers firmly closed, so you won't have to worry about air escaping.
What about ice life? Ozark Trail suggests the following:
26-Quart (24 Liters) – 4.5 days
52-Quart (49 Liters) – 7 days
They say that this is how long ice will last in 'optimal conditions', so you might not achieve the same results while you're out camping in hot weather, or out on a hunting trip, for example. It might be more realistic to expect 2-5 days of ice life, once you consider the contents of your cooler and how you'll be using it.
You can check out this Ozark Trail Ice Life Retention Test video by Noah Rane if you want to see one of their coolers in action.
Features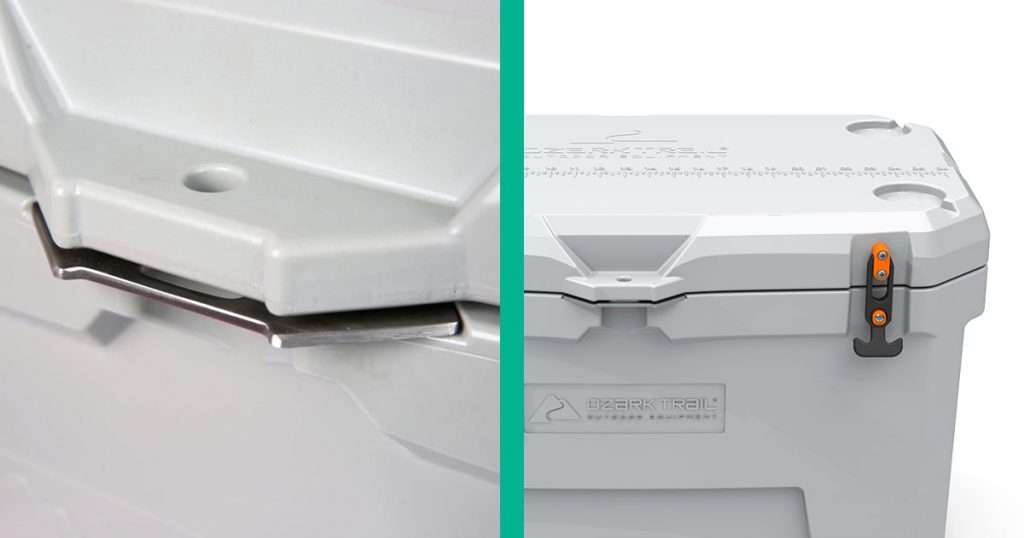 There are a few extra features in the hard-sided coolers, including:
Oversized drain – this helps to remove melted ice inside and is very easy to use
Anti-skid feet – this helps to protect the surface you put the cooler on and stops it from moving around
Bottle opener – the stainless steel locking plate at the base also doubles up as a bottle opener, which means you won't have to worry if you forget to bring one!
Fish Ruler – there is a molded-in fish ruler on the lid, which is ideal for fishermen
Internal wire baskets – included in the 52-Quart (49 Liters) and 73-Quart (69 Liters), this is good for organizing the contents of your cooler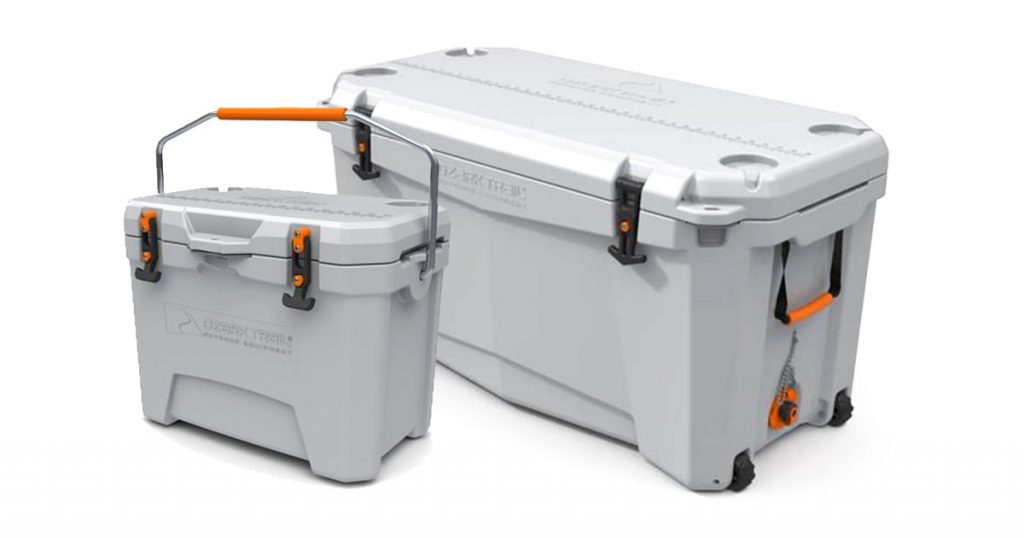 The smallest cooler has an overhead handle with a comfort grip, and the medium and large coolers have side-handles with comfort grips. So you won't have to worry about the handles cutting into your hands.
Durability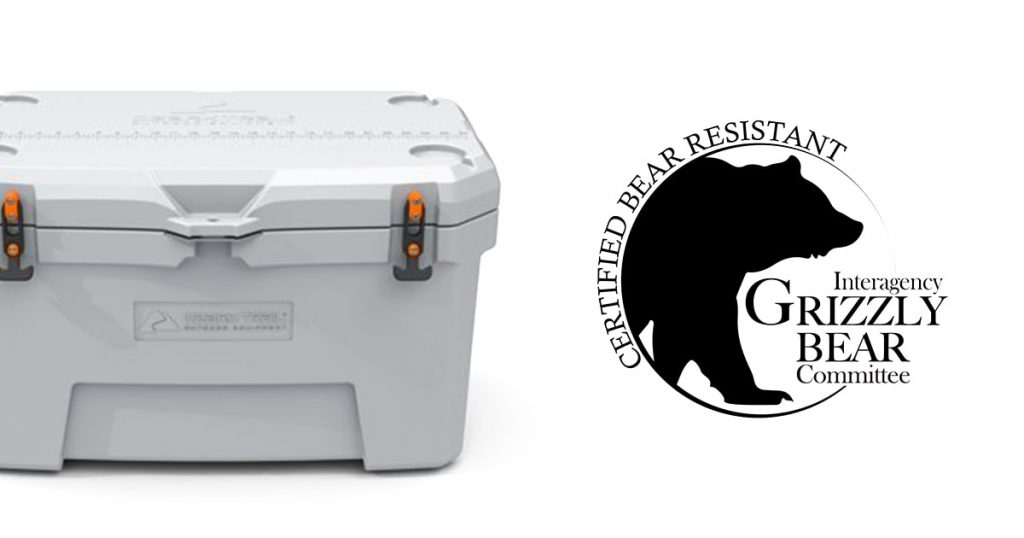 How long can you expect your cooler to last?
They do really well on the durability front. The metal parts are made from high-quality, corrosion-resistant stainless steel. Plus, the hard coolers have the IGBC (Interagency Grizzly Bear Committee) approval. This means, with proper use, even a grizzly bear won't be able to break into it! You can see their full list of certified bear-resistant products for more information.
Pricing
One of the main selling points of Ozark Trail coolers is the price point. It's lower than some of the high-end brands out there. For example, their largest cooler (73 Quart / 69 Liters) is over three hundred dollars cheaper than the YETI 75 (75 Quart / 71 Liters). That's a huge saving! However, quality-wise, YETI does have a few advantages (we'll cover that a little later in the frequently asked questions).
If you're camping on a budget and you're just getting started, check out our guides to the Best Backpacking Tents Under $100, or the Best Tents Under $200 – we may be able to help you make some savings on a tent, too.
Soft-Sided Coolers
Now, let's take a look at their soft-sided coolers.
Appearance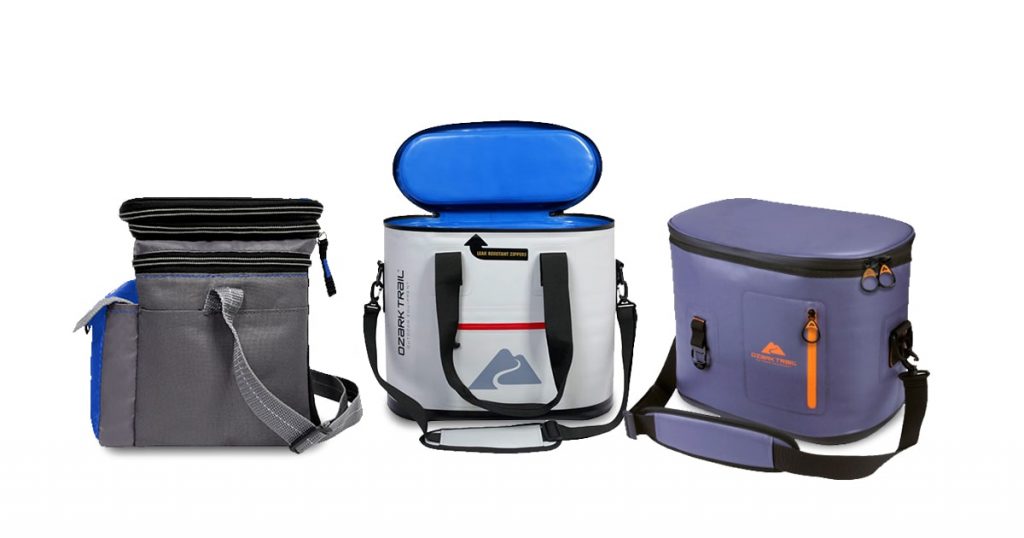 The soft-sided coolers vary in design. They come in muted colors, like the hard-sided coolers (grey, white, green, and blue), but they look well-made and durable.
Cooling Power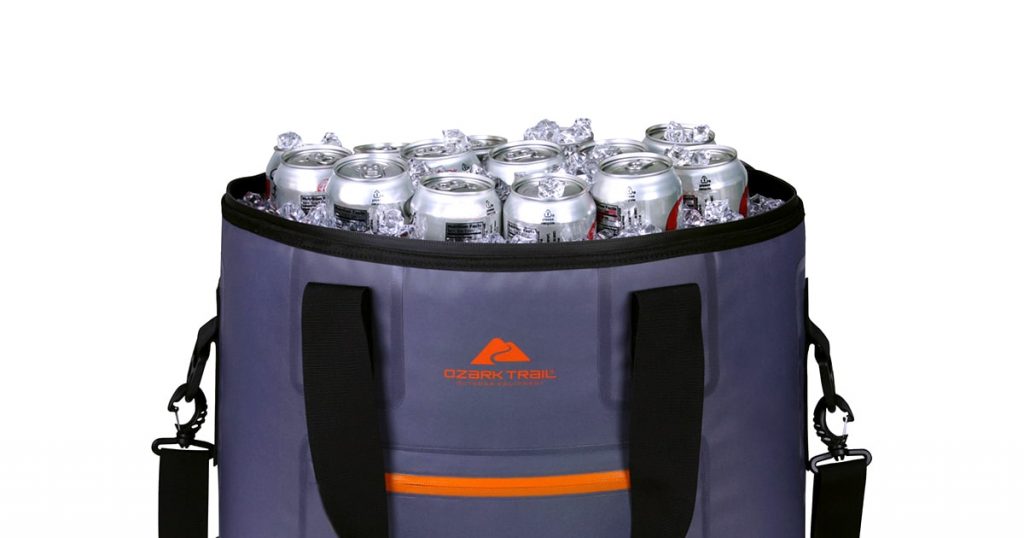 Soft-sided coolers don't offer the same cooling power as hard-sided coolers, which is something to keep in mind. How well do they perform?
Ozark Trail doesn't have an official answer on ice life when it comes to their soft-sided coolers. They also vary depending on the cooler you choose. For example, the premium soft-sided coolers (a tote and a backpack) have an average ice holding time of 1 to 1 ½ days. That's pretty good for a whole day out. 
However, the lower-priced options aren't as great in terms of longevity, with an ice life of just a few hours. These are better suited for picnics or taking your lunch to work, rather than a whole day's expedition.
Features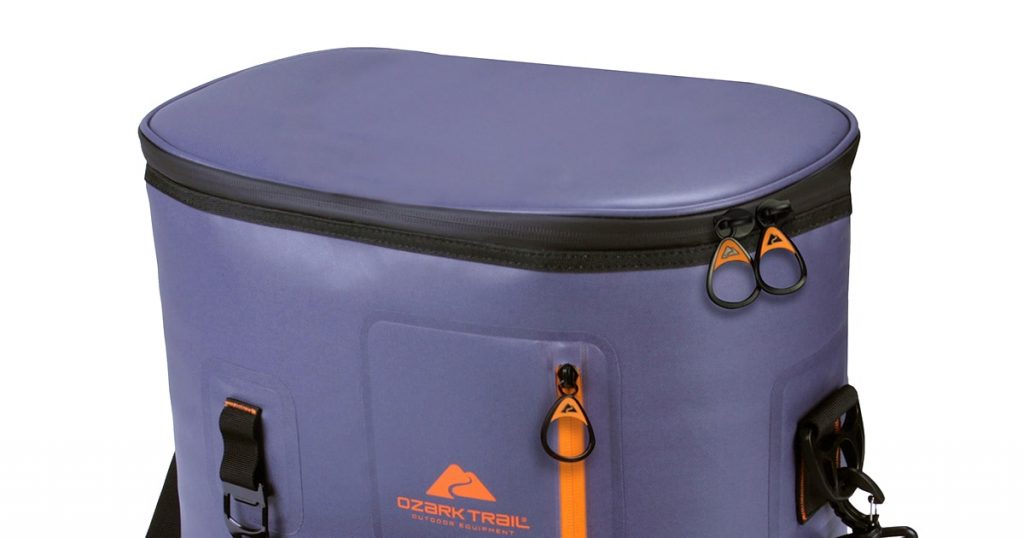 The Ozark Trail soft-sided coolers have a lot of features to boast about, depending on the style you choose. Each soft-sided cooler comes with multiple pockets on the front or sides, with zippers for front pockets. If you don't want to have to carry both a bag and a cooler, you can store your phone, keys, and wallet in one of these pockets without having to worry about them getting wet or cold.
The internal storage space is pretty good, and some come with an expandable top, so you can stuff more food and drinks inside.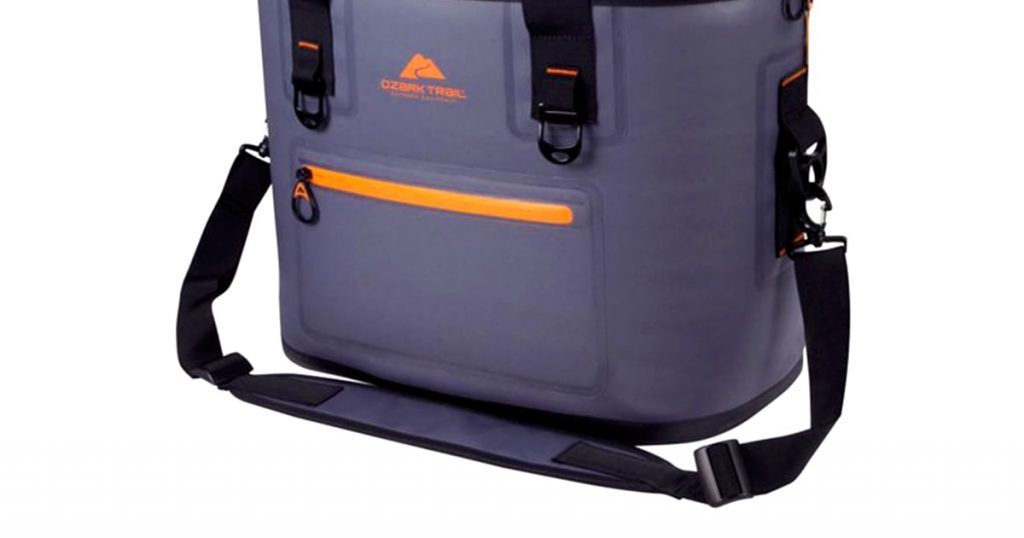 Most of the models have padded shoulder straps, so it should be comfortable to hold. The 42-can model has an extendable telescoping handle, and wheels, so you can comfortably take it with you even if it's full to the brim. The backpack cooler has padded shoulder straps, and the premium tote has overhead carrying handles and removable shoulder straps, too.
You have the option of using hard-sided liners in your soft-sided coolers, which are removable. If you want more structure and protection, you can insert these to keep the contents safe.
There are more features in the premium models too, including:
Built-in bottle openers
Daisy chain attachment points (allowing you to clip extra gear onto the cooler for easier carrying)
Compression straps
Thicker insulation
Washable outer coating
Durability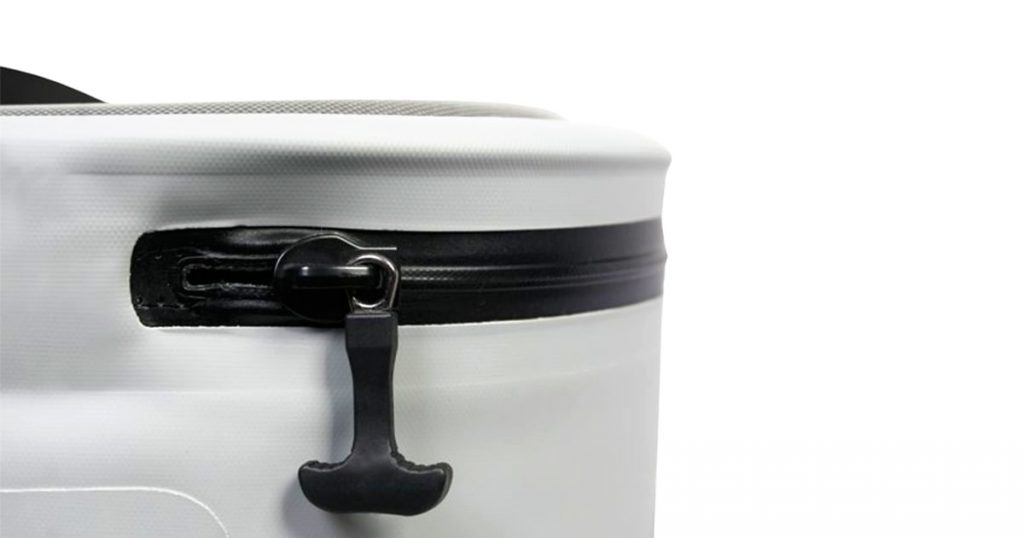 What about durability? Well, it depends on the model you choose. The premium models have a better build quality, which means you can expect them to last a bit longer. Some of the cheaper options can encounter problems after 6 months to 1 year of use, including broken zippers, which may depend on how much you use them.
Pricing
Ozark Trail's 24-can cooler is over $250 cheaper than YETI's 24-can backpack cooler. Although you may expect a bit of a price difference for the convenience of having a backpack cooler, this is a huge price difference. If you're on a tight budget, it's definitely worth looking into Ozark Trail's soft coolers. However, the difference in quality is more apparent here. If you want something very hard-wearing, you may be better off looking into YETI or ORCA's soft-sided coolers, but you can expect to pay a lot more for them.
Which Products Would You Recommend?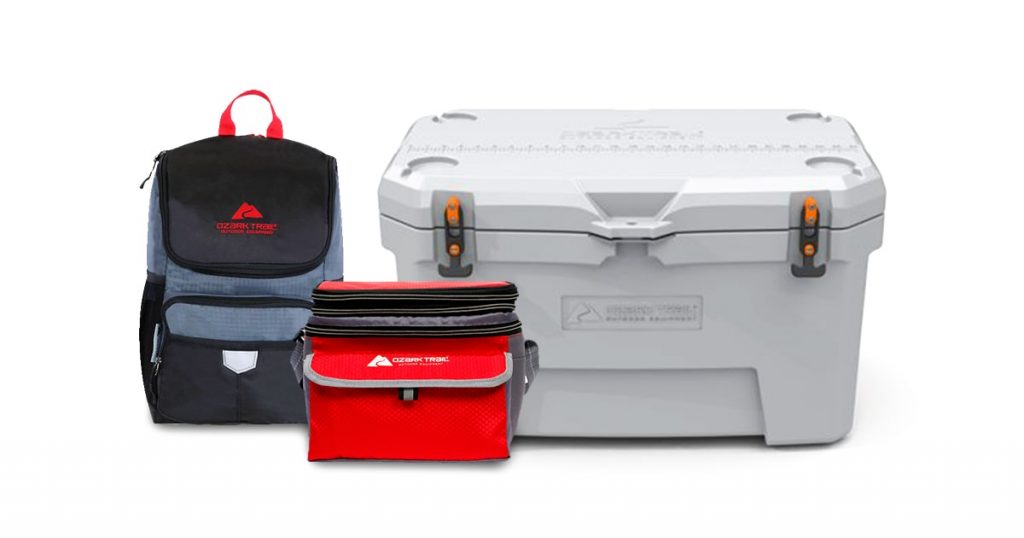 Here are a few Ozark Trail products we'd recommend for you:
Alternatives to Try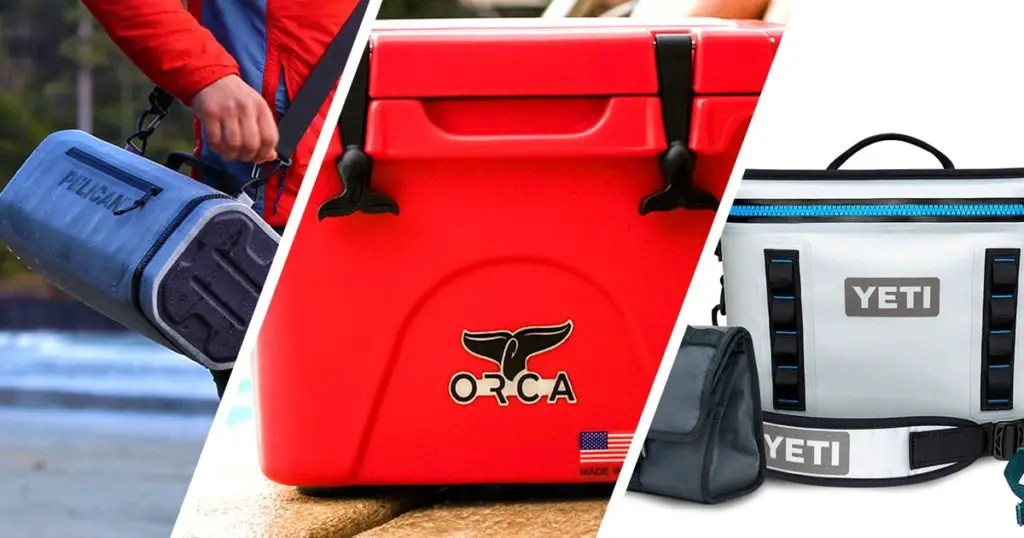 If you want to keep looking, here are a few other brands to try:
YETI – we've mentioned YETI a few times in this article because they really are a high-quality brand. If you have more to spend, it's worth checking them out. You can find out more about YETI in our Guide to YETI Cooler Sizes or our Hydro Flask vs YETI Rambler comparison.
Pelican – another high-quality brand, Pelican just about beat YETI in our Pelican vs YETI comparison, so it's well worth checking them out.
ORCA – this is another brand that's similar to YETI, but with a slightly lower price tag. Price-wise, they're in the middle of Ozark Trail and YETI, so if you have a slightly bigger budget but don't want to go for the most expensive brand, it's worth finding out more. You can read more in our ORCA vs YETI comparison.
Frequently Asked Questions
Here are a few of the most commonly asked questions about Ozark Trail coolers:
Can Ozark Trail really compare to YETI, ORCA, and other high-quality brands?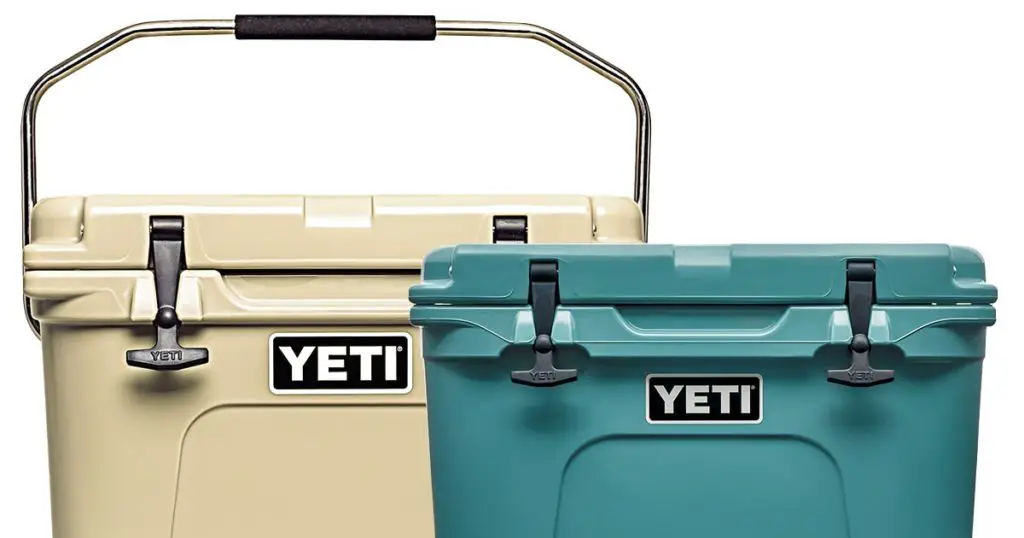 In our opinion, Ozark Trail's hard coolers are very comparable to YETI or ORCA hard coolers. They're not exactly the same: they don't have the same 'premium' look as YETI or ORCA hard coolers, and they look a bit more basic. However, they're durable, they use high-quality components, and they can keep your food cool for a long time. If you're not worried about branding and you want to buy a decent, durable hard cooler, we'd recommend checking out Ozark Trail. You could stand to save a lot of money.
Where this comparison falls short is in the soft cooler department. Ozark Trail's soft coolers just don't compare as well to YETI's soft coolers, for example. They're less durable, so if you want something that you can trust will last a long time, it might be worth splurging on a more expensive brand.
Will I get a warranty with my Ozark Trail cooler?
Ozark Trail offers a 5-year warranty for their coolers (against manufacturing defects).
What can I store in my Ozark Trail cooler?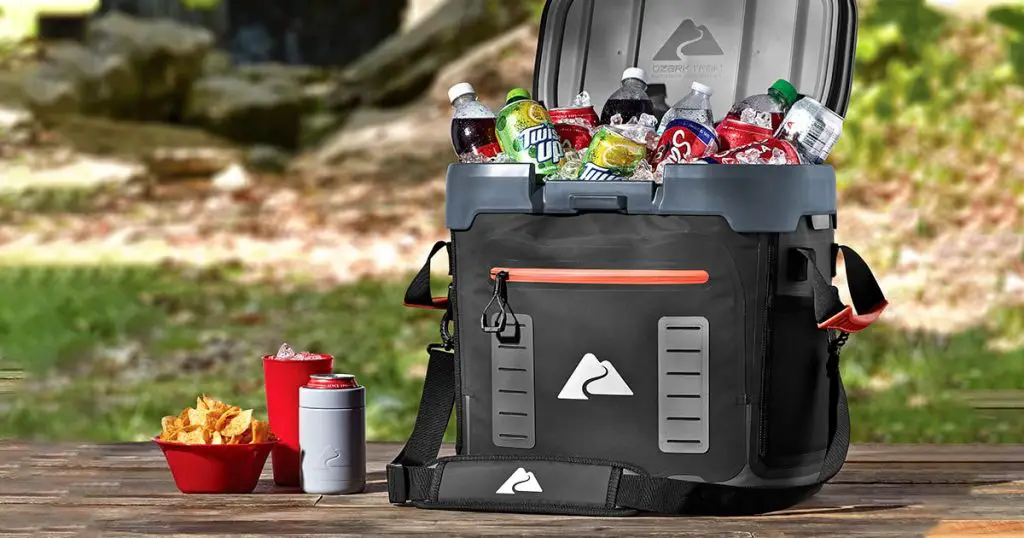 Essentially, you can store anything you want to keep cool! Food and drinks will stay nice and cold for hours (depending on which model you choose). If you use a hard liner, it will give your soft cooler more structure, which is ideal for carrying pre-prepared foods for a picnic (for ideas, check out Real Simple's guide to cooler-friendly picnic recipes).
How can I safely store food in my cooler?
Ideally, you should pack your food tightly in your cooler, as this will keep it cool for longer. It's also important to fill your cooler with as much ice as possible. Check out Good Housekeeping's article on 7 Mistakes You Make Packing a Cooler for more safety tips.
What other Ozark Trail products can you recommend?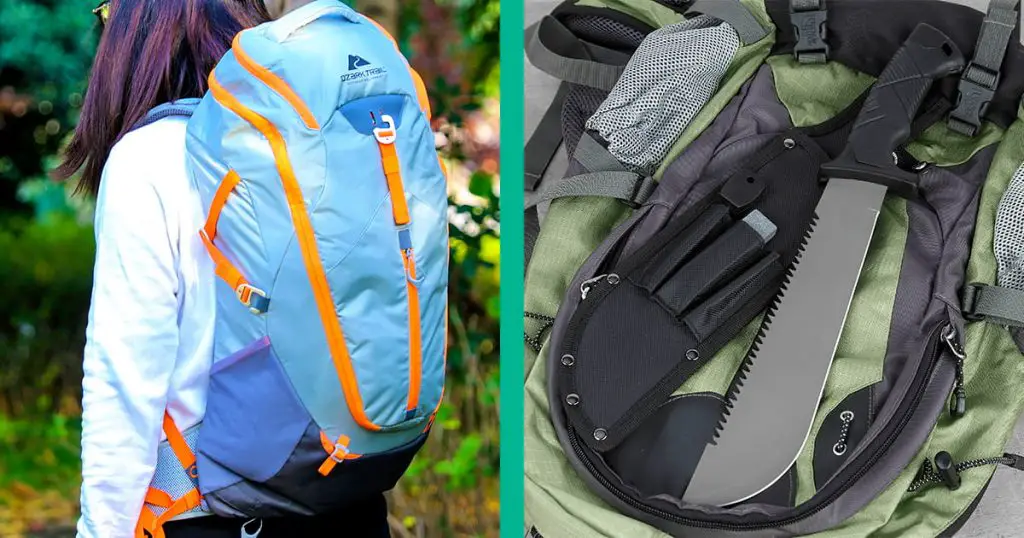 Ozark Trail manufactures a lot of camping equipment. We can recommend:
To Sum Up … Are Ozark Trail Coolers Worth It?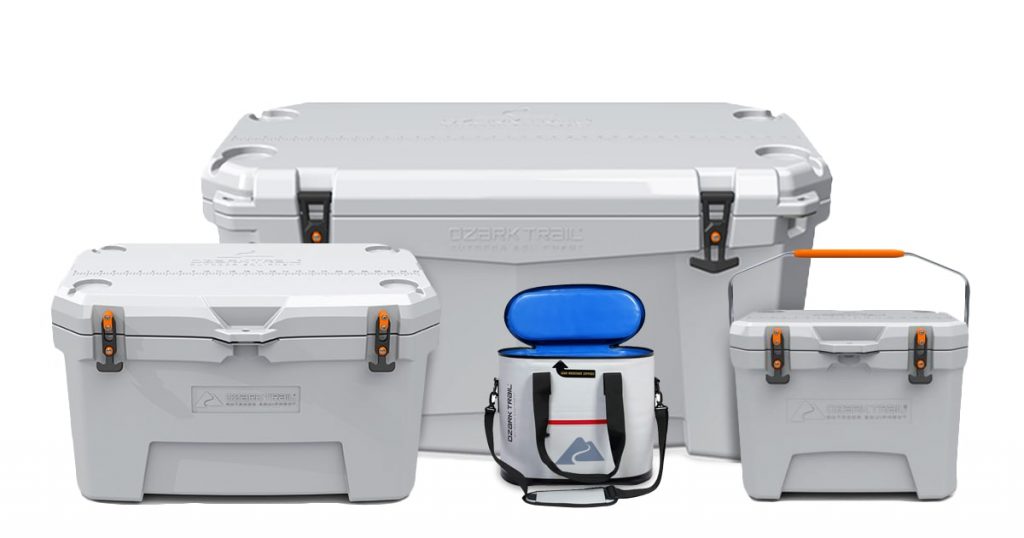 In our opinion, Ozark Trail coolers are absolutely worth checking out if you have a tighter budget to work with.
You might be better off sticking to the hard coolers. While the premium soft coolers are great, the cheaper models have some durability issues, so if you want something that's going to last you more than a year or so of regular use, it's worth investing more money by choosing a higher-quality brand.
However, the hard coolers are great. With good cooling power for the price, excellent durability, and plenty of useful features, we think they're a great choice.
We hope this has helped you to decide if Ozark Trail is the right cooler brand for you!