Hiking is an excellent lower-body workout, but it can leave your body with some aches and pains. Sore calves after hiking is a pretty common phenomenon, as your legs work so hard on the trail.
We've got some tips on how to help your calves recover after a hike, as well as some recommendations for proper footwear, which can help to protect your legs from working overtime. We'll also answer some frequently asked questions about hiking and calf pain.
Let's start by finding out why our calves take a beating during a long hike.
Why Do My Calves Hurt So Much After Hiking?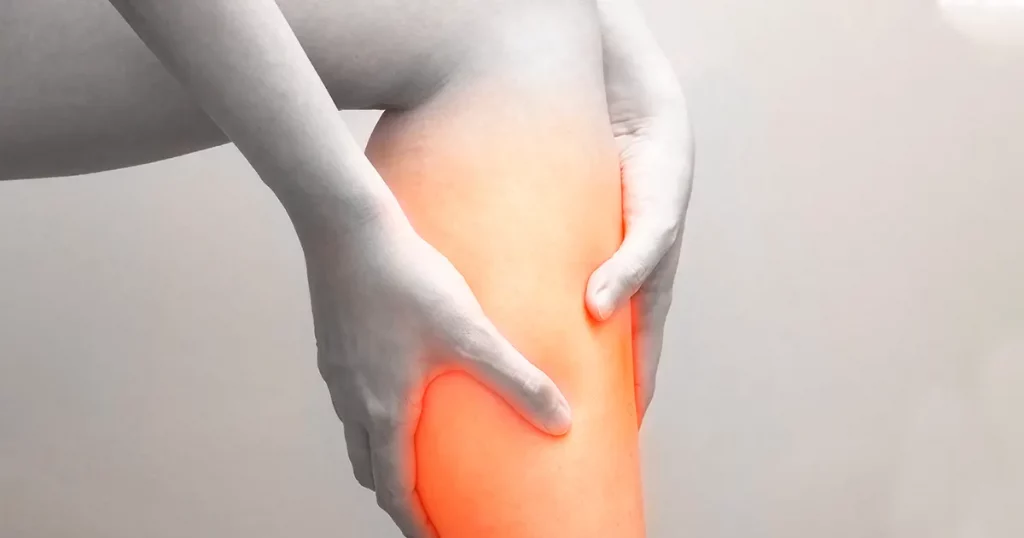 Hiking is great exercise, and it's particularly good for building up strength in your legs. As you walk, your body will break down glucose, creating lactic acid. This acid can build up in certain areas, which can lead to aches and pains. With a bit of care after a hike, you can help to relieve these aches quite quickly.
You might, however, experience a bit of leg pain during a hike (especially towards the end). You can alleviate this by walking slowly, taking short breaks at regular intervals.
How to Take Care of Sore Calves After Hiking
There are a few things you can do, both on and off the trail, to recover if your calf muscles have been working overtime.
Stretching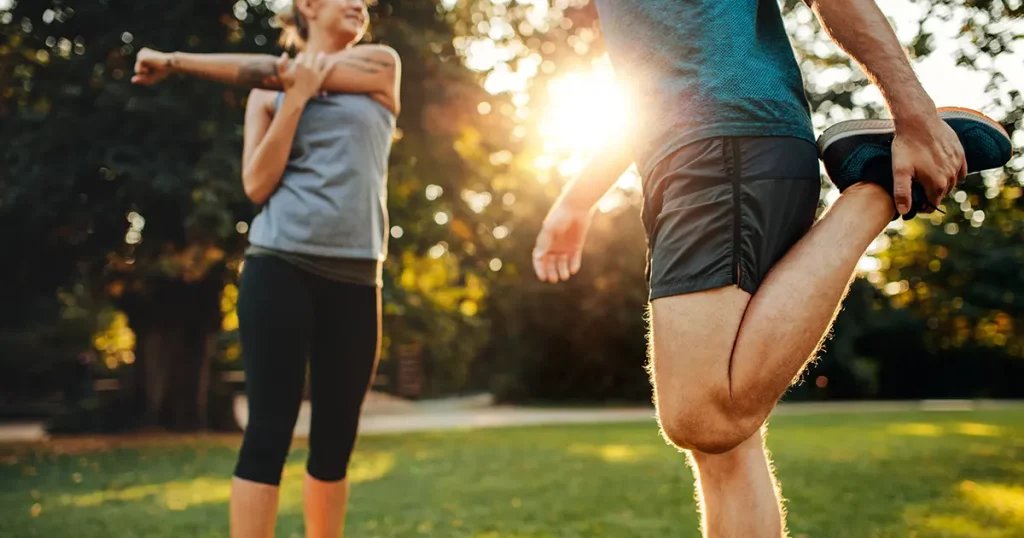 It's easy to overlook this, but stretching before and after a hike is really important. We'd recommend checking out some videos on YouTube, like this one by Jupiter Hikes. It's easy to do and takes just moments, but stretching your muscles can help prevent injury.
Water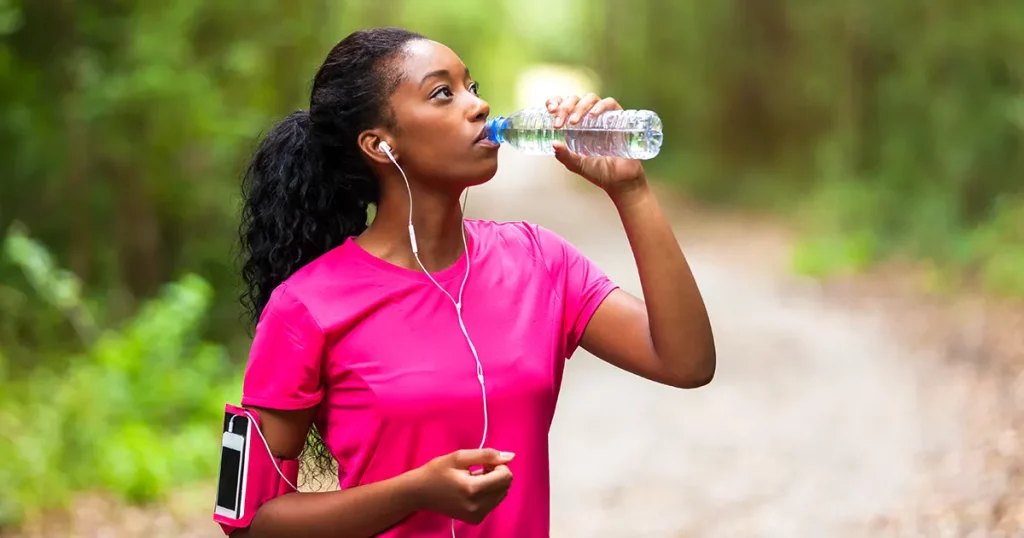 It's really important to stay hydrated when you're hiking. Being dehydrated can pull fluid out of the tissues in your muscles, causing aches in your body. So staying hydrated is key.
If you find you forget to drink water, there are a couple of things you can do. You can get an app to remind you to drink water at regular intervals, which may help. You should also buy a large water bottle. Look for one with a time marker, which can help you to drink the right amount as the day goes on. We like the XACIO 32oz Water Bottle.
Foam Rollers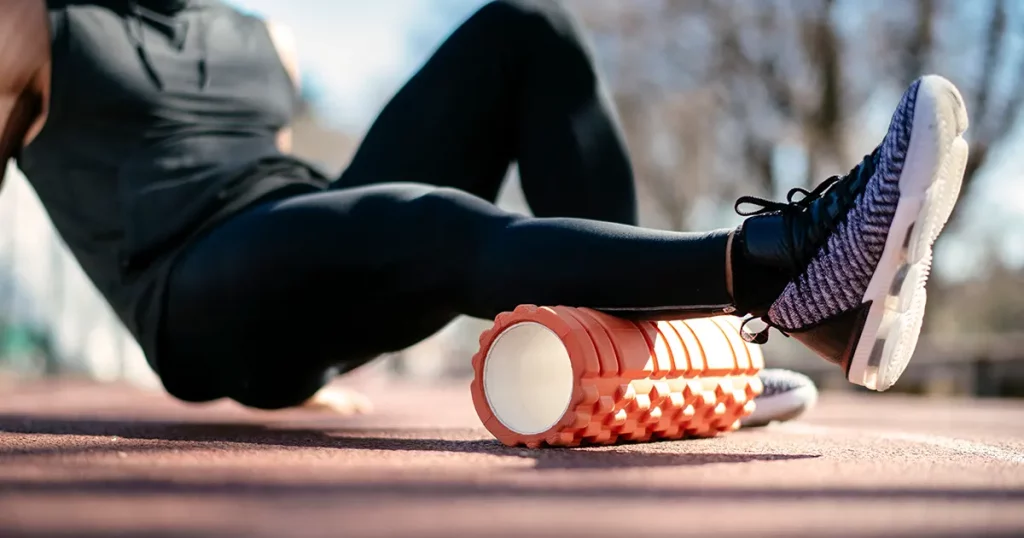 If your muscles are particularly achy after a long hike, foam rollers might offer some relief. You can get smooth rollers, like the LuxFit Foam Roller, or rollers with grooves, like the 123 STRONG Foam Roller.
Either type works well, but rollers with grooves offer a deeper tissue massage. This is great if you have some really deep muscle aches. It feels pretty intense though, so it might be worth starting with a plain one to see if this helps first.
To use them, roll the foam over your calves 5-10 minutes after a hike. You can also do this before a hike if your legs feel a little stiff when you wake up in the morning. The main thing to remember is to go steady. Start gently, and increase the pressure as you go.
If you find a sore spot, press into the area for a few breaths, and then move on. 
Magnesium Supplements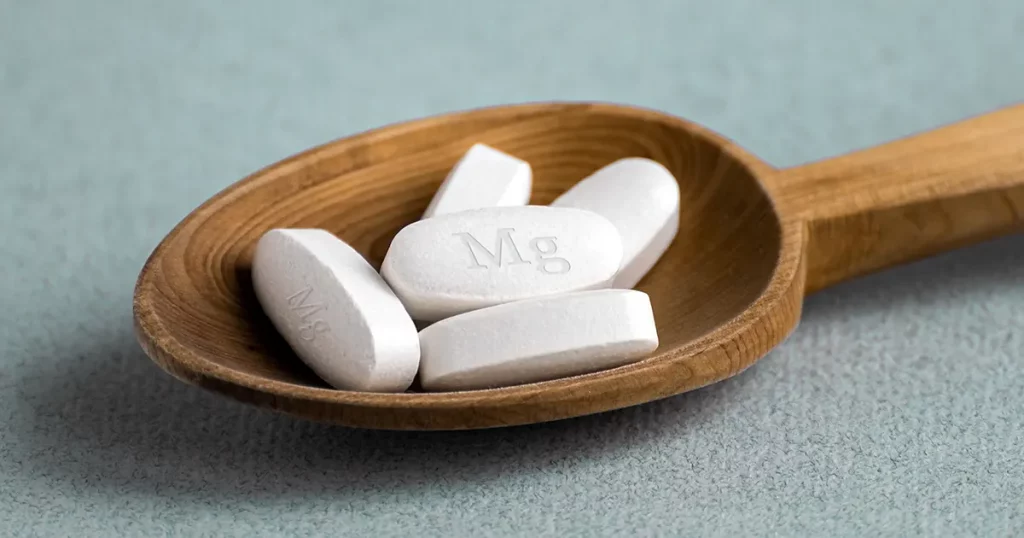 Magneisum supplements may help with body aches. There are a few options to try:
Magnesium Capsules – these are traditional vitamin capsules, easy to take with water
Magnesium Powder – you can stir this into water to create a flavored drink
Magnesium Spray – you can spray this directly onto your body, and it may offer instant relief. Plus, it can help you to sleep better if you apply it before bed
Of course, you should always stick to the guidelines when it comes to taking supplements, and you should check with your doctor if you're going to start taking it regularly.
Water Therapy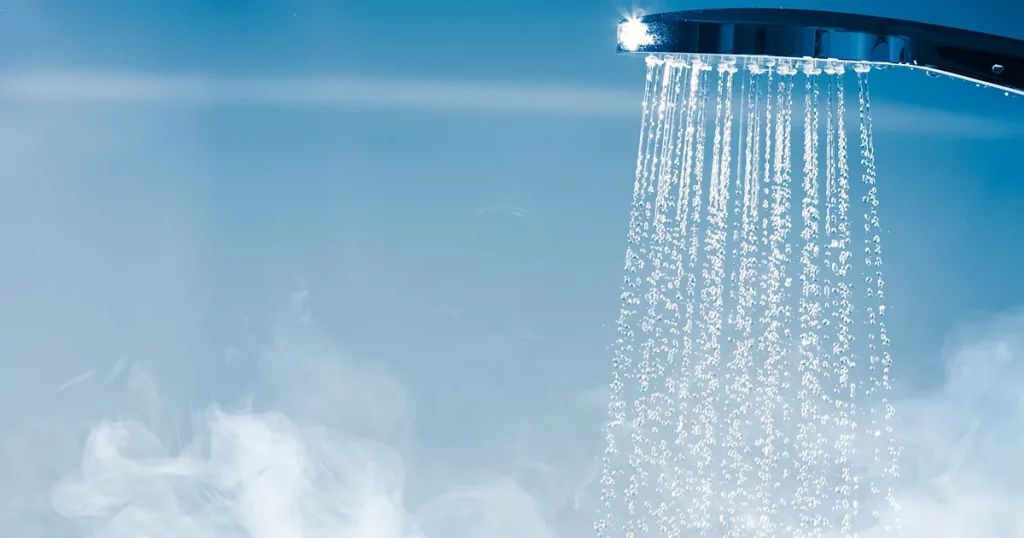 Sometimes, all you need to help your muscles to recover is a bath. The warm water will allow your whole body to relax, and you can use magneisum bath salts to help you body recover quickly.
Staying Active
It's important you stay active during the recovery period. While it's a good idea to have a break between hikes, you should aim for some exercise. Go for something gentle, like yoga, or a relaxing swim.
Sore Muscles and Footwear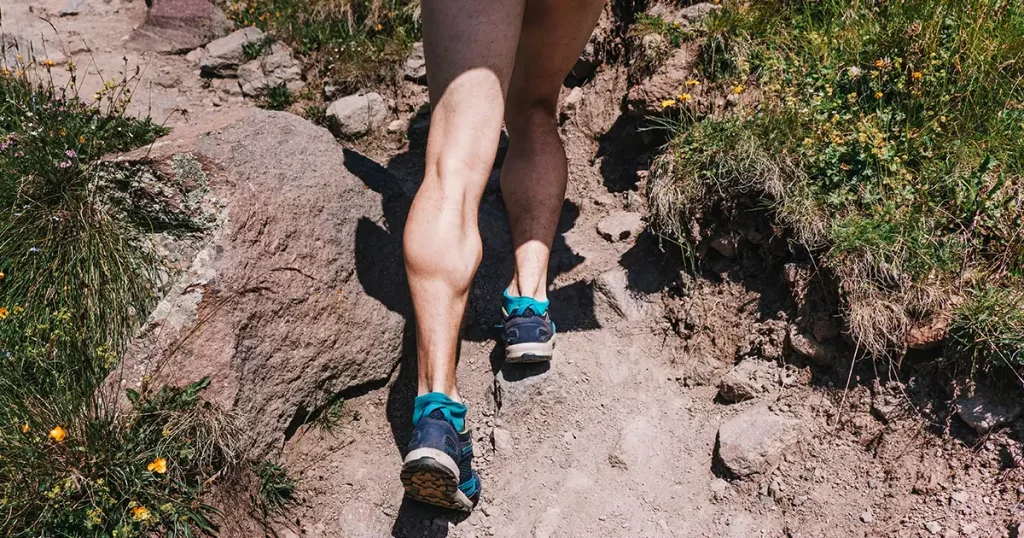 Proper-fitting footwear for hiking is important for a lot of reasons. A good pair of hiking shoes will protect your feet, keeping them safe on the trail. They can also help to reduce aches and pains.
The main thing to do is to look for shoes that fit you properly. If your shoes don't fit, your muscles will have to work even harder than normal, leaving you with body aches.
There are a few types of hiking shoes to choose from:
Hiking Sandals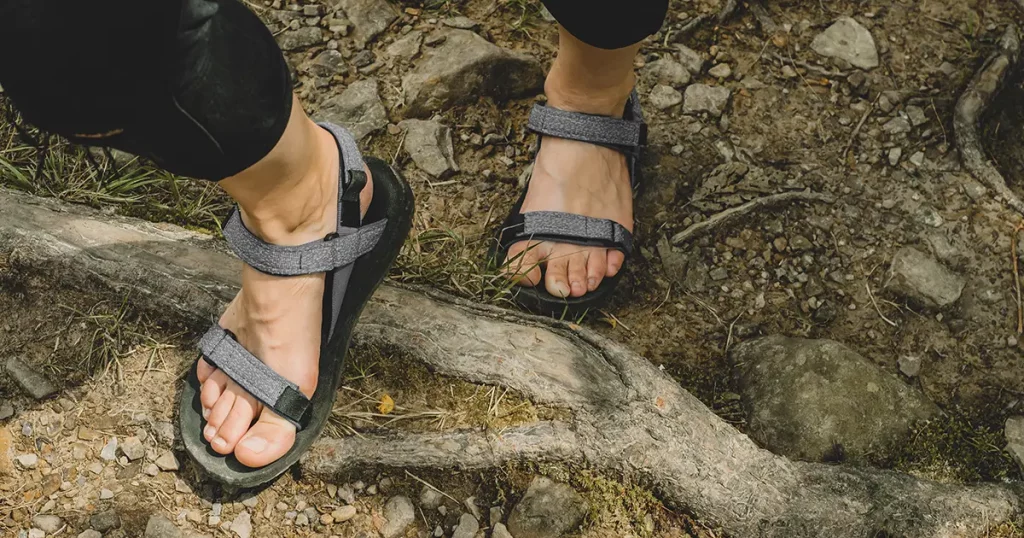 Hiking sandals are good for hiking in warm weather, or if you're hiking near water. They will offer the soles of your feet (and sometimes the toe area) protection while allowing air to flow freely to prevent your feet from overheating. Plus, they tend to dry quickly, making them an excellent choice if you have to cross a stream mid-hike.
We'd recommend the Chaco Men's ZVolv 2 for men, as they're super comfortable and durable. 
For women, we'd recommend the KEEN Women's Whisper Sport Sandal. These are super comfortable, protective hiking sandals.
Try Hiking Shoes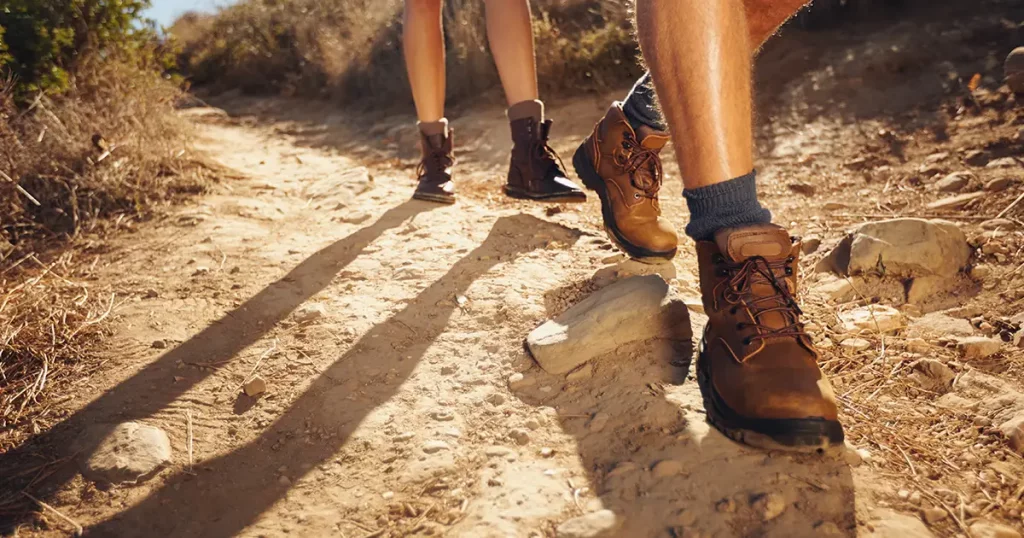 Hiking shoes look similar to sneakers, but they're more protective and durable. These are perfect if you don't like the heaviness that can come from wearing hiking boots, and they usually don't require much breaking in.
For women, we'd recommend the Jabasic Women's Hiking Shoes. They're comfortable and can be worn in all sorts of situations.
For men, you could look at the Columbia Men's Crestwood Hiking Shoe. These are nice to wear right out of the box, and they're protective and durable.
Hiking Boots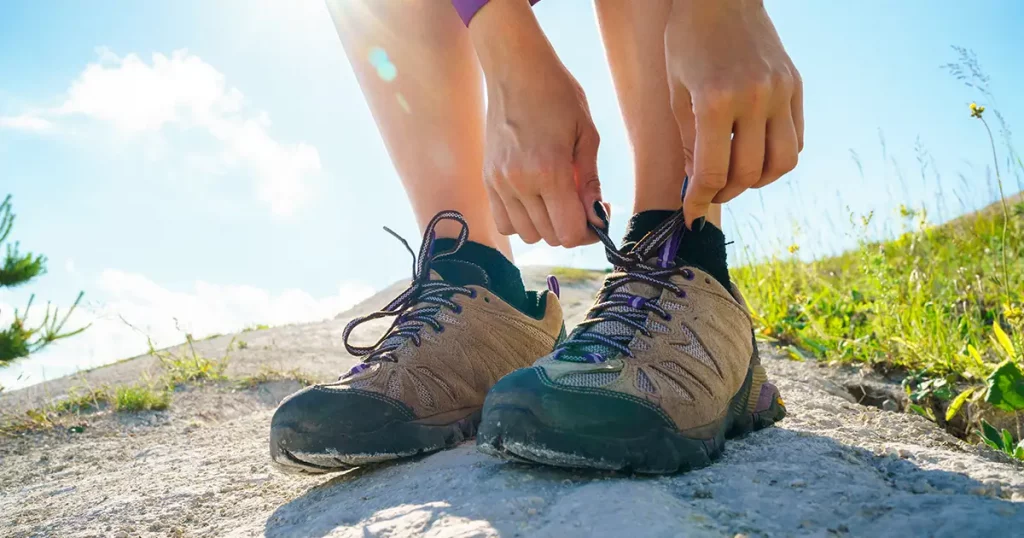 Hiking boots are super protective, and they can be worn on the toughest of trails. You can find hiking boots with insulation, and these are ideal for cold weather. Hiking boots may take a little bit of breaking in (more on this in the frequently asked questions section), but they should keep your feet comfortable even on very long hikes.
We'd recommend checking out the Timberland Men's White Ledge Mid Waterproof Hiking Boot. They have excellent grip and ankle support.
We like the Columbia Newton Ridge Hiking Women's Waterproof Boots for women. They're super waterproof, comfortable, and ideal for hiking in bad weather.
You can find hiking boots and shoes in different fit options. Check out our guides to the best hiking shoes for narrow feet, and the best hiking shoes for wide feet for more recommendations.
Frequently Asked Questions
Before you go, here are some frequently asked questions you might want the answers for:
How can I break in my hiking shoes?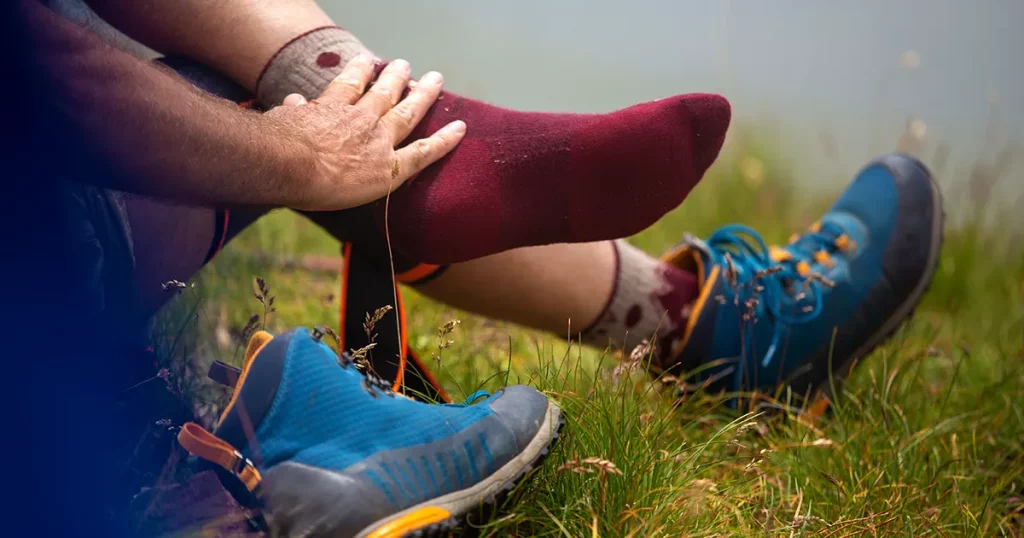 You can do this by wearing them in small increments. Try wearing them around the house to begin with, then wearing them on short trips outside. Gradually increasing the distance will help to soften your shoes, making them feel more comfortable.
When you take them out on a hike for the first time, make sure you go on a shorter hike just to make sure. You don't want to get stuck on a long hike with blisters!
How can I increase my stamina for hiking?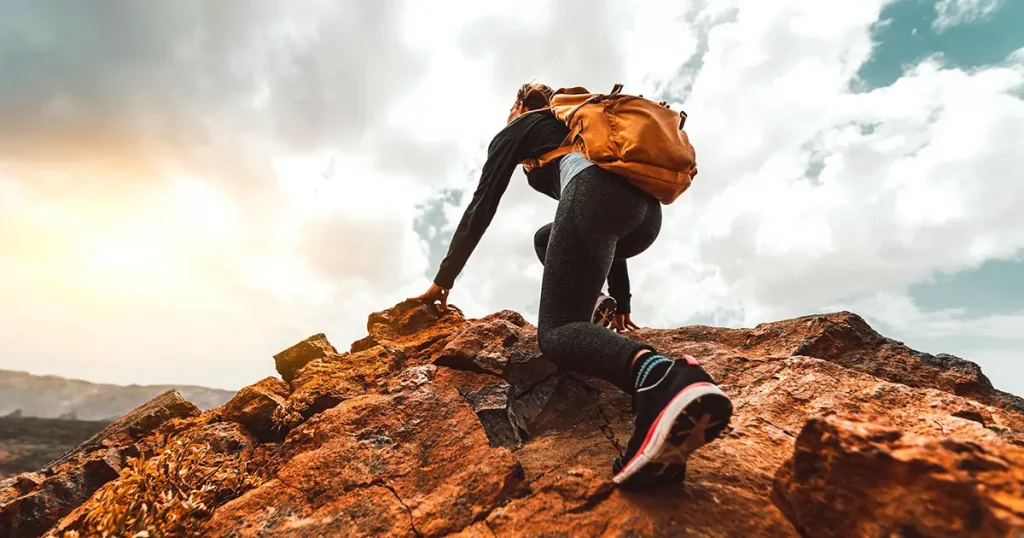 There are several exercises you can do to increase your stamina for hiking. It's mostly about building strength, especially in your legs. Squats, lunges, and short sprints can help. It's also a good idea to hit the treadmill if you can.
Can massage help with calf pain after hiking?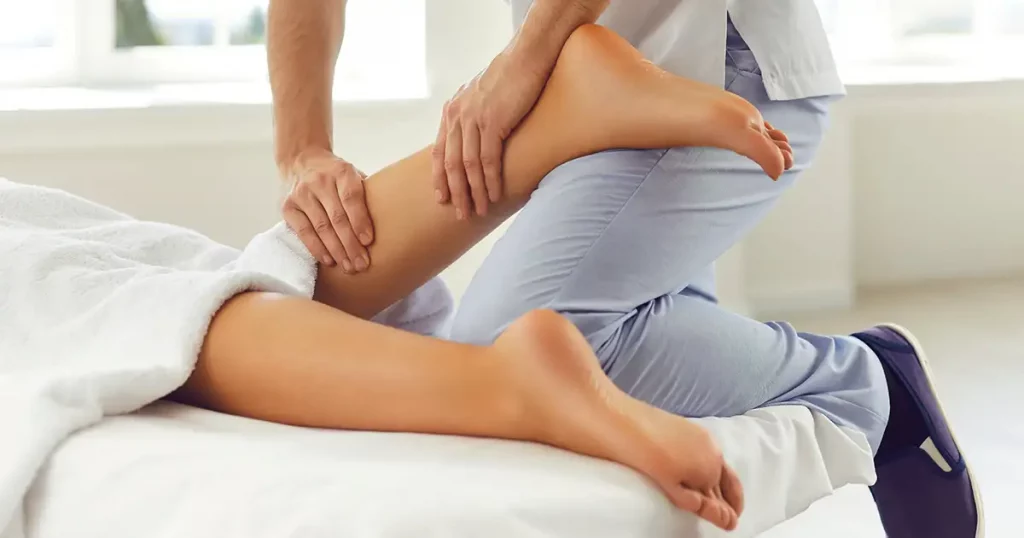 It can help relieve some of the pressure. Healthline has a list of 14 ways to give a leg massage if you want to find out more.
How can I tell if I've pulled a muscle in my calf?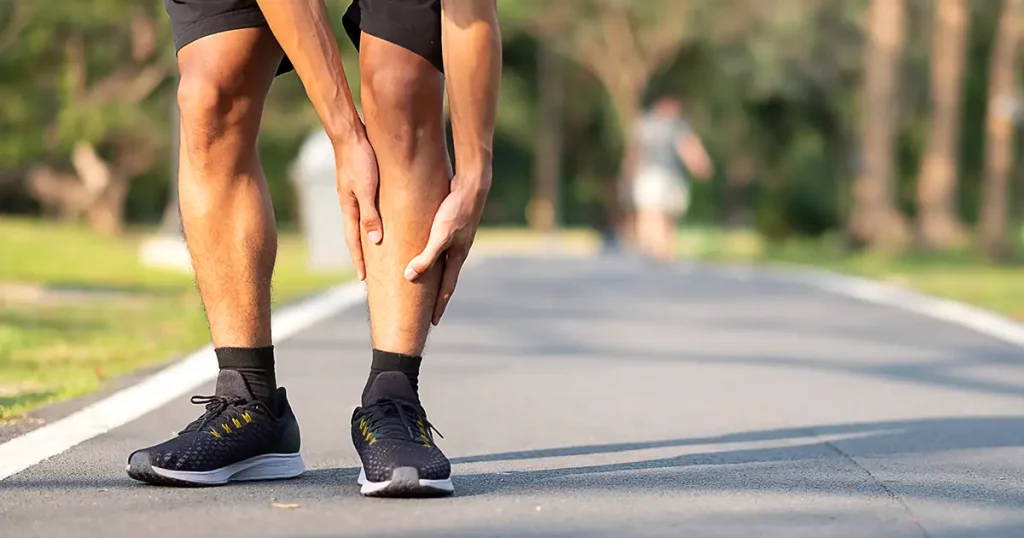 A pulled calf muscle can cause you a lot of pain. You may experience difficulty tensing your calf muscles, a snapping or popping sensation after movement, swelling, bruising, muscle pain, or difficulty bending your knee. Your physician will be able to diagnose a pulled muscle in your calf.
The treatment for this is the RICE method:
Rest – Stop exercising until you have recovered
Ice – Use a cold compress for 20 minutes at a time, every 2 hours
Compression – Use a compression bandage on the area
Elevation – elevate the injured area, preferably above heart level
To Sum Up …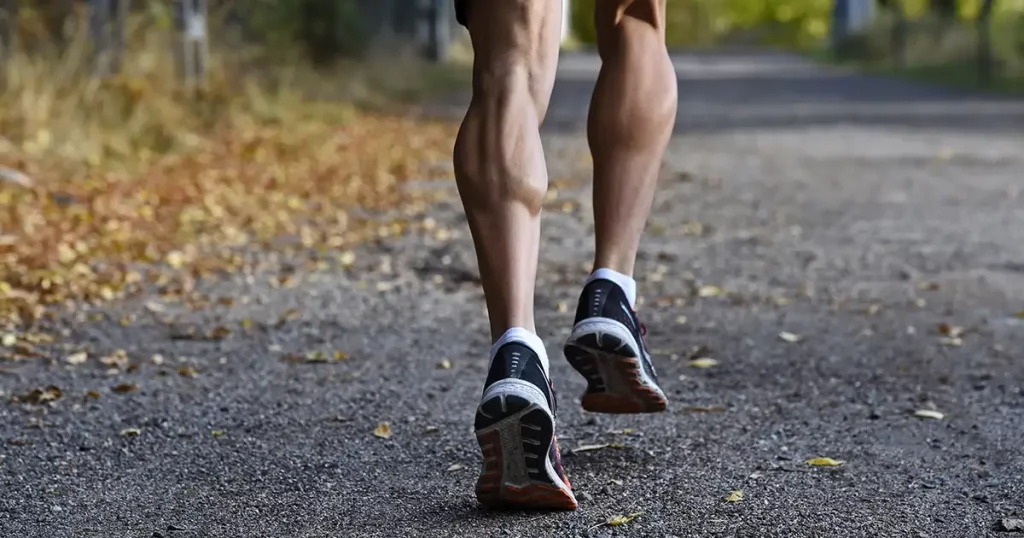 We hope this has helped you to deal with the aches and pains that can come after a long hike. With a little care, you can help to prevent further pain in your calves, and it's always worth treating your body to some decent rest and recovery.