When you're exploring the world and camping out, a tent is a piece of kit you absolutely need. Regardless of the elements, a tent will keep you warm, dry, comfortable and safe — it could literally be the difference between life and death. But do you know the difference between a 3 season vs 4 season tent? If not, our guide is here to help. 
By reading this guide, you will learn the following: 
The exact differences between a 3 season and 4 season tent.
Why you might need either one.
Answers to some frequently asked questions.
The verdict: which type of tent we think you should go for.
The main differences between a 3 season vs 4 season tent
The main differences between a 3 season vs 4 season tent are as follows: 
3 season tent is designed for less extreme weather, whereas a 4 season tent is designed for colder, harsher winters. 
4 season tent is heavier, whereas a 3 season tent tends to be lightweight.
A 3 season tent is designed to be as ventilating as possible, whereas a 4 season tent retains heat to keep you as warm as possible. 
A 4 season tent is more suited for winter, whereas a 3 season tent is designed to be used in spring, summer and fall.
A 3 season tent is lightweight and is effective at protecting from the wind and rain (thanks to the mesh walls and vents), whereas a 4 season tent features mesh-free walls in order to trap body heat and block out strong winds. 
Things to think about before choosing a tent
Before you decide between a 3 season or 4 season tent, take a look at some of our top tips below. 
What kind of tent do you need?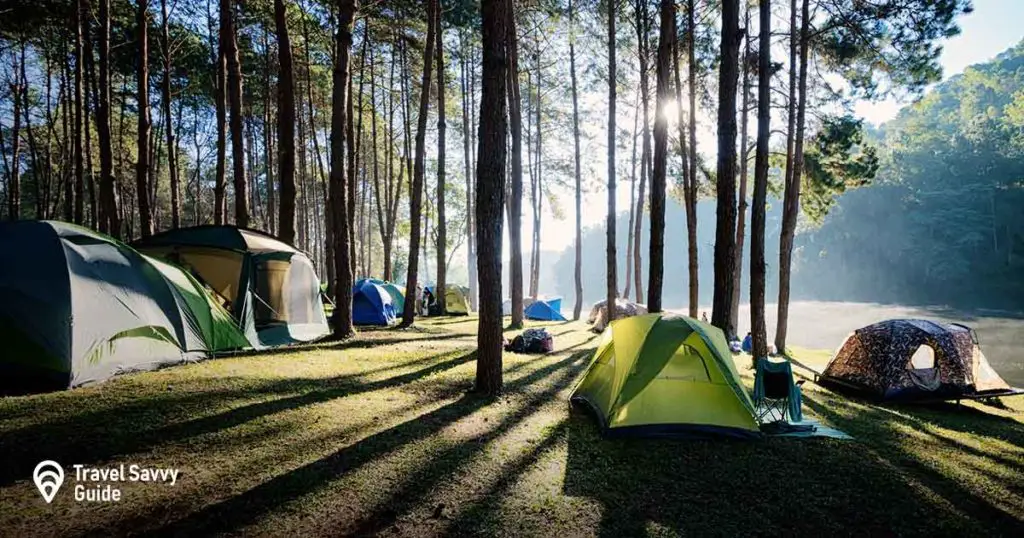 First things first: what kind of tent are you looking for? You might not know just yet, so this is a general run-down of the main types of tent:
Pop up: 
If you're planning to move on quickly, a pop up tent takes only seconds to pitch (put up). You simply shake them out and peg them down to keep them secure. They're a good option for festivals or keeping the kids entertained, and only fit about 1 person comfortably.
Weekend:
If you're going solo or as part of a couple, a weekend tent is a great option. They're ideal if you're only planning a few days in one, but come with a living space and/or porch so you can sit and chill out after a long day. They're incredibly easy to pitch. 
Family:
Depending on the size of your family, a family tent can fit between 3 to 10 people, offering a large living space and multiple bedrooms. They also come with additional accessories like porches and tent carpets that can add to the space. 
Inflatable:
This kind of tent is the newest on the scene and uses the latest technology to make pitching so much easier. What makes it inflatable are the beams, which you pump up instead of using steel or fiberglass poles. This removes any danger of the poles snapping in windy weather. 
Backpacking:
Backpacking tents are smaller in size and weight, and pack down so that they can be carried in a backpack. For better wind resistance and stability in open areas, these tents tend to be a tunnel or geodesic shape.

Are you pitching solo or with people?
It's a good idea to think about how many people are going to be in the tent with you. Are you traveling alone, in a couple, or with a larger group? Even if you're in a larger group you might not need a tent that caters for all (especially if you're hiking and need something that packs away), but there could be some instances where choosing a larger tent is the best option. This could be for general camping get togethers, or when there isn't a lot of space on the pitch for multiple tents.
What time of year will you be going?
This is one of the most important factors to consider, as this is the difference between needing a 3 season or 4 season tent. If you're traveling to a cold-weather location where it's likely to snow or hail, you'll need a heavy-duty 4 season tent. However, if you're traveling in summer where the conditions are likely to be mild and agreeable (with perhaps chances of only light rain and wind), a 3 season tent will suit you better. 
3 season vs 4 season tent – Which is better?
Now that you know a little bit more about what to think about before choosing a tent and the key differences between a 3 and 4 season model, let's look at each one in more detail. 
3 season tent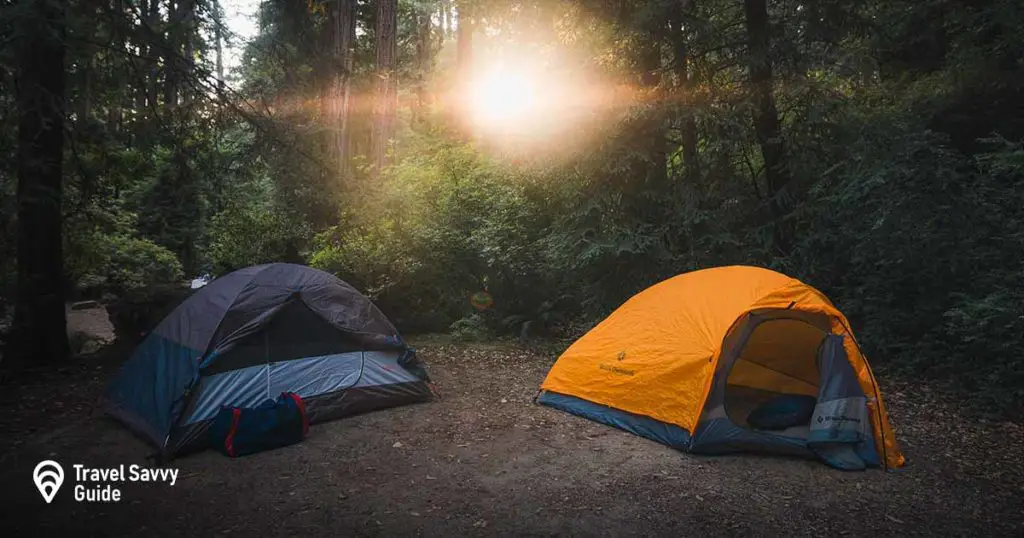 A 3 season tent is sometimes better known as a backpacking tent. This is because they're generally lighter and easier to carry, and can withstand elements that are typically associated with traveling, including chilly breezes, rain, light hail and cooler temperatures. They can even tackle blowing sand if you're camping out on the beach — but be sure to double check this with your chosen model. The only downside is that to achieve all this, some strength and protection is sacrificed to keep it as lightweight as possible.
When it comes to the construction, a 3 season tent is often made from lighter fabrics that allow more airflow. This makes them breathable – perfect for warmer weather. You're likely to find more mesh within the build too, as this helps with the ventilation. A double-wall construction is usually preferred, which consists of the tent body and rainfly to ensure it's fully versatile. Even the aluminium poles are lightweight, but they are sturdy enough to withstand the weather. 
There are many models available on the market, from featherweight tents that are great for backcountry hikes, to warmer models that are better for casual camping with friends and family. 
Generally, if you're camping somewhere in moderate temperature that isn't at risk of high winds (30+ mph), snow or heavy rain, a 3 season tent should give you all the protection you need. 
Key features:
3 season tents protect from moderate rain, moderate wind and light snow. 
Multiple mesh panels; boosts airflow for better ventilation and to keep out insects.
Fewer poles (or inflatable poles) to keep the tent lightweight.
Lightweight canvas fabrics to make the tent easy to carry. 
Upright walls for more headroom inside. 
They're generally easy to set up.
3 season tents are typically made from a double wall construction. 
Weights range from 3 – 6 lbs (1.3kg – 2.7kg).
Pros:
Easier to carry around; perfect for backpacking or if you're traveling light. 
They're cheaper than a 4 season tent. 
They can be used pretty much all year round. 
They're fully versatile.
You get plenty of airflow and ventilation with a 3 season design. 
The mesh is usually bug-proof. 
You can use them in almost any environment.
They're easy to assemble. 
Cons:
You don't get maximum strength and protection from the elements. 
They're not so good for extended periods of time. 
3 season tents can't deal with snow very well. 
4 season tent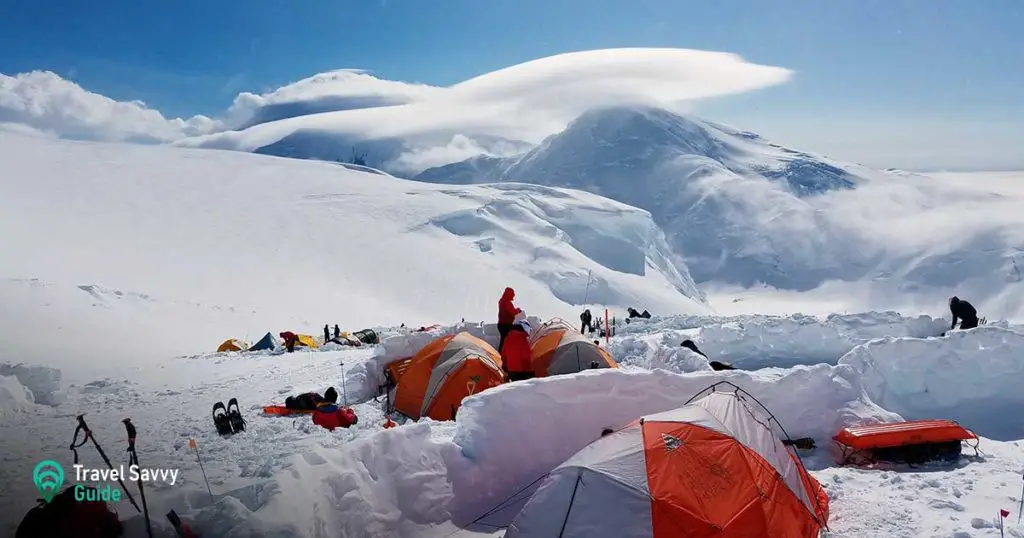 When it comes to a 4 season tent, they really are designed to withstand everything. From snow to high winds, nothing is off-limits. This is why they're best known as being a winter tent. A 4 season tent is usually in the shape of a dome, which prevents snow collecting as it would on a flat topped model. The rainfly extends pretty much to the ground too, offering plenty of protection to keep you warm and dry. 
A 4 season tent doesn't offer as much ventilation as a 3 season tent, and this is because they're usually constructed without vents or a mesh lining in order to prevent snow from getting inside or collapsing the tent. This is what makes it great for extreme weather — and it's also what keeps the tent warm. In fact, 4 season tents trap in the user's body heat to heat up the inside. 
One thing you need to be prepared for, is how to set up the tent. They're not easy, and can take a little while to construct — especially if you're on your own in doing so. However, once it's up you will have effective protection from the elements. In terms of the poles, you'll probably find more come with a 4 season tent, as this is what makes it sturdier and able to stand up against strong winds. This is another factor which causes it to take longer to set up. 
A tent of this construction is great if you're camping out for longer periods of time, but it's not recommended that you take one when backpacking as they are very heavy. 
Key features:
4 season tents are designed for heavy rain, winds and snow. 
Heavier duty fabrics are used in the construction for better cold resistance. 
More poles for strength in more extreme weather.
Many 4 season tents come with rounded dome designs, which eliminate snow-collecting flat roofs.  
You'll find fewer mesh panels on a 4 season tent, which traps in the heat to keep you warm in winter.
Rainflys extend close to the ground. 
4 season tents tend to take longer to set up. 
Weights range from 8 – 16 lbs (3.6 – 7.2 kg).
Pros:
They're strong, flexible and warm. 
They're incredibly durable and can perform during severe rainstorms.
They provide great shelter from cold weather. 
They're incredibly insulating — the construction is designed to trap body heat. 
You can strip the tent down to its bare bones or bulk it up.
Cons:
They can be heavy and not very easy to carry around. 
Not great for backpacking.
Can be bulky.
Can also be difficult to build. 
The verdict between 3 season vs 4 season tent: which tent is right for me?
It's quite subjective when it comes to which kind of tent will suit you better, and this is because there are loads of factors at play. In fact, you might find a use for both types of tents, but seeing as both can be very expensive, it's definitely worth thinking about which one will be the best investment for you and your travel plans. 
In general, if you consider yourself to be a fair weather camper, or someone who heads outside when the weather is warmer and drier, opt for a 3 season tent. To simplify it even further — if you know you'll be camping during spring, summer or fall then this type of tent will almost certainly suit you. Solo campers might also benefit from a tent like this, as they're easier to carry, lightweight and simple to set up too. If you're on your own, you'll probably need to find something easy to put up yourself.
However, winter campers should look for a 4 season tent. There's nothing better when it comes to preventing the snow from getting in or collapsing the tent — especially if you're heading up a mountain — so for your own comfort and safety (remember, freezing temperatures can be fatal in a matter of hours), opt for a heavy duty, well-constructed tent that will effectively retain body temperature.
You will need to bear in mind though that a 4 season tent is heavy and difficult to put up, so it might not be best if you're heading on your travels alone, or need to rely on yourself to set up the tent. If this is unavoidable, have a few practice runs first to make sure you know exactly what to do.
So, all that's left to do is make your decision, do your research about which specific tents are available, and find the one that's perfect for you and your travel plans. 
Frequently asked questions about a 3 season vs 4 season tent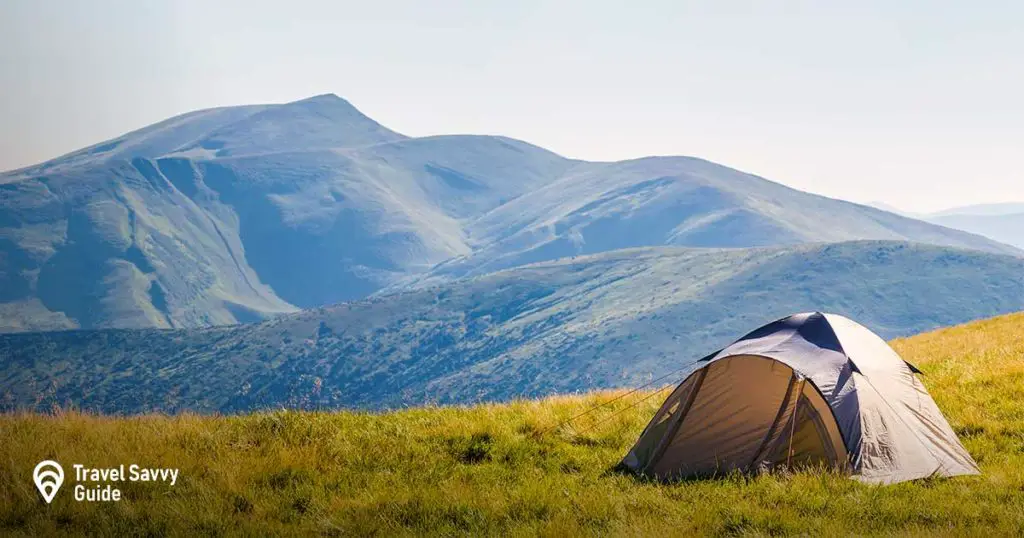 "How long should my tent last?"
This really depends on how often your tent is used, how much strain you put it under, and the weather that you use it in. Be careful when you set it up, and make sure you clean and dry it out after every use to preserve the lifespan. 
"What does 'berth' mean?"
This describes the amount of people a tent can take, which is calculated without luggage. Your bag or kit will count as a berth — for example, a person with a bag will need a two berth tent, or two people with two bags will need to look for a four berth tent to be comfortable. 
"How can I keep my tent warm in winter?"
Good 4 season winter tents will insulate themselves by drawing on your body heat. However, there are plenty of things you can do to increase the amount of warmth inside. Firstly, layer up. Wearing thermals is almost a must, but instead of wearing thick winter clothes, wear lots of lightweight layers. This will trap the heat inside each layer and keep you feeling extra toasty.
You could also try laying down some rugs or carpets to keep the bottom of your tent insulated. This might not be so easy if you're traveling light, but if you have the capacity to carry some extra bits of kit then this is a great way to stay warm. 
Also, don't forget to invest in a good quality sleeping bag. And don't go into it cold — warm up first by having a hot drink or doing a couple of star jumps so you retain the insulation. 
"How cold is too cold for camping?"
There's no specific answer to this, but temperatures that are either in the high 30s or low 40s Fahrenheit (3 to 5 degrees Celsius) is too cold for inexperienced campers without the right gear. Look for night time temperatures of 50 Degrees Fahrenheit (10 degrees Celsius) to 75 Degrees Fahrenheit (23 degrees Celsius, as this is perfectly comfortable.
Final thoughts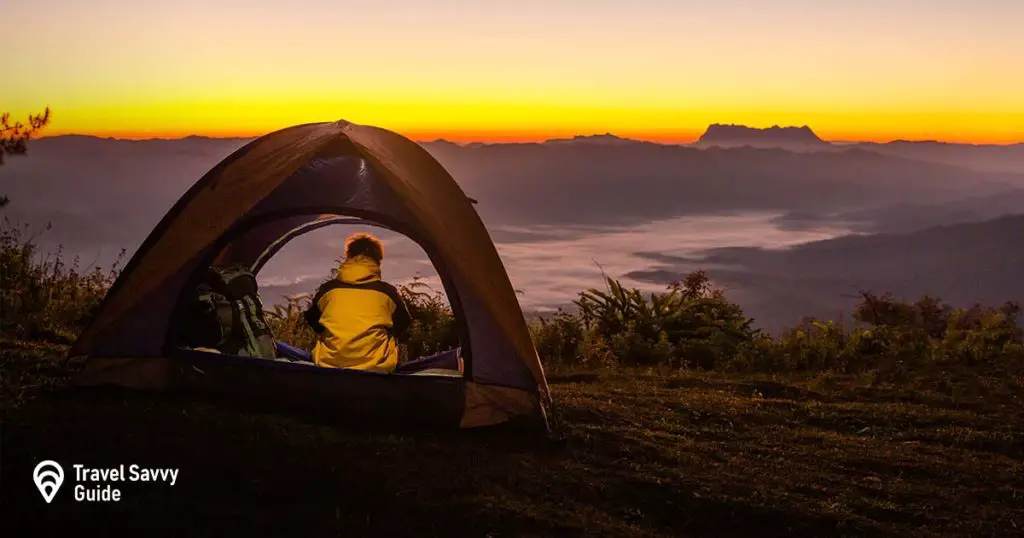 If you weren't aware before starting this guide on what a 3 season or 4 season tent could offer you, we hope that by now you've learnt a little more about the differences, as well as the pros and cons. You know your travel plans best, so have in mind where you're planning to go next while reading our guide. And if necessary, re-read our reviews with certain questions in mind so that you can find the right answers. 
We really hope this article helped you make a decision on which tent might serve you best. We would love to know where you're taking yours on your travels; please get in touch to share your stories with us! If you're planning your next hiking adventure, discover The Clouds Rest Hike. Or if you need something to transport your luggage in, find out if the Mia Toro Luggage is worth buying.