Are you looking for the best 5-person tent? You've come to the right place.
It can be tricky to find a good 5-person tent, as there isn't a huge amount out there to choose from. Straight off the bat, we'll tell you that we really like:
Keep reading to find out why we like them the most.
We'll be looking at:
An overview of all the best 5-person tents we like
A quick guide on what to look for in a tent 
Each tent in detail, including its specs and pros and cons
Frequently asked questions
A quick summary of our favorites
Let's get started!
Table of Contents
Best 5-Person Tent – an Overview
Model
ALPS Mountaineering Meramac 5-Person Tent
MOON LENCE Instant Pop-Up Tent
Coleman Cabin Camping Tent with Screen Room
Model
ALPS Mountaineering Meramac 5-Person Tent
Model
MOON LENCE Instant Pop-Up Tent
Model
Coleman Cabin Camping Tent with Screen Room
What to Look For in a 5-Person Tent
Capacity and Layout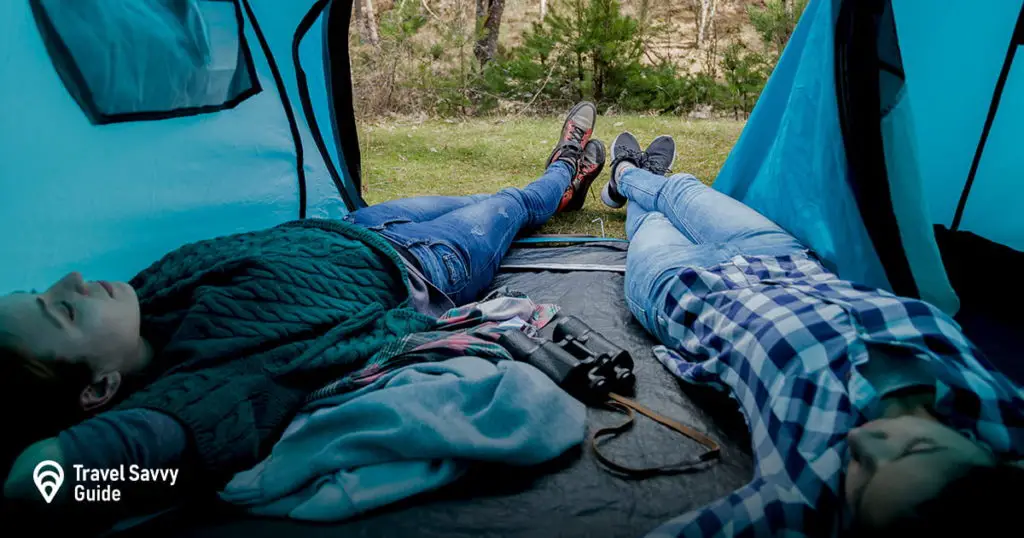 5-person tents can in fact be difficult to come by. A couple of the tents on this list are 6-person tents, but offer a good amount of floor space for five people – that's because it can be tough to find tents that are advertised specifically for five people.
Some tents are advertised as 5-person tents but would be a tight squeeze if you were at max capacity. It's always a good idea to check the exact measurements to get an idea of how you will fit into the space. 
Make sure to take storage into consideration too. If a tent can just about fit the right amount of air mattresses inside but you're left with no storage for gear, it's not going to be the most comfortable experience. Many tents have overhead storage lofts, which allow you to stash your bags and equipment such as a woodburning stove up safely out of the way.
Consider the amount of head space you'll have, too. If you want to walk around inside your tent, look for one with straight walls, as they allow for more space.
There is also the layout to think about. A 5-person tent is probably only going to have one bedroom (multiple-bedroom tents tend to be on the 8-10 person scale – so quite a bit larger). However, you can sometimes get 5-person tents with a porch area – ideal for sitting out in the evenings before you go to bed.
Seasons
Tents are made to suit different seasons, so you'll need to consider the weather conditions where you'll be camping and plan accordingly.
1 Season Tents – these tend to be aimed at festivals. They're ideal for backyard camping trips too. They're super lightweight and small, so easy to store, but they won't withstand rain – so if you get stuck in a sudden storm, expect to get wet!
2 Season Tents – these tend to come with some weatherproofing, but not a lot. It can cope with the odd shower, but not much more extreme weather than that.
3 Season Tents – these are the most versatile tents, and there are a lot of them on the market. They're designed to withstand some pretty hefty rain showers as well as a decent amount of wind, too.
4 Season Tents – these are designed for cold weather. They're super heavyweight, so if you're going to camp in ice or snow, this will be the choice you want to go for.
5 Season Tents – you're unlikely to come across these, as they're designed for explorers travelling in very harsh conditions. They're specialist tents and are therefore pretty expensive.
Weather Protection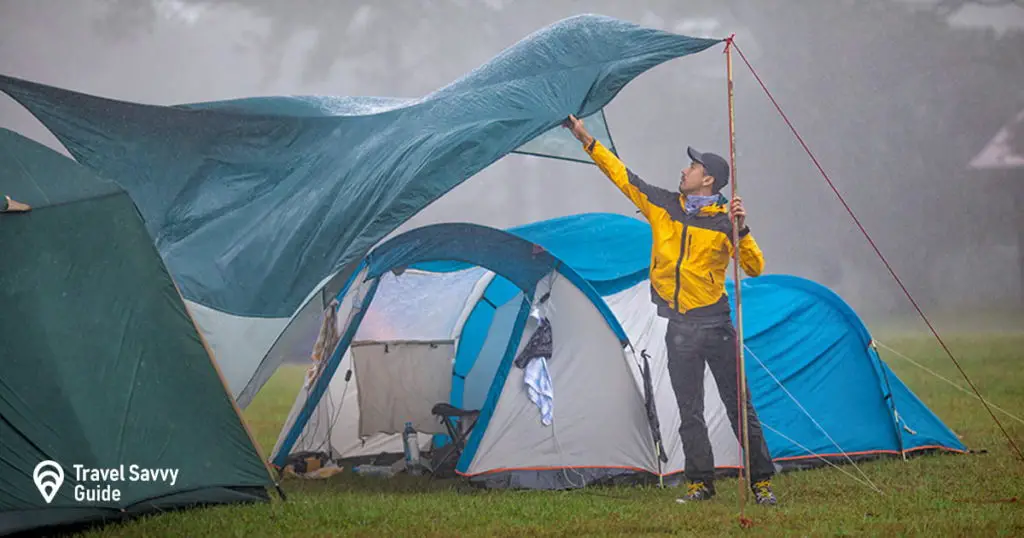 There are a few things to think about when it comes to weather protection: rain, wind, and heat.
Most tents will come with a rain fly. This is an outer layer that protects the inner layer from getting wet. These will either be permanently attached, or removable (this is ideal if you want to take it off in warm weather for more ventilation). You can also get a footprint – a waterproof layer that goes under your tent, to protect you from moisture seeping through the bottom.
It's also worthwhile looking for tents that prevent leaks from rain, for example, heat-sealed seams and covered zippers – these measures stop rain from escaping through tiny gaps in material.
You may see the term 'hydrostatic head measurement' which is measured in millimeters. This measurement refers to the pool of water that gathers on a tent roof when it rains, before the rain seeps through the material. The deeper the pool of water, the more weather-resistant the tent is. So, a 2,000mm material can cope with 2,000mm of water collecting on top of the tent before it starts to leak. You might not always see this measurement, however.
In terms of wind protection, look for the strength of the poles (or rods) which are used to create the frame. Aluminum or fiberglass are popular options. Aluminum is lightweight so ideal for travelling, as you won't want to carry heavy poles around with you. It won't offer the same protection for windy conditions as fiberglass, which is heavier, but stronger.
Finally, you want a tent that will allow you to have ventilation on warm summer evenings, or it will be unbearable to try to get to sleep in the heat. Look for tents with large mesh panels or windows, as this will allow plenty of air to move through without allowing insects inside.
Materials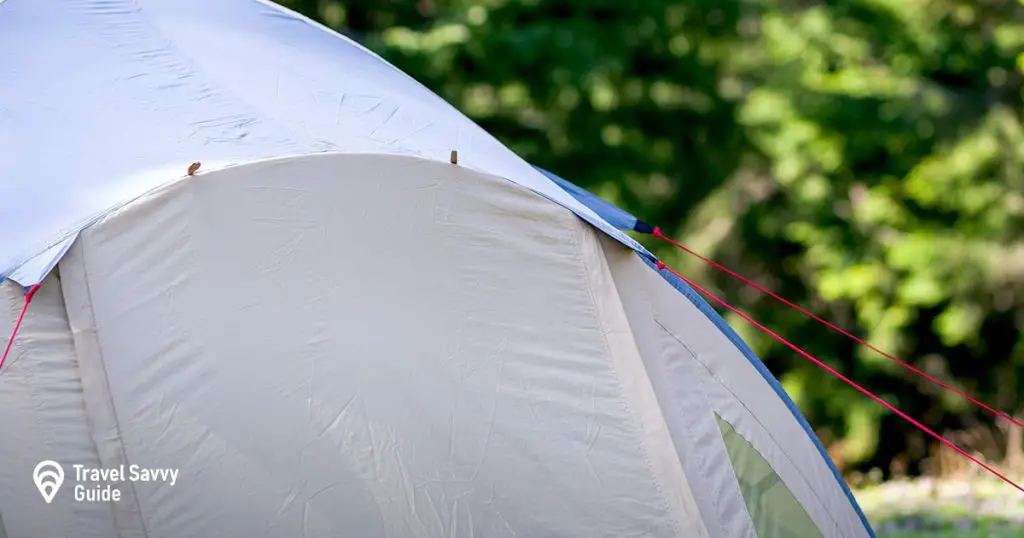 Tents can be made from a variety of materials. Here's a quick lowdown on what each material does:
Poly Vinyl Chloride (PVC) – you'll find that tents on a tighter budget tend to be made from PVC as it's a bit cheaper than some of the more weatherproof materials. It's not very breathable, which can cause problems on warm nights.
Polyester – this is a lightweight option that lasts a long time, especially if it is coated in a solution (usually acrylic of polyurethane). Coating helps to keep the rain out, so it's a good idea to look for a tent with decent coating if you suspect you may be camping in wetter weather.
Nylon – this is similar to polyester and tends to be coated in the same materials. It doesn't last as long as polyester, which is something to keep in mind.
Cotton – cotton tents are hard to come by. You can 'weather' them outdoors before you use them, which essentially means leaving it out in the rain a few times before you go. This causes the fibres to swell and draw super close together, preventing future rain from leaking through.
Polycotton Canvas – this is a mixture of cotton and polyester. It's usually coated for more weather protection.
Size Packed
This is something you should consider if you have a small space to fit your tent (for example, if you've got a small car with little storage space) or if you're backpacking. Checking out the size packed can help you to figure out how you'll transport all your gear.
Ease of Setup
Finally, consider how easy it will be to set up your tent. Some tents are designed with an umbrella-like structure, so you can just pull them up in the middle and they're pretty much ready to go. However, these are weaker and won't last as long (and aren't as good in windy conditions). 
As a rule of thumb, the larger the tent is, the more time consuming it will be to put together. Most five-person tents will be easier to assemble with two people helping.
Now – let's take a look at some of the best 5-person tents out there.
ALPS Mountaineering Meramac 5-Person Tent – Best All-Rounder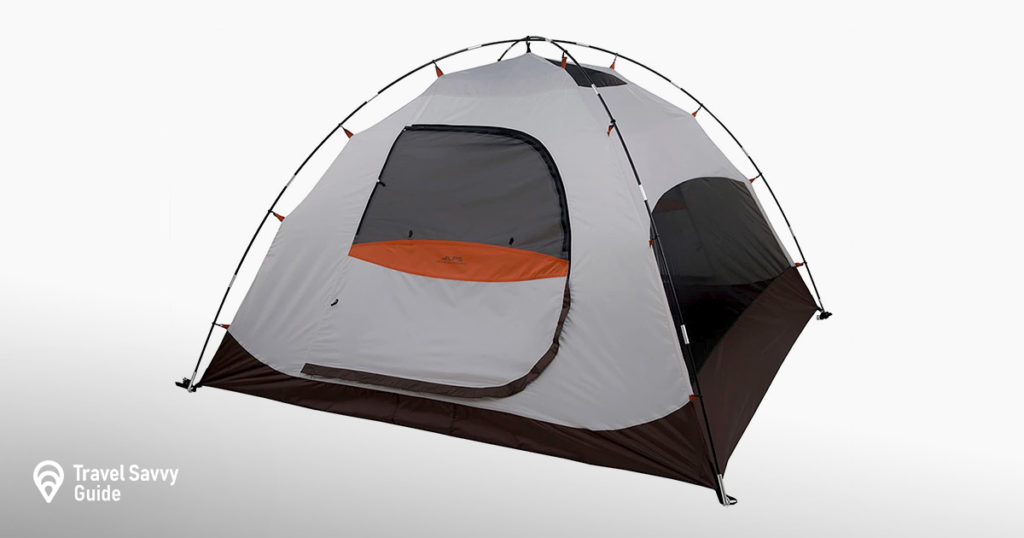 Key Features
Sleeps: 5
Size:
8 x 10 x 6ft
96 x 120 x 72in
244 x 305 x 183cm
Size Packed:
8 x 25in
20 x 63.5cm
Weight: 14lbs 10oz / 6.39kg
Materials:
Rainfly – polyester with 1500mm coating
Floor – polyester with 1500mm coating
Seasons: 3
ALPS Mountaineering Meramac 5-Person Tent is a great tent with one large room. It has storage pockets and a gear loft, so it's great for keeping your gear out of the way.
The tent has great weatherproofing, with the coated polyester rain fly and coated flooring. It also has factory seamed seals, so it's ideal for keeping the rain out. The tent also has heavy-duty fiberglass poles, which is great for staying stable in windy conditions. Plus, it has large mesh panels on the walls, which is perfect for the warmer weather – and will keep insects out whilst allowing you to see outside in the evenings.
It's pretty easy to set up – some people managed to set it up alone but as it's quite large, it's better suited for two people. It's a pretty fast process though, with only two poles to worry about. The only downside is, it's on the larger size when it's packed – so it's not great for backpackers. With that said, in our opinion it's the best 5-person tent on this list.
Pros
Good weatherproofing
Large mesh panels – great for ventilation
Easy to set up
Cons
Quite large, so not ideal for backpackers
Check Price
MOON LENCE Instant Pop-Up Tent – Best for Quick Setup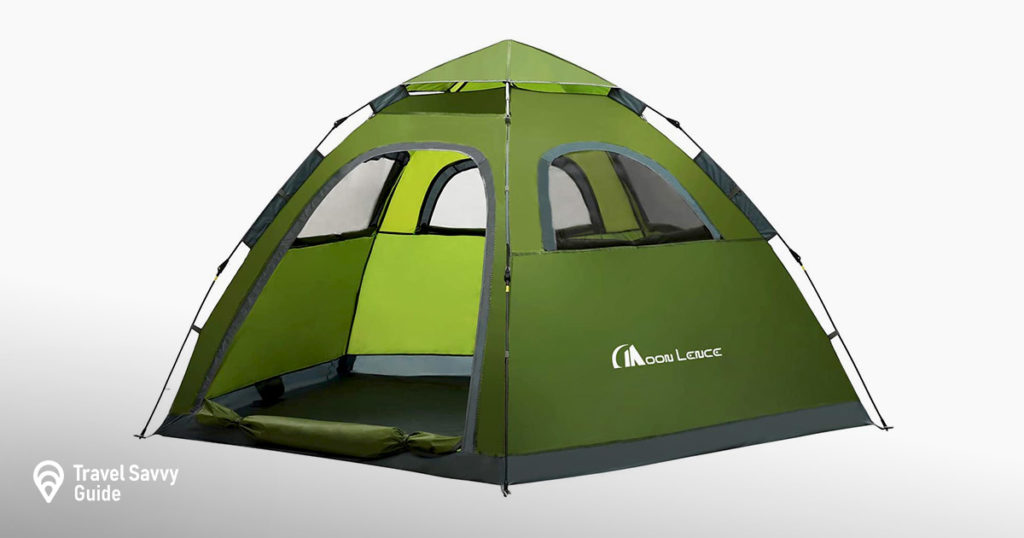 Key Features
Sleeps: 5
Size:
9 x 10 x 4ft 3in
114.2 x 121.3 x 52.4in
290 x 308 x 133cm
Size Packed:
32.7 x 7.1 x 7.1in
83 x 18 x 18cm
Weight: 10.25lb/4.65kg
Materials: Polyester-coated cloth
Seasons: 3
Moon Lence Instant Pop Up Tent Family Camping Tent 4-5 Person Portable Tent Automatic Tent Waterproof Windproof for Camping Hiking Mountaineering
【Instant Setup】Say goodbye to complex setups! Just lift the 4 person tent's top, pop the mechanism down, snap the bottom joints into place, and this 4 season tent unfolds completely in an unbelievable 10 seconds. Effortless and straightforward, no more wasting time on intricate assembly steps, suitable for camping enthusiasts of all levels.
【Spacious Comfort】With dimensions of 114.2 x 121.3 x 52.4 inches when unfolded, and a carrying weight of just 10.3 pound, the pentagonal design offers ample space for you and your companions, comfortably accommodating 4-5 people. Move around freely, rest in comfort. Whether with family, friends, or flying solo – this cabin tent provides a cozy living environment.
【Versatile Design】With a detachable rainfly, this ultralight tent gives you flexible choices. With a 2000mm waterproof rating, SBS zippers, UV-resistant 190T PU material, and insulation technology, you're assured of protection and comfort outdoors. Additionally, two storage of pockets help you keep small items organized and your space tidy.
【Superb Ventilation】4 mesh windows and a D-shaped arch door facilitate excellent airflow, this tent for camping effectively keeps insects out and creats a comfortable, airy environment. Whether in hot summers or humid weather, you'll enjoy pleasant resting moments
【Sturdy and Stable Structure】Equipped with 10 lightweight alloy hooks and 5 guy lines, this dome tent's structure gains enhanced wind resistance. Outdoors, the popup tent's robust design ensures stability in various conditions, guaranteeing you a secure accommodation experience.
MOON LENCE Instant Pop-Up Tent is a dome-shaped tent. It's not the largest on our list, so it might be a tight squeeze if you're travelling with the maximum 5 people. It has some small wall pockets and a lantern hook on the ceiling, but no overhead storage loft.
It actually has decent weatherproofing for a pop-up tent. It's made with polyester-coated cloth, with a 2,000mm waterproof rating – which means it's going to keep the rain out nicely. It also has covered zippers to prevent leaks coming in, and some small mesh windows for ventilation (you can also completely roll the front door down, for more ventilation on hot days). It lacks the large mesh panels that other tents have, which is a shame, as it prevents you from looking out in the evenings whilst avoiding insect bites.
The main draw here is the setup – it's an umbrella-style tent, so to put it up, you just pull up the middle, quickly straighten out the poles, and that's it – it takes minutes. It's also very lightweight, making it great for backpacking, and it comes in a neat storage bag with two handles for easy carrying. You can check the latest price for it here.
Pros
Very easy to set up
Good waterproofing
Nice and light to carry
Cons
No overhead storage loft
Bit of a tight squeeze
Lacks large mesh panels on the walls
Check Price
Browning Big Horn Tent – Best for Tall Campers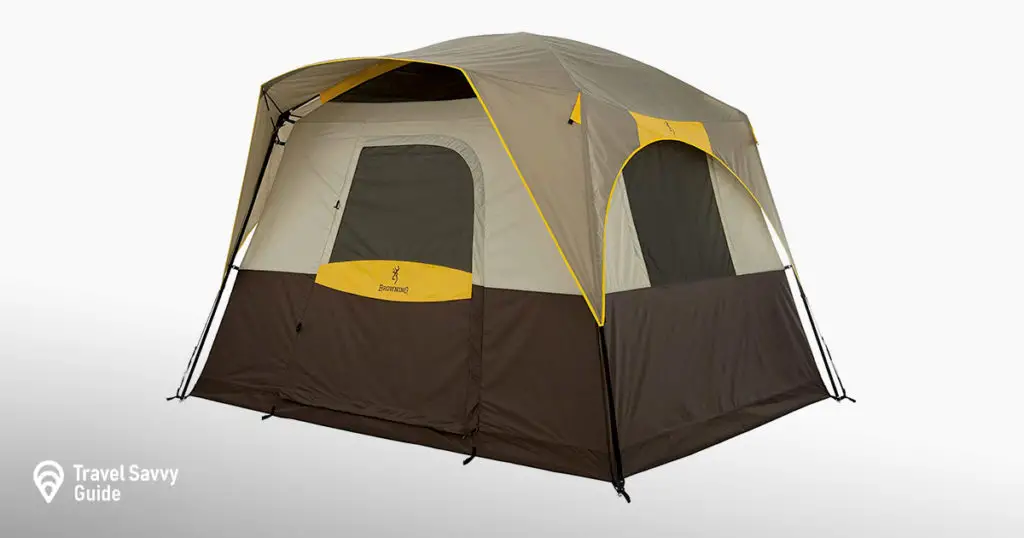 Key Features
Sleeps: 5
Size:
8 x 10 x 7ft
96 x 120 x 84in
243 x 305 x 213cm
Size Packed:
9 x 29in
23 x 74
Weight: 21lbs / 9.52kgs
Materials: Polyester
Seasons: 3
Browning Camping Big Horn 5-Person Tent - Khaki/Coal
Our Browning Big Horn Series is a free-standing tent with fiberglass poles and steel uprights, giving ultimate extra strength and stability
Extra tall center and straight side walls gives more room for cots, sleeping bags and extra gear
Four large windows, one doorway and mesh roof offer easy entry and ultimate ventilation
Fully equipped with mesh storage pockets, polyester fly, guy ropes and steel stakes
Base Size: 8' x 10'; Packed Size: 9" x 29"; Center Height: 84"; Total Weight: 21 lbs.
The Browning Big Horn tent is a great choice for tall campers. It's got a good amount of headspace at 7ft (84in/213cm), so it will give you plenty of space to walk around. Thanks to the straight walls, it feels spacious. It has a lot of storage pockets, but no overhead storage loft which is a bit of a shame.
The tent has strong fiberglass poles, so great for wind protection, and polyester walls and floors with 2,000mm coating. It has factory-sealed seams too. In fact, it's a great choice if you really want to ensure you'll be protected against rainy conditions. In terms of ventilation, it has four windows and two doors.
It's fairly easy to set up, with straightforward instructions and clearly labelled parts. However, because it's on the larger side, it's not ideal if you have to set it up alone – it's much easier if there are two people around to help set it up. You can check the latest price for it here.
Pros
Lots of head space for taller campers
Great waterproofing
Fairly clear instructions
Cons
No overhead storage loft
Not easy to set up alone – requires two people
Check Price
OT QOMOTOP Tent – Best Budget Option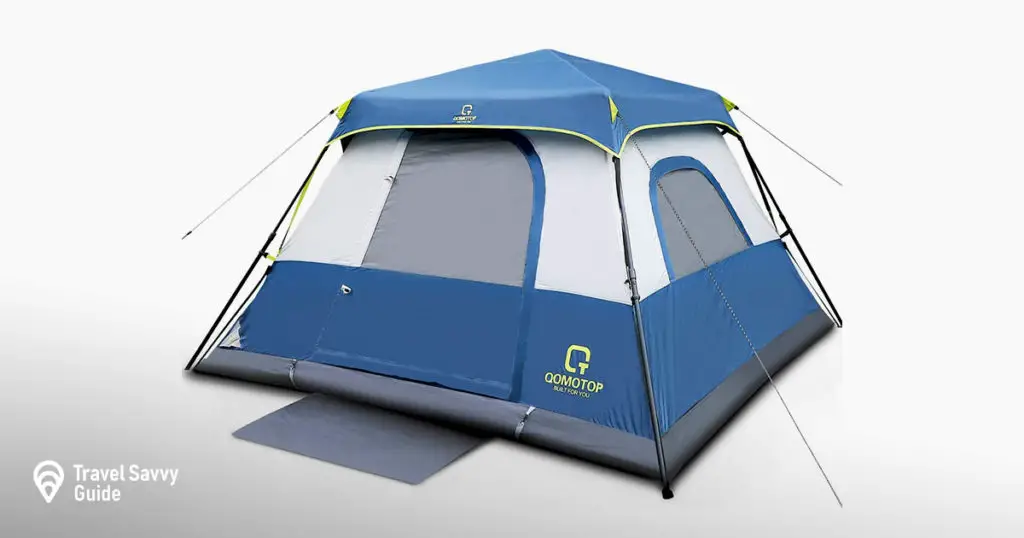 Key Features
Sleeps: 6
Size:
10 x 9 x 5ft 9in
96 x 108 x 71in
244 x 274 x 180cm
Size Packed:
42 x 9 x 9in
107 x 23 x 23cm
Weight: 19lbs / 8.61kgs
Materials: Polyester
Seasons: 3
is an interesting choice. It's not a big-name brand, but you can get hold of it for a decent price. It's technically a 6-person tent, but it would be a tight squeeze for 6, and users report it's more like a 5-person tent. It has space with room for one queen-sized airbed and camping gear, and it comes with an e-port (a sealed hole to feed an electrical cord through without risking leaks). It also has storage pockets and a gear loft, which is great.
It's made from coated polyester and has sealed seams to keep leaks out. It also has a mesh roof and a ground vent, for tons of ventilation. However, some users reported that in a downpour, they still experienced leaks – so it's not the best from that perspective, and may be better suited to warmer climates where you're pretty sure it's not going to rain too much. It's not the most durable tent on the list, so you shouldn't expect it to last for years to come.
Like the MOON LENCE Instant Pop-Up Tent, it's super easy to put up. Some users even reported that their kids could manage it – just get it out of the bag and make sure the poles are fully extended and pull it from the center. You can check the latest price for it .
Pros
Great if you're on a tight budget
Easy to set-up
Good ventilation
Lots of storage
Cons
Not great for heavy rain
Won't last as long as other tents on this list
Coleman Cabin Camping Tent with Screen Room – Best Luxury Option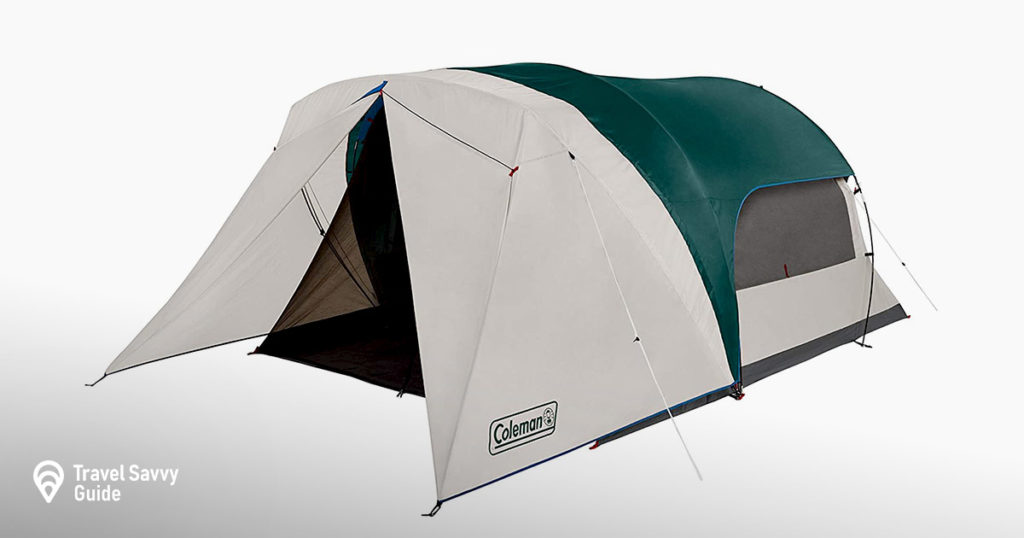 Key Features
Sleeps: 6
Size:
13 x 10 x 6ft 4in
156 x 120 x 76.8in
396 x 305 x 195cm
Size Packed:
26 x 12in
66 x 30cm
Weight: 22lbs / 9.86kgs
Materials: Coated polyester
Seasons: 3
The Coleman Cabin Camping Tent with Screen Room is another interesting choice. Again, it's technically a 6-person tent, but it would be a great luxurious choice if you can stretch your budget a little – it would be quite roomy for five people. It has one large main room and a large enclosed porch area. This is great for lounging and for storing gear.
Weatherproof-wise, the tub-style floor with welded seams curves upwards at the edges, helping to keep the ground dry. It has a removable rainfly, which will keep you dry in wet weather, but can be removed for more ventilation.
It will take a little longer than some of the others on this list to put up, with the average time at around 25-30 minutes. It's better suited for two people to assemble as it's on the larger size. You can find out the latest price for it here.
Pros
Screen room gives a lot of extra space
Good waterproofing and ventilation
Cons
Takes a while to assemble
Check Price
Frequently Asked Questions about the Best 5-Person Tent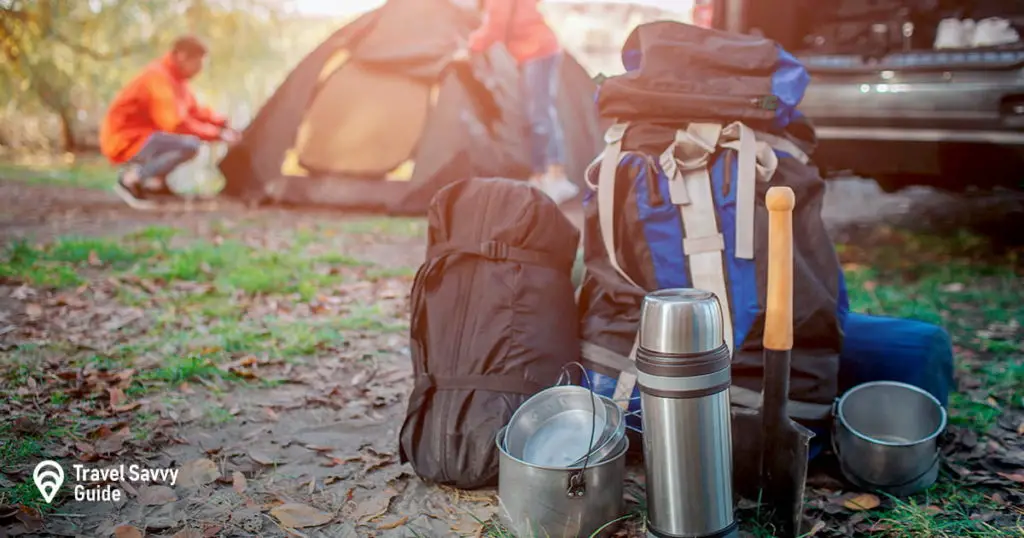 Will a pop-up tent be durable enough to last a few trips?
That really depends on the weather conditions and how careful you are at storing it. The problem with pop-up tents is that the poles are a lot weaker and more fragile, and more likely to snap. Plus, the whole thing is attached together, so it's not as simple as replacing a broken pole with a new one. Very windy conditions can bend the frame.
If you want a tent that will definitely last for a while, go for a more traditional tent instead. It will take longer to put together but will be more robust.
What equipment do I need to start camping?
Once you've sorted a tent, you'll need to look for sleeping pads or air mattresses, blankets or sleeping bags, and a decent backpack to carry it in. Then you can move onto the smaller accessories (like decent water bottles or rain jackets – here's our guide to the best for men and women).
Do all tents come with warranties?
No, they don't. Bigger brands tend to come with one-year warranties – this should be enough time to test it out for defects.
Do I need a separate area for lounging in?
No, you definitely don't need one. It's more of a 'nice to have'. If you want to go exploring all day and crash out in your tent in the evening to sleep, you can save room in your budget by going for a dome-style tent that will allow you enough room to get a good nights' sleep. 
If you want to spend a lot of time on your chosen campsite, or you plan to hang out together in the evenings, it's worth looking for a tent with either a separate porch area for sitting around in, or a large enough main area to have chairs in there too.
To Sum Up … Which is the best 5-Person Tent?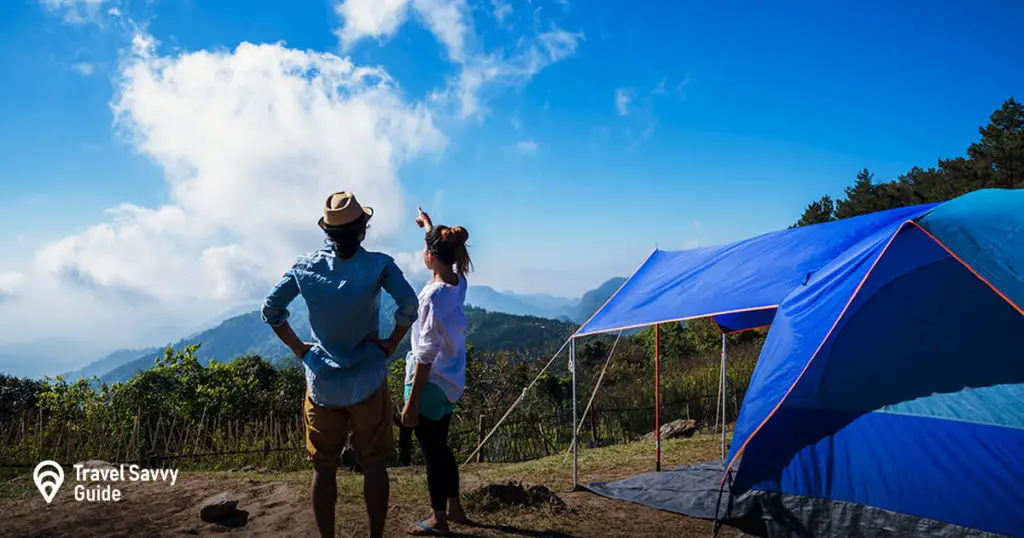 If we had to choose which is the best 5-person tent, we mentioned earlier, we really like the ALPS Mountaineering Meramac 5-Person Tent. It's by a trusted brand, it's robust and weatherproof, and it has plenty of room. The storage pockets and gear loft are great for giving you extra space, but what we really like are the large mesh panels – you can unroll them to gaze out at the stars at night whilst keeping insects away. Perfect for long summer evenings.
If we had to pick a runner-up to the best 5-person tent, we'd go for the Coleman Cabin Camping Tent with Screen Room – a great option for people wanting an extra space to hang out in – and of course, the is a great choice for those on a tight budget.