If you're in the market for a new tent, you might be overwhelmed by the sheer number of dome tents out there, which is where our guide to the best dome tent can help!
Dome tents are popular, and you can find one to suit any budget, whether you want a quick instant-tent for a two night stay, or a durable family tent that's going to last you for a few years to come. 
So how do you know what to look out for, and which dome tent is the best?
We'll tell you straight away that we really love the Coleman Steel Creek Fast Pitch Dome Tent. It's a great all-rounder.
We also like:
Keep reading to find out more about them!
Here's what we'll cover in this article:
Which features you should look for in a dome tent
6 of our favorite dome tents, including their specs, features, pros, and cons
Some frequently asked questions
What we love about our top pick for today
Table of Contents
Best Dome Tents Compared
First, let's take a look at how the tents compare to each other.
MOON LENCE Instant Pop-Up Tent
Coleman Steel Creek Fast Pitch Dome Tent
Core 4-Person Instant Dome Tent
What to Look for in a Dome Tent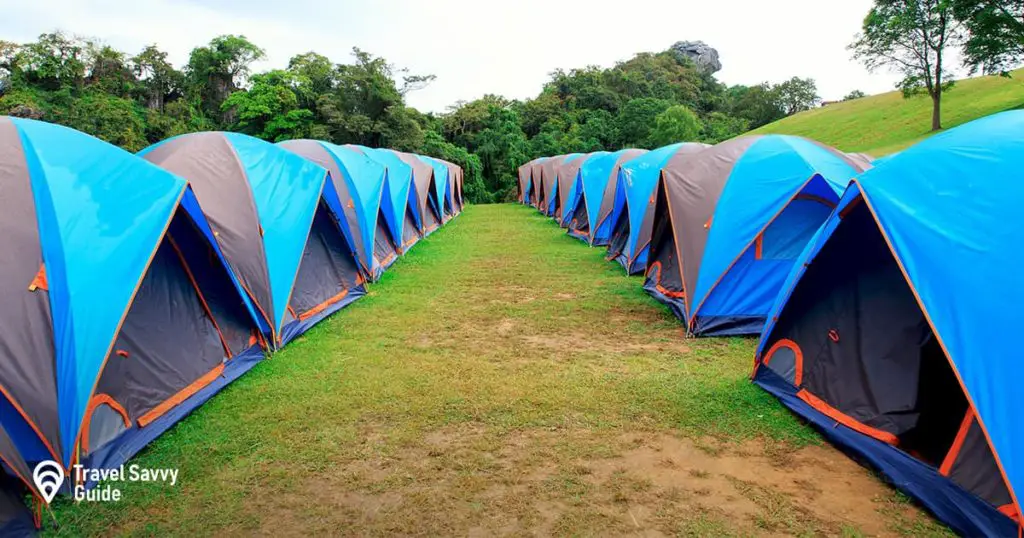 Size and Layout
Dome tents are, as the name suggests, dome-shaped. This means they're not ideal for those wanting lots of headspace – if you're a very tall camper (see our guide on the best tall 4-person tents) or you want to be able to walk around in your tent, you're better off going for a tent with straight walls.
Dome tents do sometimes have 'porch' areas or vestibules, which you can sit in – this is ideal if you want a separate area for hanging out.
Dome tents sometimes have two doors, one on either side. This is good for both ventilation and to easily get in and out.
Your tent's capacity will be described by how many people it can fit. A 2-man tent, for example, should be able to fit 2 people. However, sometimes this is a bit of a stretch, and you might see a 6-man tent that really would be a tight squeeze if 6 adults were to try to stay in it at once. It's always worth checking the measurements to figure out where you'd put both your beds or sleeping pads, and your gear.
Another quick thing to note is gear storage. Dome tents may not have overhead storage lofts (due to the shape), however, they can be found occasionally. Overhead storage is great for keeping your gear well out of the way. Other tents have covered vestibule areas, which is good for gear storage. Most tents come with small pockets sewn into the inner walls, so you can keep your phone, keys, and wallet safe.
Ease of Setup
Dome tents tend to be easy to set up, making them great for beginners or those who don't want to deal with a complicated tent. 
Some dome tents are instant tents, which means they're made using an umbrella-style frame. This has the advantage of being really quick (usually you just straighten out the poles, pull it up by the middle, and you're good to go). However, umbrella-type frames tend to be less durable as the poles are thinner, and you can't just replace them with a new pole if part of it breaks away.
Other dome tents use separate poles, which you'll have to snap together. Look out for color-coded poles, which will make your job slightly easier.
Some dome tents are freestanding – this means they can be used on any type of ground. Some aren't, and require you to use pegs (or stakes) attached to your tent with guide ropes.
Weatherproofing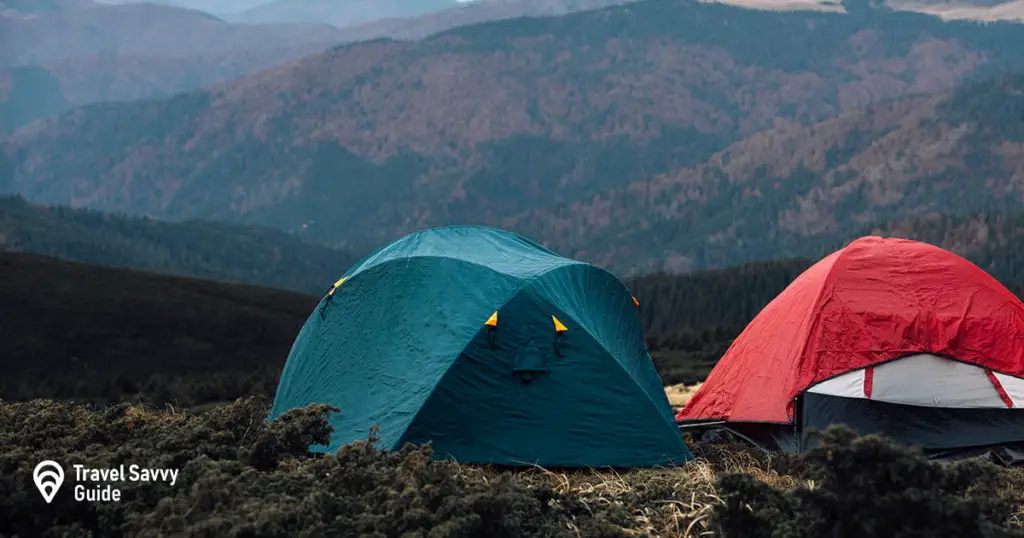 If you want a tent that will protect you against bad weather, a dome tent is a good call – the sloping walls will stop water from pooling on top and also help to direct air away from you, keeping you from being impacted by harsh winds. Not all dome tents are made equally though, so it's important to look at each one individually in terms of weatherproofing.
It's always worth thinking about warm weather, too. Most tents come with windows, which have mesh panels. This allows air to flow whilst keeping insects out. The larger the mesh panels, the more airflow you'll have.
Materials
Checking out which materials your tent is made from can help you to figure out how weatherproof it will be. Here's the most common materials you're likely to come across in a dome tent:
Poly Vinyl Chloride (PVC) – is commonly used for cheaper tents. It's an affordable material, but not that breathable, so not ideal for hot weather.
Nylon – this tends to be coated in a solution (acrylic or polyurethane), making it more rain-resistant. Nylon can wear out over time, as it can become damaged in strong sunlight.
Polyester – this is coated in the same way as nylon but is a bit more durable.
Poly cotton canvas – a polyester/cotton mix, usually coated for extra rainproofing
Sometimes you'll see 'hydrostatic head measurement', or a measurement in millimetres. This shows you how waterproof your tent is. It measures the pool of water which collects on the roof of a tent before it starts to seep through. 1,500mm – 2,000mm is pretty good in terms of keeping heavy rain out. Not all manufacturers go by this measurement.
You can also check for small details like 'heat-sealed seams' (which tells you that rain won't get in via the seams of your tent) or reinforced zips or windows.
You can also think about the rainfly (the outer layer which keeps your tent dry) and the footprint. Most tents come with a rainfly, which may be integrated into the tent itself, or it may be separate, meaning you can take it off in warm, dry weather. Not all tents come with a footprint, however. This is the layer that goes underneath your tent to keep moisture out. If you don't have a footprint, you can always buy a large tarp instead to give your tent a bit of moisture-proofing.
Seasons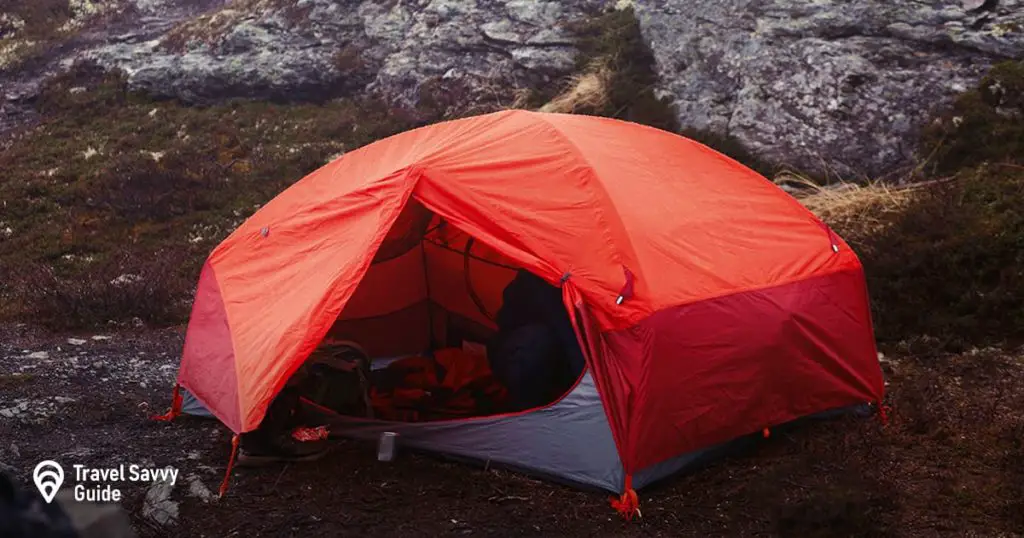 Tents are created to suit different seasons.
1 Season Tents – these are basic tents. Only use these if you can guarantee warm weather and no rain, otherwise you might get drenched! They're really lightweight, so ideal for festivals.
2 Season Tents – this is designed for the spring and summer. It will keep light rain showers out, but more extreme rain will cause leaks.
3 Season Tents – these are versatile tents, able to keep some pretty heavy rain out whilst keeping you cool and ventilated in the warmer weather. These are the most common – you'll find a lot of 3-season tents in different sizes and styles.
4 and 5-Season Tents – designed for very cold weather or exploration, these are unusual to find. They're heavyweight tents, and you're unlikely to need one in most cases.
Now, let's look at 6 of the best dome tents out there!
6 Best Dome Tents
Below we've reviewed the 6 best dome tents that you should consider buying for your next camping trip.
MOON LENCE Instant Pop-Up Tent – Best for Easy Setup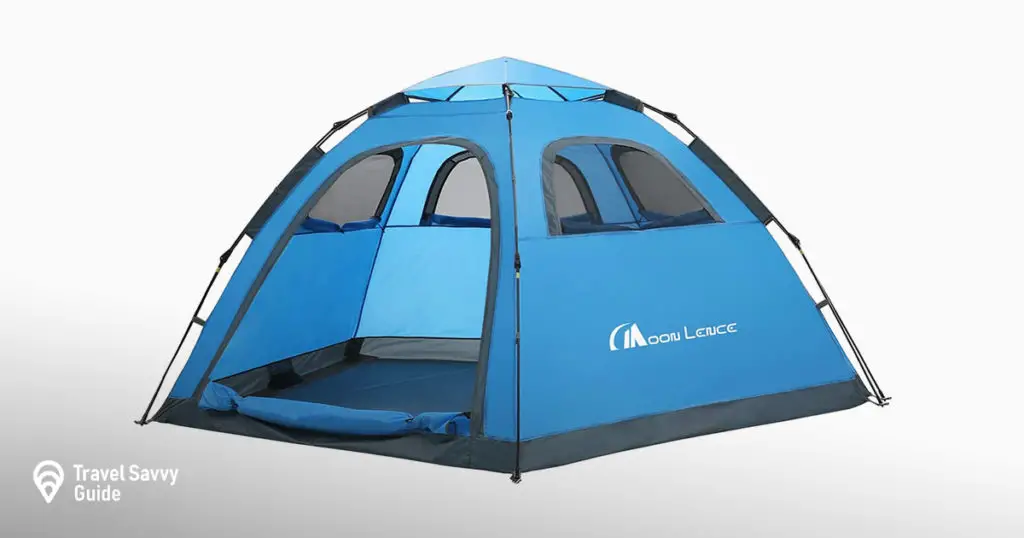 Key Features
Sleeps: 5
Size:
9 x 10 x 4ft 3in
114.2 x 121.3 x 52.4in
290 x 308 x 133cm
Size Packed:
32.7 x 7.1 x 7.1in
83 x 18 x 18cm
Weight: 10.25lb / 4.65kg
Materials: Polyester-coated cloth
Seasons: 3
Moon Lence Instant Pop Up Tent Family Camping Tent 4-5 Person Portable Tent Automatic Tent Waterproof Windproof for Camping Hiking Mountaineering
【Instant Setup】Say goodbye to complex setups! Just lift the 4 person tent's top, pop the mechanism down, snap the bottom joints into place, and this 4 season tent unfolds completely in an unbelievable 10 seconds. Effortless and straightforward, no more wasting time on intricate assembly steps, suitable for camping enthusiasts of all levels.
【Spacious Comfort】With dimensions of 114.2 x 121.3 x 52.4 inches when unfolded, and a carrying weight of just 10.3 pound, the pentagonal design offers ample space for you and your companions, comfortably accommodating 4-5 people. Move around freely, rest in comfort. Whether with family, friends, or flying solo – this cabin tent provides a cozy living environment.
【Versatile Design】With a detachable rainfly, this ultralight tent gives you flexible choices. With a 2000mm waterproof rating, SBS zippers, UV-resistant 190T PU material, and insulation technology, you're assured of protection and comfort outdoors. Additionally, two storage of pockets help you keep small items organized and your space tidy.
【Superb Ventilation】4 mesh windows and a D-shaped arch door facilitate excellent airflow, this tent for camping effectively keeps insects out and creats a comfortable, airy environment. Whether in hot summers or humid weather, you'll enjoy pleasant resting moments
【Sturdy and Stable Structure】Equipped with 10 lightweight alloy hooks and 5 guy lines, this dome tent's structure gains enhanced wind resistance. Outdoors, the popup tent's robust design ensures stability in various conditions, guaranteeing you a secure accommodation experience.
The MOON LENCE Instant Pop-Up Tent is advertised as a 5-person tent, but might be a close squeeze for 5 adults – it's ideally suited for three to four adults, or two adults and two children. The tent has some wall pockets for smaller items, like your keys and phone, and a lantern hook on the ceiling. It doesn't have an overhead storage loft, so you'll have to figure out where to put your stuff.
The tent has good waterproofing– the polyester-coated cloth has a 2,000mm rating, which is good for keeping the rain out. For ventilation, it has mesh windows, or you can roll the front door down completely on hot days. The windows are small, which is a shame – you won't be able to look out at night as you can with tents that have larger mesh panels.
It's an umbrella-style tent. To assemble it you just have to lay it out to straighten out the poles, and pull it from the middle. It takes a few minutes to assemble, making it a good choice if you want to make it as pain-free as possible. It comes in a storage bag with handles, and it's really lightweight, too. It's not a free-standing tent (meaning it can't be picked up off the ground and moved without dismantling it), so you'll have to use the guy ropes and pegs provided.
Pros
Super-fast setup
Light and easy to carry
Good weatherproofing
Cons
Not much storage
Will be a bit too tight for 5 people
Ventilation isn't as good as tents with larger windows or mesh panels
Check Price
Coleman Steel Creek Fast Pitch Dome Tent – Good All-Rounder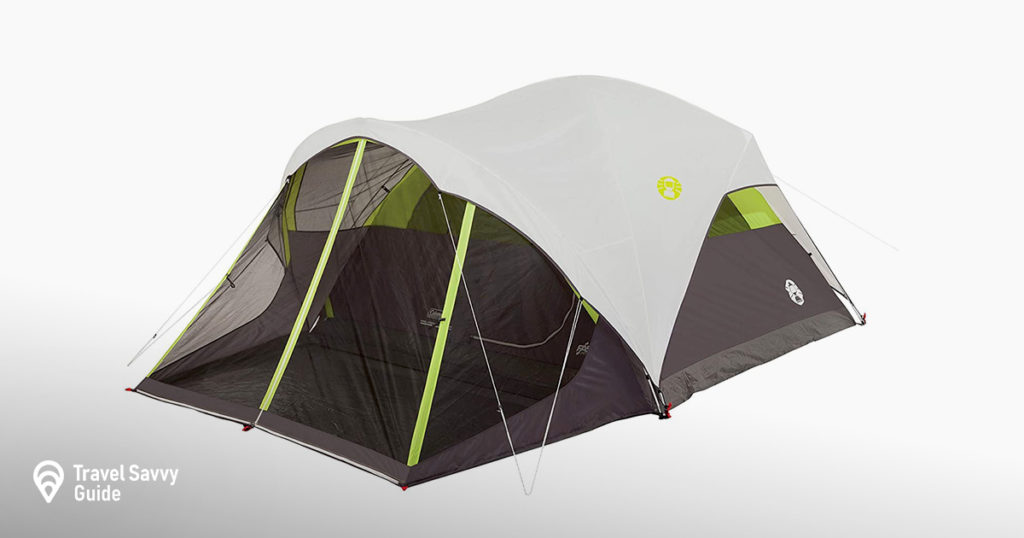 Key Features
Sleeps: 6
Size –
Main Tent Area:
10 x 9 x 5ft 8in
120 x 108 x 70in
305 x 274 x 178cm
Screen Room:
10 x 5ft
120 x 60in
305 x 152cm
Size Packed:
24 x 12in
61 x 30cm
Weight: 20.9lbs / 9.48kg
Materials: Coated polyester
Seasons: 3
Coleman Steel Creek Fast Pitch Dome Tent with Screen Room, 6-Person , White, 10' x 9'
6-person dome tent features a separate screen room for insect-less lounging and extra sleeping space
Fast Pitch tent design sets up in about 7 minutes
WeatherTec system and rainfly keep tent interior dry and comfortable
Durable Polyguard fabric and strong frame designed to last season after season
Measures 10 x 9 feet with 10- x 5-foot screen room; accommodates 2 queen-sized airbeds
The Coleman Steel Creek Fast Pitch Dome Tent is another great option for fast setup, but it's roomier than the MOON LENCE Instant Pop-Up Tent – it's a 6-person tent and it's roomy even at max capacity. You can fit two queen-sized airbeds in there, which is good. 
Plus, it has a separate screen room. This gives you an area to lounge in that is separate from the bedroom area, and it has mesh walls, so you can look out whilst avoiding being bitten by insects. It doesn't have an overhead storage loft, but it does have smaller storage pockets in the walls, and an e-port, which allows you to pass an electrical cord through the tent whilst keeping any dampness out.
Separate Rainfly
It has a separate rainfly which you can choose to use depending on the weather. Without it, the mesh walls allow you to keep nice and cool. With the rainfly installed, it works really well to keep rain out. It has window awnings, which again, is good for ventilation even in rainy weather. It's not a good tent for windy conditions – some users have said that the poles were damaged after a windy trip out, so that's something to be aware of. You can use it as a freestanding tent, or you can use pegs if you want it to be secured to the ground.
As we mentioned earlier, it's an easy setup tent. It has color-coded poles that snap simply into the right position. Although it's not a truly 'instant' tent, it's easy enough that one person can do it in under 20 minutes.
Pros
Lots of space
Great for both hot and rainy weather
Separate screen room to hang out in
Simple to put together
Cons
Poles may bend or break in windy weather
No overhead storage
Check Price
Coleman Sundome – Best for Solo Travellers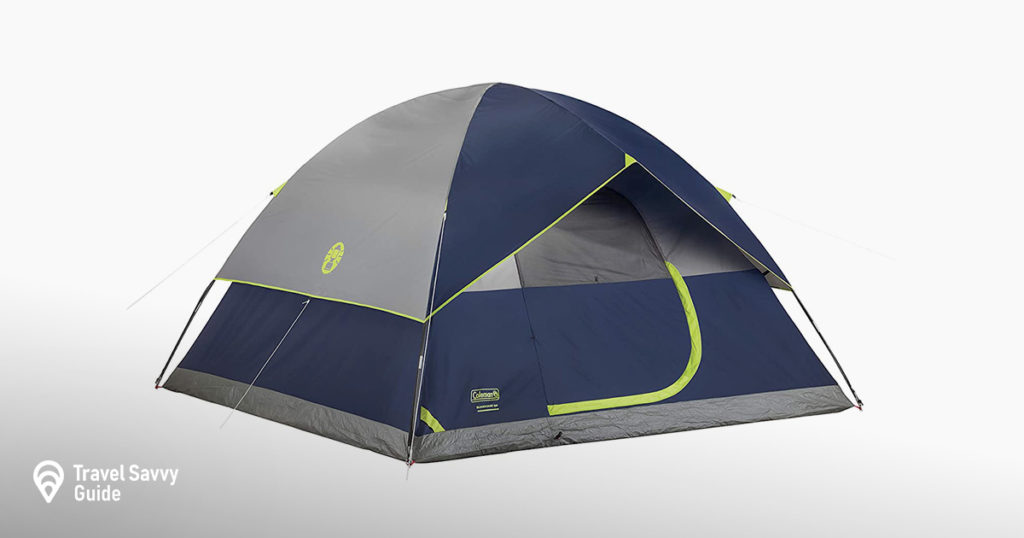 Sale
Coleman 2-Person Sundome Tent, Navy
Dome tent with a sturdy frame that withstands 35+ mph winds
Easy setup in only 10 minutes. Good for backpacking
Weathertec system with patented welded floors and inverted seams to keep you dry
Large windows and a ground vent for superior ventilation
Measures 7 x 5 feet with 4-foot center height
Key Features
Sleeps: 2
Size:
7 x 5 x 4ft
84 x 60 x 48in
213 x 153 x 122cm
Size packed:
24 x 6in
61 x 15cm
Weight: 8.8lbs / 3.99kg
Materials: Coated double-thick nylon
Seasons: 3
The Coleman Sundome is a great, robust little tent. It has storage pockets sewn in the walls for your smaller items, and an e-port (to feed an electrical cable through). It doesn't have any overhead storage. It's a tight squeeze for 2 people, so it's better suited for solo travellers.
It has both ground vents and large windows. This is great for ventilation, keeping you cool even in warm weather, as it pushes warm air up and out. The outer walls are coated using Coleman's WeatherTec coating, to help keep the rain out. The seams are also fully sealed – it should withstand some good showers. It's a freestanding tent, which means you can pitch it on any type of ground.
The tent is fairly easy to set up, with many users managing to do it in 15 minutes or so. It's also easy to fold up again, which is great. 
Pros
Good for rainy conditions
Good ventilation
Easy to set up and pack down
Cons
Doesn't comfortably fit two people as advertised
Check Price
Marmot Limestone – Best Spacious Tent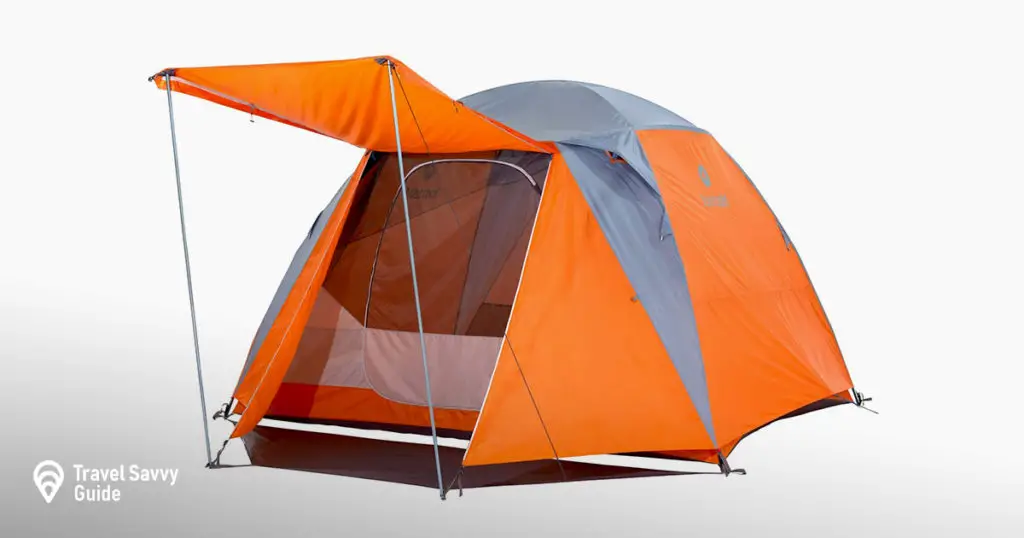 Key Features
Sleeps: 6
Size:
6ft 3in x 8ft 3in x 10ft
76 x 100 x 120in
193 x 254 x 305cm
Size packed: 28 x 10in
71 x 25cm
Weight: 17lb 9oz / 8.11kg
Material: Polyester
Seasons: 3 
Marmot Limestone 6-Person Family or Group Camping Tent
6 person, 83.8 square foot lightweight tent ideal for group or family camping; includes seam taped, full coverage weatherproof rain fly
Catenary cut fly and tent body to increase air flow, keeping occupants cooler and drier
Color coded "easy pitch" poles and clips for quick and easy setup
Zone pre-bend construction creates vertical walls for roomier interior; front double door for easy entry and exit
One D-shaped door, one vestibule
The Marmot Limestone is a roomy tent – the main poles are designed to 'lengthen' the middle section, giving you a bit more headroom as well as a pretty spacious feel for a dome tent. It has an overhead vestibule for extra storage space.
It's designed to be good for ventilation, with partially-mesh walls for warm evenings. It also has a seam-taped polyester rainfly, and users report that it keeps the rain out pretty well. Although it has a seam-taped floor, it doesn't come with a footprint – you'll have to buy one separately to keep the floor of your tent nice and dry. It's not a freestanding tent, so you'll have to use the pegs provided.
It has color-coded poles for easy setup. Although it's not as quick as some of the other tents on this list, it's still fairly simple, with most people able to manage it in around 15 minutes or so.
Pros
Feels spacious for a dome tent
Overhead storage included
Good ventilation
Fairly easy to set up
Cons
Check Price
Kelty Salida 2 Tent – Best for Backpacking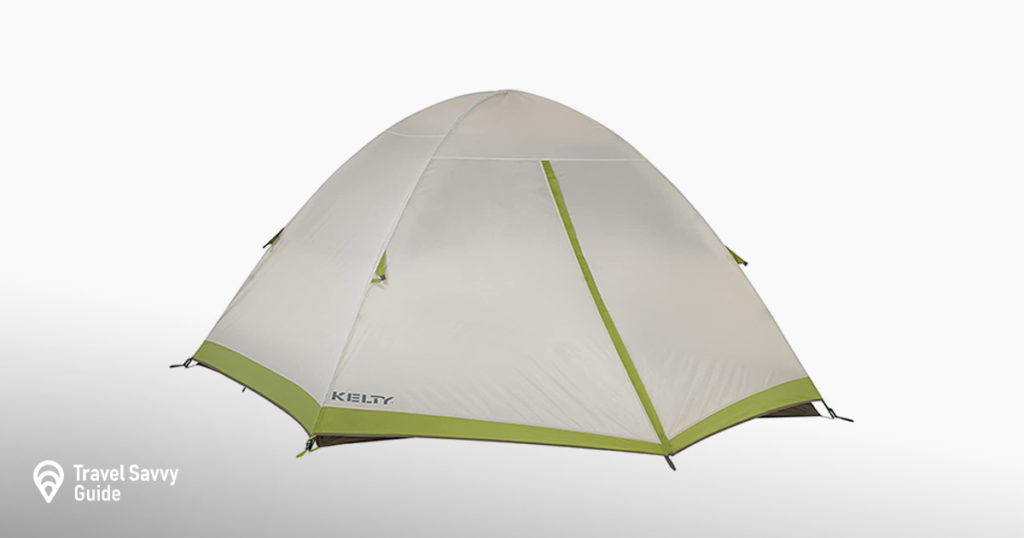 Key Features
Sleeps: 4
Size:
8ft x 6ft 5in x 4ft 6in
99 x 80 x 56in
251 x 203 x 142cm
Size packed: 13 x 17in
33 x 43cm
Weight: 6lb 10oz/2.7kg
Materials
– Walls: Polyester
– Floor: Nylon
Seasons: 3 
Kelty Salida Camping and Backpacking Tent, 4 Person
Backpack-friendly compact folding poles, Gearloft loops, Color coded clip and fly attachment.Wall material: 68D Polyester, 40D No-See-Um Mesh,Floor material: 68D Nylon, 1800 mm
Roll top cube carry bag, Easy set up, Free standing, Fabric/mesh tent walls
Kelty hug clip, Easy entry D door, Internal storage pockets, Fully seam taped construction
Seasons: 3, Number of doors: 1, Number of vestibules: 1, Number of poles: 2, Capacity: 4
Floor area: 55 ft² / 5.11 m², Vestibule area: 11 ft² / 1.02 m². Wall material: 68D Polyester, 40D No-See-Um Mesh,Floor material: 68D Nylon, 1800 mm
The Kelty Salida 2 is a white and green dome tent. It's roomy with a good amount of floor space, with a large door. It has internal storage pockets for gear storage, but no covered e-port or overhead storage.
The seams are coated to prevent leaks. It's fairly rainproof (although the main material is nylon, which is prone to wearing out over time, especially in sunny weather – for this reason it's not as durable as other tents made from stronger materials like coated polyester). It doesn't come with good waterproof flooring, so you may need to buy a separate footprint or tarp to lay under your tent to stop things from getting damp. It's a freestanding tent, so good for camping on all types of ground.
It's a really good choice for travellers. It folds into a tiny cube, and it's really lightweight – great for squeezing into your backpack. It's easy to put together too, as it only contains two folding tent poles. It's easy to set up even for beginners, taking 10 minutes or less. 
Pros
Very easy to assemble
Super lightweight – good for backpacking
Lots of floor space
Decent waterproofing
Cons
No footprint included
Not as durable as other tents
Check Price
Core 4-Person Instant Dome Tent – Best for Small Families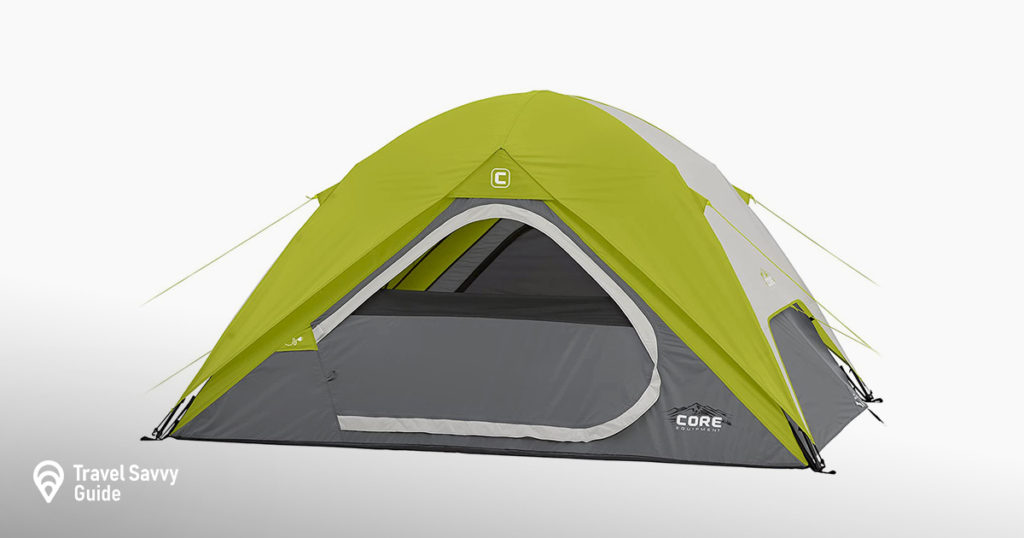 Key Features
Sleeps: 4
Size:
9ft x 7ft x 4ft 5in
108 x 84 x 54in
274 x 213 x 137cm
Size packed:
19 x 19 x 96cm
7.5 x 7.5 x 37.8in
Weight: 14.85lbs / 6.73kgs
Materials: Polyester
Seasons: 3
Sale
Core Equipment Core 4 Person Instant Dome Tent - 9' x 7', Green
Instant 30 second setup; sleeps 4 people; fits one queen air mattress; center height: 54
Core H20 block technology and adjustable ground vent
Features gear loft with lantern hook and pockets to keep items organized and off the tent floor
Electrical cord access port (port is fully closable when not in use)
Includes rain fly, tent stakes, and carry bag
The Core 4-Person Instant Dome Tent isn't huge, but it's decently sized for a small family – say 2 adults and 2 kids. It has a simple layout, with both doors opening wide for easy entry and exit. It has a gear loft, which is a little more unusual for a dome tent, and it has smaller storage pockets and gear hooks, too.
The waterproofing is decent, with sealed seams and a fully-taped rainfly. It also has rain-resistant doors and window seals. In terms of ventilation, it's not as good as other tents on this list, but being able to fully unzip the doors does help with airflow. It's not a freestanding tent, so you'll have to be camping on ground that is suitable for driving pegs into.
It's another super-fast assembly tent. Just unpack it, unfold the legs, and extend the poles until they click – and it's done. Really simple to do and convenient.
Pros
Roomy enough for a small family
Really easy assembly
Good storage
Cons
Not as good for ventilation
Check Price
Frequently Asked Questions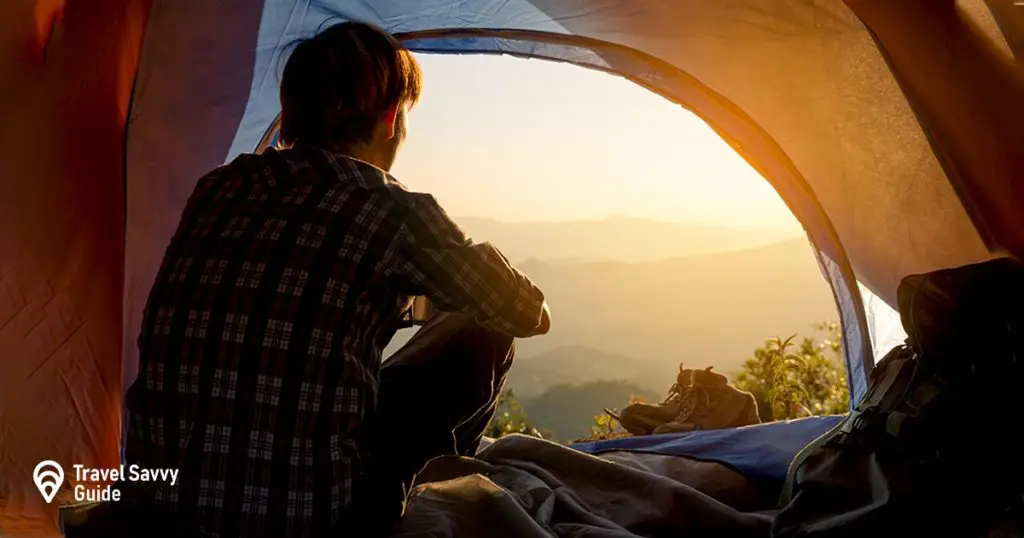 Who are dome tents suited for?
Dome tents can be used by anyone, from solo travellers to families. They suit people who want a lightweight tent that is easy to assemble – if you're backpacking, or you're off to a music festival, or you just don't want to deal with a tent that is tough to put together, a dome tent could be a good choice for you.
Are all dome tents instant to set up?
No – they vary depending on the type. If you want an instant set up, try an umbrella-style frame.
With dome tents are they good for tall people?
It depends – if you want a lot of head room, then no, they're not ideal. You'd be better off looking for a tent with straight walls in that case ( see some of our favorite tents for tall campers). If you're not that worried about head room, make sure you check the length if you're very tall, so you'll have enough room to lay down comfortably!
Is a dome tent durable?
Again, it depends on the tent. Some of them are just as durable as other shapes of tent. Others (like the instant-style tents) are less durable by design, as the frames are more delicate and prone to breakage.
Conclusion – Which Dome Tent is Best?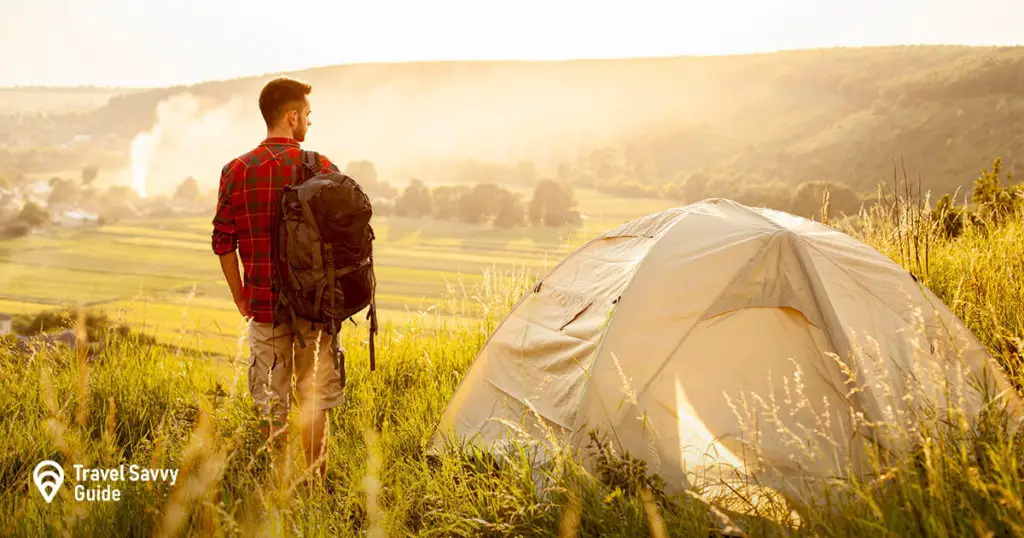 As we mentioned in the intro, the Coleman Steel Creek Fast Pitch Dome Tent is our favorite, as it's a good all-rounder. It feels spacious, and there's a separate screen room for lounging in, which is a nice touch. It's really fast to set up. The rainproofing is good, but you may want to keep an eye on the frame if you find yourself in very windy conditions.
However, we also recommend the Coleman Sundome for backpackers, as it's super lightweight and easy to use as well as being pretty robust. We also like the Marmot Limestone if you've got a bit more room in your budget and you want something spacious.
We hope this has helped to find the best dome tent for you!