If you want to find the best instant camping tents, we've reviewed 7 of the best for you to choose from.
Instant tents are great for those who don't want to mess around with poles and complicated instructions. If you want a tent that practically assembles itself, you can definitely find one – but how do you know which one is the best?
We'll tell you right now that our favorite is Core 4-Person Instant Dome Tent – Best All-Rounder. We also like:
Keep reading to find out why we like them so much. We'll be looking at:
What to look for in an instant camping tent
7 of the best tents out there, including their specs, features, and pros and cons
Some frequently asked questions about instant camping tents
A round-up of why we like our favorites
Table of Contents
Instant Camping Tents Compared
Model
Core 4-Person Instant Tent
Moon Lence Pop-Up Family Tent
Model
Core 4-Person Instant Tent
Model
Moon Lence Pop-Up Family Tent
Model
Mobihome 6-Person Pop-Up Tent
Model
Mobihome 6-Person Pop-Up Tent
What to Look for in an Instant Camping Tent
Instant camping tents may look similar, but they do vary in their features and specs. Here's a quick guide on what to look out for:
Ease of Setup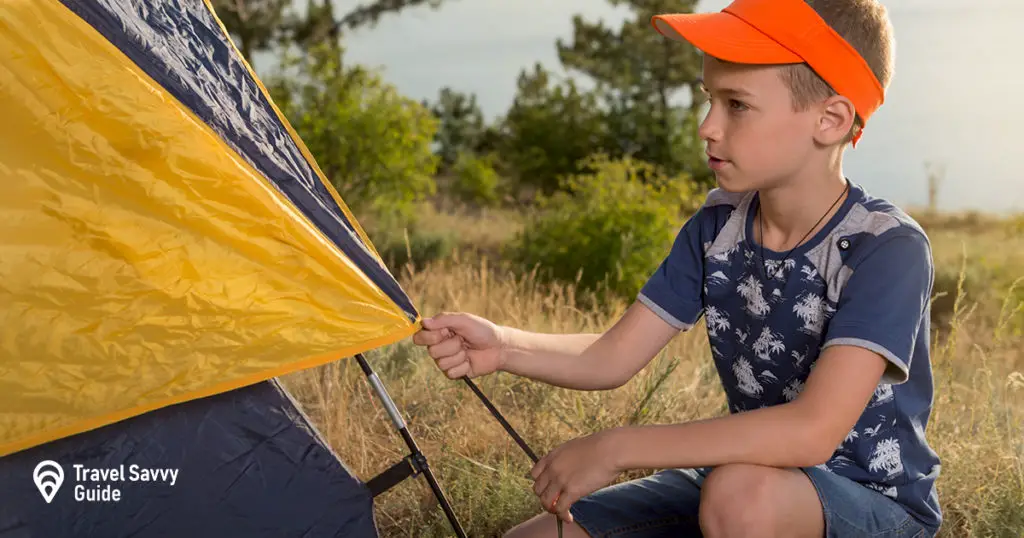 This is obviously going to be your first consideration. How easy is it to set up?
Some instant tents are put together by unfolding the poles and pulling it up in the center. Others are truly 'pop-up' tents, in that you can throw them out of the bag and they'll just pop into place. Either way, an instant tent should take a few minutes at most to put together, and it should be straightforward.
The thing to watch out for is how to fold it back up again. Some pop-up tents come with small carry bags, and you have to fold them up a certain way to get them to fit back in. It's worth practicing putting it up and down before you go in case it turns out to be more complicated than you first thought.
Size
You can get a range of sizes of instant tents – from small one-person pop-up tents to larger, 5-6 person tents. Sometimes tents say that they sleep 6, but in reality, it would be a bit of a tight squeeze – it's best to check the measurements to figure out how you'll set up the beds.
If you're a taller camper, you might struggle to find an instant tent that gives you enough head room to walk around in. It's worth checking the length of the tent, too, to make sure that it's long enough for you to comfortably lie down in.
Finally, there is storage space to consider – where will you keep your gear? You can probably put up with laying right next to your backpack if you're having an overnight stay, but if you're planning on camping for weeks at a time, having somewhere to stash your gear is going to make a big difference to how much you enjoy using your tent. Some tents have overhead storage lofts which is ideal. They may also have pockets for your smaller valuables, so you won't have to worry about losing your phone or keys.
Materials
Materials can vary when it comes to pop-up tents, but typically, they'll be made from one of the following:
PVC (Poly Vinyl Chloride) – one of the cheaper materials out there, this is somewhat weatherproof but not particularly breathable, which may cause you to feel hot and sweaty at night.
Polyester – this is a lightweight material that lasts for a long time. It can be coated (usually in acrylic or polyurethane), to make it extra rain-proof.
Nylon – this is slightly cheaper but less durable than polyester. It tends to be coated in the same way to keep out rain.
Weatherproofing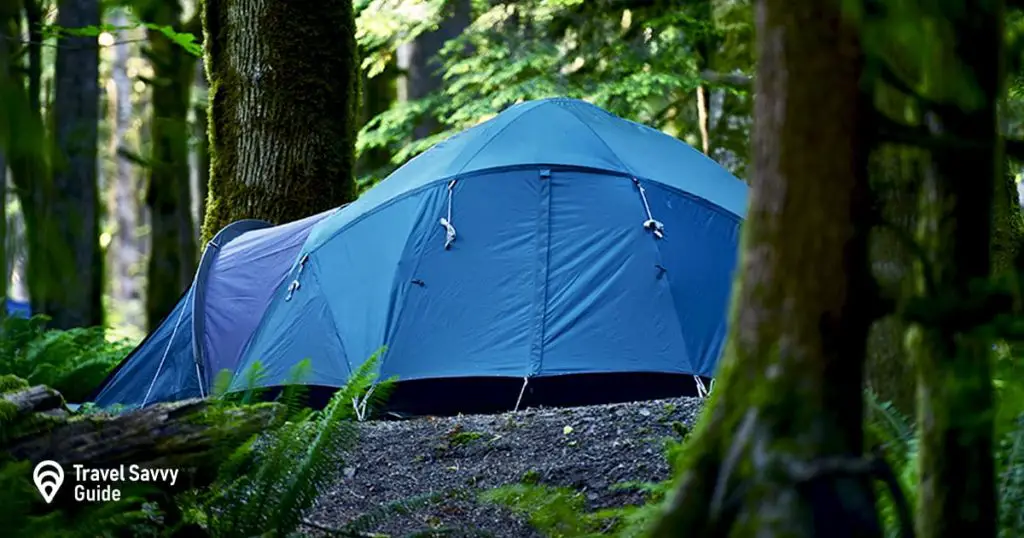 Tents are categorised into seasons, 1,2,3,4, or 5. Instant tents only fall into the first three categories – here's what to expect from each of them and how they will stand up against bad weather:
1-season – you may find instant shelters or pop-up festival tents fall into this category. Ideal for warm weather, it may have good ventilation, but won't offer much protection from the rain.
2 seasons – these tents offer a little more rain proofing, but they won't keep out downpours.
3 seasons – the most versatile, these are pretty good for most types of weathers, and are designed to be well-ventilated as well as waterproof.
You might see a measurement in mm (meaning millimeters) when you look at the materials used – this is the hydrostatic head measurement. This helps to explain how waterproof a tent is. It measures the depth of the pool of water that will gather on the top of the tent in the rain before it starts to leak through. The more water it can 'hold' on top, the less likely it is to leak.
You can also check how wind-proof your tent is by looking at the materials of the frame. Aluminum frames are lightweight, but fiberglass is better for very windy conditions. The issue with instant tents is that they rely upon an umbrella-like frame as opposed to individual poles. This means they're a bit more prone to breakage in severely windy conditions.
Ventilation is really important, so look for mesh panels – this will keep the insects at bay whilst encouraging airflow through the tent.
Now let's take a look at some of the best instant tents out there!
Best Instant Camping Tents
Core 4 Person Instant Dome Tent – Best All-Rounder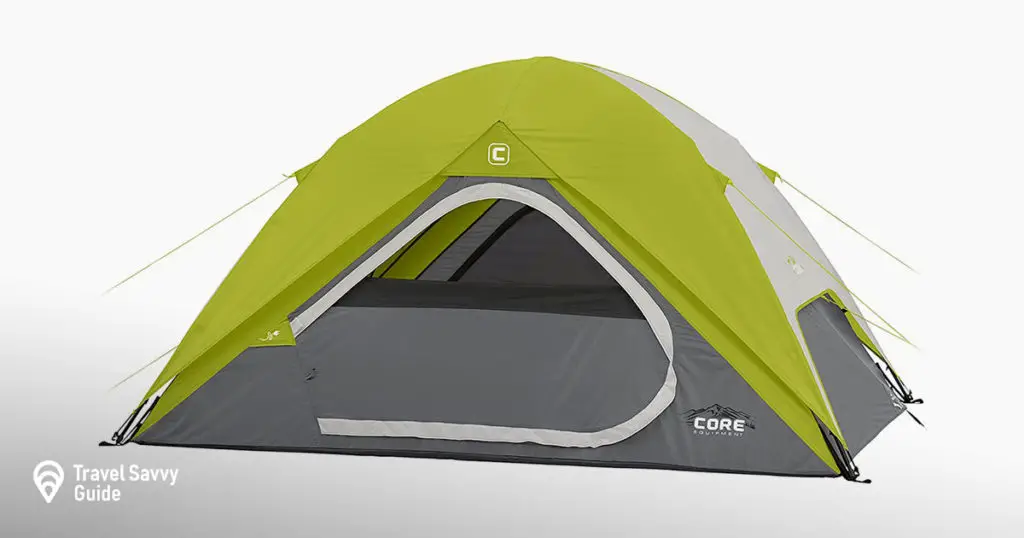 Key Features
Sleeps: 4
Size: 14 x 9 x 6ft 5in (ft)/168 x 108 x 78 (in)/427 x 275 x 198 (cm) 
Size packed: 7.5 x 7.5 x 37.8 (in)/19 x 19 x 96 (cm)
Weight: 6.73kg/14.85lbs
Materials: Polyester
Seasons: 3
Core Equipment Core 4 Person Instant Dome Tent - 9' x 7', Green
Instant 30 second setup; sleeps 4 people; fits one queen air mattress; center height: 54
Core H20 block technology and adjustable ground vent
Features gear loft with lantern hook and pockets to keep items organized and off the tent floor
Electrical cord access port (port is fully closable when not in use)
Includes rain fly, tent stakes, and carry bag
The Core 4 Person Instant Dome Tent is on the smaller side – it states that it's for four people, but it would be ideal for a couple wanting a bit of extra space (or a couple with small children), as four adults might find it a bit of a squeeze. It has two doors, both of which can be fully opened, and it has storage pockets, a gear loft, and gear hooks – so you should be able to place your belongings out of the way easily. On the downside, it's a very basic shape, so you won't have a canopy area for sitting in.
It's pretty good in terms of weather proofing – it has sealed seams, rain-resistant doors and window seals, and a fully-taped rainfly, which is good for keeping the rain out. Plus, thanks to the large doors, the ventilation is pretty good for warmer weather.
It pops up super easily too. Just unpack the tent, unfold the legs to their full length, and then extend the poles until they click into the right position. It's really easy to do, and users report it takes under a minute to put it together.
Pros
Good weatherproofing
Decent size for a couple or family with small kids
Lots of storage
The assembly is very fast – under a minute
Cons
Simple layout, with no canopy/porch area to sit in
Four adults might struggle to squeeze into it
Check Price
Abco Tec Pop-Up Tent – Best for Festivals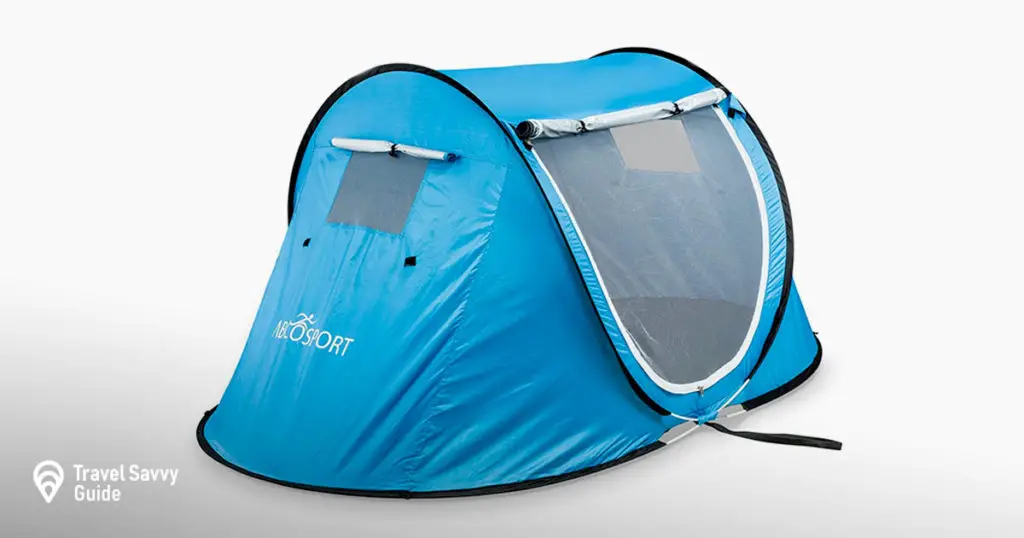 Key Features
Sleeps: 2
Size: 7ft 3in x 3ft 9in x 3ft 11 (ft)/88.6 x 47.2 x 37.4(in)/225 x 120 x 95(cm)
Size packed: 24 x 24 (in)/61 x 61 (cm)
Weight: 1.7kg/3.74lbs
Materials: Polyester
Seasons: 2
Sale
Pop-up Tent and Automatic Instant Portable Cabana Beach, Camping Tent Pop Up Shade Tent - Suitable for 2 People - 2 Doors - Water-Resistant, UV Protection Sun Shelter with Carrying Bag (Sky Blue)
Effortless camping – Pops open in the blink of an eye into a ready-to-use tent, and easy to fold back into a compact form – Abco Pop up tent is ideal for casual camping and accommodates 1-2 people. Set up your tent instantly!
Double doors – With double doors on both the left and right side, it's easy to step out from either side. Moreover, a combination of inner zippered screen plus outer zippered nylon layer give an ability to easily switch between high breathability and complete privacy.
High breathability– a mesh window on both the front and back allow for air circulation while the solid nylon flaps over the windows allow for privacy. Further, opening the mesh windows allows you to enjoy your surroundings from inside the tent.
Carry bag & accessories – Comes with a carry bag that's ideal for storage and easy portability. It also comes with a small bag for accessories to keep them organized
Guarantee – With our 100% risk-free satisfaction guarantee you've got nothing to lose. We are confident you will love this pop-up tent!
The Abco Tec Pop-Up Tent is a small dome tent, with large double doors on both sides which can be fully unzipped. It's simple, with no storage pockets or overhead loft, and it's small – which doesn't make it a good tent for long camping trips, but it's ideal for a couple of nights. If you're heading to a music festival and you need somewhere to crash, it's perfect – it folds up very small and is incredibly lightweight, so you can transport (and store) it easily.
Unfortunately, it's not the best tent for weatherproofing. It'll hold up against a shower, but in a downpour, you're going to experience leaks. If you know the weather will be good, it could work, but in unpredictable weather you'll be taking a risk. It does have great ventilation as the doors unzip fully on both sides with mesh panels to keep insects at bay.
It's super-easy to set up. It pops up in seconds – just unfold it from the bag and it pops up. However, the instructions aren't super clear, and to put it away you have to fold it in a specific way. It may be worth a few tries before you go.
Pros
Very lightweight
Super easy to assemble
Good ventilation
Cons
Small
No storage
Not very waterproof
Instructions could be clearer
Check Price
Moon Lence Pop Up Family Tent – Best for Tall Campers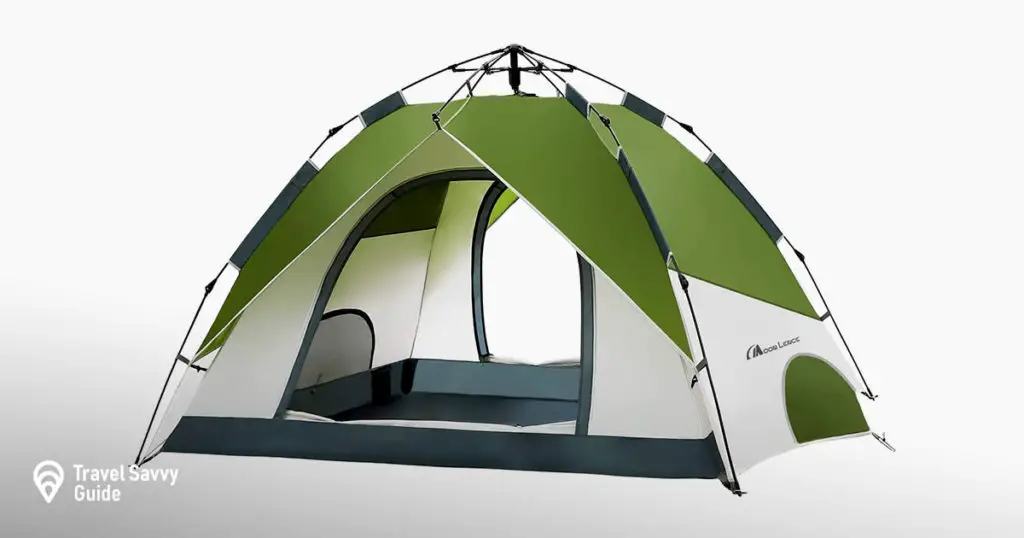 Key Features
Sleeps: 4
Size: 7ft 5in x 6ft 5in x 4 (ft)/94.5 x 82.6 x 49.2(in)/240 x 210 x 125(cm)
Size packed: 32.7 x 7.1 x 7.1 (in)/83 x 18 x 18(cm)
Weight: 4.9kg/10.8lb
Materials –
Outer walls: 2000mm water resistant PU
Inner walls: Oxford cloth
Seasons: 3
MOON LENCE Pop Up Tent Family Camping Tent 4 Person Tent Portable Instant Tent Automatic Tent Waterproof Windproof for Camping Hiking Mountaineering
Roomy 4 Person Tent: With the unfolding size of 240*210*125cm (94.5*82.6*49.2in), the tent is spacious for 4 adults. Weigh only 4.9kg (10.8lb), it can be stored in to the 83*18*18cm (32.7*7.1*7.1in) carry bag. Super easy to carry it everywhere.
Breathable & Stable: 2 Large doors with dual zippers and 2 ground vents provide much better ventilation. Equipped with 10 lightweight Alloy Pegs and 4 Guy Ropes, the tent has a high resistance of wind. More Secure.
All-round protection: 190T PU material and 210D Oxford Ground Sheet provide 2000mm water resistance and excellent UV resistance. The doors equipped with high quality SBS zippers can be closed tightly, which provide stronger resistance to harsh weather.
Easy to Setup:Instant Pop up Mechanism makes you set up inner tent within 1 minute. Simply lift top of the tent, pop the top mechanism down and then click the bottom joints into place. Easy and save your time.
The Moon Lence Pop Up Family Tent is a great option if you are on the taller side. While it doesn't have a ton of head room, it is pretty lengthy at 7.5ft (94.5in/240cm). If you're worried about an instant tent not being long enough for you, this could be a good choice. It's a one-room tent with small pockets for your valuables, but it doesn't have a storage loft.
It's a great tent for weatherproofing. The outer walls are 2,000mm, which is a good hydrostatic head measurement – it should keep you pretty dry. It has windows on all sides, with mesh to give you ventilation but allow you to see outside. The doors open completely too.
To set it up, all you have to do is pull up the middle, straighten out the poles, and that's it – it's super easy to do, and users were really happy with how simple it was. 
Pros
Long, so good for tall campers
Good waterproofing and great ventilation
Super easy to set up
Cons
Check Price
TETON Sports Quick Tent – Best for Solo Campers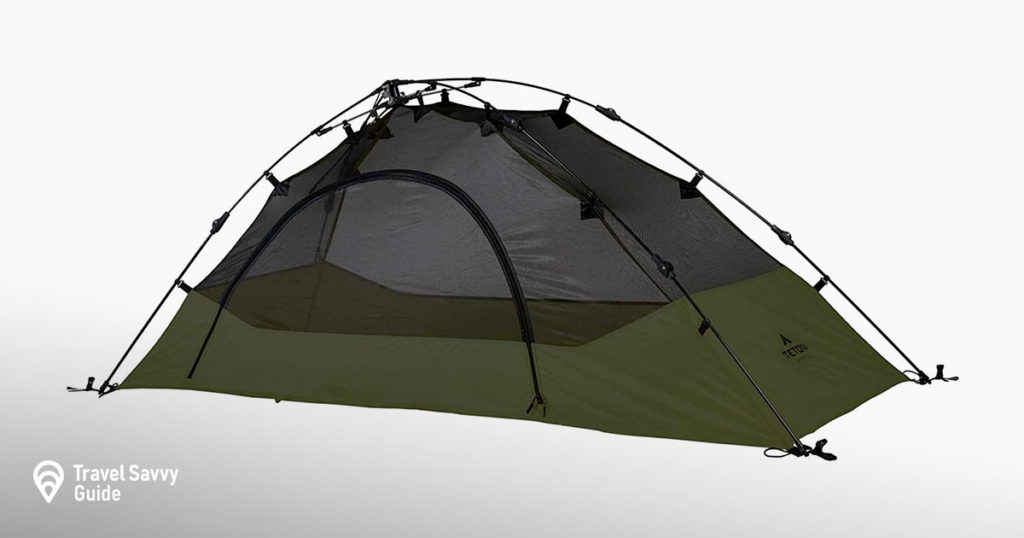 Key Features
Sleeps: 1
Size: 6ft 6in x 3 x 2ft 8 (ft) / 80 x 37 x 34 (in)/203 x 94 x 86 (cm)
Size packed: 27 x 7 (in)/67 x 18 (cm)
Weight: 4.6lbs/2kg
Materials
Inner Tent – Micro Mesh/Taffeta
Rain Fly – Taffeta 1200mm PU
Seasons: 3
Sale
TETON Sports Vista 1 Quick Tent; 1 Person Dome Camping Tent; Easy Instant Setup, Green, Model:2001GR, 80" x 37" x 34"
QUICK CAMPING TENT WITH AN INSTANT SETUP: Camping made easy; Buying the tent will take longer than setting it up; Roll it out, lock your poles, pull the drawstring and you're done
ONE PERSON SLEEP SYSTEM: Pop up dome tent with a quick and easy setup; For camping on the ground or the TETON Sports Outfitter XXL Camp Cot for some serious glamping
STAY DRY: Sturdy micro mesh tent includes a standard waterproof rainfly; Look for the Elite Rainfly that fully extends to the ground if you're using the cots — sold separately
ROOM WITH A VIEW: Get away from the city lights and enjoy a full view of the Milky Way; Full mesh top allows for a perfect stargazing experience; Enjoy a camping experience that is out of this world
TETON SPORTS PROMISE: Reach out to our AMAZING product support team if you have any questions or concerns; YOU CAN COUNT ON US to get you taken care of and back OUTDOORS with TETON Sports
TETON Sports Quick Tent is great if you're camping alone – it has a lot of room for one person. It doesn't have much headroom, but it does have a built-in gear loft, so you won't have to worry about tripping over your backpack. It has a mesh top, too. This is ideal not only for ventilation, but for stargazing (without the risk of being bitten by insects).
The weatherproofing is okay. It's not going to keep out a full downpour at 1,200mm PU – if you were stuck in a sudden storm, you might experience some leaking. It should keep the odd shower out, however, and it would be an ideal tent for camping in warmer weather. There is an optional rainfly that you can purchase separately, which you can extend all the way to the ground, which you might want to consider if you're going to be camping in unpredictable weather.
The set-up is pretty good. It takes a few minutes, but the downside is the instructions aren't completely clear. It might be a good idea to try it out before you leave for your trip.
Pros
Set up is quick once you get the hang of it
The mesh top is a nice touch
Decent storage
Cons
Instructions aren't easy to understand
Not the best weatherproofing
Check Price
ZOMAKE Pop-Up Tent – Best Pop-Up Shelter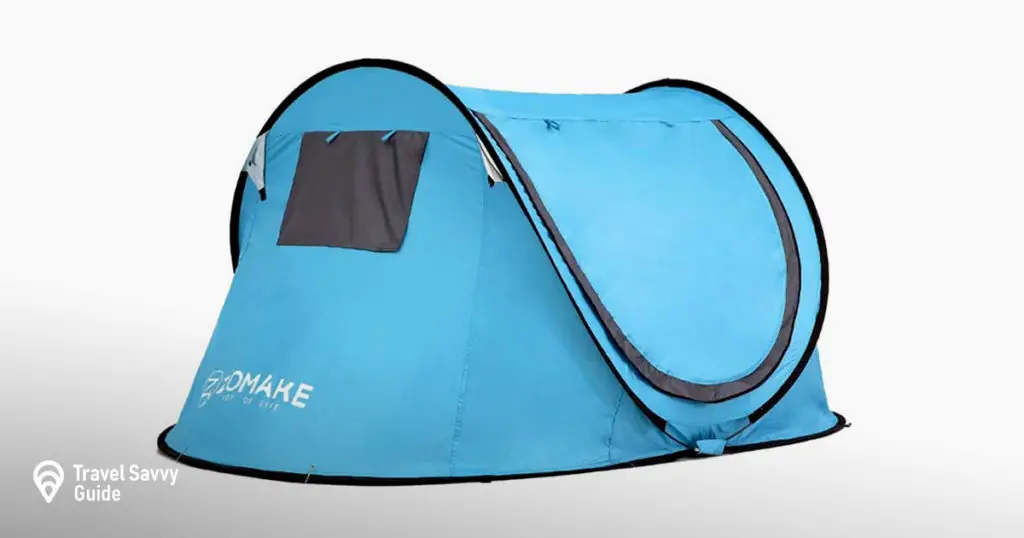 Key Features
Sleeps: 4
Size: 7ft 9in x 5ft 9in x 3ft 2in (ft)/95 x 71 x 39 (in)/241 x 180 x 99(cm)
Size packed: 22.8in/58cm (diameter)
Weight: 5lbs/2.26kg
Materials: Coated polyester with anti-UV coating
Seasons: 2
Sale
ZOMAKE Pop Up Tent,Portable Beach Tent Shade,Easy Pop Up Tents for Camping - 2 & 4 Person - UV Protection - Water Resistant - with Carry Bag (Green)
Seconds Pop Up - Open the package, unstrap the tent, throw it in the air, watch it open itself in seconds. No need to fumble with poles or complicated instructions
Ventilation& Blocking Mosquitoes - 2 mesh doors, 2 mesh windows and an extra big mesh roof sky window. With high density mesh net, being air fresh while keeping insects out
Tent Size - Open size : Very roomy for 3 adults, could easily fit 4 if needed. Ideal for a family rest. Folding Size: 80 cm in diameter as a disc(With installation instructions)
Material - Durable sturdy 190T PU-coated silver ANTI-UV polyester fabric, provide UPF 50+ Sun Protection and no odd smell inside the tent
NO RISK BUYING - Carrying bag With the installation instructions, or you can search "ZOMAKE tent" on the ""Youtube"" for the folding video. If anything at all goes wrong with your tent, you have 90 days to request a replacement, completely for free! This is our crazy promise. We don't lie.
The ZOMAKE Pop-Up Tent is not technically a tent – it's a pop-up beach shelter. However, we wanted to include it because it can be used for camping in good weather conditions (and it makes a great play tent for kids to use in the garden, too). It's roomy for 3 adults, but you could squeeze 4 adults in if you had to. It has one room with 2 mesh doors, 2 mesh windows, and a roof sky window for stargazing. It lacks any kind of storage for gear, which is a downside.
Weatherproofing wise, it's going to keep out light rain, but that's about it. If you can guarantee good weather, it could work. As it is designed to be a pop-up beach shelter, it has great ventilation, and it also has anti-UV coating, so ideal for keeping you safe in harsh sunlight.
It's also fun to put together. Open the package, unstrap the tent, and throw it – it'll put itself together in mid-air. Users report it works really well, and they also provide a link to a YouTube video so you can watch it being folded back up again.
Pros
Fun to put together
Roomy for four
Multi-purpose: works as a play tent, a beach pop-up, and a tent for warm weather
Cons
Not weatherproof
No storage
Check Price
OT QOMOTOP Instant Tent – Best for a Tight Budget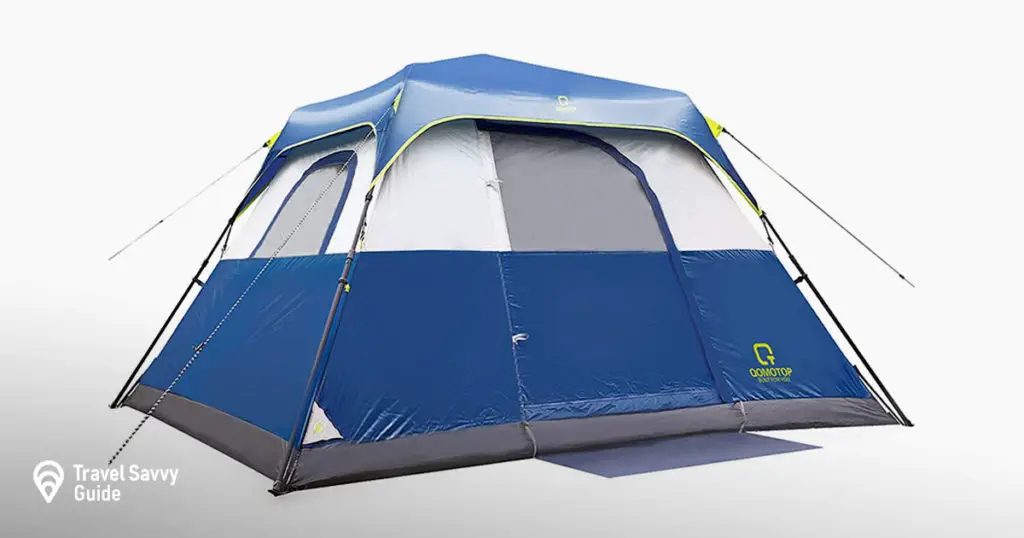 Key Features
Sleeps: 6
Size: 10 x 9 x 5ft 9in (ft)/96 x 108 x 71 (in)/244 x 274 x 180(cm)
Size Packed: 42 x 9 x 9 (in)/107 x 23 x 23(cm)
Weight: 19lbs / 8.61kgs
Materials: Polyester
Seasons: 3
The is a good choice for those on a budget – for a 6-person tent, it's available at a good price. It's better suited to 5 people, however, as 6 people might find it a bit of a squeeze. It has one large room with an e-port (a hole to feed an electrical cord through – this is sealed to prevent leaks), and it also has storage pockets and a gear loft to get your stuff out of the way.
It's great for ventilation, as it has a mesh roof and a ground vent, which is ideal for warm evenings. However, despite the coated polyester and sealed seams, some users still reported leaks. If you get stuck in a downpour, this could be a concern. The price is low, but the materials aren't as good as you would get with more expensive tents, so it's not going to be as durable as some of the others on this list.
It's easy to set up, given the size. Just get it out of the bag, fully extend the poles, and pull it straight up from the center – it's done in minutes.
Pros
Good price considering the size
Storage pockets and storage loft
Good ventilation
Simple to set up
Cons
Not great for heavy rain
Not as durable as other tents out there
Mobihome 6-Person Pop Up Tent – Best for Bigger Families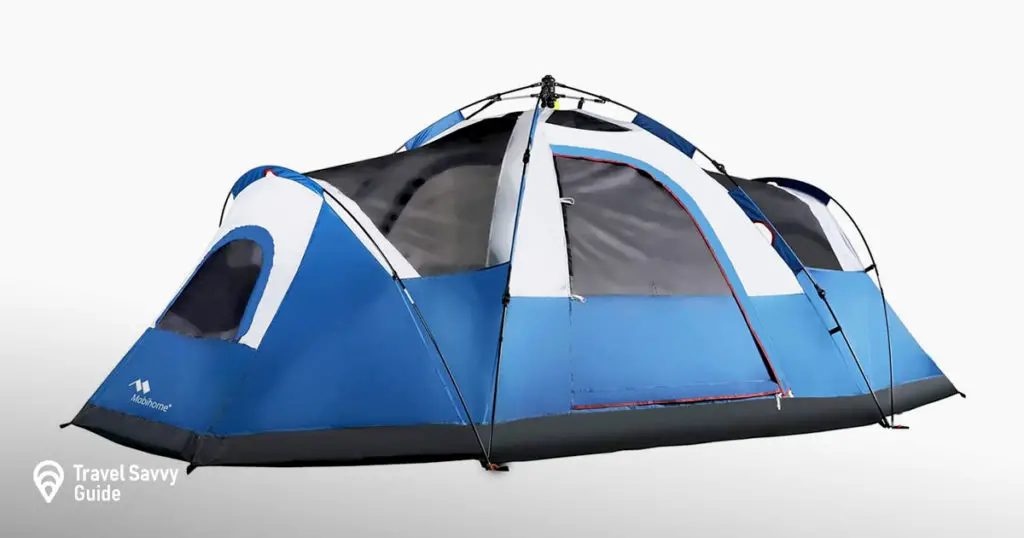 Key Features
Sleeps: 6
Size: 13 x 7 x 4ft 5in (ft)/161 x 83 x 55(in)/410 x 210 x 140(cm)
Size Packed: 35 x 9(in)/88.9 x 22.8(cm)
Weight: 14lbs 3oz/6.48kg
Materials
Rain Fly: 1500mm Coated Polyester
Floor: Polyethelene
Seasons: 3
Sale
Mobihome 6 Person Tent Family Camping Quick Setup, Instant Extended Pop Up Dome Tents Outdoor, with Water-Resistant Rainfly and Mesh Roofs & Door & Windows - 13.5' x 7', Blue
INSTANT EASY SETUP TENT - Special hub system design for single operation - Up in seconds, down in a flash; Set up instantly in minutes - Roll it out, lock your poles, pull the drawstring and QUICK UP the tent, so easy!
DURABLE & WATER-RESISTANT - High-class 190T polyester fabrics; Sturdy, watertight PE tent floor; sealed seams; fully taped removable rainfly; 2-ways zippers door/window for maxzing strong water-resistance and long-lasting life time
SPACIOUS & COMFORTABLE - Camping dome tent with spacious design offers enough room for 2 parents with 2-3 children to sleep comfortably. It fits 2 air beds (Size:77''x 53'') and and other camping gears as backpack and so on.
LIGHTWEIGHT & VENTILATIVE - famliy tent with the portable carrying bag; big breathable top mesh roof and windows not only protects against insects/mosquito and enhanced air circulation but also allow you to look at the scenery outdoor conveniently.
MOBIHOME BRAND PROMISE - Welcome to contact our amazing customer service team if you have any questions or concers; We attach great important to every customer and promise to do best to solve your issuses; Customer friendly 1-year warranty;family tent is fully equipped with rainfly X 1, storage pocket X 4, side poles X 2, vestibule pole X 1, steel stakes X 14, guy lines x 6, carrying bag X 1.
The Mobihome 6-Person Pop-Up Tent has plenty of space, with enough room for two queen-sized air mattresses. It doesn't have an overhead storage loft, which is a shame, but the extra floor space could compensate for this. The tent has storage pockets for your valuables.
It has a 1,500mm rainfly. However, users have found that they still experienced leaks in heavy rain. It would be a better choice for camping in warmer weather, as the ventilation is great. The rainfly can be rolled back so you can gaze out at the stars, which is a nice feature.
For a large tent, the setup is simple – spread the tent flat, fully extend the poles, hold the bottom of the 'hub' with one hand, and pull it upwards – it should click into place. It's a really fast process that takes about a minute.
Pros
Quite roomy
Great ventilation
Setup is really easy
Cons
Not the best weatherproofing
No overhead storage loft
Check Price
Frequently Asked Questions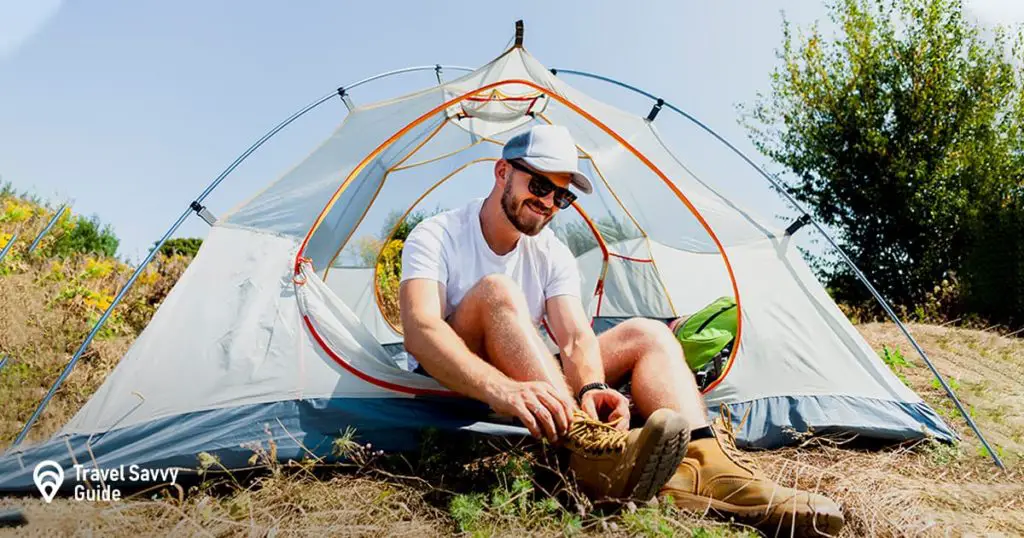 Are instant camping tents durable?
Instant tents don't tend to be as durable as regular frame tents. This is because they use an umbrella-like frame as opposed to individual poles, making them less windproof. They can be prone to snapping, and they're difficult to repair as you can't just swap out the broken pole for a new one.
How long should it take to put together an instant camping tent?
It should take a few minutes to put an instant tent together – some tents can take seconds to put up.
What else should I look for in an instant camping tent?
Look out for the size packed – if you're going to a festival or you're backpacking, you'll want a tent that can easily fit in your backpack, or a tent that comes with a light carry bag for easy transportation.
To Sum Up – Which Instant Camping Tents are the Best?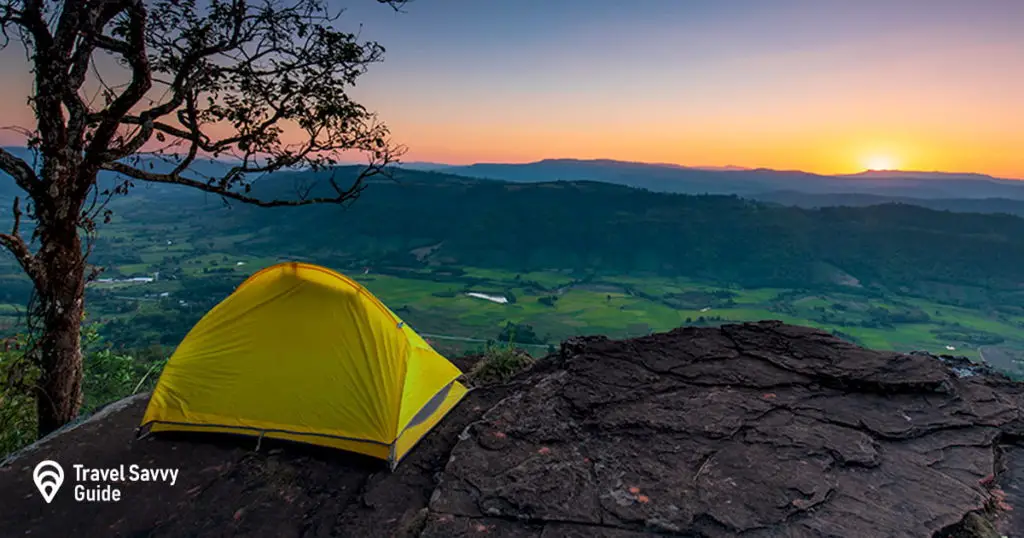 We think that the Core 4-Person Instant Dome Tent is a great all-rounder. It has good weatherproofing compared to some of the others on this list, it's a good size for couples or families with young children, and it has a lot of storage.
However, if you're looking for something super-lightweight for a quick trip, check out the Abco Tec Pop-Up Tent – it takes an instant to put together and it's ideal for festivals. Or, if you want something a bit more roomy, try the Moon Lence Pop-Up Family Tent – great for taller campers.
We hope this has helped you to find the best instant camping tents for you!