If you're looking at buying an Igloo cooler with wheels, you may have some burning questions to ask. Are their coolers any good? Are they durable? How well do the wheels work? Are they a good investment?
The bottom line up front: we like them, and we think they're a great mid-range option. If you want something super-easy to transport, you'll want to consider investing in an Igloo cooler.
Here's what we'll be looking at:
What Igloo is like as a company
The number of Igloo wheeled coolers that are available
The appearance, cooling power, features, durability, warranty, pricing, and accessories available
The pros and cons of Igloo coolers with wheels
Frequently asked questions about Igloo coolers with wheels
Our final thoughts, including the coolers we like the best
Keep reading to find out our full opinion on Igloo coolers with wheels.
What is Igloo?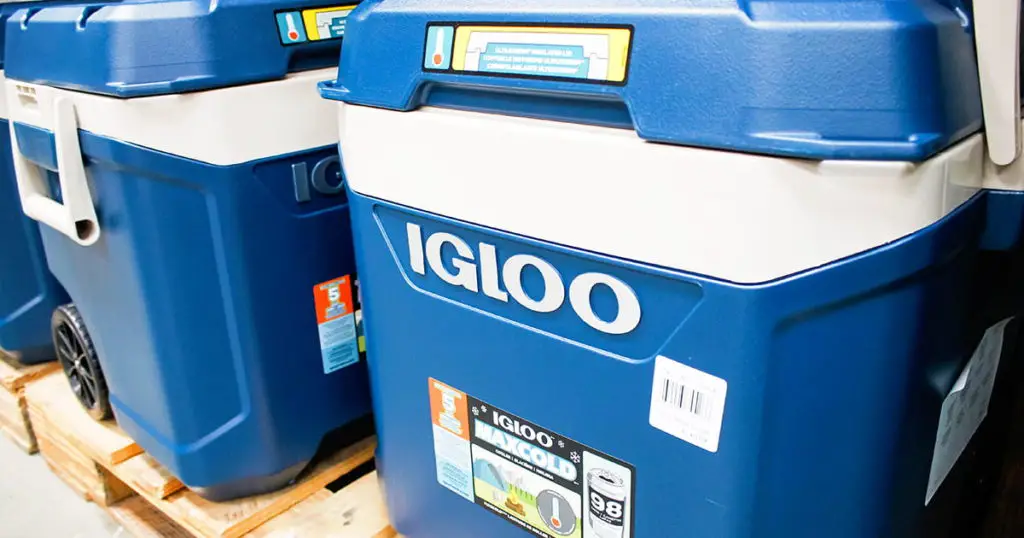 Igloo was launched in 1947. Known for iconic products, like the Playmate range, they manufacture durable coolers. They're particularly good at creating wheeled coolers, with excellent technology in the handles and wheels, making them very easy to wheel around (even when full of food, drinks, and ice).
As well as coolers with wheels, they manufacture soft-sided coolers and backpack coolers.
Igloo Cooler with Wheels – the Main Features
There are a few Igloo coolers with wheels, so let's take a look at each one:
Quart MaxCold Series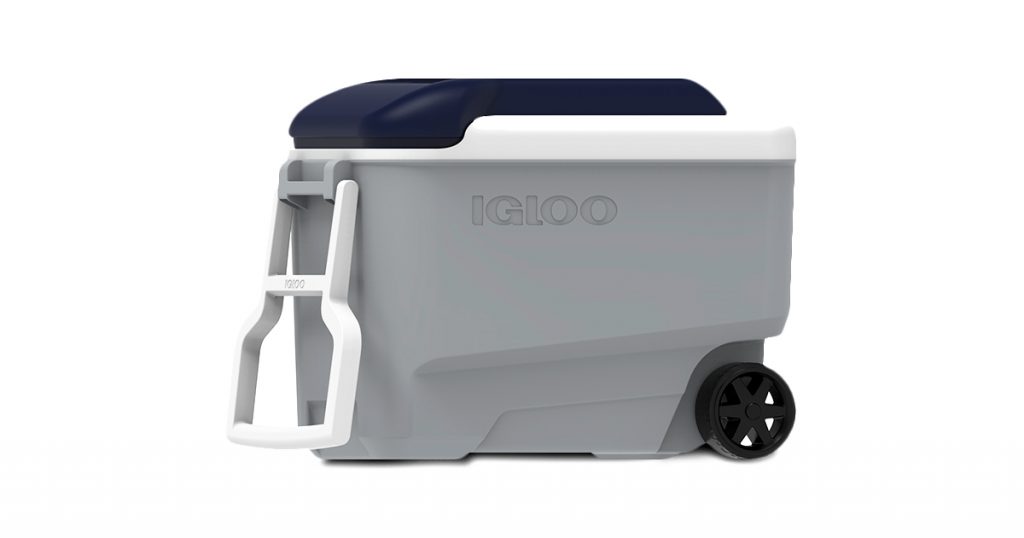 The MaxCold coolers are simple in their design, but perform really well. They have two small wheels at the back for transportation.
There are two models available here:
Trailmate Journey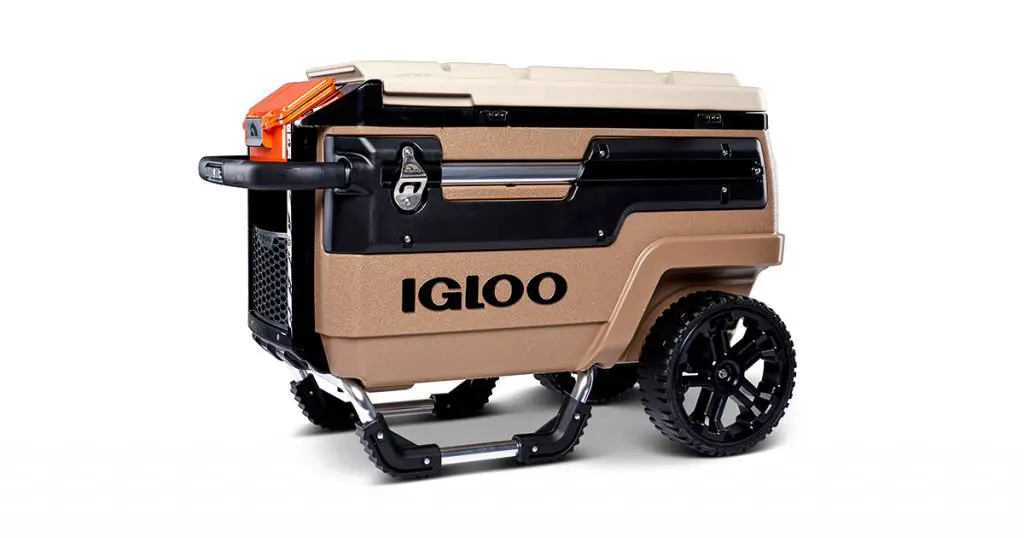 The Igloo Trailmate Journey has two large, durable wheels, and two non-slip 'handles' on the other side that the cooler rests upon.
This is a standalone model, sized at 70 Quart (66.2 Liters). It is very similar to the Igloo Marine Ultra series of coolers.
Marine Ultra Series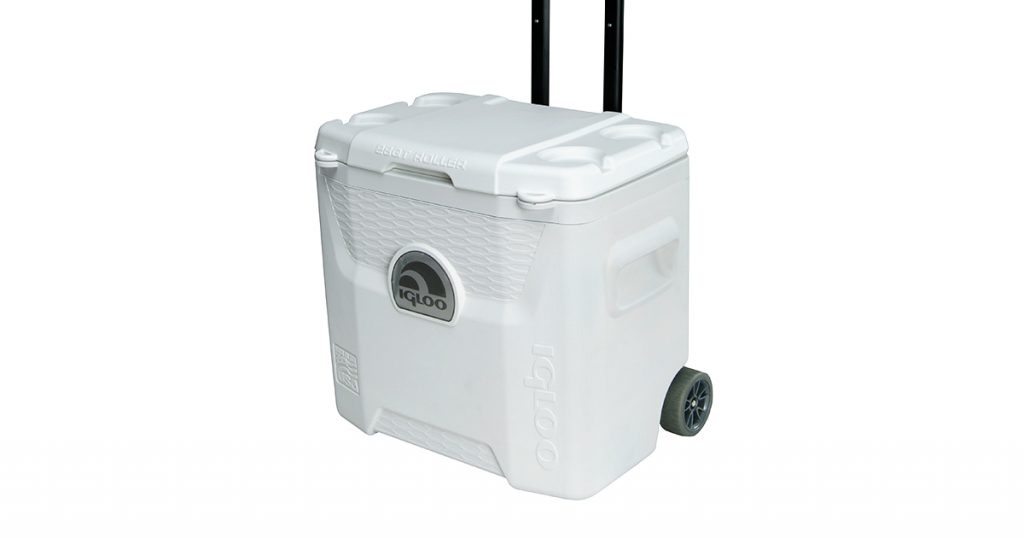 The Marine Ultra series is very similar to the Trailmate Journey, with the same large durable wheels and handles. There are a few sizes to choose from:
30 Quart (28 Liters)
36 Quart (34 Liters)
48 Quart (45 Liters)
54 Quart (51 Liters)
72 Quart (68 Liters)
90 Quart (85 Liters)
94 Quart (89 Liters)
The Igloo Quantum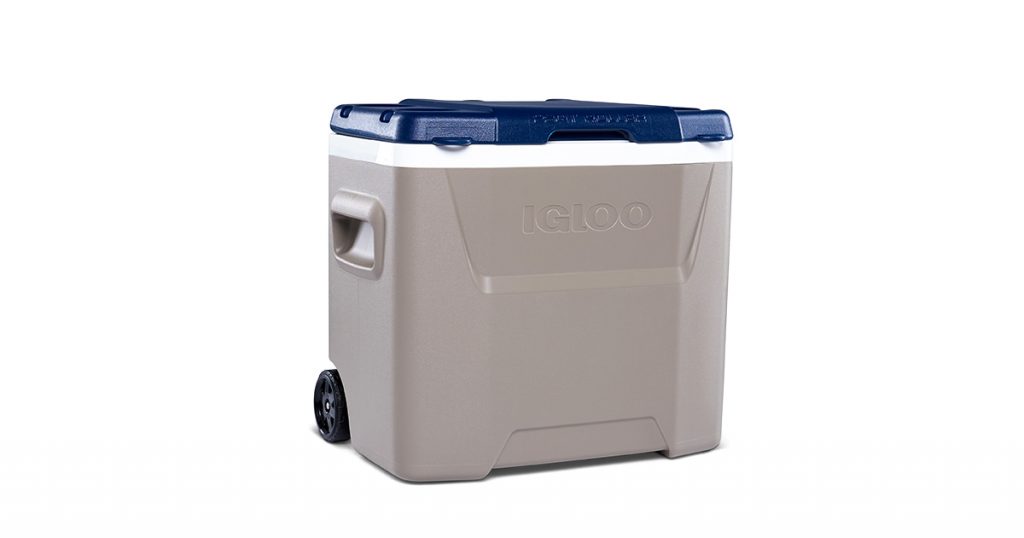 The Igloo Quantum is a chunky, sturdy cooler. It's quite narrow, but tall, which makes it a neat, compact cooler.
This is a standalone model: .
Igloo Glide Pro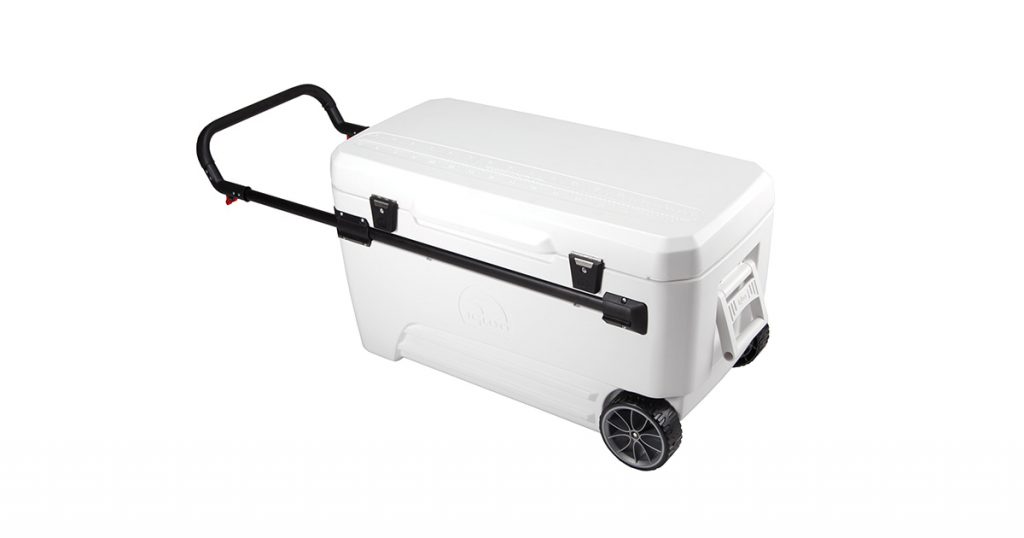 The Igloo Glide Pro is a large cooler, and it moves very smoothly – ideal if you find wheeling around a heavy cooler tricky to do.
The Igloo 110 Quart (104 Liters) Glide Pro Cooler is available in one size, the largest available Igloo cooler with wheels. We featured this product in our guide to the Best Large Cooler with Wheels if you want to know more about it.
The Igloo Portable Sports Cooler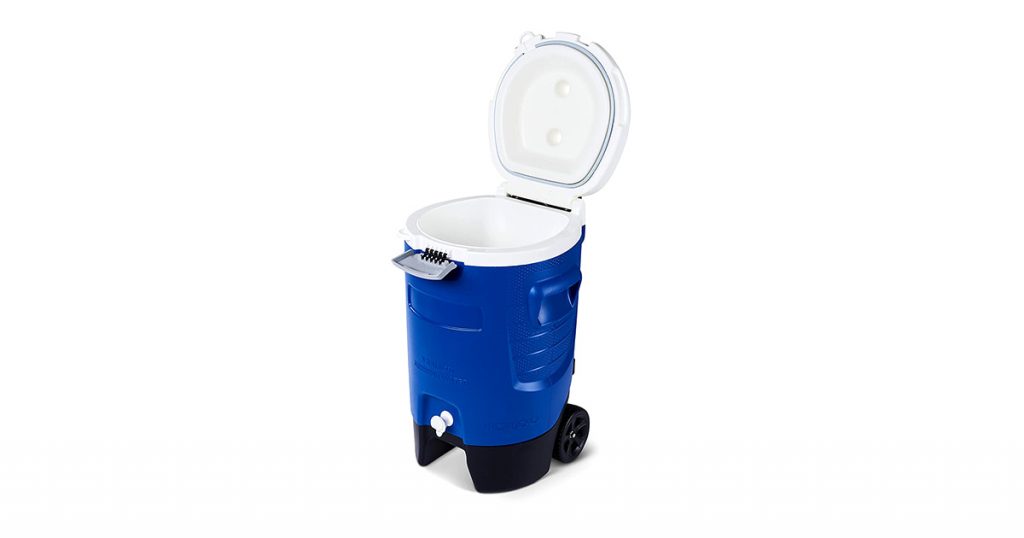 With the Igloo Portable Sports Cooler is ideal for serving up cold water on the go.
You can also get the .
Now, let's take a look at these coolers in more detail.
Appearance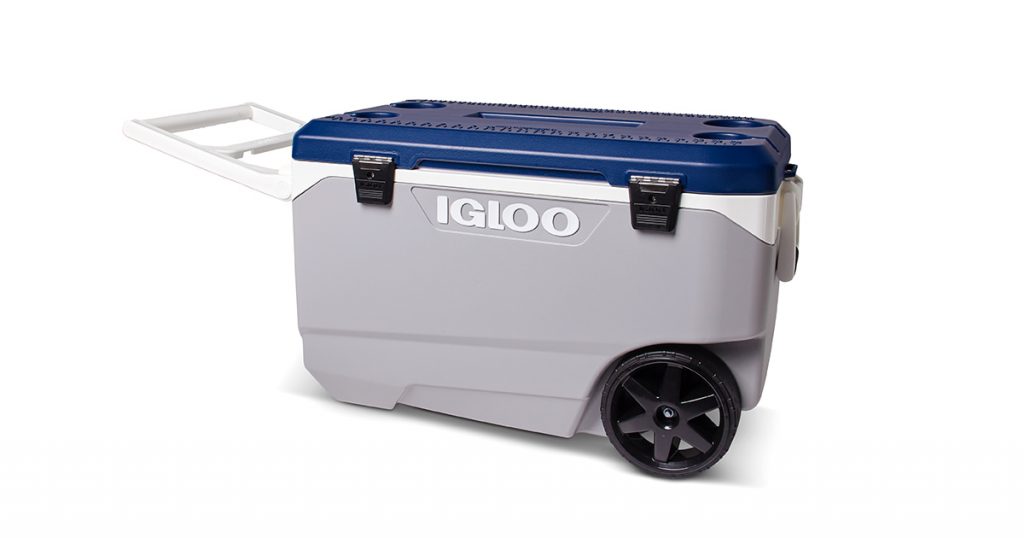 Igloo coolers are well known for their iconic retro coolers, but their wheeled coolers are a bit more functional in design. The Igloo Quart MaxCold Cooler looks like a classic hard-sided cooler – available in blue and white, with black wheels and thick walls/a thick lid. 
The Trailmate Marine/Trailmate Journey coolers look very similar to each other. They have a unique shape, with two wheels at the back and two handles on the underside, which the cooler rests on (these are designed to stay put on any surface). These come in some interesting color varieties, including blue, green, tan, black, and white.
The Igloo Glide is comparable to other cooler brands – it is a large white chest cooler with thick walls and a thick lid.
You can also get the , which comes in a distinctive black/red color combination.
Igloo coolers don't have one uniform look – depending on the series, the style can vary. However, they all share the Igloo logo which is usually embossed somewhere on the sides.
Cooling Power
Igloo's coolers use what they call Cool Riser Technology, which is claimed to improve cooling performance by elevating the bottom of the cooler slightly from the ground. 
The following coolers are rotomolded:
This is a process of manufacturing involving one thick, continuous piece of insulated plastic. This means that there are no cracks or joins for cold air to escape, and many modern coolers use this technology. (If you're interested, you can find out more in our guide to the Best Rotomolded Coolers).
The Trailmate series of coolers are not rotomolded. They have thick insulation in the walls and the lid and still perform very well in terms of keeping the contents inside cold. The outer layer is also nice and sturdy, keeping the inner walls well protected.
There are other features Igloo coolers have, too – like a strong drain plug that works really well at keeping air sealed inside, and strong latches that help to squeeze the lids tightly shut.
Igloo doesn't advertise ice retention time for all of their coolers. They state that the Trailmate series can keep ice for 4 days. It's always worth remembering that we don't know the conditions of these ice retention tests, so ice may not last for the full 4 days in hot, sunny weather (as an example). You can find out more in this YouTube video: Igloo IMX 70 Ice Retention Test. Although this isn't a wheeled Igloo cooler, it will give you an idea of how well Igloo performs in terms of ice retention.
Features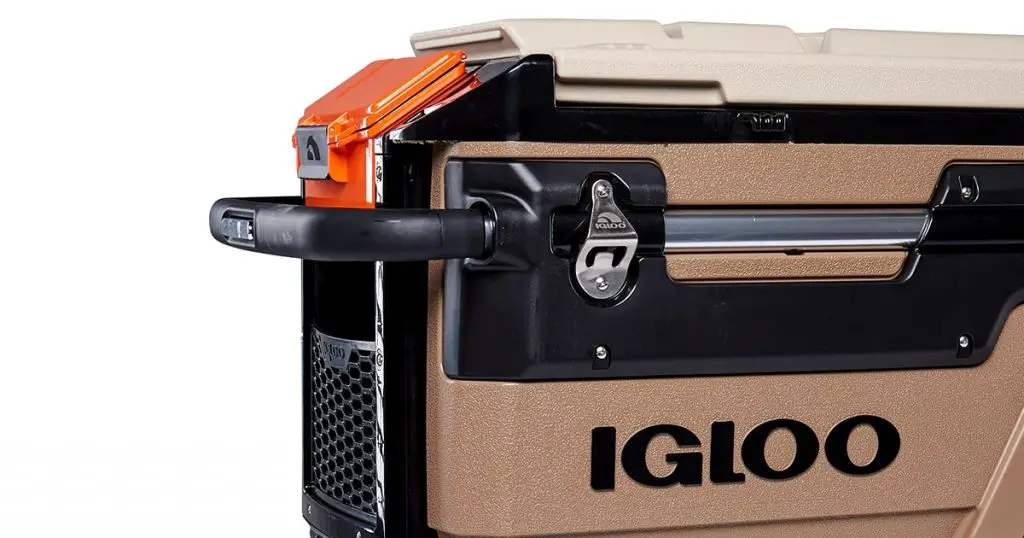 Igloo is well known for packing a lot of useful extra features into their coolers. The Trailmate series, in particular, boasts a lot of useful features, including:
A butler tray to serve drinks
A dry storage basket
Storage pockets
A mobile device stand
Dual built-in bottle openers
Cup holders for tumblers or water bottles
Tie-down loops to attach and easily transport other gear
Threaded drain plugs to easily dump melted ice
There are accessories available for other wheeled Igloo coolers, including dry storage baskets to help keep the contents organized.
Igloo coolers have excellent handles. Their telescoping handles lock into place and they are designed to glide easily in and out, so you won't have to struggle with extending them each time you want to move them around.
The other standout feature of Igloo coolers is the wheels. All Igloo coolers have strong, durable wheels, but the Trailmate wheels can handle some tough terrain with great traction, with never-flat wheels. The Glide, meanwhile, has soft-ride wheels which make transporting the cooler an absolute breeze.
Durability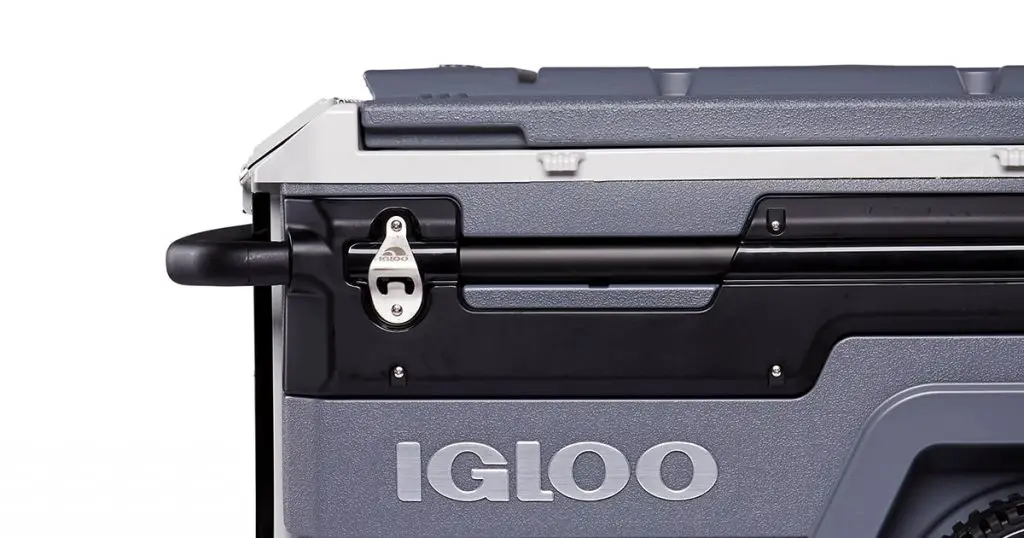 So what about durability?
The stainless steel parts, like the hinges and screws, are durable and rust-resistant. Plus, the handles are reinforced to ensure that they won't snap or break. That and the strong, robust wheels mean that Igloo coolers are a pretty safe bet when it comes to durability.
The aluminum construction of the Trailmate coolers may sound concerning (as coolers do, by their nature, get damp, which can cause rust). However, the aluminum is rust-resistant and seems to hold up pretty well.
However, they do lack IGBC (Interagency Grizzly Bear Committee) Certification, which other cooler brands (like YETI) have. This means that they may be a little less durable than some of the more expensive brands on the market.
Warranty
Igloo offers a 1-year warranty for their hard-sided coolers, against manufacturing defects. So you'll have a decent amount of time for any manufacturing issues to crop up.
Pricing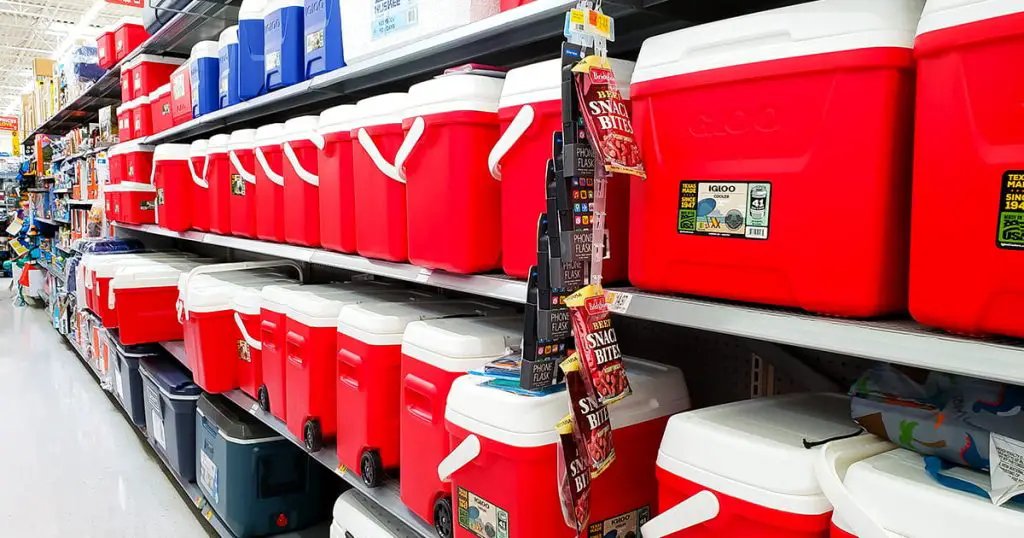 Igloo coolers are very reasonably priced, especially given the number of extra features that they have. With the Trailmate series retailing between $250-300, that puts them right in the middle of lower-priced brands (like Ozark Trail) and the more expensive options like YETI, ORCA, and Pelican.
The payoff is that the warranty is shorter than other brands (YETI offers a 5-year warranty on some of their coolers, for example).
Accessories
There are several accessories available, including ice packs, seat cushions, and dry goods baskets to help keep the contents of your cooler organized. You can also buy replacement parts like hinges, latches, and drain plugs.
Pros and Cons
Now, let's take a look at the pros and cons of Igloo coolers:
Pros
Good price point
Coolers tend to include extra features like storage baskets and built-in bottle openers
The handles combined with the wheels make them very easy to transport
Good cooling power
Wheels and other components are durable
Cons
Warranty is a bit shorter than some other more expensive brands
Coolers don't have IGBC certification
Frequently Asked Questions about Igloo Cooler with Wheels
Here are some of the most commonly asked questions about Igloo coolers:
What other products does Igloo sell?
Igloo mainly focuses on coolers, but they also manufacture drinkware, like tumblers, cups, and water bottles. We like the Igloo Stainless Steel Vacuum Insulated Tumbler, which is a great tumbler for camping, and it looks stylish in copper with a retro Igloo logo.
They also sell eye-catching, sometimes limited edition coolers with brands like Disney, Scooby Doo, Hello Kitty, and Harry Potter – for example, the very cute Igloo Quart Limited Edition Playmate Portable Lunchbox.
How can I care for my Igloo cooler?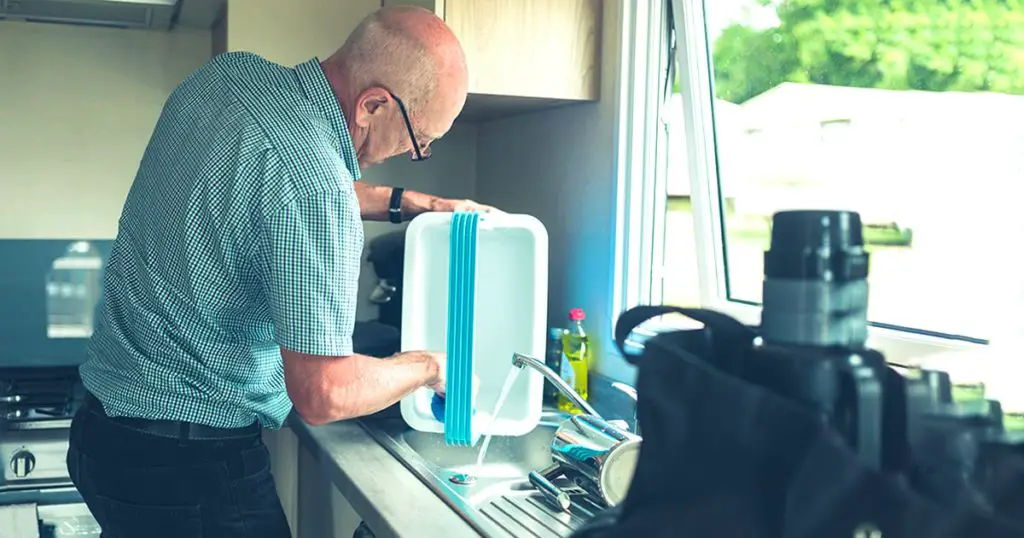 Coolers can get pretty grimy, so it's important to keep them clean. You can use a soft cloth with soapy water to get rid of most of the dirt. You can also use a mixture of baking soda and water to remove tough stains and odors. Check out this guide from The Kitchn on How to Clean Your Cooler for more ideas.
How can I make ice last longer in a cooler?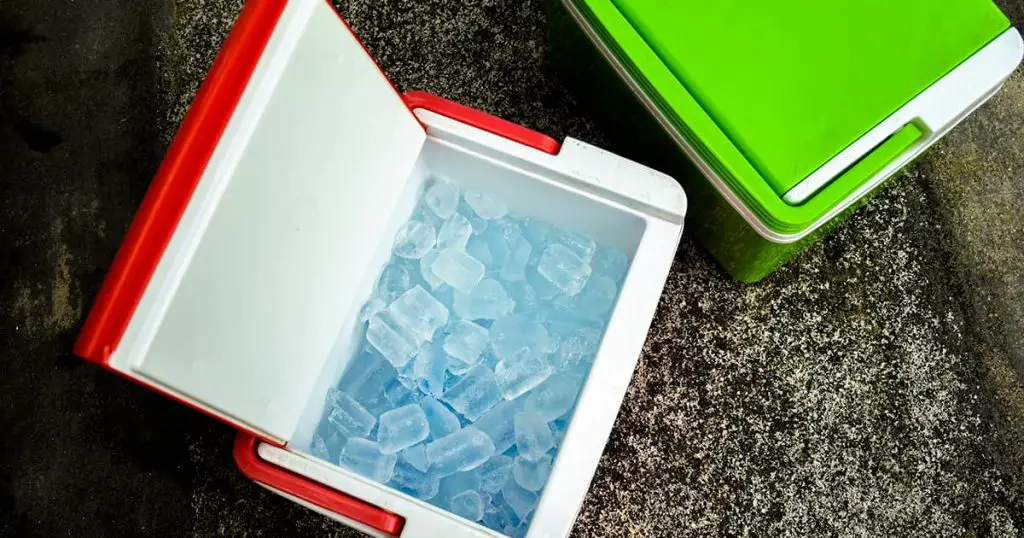 You can make ice last longer in your cooler by using a few tricks, like lining your cooler with aluminum foil and using certain types of ice. You can find out more in this guide from Real Simple on How to Keep Your Ice from Melting So Quickly In Your Cooler.
Are Igloo coolers with wheels suitable for hunting or fishing trips?
Yes, we think that they are suitable. However, we do think that there are other cooler brands out there that are more suitable for the kind of tough conditions that you might face. YETI and ORCA are good examples of large chest coolers that are super-durable with features like fish rulers built into the lids, which may be worth checking out.
We think that Igloo coolers work incredibly well for camping trips, as well as other occasions like parties, road trips, and day trips.
What are some other cooler brands to check out?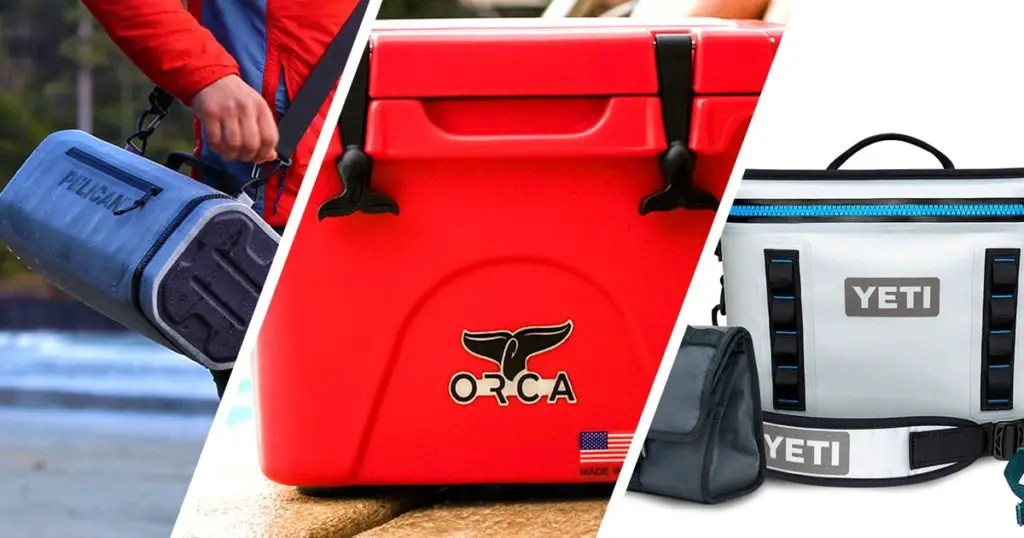 There are a few brands you can check out, including:
YETI – YETI is one of the most expensive cooler brands out there, known for creating durable, powerful coolers that can withstand a lot of tough conditions. You can find out more about it in our guide to YETI Coolers with Wheels, and our in-depth guide on YETI Cooler Sizes.
ORCA – ORCA coolers are slightly cheaper than YETI coolers, but are known for being high-quality and durable. You can find out more about them in our ORCA vs YETI comparison.
Pelican – similar to YETI, Pelican creates high-quality durable coolers. You can see how they compare in our Pelican vs YETI comparison.
To Sum Up …Is an Igloo Cooler with wheels worth buying?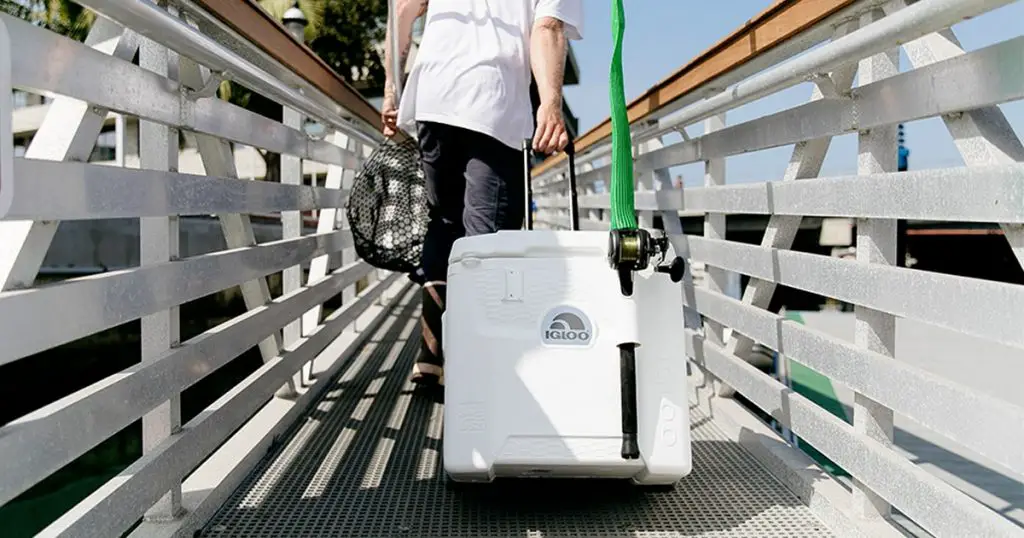 Are Igloo coolers with wheels worth considering?
We think so!
Igloo coolers present a nice 'middle ground' option for those who don't want to invest in a high-end cooler brand, but want a good quality, durable cooler that will last. 
Igloo coolers in general are of a high standard, but we think that the wheeled coolers are particularly strong. The wheels are tough and durable, and the handles are designed to be comfortable and easy to use. These combined mean that it's really easy to transport an Igloo cooler with wheels, so if you think you might struggle to carry or pull along a heavy cooler, it's worth looking into them. While their coolers may not be as durable as some of the top-end brands, we still think you're getting a lot for your money.
If we had to choose our favorite Igloo cooler with wheels, we'd go with the Igloo Marine Ultra Cooler. It comes in a variety of sizes, and the extra features like the built-in bottle opener, the butler tray, and storage pockets make it a really handy cooler to have around.
We also think that the Igloo 110 Quart (104 Liters) Glide Pro Cooler is well worth checking out if you want something really smooth to transport.
We hope that this has helped you to decide whether or not to invest in an Igloo cooler with wheels. If you've ever used one, or you have another wheeled cooler to recommend, leave us a comment to let us know what you like about it. Also, if you've found this helpful, feel free to share it on social media!