Buying a cooler can be an investment, especially with some of the high-end cooler brands. Pelican is a high-end brand, so the question is, is the Pelican wheeled cooler worth the money? We'll be looking at this in our in-depth review.
Pelican has a good reputation, especially when it comes to tough, durable storage cases. Their products can withstand all kinds of conditions.
To give you a heads up: we think they're great, and if you have money to spend and you're looking for something hard-wearing, then one of these wheeled coolers is a great choice.
Keep reading to find out:
about Pelican as a company
The main features of Pelican's wheeled coolers – including their appearance, cooling power, durability, extra features, and pricing
Frequently asked questions about Pelican wheeled coolers
Our final thoughts on Pelican's wheeled coolers, and why we think they're worth investing in
Let's start by looking at Pelican and where they began.
What is Pelican?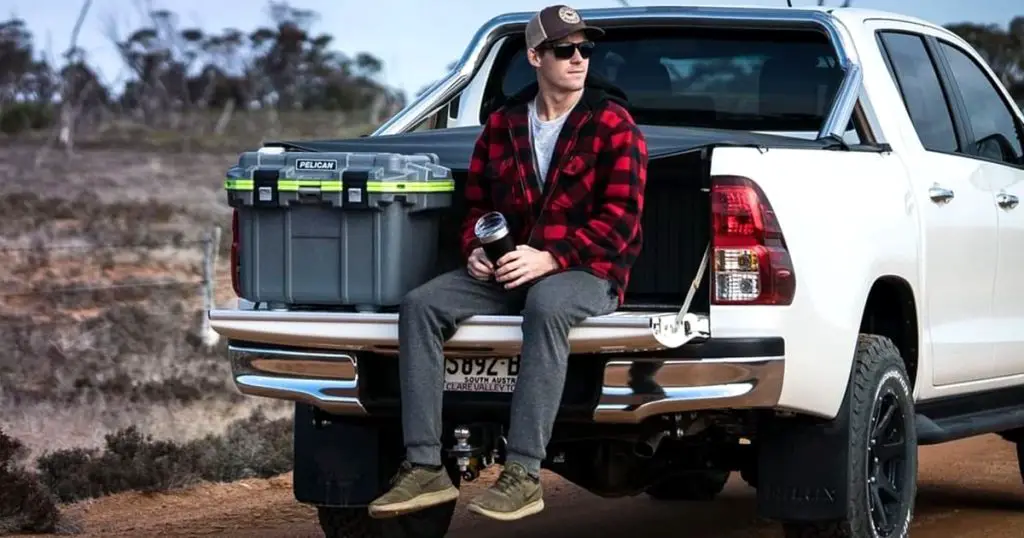 Pelican has its roots in the 1970s. Launched by Dave Parker, the original focus was to create a device called the 'Pelican Float', which acted as an anchor for divers. Since then, they have grown into a global company with sales offices around the world. They're known for creating ultra-durable, tough, and reliable cases, coolers, backpacks, flashlights, and more. Their products are of high quality, and they can withstand all kinds of conditions.
Pelican Wheeled Cooler – the Main Features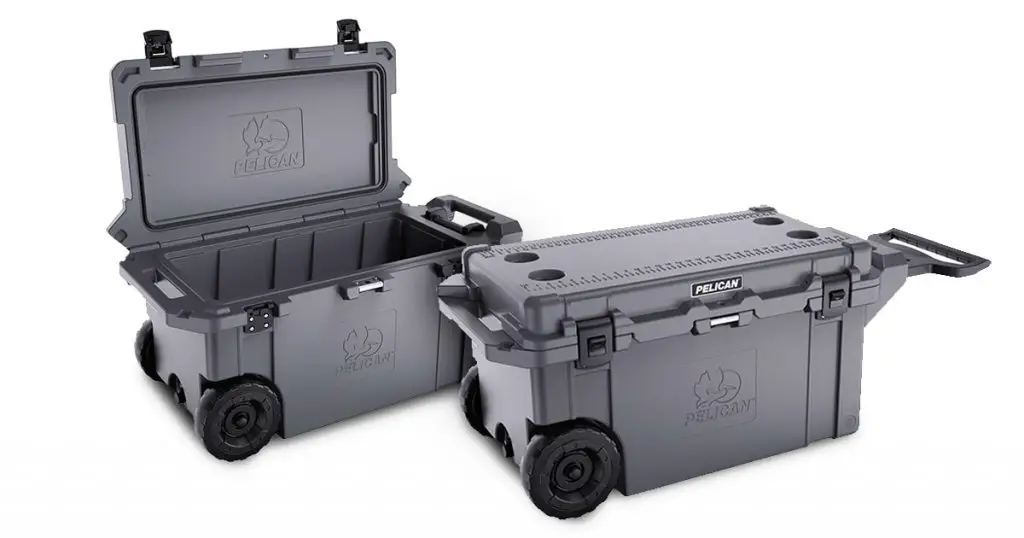 So, let's take a look at Pelican's wheeled coolers. There are just two to choose from:
They're essentially the same, they just differ in capacity. The 45QT (43L) model is ideal for camping trips for smaller families. If you're in a bigger group, you'll want to take a look at the 80QT (76L), which has a large capacity – it's the third-largest available from Pelican, so you can expect to fit a lot in there. We'll take you through them in more detail.
Appearance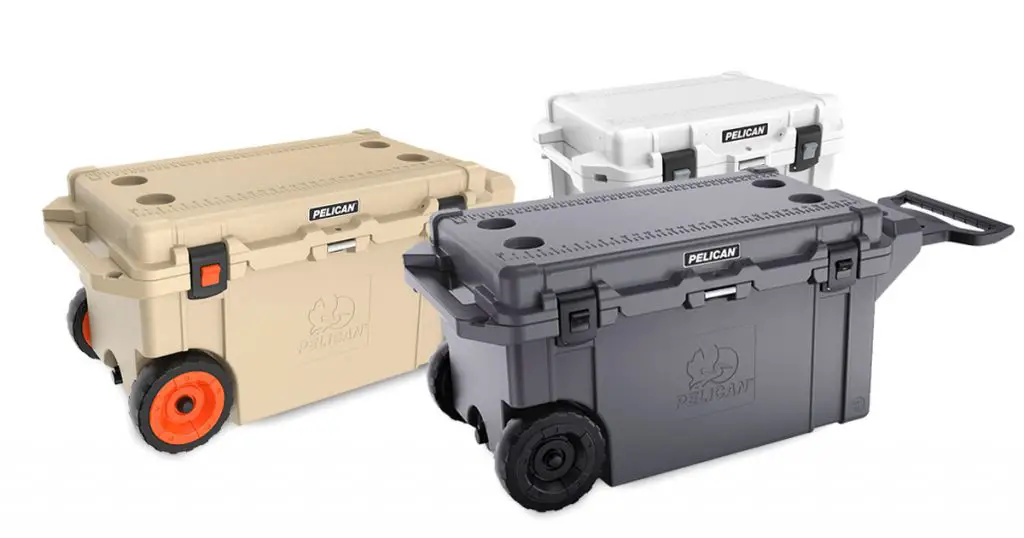 Both the coolers are available in charcoal, tan, and white through most retailers. Pelican offers some brighter colors too with their Pelican's ProGear Cooler Colors, but you have to place a minimum order of 10 to get these colors, so it's more likely you'll be choosing between the three main colors.
They look solid and well-built, and you can tell by looking at them that they are of high quality. The back wheels are large and sturdy-looking, and there is a large Pelican logo embedded in the side, as well as a smaller Pelican logo on the lid. That and the ridged sides and interesting shape make Pelican coolers stand out.
Cooling Power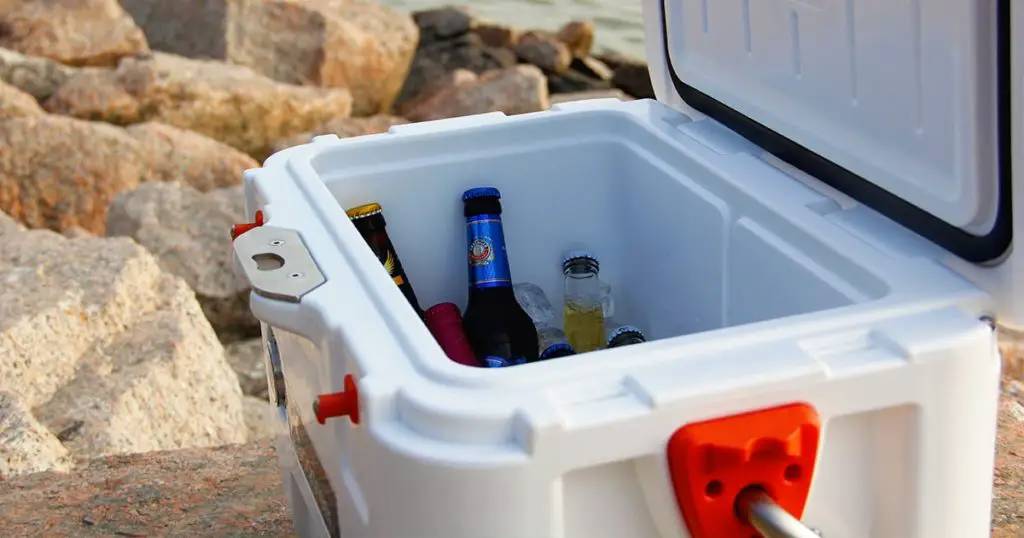 The most important thing is, of course, the cooling power of Pelican's wheeled coolers. There are a few factors to consider here, so let's take a look at each of them.
First of all, there's ice retention to consider. This shows you how long ice will last in your cooler before it melts. Pelican states that their coolers have up to 10 days of ice retention in their product descriptions, which is comparable to other top cooler brands like ORCA and YETI (although YETI doesn't officially state their ice retention time, around 10 days is a good estimate).
Ice Retention
Ice retention time should be taken with a pinch of salt because ice retention tests tend to be done under ideal conditions. You may be taking your cooler to the beach for the day, or you might be going on a long fishing trip in the sun or keeping it in a hot car for a long journey. All of these things may have an impact on ice retention time, so it's best to plan for less time if possible.
For more of an idea on how Pelican performs in terms of ice retention times, check out this video from Coolers on Sale – Is 10 Days Ice Retention Really Possible? It compares Pelican to another cooler company, Engel.
Ice retention time is just one feature to look out for. The coolers are rotomolded, which means they're made from one thick continuous piece of plastic, therefore you won't have to worry about warm air getting in through tiny cracks in the joins. It has 2in (6cm) of polyethylene insulation in the walls, which is pretty good in terms of keeping cold air in. Rotomolded coolers have the advantage of being super-durable too, as they're less likely to crack or break with such thick walls.
It has a freezer-grade gasket. It also has press-and-pull latches, which are perfect for locking the lid firmly shut – they clamp down tight, sealing the lid closed and keeping air trapped in. The lid is tough and durable, too.
It has a tough drain plug, which is threaded and compatible with a garden hose if you want to fill it with water using a hose. The drain plug sits tightly in place, which means you won't have to worry about losing any cold air through it. It's designed to be a fast-flow drain plug, so you won't have to wait around to dump melted ice from the cooler if you need to refill it.
Durability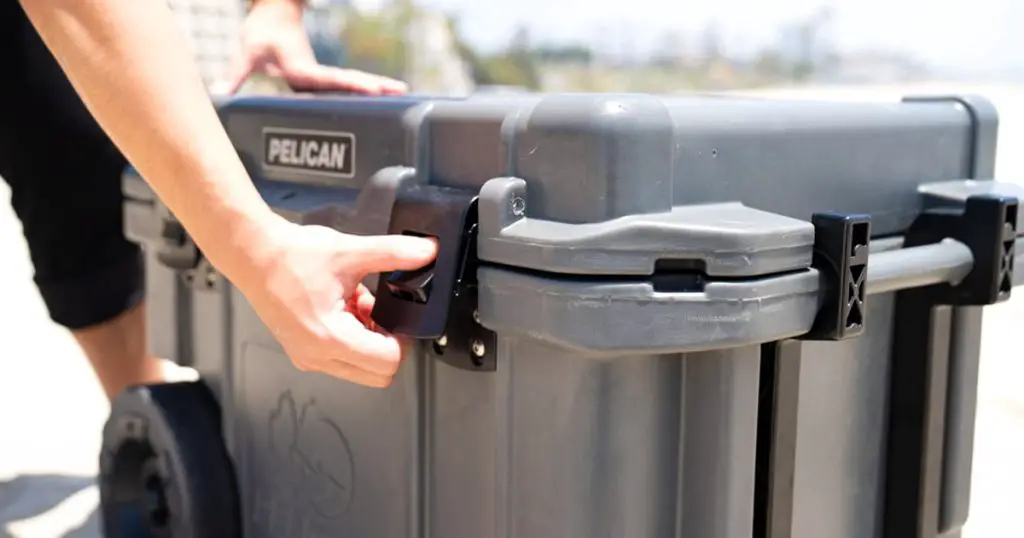 Their coolers don't have a UV coating, which some other coolers have – you may notice a little bit of fading over time if you're leaving the cooler out in the sun for long periods. But it shouldn't impact the actual cooling power.
One of the big advantages of Pelican is the durability factor, as their products are designed to withstand some hardcore conditions. It has heavy-duty wheels, which last a lot of use, as well as corrosion-resistant stainless steel hardware, designed to withstand corrosion from sand, salt, and sun. The lid is very tough and durable, with some people even using it as a cutting board (although Pelican hasn't endorsed this!).
As the materials are so tough and durable, it is quite heavy to hold. There are a couple of options in terms of carrying, with a molded handle on one side and a tough, durable trolley handle.
The push and pull latches are tough, too, so you won't have to worry about them breaking or wearing out.
Finally, Pelican's wheeled coolers are Interagency Grizzly Bear Committee approved. This means they have officially been tested, so a grizzly bear won't be able to break into it. This shows how durable it is, as well as giving you a bit of reassurance if you're camping in bear territory. You can find out which Pelican coolers are on the list in IGBC's list of bear-resistant products.
Extra Features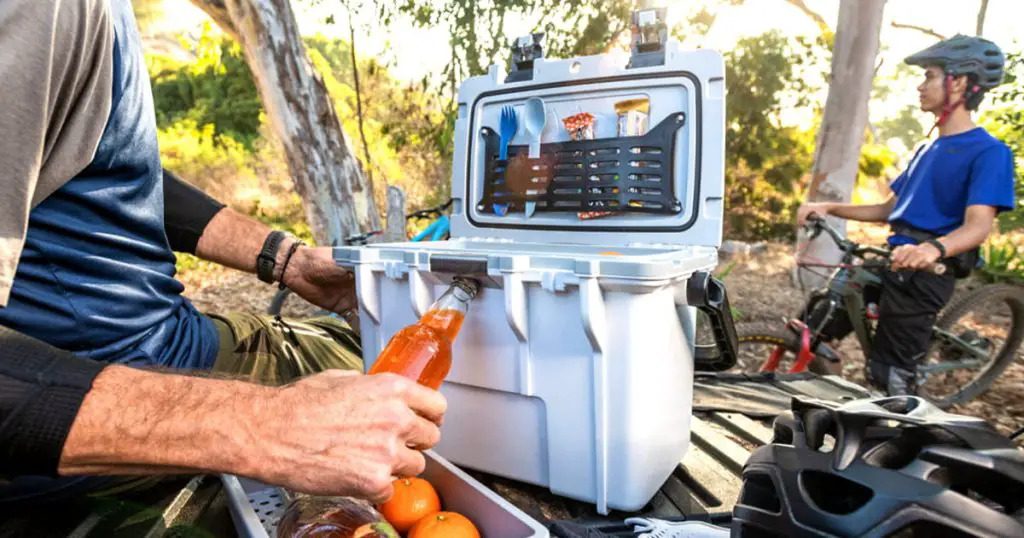 Both coolers have a few extra features, which are quite handy when you're out on fishing or hunting trips, or a camping trip.
It has an integrated fish scale on the lid, which is obviously ideal for fishing (you can check out our guide on the Best Fishing Watches if you're preparing for your next trip). It has a built-in bottle opener, and non-skid rubber feet to help it to stay in place. The cooler also has molded tie-down slots, which are ideal for keeping it tethered in place if you need to.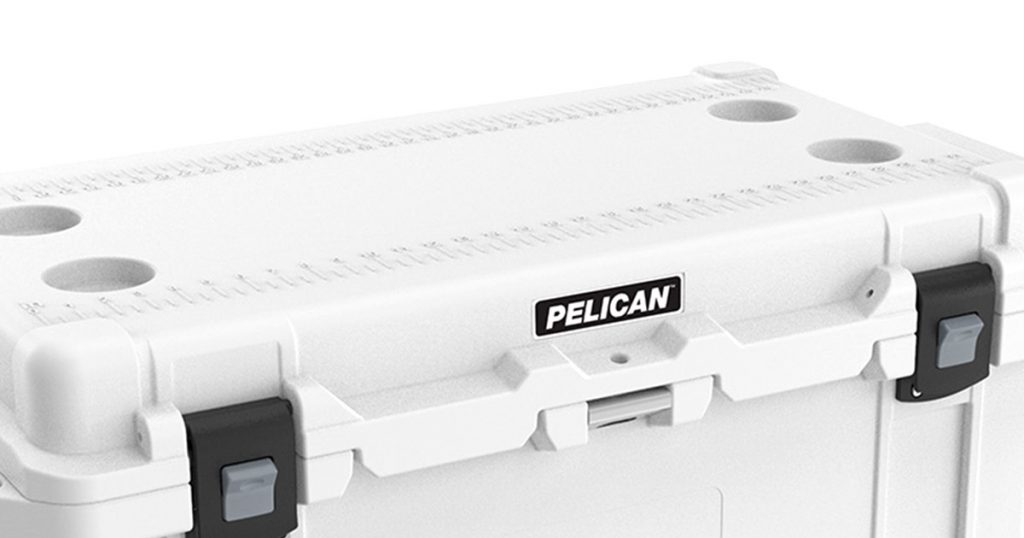 It has four built-in cup holders too, which are molded into the lid. This is ideal for road trips as you can rest your water bottles on top as you go.
Pricing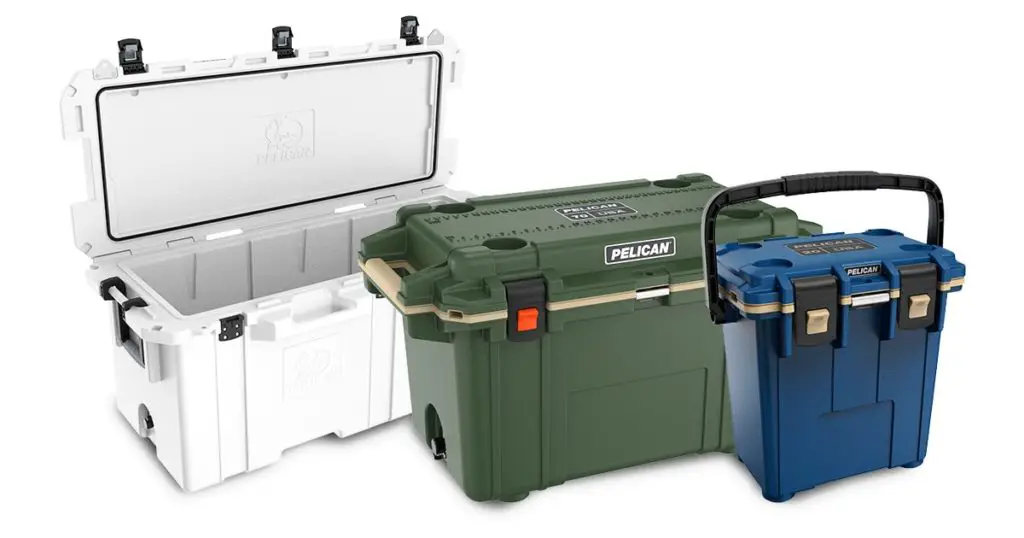 How does Pelican compare to other cooler companies in terms of pricing?
For high-quality coolers, especially hard-sided coolers, you can expect to pay a fair amount for them. Pelican's hard-sided coolers start at $100 for a personal cooler, through to around $650 for their largest cooler. The wheeled coolers come in at around $400-500 depending on which size you go for.
To compare this to other companies, YETI charges around $400 for their wheeled cooler, so they're pretty close in terms of cost. ORCA is approximately the same, too.
Although you'll be paying for a high-end brand, you will also get a lifetime warranty against manufacturing defects. So, if you notice that something isn't quite right with your cooler, as long as you've registered it on Pelican's Register Your Case page, which is a nice reassurance to have.
Pelican Wheeled Cooler – Frequently Asked Questions
Now, let's take a look at some of the most frequently asked questions about Pelican wheeled cooler.
Are Pelican coolers made in the USA?
Yes, Pelican coolers are made in Massachusetts.
Can you recommend any other cooler brands?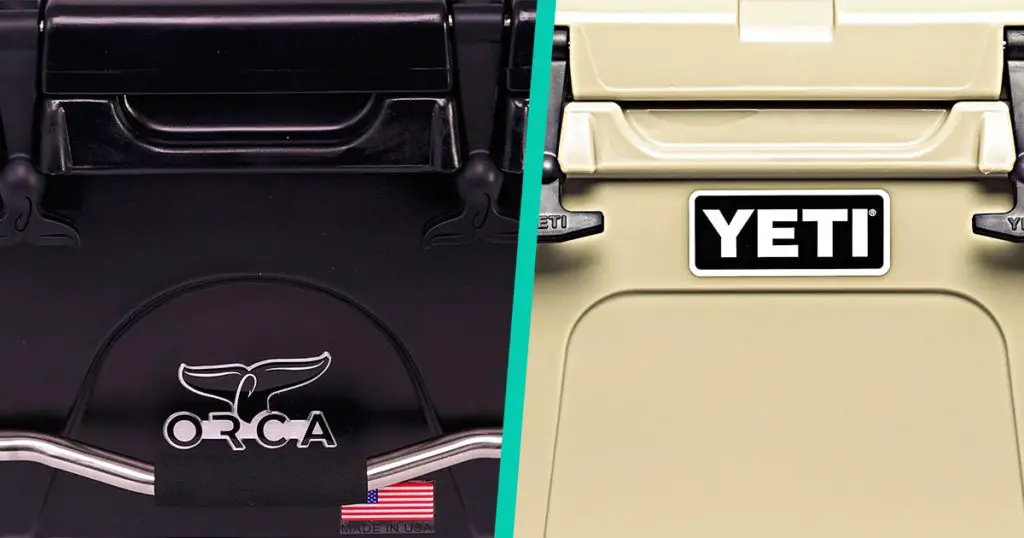 Yes, we've reviewed a few cooler brands!
ORCA – ORCA is very similar in pricing to Pelican, and their products are of a similar quality too. The hard-sided coolers are very good, and we think they're well worth checking out. You can read about it in our ORCA vs YETI comparison.
YETI – YETI is possibly the highest on the price scale in terms of coolers, they have a great reputation, and their coolers have great cooling power and last a long time. You can read about it in our YETI Cooler Sizes guide, and our Hydro Flask vs YETI Rambler comparison.
Does Pelican sell any accessories for their coolers?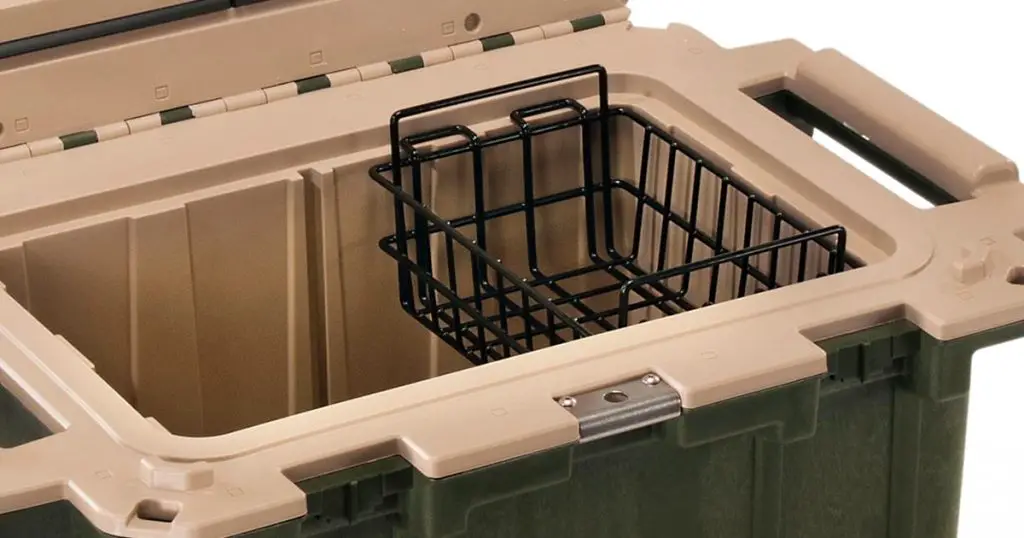 Yes, they sell ice packs, cable ties, lockdown kits, dry rack baskets, and seat cushions. These are great accessories, which will fit the coolers perfectly. Of these products, we'd recommend:
Pelican Elite Cooler Wire Basket is perfect for keeping the contents of your cooler organized. It's removable, washable, and corrosion-resistant. It comes in different sizes, and you can find one for both the 45QT (43L) and the 80QT (76L).
Pelican Cooler Tie-Down Basket ensures that your Pelican cooler won't go anywhere, so if you need to strap it down, it works well. It includes 2 durable, heavy-duty polyester straps, and 2 stainless steel deck plates with screws.
What other products does Pelican sell?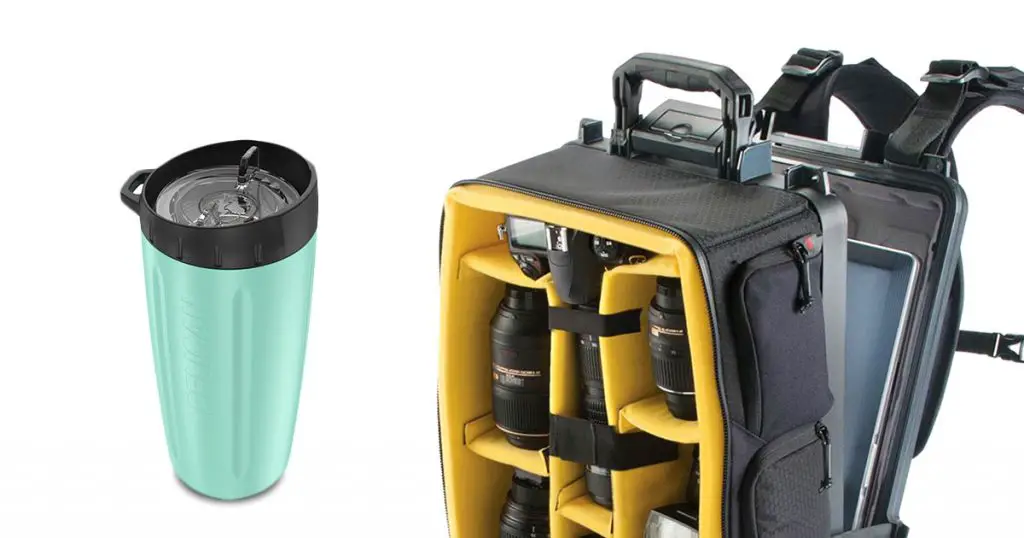 Pelican is mostly known for selling durable, tough cases that can withstand difficult conditions. In terms of camping, fishing, and hunting trips, they sell a few useful products, including tumblers, backpacks, and head torches. We like:
How can I pack my cooler safely?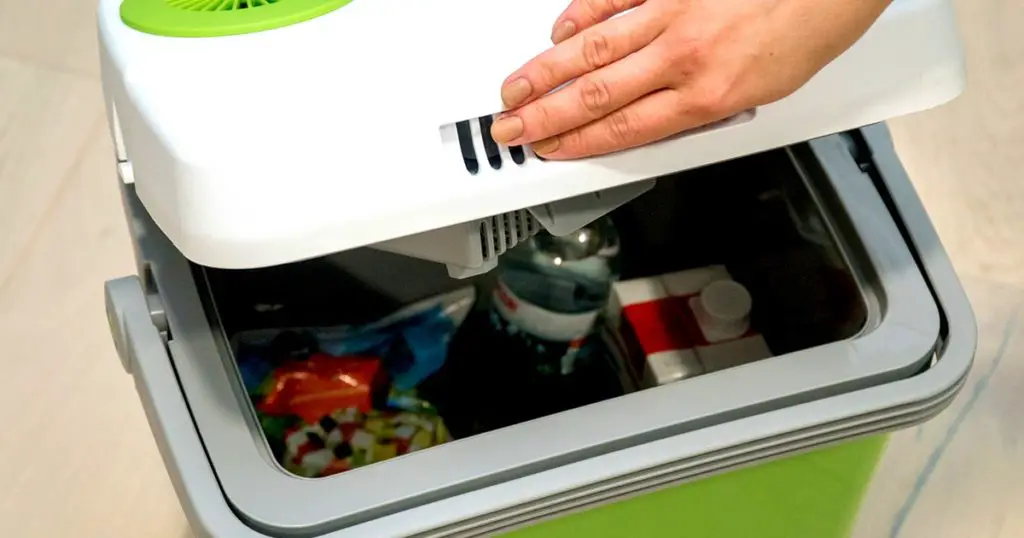 You can follow a few basic safety tips to safely pack a cooler. For example, pack food quickly straight from your fridge or freezer. Make sure to seal the lid tightly closed afterward. Keeping your cooler as full as possible will help to retain cold air. 
Also, make sure to keep raw meat, poultry, and seafood away from other food. If possible, you should store raw meat or fish in a separate cooler, but if that's not possible, you should wrap the food very tightly so that it doesn't contaminate the rest of the food.
Our Final Thoughts on the Pelican Wheeled Cooler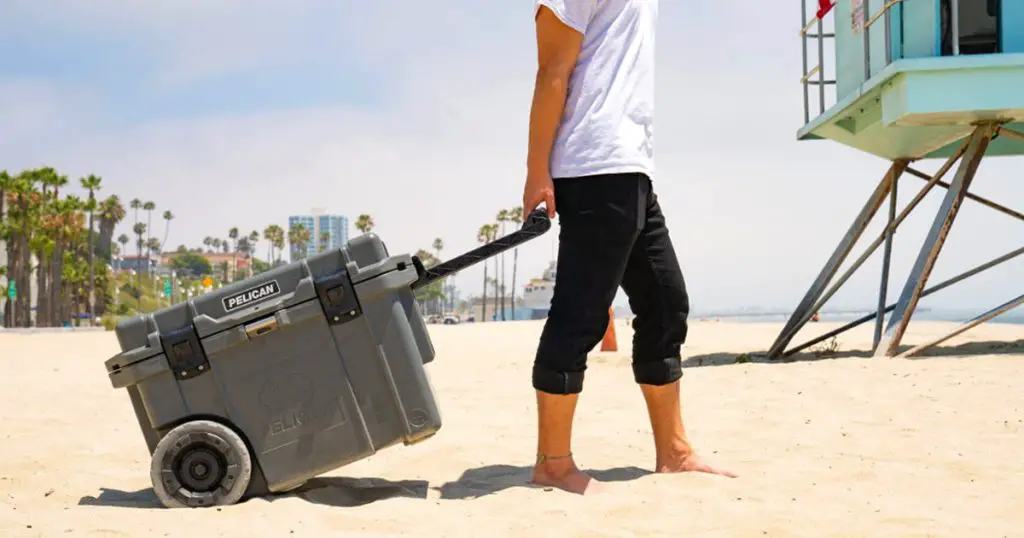 We think that Pelican stacks up well against its competitors. And their wheeled hard-sided coolers are a good investment. They're ideal for camping or taking trips in tough conditions. Rain or sun, they'll stay durable and keep your food cool and safe for a long time. 
Plus, they work well for fishing, especially with the fish ruler included on top. The wheels can handle all kinds of terrain, too. We'd recommend checking out Pelican if you have a decent budget. And if you want to invest in something that's going to last for many adventures to come.
Of course, this quality does come at an extra cost. If you're on a tight budget and you just want a cooler that will do the job and you're not as worried about durability, you may want to keep looking. But if you do have the money, it's worth checking out Pelican's products. They also sell coolers in different sizes without wheels, so you may be able to find one that suits you.
If you've used a Pelican wheeled cooler, we'd love to hear your thoughts on their performance. And we hope that this has helped if you're considering buying one!