A Coleman cooler with wheels is a good option for those who can't (or don't want to) spring for a more expensive brand. The question is: are they really durable? And do they really work, given the reasonable price?
The bottom line up front: They're perfect for road trips and camping and make great beach coolers. However, I think that Coleman coolers may not be tough enough to deal with harsh conditions, and they may not last as long as the more expensive brands. 
Keep reading to find out:
What Coleman is like as a company
An overview of the coolers they offer
The cooling power, appearance, features, durability, warranty, pricing, and accessories available
The pros and cons of Coleman coolers with wheels
Frequently asked questions
A summary of what we think about Coleman's wheeled coolers
Let's start by looking at what Coleman is like.
What is Coleman?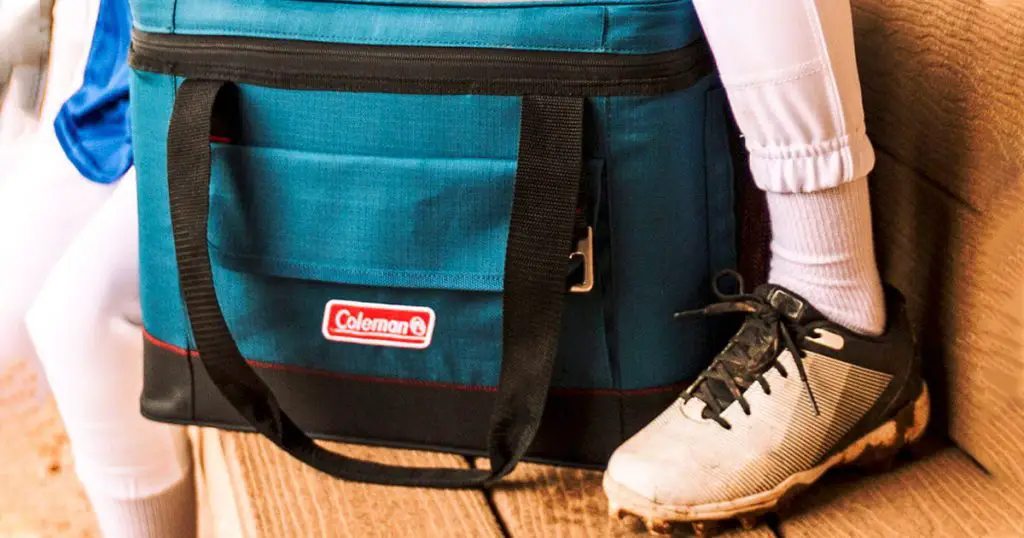 Coleman is a company that manufactures camping gear. Founded in 1900, Coleman focuses on everything you need for a camping trip, including tents, survival gear, coolers, sleeping bags, and camping furniture. They have their headquarters in Chicago, Illinois, USA.
Coleman is a budget-friendly brand in terms of coolers: you can expect to find some low-priced coolers here, especially in comparison to other brands (but more on that in the 'Pricing' section a little later).
The Coleman brand has a good reputation for creating high-quality products, and are mostly known for their tents.
Coleman Coolers with Wheels – the Main Features
There are three main categories of coolers with wheels that Coleman has to offer:
Xtreme Wheeled Coolers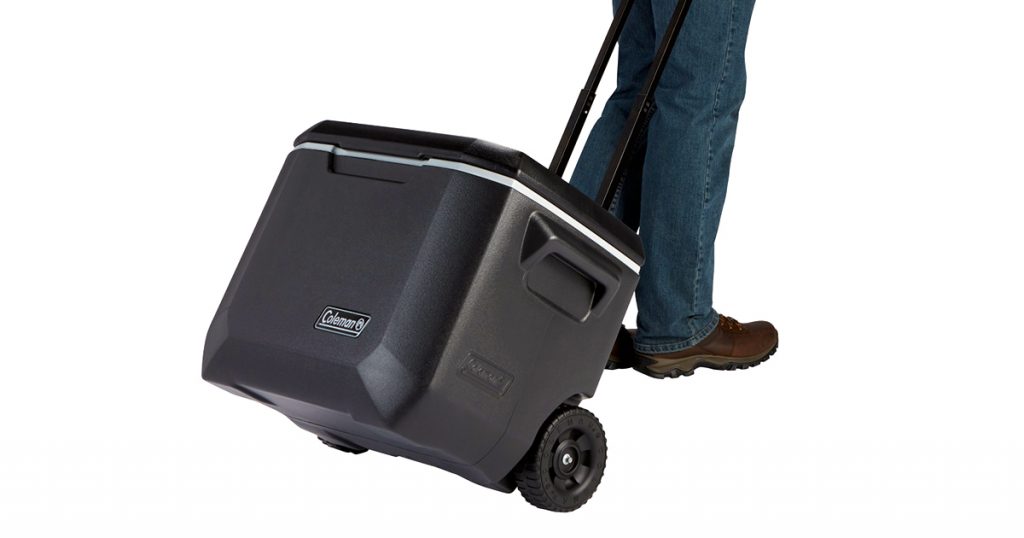 These are compact, rotomolded coolers with telescoping handles. They have two robust wheels at the back and cup holders molded into the lids, and they come in a variety of sizes:
Performance
The Performance wheeled cooler looks very similar to the Xtreme, but it has a slightly shorter ice retention time (more on that later). It comes in one size:
Soft-Sided Cooler with Wheels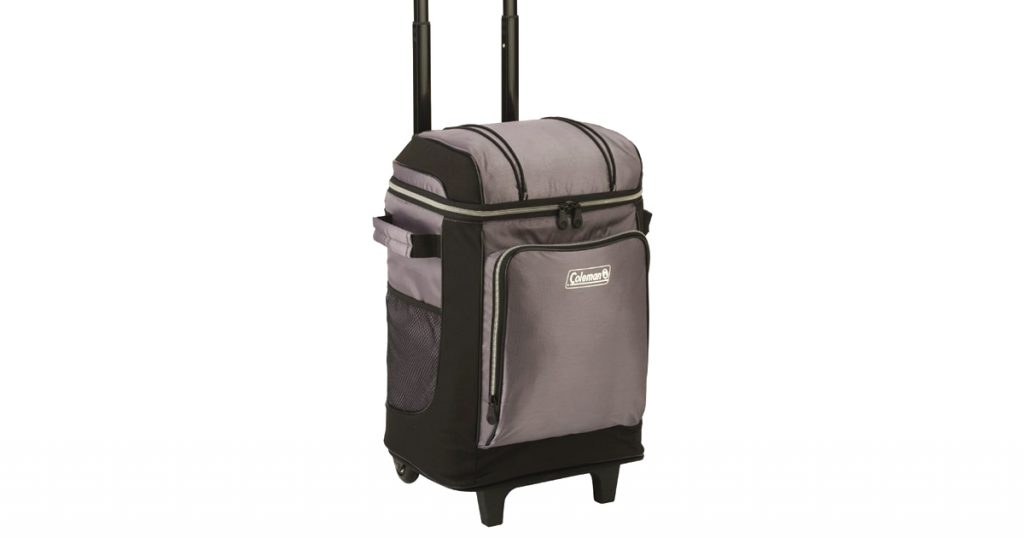 This is a soft-sided cooler with storage pockets and a removable liner. It is currently available in one size:
Let's take a look at these coolers in more detail.
Cooling Power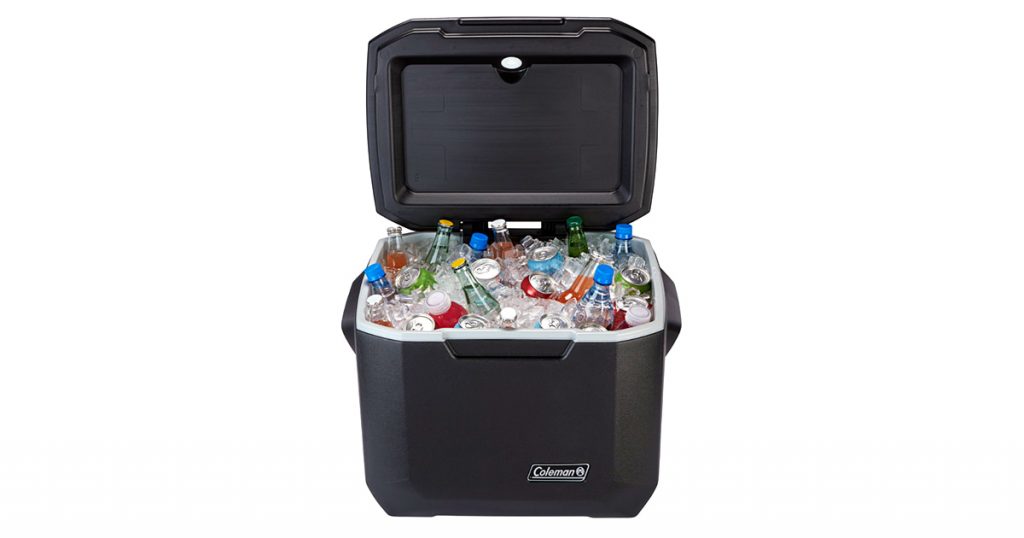 Coleman advertises ice retention time for its coolers. Ice retention time measures the amount of time ice will last in your cooler before melting. It's not an exact science, as these tests tend to be done in ideal conditions. You might find that ice melts quicker than advertised while using it, for example, on a beach, in a hot car for a long road trip, or on a sunny fishing trip. Ice retention time can give you an idea of the cooling power though, especially when you compare coolers to each other. For example, the ice retention time of the two Coleman hard-sided wheeled coolers are as follows:
So you can expect that the Coleman Xtreme range has stronger cooling capabilities than the Coleman Performance cooler.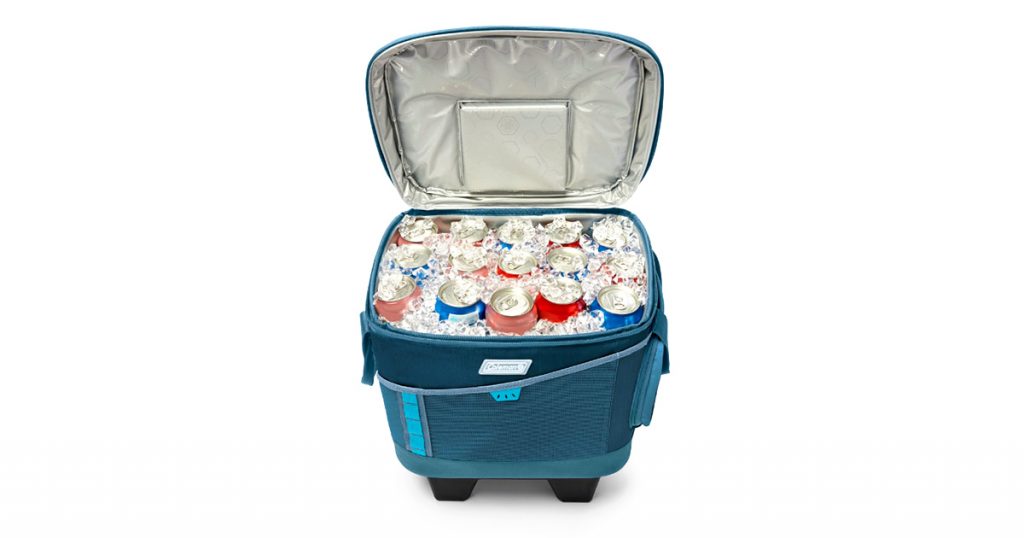 Ice retention time isn't stated for the soft-sided wheeled cooler. Soft-sided coolers don't stay as cold for as long as hard-sided coolers and are better suited for a day out as opposed to a longer trip.
(As a side note, there are ways of making ice last longer in a cooler – check out Popular Mechanic's guide on The Right Way to Pack a Cooler for more information.)
The two hard-sided coolers are rotomolded. This means that the coolers have been molded from one continuous piece of plastic. This works well for coolers, as it means that there are no tiny little cracks in the joins for cold air to escape (or warm air to seep in). You can find out more about this in our guide to the Best Rotomolded Coolers. You can also find out more about the process in the British Plastic Federation's guide on Rotational Moulding.
Insulation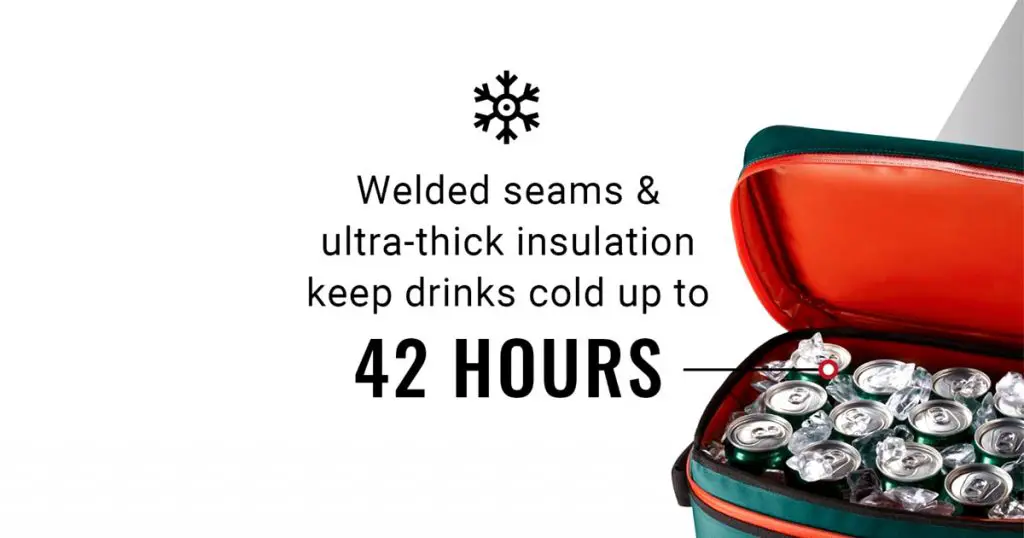 Both the Xtreme and Performance coolers have a thick layer of foam insulation in the walls and lid, which is great for keeping the contents cool. The insulation used is a low carbon emission insulation, which is good from an environmental perspective. They have a drain to dump old ice, which seals up nicely to stop warm air from getting in.
Coleman's coolers lack latches, which other (typically more expensive brands) have. Latches are great for really squeezing out the warm air, keeping everything inside sealed tight. However, given the price point, the cooling power is still pretty good.
The soft-sided cooler works pretty well at keeping the contents cool. It has heat-sealed seams, which is ideal not only for preventing the contents from leaking out, but also stopping warm air from getting in.
Appearance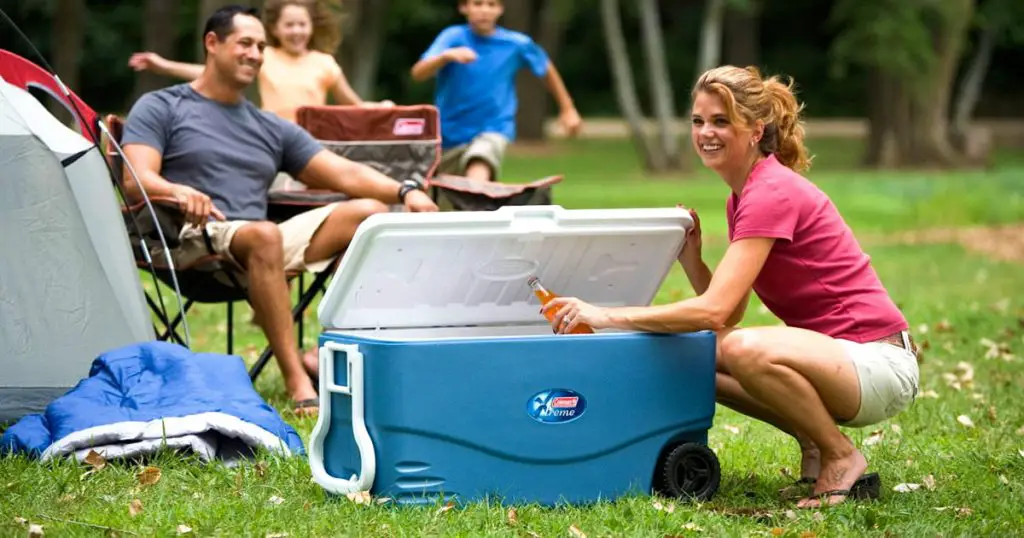 Coleman's coolers are fairly basic and functional. You won't find Coleman hard-sided coolers in bright colors or styles. They typically come in blue, white, or grey – although the Xtreme cooler comes in black. If you're after an iconic design that will stand out, you won't really find it here.
They look like chunky, well-made coolers. They usually have the Coleman logo somewhere on the front, too.
The Coleman 42-Can Soft Cooler with Removable Liner and Wheels comes in blue and black, or grey and black. It has the Coleman logo on the front.
Features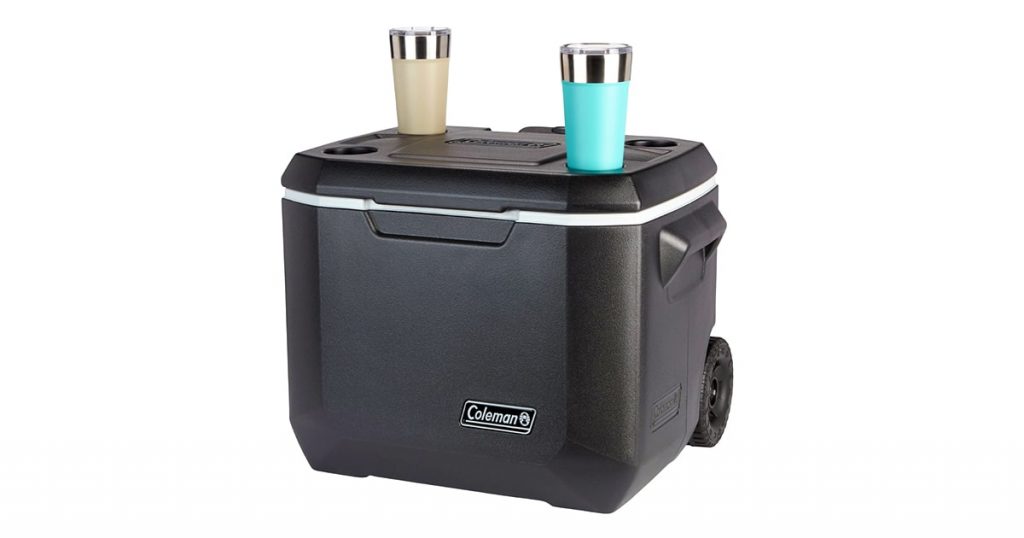 What about extra features?
Both the hard-sided wheeled coolers have cup holders molded into the lids for tumblers or water bottles, which is ideal for keeping your drinks out of the sand on the beach or having somewhere secure to put them on a road trip. The following two coolers have an extra feature:
They both have a 'Have-a-Seat' lid, which supports up to 250lbs. Handy if you need somewhere to sit down for a while!
The coolers have a locking, telescoping handle. This works really well and feels comfortable to hold. The hard-sided coolers have handles molded into the sides of the cooler too. They also have an EZ-Clean lid, which is super easy to wipe down with a damp cloth.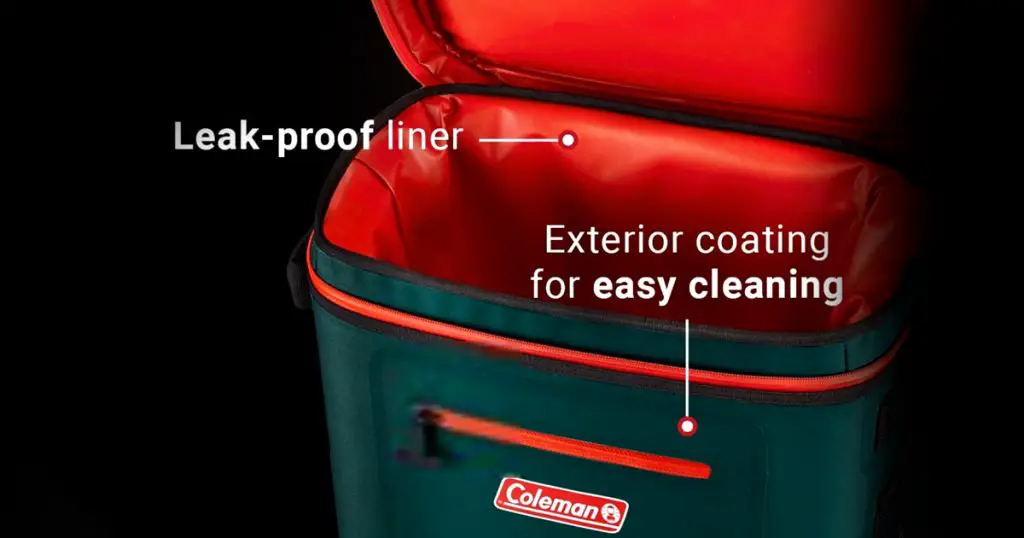 The Coleman 42-Can Soft Cooler with Removable Liner and Wheels has a removable liner, which makes it easy to drain and clean. The liner is treated with antimicrobial material, to resist odor and fungus. It also has a front zippered pocket, 2 mesh side pockets, a dry storage pouch, and lid bungees (to help to keep it secure).
The Coleman coolers lack a few extra features that some other cooler brands tend to include in their coolers (like built-in bottle openers, or storage baskets for hard-sided coolers).
Durability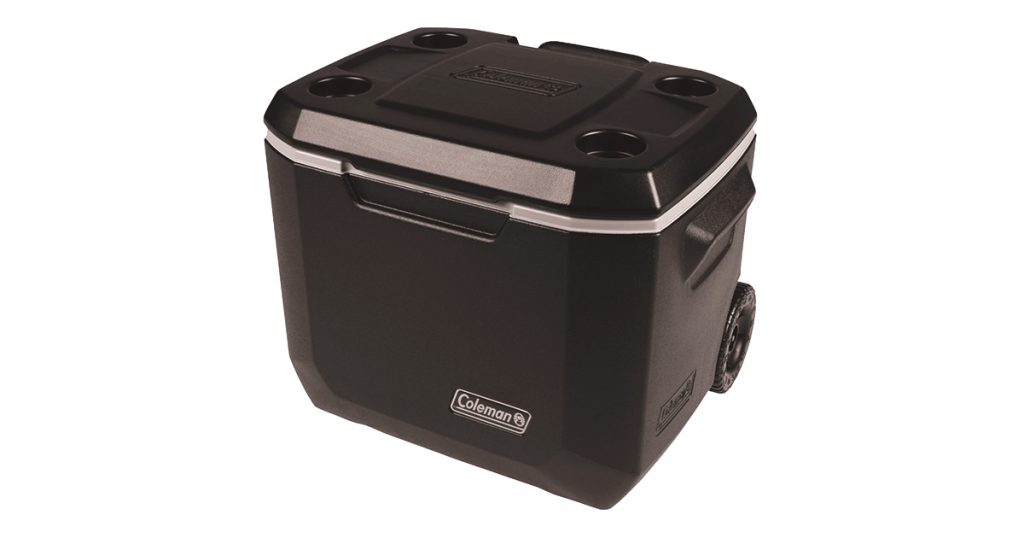 How do they perform in terms of durability?
They have a few good features here. The wheels, which are obviously a crucial part of the design, are tough and durable and can withstand a lot of use. The handles are sturdy, too.
The thick walls of the hard-sided coolers mean you can expect them to last a long time without having to worry about them losing their cooling power. Coleman coolers should be able to withstand days out, visits to the beach, road trips, and camping trips without too much trouble. If you're really going to be putting your cooler through its paces – out for long hunting trips, for example – you may be better off looking at a higher-end brand like YETI (you can find out more in our guide to YETI Coolers with Wheels).
Coleman coolers do not have certification from the Interagency Grizzly Bear Committee, which tests coolers and other gear to see if they can survive an attempted break-in by a grizzly bear. If this is something you require from your cooler, you can find the IGBC's list of Certified Bear-Resistant Products for more ideas.
Warranty
Coleman offers a 2-year warranty on their products, against manufacturing defects. You may need to register your purchase on Coleman's Product Registration page – check the information that comes with your cooler to make sure.
Pricing
Where Coleman stands out is the pricing. They offer a great, affordable range of coolers that are far lower in price than some of the higher-end brands. For example, YETI's wheeled cooler, the YETI Tundra Haul is almost $400 – so around $350 more expensive than the Coleman Rolling Xtreme Cooler - 62 Quarts (59 Liters). That's quite a big gap!
This means that Coleman is perfect for individuals or families on a budget wanting something that is going to function really well on camping trips or for days out. However, if you want something that is going to be super-durable with better cooling power, you'd be better off looking at a higher-end brand like YETI, Pelican, or ORCA.
Accessories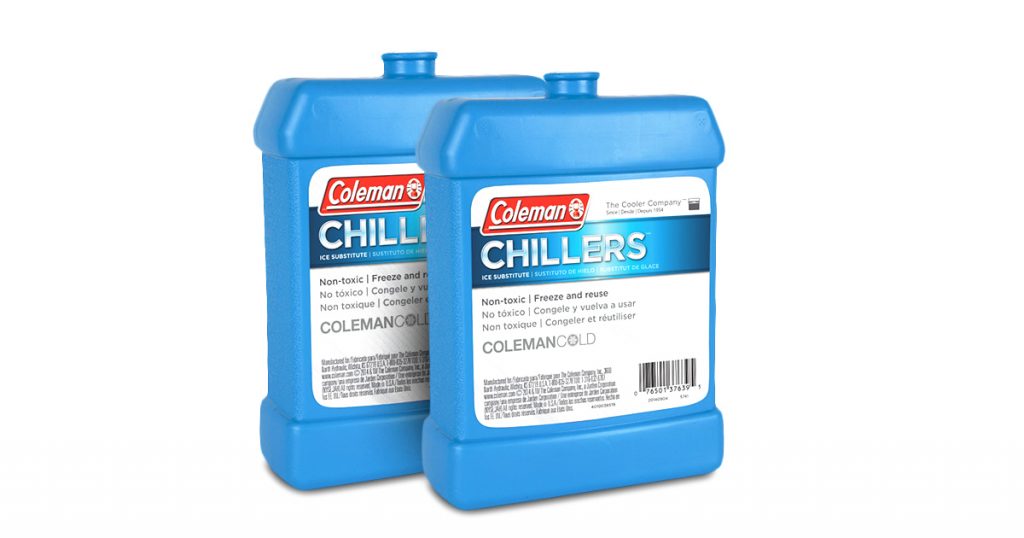 Coleman doesn't have much to offer in the way of accessories. While some cooler brands offer extras like storage baskets or even spare parts for coolers, Coleman only offers the Coleman Company Chillers, which make a good alternative to ice.
Pros and Cons
Let's take a look at the pros and cons of Coleman coolers with wheels:
Pros
Low price point, especially in comparison to other cooler brands
Good cooling power
Durable wheels and handles
Soft-sided cooler has good storage pockets
Includes cup holders in the lids
Lids can be used as seats in the larger models
Cons
Not as powerful in terms of cooling power compared to other brands
Doesn't have much in the way of accessories
Frequently Asked Questions
Let's take a look at some of the most commonly asked questions about Coleman coolers with wheels:
What other products does Coleman manufacture?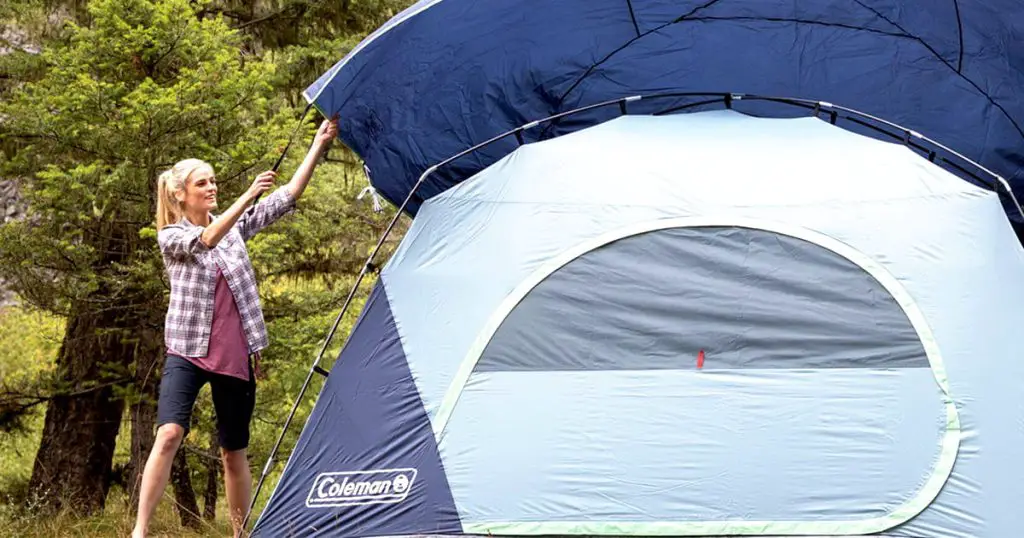 Coleman is probably best known for its tents – you can see some of these tents in our tent reviews, like the Best Family Tents for Bad Weather and our guide to the Best 5-Person Tent.
They also sell:
Where are Coleman products made?
Coleman products are manufactured in the USA.
What are some other cooler brands?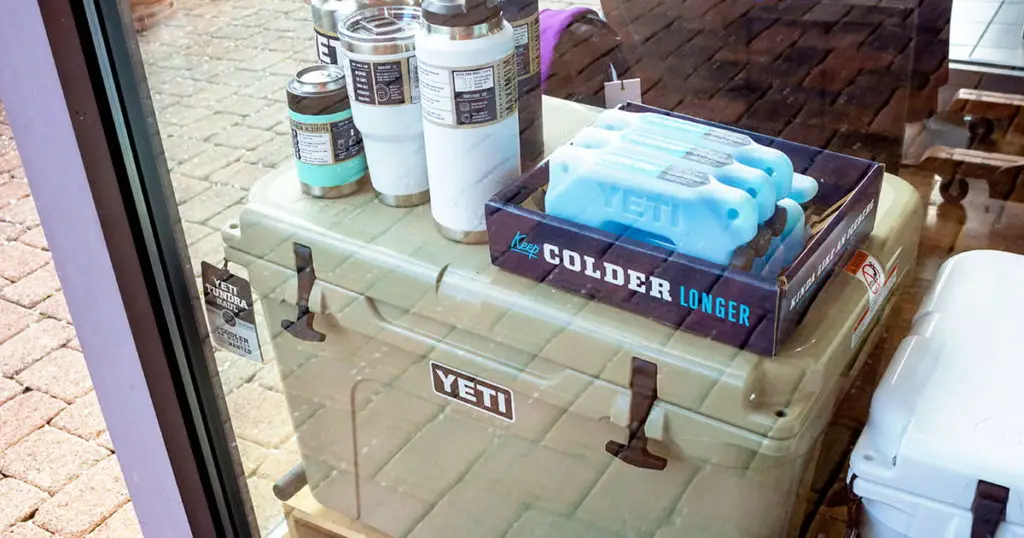 There are several cooler brands, ranging widely in price:
Ozark Trail – Ozark Trail products are very budget-friendly. They may not be as durable as other coolers on the market, but they perform very well. They're closely matched to Coleman coolers, and they have a lot to offer in terms of styles and sizes. You can find out more about it in our Ozark Trail Cooler Review.
Pelican – at the other end of the spectrum, Pelican creates durable and tough coolers, but they come with a much higher price tag. They're worth checking out if you have a bigger budget to work with. You can find out more in our Pelican Wheeled Cooler review.
YETI – like Pelican, YETI manufactures super-tough and durable coolers, but they are a lot higher in price than Coleman coolers. If you want something that can survive the harshest of adventures, they're worth the investment. You can find out more in our guide to YETI Cooler Sizes.
How can I safely pack my cooler?
There are a few things you can do:
Make sure you pack enough ice (or gel packs) – you'll want to keep your food as cold as possible, which means you need a good amount of ice to make your cooler feel like a fridge when you open it.
Pack your ice on top of the food – cold air travels downwards, so it's better to put a lot of ice on top.
Fill your cooler as much as possible – this helps with ice retention
Take care with raw meat – if you have to transport raw meat in the same cooler as other types of food, make sure it is securely wrapped to avoid it contaminating other food
You can read more about this in Good Housekeeping's guide on the 7 Mistakes You Make Packing a Cooler. You can also check the USDA Guide on How to Pack a Cooler to Prevent Food Poisoning.
How can I clean my Coleman cooler with wheels?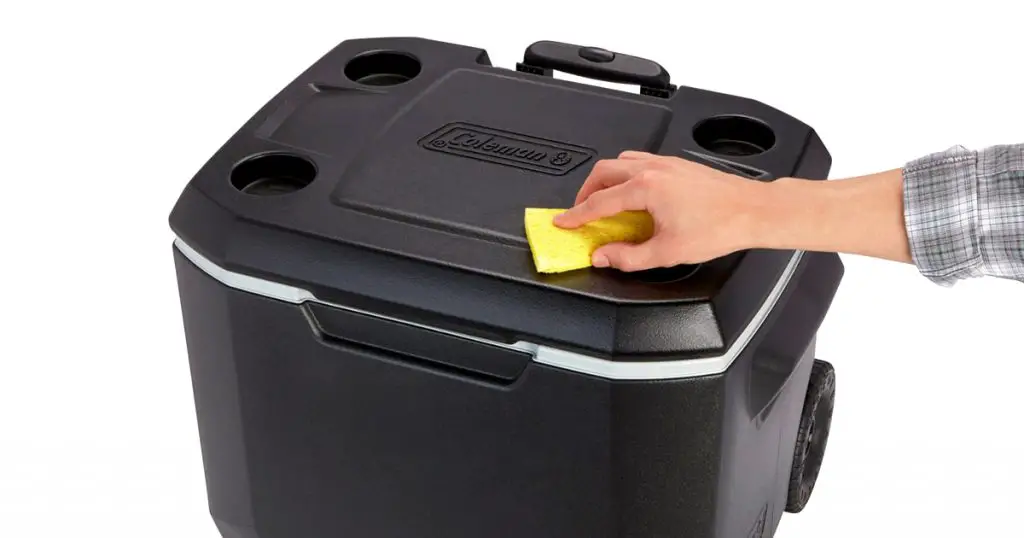 There are a few steps you can take:
Fully drain your cooler, ensuring that old ice and water are gone
Use warm, soapy water and a soft cloth to carefully wipe down the inside and outside, paying attention to little nooks and crannies, which can trap dirt and grime
Use a mixture of water and baking soda to remove any odors
To Sum Up …is the Coleman cooler with wheels worth it?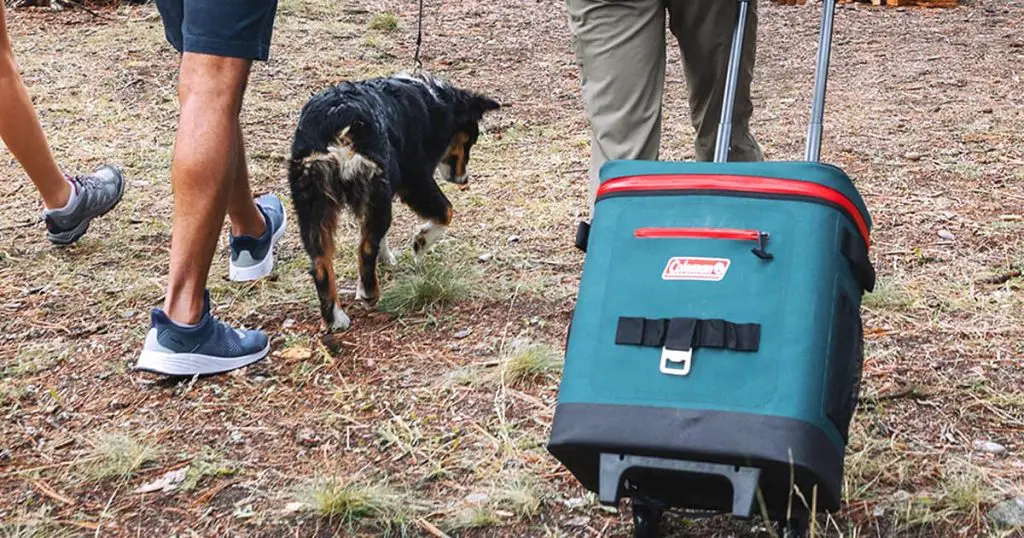 Coleman's wheeled coolers are a great option for those on a tight budget, or those just getting started with camping. If you're new to the camping world and you don't want to spend a fortune on gear to get going, a Coleman cooler is a great choice.
They aren't as powerful in terms of cooling as some more expensive brands. They also lack features like latches (to squeeze out warm air and keep the cooler tightly sealed), and fun extras like built-in bottle holders and storage baskets. However, we think that for the price, they do exactly what you will need them to do: keep your food cold and secure.
What's great about Coleman coolers is that the wheels and handles – areas on a cooler that can wear out with a lot of use – are super-durable and can handle different types of terrain.
If we had to pick a favorite, we'd probably go for the Coleman Rolling Xtreme Cooler - 62 Quarts (59 Liters). It's a good quality cooler, it comes in a variety of other sizes, and the wheels and handle are durable.
We hope this has helped you to figure out whether a Coleman cooler with wheels is right for you. If you've got any experience with Coleman products, leave us a comment letting us know what you think of the brand. And if you've found this helpful, feel free to share it with your family and friends!